It's the 12th day of the 31 Days of Decluttering challenge, and today we'll be dealing with an area that some of you may have decluttered a few days ago… under the bathroom sink.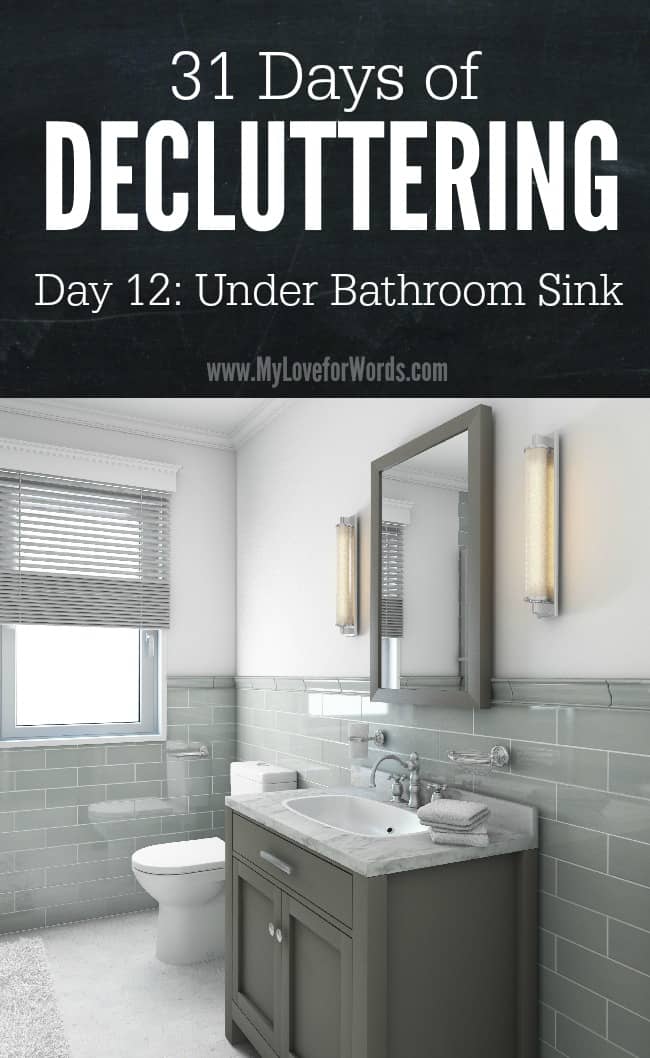 A couple days ago we cleared the surfaces in our bathrooms and went through our toiletries so some of you may have already decluttered this space while others may have hoped I'd forget about it. Whatever side you fall on, I hope today's activity isn't too painful.
Under the sink storage can be great. It's accessible and out of sight, but it can also become a clutter cave. Sometimes it's all too easy to toss stuff in there and just close the door. Today, we're going to clear the space out once and for all and only replace what we truly need and want to be in there.
Cleaning under the bathroom sink:
Remove everything from the space and clean.
Decide what really needs to be stored under the sink. What needs to be close to you while you're getting ready but doesn't already have a home? What can be stored low and within reach of little hands (if applicable)?
Organize like items together and store in appropriate containers. Shoe boxes can act as inexpensive alternatives to baskets or temporary substitutes until you're able to locate something sturdier and longer lasting.
Rehome or get rid of anything that doesn't belong in your bathroom. Keep only the essentials that you truly use.
When you're finished I hope you'll come back and let me know what's the strangest, most out of place thing you found in your bathroom?
Click here to join the Declutterathon facebook group and get support from over 2,200 other declutterathoners!