We're two weeks into the 31 Days of Decluttering challenge, and I hope you're seeing how just a little work everyday can create great results around your home. Yesterday we sorted our handing clothes so today we'll be decluttering our folded clothing.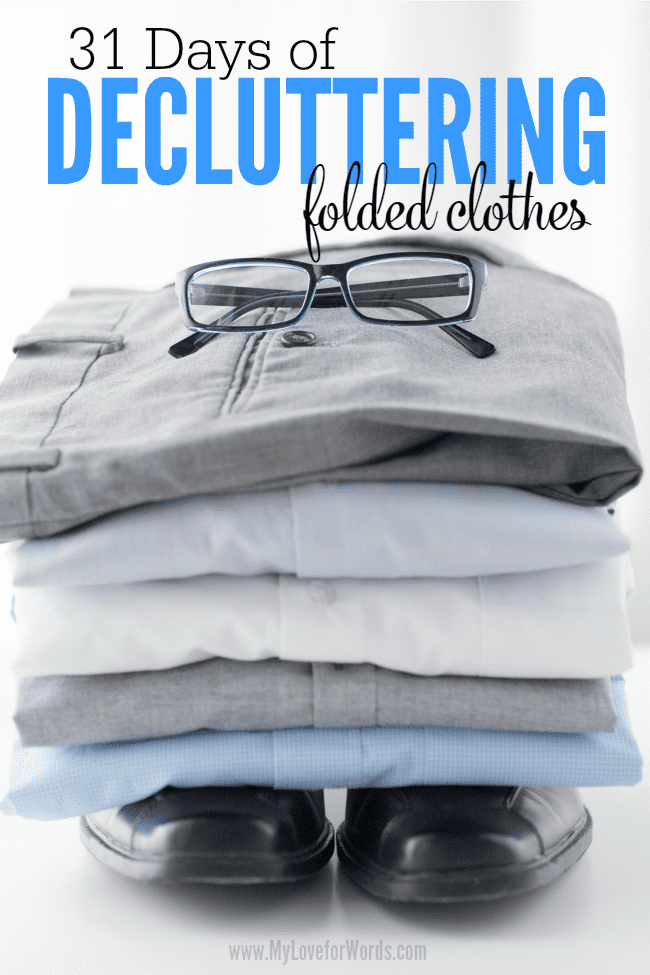 Unfortunately, this is where most of my clothing is housed (you know, besides the bedroom floor, which feels totally ridiculous to admit as a 33 year old mother of four. The "best example of how to keep a house clean" award isn't going to me this year).
My clothes were sorted into drawers by type until my husband put my laundry away. I'm not complaining. I know a lot of women would kill to have a husband who does laundry and is kind enough to put it all away for me too, but finding clothing is sometimes like participating in a scavenger hunt. I am thankful for the help though, and I'm sure my clothes appreciate leaving the laundry room every once in a while.
If you have a ton of drawers stuffed with clothes, don't feel like you have to do them all today. Choose the amount you think you can get done in 15-30 minutes or just set a timer for however long you have to work, and do your best. I've said it before, and I'll say it again, we're aiming for progress, not perfection.
Tips for decluttering folded clothes:
Empty the drawer(s) you'll be decluttering and wipe clean
Sort clothing into piles by type (tops, bottoms, socks, whatever categories work for you)
Get rid of anything that's stained, torn, and beyond repair (you deserve better than that!)
Be honest with yourself about what you do and don't wear. If it regularly gets worn, it can stay. If it's a piece that hasn't seen the light of day in months (or years), it's time to donate it so someone else can put it to good use
Organize your drawers by type of clothing
How your clothes are put into your drawers is completely up to you. Some people love the Konmari method of folding where each piece is folded into a small rectangle and stored vertically. I have to be honest and say that I've never tried it. I love the idea of it (being about to see each item, and my drawers resembling a store), but I guess I just don't care enough to spend that much time folding and vertically propping up my clothing. Some may argue that it doesn't take a lot of time, and to that I say, "When can you come over?" 😉
Alright, it's time to get to work!
Click here to join the Declutterathon facebook group and get support from over 2,200 other declutterathoners!