It's Day 16 of the 31 Days of Decluttering challenge, and today we're tackling our towels.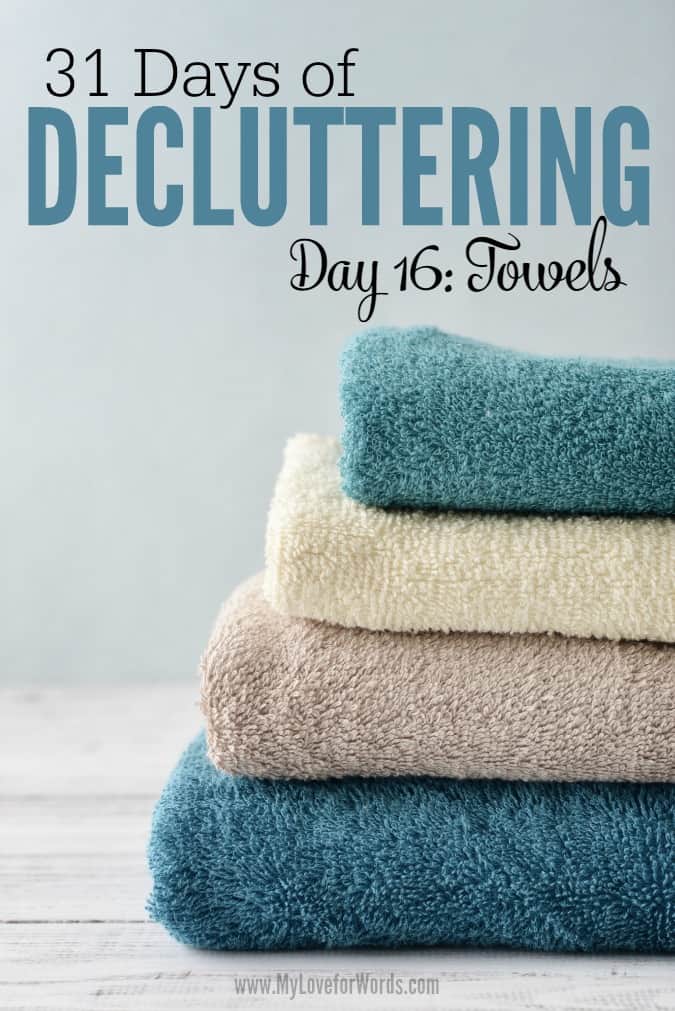 I have a few weaknesses when it comes household items, and towels are one of them. It's strange, I know, but I love the look of nice fluffy towel in a pretty color or pattern hanging in our bathroom. Maybe it's because that's about as close as I get to a spa these days, I don't know, but they just make me happy.
For the non-towel obsessed this will hopefully be a quick and easy task. For those who have amassed a large towel collection like I have, hopefully the tips below will make the job a little easier.
Tips for decluttering towels:
Gather all the towels in your home (bath towels, wash cloths, hand towels, etc) and sort them by category.
Immediately put any towels that have become ragged and threadbare in the discard pile along with any towels you no longer like for whatever reason.
Think about how many towels you really need. How many people are in your household and how many towels are used by each person at each shower or bath? How many will you need for guests?
Fold towels nicely and return to closet, storing like items together.
The rule I'm going to go by is two sets of towels per person so that one set is being used while the other is being cleaned or waiting in the closet. I'll also keep four extra towels for guests and two wash clothes per person plus four extra for guests. We'll also keep one beach towel per person plus four extras because we have a pool and people sometimes need to borrow towels. As for hand towels, I'll keep four per bathroom so that two can be used while the other two are being laundered.
My towel count:
Towels & Washcloths: (2 sets/person, and we have 7 people in our home) 14 + 4 (for guests) = 18 each
Beach towels: (1 per person plus 4 for guests) 11
Hand towels: (4 per bathroom, and we have five bathrooms) 20
Whew! That's 49 items, which still feels like a lot, but given how many people we have in our home I think it's a reasonable amount for now. If I find we're getting along well with less down the road I'll get rid of more, but I think this is a good place to start.
Okay, it's time to get to work! Are you towel obsessed like I am or will this be a quick and easy task for you?
Click here to join the Declutterathon facebook group and get support from over 2,200 other declutterathoners!