Welcome back! It's day 19 of the 31 Days of Decluttering, and today we're tackling the space that just about very home has… the junk drawer.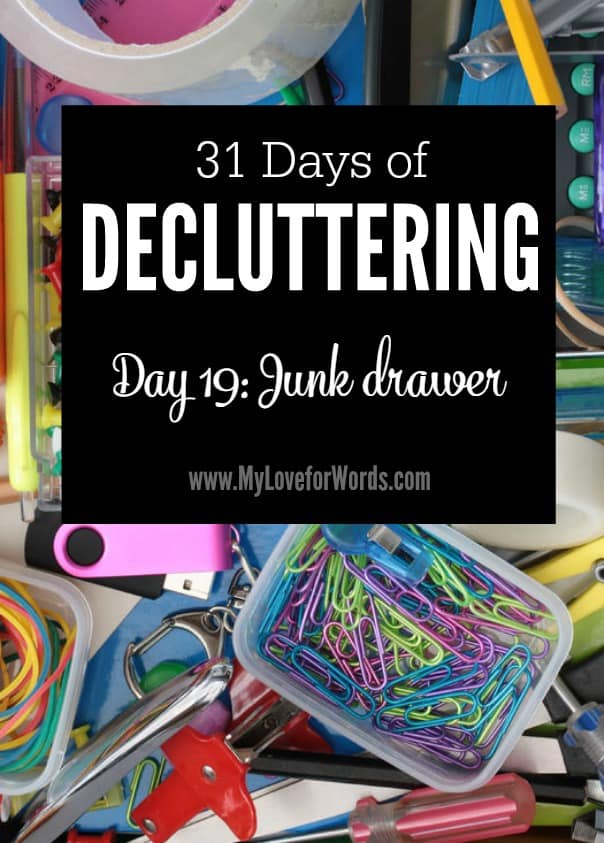 This post contains affiliate links.
For more information, please see my disclosures page.
It doesn't seem to matter what kind of home people live in or how much space they have, almost every home seems to have a junk drawer or junk space. It's that lovely area where a hodge podge of stuff is thrown together because you don't know where else to put it, you want it to be easily accessible, or haven't implemented organizing strategies that work for you, your family, and your home.
My junk drawer is in our kitchen. We have a desk space in the kitchen that is our constant dumping ground. The whole area is a cluttered, disorganized mess. If something goes missing in our home, there's a good chance it's hiding in there somewhere.
Our junk drawer is filled with random office supplies like pens, glue sticks, markers, post it notes, and I'm sure a bunch of other stuff I have no idea is actually in there right now.
Today's task is to focus on just a small drawer or space that is chronically disorganized. If you have a huge space that's a mess (like my kitchen desk), don't feel like you have to fix the entire space today. If you want to, go for it! But there's no pressure to do so.
Tips for decluttering the junk drawer:
Clear the space and wipe clean
Sort drawer contents into piles of like items
Think about how you want the space to be used
Refill the drawer only with items that fit your vision of how you want the space to be used
Organize items with similar items and discard or rehome the drawer contents that no longer fit in the space
If you have time and are able to do so, make the space pretty! Making a space both functional and beautiful is helpful motivation to keep it clean and organized. You could make a drawer pretty by including decorative drawer liner, acrylic organizers, or DIY your own solutions!
I'd love to know, where is your junk drawer? Is it in your kitchen full of office supplies like mine or is it somewhere else? (I love how I word that like I have only one junk drawer!) 😉
Click here to join the Declutterathon facebook group and get support from over 2,400 other declutterathoners!