I have a confession to make… when I started the 31 Days of Decluttering series I wasn't sure I'd actually get to day six or seven let alone day 20. I had the best of intentions, of course, but deciding to blog every single day and actually following through is a huge commitment.Since I thought of the idea only days before it began on October 1st I didn't have time to have posts pre-written or scheduled so I really wasn't sure if I'd be able to do it.
The good news is that we're here! We've made it almost three weeks, and we're (hopefully) seeing great progress being made around our homes! I'm so thankful to have you guys along for the ride. You're a great source of company and encouragement, and I definitely would've given up weeks ago without you so THANK YOU!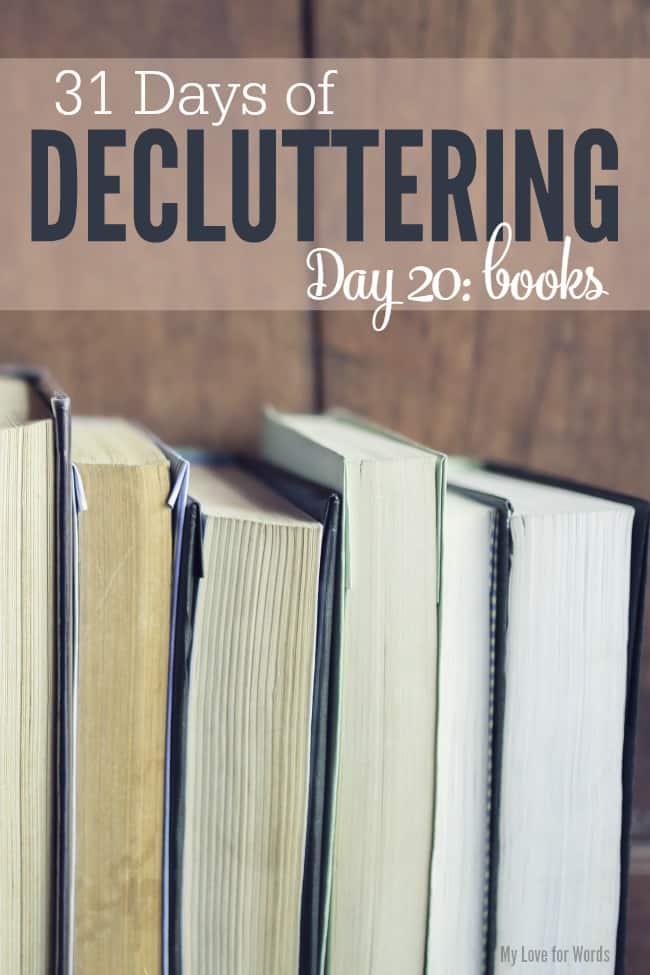 Today's task might be a doozie for some of you (it is for me!). We're going to declutter our books.
Today's challenge is a tough one for me because I love books… and have a lot of them! I'm the kind of person who can appreciate a beautifully staged and styled bookshelf, but when it's filled with tchotchkes and knick knacks all I can think is, "Where are the books?!" I love old books with their slightly yellowed pages and old paper smells. I love new books with their crisp pages and unbroken spines. Kids books, self help books, fairy tales, and fiction, I love 'em all!
Unfortunately, we now have more books than we have shelves, and while buying more storage is a tempting idea, I know the real solution is to declutter.
Tips for decluttering books:
Clear and wipe clean your shelves. Gather all of your books in one place
Sort books into categories
Evaluate how many books you really need to keep
Now get rid of half of those! Just kidding, but if you're a book lover like me you probably will think you need to keep more than you really do. Here are some ideas of books to keep: reference books (dictionaries, cookbooks, etc.), books you read over and over again, family heirlooms, books you know you'll use in the future.
Books to get rid of: Books you didn't like and won't read again (Sorry East of Eden, but that means you!), reference books you don't use, books that are in bad shape or falling apart
Return books to shelves in categories so they're easy to find in the future
Remember that just because you want to read a book again doesn't mean you have to keep it. Instead, consider selling or donating it and borrowing the book from the library when you're ready to read it again. Ebooks are another way to reduce your physical clutter. You may be able to borrow ebooks through your library to save both space and money.
For more great tips for decluttering books, be sure to check out this great guest post from Brittany at Overdue Organizing. She asks a lot of great questions and offers category suggestions that are really helpful in the sorting process.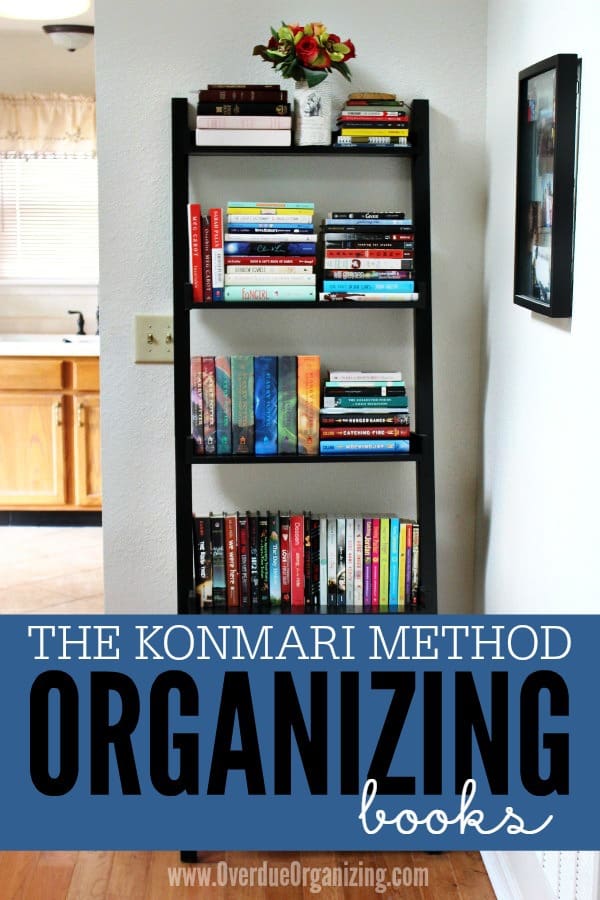 As always, please remember that you don't have to sort through and declutter every single book in your home. If you're able to, that's great! But if you're basically living in a library (guilty!), you might want to choose one category or space to sort through instead. Just do what you can do. Remember, our mantra: Progress, not perfection.
If your books are already in great shape, set a timer for 15-30 minutes and declutter a different space or give yourself the treat of a day off. It's up to you! 🙂
Alright, now for my favorite part… I get to hear from you! What's your favorite book and why?
Click here to join the Declutterathon facebook group and get support from over 2,400 other declutterathoners!