We're three weeks into the 31 Days of Decluttering challenge, and today we're going to be tackling… magazines!
This post contains affiliate links.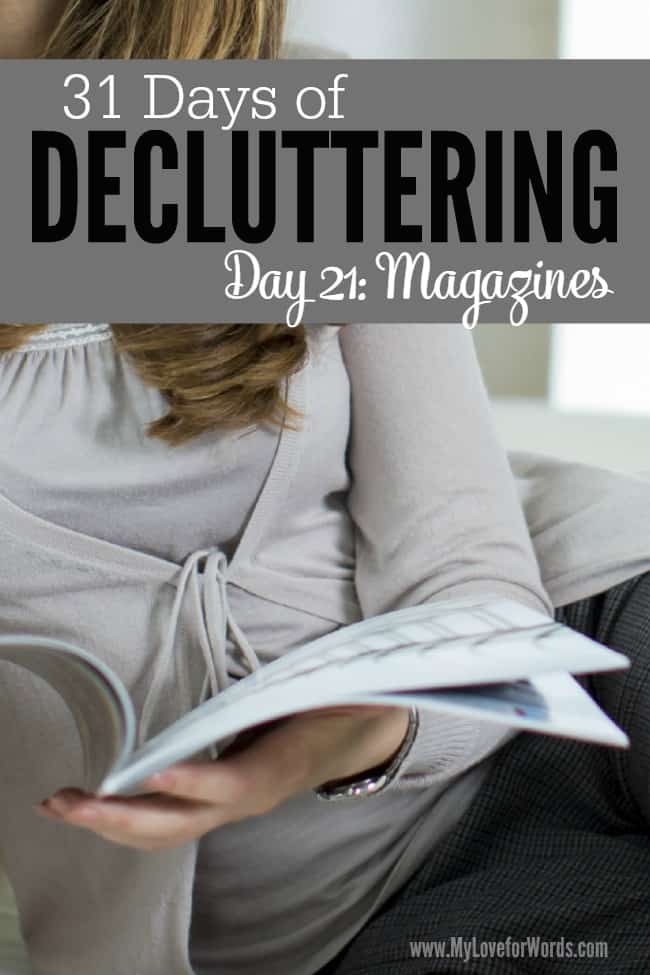 These days, when I think of magazines I think of that old song, "Video killed the radio star" except it's "Pinterest killed the magazine start." I rarely, if ever, purchase magazines anymore. It's not because they don't have great content or anything to offer, but Pinterest is filled with so many great ideas for free that it's my chosen source of inspiration. It's also more easily accessible, and I'm supporting other bloggers by giving them pageviews so it's really win-win-win!
I do, however, still have some magazines floating around my house so my mission today is to get rid of most of them. I'll be keeping some for my mother-in-law to look at though. She's 80, has dementia, and moved in with us four months ago. She wouldn't understand how to get online let alone search through pinterest so we'll keep some since she enjoys looking through them.
Tips for decluttering magazines:
Gather all of your magazines in one place and sort into categories (by something like subject and/or magazine title)
Decide which magazines you can get rid of right away, including those that are really old and falling apart
Create a pile of completely new and unread magazines and give yourself a deadline to have them read (1-2 weeks or before the next issue arrives). Once the deadline arrives, they get thrown away/recycled/donated… whatever. The point is, they leave your house for good.
If there are articles you want to keep, consider either making a binder of magazine articles, recipes, and inspiration and getting rid of the rest of the magazine. You could even take pictures of the articles and store them digitally on your computer. This would probably be the ideal storage method because it doesn't create additional physical clutter around you home. Just be sure to be picky about what you choose to keep because digital clutter can also be a huge pain to wade through.
Cancel any subscriptions you are no longer enjoying or reading. You can get refunds for the copies you won't be receiving so please don't feel like you have to wait until the subscription runs out to stop receiving that magazine.
Find a convenient place to store the magazines that will be staying in your home. Baskets, magazine racks, and wall mounted racks like these are nice to have in areas where you usually read. They keep the magazines contained and easy to look through.
If you're struggling to let go of your magazines, try to remember that just about anything can be found on the internet these days. Don't just keep something because you might, one day in the undetermined future, decide to try something. If you want to try a recipe or tutorial, you'll be able to find it online. I promise! 🙂

As always, if you don't have magazines or already decluttered this area, please feel free to set a timer for 5-30 minutes or whatever you can spare and work on a different space around your home.
Click here to join the Declutterathon facebook group and get support from over 2,400 other declutterathoners!