It's day 24 of the 31 Days of Decluttering series, and today will hopefully be a relatively easy day for most of us. We're decluttering our movies!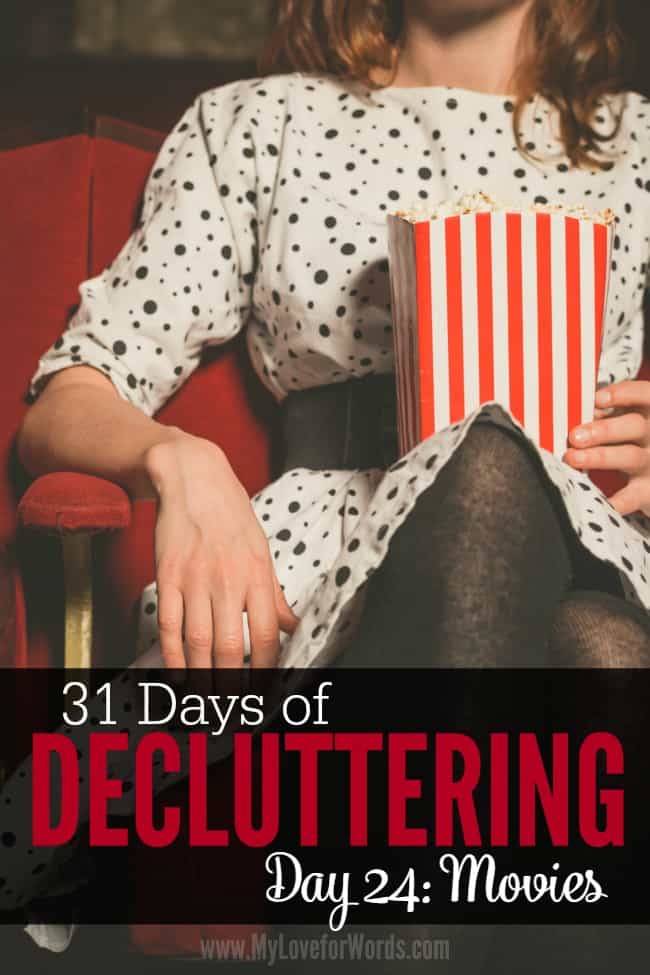 I love movies! I actually love movies so much that I got a minor in film in college (probably not the wisest choice haha!), and my love for movies has led to a good sized movie collection.
One of the first posts I ever shared here on My Love for Words was all about organizing our more than 400 DVDs into three small boxes. The boxes have worked pretty well, but over the last few years we've gotten more movies, and things aren't always put back where they belong so things are kind of a mess now.
The movie hoarder in me can readily admit that I may not get rid of a ton of dvds, but I will focus on getting them better organized and creating a system that works a little better for us.
Tips for decluttering movies:
Gather all of your dvds (and vhs tapes if you still have some) in one space.
Sort the movies into whatever categories make the most sense for you. Some like to sort alphebetically or by genre. Others may prefer sorting by actor or decade.
Donate or discard any movie that's damaged or that you no longer want to keep. This is once instance where you don't need to follow the "if you haven't used it in a year" guideline. Collections are meant to be kept for a long time and enjoyed. Plus, if I was using every single dvd in a year I'd have little time to do anything else!
Organize your dvds so you can easily find what you're looking for in the future. They can remain in their cases and organized on shelves, placed in boxes, or whatever works for you.
If today's task isn't something that needs to be done in your house, focus on a different decluttering task for 15-30 minutes or more. Whatever time you can spare will be great.
Click here to join the Declutterathon facebook group and get support from over 2,400 other declutterathoners!