It's day 27 of the 31 Days of Decluttering, and I wish I could say I've saved the best for last, but the truth is that today I'm taking on my arch nemesis… laundry!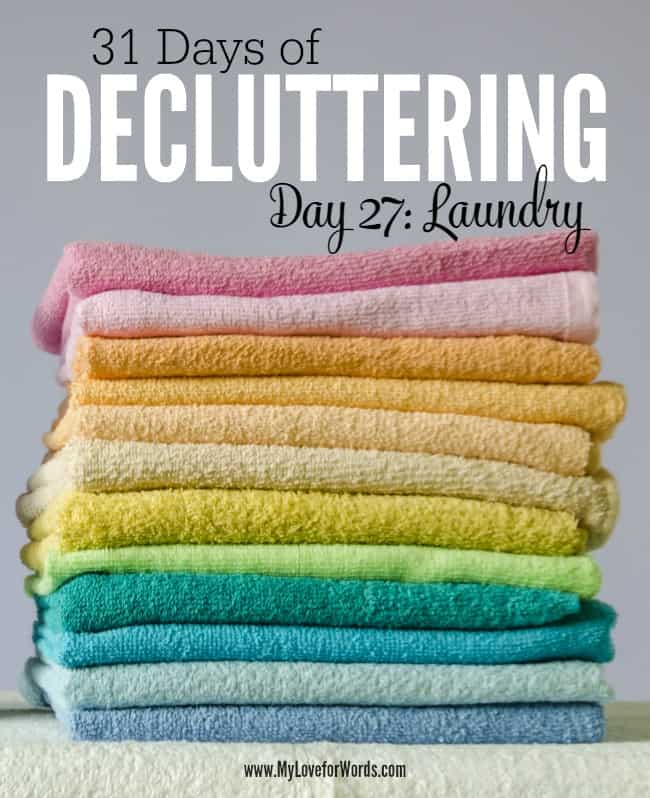 This post contains affiliate links. For more information, please visit my disclosures page.
Laundry and I are most definitely not best friends. I've actually written about it before. The situation in my laundry room is grim to say the least. Sometimes I wonder why we even bother having closets and dressers when so many of our clothes, both clean and dirty, seem to have taken up permanent residence on out laundry room floor. Honestly, I can't even share pictures; it's too embarrassing.
I definitely won't be able to clean our entire laundry room in 15-30 minutes, but I can at least start to make some progress. I'll probably also look at this post for some inspiration!
Tips for decluttering the laundry room:
Remove everything from the space if possible. Otherwise, remove everything that obviously doesn't belong in your laundry room or is misplaced (Note to self: clothes on the floor fall into this category!). Wipe clean whatever you can.
Sort through what has been removed or what remains and decide what you would like to store in your laundry room. We store laundry and cleaning supplies in our laundry room as well as some random things for around the home.
Give away or discard anything that you will no longer use. This is a great time to get rid of empty bottles and cleaning supplies you no longer use.
Group similar items together and decide where they'll be stored. It's best to store items close to where you'll be using them so it makes sense to store detergents close to your washer and dryer, cleaning supplies with cloths, etc.
Put items away and enjoy your newly organized space!
After organizing my bathroom drawers, I had lots of this drawer liner
 left over. Instead of storing or getting rid of it, I decided to line the shelves of my laundry room, and I'm loving it! Our cabinetry is white, the walls are a light bluish-gray, and our machines are white and silver so having this little pop of color is a fun addition to the space. Despite how horribly embarrassing it will be, I promise to share pictures soon-ish. You know, whenever I actually get it looking halfway decent.
What do you store in your laundry room? Does it seem like your laundry pile is never-ending too? Have you figured out any tricks to keeping it under control?
Click here to join the Declutterathon facebook group and get support from over 2,400 other declutterathoners!