We only have a handful of days left in our 31 Days of Decluttering challenge. I hope knowing the end is right around the corner helps you stay motivated, energized, and finish strong! Today we're going to be focusing on our bedrooms.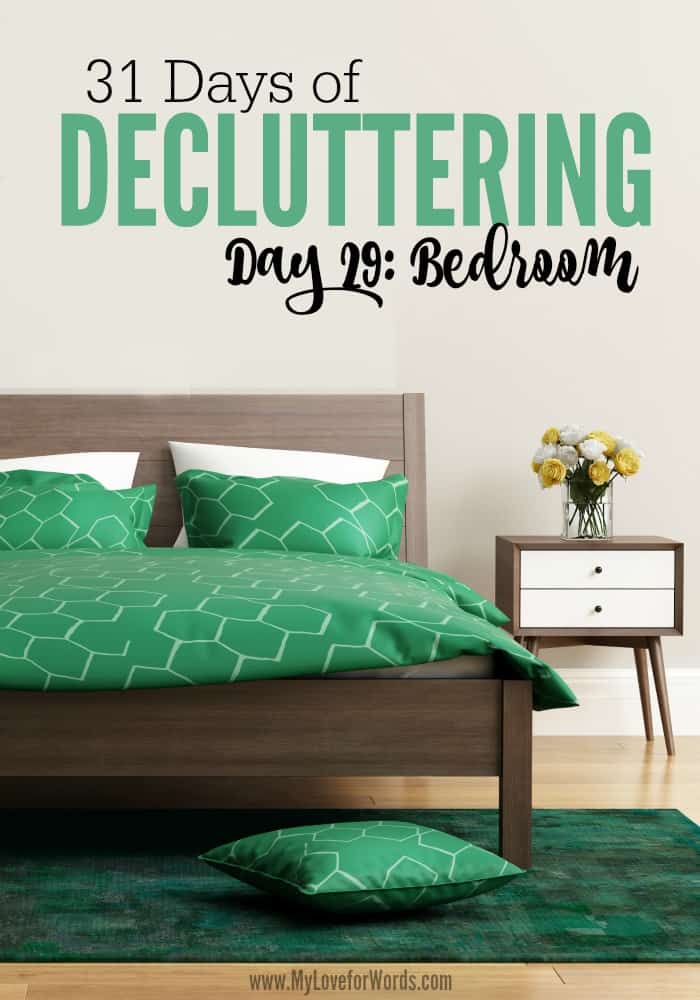 When I started the Declutterathon, my bedroom was actually one of the first spaces I decluttered. It was far from the peaceful, quiet sanctuary I wanted.
I started with an action plan and ended up making great progress. The room went from a complete disaster (seriously! You can click here to see pictures) to a beautiful, organized space. Unfortunately… the space has once again devolved into an absolute mess. It's actually worse than it was before (if you can even believe that!). 🙁
The good news is that I know where I made some mistakes:
I didn't maintain my progress. I allowed myself to once again pile things on my dresser and the floor.
I used my bedroom as the "hide all the junk!" room. With too much stuff out and not enough time to properly deal with it all, everything was put in laundry baskets, boxes, and bins, and shoved into our bedroom where guests wouldn't see it. That was months ago now, and I haven't dealt with the mess.
Please remember that the goal for this 31 Days of Decluttering challenge isn't to have our houses completely decluttered and organized in only 31 days. That's not going to happen. Not in this house, at least. The goal is simply to work 15-30 minutes each day. There's absolutely no way I'd be able to clean my entire bedroom in half an hour. I can, however, make my bed, do some laundry, and pick some things up off the floor.
Tips for decluttering your bedroom:
The first step for most of these tasks has been to empty the space, but that's not going to happen today. If you're able to clear and tidy your entire room in 15-30 minutes, please do so. Otherwise, either choose a couple tasks that you can complete in 15-30 minutes or set a timer and just work until it goes off.
The only "must," in my opinion, is to make your bed. Best case scenario, wash your sheets and blankets so you're greeted with that wonderful fresh sheet feeling this evening. Worst case scenario, just throw your comforter over the top so it at least looks nice (but maybe smooth your sheets and blankets too if you can).
Alright, let's get to work! Is today's task a big one for you like it is for me or do you normally keep your room pretty tidy? When you're finished, I'd love to know what's the weirdest/most out of place thing you found in your bedroom?