Happy day 3 of 31 Days of Decluttering! How did day 2 go? Did you have a bunch of duplicates to sort through? Were you able to easily decided what to get rid of or was it difficult?
Today we'll be dealing with one of my most challenging areas… the kitchen counters. I wish they could be bare with only a few essentials like paper towels and my utensil holder on them, but all too often they're cluttered with all kinds of junk. Worst of all, most of it has no business being in the kitchen at all.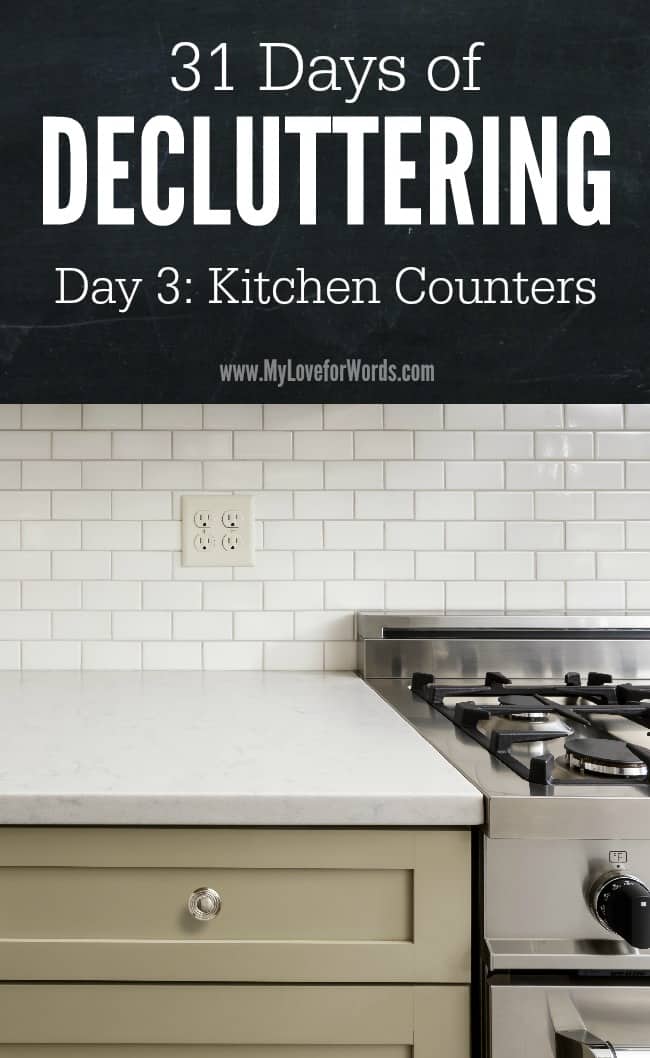 I always feel better on those (sadly rare) days when my kitchen counters are nice and clean. The space feels more light and happy, and it can really impact my mood in a positive way.
Suggestions for decluttering your counters:
Keep as little as possible out: if you use something (like a toaster) every morning, consider storing it in an easily accessible location but not on the counter. The 1-2 minutes it's in use aren't worth having it clutter up your counters for the other 23 hours and 58 minutes of the day.
If possible, immediately return out of place items to their homes. If you're thinking, "These things don't have homes!" just do the best you can. Put them in the room they belong in or with similar items. Do your best not to let this counter clutter end up as clutter in a new space.
If this is a large, longer than 15-30 minute task for you, that's okay. Do what you can. We're striving for progress, not perfection so if you do your best but don't finish, please don't be discouraged. Remember, our goal in this challenge is to improve our spaces and develop better decluttering habits. It's not to end October with a perfectly in order home. If you can do that, more power to you! (and please stop by my house at your earliest convenience!) 😉 But if you can't, that's okay. We're setting small, achievable goals and aiming for progress. That's it.
I enjoyed your responses so much after the first and second days of this challenge that I'll probably ask something like this every day so I'd love to know… what was the most out of place, silliest, or grossest item you found on your counters? This is a no judging zone so if you've found something disgusting, I promise you I've probably found something ten times grosser on my own counters. We're in this together!
Click here to join the Declutterathon facebook group and get support from over 2,200 other declutterathoners!