Welcome to the LAST DAY of our 31 Days of Decluttering series! It's hard to believe it's already over. I hope you've seen great progress around your home and maybe even started to develop a habit of daily decluttering.
Today we're tackling what may be the scariest clutter problem of all… paper clutter!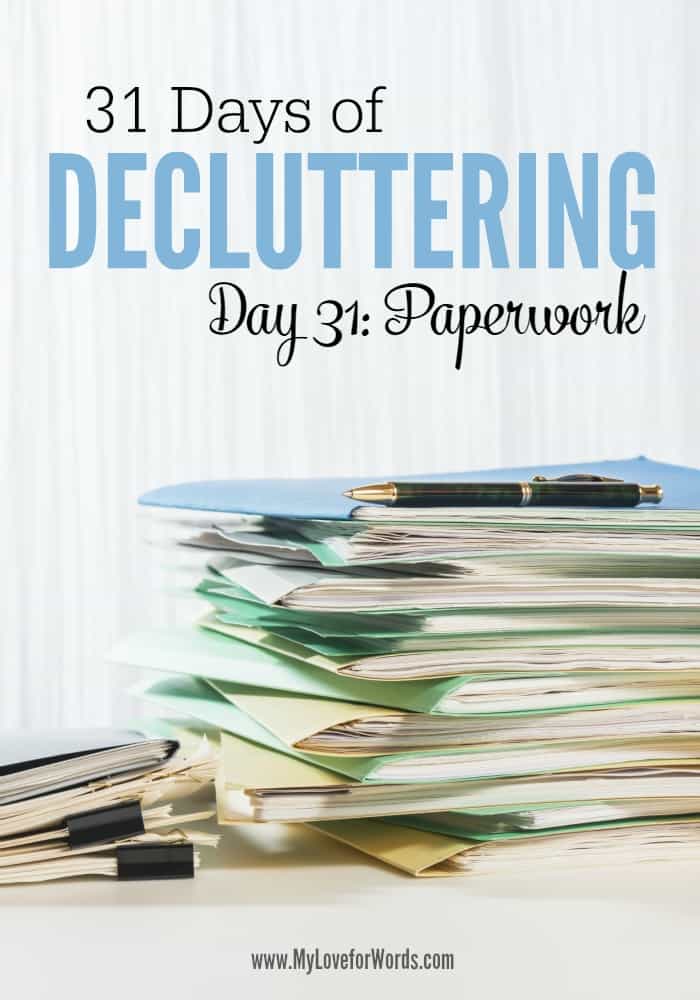 This post contains affiliate links. For more information, please see my disclosure page.
Paper clutter seems to be the monster that never dies. No matter how organized and together we may be, we'll always have to deal with more paper coming into our lives. Between junk mail, legal documents, and papers from school or the different groups we belong to we're always having to manage a never-ending stream of papers.
The good news is that it doesn't have to be overwhelming! (That's what people tell me anyway.) 😉
I do believe that if we establish good organizational systems and routines we won't end up feeling inundated by the papers that come our way.
Tips for decluttering paperwork:
We're going to declutter paperwork in a new way. Unlike other categories where I've suggested starting by gathering everything in one place, today we're going to establish our organizational methods.
First, think about everything you need to keep and the amount of time for which you need to keep it. That's no small task!
Everyday tasks & planning: Keeping up with paperwork we need on a regular basis can be a pain! A couple months ago I felt completely disorganized, which is why I created my This Organized Life printable set. Now my paperwork is in one place, which means I'm no longer searching all over the house for something because I've created an easy to use system, and I'm able to know exactly where everything is. You can use my printables or create your own. The important part is creating a system that works for your life.
Taxes: Some people recommend keeping tax documents for three years and discarding them when the statute of limitations for the IRS runs out. However, this time period can change based on the type of taxes you're paying and the state in which you live. You'll want to consult with your state (or country's) guidelines and store paperwork accordingly.
Business paperwork: what to keep and how long to keep it will vary based on the type of business, location, etc.
Birth, death, marriage certificates, Social Security Card, etc: Keep forever. I purchased this fireproof lock box
 a few years ago to protect our most important documents. You may be able to get copies in the future, but obtaining them from the state can be troublesome and expensive. It's best to safeguard the copies you already have (I've learned this the hard way!).
Medical bills: This is a tricky one. You may want to keep receipts of large medical bills and insurance paperwork for your records. The last thing you want to do is pay a huge bill twice. This will depend greatly on the kind of coverage you have and your personal comfort level.
School paperwork: The amount of work you keep may vary based on personal preference and schooling choice. I tend to keep a lot of my kids' work because I homeschool, and I need to be able to show what my kids have done throughout the year. Growing up, however, I attending school, and my mom kept little more than my report cards. Either way is fine. If you'd like or have to keep a lot of paperwork, using a stackable file box
 may be the way to go. You could use a box per child or per year depending on how much you're keeping. Hanging file folders
 would help to keep things organized and easy to find.
Sentimental items: Whether it's a special letter from a friend or just a card that makes us laugh, sometimes we want to hang on to paper. Creating a special memory box
 or storage solution for these pieces can allow up to keep them safe while not ending up with a home filled with paper clutter.
Once you've determined what you need to keep and systems to house that paperwork, it'll be a lot easier to identify what you can get rid of. This is a similar approach to how I handle decluttering with kids. Sometimes asking, "What do you want to keep" instead of "What do you want to get rid of" makes our priorities and needs crystal clear in our minds.
Things you can get rid of: probably most receipts (unless they're business expenses), junk mail, 90% of the stuff at the bottom of my I mean your purse. 🙂 You get the idea. There are a lot of important papers we need to keep and organize, but there's a lot of trash we have to deal with too. Get rid of the trash as quickly as possible. It will lighten your load and help you feel like what remains is actually manageable.
It's also important to remember that documents with sensitive information (account numbers, social security numbers, etc) should be shredded! The last thing you want is for your decluttering spree to end in identity theft.
Personally, I like a paper shredder
 that shreds and cross cuts the paperwork. I also like being able to shred my credit cards at home. Some communities offer locations where you can drop off your sensitive paperwork to be shredded, but I'm a little paranoid about trusting someone else to do it so I like to do it myself.
Another great option for organizing paperwork without any paper clutter is scanning everything into your computer. I have been extremely happy with this scanner
. I've had it for years, and I haven't had any complaints. I just need to get into the habit of using it more.
This is most definitely not a 15-30 minute job for most people, and that's okay. Honestly, I've been so bad about keeping paper clutter that I've actually moved it four times over the span of six or seven years. Ridiculous! It's just too easy to throw it in a box or garbage bag and deal with it later. Don't be like me! I want to kick myself when I think of what that paper clutter has cost me. It has cost me money, time, and peace of mind, and it's not worth any of that!
If this is an overwhelming task, and you're already feeling paralyzed, just do what you can. Anything you're able to do is progress and will take you that much closer to actually being done. This isn't a race. We're all dealing with different amounts of stuff, different life and family situations, and that's okay as long as we don't let the busyness of life always get in the way of making progress towards an organized, decluttered home.
Is the paper clutter monster alive and well in your home? How are you handling it?