Welcome back to 31 Days of Decluttering! We've spend the last few days in our kitchens, and we're just a couple days away from venturing out to other parts of our homes. Since we tackled our refrigerators yesterday, I thought we'd finish our freezers while we're at it.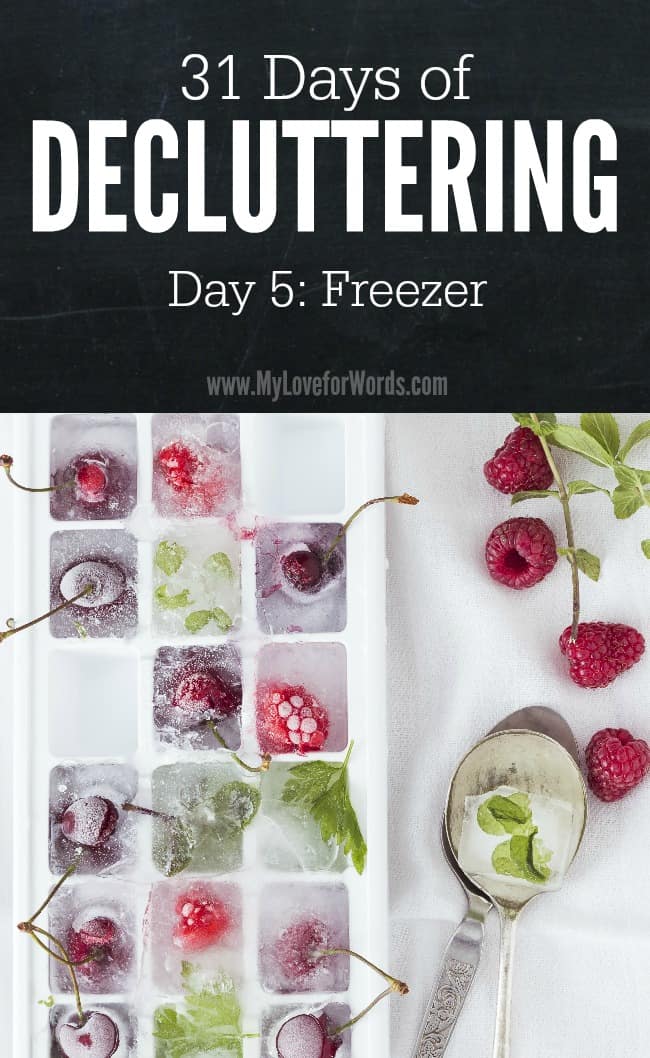 Yesterday, I said that in my house our fridge is the place where good food sometimes goes to die. Well the freezer might as well be the Roman catacombs. I was there once in my life, and that was it… a tally that almost rivals trips to my freezer.
I've purchased in bulk and stored things with the best of intentions, but I never fail to completely forget that anything in there even exists. Except ice cream, of course. If I could forget about ice cream I wouldn't have to suffer through the Whole30 right now.
I hate how much food and money our family (mainly me since I'm pretty much in charge of this cooking thing) ends up wasting because I don't have a system in place to track things and make sure everything is used. I stopped using this free printable freezer inventory tracker not long after I created it. It was a new routine that never really became a habit so it didn't help for long, but I still believe that it could.
I recently made a new tracker (part of my This Organized Life planner), and I'm going to be using it to take an inventory of what we currently have. I'm almost scared to look because I know a lot of it won't be good anymore, and I'm going to feel extremely guilty for wasting so much, but what's done is done. I can't do anything about that at this point. All I can do is better from here on out so that's what I'm going to do.
Tips for cleaning our your freezer:
Remove everything and clean the space
Sort through everything checking expiration dates and being honest about what you will actually eat
Give or throw away anything you know you won't use
Neatly refill your freezer by creating different zones for different types of foods. If you do a lot of freezer meals, have a lot of frozen vegetables, treats, ice packs, whatever it is, keep like items together. This will make them easier to find when you're ready to use them.
After you complete today's challenge, please come back and tell me what's the oldest thing you had in your fridge? Did anything surprise you? Was there anything you'd completely forgotten you had?
Click here to join the Declutterathon facebook group and get support from over 2,200 other declutterathoners!