Before we get started today, I feel like I need to clarify something. A lot of people are having great success with the challenge so far, but some people have expressed some stress and confusion. They've worried about having too much to do in different areas or disappointment that they aren't able to complete each task in only 15 minutes.
Please know that these tasks aren't necessarily supposed to only take 15-30 minutes to complete. I know for some (myself included) certain areas will require a ton of time, and that's okay. The purpose of the 31 Days of Decluttering challenge is to spend at least 15 minutes a day working on your home. If you don't finish, that's okay. It's really all about creating the habit of constantly working in our homes and making progress more than it is about finishing each day's challenge perfectly.
If you're feeling exhausted, burned out, or frustrated your expectations may be too high. Maybe you need to shoot for 5 or 10 minutes a day or just work every other day. Maybe you've been trying to finish each task perfectly, but what you really need to focus on is making progress. Whatever the case, this should be a helpful, enriching experience. Is it's stressing you out, please slow down. Just focus on being a little better than yesterday, and eventually you'll see some really great results. Okay, on to today's task…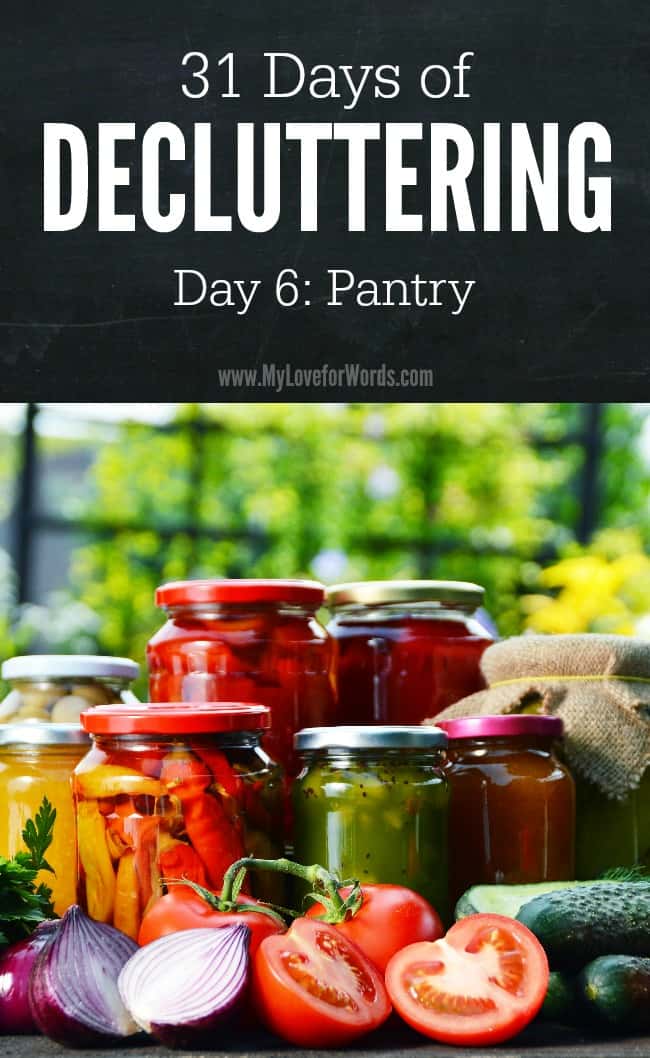 If you're getting sick of being in your kitchen I have great news for you… we're almost done! Tomorrow will be our last day in there, but today we tackle our pantries! Whether you have a huge walk in pantry or or a cabinet filled with dried goods, today we're going to clean them out.
Tips for cleaning pantries:
Remove everything from the space and clean
Sort through food. Check expiration dates and be realistic about what you'll actually use.
Give or throw away food that has gone bad or won't be used.
Put food back in categories, using containers or baskets if available.
My pantry's not in the worst shape, but it has gotten a little out of control over the last year. We have lots of little fingers in the house who like to go searching for goodies so containers of dried fruit and cocoa have been relocated and things just aren't as nice and organized as they used to be. I'm looking forward to weeding through things and whipping that space back into shape.
What are you most looking forward to about cleaning out and organizing your pantry? What works best about your space and what will you change?
Click here to join the Declutterathon facebook group and get support from over 2,200 other declutterathoners!