We're a week in already! Yeah! How have you been doing so far on the 31 Days of Decluttering Challenge? Have all of these spaces needed a ton of work or have you been able to take a few days off? I do have a couple of off days scheduled, but today isn't one of them (muahahahaha!).
Today we'll be cleaning a space that for some may be the final frontier. Dun…dunnnn… dundun… we're going under our kitchen sinks!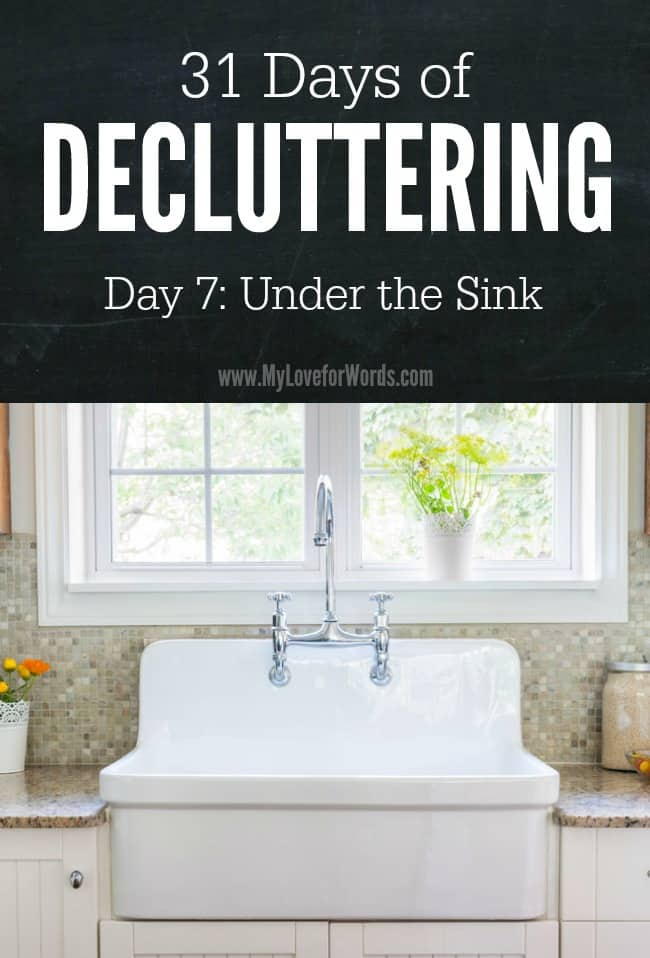 Yesterday in the Declutterathon facebook group, a couple readers begged for today to be oven day because they didn't want to face what's under their sinks. I'm sorry, but there's usually nothing to declutter in the oven! (Though, I will admit to hiding a cake in our oven once when we had an open house. Of course, I turned the oven on later to make dinner completely forgetting it was there. Oops!)
If you're too intimidated or overwhelmed to take on whatever's under your kitchen sink, choose a different space. However, if you're willing to tackle it, I think you'll be really proud of yourself. (Channeling Rob Schneider) You can do it!
I hate to say this, but I'm not even sure what all is under our kitchen sink anymore. I get under there for trash bags and dishwasher detergent, but that's about it. I know there's a lot more stuff under there though so I'm sure I'll be in for some surprises. Hopefully they aren't too scary or disgusting!
Alright, it's time to get to work. When you're finished, I'd love to your to come back and let me know what surprises you found under your sink. Best case scenario you'll be surprised by what great shape it's in! See ya tomorrow.