These playroom organizing and decorating ideas really put the FUN in functional! Okay, that was totally cheesy, but I think you'll agree by the end! 
Sometimes I feel like I'm in a neverending battle with the toys in our home.
I've organized our playroom more times than any other space, and it still seems to be a complete mess on most days. I'm also convinced that they're multiplying when our backs are turned because there's no way we've actually allowed our kids to accumulate that many toys, right?
These beautiful playrooms have inspired me to give organizing our playroom another shot, but this time with systems that will work for our family so hopefully (fingers crossed!) this will be the last major overhaul the space will need.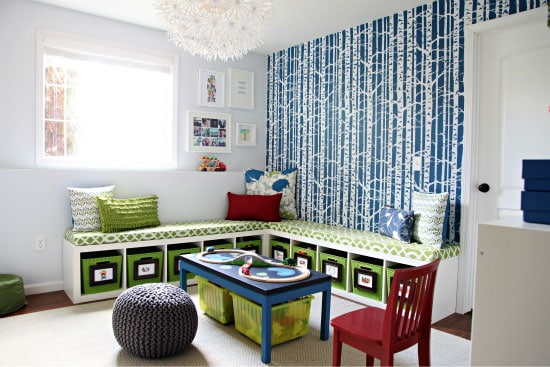 I love how colorful this playroom is while keeping everything kid friendly and accessible. It's kind of hard to see in this picture, but those bins have pictures on the front so pre-readers can still participate in helping to keep the room clean. {I Heart Organizing}