When I started this series, I wasn't quite sure how it would progress. I knew I wanted to start with thinking about why we have clutter, but I hadn't yet figured out which rooms we'd work on and in what order.
Over the last week, I've decided to abandon the "do each room at the same time" idea all together. Of course, we'll still be working on our spaces, but every home and situation is so unique that it would be impossible to come up with a plan that works for everyone. Some of us collect clutter in our bedrooms, others in basements, and some of us (like me) seem to have it everywhere.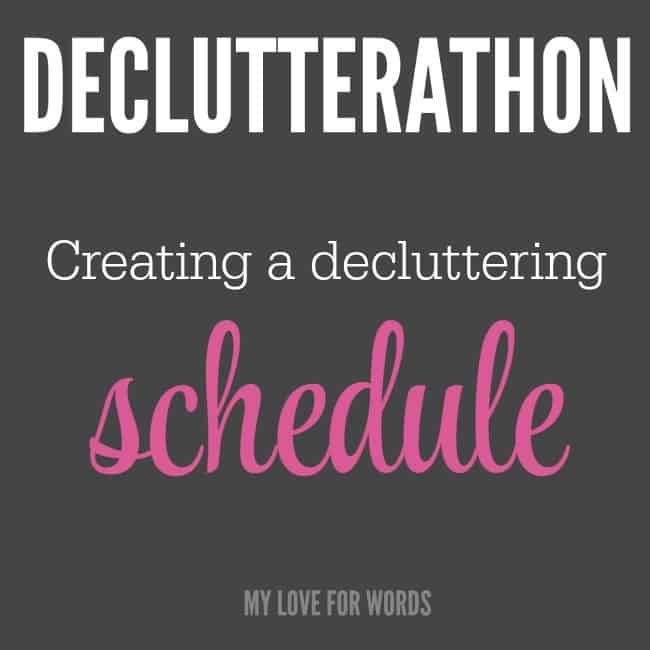 My new plan is to alternate between large and small tasks so we can have some breathing room. This way, if we aren't able to complete a room in a week we have some extra time to finish. I'll still be sharing which room I'm working on and my progress, but don't feel like you have to work in the exact space I am in. Our homes are different. Some of us have more space and stuff to deal with than others so it may take us a little longer, and that's okay. The important thing to remember is to just keep going. Any step towards decluttering is a step in the right direction.
The task for today is to write down the various rooms or spaces in your home or life that need to be decluttered. Don't worry about the individual tasks that need to be completed in each room, just write down a general room name or way to identify it.
Next, go through the list and write or color code the spaces according to what you think will be small, medium, or large jobs to complete. Think of small tasks as those that could be finished in a day (requiring only a couple of hours of work), medium tasks as taking 2-3 days, and large as those that would require 1-2 weeks.
When you're finished, count up how many small, medium, and large spaces you have to declutter and rewrite them into lists by small, medium, and large. We'll be alternating between these small and large jobs over the next 24 weeks.
Since we tackled the master bedroom last week (which was a large job for most, I think), this week, we'll focus on small tasks. This might be decluttering a half bathroom, purse, or small closet, anything that can be done in just a day. If there are any lingering tasks you weren't able to complete over the last week, be sure to add those to your schedule for this week. Last week, I did everything in my bedroom except for the nightstands so I'll be decluttering those this week.
The goal is to work towards a cleaner, less cluttered home without burning ourselves out. If you have the momentum and energy to declutter two large spaces back to back, do it! Don't hold yourself back just because it's a "small task" week. Likewise, don't beat yourself up if you need two small task weeks in a row. The goal isn't to stick to the plan exactly as written. That would probably be a recipe for frustration. Instead, we'll focus on regularly making progress so listen (and be kind!) to yourself and your home. So much easier said than done, I know.
This is how my spaces broke down:
Small (12 total)
Entryway
Entry closet
Hall closet
Half bath
1st child's room & closet
4th child's room & closet
Nightstands
Workout room
Basement under stairs storage
Basement bathroom
Purse
Meal planning
Medium (8 total)
Master bathroom
Master closet
Linen closet
2nd child's room & closet
3rd child's room & closet
Homeschool room
Kiln room
Paper clutter
Large (12 total)
Dining room
Office
Family room
Garage entry & 2 closets
Laundry room
Kitchen
Wet bar
Pottery storage room
Theater/playroom
Storage room 1
Storage room 2
Garage
Now, on a separate piece of paper, write down the number of weeks you have to complete these tasks. I wrote a total of 24 since there are 24 weeks left in this challenge, but you may need more or less time, and that's perfectly okay.
I alternated my weeks between small and large tasks, but this is all subject to change. I didn't compare my weeks to our family calendar so it will probably require some tweaking down the road, but for now it's nice to know everything is scheduled to be taken care of at some point. I think this will help me focus on tackling only one space at a time instead of feeling pulled in a bunch of different directions.
purse, nightstands, homeschool room
dining room
half bath, hall closet, master bathroom
family room
entryway closet, entryway
office
meal planning, paper clutter
kitchen
linen closet, master closet
laundry room
1st child's bedroom
garage entry & closets
3rd child's bedroom
theater/playroom
basement under stairs storage, 2nd child's room
pottery storage room
4th child's bedroom
wet bar
basement bathroom
storage room 1
workout room
storage room 2
kiln room
garage
I put the smallest tasks in the weeks surrounding my most cluttered rooms, which will basically give me two weeks to complete the huge spaces. (To say I'm dreading decluttering my storage rooms would be an understatement.)
This week, I'm going to work on 2 small tasks (purse and nightstands) and 1 medium task (homeschool room). I'm allocating a day to each small task and 2-3 days for the homeschool room, which brings me to my goal of working 5 days a week. I think this is totally doable without being overwhelming.
We will eventually break the medium and large tasks into smaller tasks like we did for the master bedroom, but we'll wait until later to do that to avoid getting overwhelmed.
Once you've made your list, please come back and let me know how many spaces you'll be tackling and what you'll be doing this week.