[tps_header]
I hope this organized life binder tour gives you some great ideas on how to get more organized in your own life!
I'm so excited to share today's post with you because we're taking a peek inside the new and improved This Organized Life planner!
The updated version will include a few new surprise printables, and the biggest change of all… the entire thing will now be available in the smaller A5 size!!
I've had an eventful week to say the least. I'm 39 weeks pregnant today, and I thought I was going into labor a couple days ago (unfortunately, I'm still pregnant!) so my goal of having everything resized and ready to go came and went pretty quickly.
However, I'm hoping to have the new version available next week, and everyone who purchases before the updates are live can get both the original AND updated versions at the introductory price from 2015! You'll get access to the original version immediately, and then all updates will be emailed to you as soon as they're ready. I'm shooting for Tuesday, December 6th…  as long as I don't go into labor. Either way, you'll definitely have them before 2017 starts!
Alright, let's take a look!
This post contains affiliate links.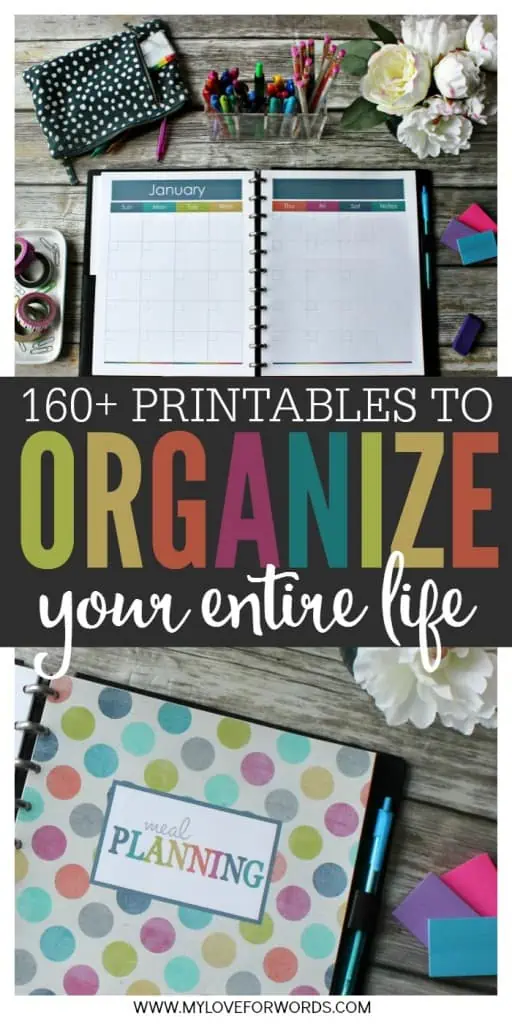 You've probably heard the expression, "If mama ain't happy, ain't nobody happy," and I think there's a lot of truth to that. As moms, we play a very powerful role in shaping the mood and atmosphere of our homes, but it doesn't stop there. If there's one thing I've learned as a mom it's that, "If mama ain't organized, nobody's organized!"
I'd love to pretend that organization just comes naturally to me, but if you've seen any of my decluttering posts you already know otherwise. I think I have a very organized, methodical brain, but all of that organization doesn't exactly ooze into every area of my life, unfortunately.
After literally years of frustration over losing important paperwork and misplacing much needed information, I was at my wits end… and This Organized Life was born. I was on a mission to create a "one-stop-shop" for all of the important things in my life. I didn't want to have to bounce from binder to binder to find the information I needed. I wanted everything to be happily housed in one perfectly organized space. Just imagine how great that would be!
I, in my usual printable obsessed way, created more than 160 printables for organizing various areas of my life from finances, cleaning and organizing, to meal planning, health and fitness, my entire year, and more!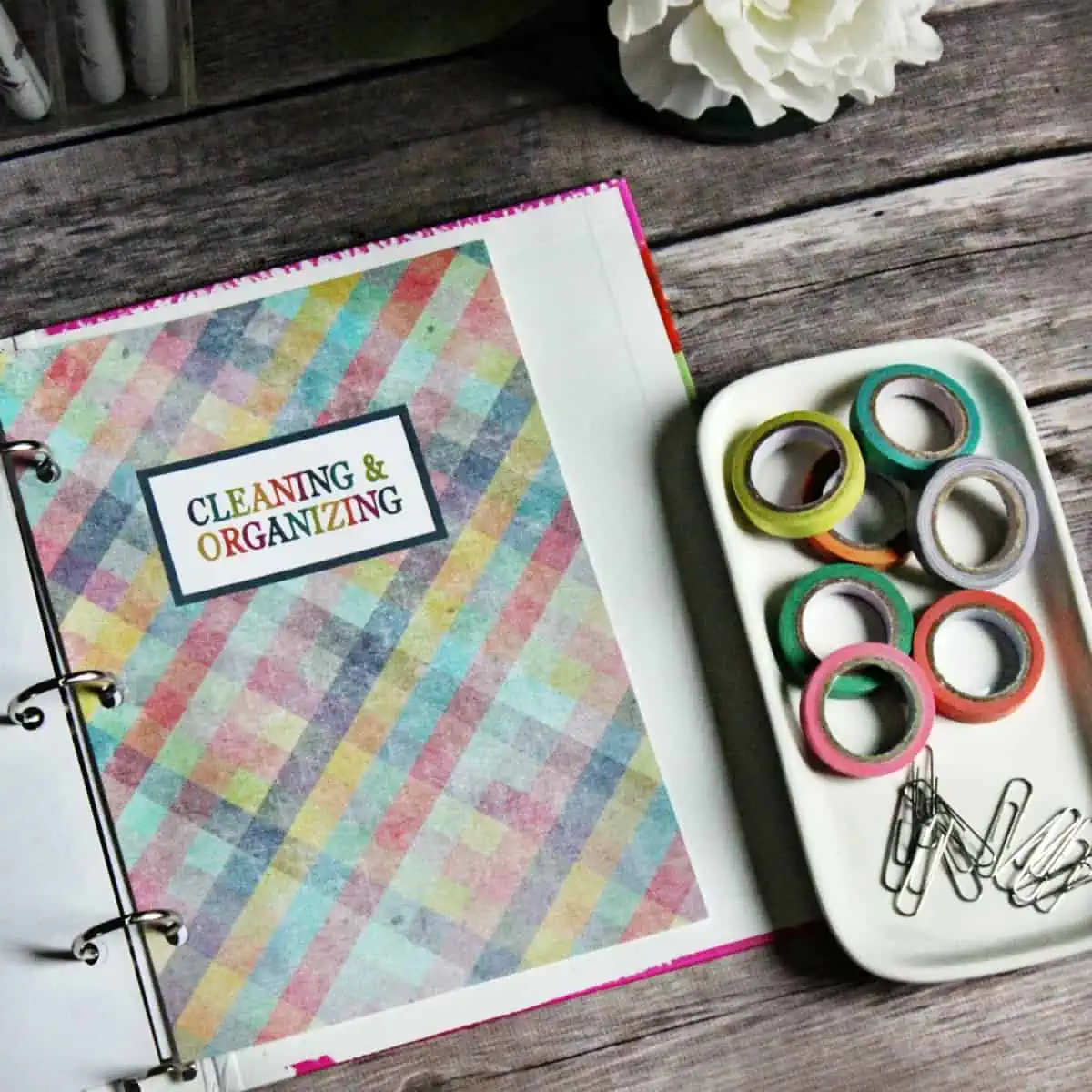 New to 2017, This Organized Life now comes in A5 size too with some special new surprise printables as well! *The A5 size is currently being created, and will be available for download before 2017. Everyone who purchases before the A5 size is finished can grab This Organized Life at the introductory 2015 price so get it while you can! 🙂
Because I love options, I created five pretty and coordinating cover designs for every single section of the planner. This way, your entire planner can be filled with one set of covers or you can mix and match the different patterns.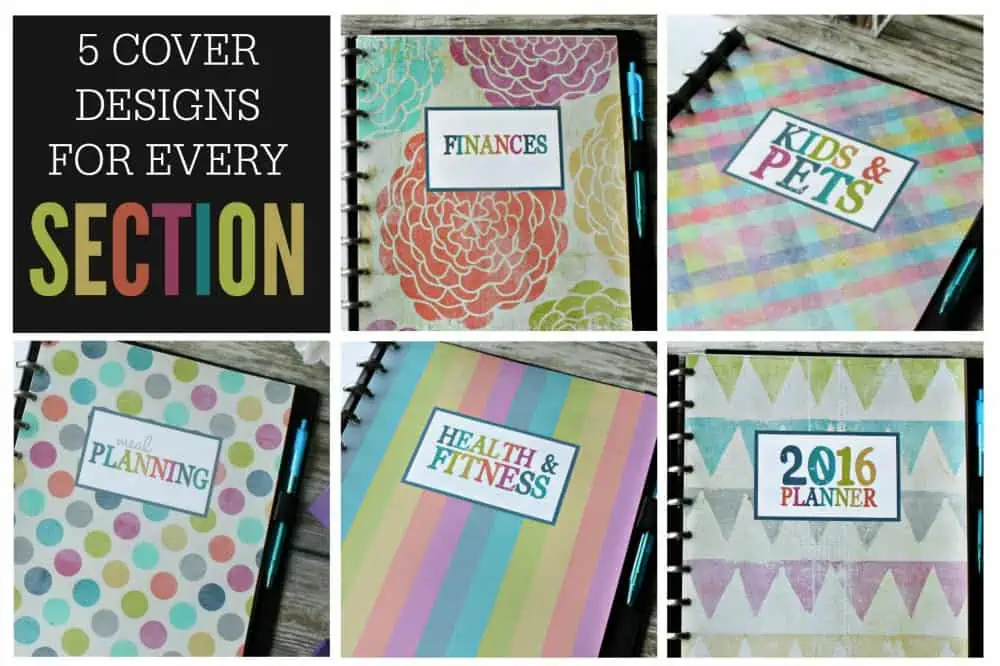 The planner is broken into three sets because I love to give options, and I know different things will work for different people. Some people may only want to be able to plan their year while others will love the meal planning section or really want to organize their finances too. No matter what your organizing goals, there's a package that's perfect for you!
This Organized Life: Yearly Planner
The first package in the This Organized Life collection is the yearly planner. One of my favorite parts about this planner (after the bright, fun colors and how well it keeps me organized) is that it can actually be used year after year after year. I left the pages undated so this could be the very last planner you'd ever have to buy!
The collection does come with a few free bonus pages that are dated like new the 2017-2018 year-at-a-glance pages seen below, but don't worry… this is not an outdated collection. In fact, those who purchased the planner in the past may or may not have received a few surprise dated printables for 2018 in their inbox last year. I plead the fifth! 😉
Ultimately, you can use the blank calendar and planner pages year after year for as long as you'd like.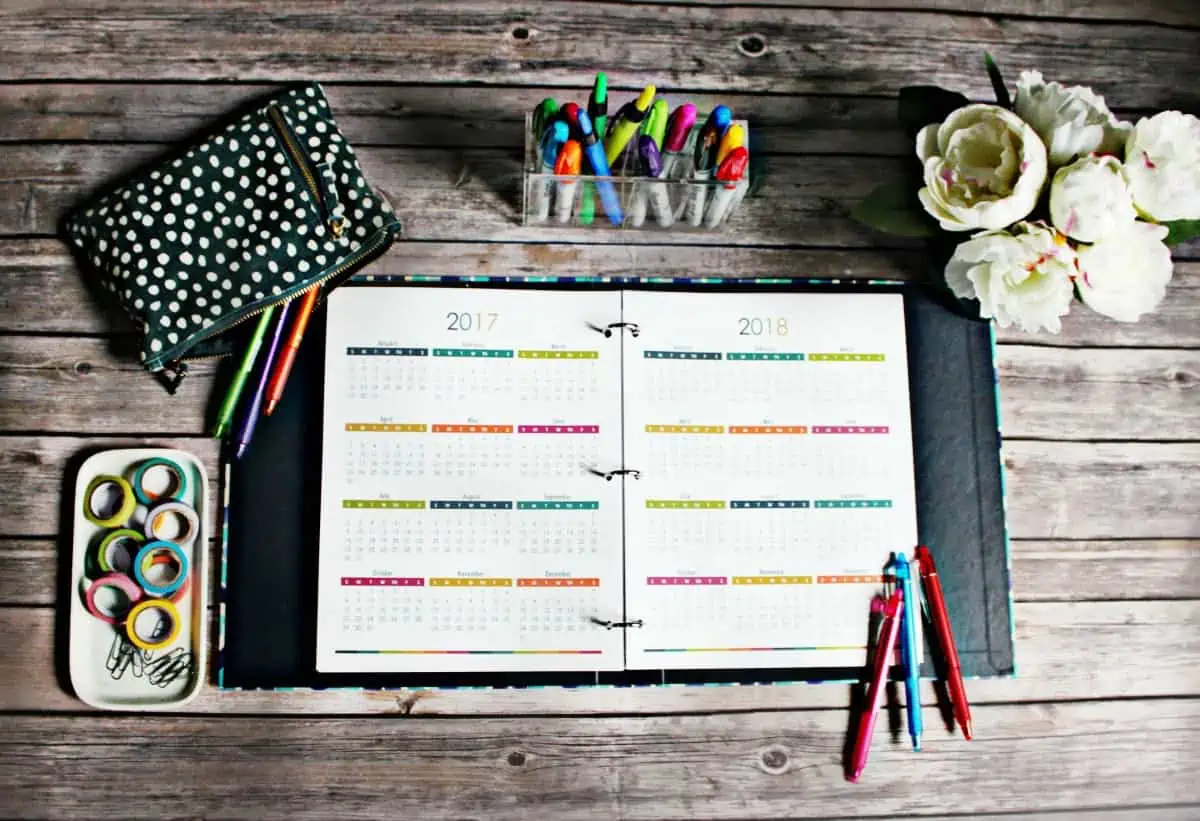 I've also included three different monthly calendars like this one (colored blocks vary month to month)…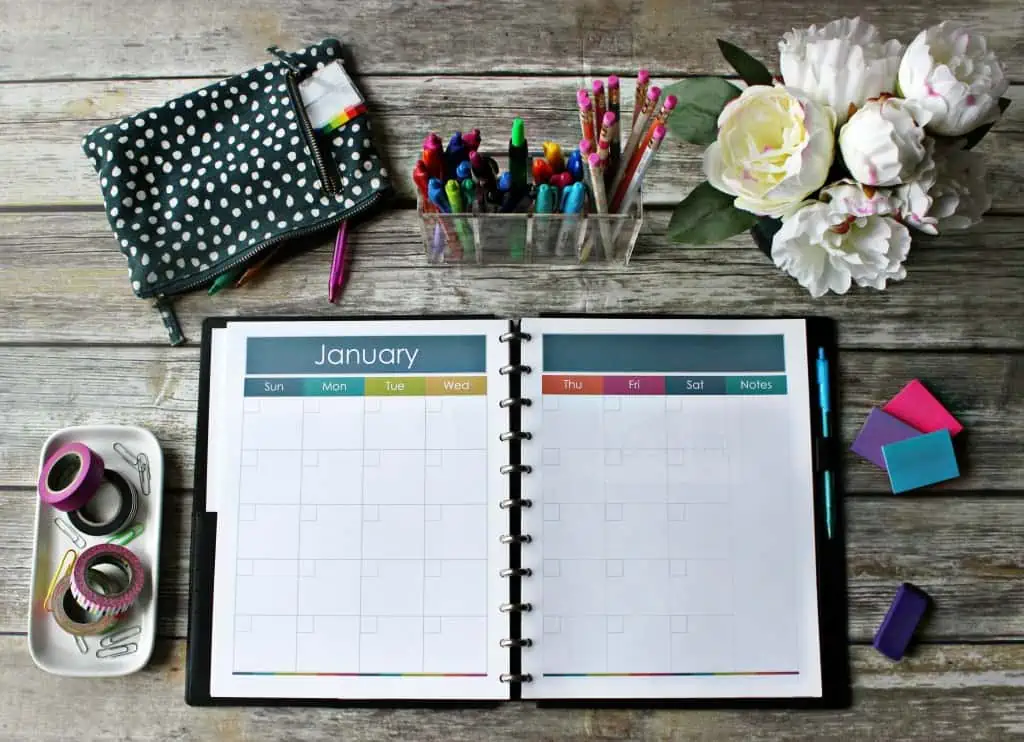 and this one…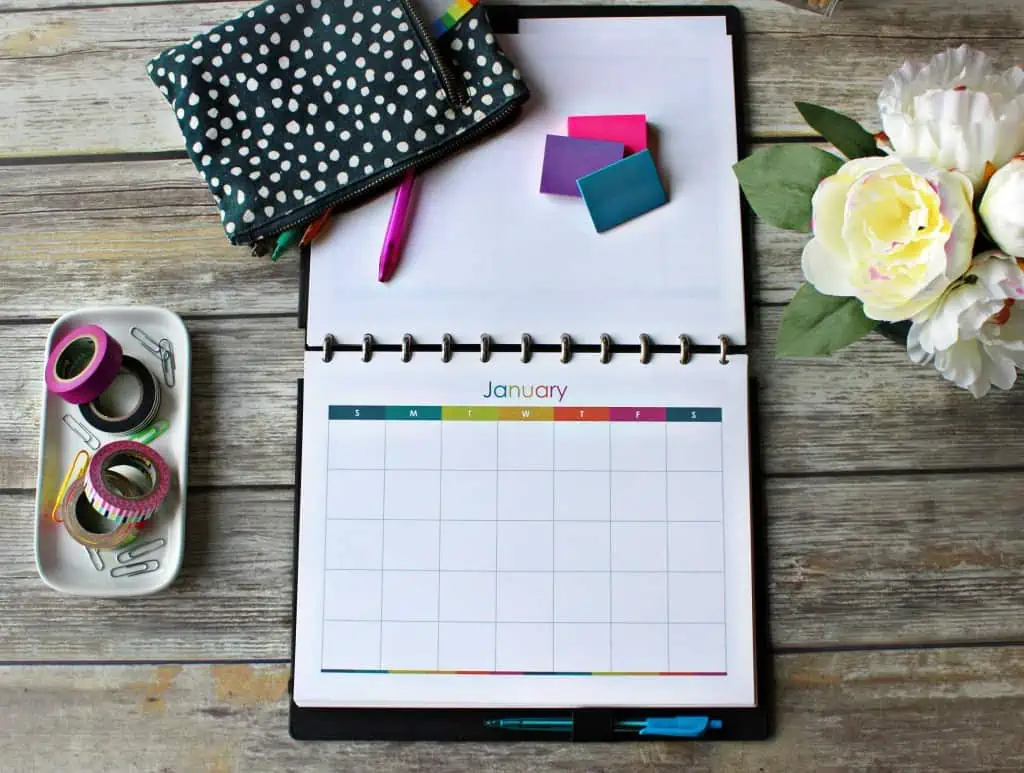 and these two, which are freebies you can grab here —> Full page, letter size or the smaller A5 size.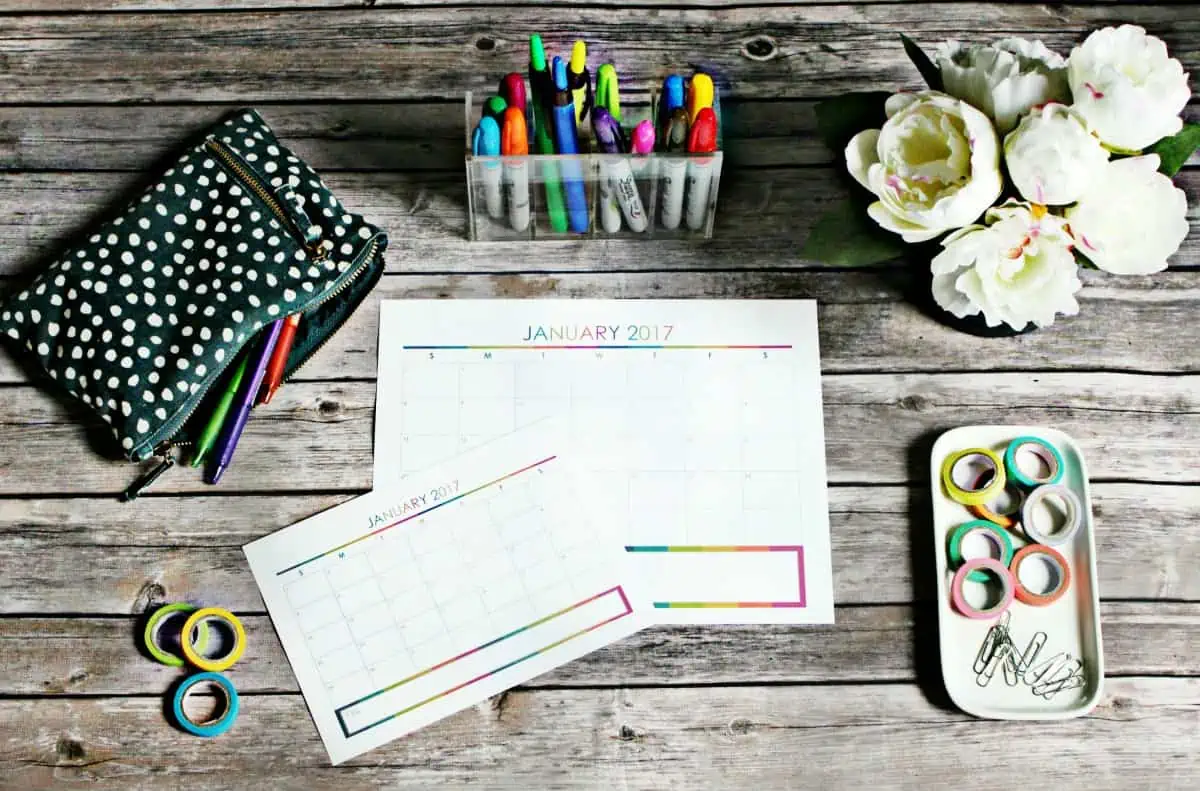 I also included a two page weekly planner. The right page has a few different quote options so you can change it up week to week as well as a blank option at the top so you can write in whatever quotes are inspiring you at that time.
I use the little squares at the bottom of each page for meal planning, but you could also use them for daily to do lists, things to remember, people to contact, etc.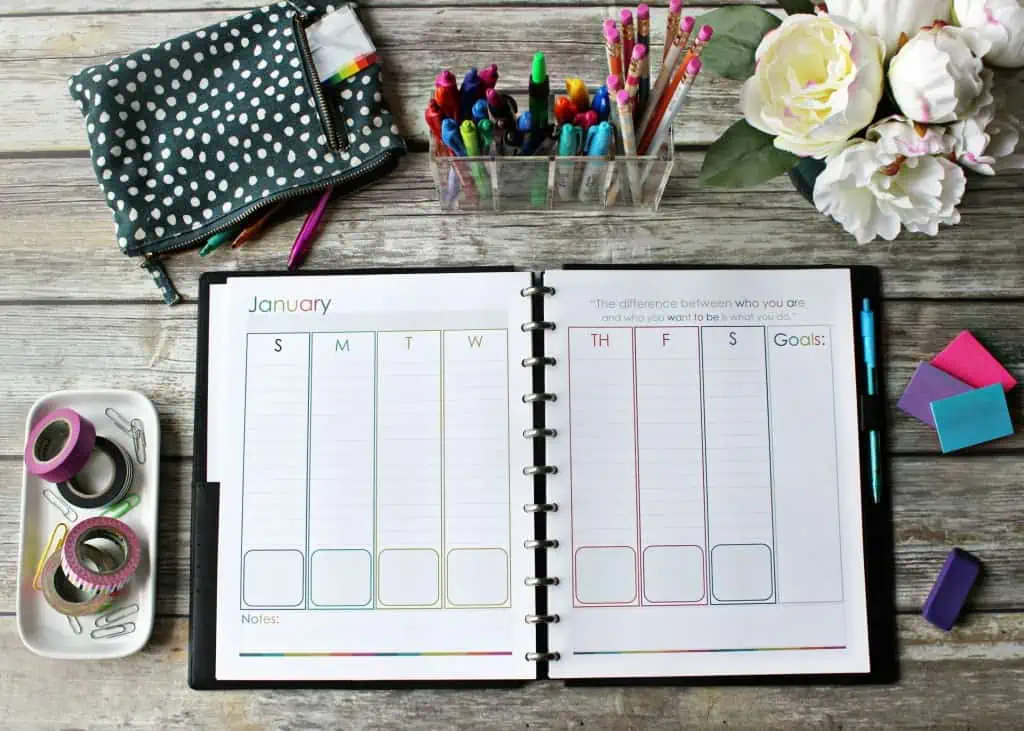 This Organized Life: Meal Planning & Fitness
In my meal planning and fitness kit, I included everything in the yearly planner as well as the printables I'm using to really take my new healthy eating and exercising habits seriously.
I included vertical and horizontal meal planners… (quick tip: after you meal plan, cut the list off. Leave your meal plan at home while the list goes with you to the store. That will keep you from accidentally throwing away your entire plan after shopping and having an entire fridge full of mystery-meal ingredients. I learned that one the hard way!)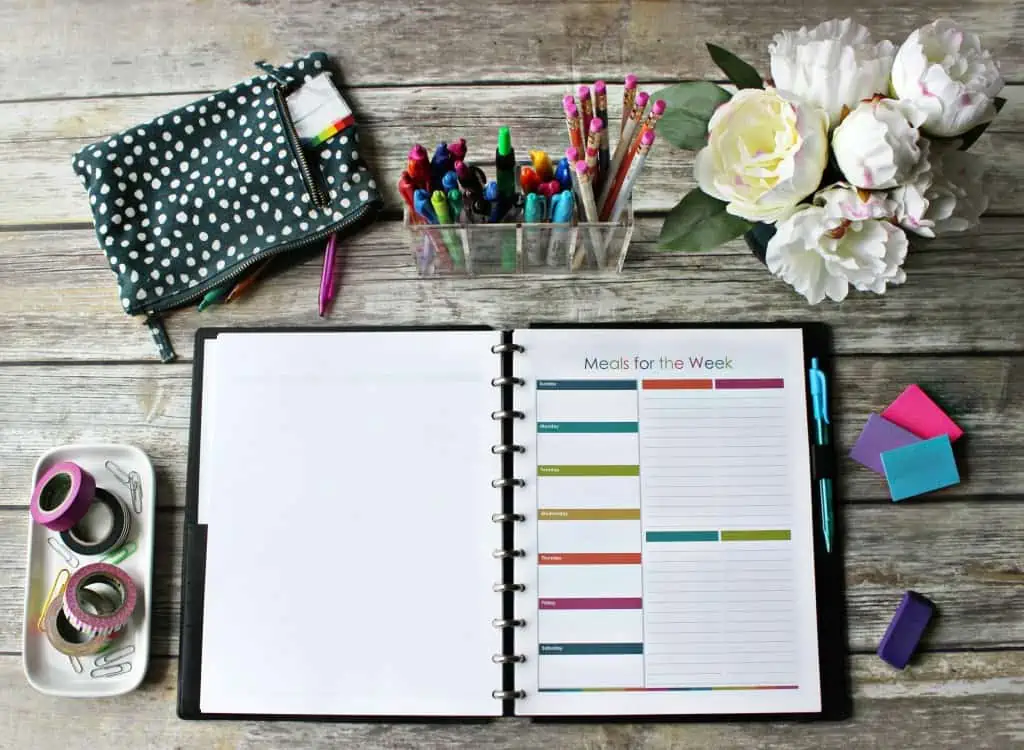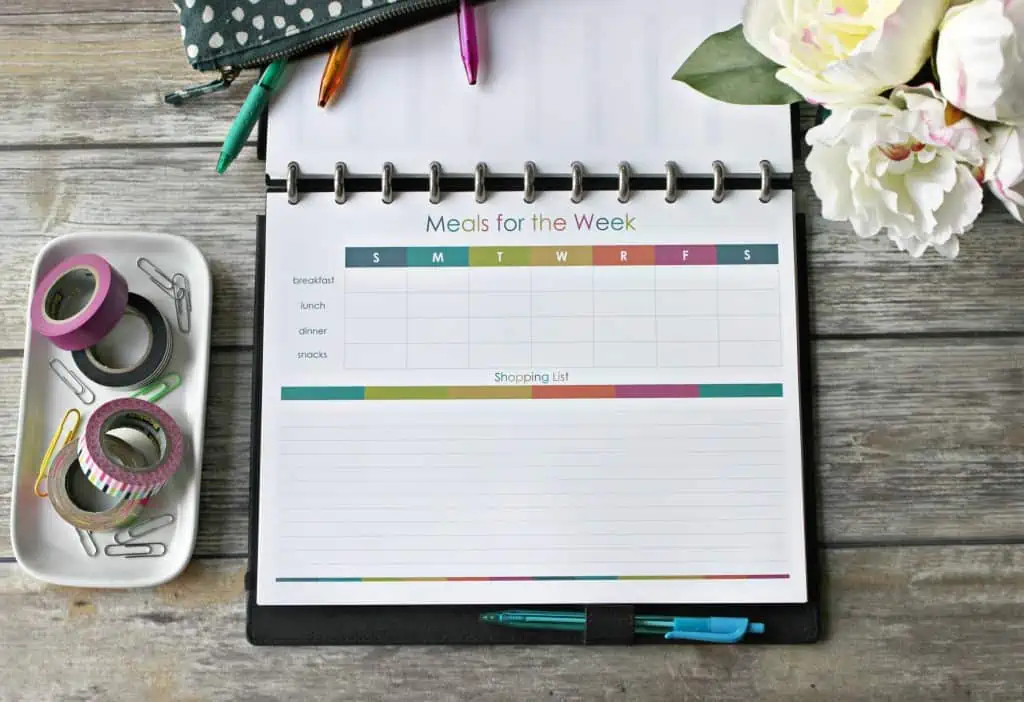 There's also a meals of the month page for those who like to plan a month at a time.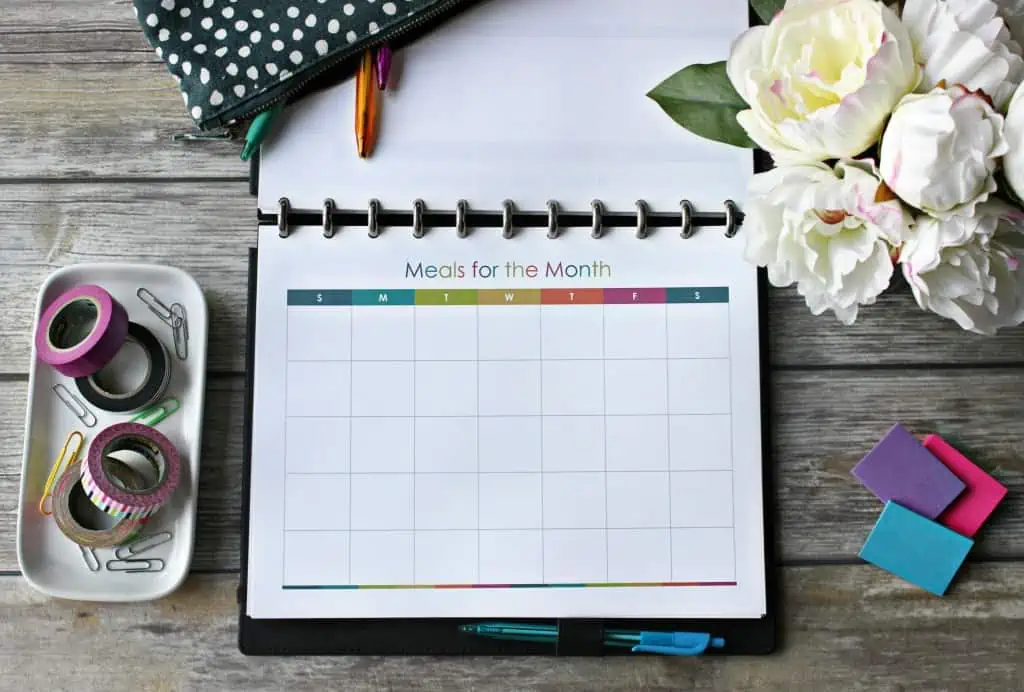 as well as recipe cards, inventory lists for your fridge, freezer, and pantry, and a log for your favorite meals so they're easy to find in your cookbooks.
My fitness printables have played a huge roll in keeping me on track with my goals. I have this printable taped to my bathroom mirror because it's a private location (I don't want everyone seeing my weight!), and it's a place where I know I'll see it every single day. With it, I can track my exercise, food, water intake, weight, and measurements, which has been a huge help in identifying patterns in when and why I may fall off the clean food wagon.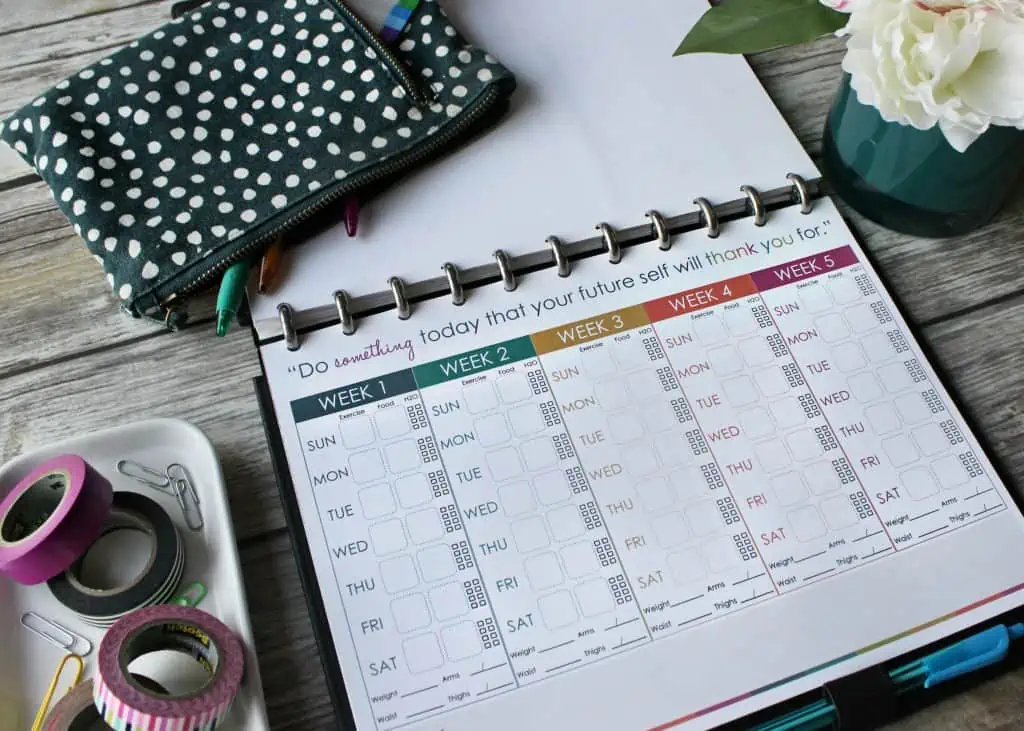 I've also included separate weight, measurements, and exercise trackers as well as a fitness goals worksheet for narrowing down and defining exactly what I'm working for. The printable above is great for noting things day to day, but I love my bigger printables for keeping more detailed information.
On my measurements printable, for example, I'm able to track more measurements, and I've made two columns for arms, thighs, and calves so I can track my left and right sides accurately.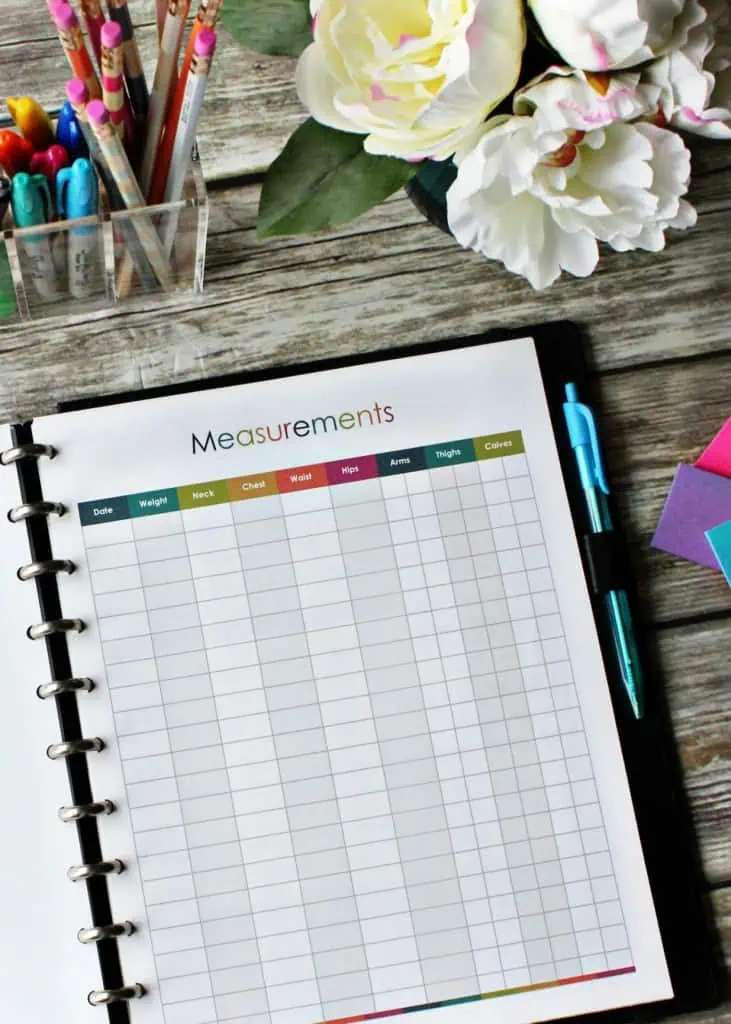 This Organized Life: Complete Kit!
For those who seriously want to get organized, the complete kit is the only way to go! It includes everything in both the yearly and meal planning & fitness packages as well as a comprehensive printables for: finances, cleaning and organizing, kids and pets, passwords, contacts, goal planning, gift tags, and more!
In the finance section, I included two budget worksheets (one with an itemized list and one without)…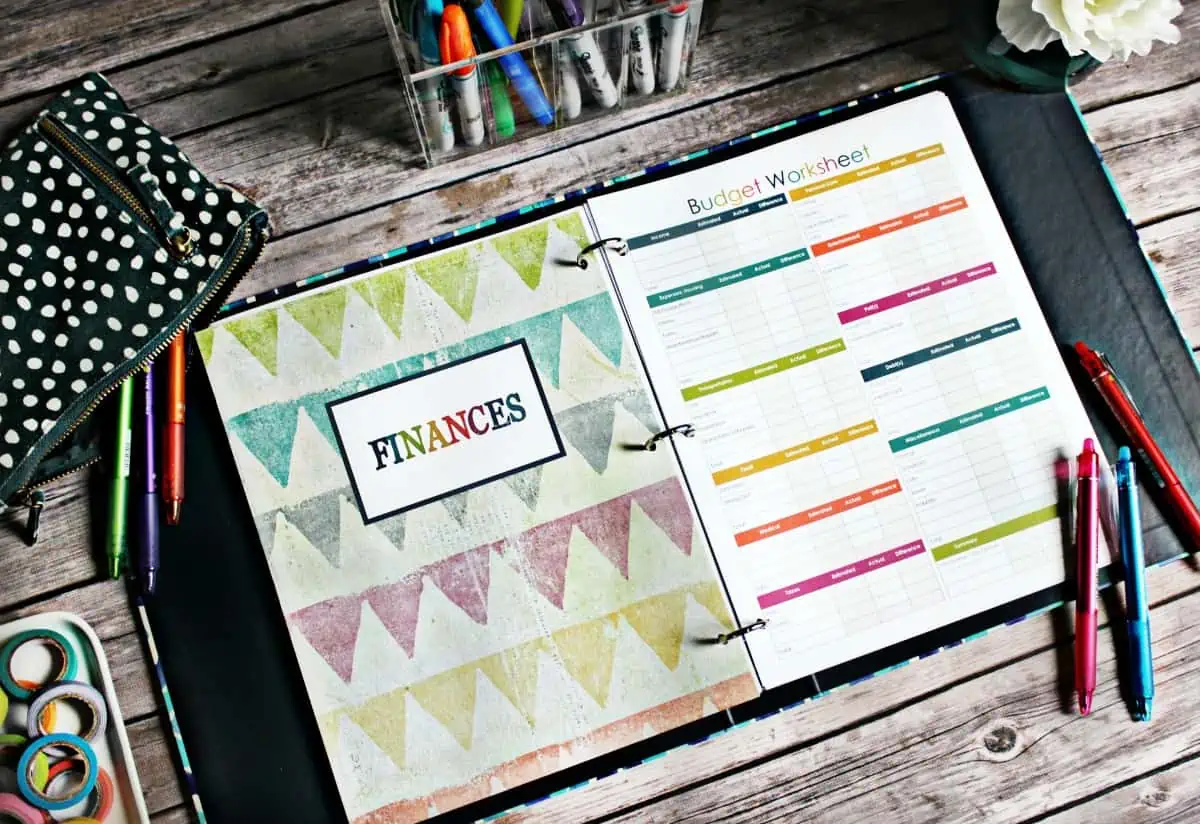 And brand new for 2017, here's a sneak peek at the printable budget worksheets in the A5 size.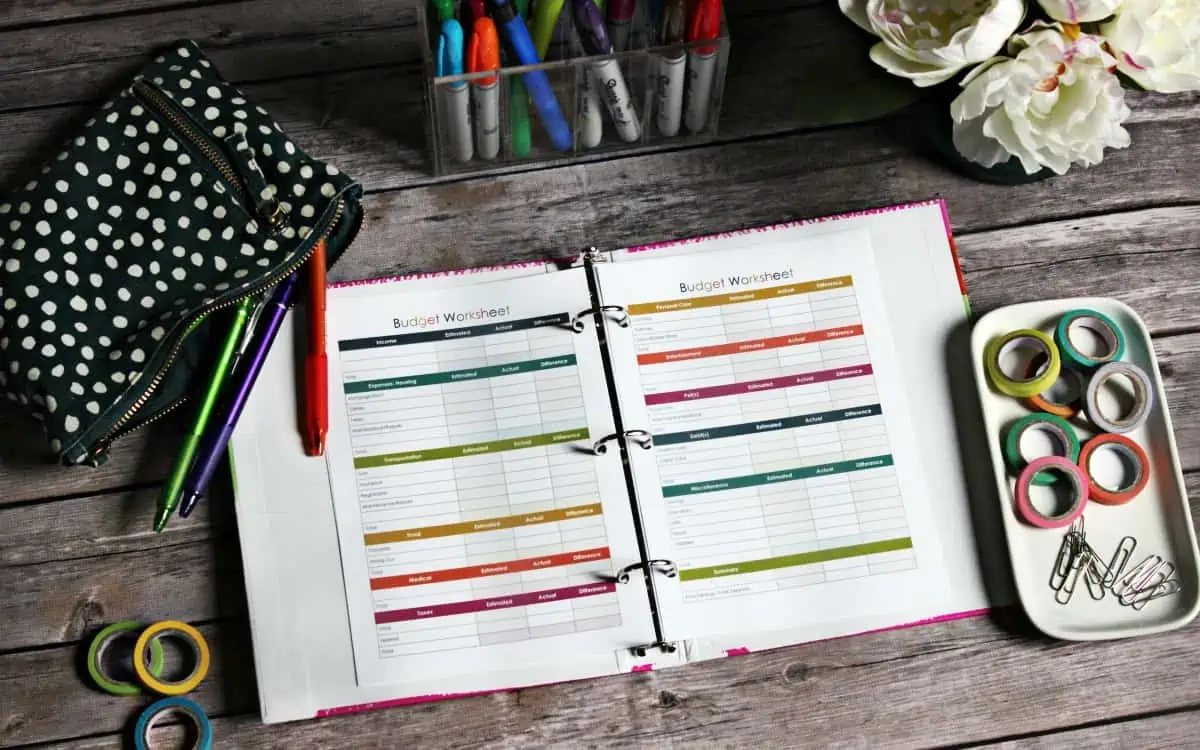 A monthly budget planner to help you track your income and expenses all year long…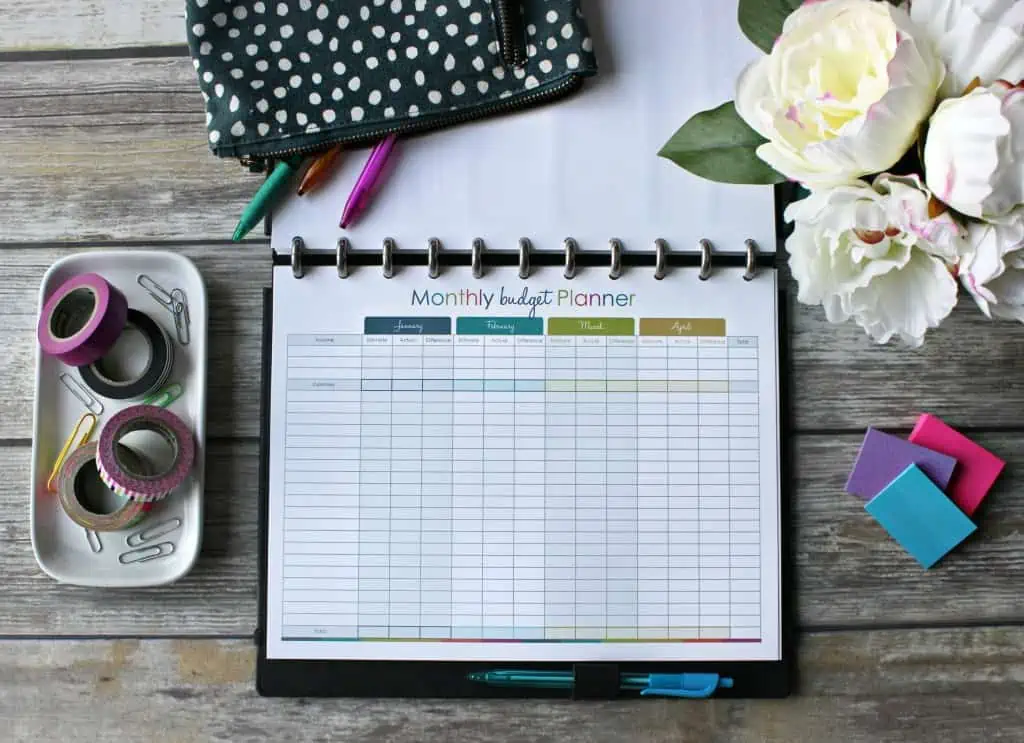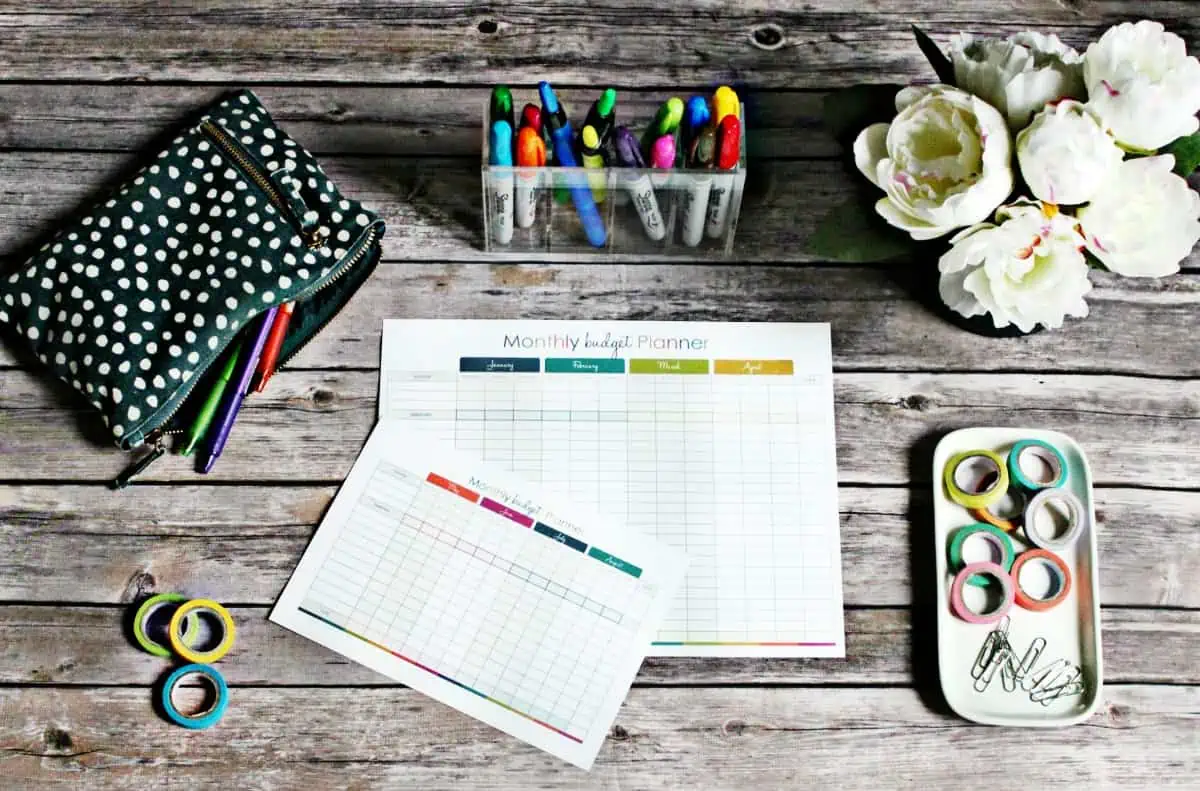 A monthly bill tracker so another bill never falls through the cracks (woohoo! No more late fees!)…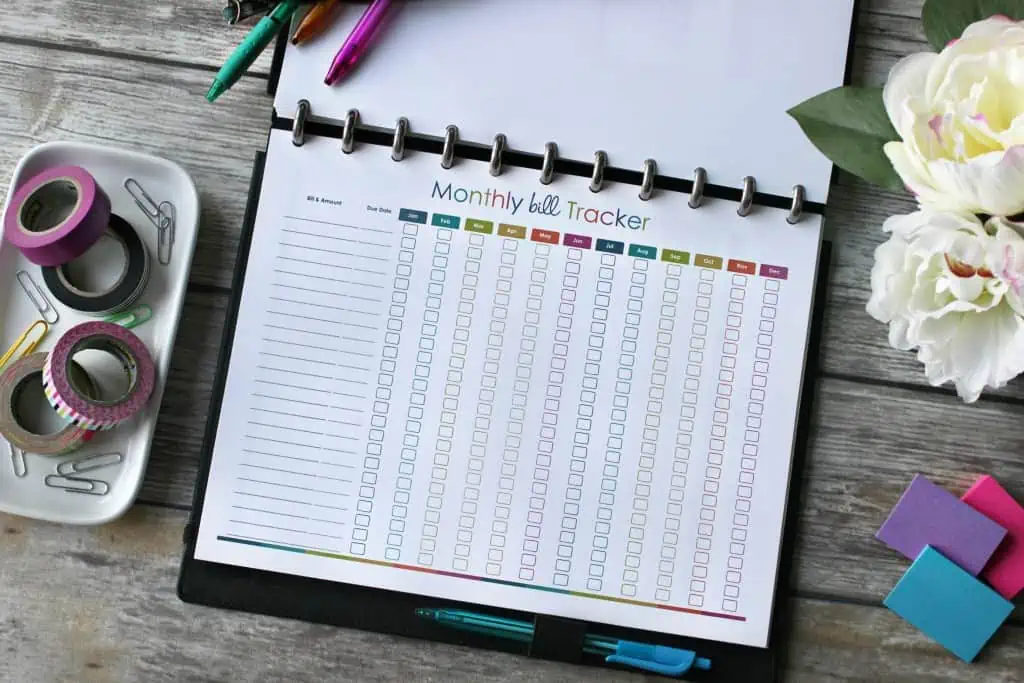 aswell as five styles of cash envelope tracking sheets (matching the cover designs), and pages to record important credit card and bank account information.
For cleaning and organizing, I've included different cleaning checklists as well as decorative storage labels (in the color scheme of the set as well as in the chalkboard style).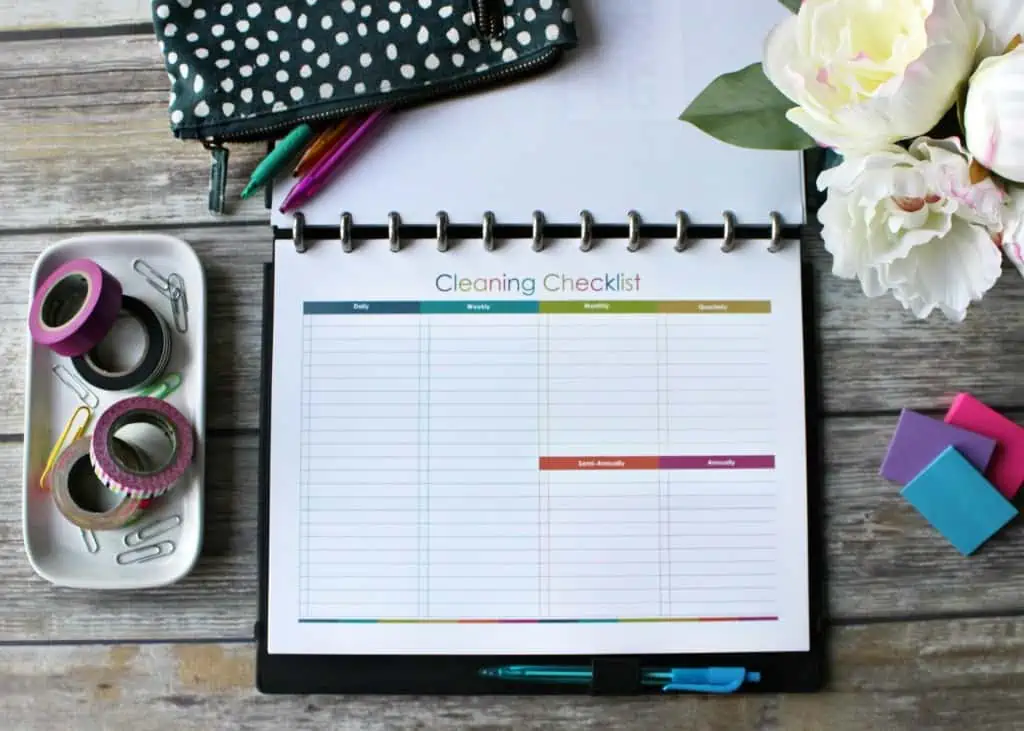 For the kids, I included a chore chart, "While we're away" baby/house sitter instruction sheet, and logs to track vaccinations, screen time, and reading time. I also included vaccine trackers and pet sitting sheets for when we can't be with our furry friends.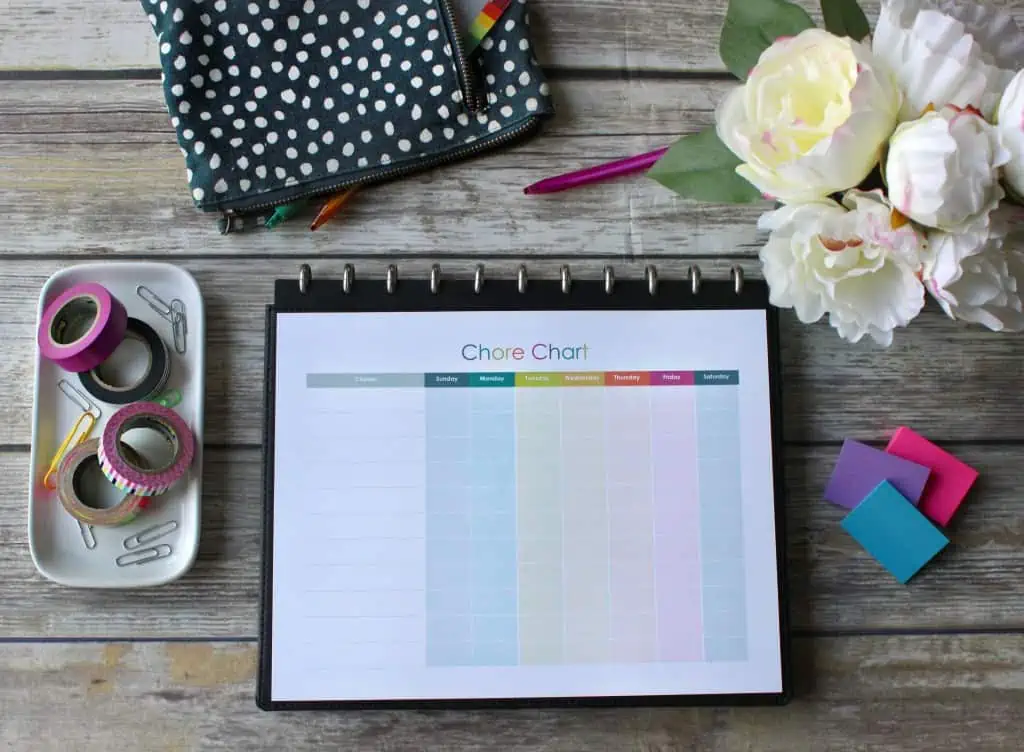 I also included a notes page, password log, contacts sheet, gift bag tags, time blocking daily planner and more! I told you, I went a little printable crazy. 🙂
My Favorite Products
These are the supplies I love and use in my own home. I use some of them in my This Organized Life planner and others in my binders for homeschooling my kiddos.
This post contains affiliate links. For more information, please click here to see my disclosures page.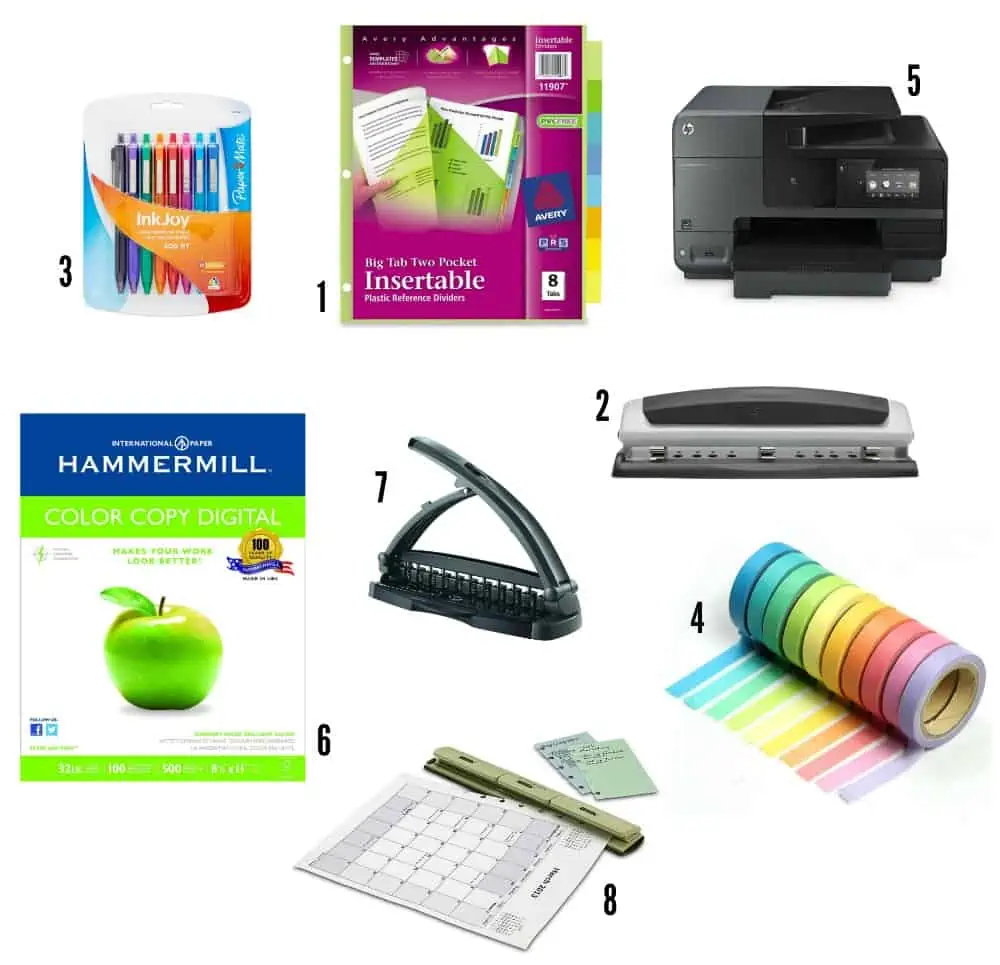 1. Avery Big Tab Two-Pocket Insertable Plastic Dividers
: These are a must-have for me because each divider has two large pockets on it. They're perfect for those important papers that need to be organized temporarily or need to stay in one, unholed punched piece.
2. Swingline Desktop Hole Punch
: I love this hole punch because it keeps all my paper clipping contained and is adjustable too!
3. Paper Mate InkJoy Ballpoint Pens
: These are my absolute favorite pens to use in my planner (and pretty much everywhere else) because of their pretty colors and smooth writing. I like to have my planner color coordinated, especially now as our kids are growing up and people are getting involved in different activities. It's so helpful to be able to quickly identify what's going on simply based on the color it's written in.
4. Washi Tape
: Another of my colorful, binder must-haves in pretty washi tape. It's a fun way to block off big events like vacations, but it's gentle enough on the paper that it can be removed without ruining the page.
5. HP OfficeJet Pro 8620 Wireless Printer
: To print a great planner, you need a great printer. This is the printer we have, and we've been really happy with it. Every paper photographed for this post was printed on this exact machine.
6. Hammermill Paper (32 lb, 100 Bright)
: This is my most favorite paper because it's extremely soft and thick. I recently asked my daughter to grab a piece of paper from our printer, and even she (at 6) was like, "Wow, this is nice paper!" haha! A girl after my own heart.
I use a lot of three ring binders in my home to track homeschooling materials, but for my home binder I used a special discbound system. Unfortunately, my exact binder was part of the Martha Stewart line at Staples, which is no longer available, but there are some other great and very similar systems out there if you're looking for something a little different.
I have this Arc Desktop Paper Punch from Staples (7)
, but I'll be honest… it was hard to pay that price! (Yes, I actually paid that price for a paper punch!). This Levenger Circa Portable Punch (8)
looks like a much more affordable option at less than half the price.
So there it is! The long-awaited This Organized Life binder tour! I hope you love it as much as I do. If you're ready to get organized or want to learn more, just click here.