35 creative stuffed animal storage ideas to help you organize all of the plush toys in your home so they're contained and easy for kids to access.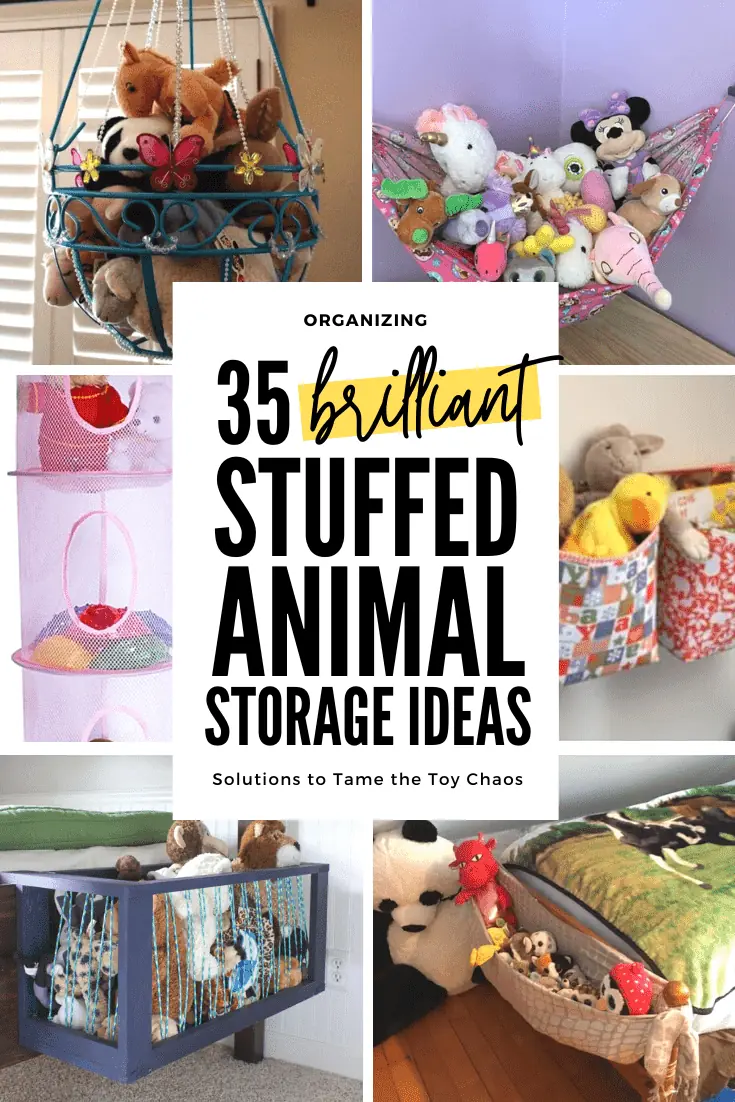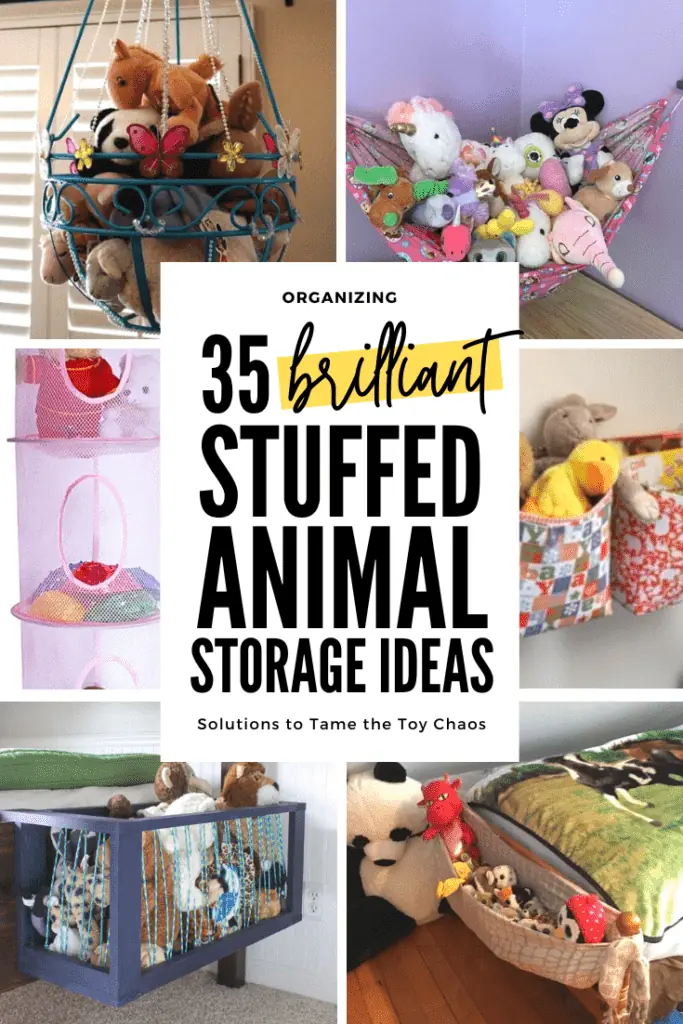 If you have a lot of stuffed animals and don't know what to do with them, you're not alone. Many people have trouble coming up with ideas for organizing stuffed animals and plush toys in their homes. Stuffed animals can be a pain to store, especially if you have a whole bunch of them!
Luckily, there are plenty of ways you can get organized with stuffed animals without breaking the bank. From repurposing a simple shoebox to a beautifully decorated chest of drawers, I'm sharing 35 brilliant stuffed animal storage ideas so you no longer have to feel like they're taking over your entire house.
This post contains affiliate links.
35 Best Ways to Organize Stuffed Animals
Stuffed animals are great for snuggling and playing with, but it can be difficult to keep them organized. No matter how many stuffed animals you have, it's easy for things to get out of control. Let's dive intо the 35 ways to keep plush toys organized.
Stuffed Animal Storage Hacks
1. DIY Stuffed Animal Bean Bag Chair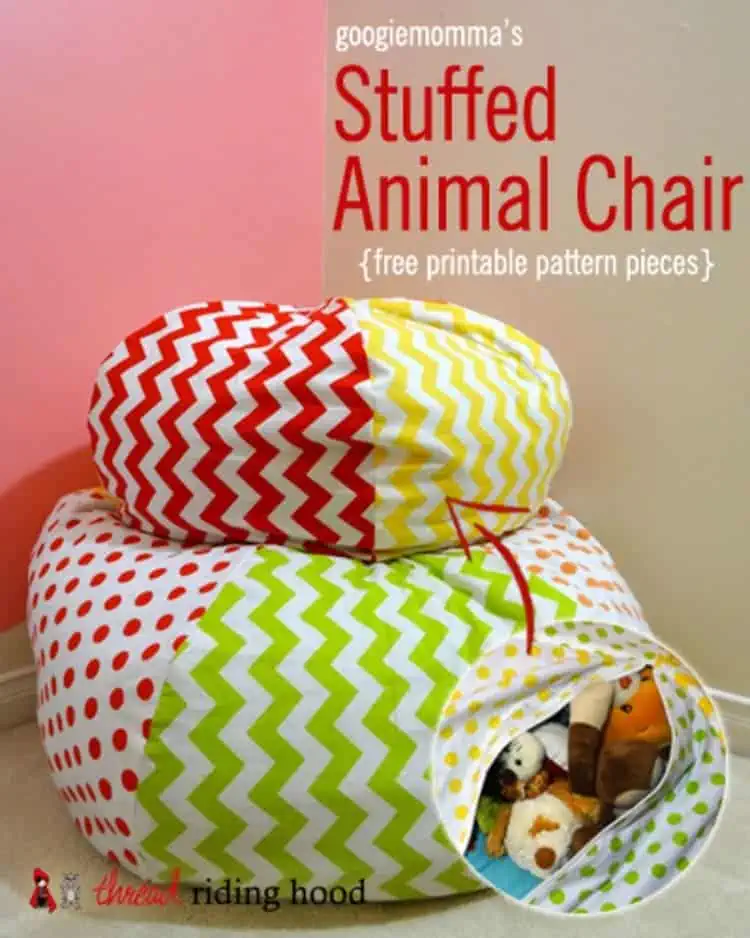 Have you ever walked into your kid's room and found stuffed animals and toys everywhere? Does it seem like every time you clean up, there are more stuffed animals to put away? Well, here's a solution for you!
This awesome DIY Stuffed Animal Bean Chair is exactly what you need! Just fill it with all of the toys and close the zipper. A stuffed animal chair makes for a cozy place to watch a family movie or read a book, and they come in a bunch of different patterns and sizes too.
If you're looking for a more refined piece that could easily blend in with furniture, a storage ottoman like these just might be the perfect solution.
2. Rainbow-Colored Stuffed Toys Bean Bag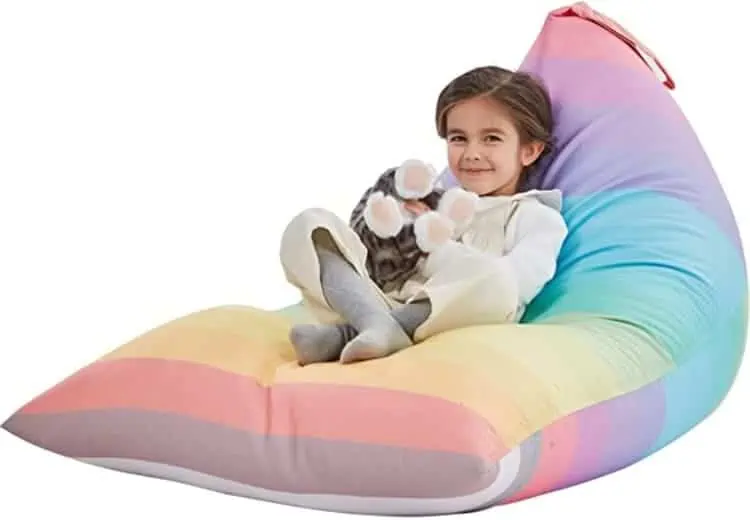 If you like the bean bag chairs but don't want to sew them yourself, you can grab this beautiful Rainbow-colored bean bag! It comes ready to be stuffed with plushies!
This Stuffies Bean bag can be found here.
3. Wire Basket or Laundry Hamper to Control The Plush Toys Chaos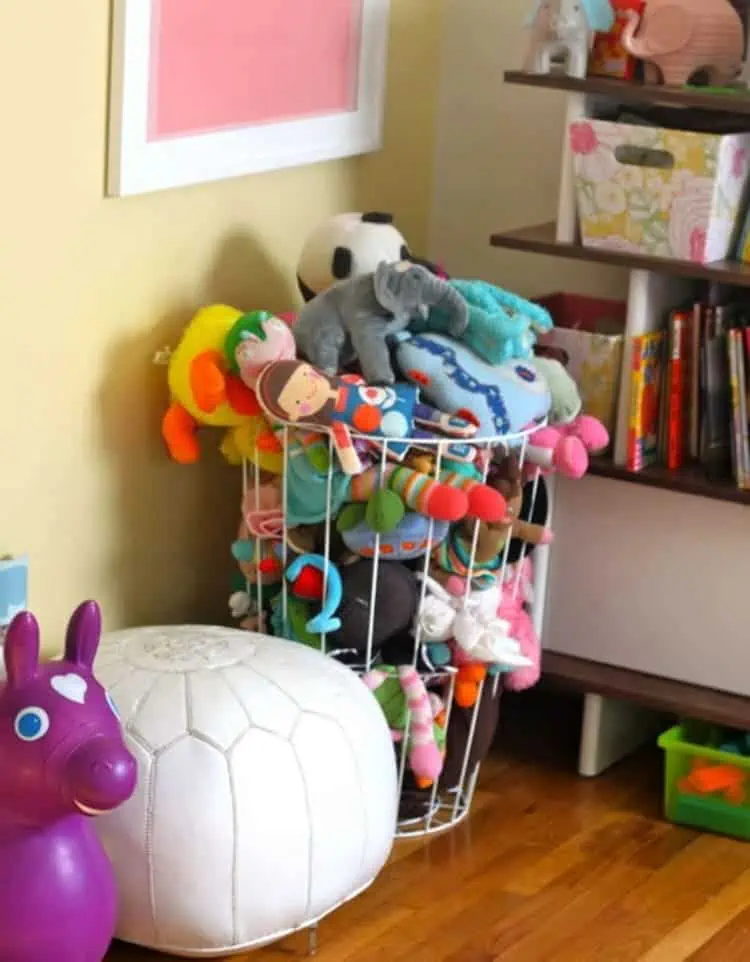 If you have smaller kids, you know they make a mess with everything they get to. No matter what you keep their toys in, they always seem to want the toy that's at the bottom of the container, right? That's why I think using a wire laundry basket is just brilliant! Kids can pull what they want through the open spaces without having to dump everything out first.
If you'd like to try this in your home, you can grab a wire hamper here.
4. Organize Stuffed Toys With a Hanging Closet Organizer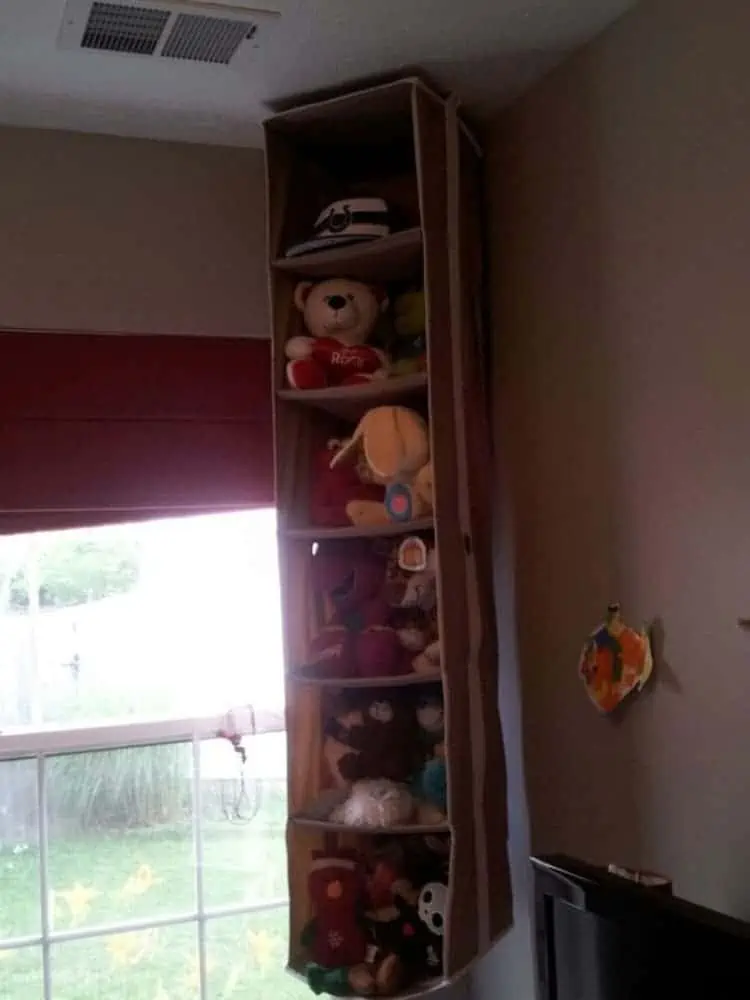 How clever is this?! A closet organizer keeps the toys in order and visible.
Like to use the items in your home in multiple ways? You can also use these when you're packing your clothes for a trip. Imagine each space as it's own packing cube. Pack by category of clothing or day you'll be wearing something, and when you arrive you just need to hang this up to unpack. Easy peasy!
5. Put The Plushies in Order With a Shoe Organizer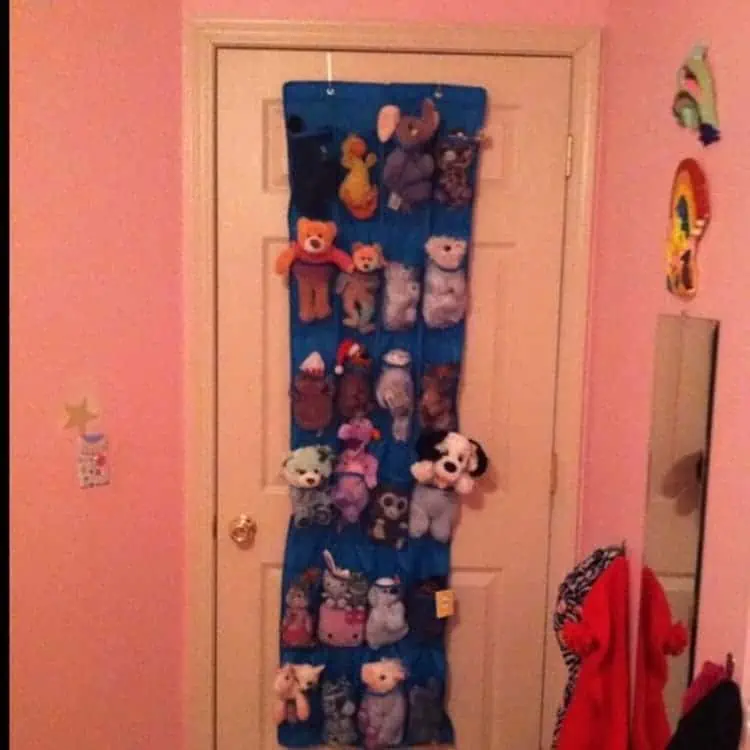 If your kiddo owns a bunch of smaller stuffed toys and hates when some end up buried, you need this hack! Use a shoe organizer over your kids' playroom door and put in all of the small stuffed animals. This helps kids see everything they have, locate and grab things easily, and clean up's a breeze because everything has a home. True sanity saver!
6. DIY Long Wall Shelf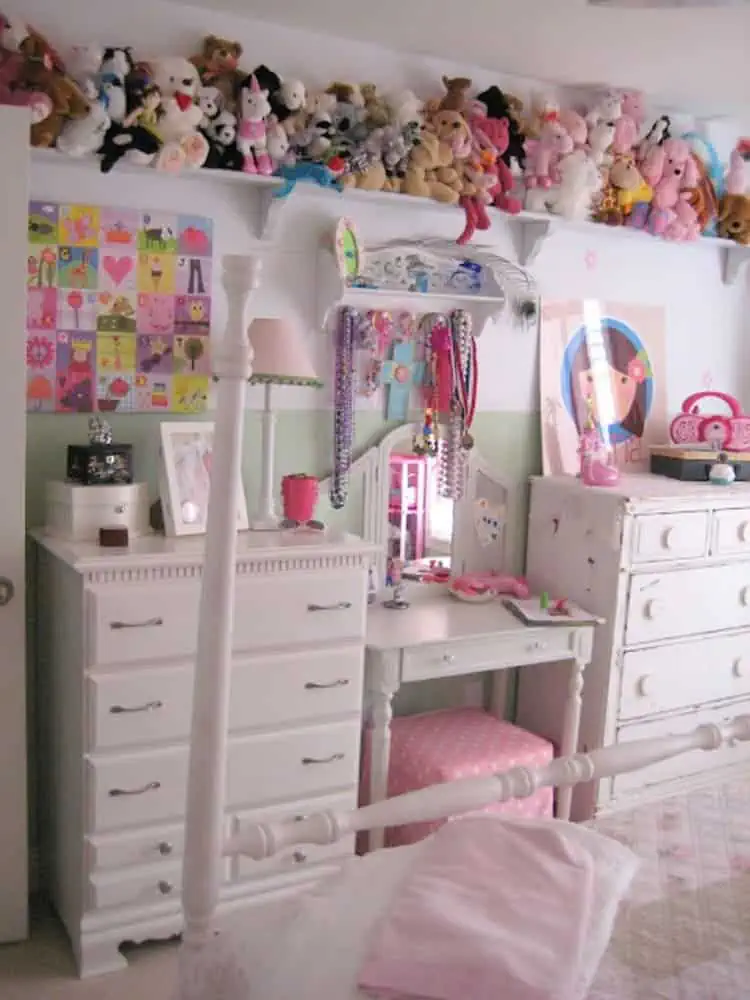 If you don't have space to store stuffed animals in boxes, think about adding additional shelves to your home. A practical solution could be a very long shelf that holds all of your kids' stuffed toys. Looks so pretty to have them all displayed!
7. Mount Hatboxes on the Wall to Use Them  as Stuffed Animals Storage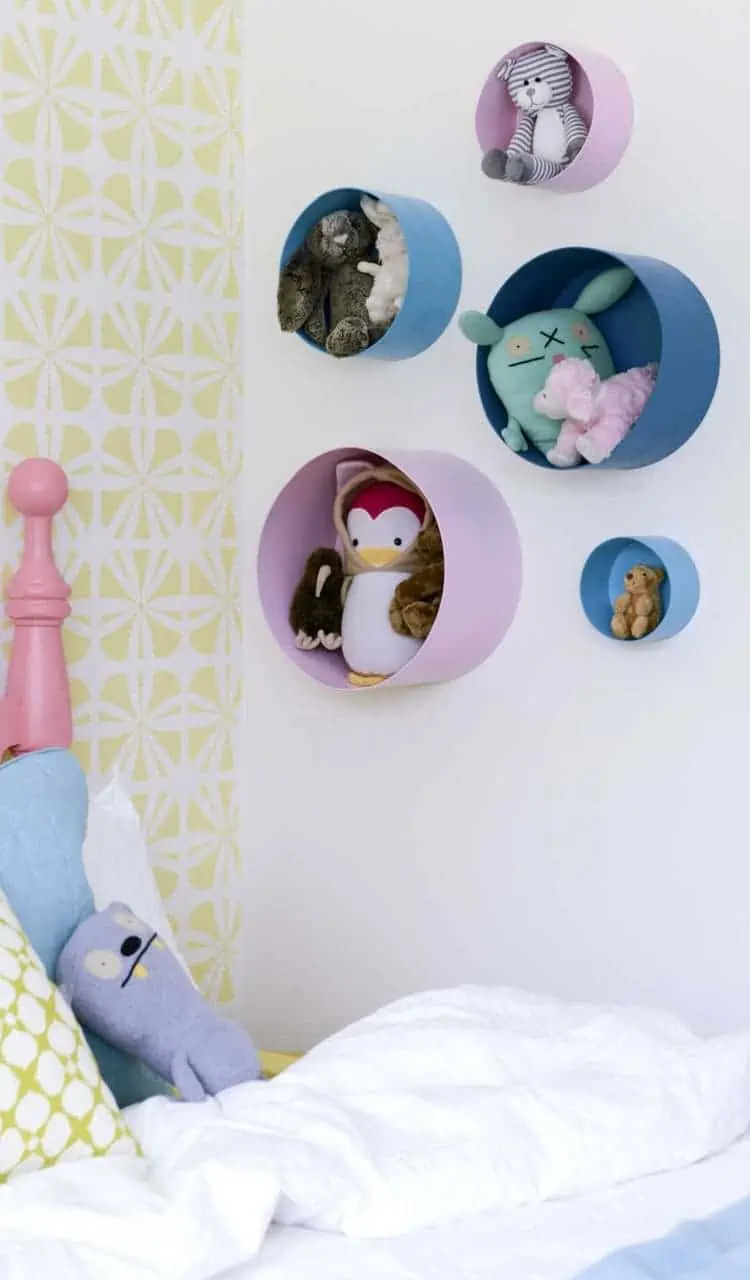 Are you in a crafty mood? Got a bunch of hat boxes laying around? Make your own hatbox stuffed animals storage box on the wall!
8. Repurpose a Wine Rack to Store Plush Animals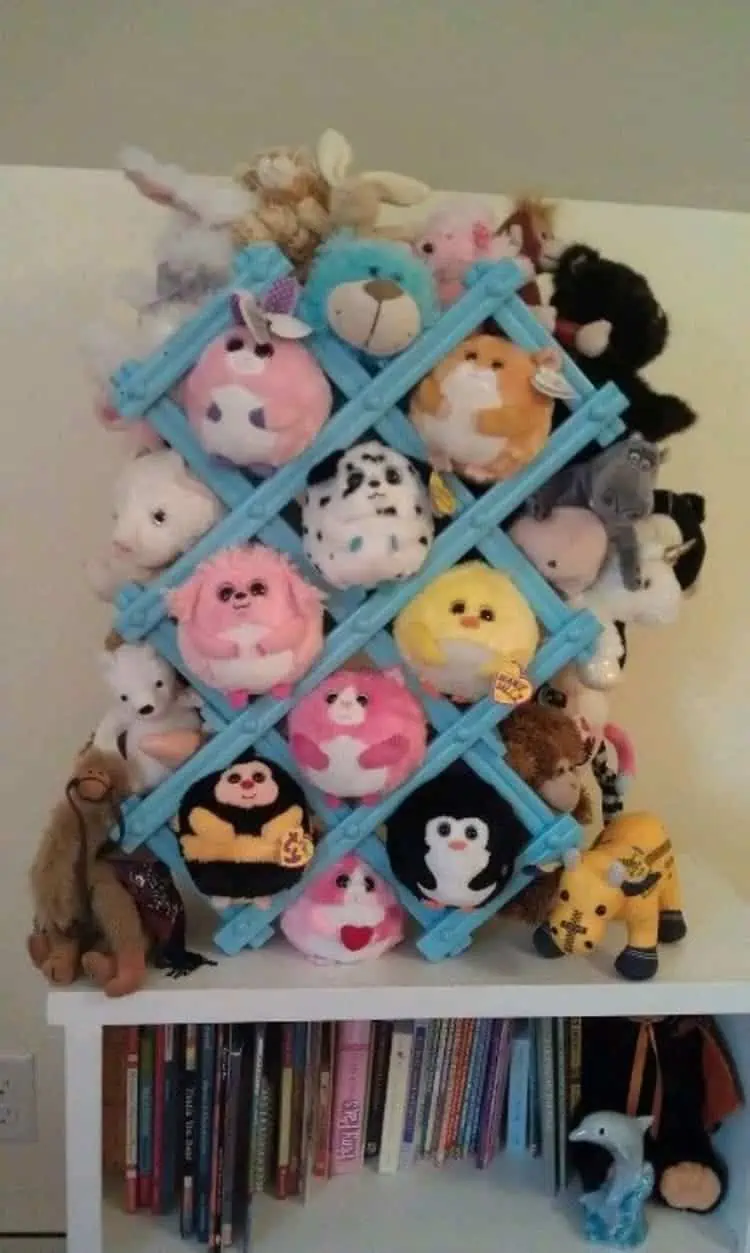 Got an old wine rack you're looking to find a new use for? Repurpose it into neat stuffed animal storage for all of your kiddos' soft toys!
9. DIY Stuffed Animals Storage on Your Kids Bed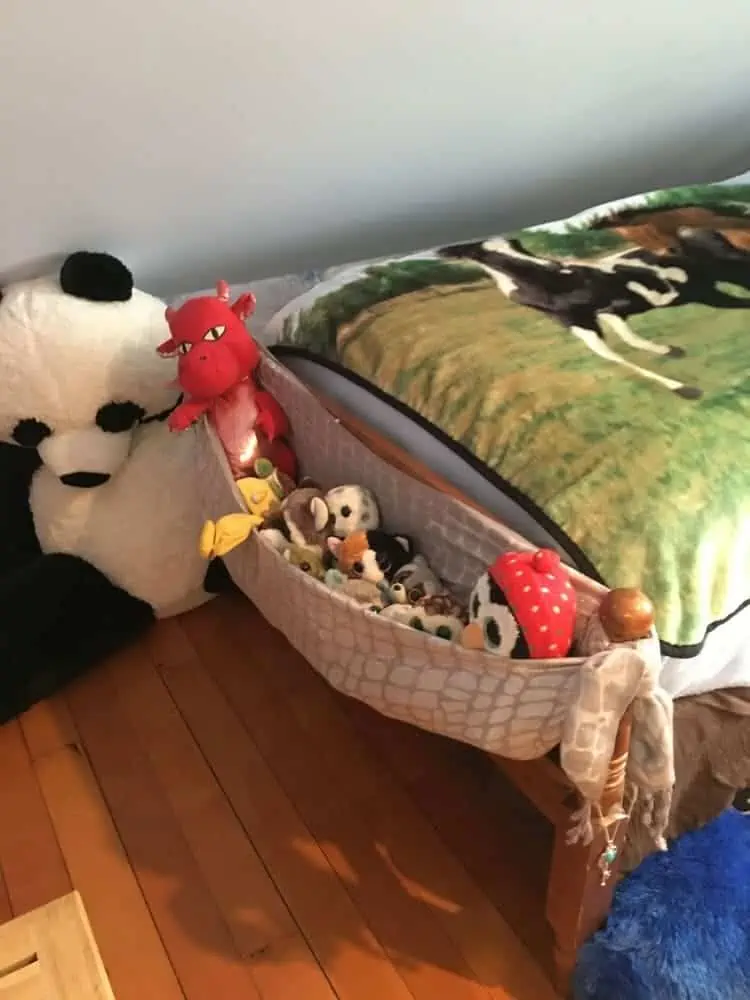 How often have you stepped on your kids' stuffed animals around their beds? Wouldn't it be great if you could just stuff them all in a big pocket? Yes, you can! And apparently, all you need to repurpose is an old scarf or sheet to make the perfect stuffed animal storage hammock!
10. Create a Cute Swing for Stuffed Toys Organization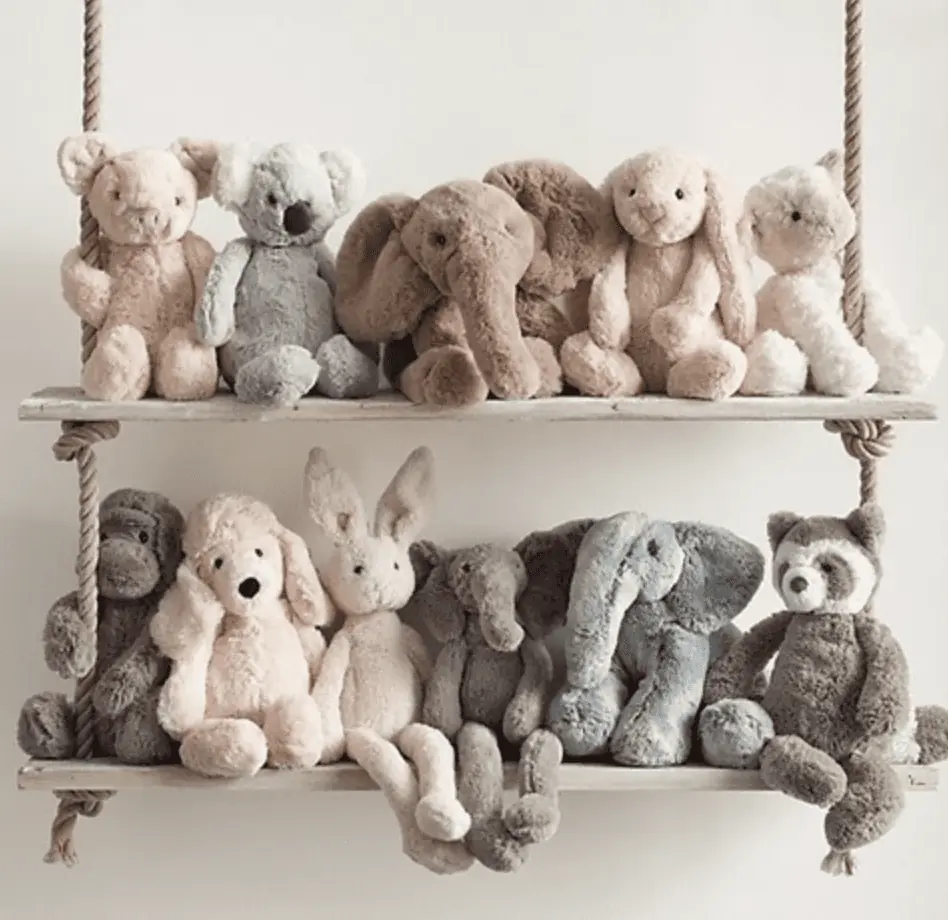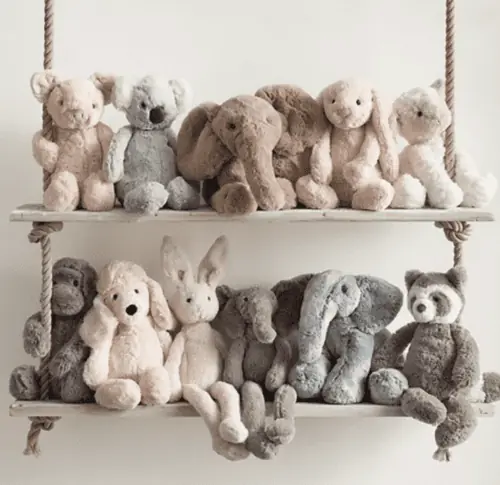 Animal swings are an adorable way to combine organization and design into one functional solution in a child's room. Best of all a rope swing like this doesn't have to be expensive. A couple of pieces of wood, rope, and a knot or two, and you're all set!
11. Ikea's Scarf Organizer to Keep The Toy Mess Under Control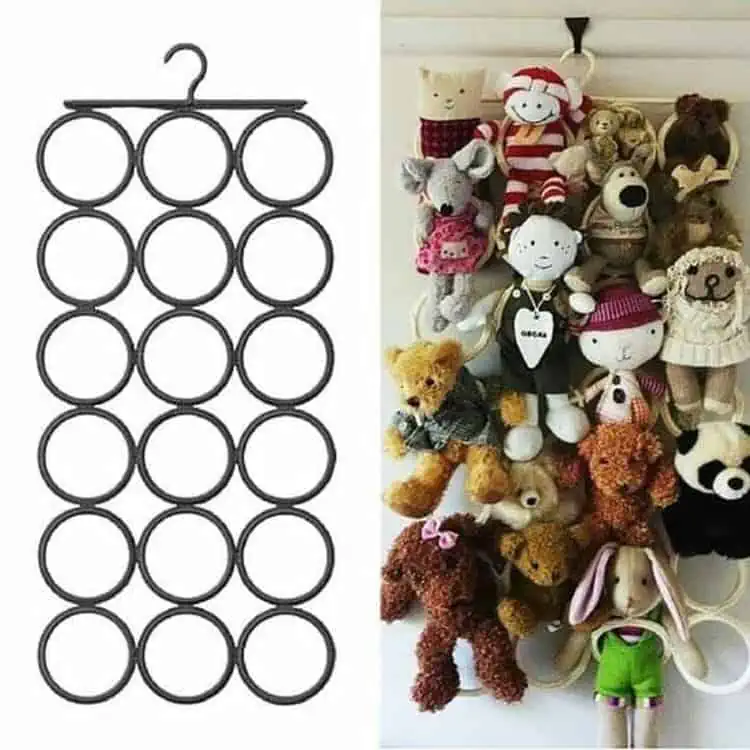 When I was looking for ways to store soft toys, I stumbled upon this great idea! They've used a scarf organizer to put an end to the stuffed animal mess.
12. Tulle Stuffed Animals Storage for Princess Rooms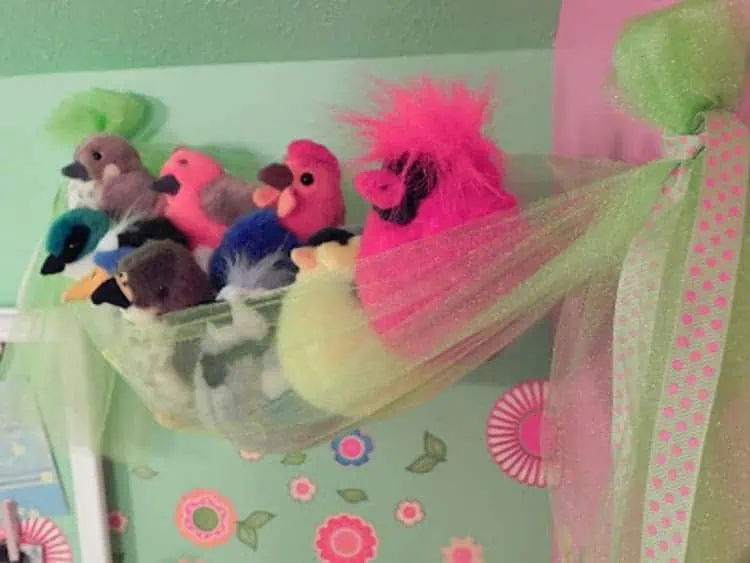 A tulle stuffed animal storage is exactly what every princess playroom needs! Don't believe me? Just look how cute it is! And it keeps the toys away, too!
13. DIY Corner Rope Shelves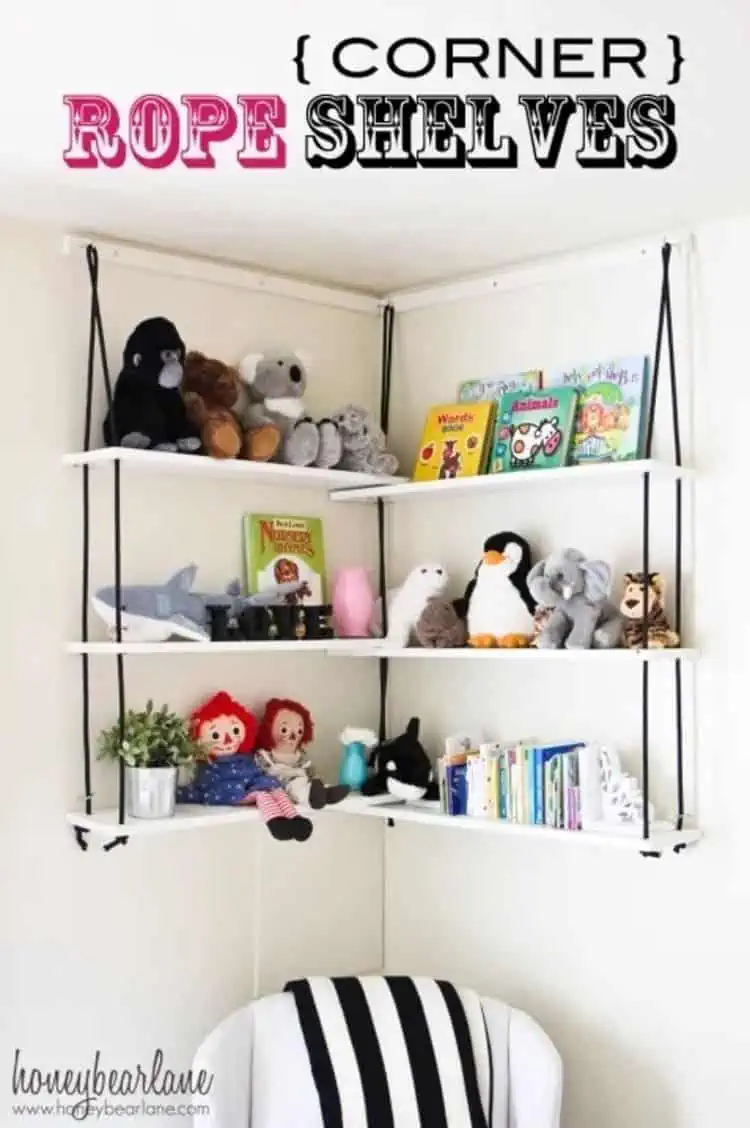 If you're like me, you love craft projects that are easy and pretty. That's why I just had to show you this one! Make the best of the corner of the room with this DIY Corner Rope Shelves idea! It's great for storing:
Soft toys
Small books
Plants
Whatever else you need to store in your kiddos' room.
You can never have enough shelving in your kid's rooms!
14. Stuffed Animal Storage Corral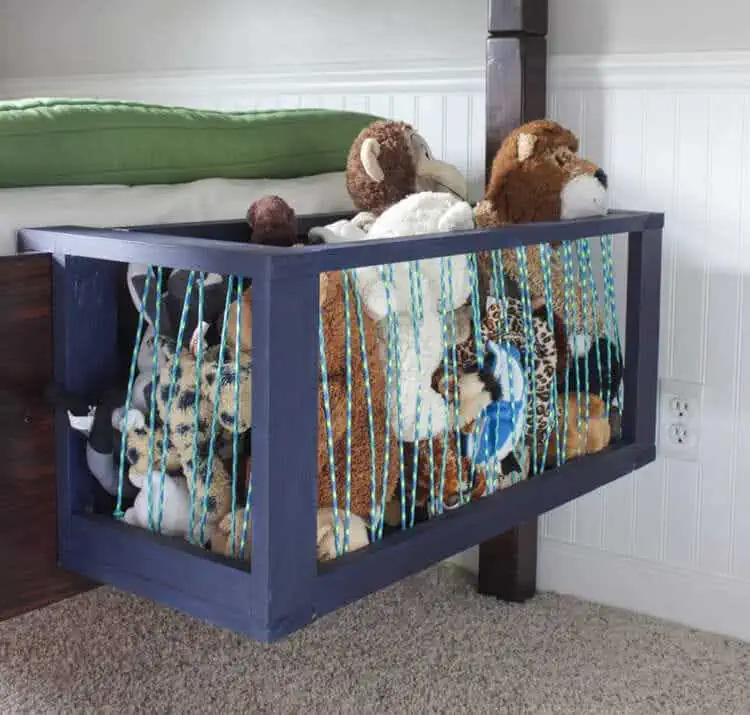 What I particularly liked about this idea is, that this toy storage corral allows little hands to reach in and grab exactly that one toy, right at the bottom, without having to empty the whole cage. Great for smaller kids!
15. Baskets For Toys and Books Organization in the Nursery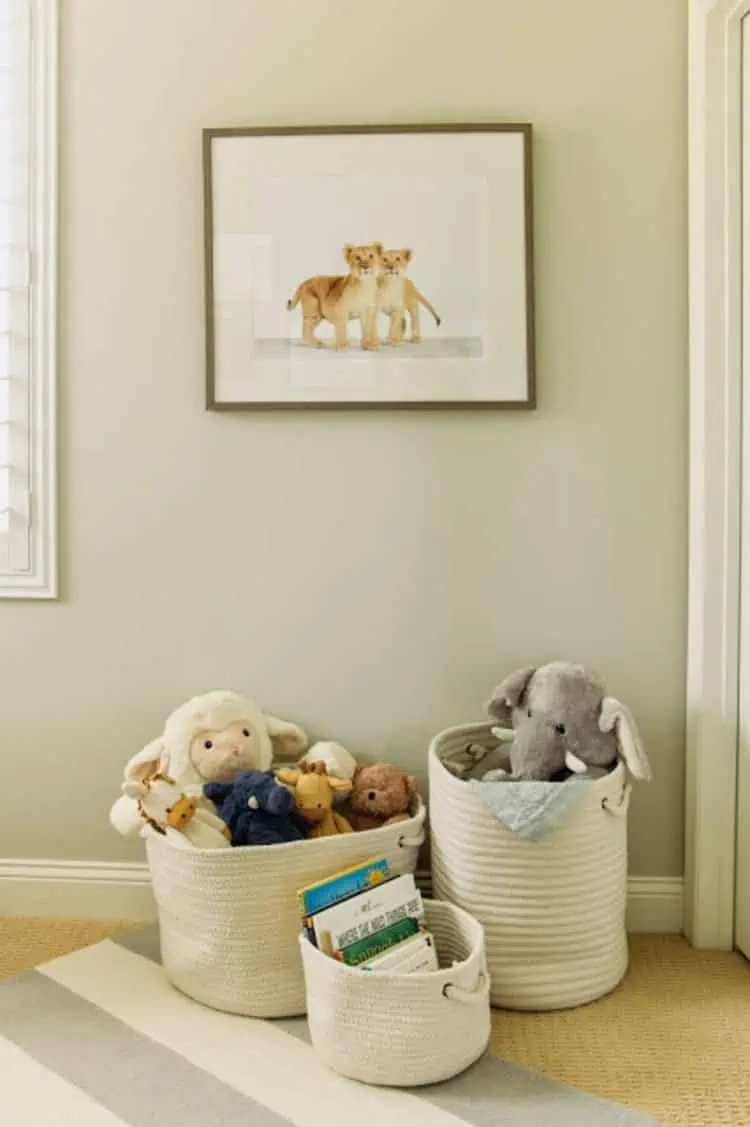 When you can't use boxes, use baskets! Store all of your kids' plush toys in a basket in their nursery. The best part? The kids can easily learn to take care of their mess, too!
More Stuffed Animal Storage Ideas
16. DIY Stuffed Animal Zoo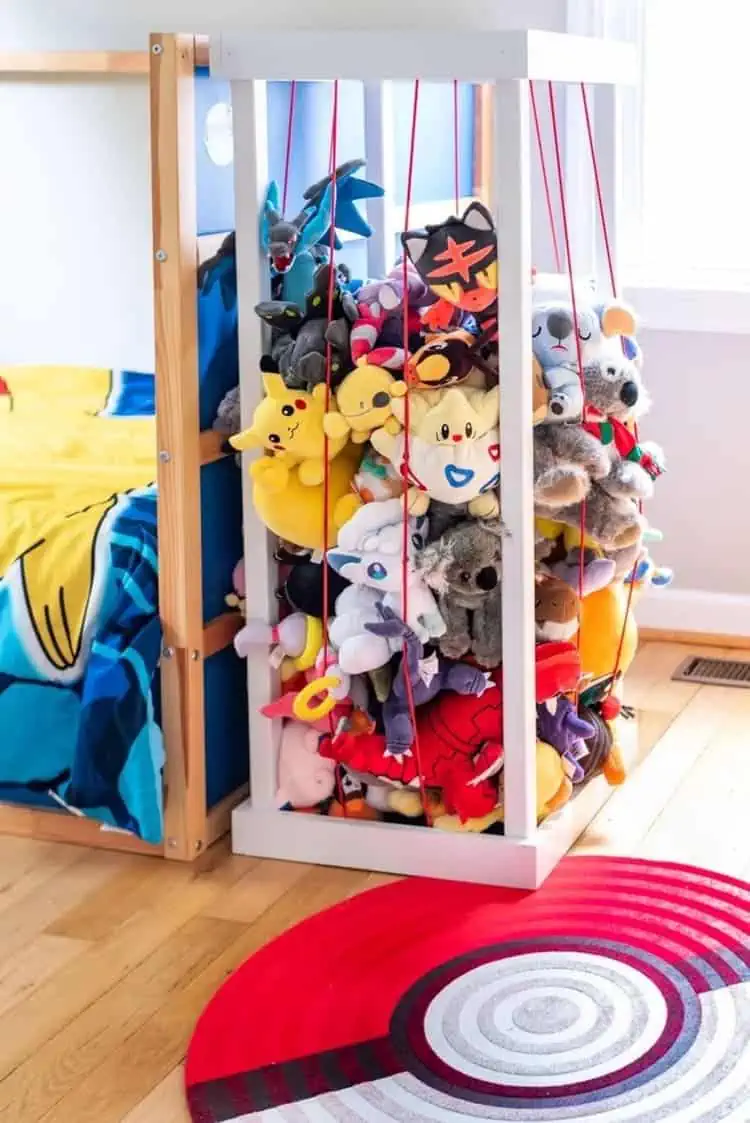 Ever been so tired of seeing plush toys everywhere you looked that you asked yourself how to make a stuffed animal zoo? You'll want to see this! A DIY Stuffed Animal Zoo Storage can be made with some wood, paint, and bungee cords and modified to any size and kids' room, and it can hold them all! Make putting the stuffed animals away in their zoo a game, and soon you'll have your kiddo picking them up on its own. That's a big win!
17. DIY Soft Toys Corner Zoo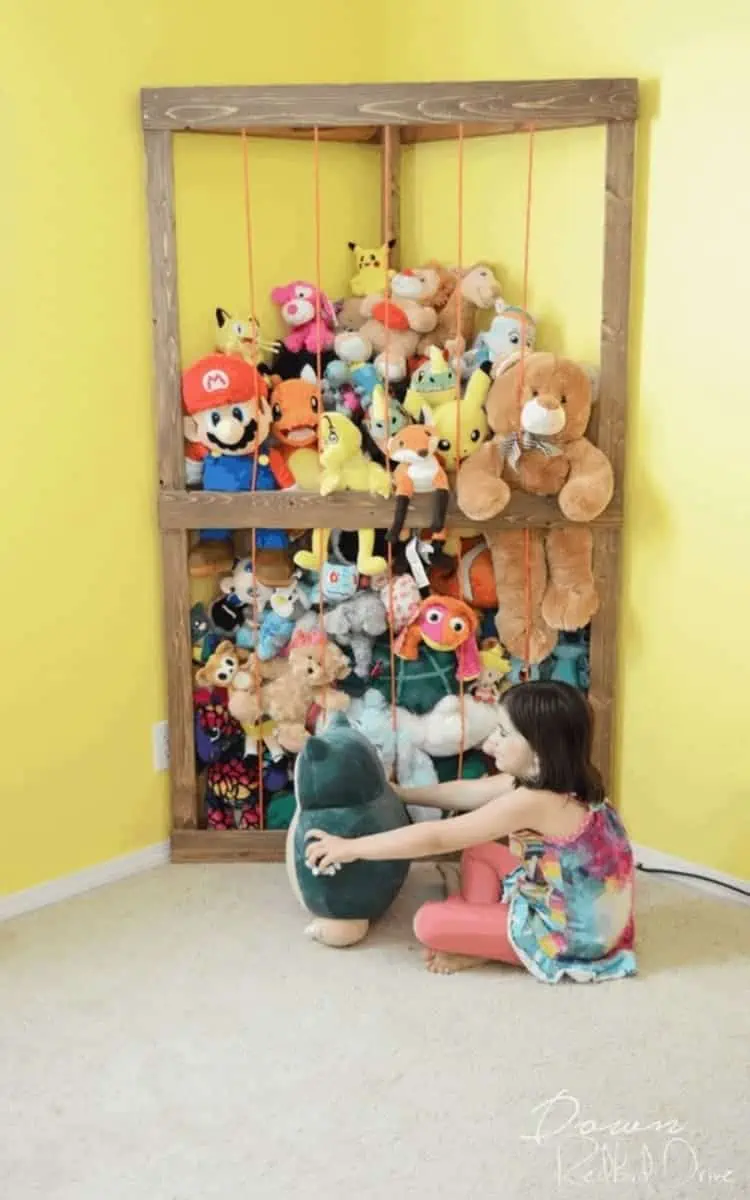 Here's another idea! Make a DIY Soft Toys Corner Zoo to fill an awkward or unused corner. Look how great it looks!
18. Wall-Mounted Buckets For Stuffed Toys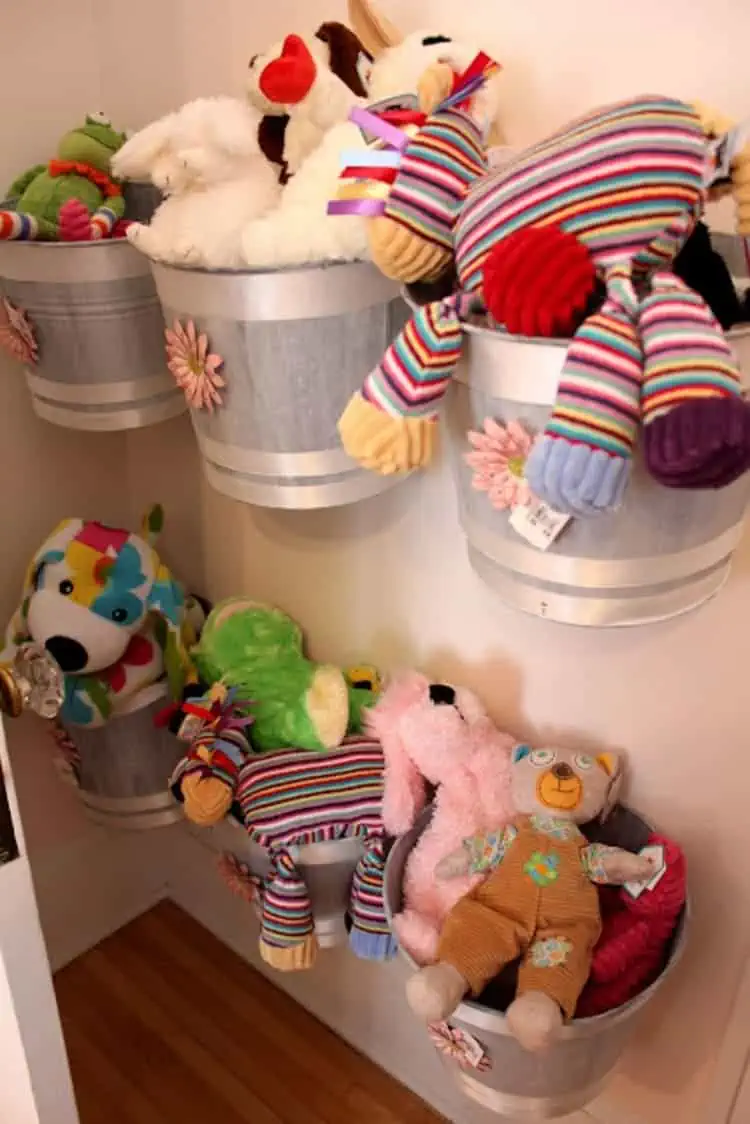 Buckets on the wall? Full of stuffed animals? Count me in! What a fun project!
19. Dinosaur Foldable Canvas Storage Toy Box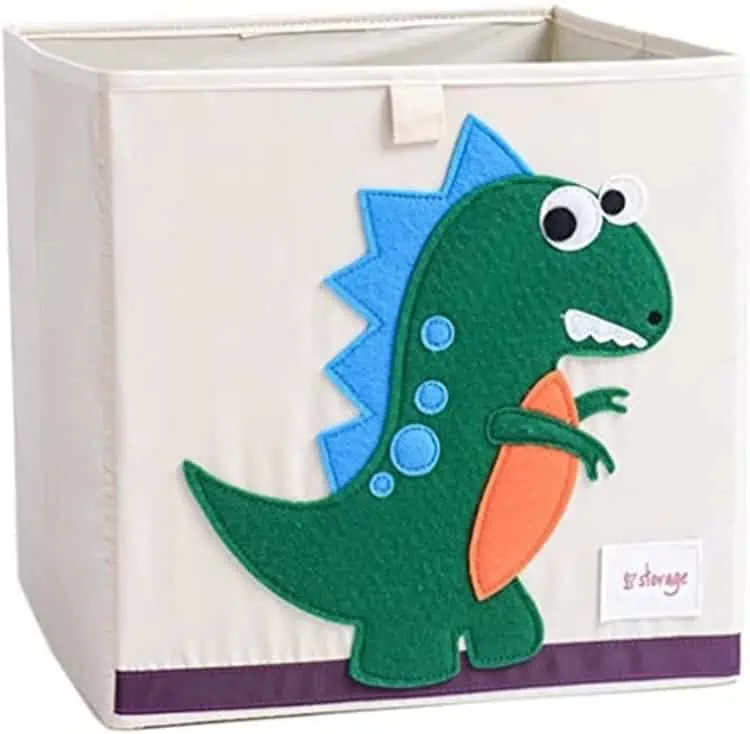 Got a dinosaur lover at your house? Use their love for prehistorical reptiles to control the stuffed animals' mess in their playrooms. Get them a Dinosaur foldable canvas storage toy box and motivate them to clean their mess after they finish playing. You can find different designs for these Fabric storage baskets on Amazon.
20. Transform an Old Dresser into a Toy Organizer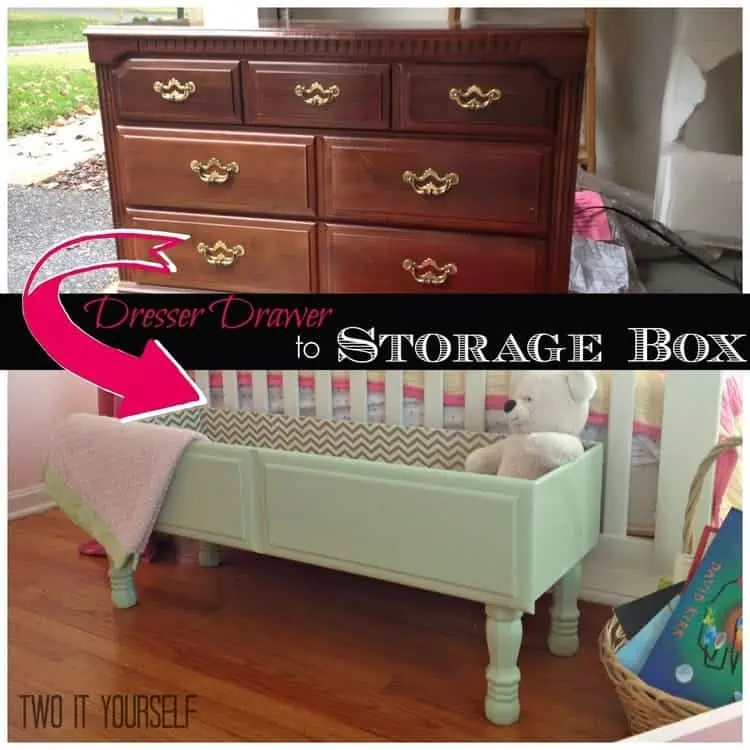 A DIY toy organizer made from an old dresser is perfect for stuffed animal storage! I stumbled upon this great transformation and I thought you might get inspired by it, too!
How To Display Stuffed Animals In A Room?
21. DIY Toy Storage from an Old Hanging Planter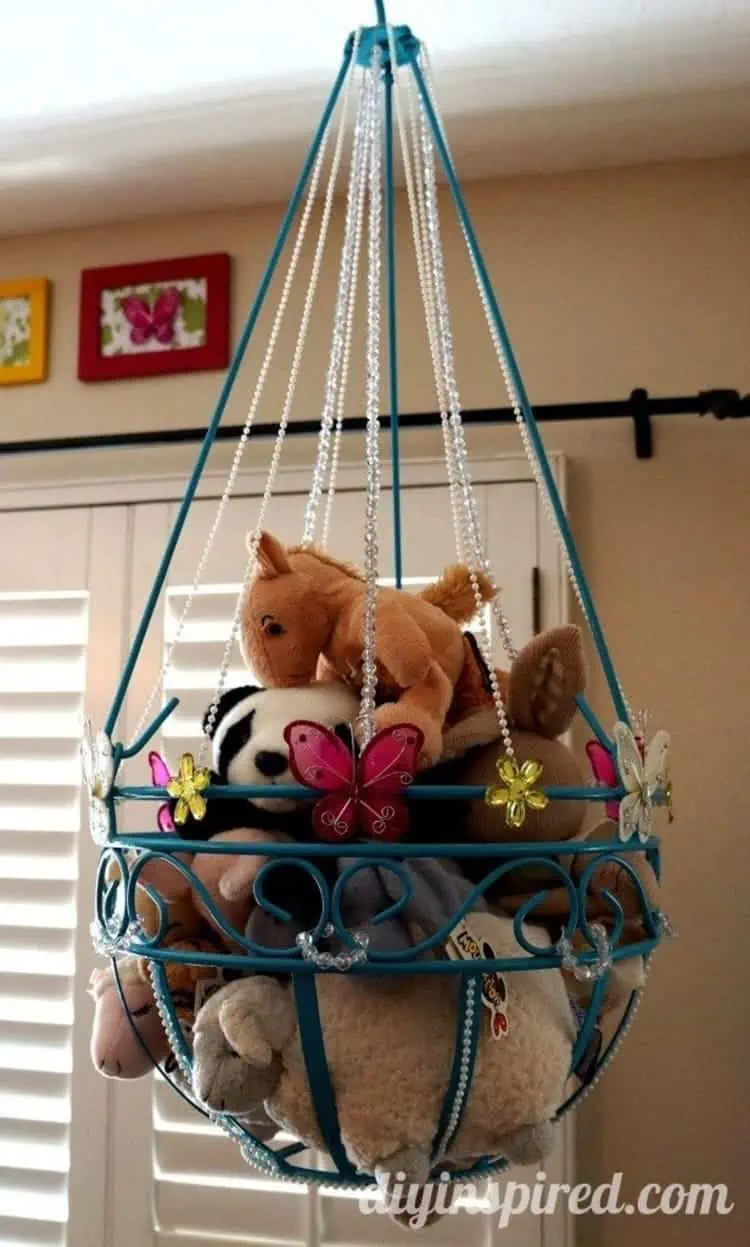 If you're into repurposing, you're going to love this DIY Toy Storage from an Old Hanging Planter! It turned out so cute! Planters are the perfect storage solutions for when you want to keep things off the floor, and you can easily make it fit any decor and bedroom style.
22. Use an Old Flat Sheet as Stuffed Animal Hammock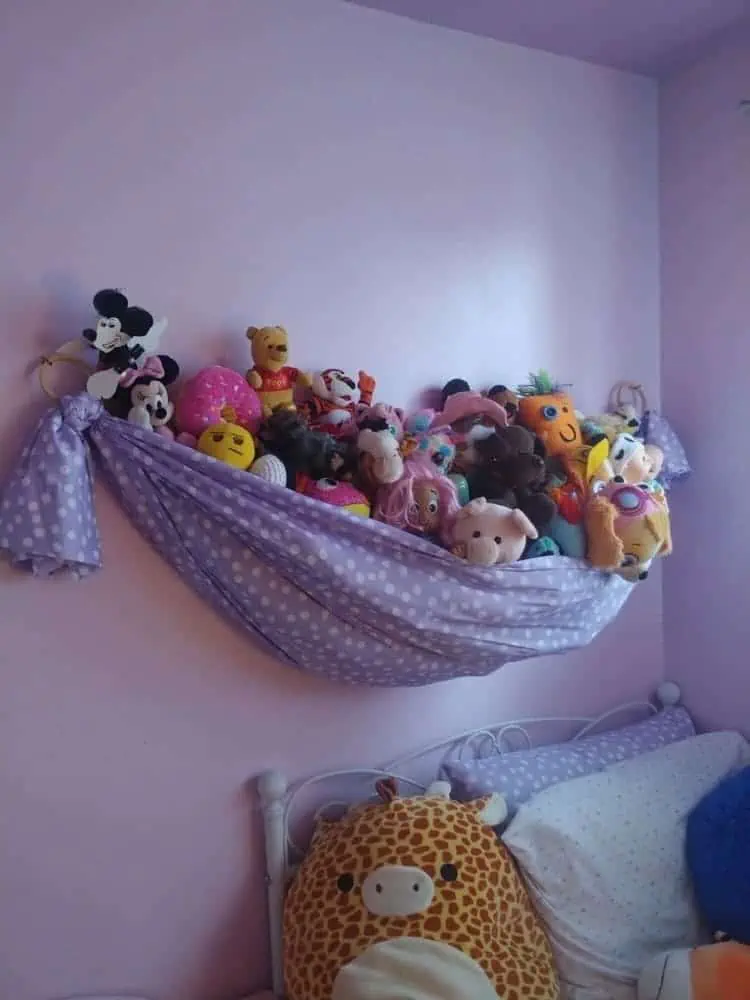 Did you like the idea of having hammocks to store your kids' plush toys but don't want them to be tulle? No problem! Just use an old flat sheet as a DIY Stuffed Animal Storage Toy Hammock!
23. Make a Stuffed Animals Hammock from Fabric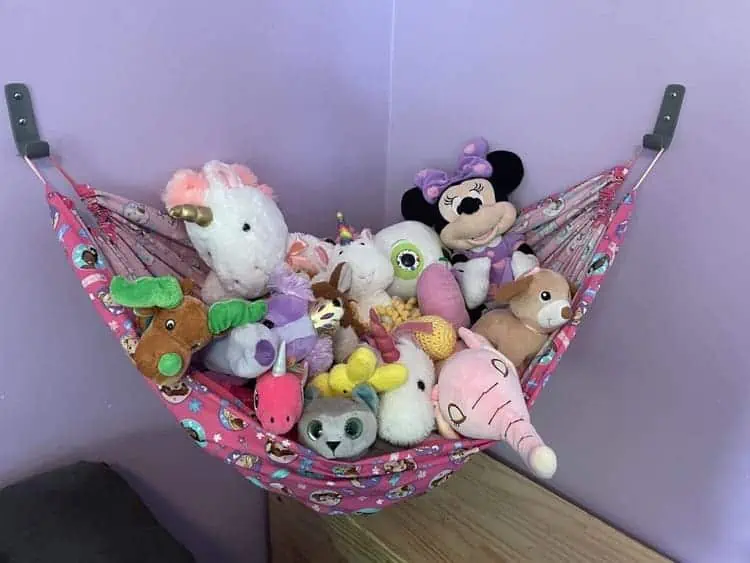 Here's another smart way to make a pretty hammock in your kid's room to keep all of the soft toys in one place. I love how creative people can get to crank out just a little bit more storage space and get rid of the mess! A stuffed animal net would work just as well as long as the toys aren't small enough to fall through the holes.
24. Tame the Plush Animals Chaos with Hanging Fabric Baskets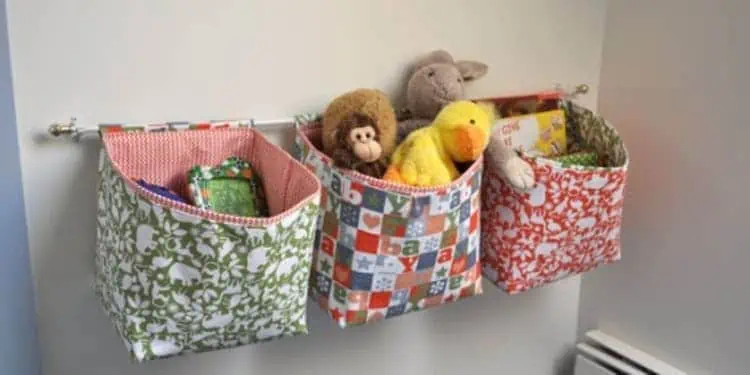 This is such a neat idea! Make your own spacious and colorful hanging fabric baskets, hang them on a rod in your kids' room, and never deal with the stuffed toys clutter again! Yay!
How to Store a Lot of Stuffed Animals?
25. Recycle Your Soft Toys into a… Chair!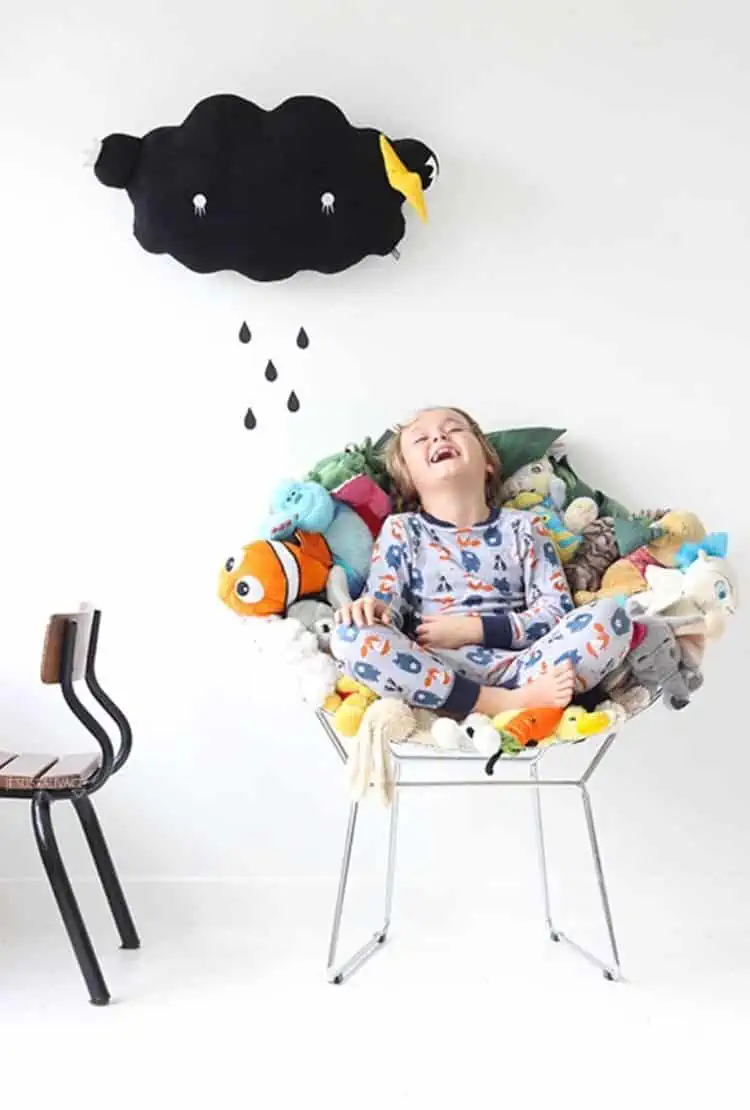 You know how we all have that chair for clothes in our bedrooms? (It's not just me, right?) This is the same concept, just for storing stuffed animals!
26. Store Stuffed Animals in a 5-Tier Mesh Hanging Organizer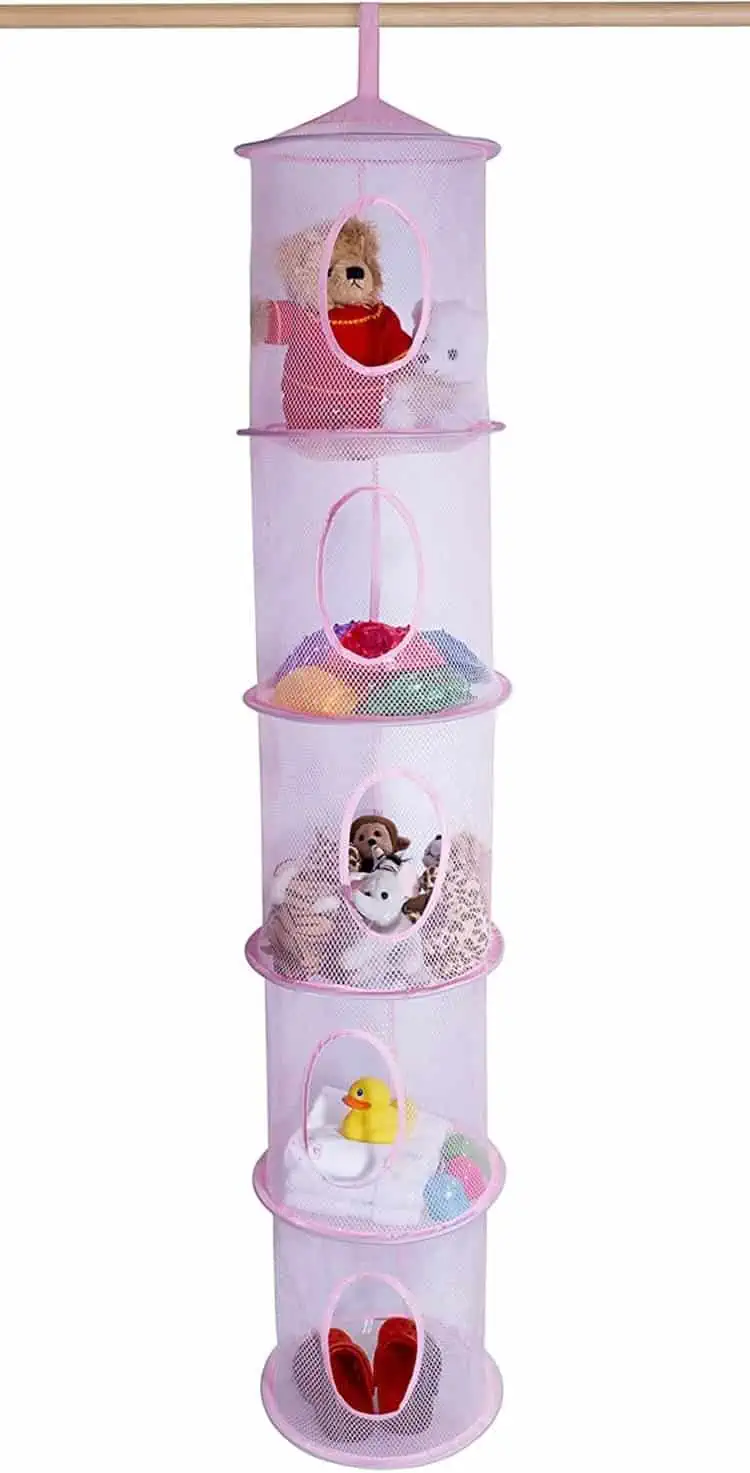 This 5-Tier mesh hanging organizer is simple to set up and easily accessible by the kiddos. And easy access means easy putting away, too!
27. Arrange Your Stuffed Animals with a Shoe Tree and Bungee Cord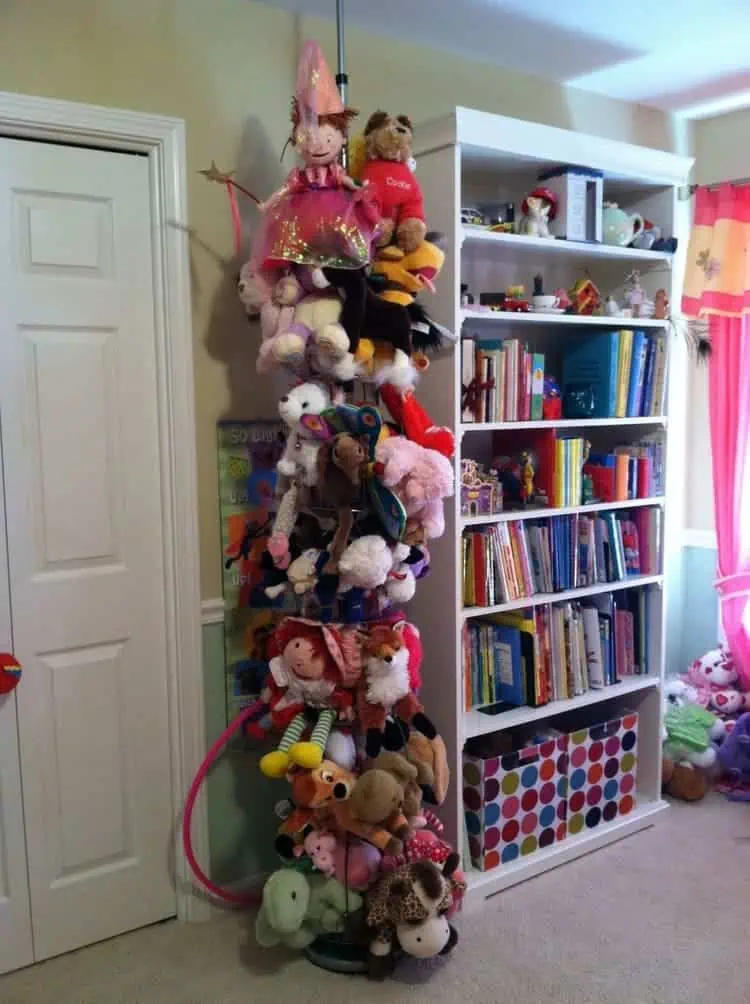 Feeling crafty? Let's put the creative energy to work and deal with the mess all of the kids' stuffed animals make. This DIY shoe tree and bungee cords project will turn the clutter into a pretty zoo in no time! Just stack the toys and you're all set!
28. Install Wheels on a Wooden Crate to Store the Animal Collection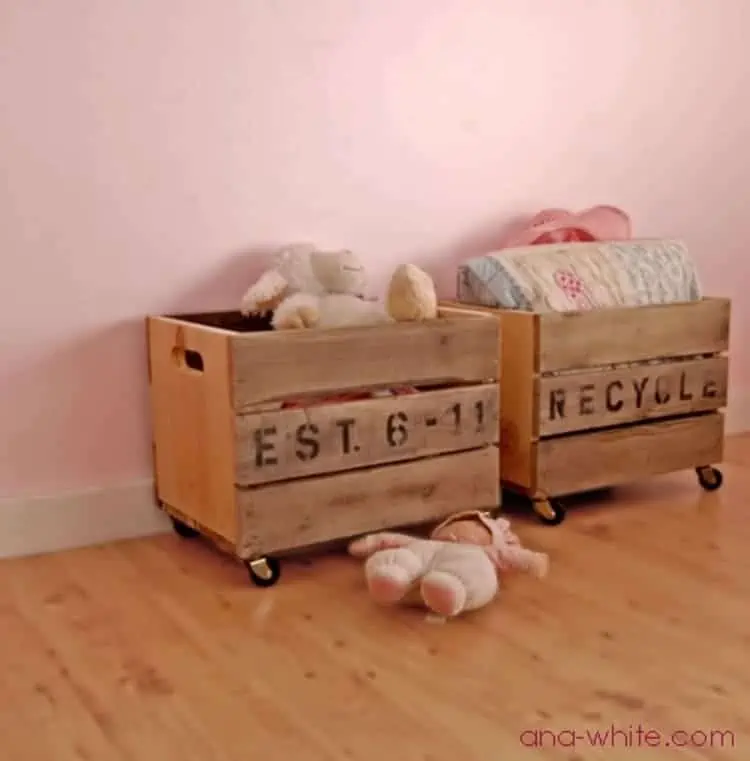 Want to add a vintage touch to your kid's room and deal with the soft toy mess at the same time? This simple DIY project is exactly what you need! It uses old milk crates to create the perfect stuffed animal storage bins. Use it to store any:
Stuffed animals
Pillow
Books
Toys…
And it works both for boys' and girls' rooms!
29. Get IKEA's Algot Shelves for the Perfect Stuffed Animal Storage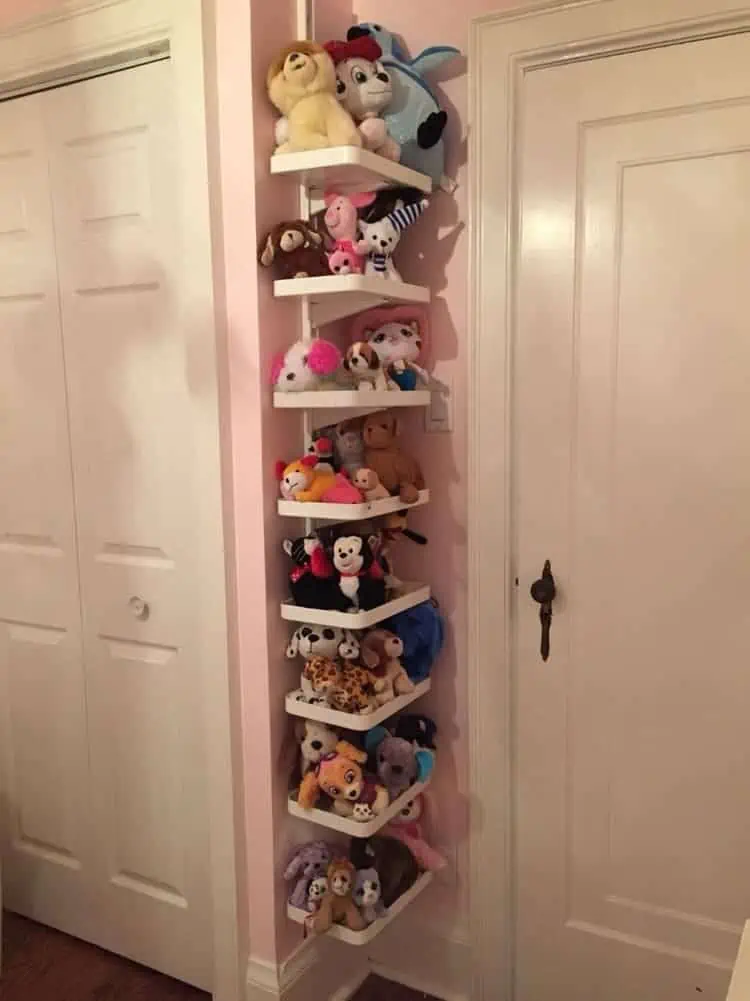 I love seeing smart ways to make use of niches or corners in rooms. And using IKEA's Algot shelves as stuffed animals storage is just one of those brilliant examples!
30. Humble Crew Supersized Wood Toy Storage Organizer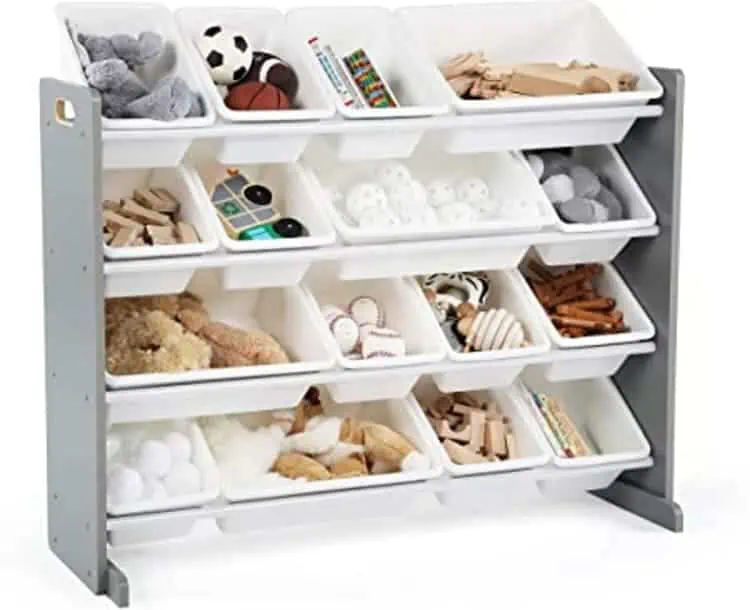 It's lightweight
It's neutral-colored
You can use it to store literally EVERYTHING in your kid's room
You can have it delivered to your door tomorrow!
Put an end to the stuffed animals' clutter once and for all with this fantastic toy storage organizer!
How to store large stuffed animals?
31. Curtain Rod for Stuffed Animals Storage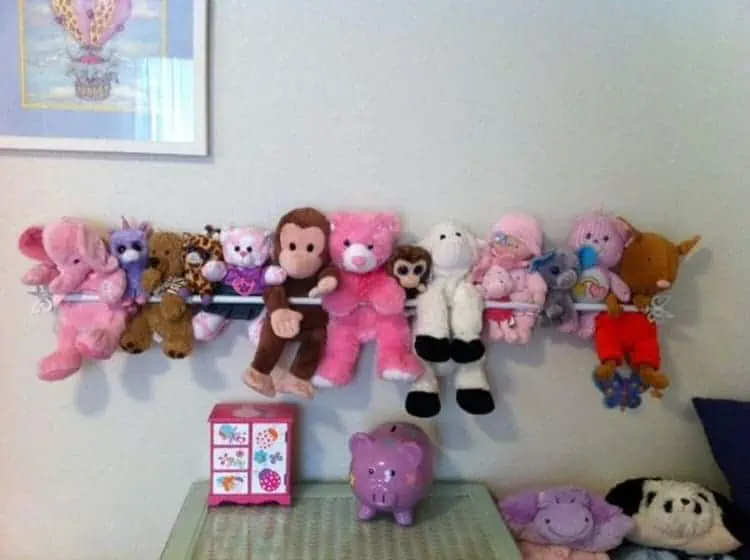 Got a ton of stuffed toys and some space on the wall? Then, you can easily organize them with a simple curtain rod! That's right, ladies! All you need to put an end to the mess is a curtain rod!
32. DIY "Berenstain Bears" Inspired Toy Boy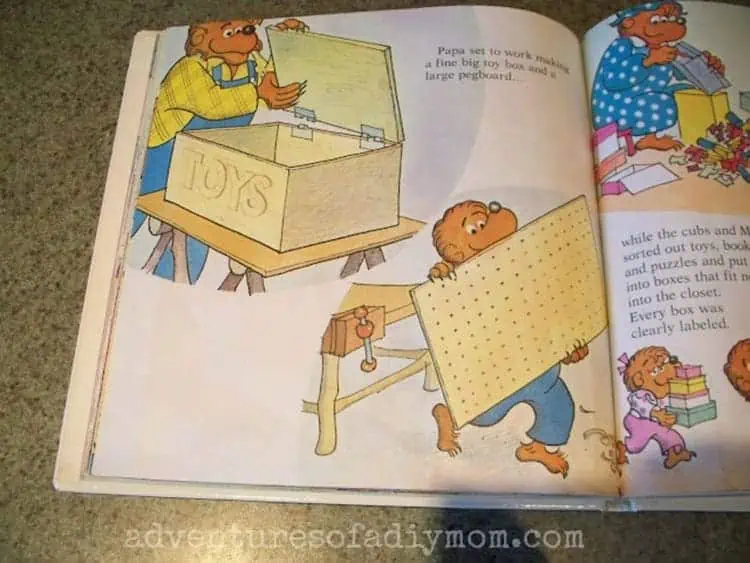 If you (or your partner) don't mind doing some work with wood and a drill, you need to make this "Berenstain Bears" inspired toy box is exactly the project you need to make! The best thing about this crate is that it is sturdy enough to be used as a bench, too.
33. T-Shirt Yarn Hanging Basket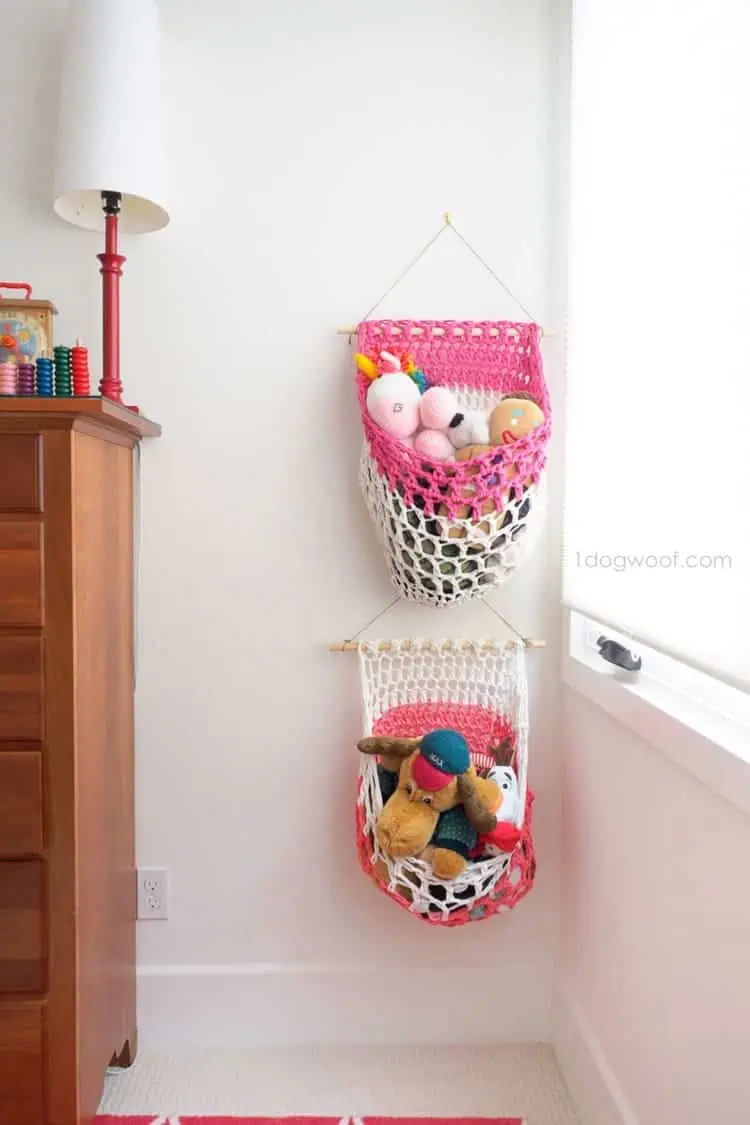 I love recycling everything. That's why I fell in love with this T-shirt yarn hanging basket as soon as I saw it. You can organize so many toys in one or two of these! There's a pattern available, too.
34. Organize Stuffed Toys with a Cargo Carrier Animal Net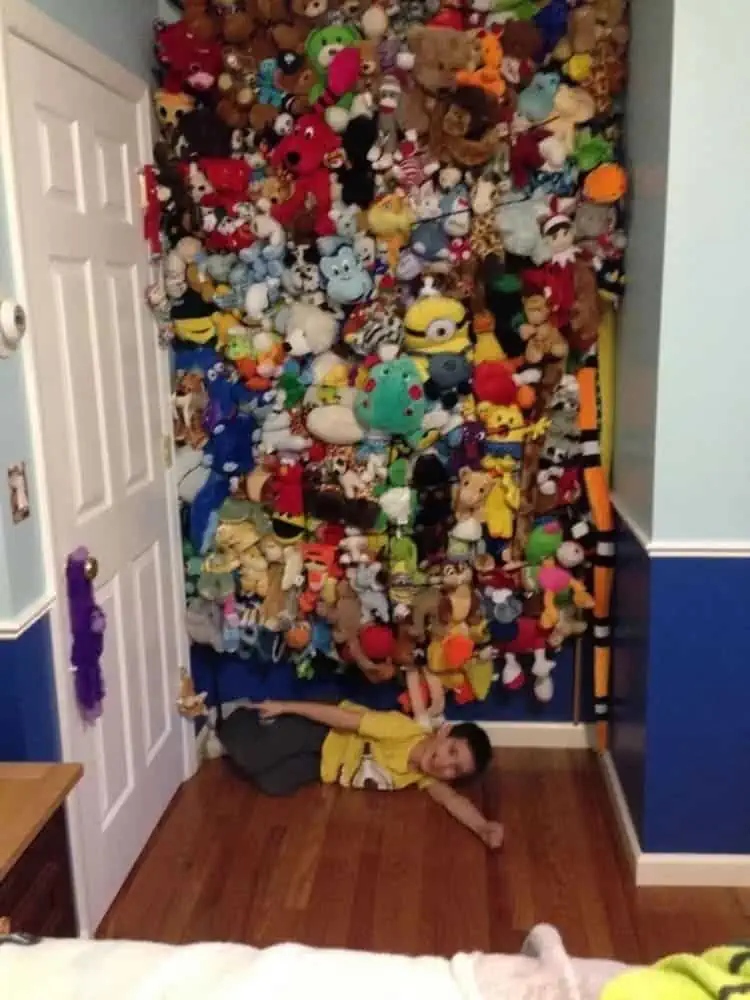 Do you have a tall and narrow wall that's empty? And a whole bunch of teddy bears and other soft toys lying all around the room? Check this out! Grab a cargo carrier net and make the perfect organizer for your kids' toys!
35. Five-Minute Stuffed Animal Storage Solutions You Need Today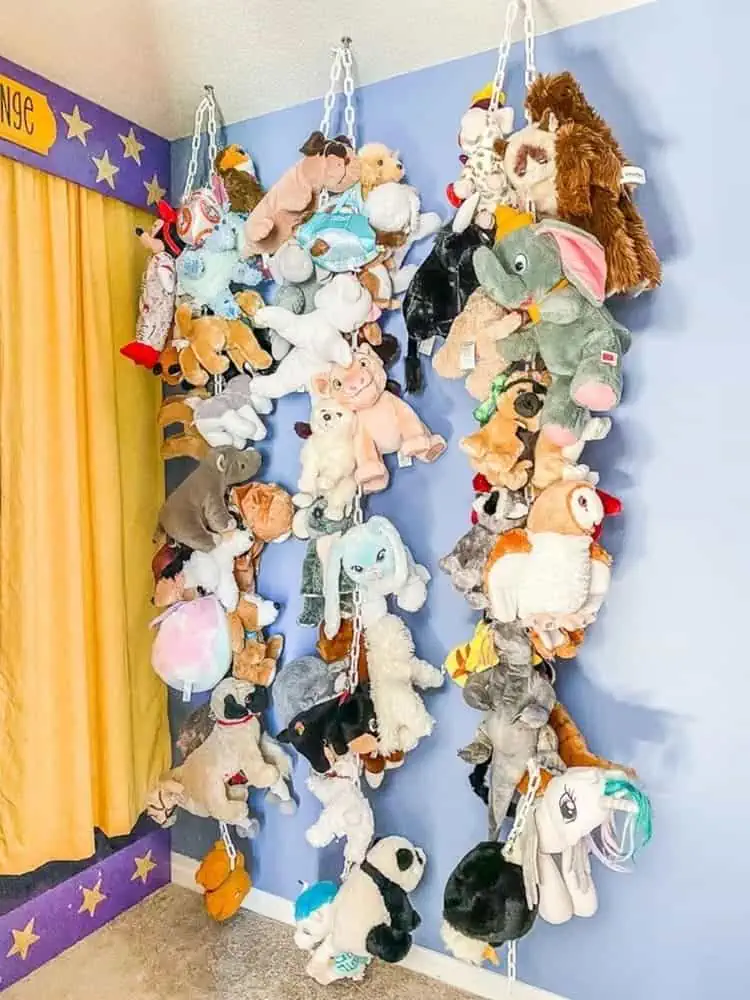 Quick and easy projects that bring fantastic results – that's what I love going for. The moment I saw this post about organizing stuffed toys with plastic chains, I was one foot out to the hardware store! All you need to do is to attach a few hooks to the ceiling and hang some plastic chains on them. So simple and so neat!
What Is The Best Way To Store Stuffed Animals?
There is not a single right answer to the question, "What's the best way to store stuffed animals?", but there are many great ideas that you can choose from so you never have to deal with a teddy bear mess in your kids' room again.
Try choosing 2 or 3 ideas from the list above and put them to work in your home. Once you start seeing the amazing results you can achieve with just hooks and a plastic chain or an old sheet, you'll be inspired to do more.
If you or your kiddos end up wanting to keep more than you really have room for, you can also give a toy rotation a try.
Where Can I Donate Stuffed Animals?
If you have an overwhelming amount of stuffed animals in your home, it's a good idea to clean out your collection. A great way to do that is donating your stuffed animals to charity.
Several places accept donations of stuffed animals. However, note that some charities will not accept toys if their eyes aren't intact. Some charities will also not accept "old" toys (i.e. those that might be stained or torn). Make sure to check with the donation center or organization you want to donate to before donating.
Stuffed animals can be donated to many different places. You can donate stuffed animals to:
Goodwill
Goodwill accepts donations year-round at most locations and even offers free pick-up in some areas if you have more than 14 items. Visit their website here for information on donation policies and guidelines.
Children's Hospitals
If you have a stuffed animal that is in good condition, it can provide comfort and support for children in hospitals. Most children's hospitals accept donations of stuffed animals to be used in the hospital or given to patients, though some only accept new stuffed animals for hygienic reasons. Be sure to check with your local hospital to see if they have a donation program and what their requirements are for donations.
Schools
Some schools accept donations of plush toys to be used as rewards or prizes for students who are doing well in school. Contact your local school to see if they accept donations.
Nursing Homes
Seniors love getting a new stuffed animal from time to time, especially if it's one that was given to them by a grandchild. Nursing homes are often happy to add new stuffed animals to the collection for their residents.
Hospice
Many hospice facilities accept stuffed animals to be given to patients or their families during the difficult time of losing a loved one. Ask your local hospice if they have a program for donations.
Veterans
If you have an old teddy bear that you would like to donate, contact Veterans organizations in your area and see if they can use them. These bears can provide comfort and support for soldiers who have been injured while serving our country!
Animal Shelters
These shelters always need extra supplies and food, but they also accept donations of plush toys (especially teddy bears) so that the shelter animals can enjoy a little comfort while waiting to be adopted into their forever homes!
Call your local animal shelters and ask about their policies on accepting donations of stuffed animals. Many animal shelters are filled with stray dogs, cats, and other pets who could benefit from some extra snuggles from these toys!
Other places to donate stuffed toys:
Fire and Police Departments
Churches
Libraries
Recycling programs
Salvation Army
Humane societies
Friends and Family who might want them
You can also choose to sell your old stuffed animals that you're no longer interested in or give them away. You'll probably have the most luck selling plush toys that are of popular cartoon or video game characters, from well-known tv shows and movies, or are nostalgic in some way.
When you're cleaning out your kiddos' toy box, remember that there are plenty of ways you can put those old toys to good use!
Ways to Display Stuffed Animals & How to Store Stuffed Animals Long-term
For long-term storage, you want to make sure that you're picking a place where they're not going to be subject to any major changes in the temperature and are not exposed to direct sunlight.
Whatever storage place you pick, it's important to make sure that it is:
Dry
Not in direct sunlight
Dust-free
Well-ventilated
Something like this acrylic display case can be used for the items you want to see and enjoy while keeping them safe and dust-free.
What do you think? Do any of these ideas sound like they would work for you? There are so many ways to get organized with stuffed animals – find one that suits you!
More ways to organize your home: