One question I'm asked by almost every parent I talk to is, "How should I organize LEGOs?"
I know seeing a bunch of tiny pieces on the floor can feel so overwhelming you don't even know where to start. That's why I scoured the internet to find these 50 brilliant and creative LEGO storage ideas.
I hope it makes it easy to find the best organizational method for your LEGO collection.
This post contains affiliate links.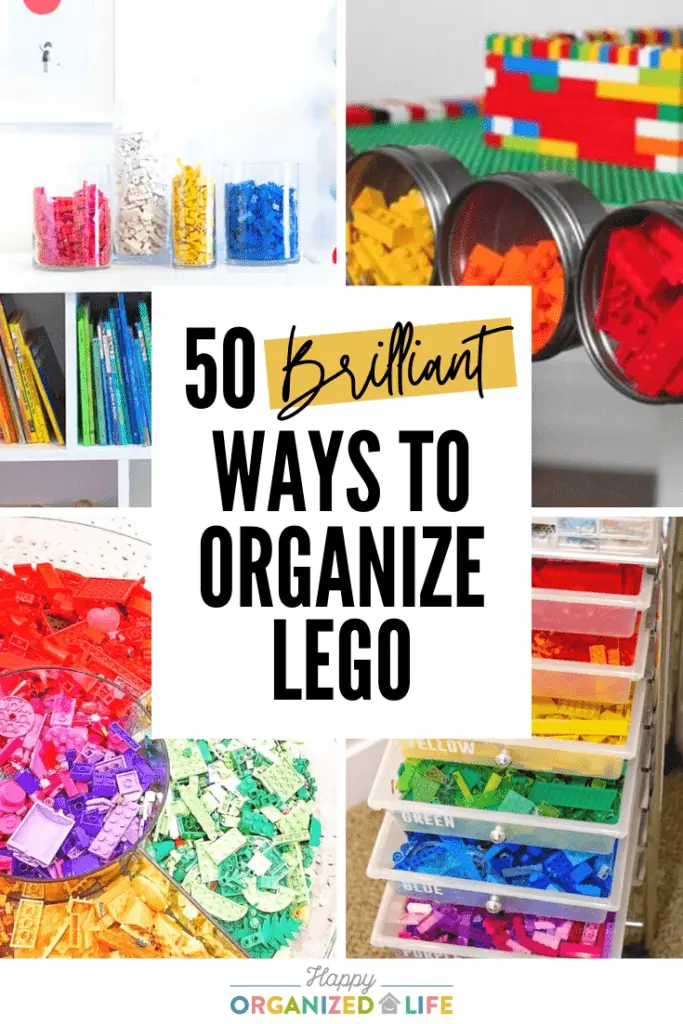 Inspiring Storage Ideas For How to Organize LEGOs
Building LEGO can keep your kids entertained for a good few hours. That will give you time for your tasks while your kids engage in creative play, far from the TV or their iPad. Below we gathered 50 clever ideas on how to organize your LEGOs.
1. Color-Coded System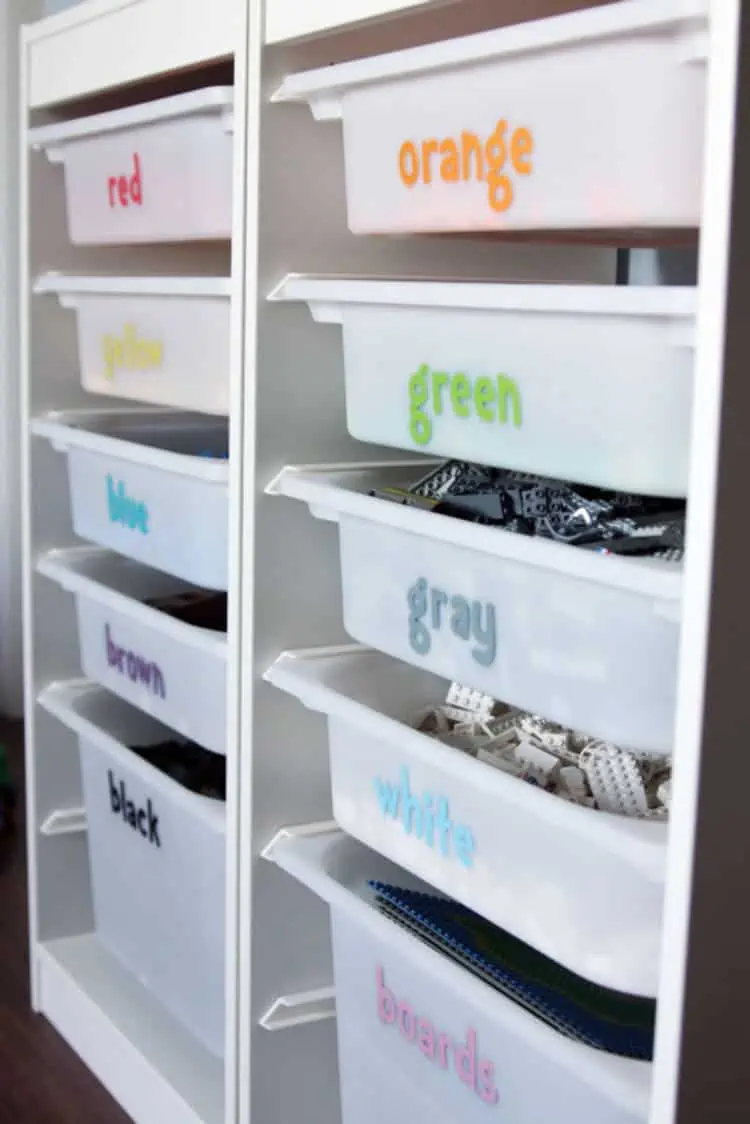 Many people start by using the color-coded system. Dividing the pieces by color means that different parts and sizes of bricks are mixed together in one container.
Depending on the extent of your LEGO collection, this can be a viable option for you and your children. If you notice your kids spend too much time looking for a specific part, you should consider another sorting method. Something like the Ikea Trofast pictured above works really well for this.
2. How to Organize LEGOs in Storage Cabinets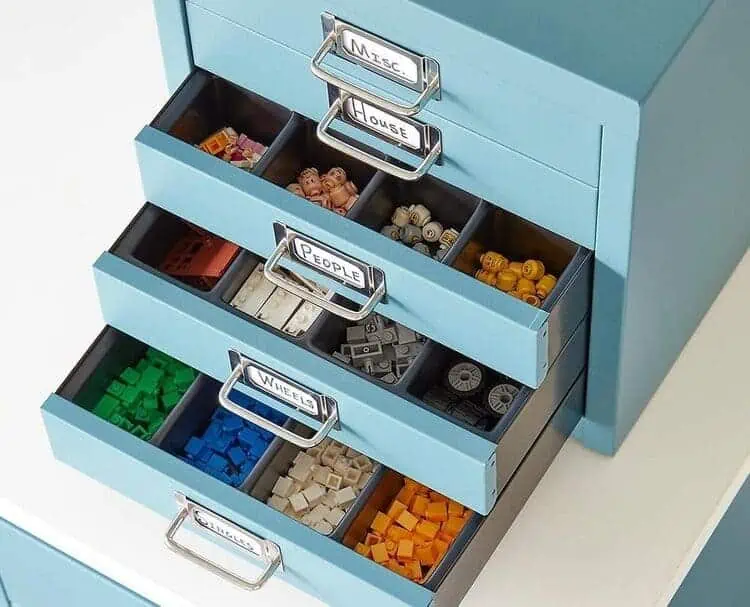 This 5-Drawer Cabinet is a great way to store small parts. The drawers allow you to divide them by color or by function. Place it on a desk, under it (if it fits the height), or next to it, whichever gives your kiddo easier access.
3. Under The Bed Storage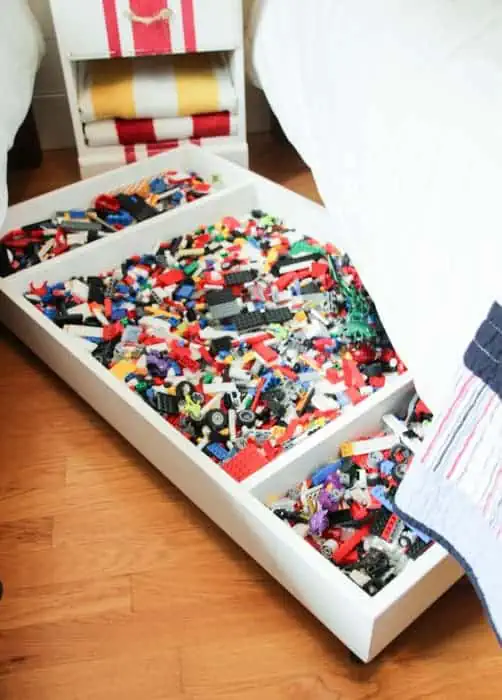 If you have a decent amount of LEGO, they should be easy for your kids to reach. Otherwise, they will be discouraged from getting to the LEGO and might not want to play so much.
So, the idea here is to bring it to their room. But to avoid the clutter and make it accessible, store all the parts under the bed. Then put the completed projects on a shelf.
4. Transparent Lego Storage Bag 

Do your kids like the color-coded system or want to divide the LEGO by size, theme, or set? If you do not want to buy extra furniture, this is a LEGO organizational idea for you. That is if you do not have a huge LEGO collection, though.
Use this Transparent Bag Set to keep the LEGO neat and sorted, away from dust. You can store it under the bed if you have space or in the closet. If your children are big LEGO fans and go everywhere with it – it is easy to take with you while traveling.
5. How to Organize LEGOs With DIY Buckets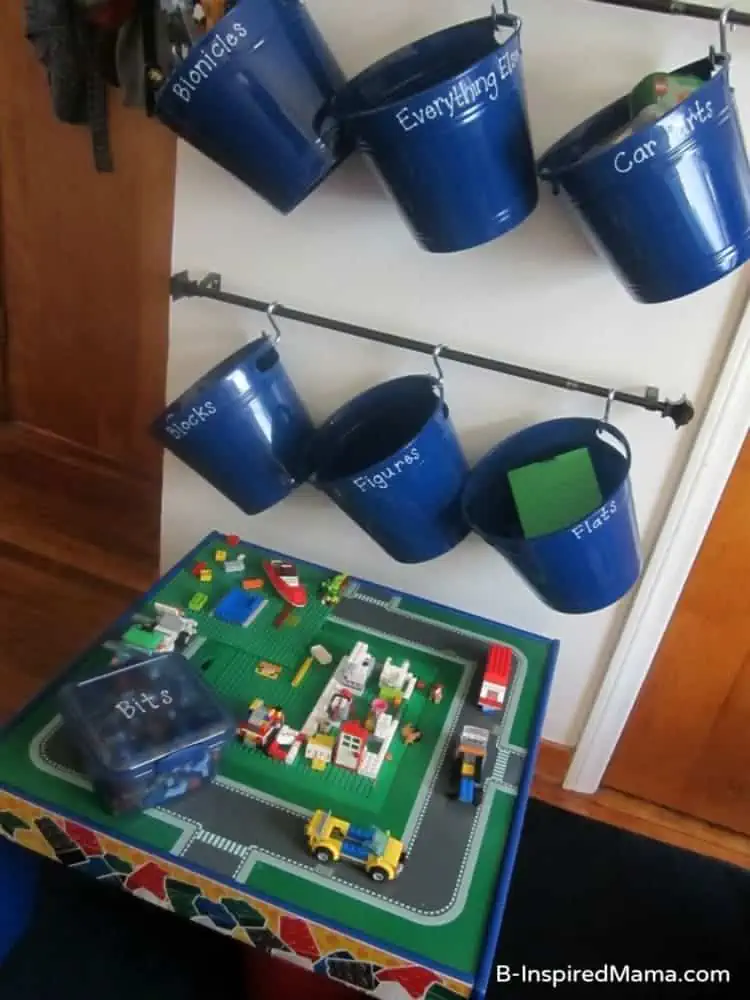 If you lack extra room for LEGO bricks and pieces, think vertical.
For the idea of hanging buckets you will need:
And you are good to go! The rods will need installation, but fear not! It's very simple. The rest is having fun sorting.
6. Use Easy To Open Drawers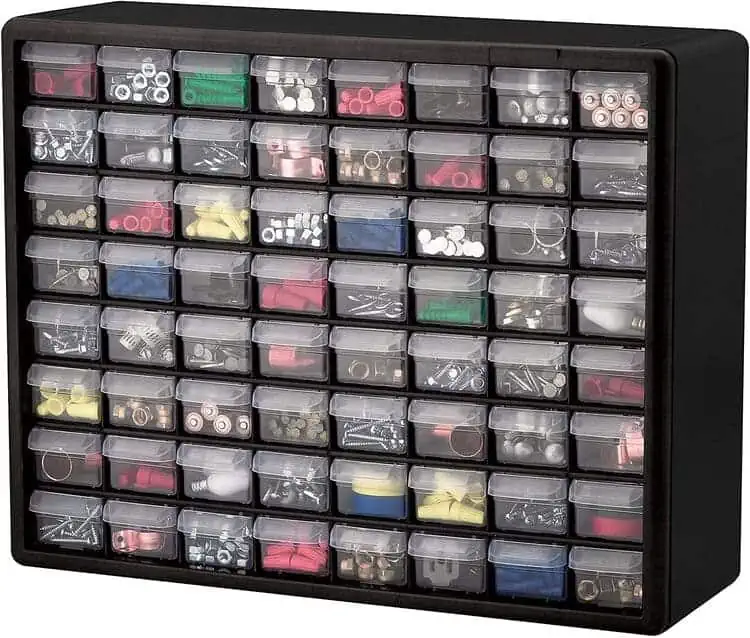 If you don't have a large table, use this Plastic Parts Storage Drawer. Those cabinets make all parts accessible and visible. Children can see through the plastic containers what parts and colors are in each drawer. This helps with the mess, too.
7. Reuse Big Plastic Cups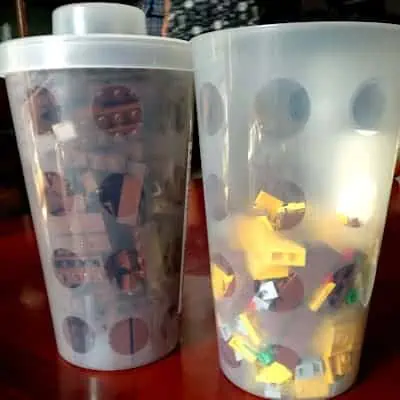 LEGO sets usually have some parts that kids use less often or have a funny shape.
You can save and re-use the Pick-A-Brick cup or any other big plastic cup to sort harder-to-get pieces. You can put them on top of the drawers. So, if you need the bricks from the cup – it will be quick and easy to grab them.
8. How to Organize LEGOs – Use Containers For Bulk Parts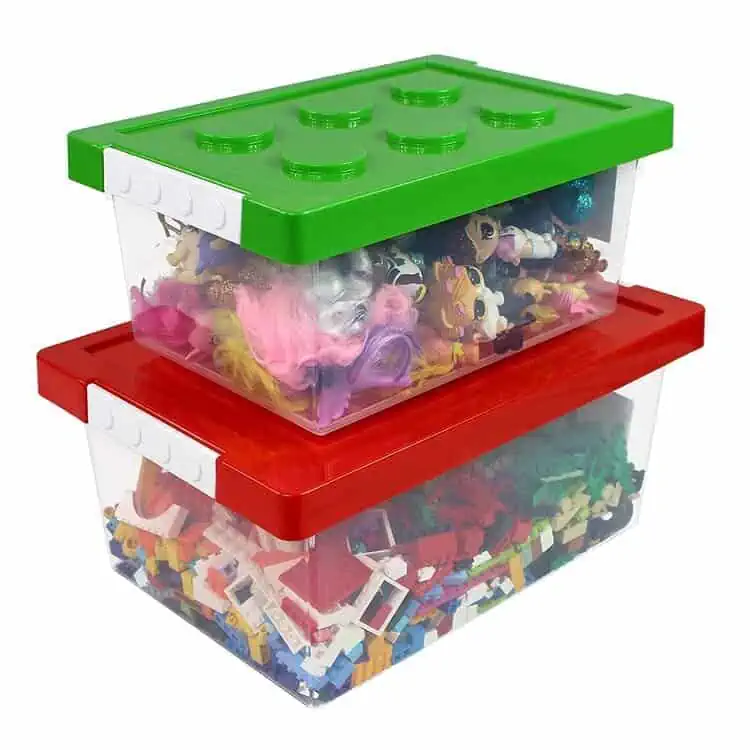 Keeping LEGOs in containers is always a good idea. These Brick Shaped Storage Organizers are perfect for keeping every toy safe and secure.
You can use any plastic container to store your LEGO bricks. The size of the container depends on how many parts you have. It works best if you use them to stash the same type of parts in various colors (incusing the modified ones).
Another way is to separate the pieces by theme like animals, plants, etc.
9. Separate Printed And Stickered Parts
Remember to always separate printed or stickered elements in a different container. You will do yourself a favor. It will help to prevent them from getting scratched.
If your kids ever wanted to use a decorated piece in their build work, they will know exactly where to look.
10. How to Organize LEGOs – Separate Minifigure Parts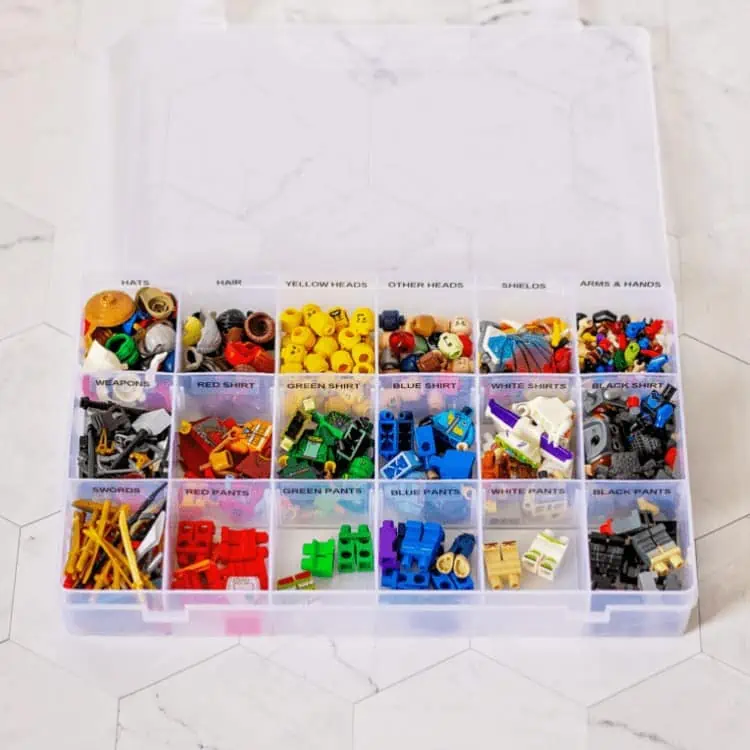 It's best if Minifigures live in their own cases. For this organization system, use something like this small Jewelry Box Organizer.
A Few Additional Tips:
Leave the torsos and legs that work together connected.
Stack up the LEGO heads. It is good to see all the head faceprints fast.
Put duplicate ones together. That is a quick way to see how many of them you have.
11. The Brick Separator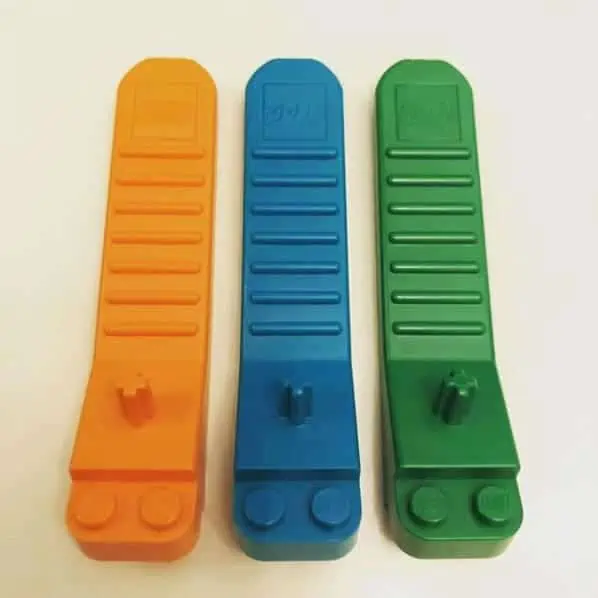 When talking about how to sort LEGOs, it's a must to make sure you have a brick separator (or a few of them) nearby. It is common for kids to need it. Especially when they start a new project and want to use parts from a previous creation.
You can store those in a small cup or bucket on the desk or the shelf, right above the desk your kid is playing.
12. How to Organize LEGOs: The Leftover Projects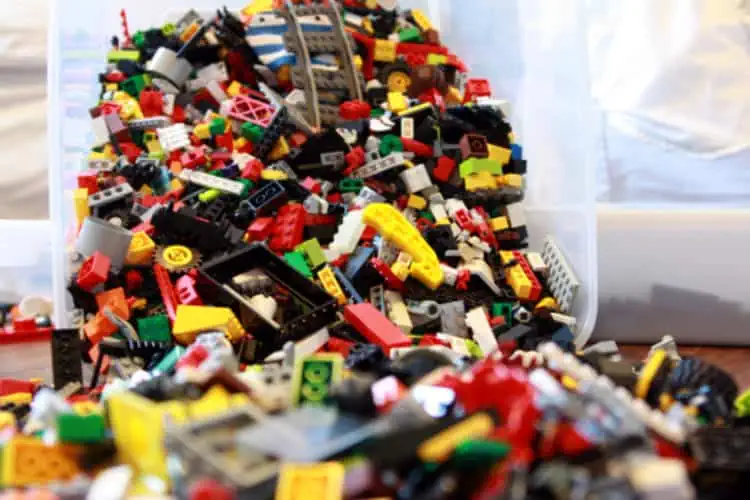 Any leftover LEGO projects can be left aside in a different container. That helps to avoid the clutter in the play area. Also, your children can find them fast and take them apart if they need specific pieces. You can fill this bin with random parts as well.
All LEGO bricks left from your projects can lay in there. Take some time (once to twice a month) to reorganize it. Disassemble the leftover projects, and sort all parts as per your system.
13. Lego Storage Bags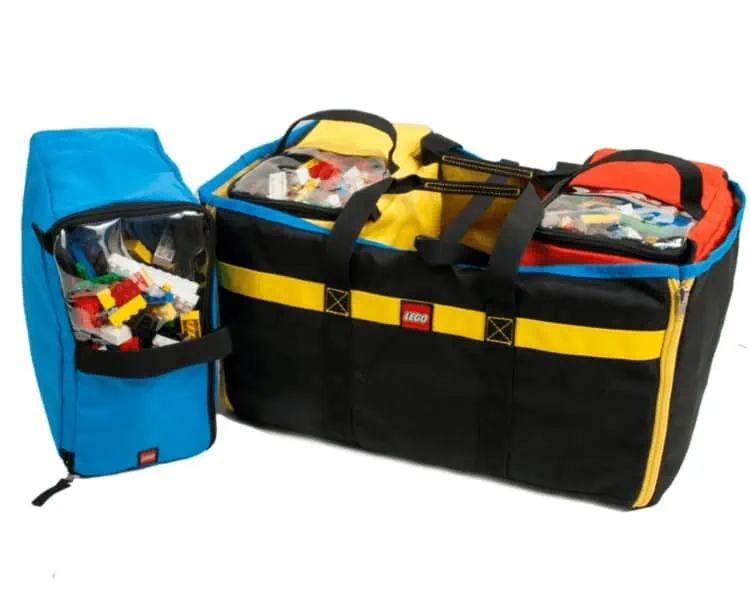 When it comes to organizing all the LEGO bricks, the LEGO Storage Bags can come in handy. This amazing 4-Piece-Organizer includes a tote that unzips into a playmat.
Also, three smaller totes with zips allow you to arrange your toys and accessories at home or on the move!
14. How to Organize LEGOs in a Storage Pouf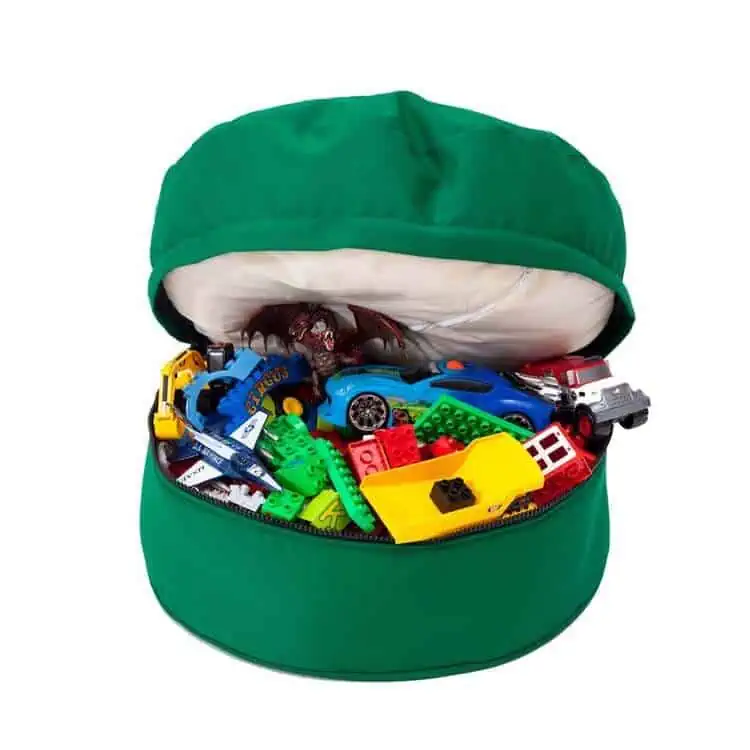 This fantastic Pouf Ottoman is functional and fashionable. It serves as both seating and storage. Perfect for keeping rigid objects like LEGO inside. It saves space, is used for a few purposes, and looks stylish. A great addition to the kid's playroom or any other room!
15. Rolling Cart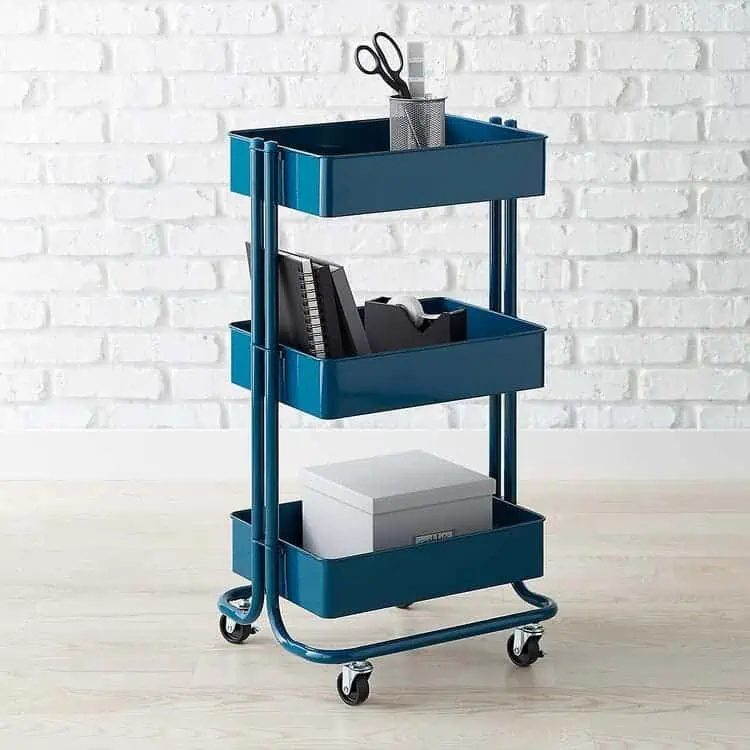 If you don't have a specific area for playing, the Rolling Cart is for you! You can repurpose it into LEGO storage for your sets. Do they like to build in a different room every time? Well, that's great! Its advantage is that it moves around your house with your children without any effort.
16. Toy Storage Unit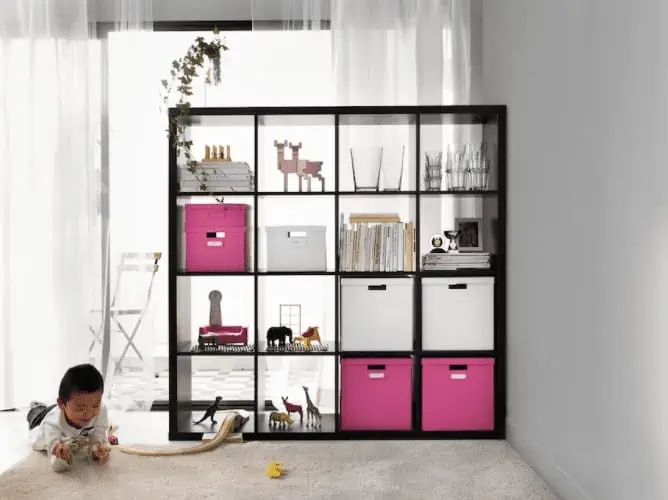 This Kallax Shelf Unit from IKEA can turn into a unit for keeping all your LEGO collections. It can fit the sets which are already built to display or it can store projects in the making. Along with them at the bottom, you can store all the other parts, necessary for building them.
17. Plastic Drawer Trolley to Organize All The Lego Bricks You Have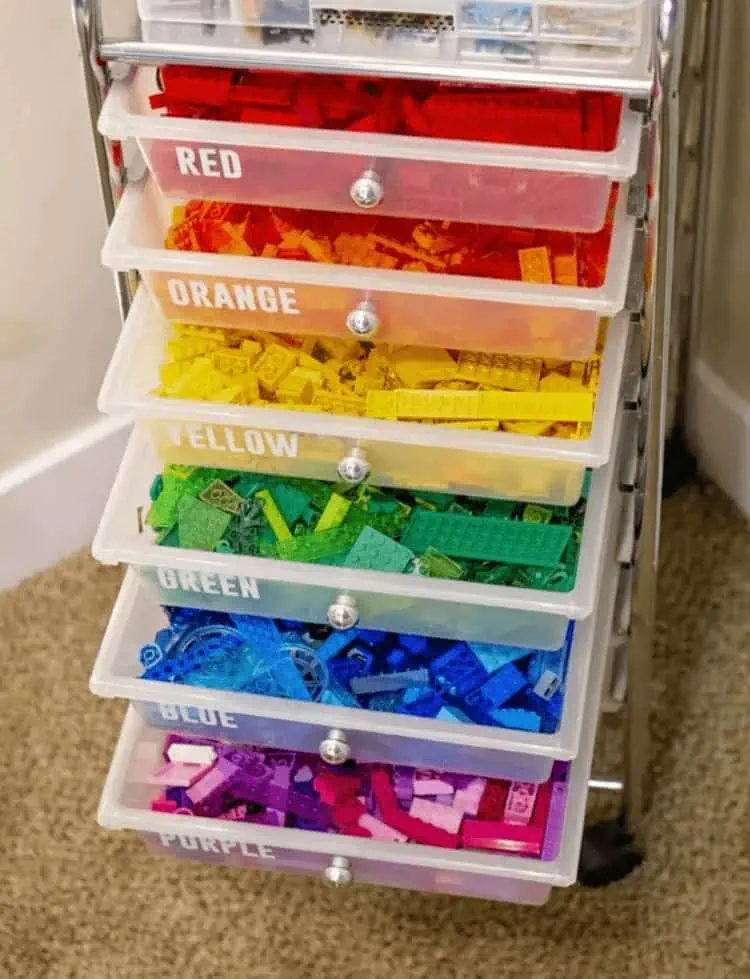 Using the Roller Drawer Storage Cart works well if you sort your LEGO pieces by color. If you do not have that many bricks and parts, you can also store the set(s) divided into parts. The last two drawers can fit the big plates, books, manuals, and instructions.
18. Lego Wall With Tape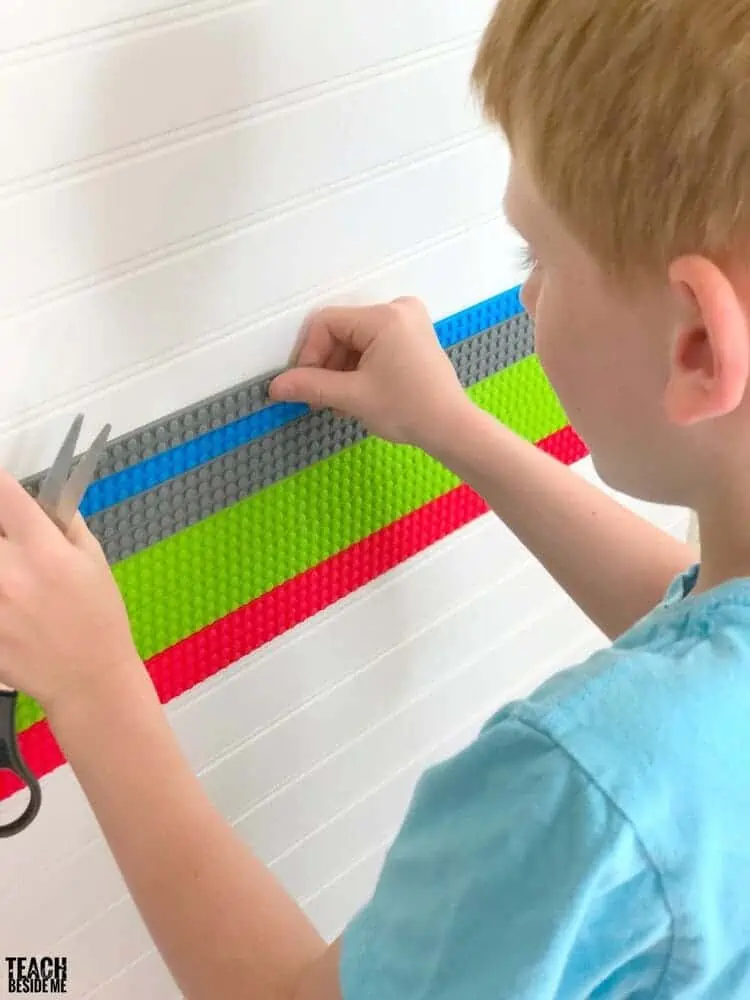 To save some space and boost creativity, why not make the play area vertical.
There are a few ways to install it. The first one is to build a wall with LEGO Tape. Or hang the LEGO masterpieces from the walls, freeing up the table and floor space.
19. How to Organize LEGOs On Walls With Boards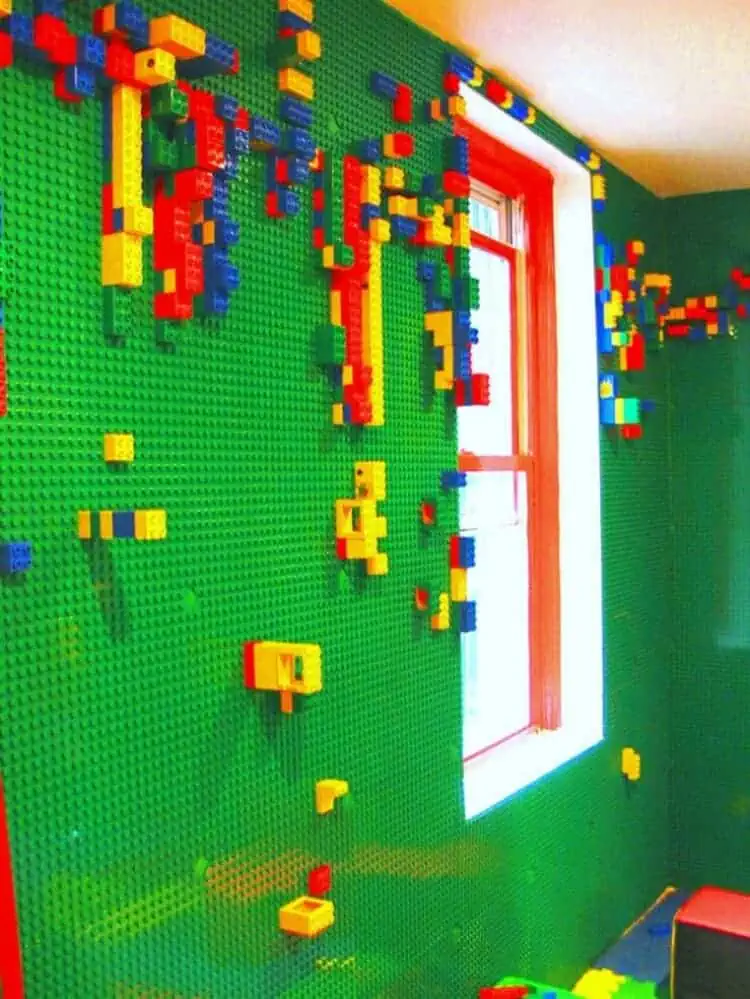 And again, if you want to try out the vertical play area, there is another way to do it. This method involves covering the whole or part of the wall in LEGO boards. This idea can bring color and a nice touch to the room or the playroom.
20. Swoop Bags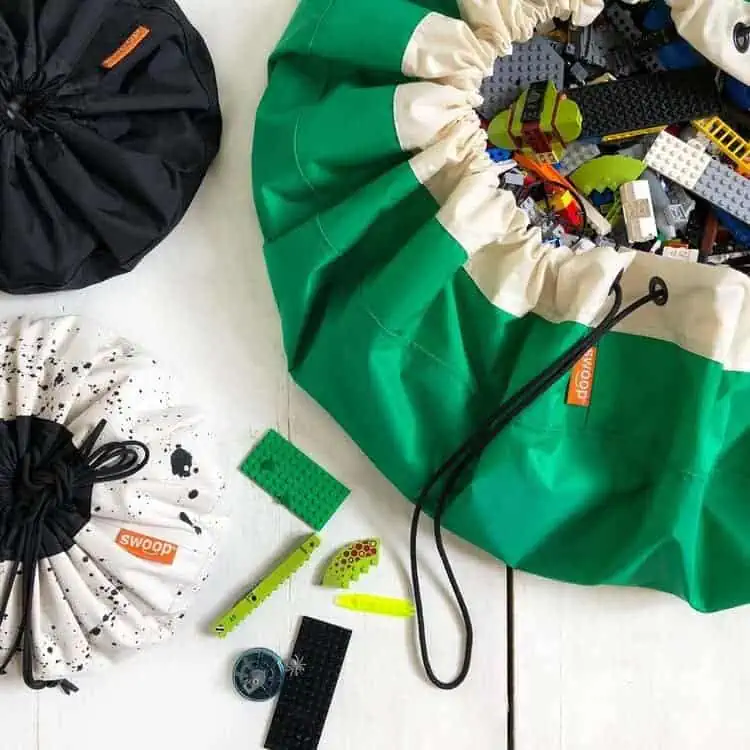 Many kids are not in a hurry to pick up and put away the LEGO bricks at all. Is that not right?
If you too have a few of those at home, this Lego storage idea might come in handy. The Swoop Bags come in different sizes and are very easy to bring out and take away.
The toy bags have a clever design with a draw-string. Once the kids lose interest in their latest project, just grab the string, pull it and the mat transforms into one big bag full of LEGOs, ready for storage. It saves you tons of time compared to the traditional clean-up.
21. Corner Building Hub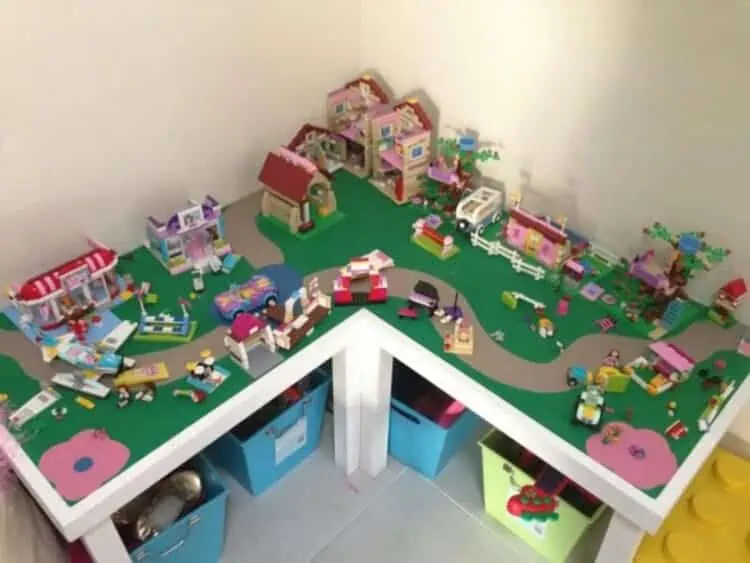 This corner table is a good idea as a play space for your children. It gives the kids enough room to put their ideas to life. Compliment with shelves above to display the completed LEGO projects, and voila!
22. How to Organize LEGOs in Clear Turntables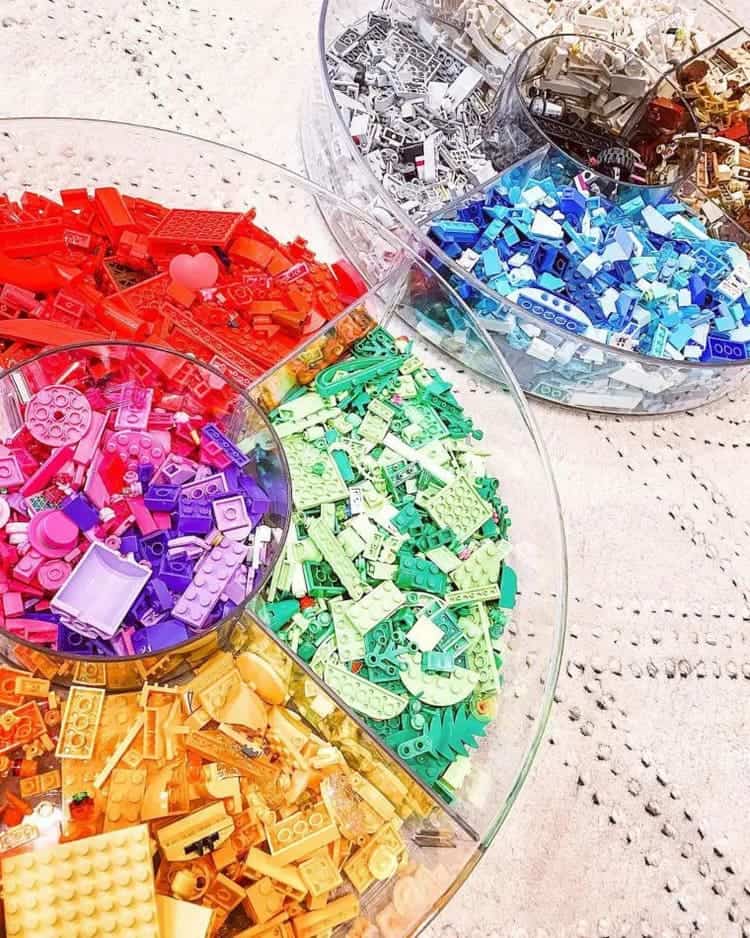 This Lazy Susan organizational method is a great idea. These containers are suited to you if your kids prefer the color-coded method and do not have a lot of parts. They rotate so your kids can grab the pieces they need. Storing them is easy. Put them on tabletops or wide shelves as an example.
23. LEGO Pull Out Drawer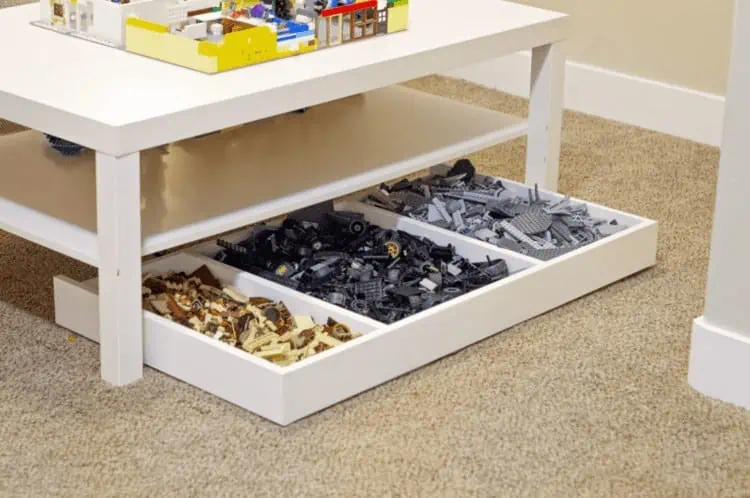 If your children like to be beside you and build their creations in the living room, this idea is for you. With this wooden organizer, you can maximize the space under your coffee table. When kids mix and match the different sets that will be fast and easy for them to put all parts away when finished playing.
24. How to Organize LEGOs in Vases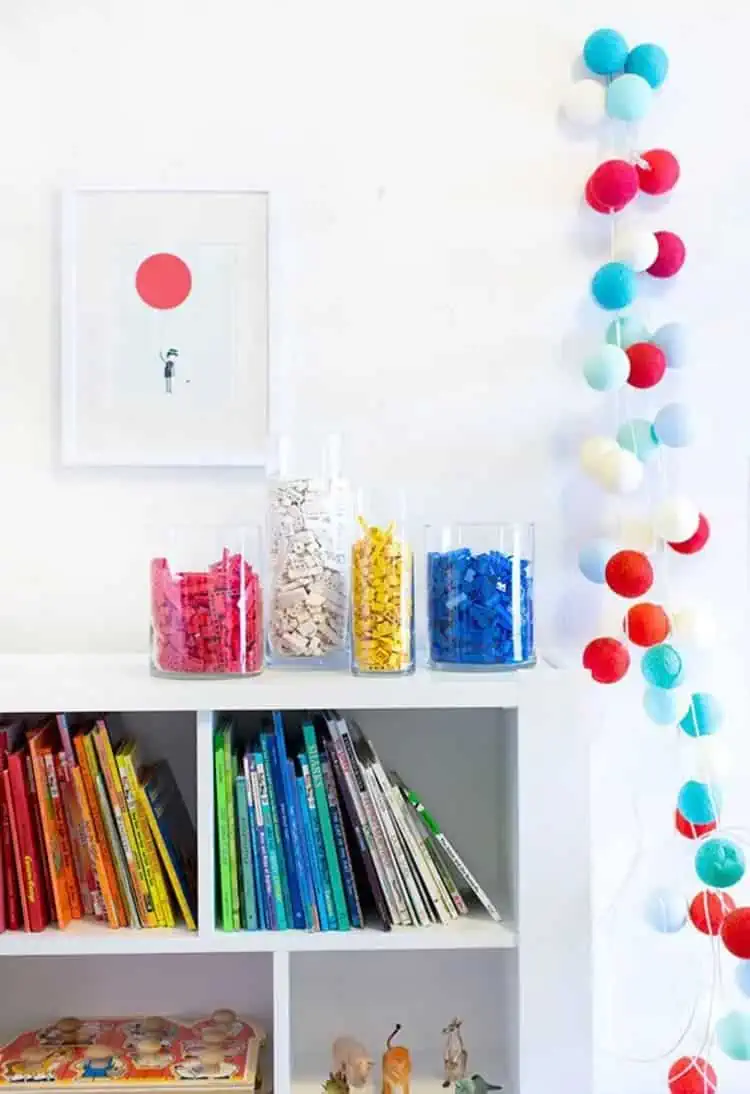 If you don't feel like hiding the LEGO bricks, use cylindrical transparent plastic vases or containers. Those vibrant colors can double as art in your playroom. Make sure the vases are easy to access. Ah, how could you not love these colors??
Even More Lego Organization Ideas
25. Billy Bookcase Storage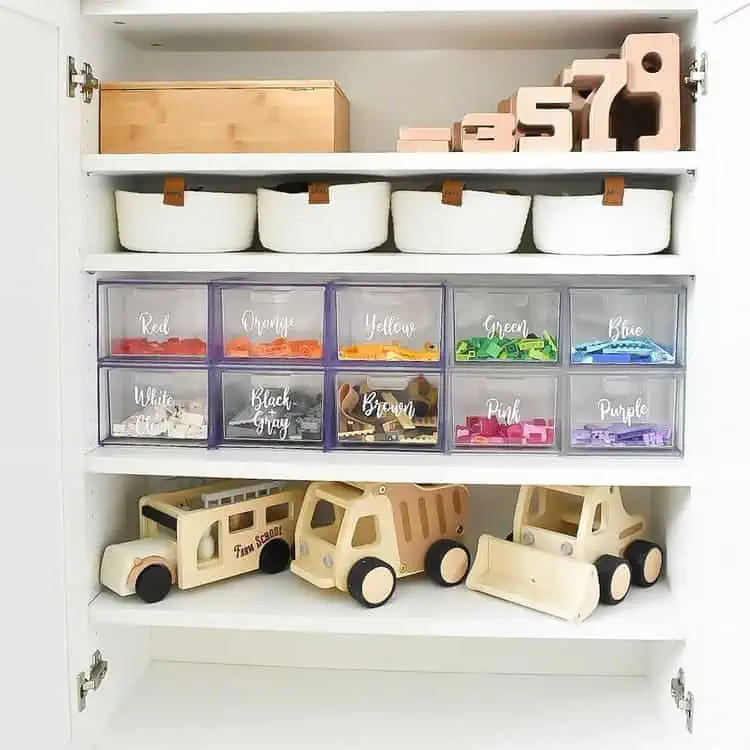 Use the IKEA Billy Bookcase Storage to organize the Lego bricks and pieces.
Another organizational idea is to color-code them into small transparent storage containers. Leave one or two of the top shelves for display and let the kids build their creations! The rest populate with the completed designs and a Minifigure collection as an example.
There are options to have the bookcase with glass doors or an open layout. If the LEGO collection has grown, there are bigger Billy Bookcases (if you have space to fit them).
How to Organize LEGOs So You Never Step On One Again
26. Trofast Storage Containers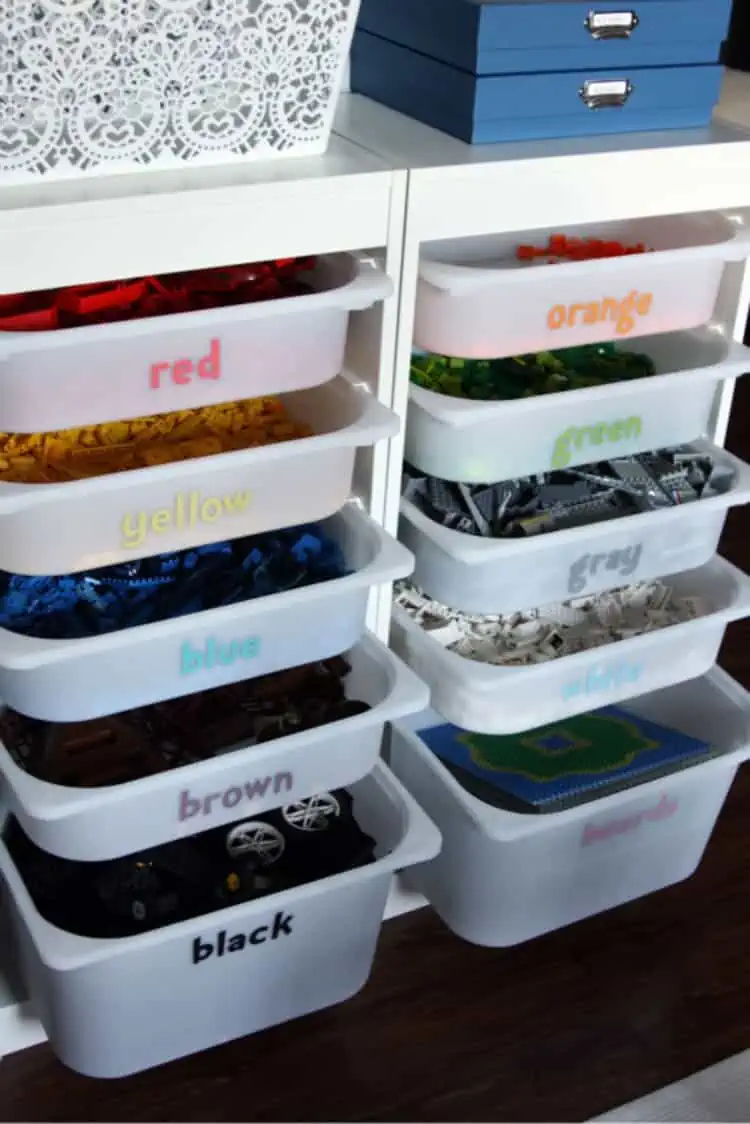 The IKEA Trofast Storage can be a great solution. Kids need something simple and easy to encourage them to play, and this storage for LEGO provides it. They are even more convenient for the little master builders.
Because they do not have lids, children can check the parts of the containers and take them fast. It is also simple for the kids to put away their creations when they are finished. You know – the hardest part of the whole play… 🙂
27. Drawer Dividers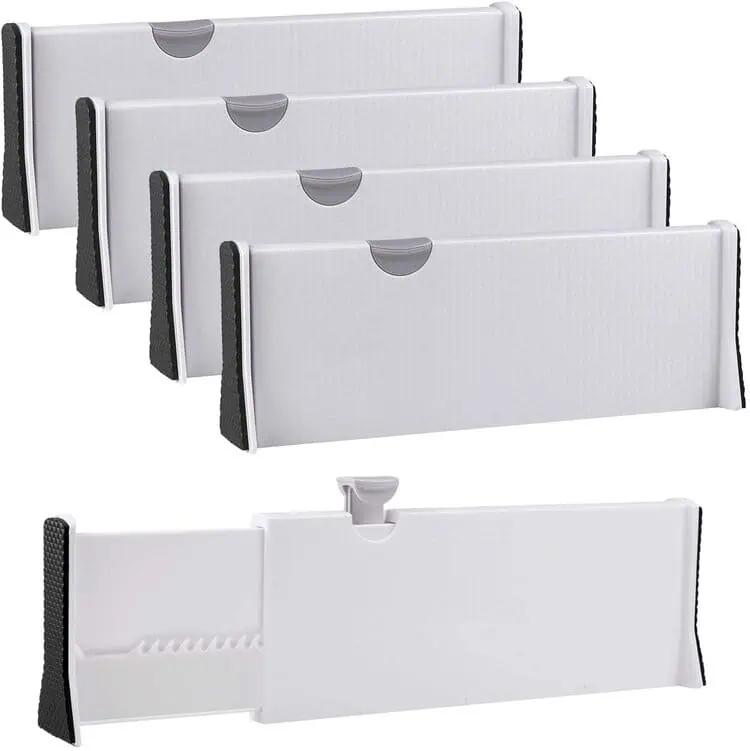 If you use a drawer cabinet to store the LEGO parts, you will benefit from having this Drawer Divider. A huge plus is that they are expandable and adjustable. This will help you to sort out various pieces in different colors in their own space, no matter how many pieces you have.
How cool is that?
28. Under The Bed Storage Boxes
Does your children's bed have a drawer underneath? If yes, that is great! This might be the perfect LEGO storage solution for you.
If your kids like to divide the pieces by theme, category, or set, you can use the IKEA Skubb Box Set. These storage boxes will help you arrange the area under the bed to look neat. It also provides a good overview of the whole LEGO collection.
29. DIY Lego Bucket For Storage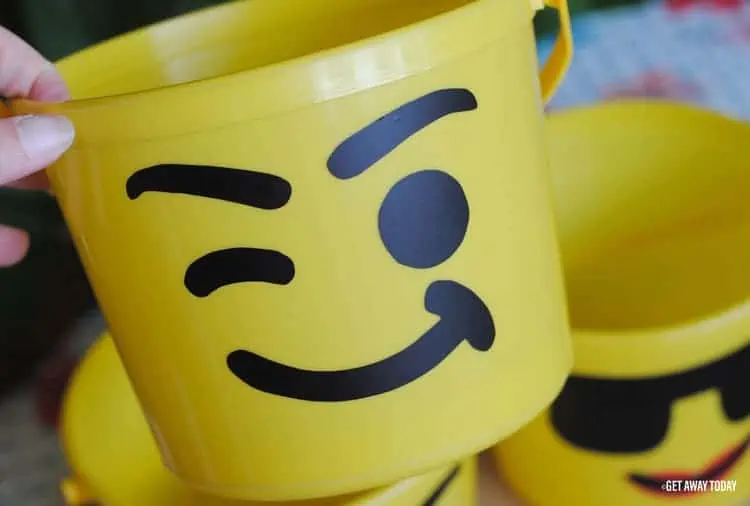 The Minifigure faces – that one thing you see and instantly know you're looking at a LEGO. So why not store your LEGOs in one? And why not even do it yourself?
Check this awesome Lego Bucket craft! You're going to love it!
30. How to Organize LEGOs in Wall Mount Drawer Organizer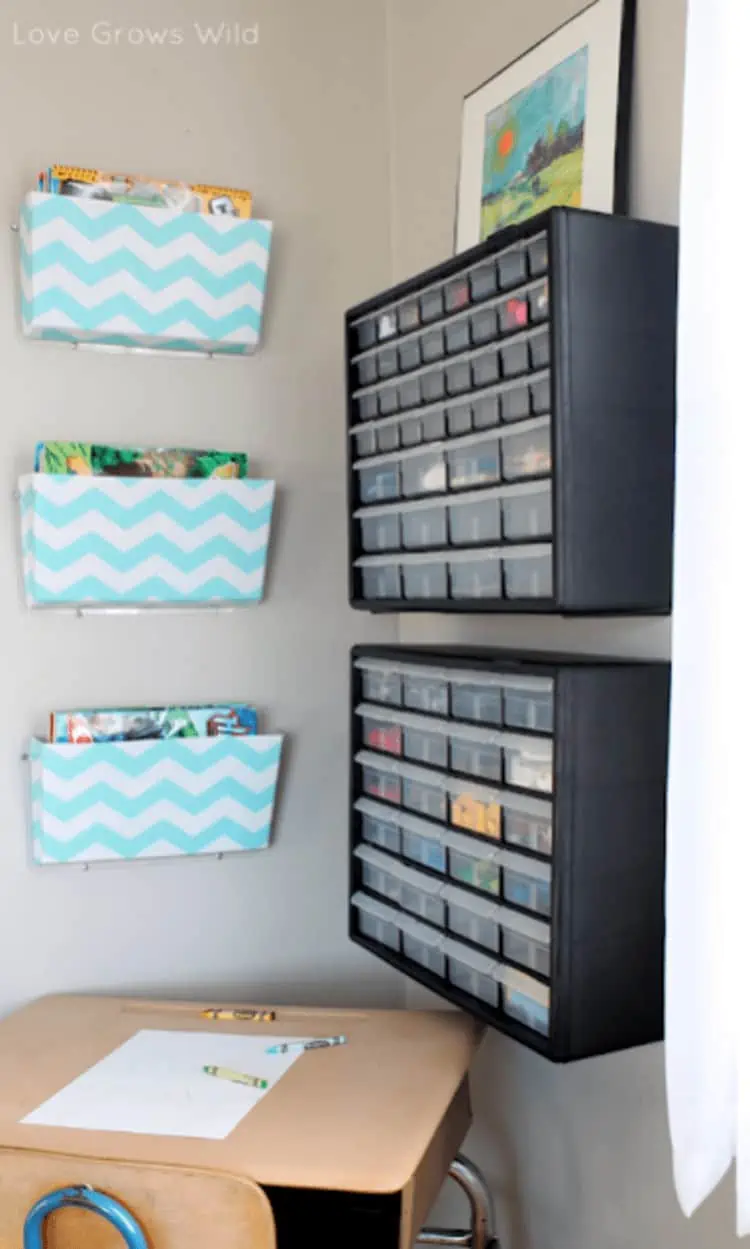 Do you have enough play space or a large desk to fit your children's LEGO organizers? If not, use this wall mount Cabinet Drawer Organizer to save a lot of space. Their desk will be free and ready for building new creations.
31. Bead Organizer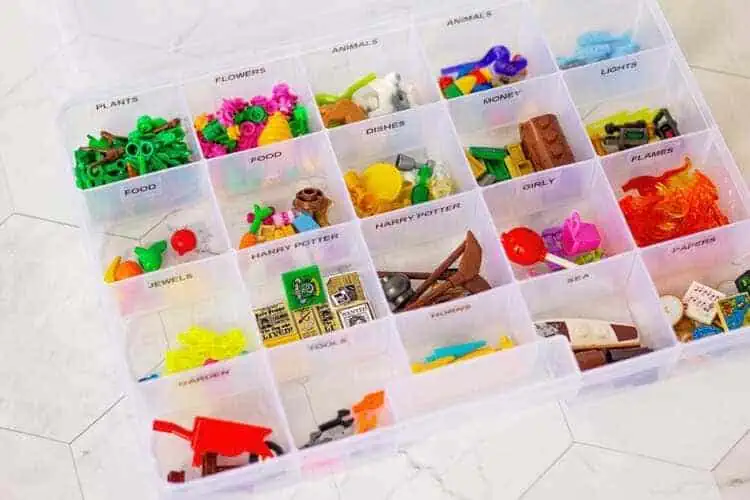 With lots of tiny compartments, a Bead Organizer makes it easy to have a place for each little accessory. It is cheap and easy to fit in a cabinet drawer, on a desk, over a storage unit, or on the shelf, to name a few.
32. Toolbox Organizer for Mini Lego Pieces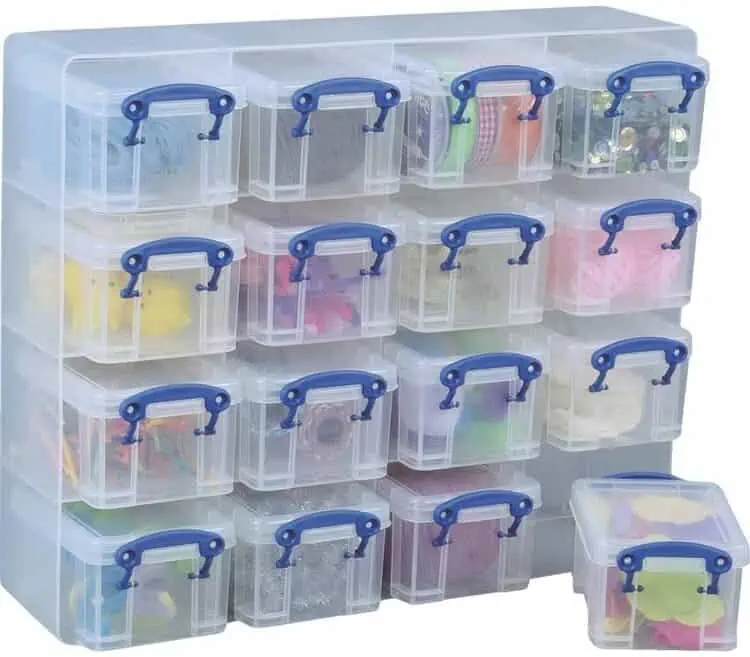 If you do not have many small pieces, use a small organizer with boxes like the Clear Plastic Organizer.
But, if you have a lot of them, use the Stackable Storage Container Box or the Portable Storage Organizer Box.
If there are too many pieces, use containers or this Durable Parts Organizer.
Another option for massive collections of LEGO is to leave a whole drawer of your LEGO guys.
33. How to Organize LEGOs With Magnet Strips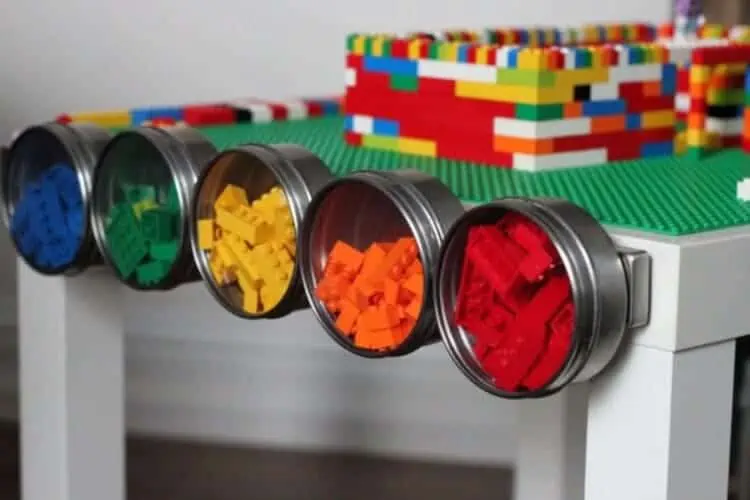 If your kids are usually building their LEGO masterpieces on a table, and you are looking for some little extra space, we got your back!
These magnetic strips are a small genius solution. Install them on the side of the table and complement them with magnetic tins. Your kids can store some extra bricks and pieces or the mini-figures in them.
34. LEGO Minifigure Display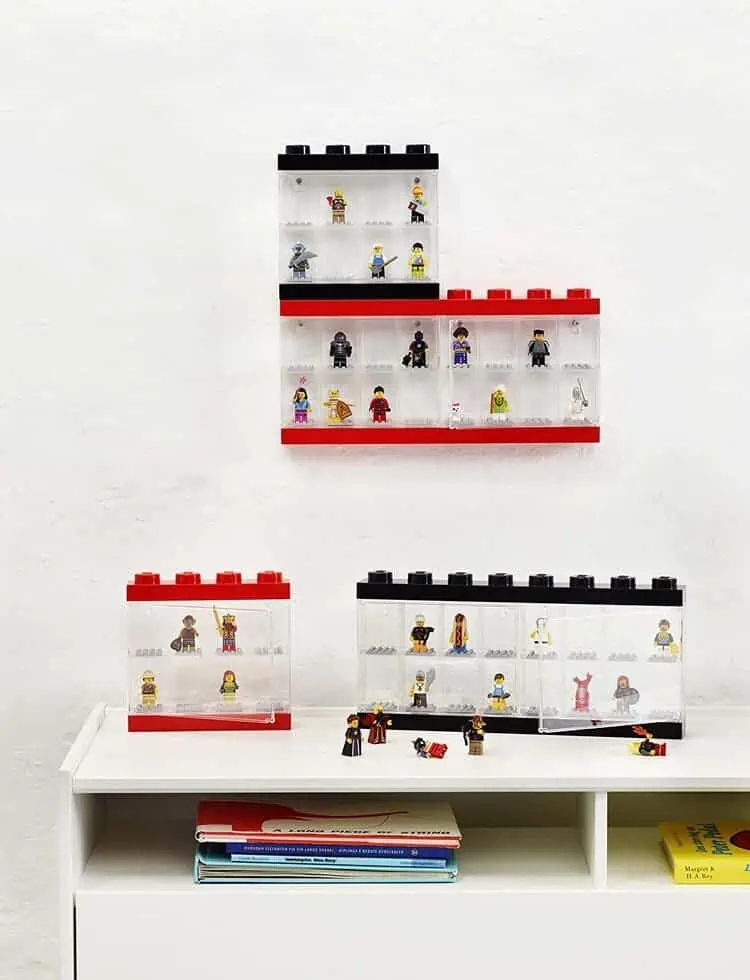 Does your kid like to collect or store the LEGO characters in one place to display? If so, then this LEGO Display Case will be able to fit your Minifigure LEGO collection. It can hold your children's favorite characters on any flat surface or mounted on the wall.
The best thing of all – it is stackable. If your collection grows, you can always add another display case.
35. How to Organize Legos in Hanging Storage Bins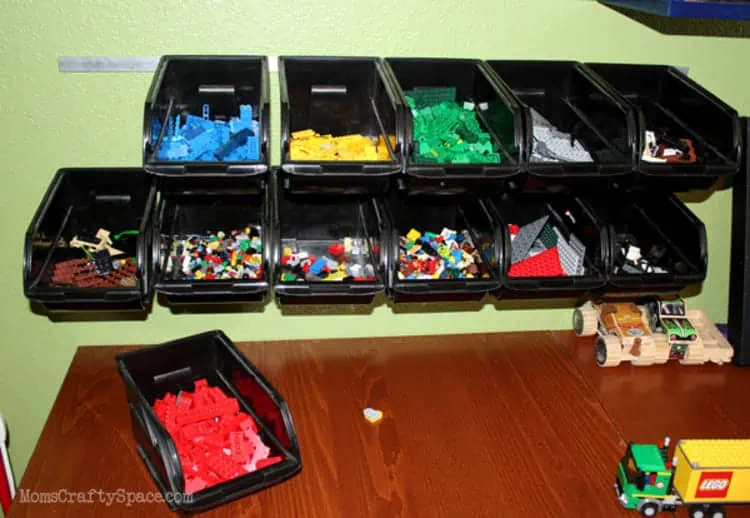 Is your LEGO always ending up stacked in a pile, or your leftover project box is already an oversized bin? Check out this solution from a mom who was in your shoes.
Her DIY Storage LEGO Solution can help you out on how to organize your LEGOs. It consists of plastic storage bins with handles and a metal rail for hanging. It is a brilliant Lego organization idea that comes cheap and works wonders.
36. DIY LEGO Table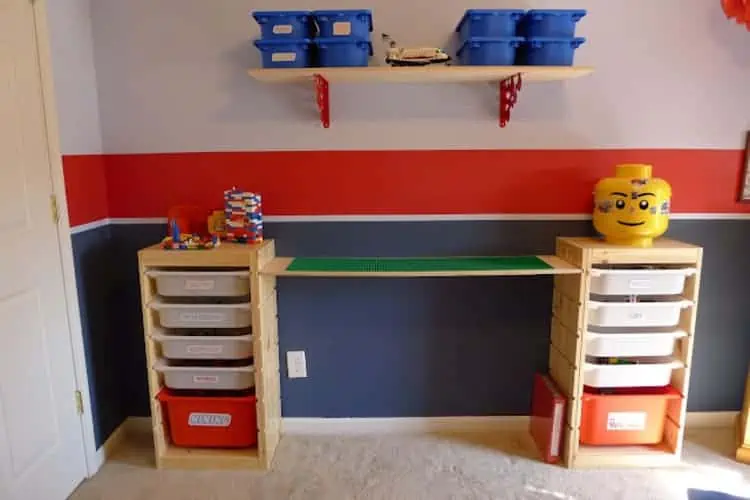 When it came to the organizational system, all parents with huge LEGO collections feel overwhelmed. That is the moment we look for solutions. This genius organizing idea combines Adjustable LEGO Table & Storage for the small builder.
A few of the advantages about having an adjustable shelf are:
It serves as a table instead of buying one separately.
It has a double-sided surface for building. One side has green LEGO baseplates, and the other is left smooth for the option of building without baseplates.
Adjustable height – suitable as your kid(s) grow.
37. How to Organize Legos in a DIY LEGO Desk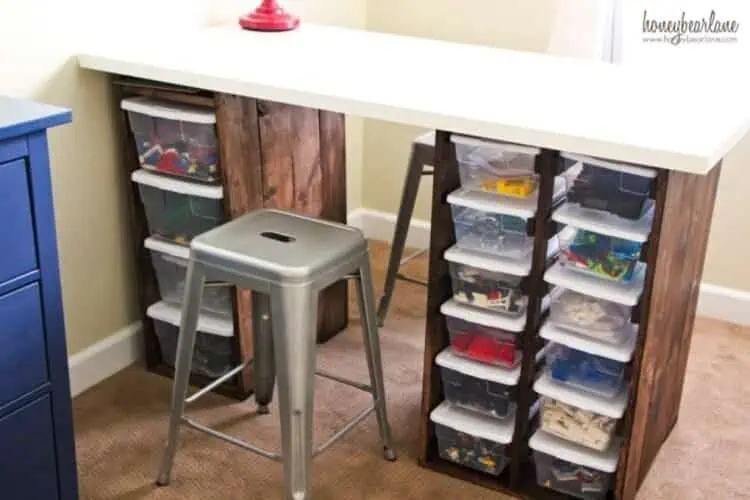 That is another DIY idea but for creating a desk. The crafty parents used wood which is replaceable with plywood or MDF.
They filled the compartments with big laundry boxes on one side, and smaller ones on the other. Learn how they did it here.
38. DIY Fabric Bins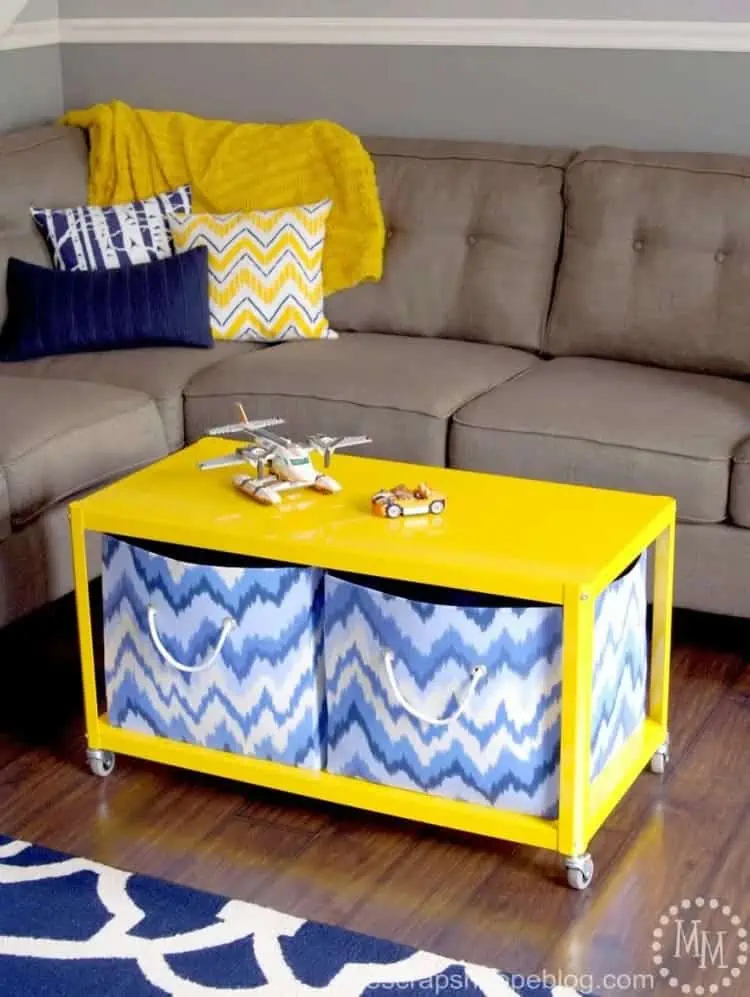 If you are a crafty mom and are up for a new project, try this method to create Giant Fabric Bins for LEGO storage. They can fit under the table where your master builders play or in the storage.
If you want a quick solution and not make it yourself, go to IKEA and grab a few of the Drona Boxes.
39. How to Organize LEGOs With a Play Mat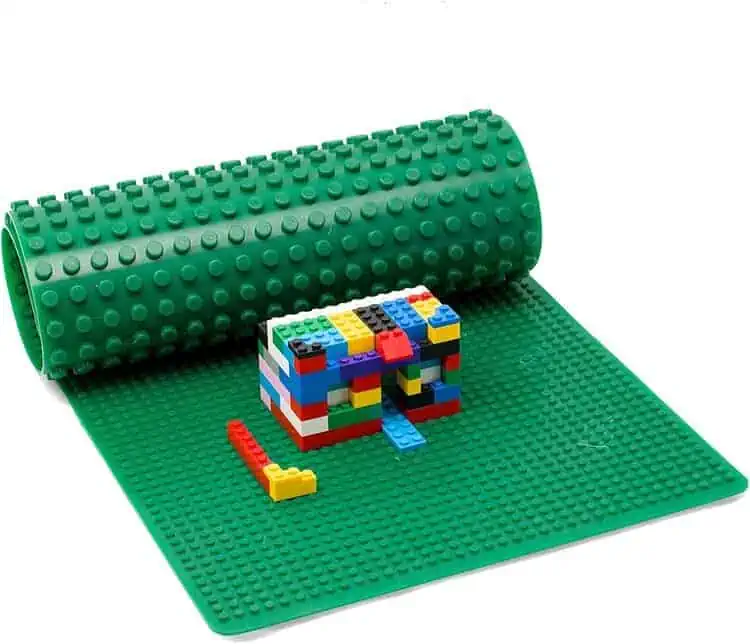 OK, this is hands-on, my favorite one! If your kids do not want to play and build on a table, consider this Double-Sided Play Mat. One side works with small blocks, and the other side is for building with large LEGO bricks (the Duplo sets).
It is an alternative to the base plates and is also foldable. It is easy to store it and take it with you when traveling.
40. DIY LEGO Tray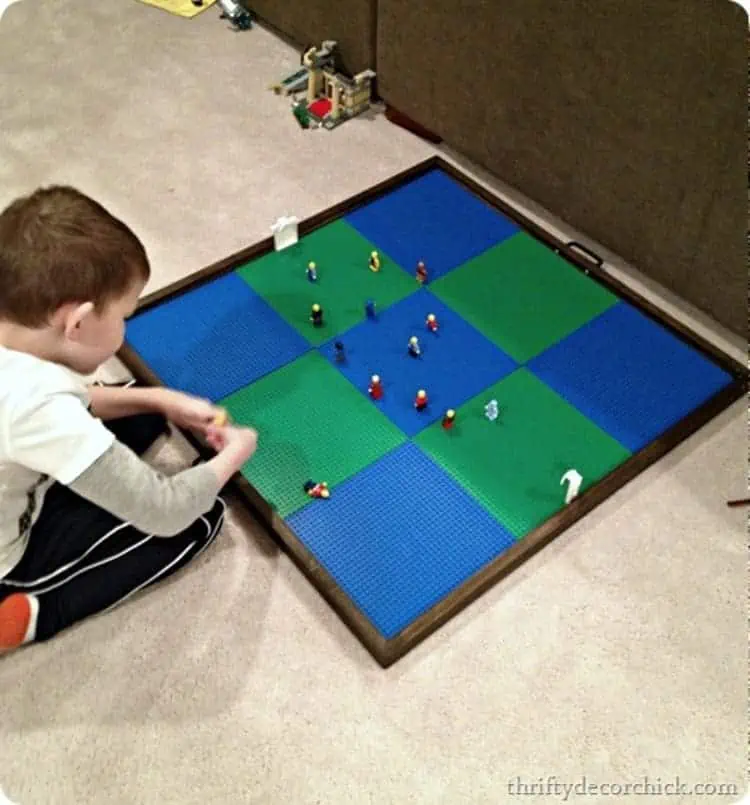 Again, if your kid likes to play on the floor, this creative idea might be the solution you've been searching for. If your children need it on a higher surface, put the wooden tray on top of an ottoman, for example. Here is how this mom did it.
41. Pegboard Wall Organizer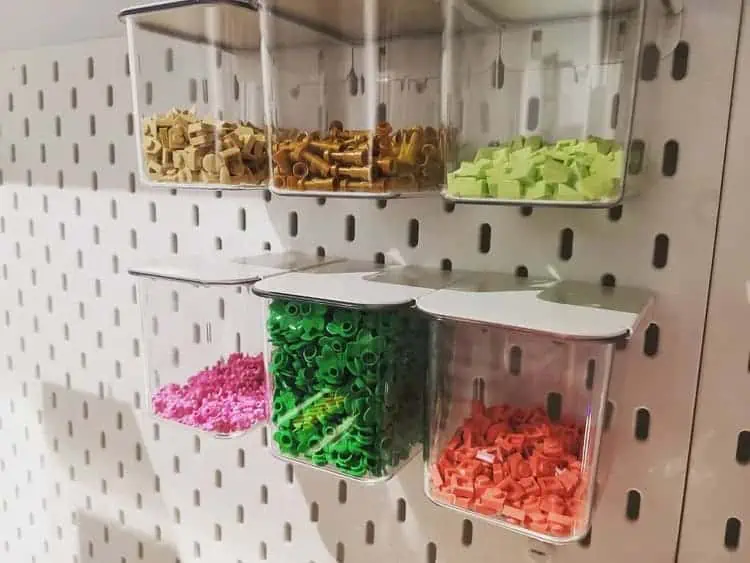 If you live in a small space, you know that the best way to make the best of your space is to think vertical. And no one can think of vertical organization without thinking of pegboards.
Using a pegboard saves a ton of space when organizing your LEGO bricks. You can move the boxes around to create a design that fits your kids' needs and height. You can find pegboards on Amazon.
42. How to Organize LEGOs: Put Your Minifigure Display Case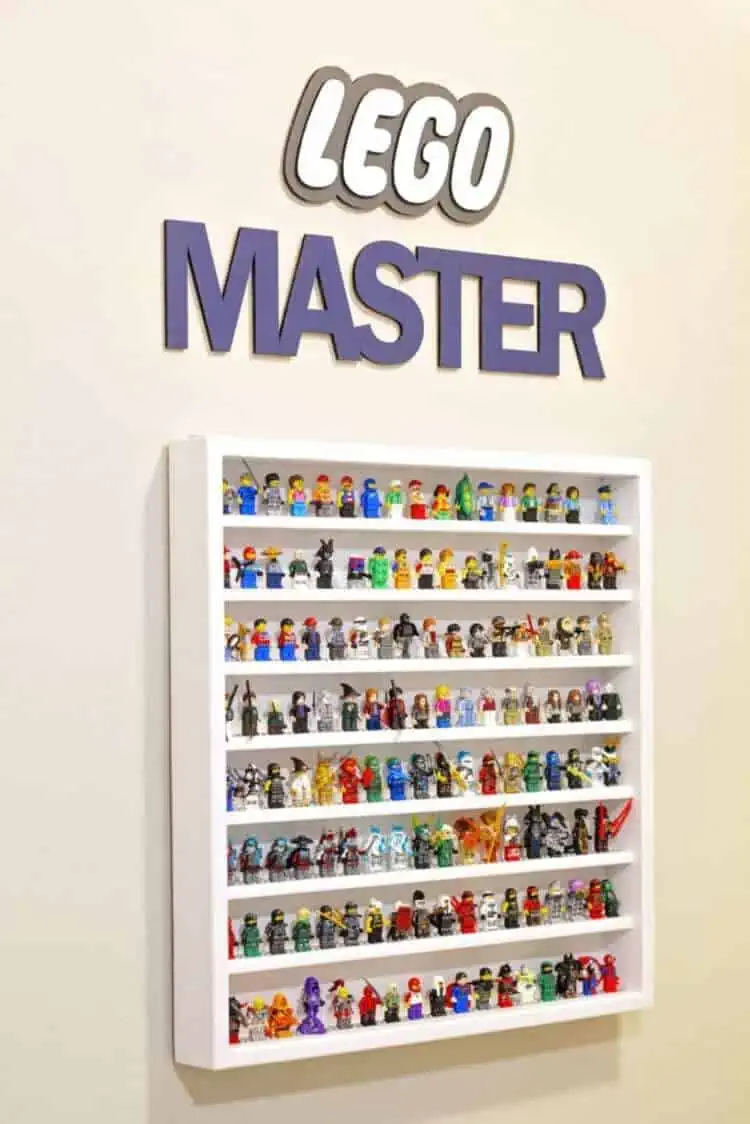 Some kids like to display their Minifigures. If that is the case with your little creators, this display case is perfect for them. It makes it easy for your children to keep track of all the LEGO characters they have.
Mount it on the wall to create a beautiful decoration in the room. Bonus points, if it has LEGO inlay on the shelves so the Minifigures can click into place. If it does not, find a similar one with a transparent door.
How To Organize LEGOs Instruction Manuals
43. Ziplocs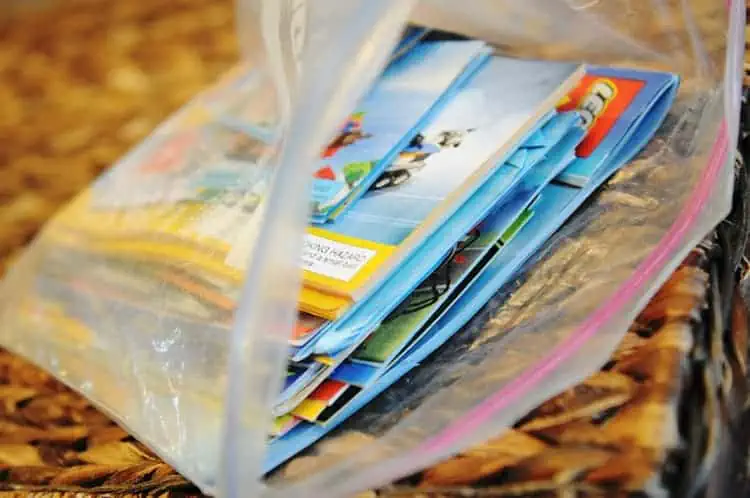 It is a quick solution to put in the booklets if you have a few. But, if you own a lot of LEGO instruction manuals, you might want to use another organizational system. Keeping them in Ziplocs is not doing much to preserve the manuals.
44. Plastic Protectors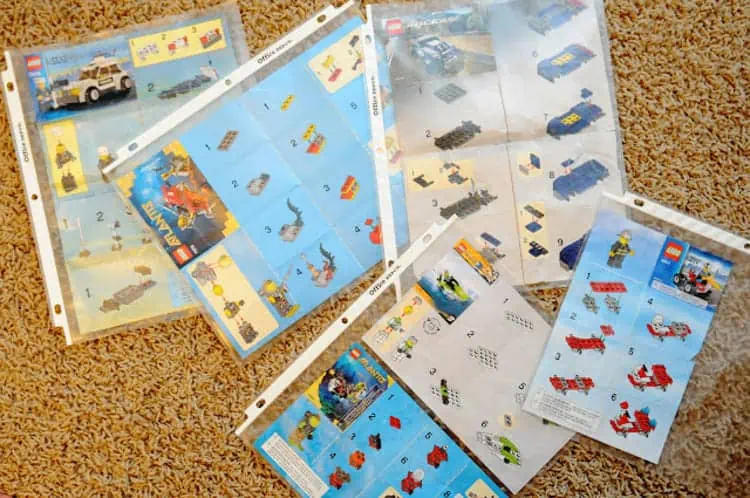 When you do not have that many LEGO sets and manuals, use plastic protectors for the instructions. You can always put them in a folder if you get a few more. It will also help to protect them from dust and slow down the wearing out.
45. How to Organize LEGOs Manuals in Binders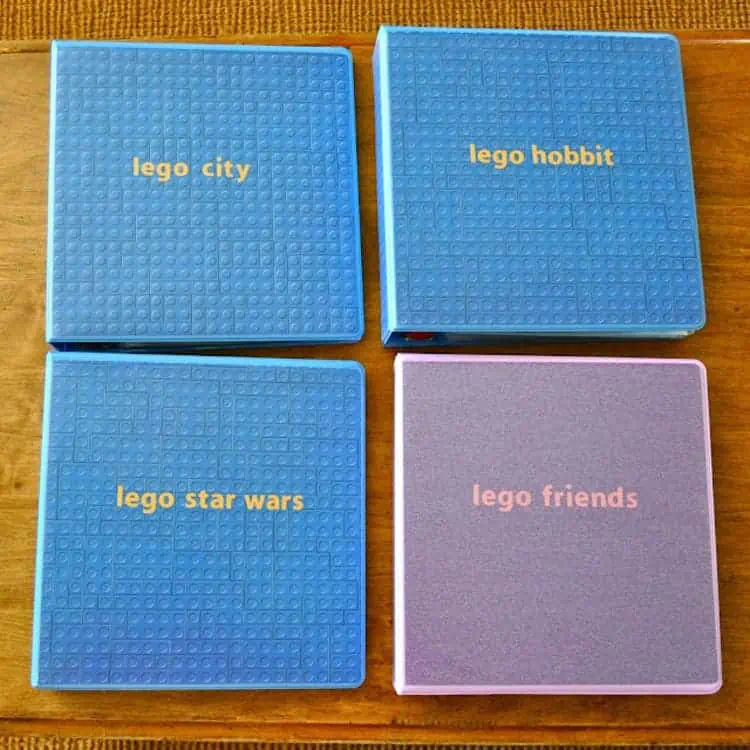 Binders keep the instructions safe and organized. If you have various sets, you will need large binders. It is always a good idea to get the larger ones, to leave some extra space. There is always an occasion like your kids' birthdays or Christmas where a few more sets are to come.
46. Small Storage Box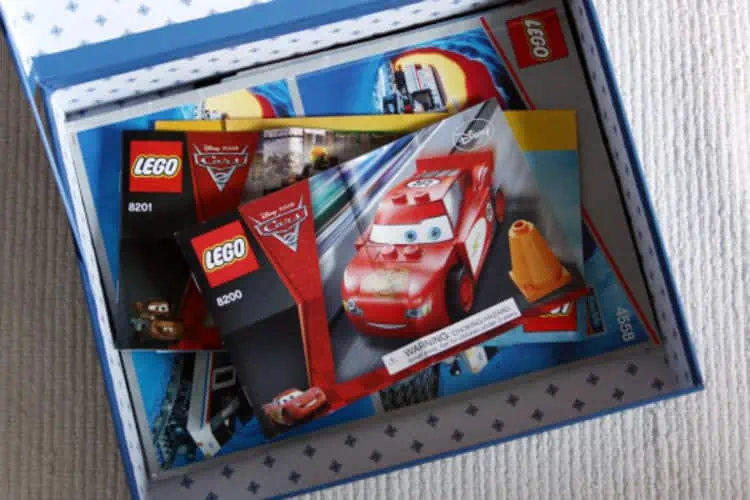 Placing the LEGO manuals in plastic page protectors can be problematic. Kids would take the manual out and, it would be difficult for them to return it. Put the stack of booklets in a storage box, and the problem is solved. Easy-peasy!
47. File Box
You can store different folders in a Plastic File Box and divide the booklets by type or themes. Label all the files to make it even neater and quicker for your kids. This system allows the children to find what they are looking for fast.
48. How to Organize LEGOs in a Plastic Tub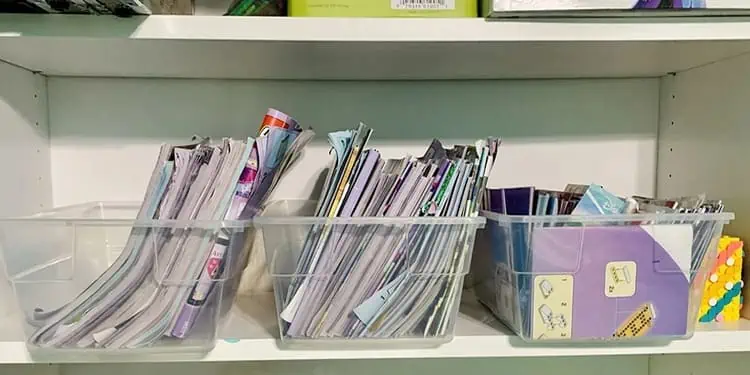 Another idea is to store the LEGO instruction booklets in shoe-sized plastic tubs. It is simple and functional if your kids use them often. Having the boxes without lids is great for easy access. But the downside is, this way they collect dust more.
Storing in tubs works great to keep the instructions, too. Just put the manuals in the back of the box horizontally. Close with the lid to preserve them from dust.
49. In the Drawer Trolley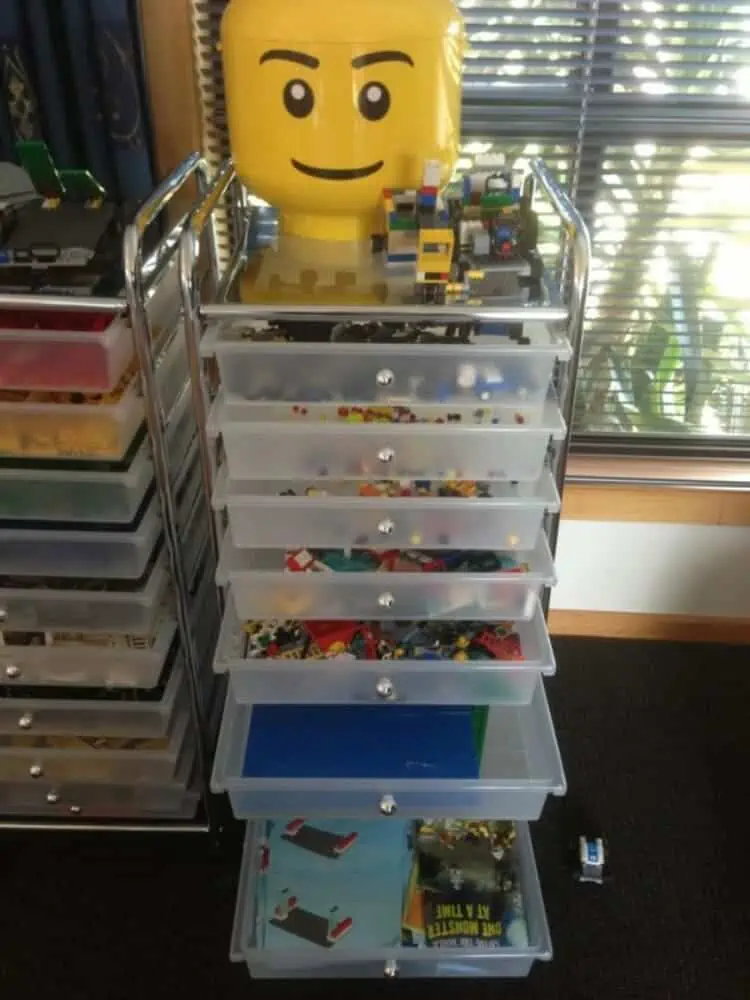 You can fit the LEGO booklets in the Plastic drawer trolley and plastic storage containers. This is a great way for your kids to have the manuals handy. It is also quick and easy for the children to put them back, once done playing.
50. Hanging Wall Files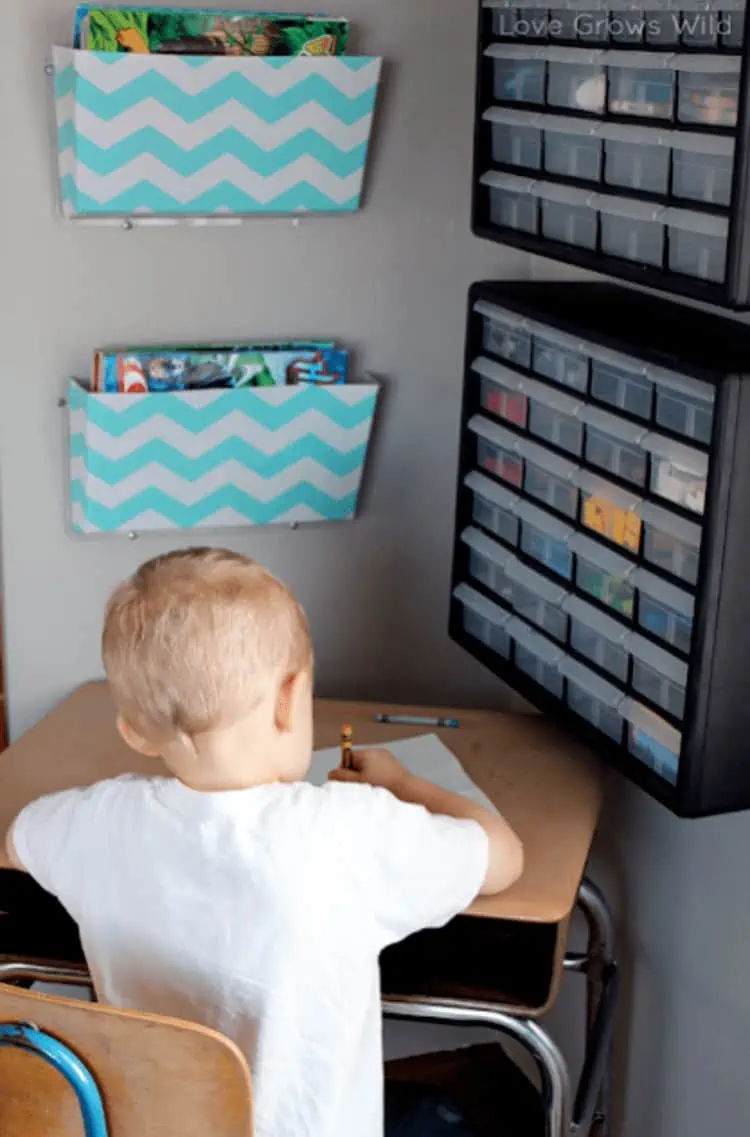 A very convenient way to save some space and decorate the playroom is to use hanging folders or wall files. You can decorate them if you use clear ones to your young builders' liking. Check out how this mom managed to make them look pretty here.
How to Choose the Perfect Lego Sorting Strategy
Sorting out your LEGO collection might seem like a difficult task, and if you're drowning in a sea of endless LEGO parts and pieces, you definitely aren't alone.
Storage is a constant issue for many LEGO fans.
It can be hard to find the balance between a system that makes it easy for kids to find what they need while they're playing and easy for them to stay organized on their own at the same time.
And I haven't met anyone yet who enjoys stepping on a stray LEGO brick at night.
Want to know how to organize your LEGO? Let's jump right in!
How To Organize LEGO Bricks?
The good news is there's no right or wrong way to organize your LEGO. There are many ways to do it because every kid plays differently.
Children may also find one way of organizing easier than another.
One of the most important things you can do is include your child in the organizing process. They may even have their own ideas about how best to store their lego.
There are many ways to organize your LEGO but, some of the most common are to sort them by:
Color
Size
Set
Part
Part + color
Theme
Function
What is the best way to sort Legos?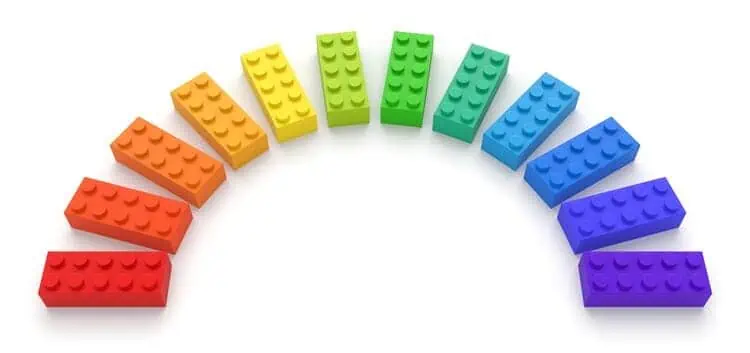 This article from Martha Stewart suggests there are three categories LEGO fans fall into:
Kids who love to build and display
Kids who love building and role play
Others love building and rebuilding.
It says the key to determining which system is best in your home is to watch how your children play. For example:
If they like to build and display, store each set with its pieces and instruction manual in its own box/drawer.
When kids prefer building and rebuilding, all of the bricks and pieces can be mixed together.
Sometimes kids are into role-playing with their creation so having a place to build and easily access their creations is important.
Here is a video with a few suggestions on how to organize LEGOs depending on your children preferences of play:
What Are The Advantages Of Sorting LEGO Bricks By Color Or Parts?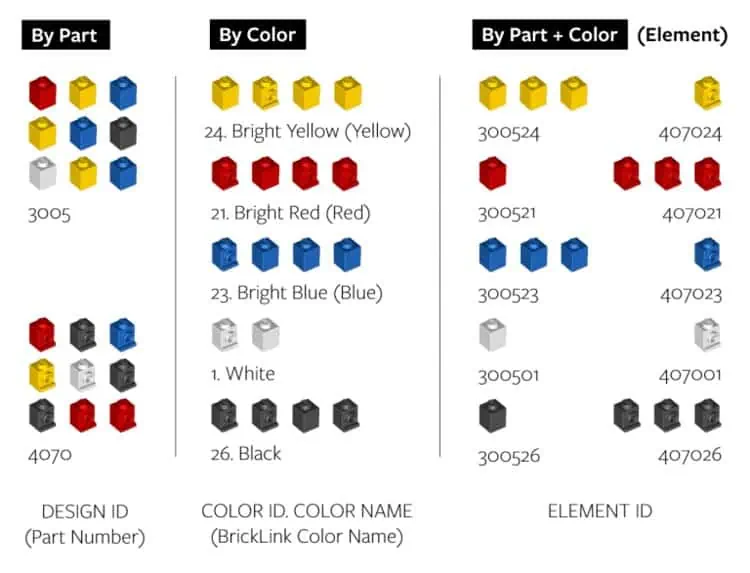 We all know how difficult it is to organize and store LEGO. The massive number of parts, various sizes, and shapes can be intimidating, but there are some advantages to finding a system that works for you and your kids. It helps to:
avoid fights over pieces
find pieces more easily
keep the room clean
Here are the most common ways to answer the infamous question… how to organize your LEGOs:
Organizing LEGO By Color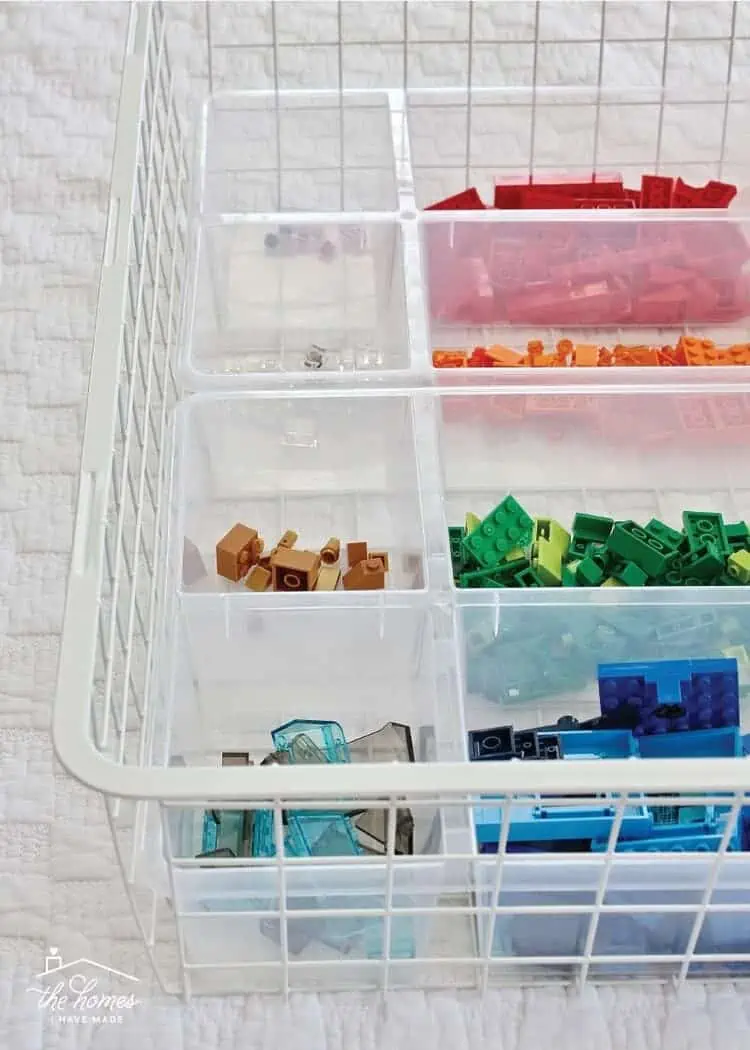 Sorting LEGO bricks by color is a popular method and is very attractive.
This method is especially helpful if the lego builder wants to develop creations that follow a color scheme. For example, if someone wants to build an animal, it will require a ton of bricks in the same color but various shapes and sizes.
If my son decides to build a tree fort, he can easily find all the green and brown bricks he needs to make the creation as they are sorted in their own respective bins.
Organizing LEGO By Size
There are two ways you can organize your LEGO bricks by size:
by the size of the pieces
by the size of the collection.
You might be wondering what would the advantages of organizing by size would be? Well, let's jump right into them.
How to Organize LEGOs By The Size Of The Pieces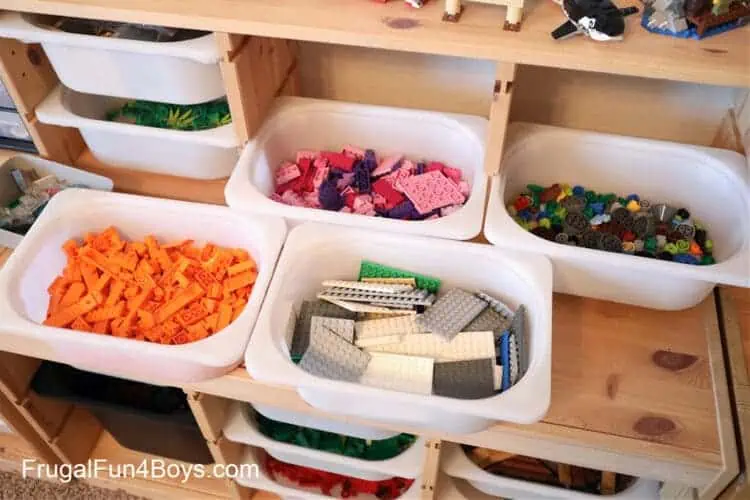 This sorting system helps your kid find the exact size brick they need as quickly as possible.
It can be really helpful when your collection has grown, and you can refine the categories. For example, divide or transfer the plates container into smaller compartments with 1x Plates, 2x Plates, and Large Plates.
Here is a video where the guy created a genius wooden LEGO sorter. He included the plans (no charge!) in the video description if you like to build one yourself. Amazing, huh? Building it yourself will need some craft skills and tools. But it's totally doable! Check it out:
How to Organize LEGOs By The Size Of The Collection
If you are not a fan of sorting out LEGO, you're probably okay with digging through a large box to find the piece you want. In that case, you don't need to carefully sort your collection.
The downside is that parts are much harder to find, which can lead to frustration and may decrease the amount of time your kids actually want to play with them.
Ultimately, the system you choose will also depend on exactly how many lego you have.
Someone with a small set or two probably won't need an elaborate sorting system, but things might start to feel a little overwhelming as your collection grows.
In this case, a better LEGO organization system can be extremely beneficial.
Here is some advice on how to tackle the sorting system depending on the size of your LEGO collection.
An article from BrickArchitect.com suggests that if your collection is:
Less than 3,000 pieces — No organization is necessary. Spread your LEGO bricks out on a table or the floor and build something great.
More than 3,000 pieces — Sort into a dozen or fewer broad Categories.
Greater than 10,000 pieces — Divide your most common elements by parts (bricks, plates, tiles, etc.) and less common pieces by categories.
Bigger than 50,000 pieces — Separate all of your blocks by parts.
Larger than 250,000 pieces — Group most common pieces by element and less common pieces by parts.
Organizing Lego By Set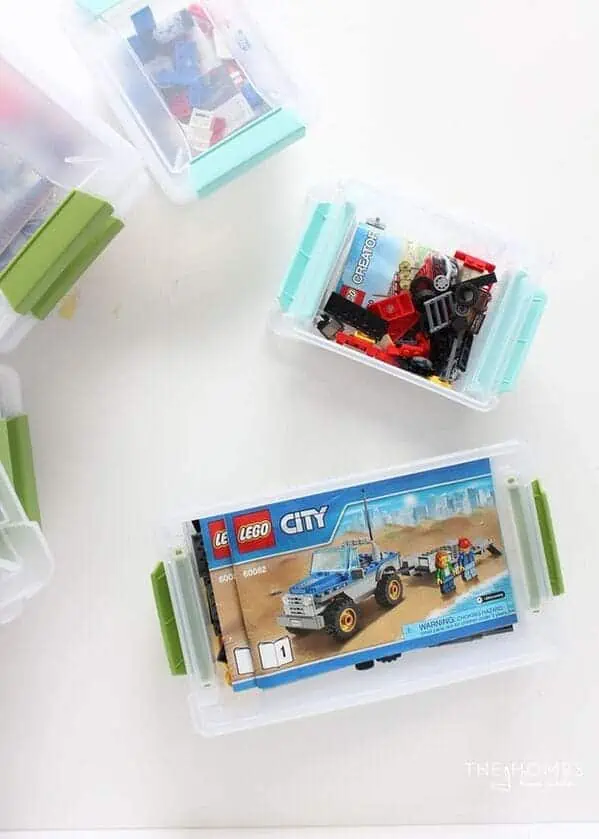 Do your small builders like to create by following the instructions on the LEGO manual? In this case, consider using the following LEGO organization system and storing everything you need for that build in particular together.
When a build's complete, kids usually like to keep and show off or play with their creations.
Of course, this means you'll need a place to display them. An IKEA Billy Bookcase or Bergshult / Sandshult Wall Shelves are a great display. Yet, this method of sorting LEGO does not inspire much imagination.
The advantages of this sorting system are:
Can fit it a few storage boxes or open, divided bins.
Kids will have quick access to their projects and then display their creations.
Organizing Lego by Parts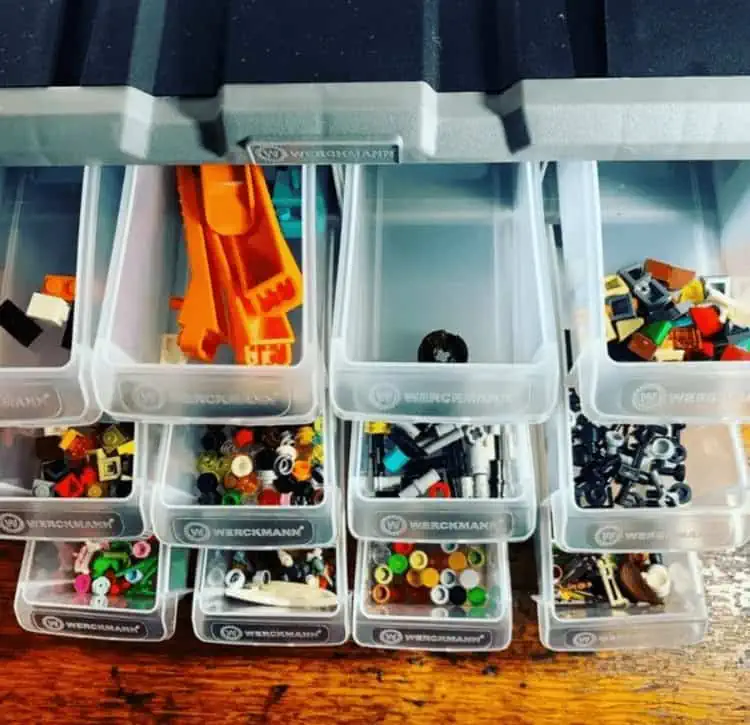 This is a suitable way of organization for large LEGO collections. If you have a lot of elements in different containers, naming them will help you find the one you need fast.
This LEGO organizational system is also great for promoting creativity. It allows kids to think and build outside of the lines of the instructions manual. Children can mix and match pieces and create their own masterpieces for display.
Organizing Lego By Function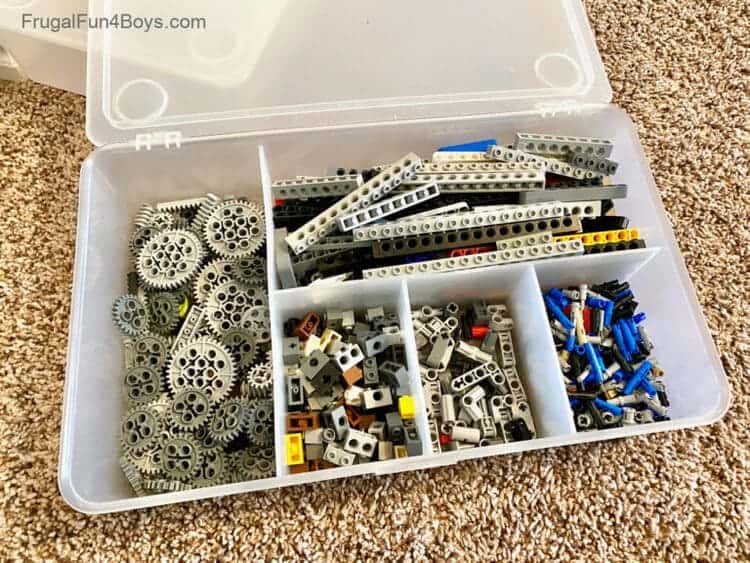 If you have a small number of each piece, organize them by function. If there are a few of the same parts, sorting by color would not be worth it. Use one small container with 1×2 bricks.
For example, fill one with wheels, one with long plates, and so on. If you have a lot of the same ones, you can divide them by color.
Should sets be stored together?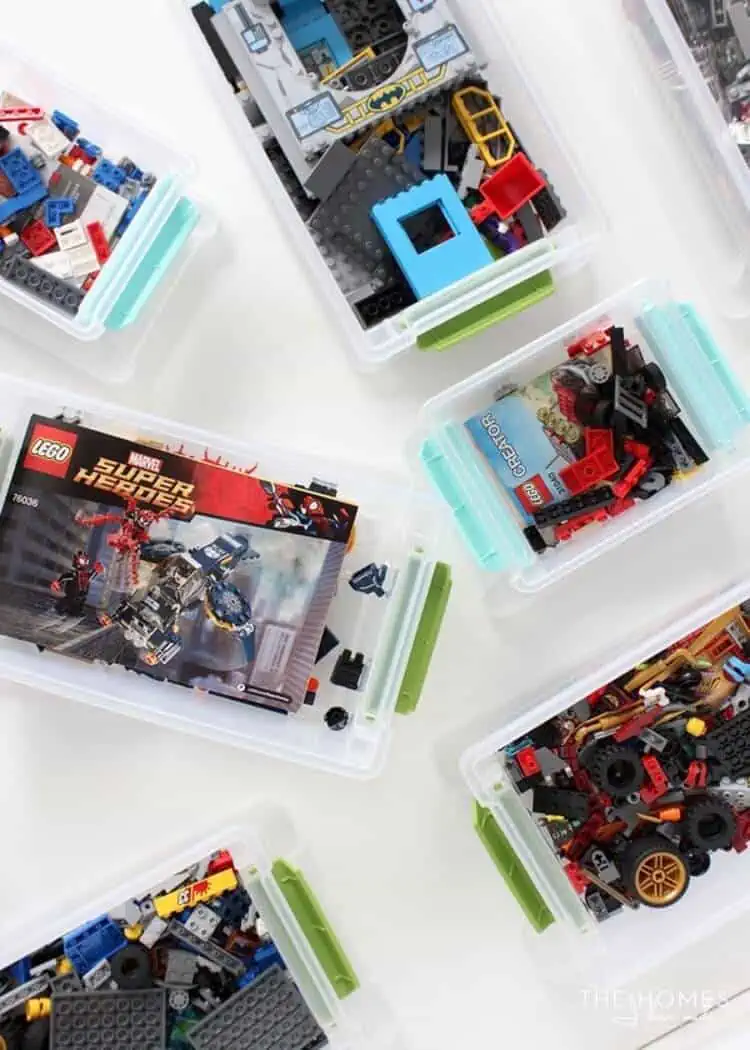 It is perfectly fine if you want to sort your LEGO sets together. That depends on your kids – your master builders.
If you purchase a LEGO set for your children, they usually want to build the same thing illustrated on the box. The reason behind that – it is enjoyable.
But, it is also only the starting point. The general advice is to combine the parts from different sets. If you keep them separate – you are taking all the creativity away from your kid. After constructing the model from the box, combine the elements for use in future projects.
That way, your kids will be more likely to design their own LEGO models.
FAQs About Lego Organization 
How Do You Store Completed Lego Sets?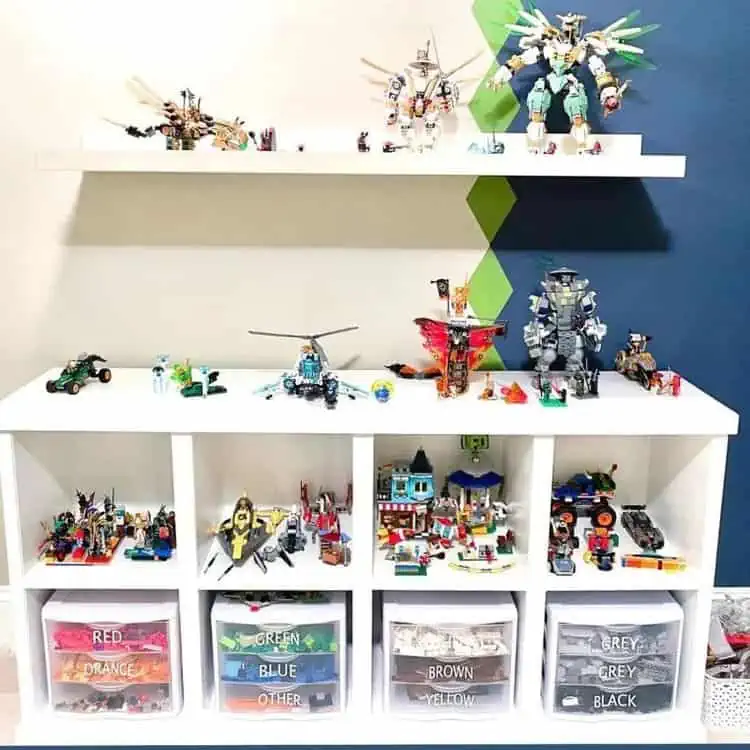 There are many ways to store built LEGO sets. Your best one will depend on several factors:
The size of your LEGO collection
If your kids like to keep the completed creations for a longer time
The space available in the room
Some of the places you can display your children's masterpieces are:
In the playroom's closet
Place on the shelves
On top of the toy unit
On the Trofast system
In a bookcase storage
In a glass display case
Use the surfaces of the living room section
Or combinations of the above listed
How Do You Declutter LEGOs?
Do you feel like the LEGO bricks are everywhere, and it is getting out of control? Then it is time to declutter. One way is to encourage your kids to clean up the LEGO pieces themselves. This way, they will take ownership of the process.
Also, they get to decide which parts they use and play with. There are always some LEGO pieces put aside that kids do not care about and rarely or never use. Some may even be broken, which is why children leave them aside.
Are your kids huge LEGO fans? Then the issue might be that you have too many sets on display all over the house. The solution here is to decide which sets you like very much. You can let your children choose which ones are to keep. The parts from the ones left for disassembling you put back in the storage box.
The best way is to give your kids a plastic box or bin to fill with all those unused or broken parts. After loading up the container, you can:
Donate it to kids in need or kindergartens
Gift it to a friend
Sell it by set or by the pound.
How Do You Organize A Lot Of LEGOs?
So, you have a massive LEGO collection. The best way to organize the uncountable number of pieces is by part + color. It's not the fastest, but it's the most effective to find everything instead of swimming into the buckets.
There are a few efficient and nice-looking ways to organize them. You can sort the bricks by part + color and use, for example:
Plastic drawer cabinets
Drawers with dividers
Removable compartment organizers
Tackle boxes for the smaller parts
Open-front bins
How Do You Organize LEGOs faster?
That may depend on what LEGO organizational system you use. The fastest way can be with a tool like the LEGO sorter mentioned at the beginning of the article. A huge time saver! Just check this video, it works like magic:
It's not a straightforward process if you use the color-coded system or sort the LEGO parts by function. However, it will make your life easier. You will have a limited number of pieces of similar size in different trays. That helps you divide the parts, depending on their color or function.
Another popular method is to place half of the LEGO parts bin on the table/desk. Then start sorting by picking out a large category of the element type. The rest, scoop into a big tub that you can put on your knees. You can take out bigger parts beforehand as they are easy to get and might slow down your process.
To get a better idea of this sorting process, check out this video:
Should You Label The Containers?
Generally, yes. If you do not have that many LEGO sets and pieces altogether, it is not necessary to label the containers. If you use something like the Plastic Parts Storage Drawer, kids can learn fast where certain parts are. It also helps a lot if you organize the pieces by color as the small containers are see-through.
However, it will be super handy to label them if you own a medium or large LEGO collection. It becomes practical because levels serve as guides. And we know that kids have to go through a lot of big storage containers, drawers, and boxes. It will make their search for parts faster and easier.
If it takes a long time to find the necessary piece, kids might get discouraged to build. Increased time for searching can impact their creativity negatively. Children will have to stick to what they can find instead of what they thought they could create.
How To Help Kids Keep Up On The LEGO Organization System?
Give your lego-playing kids a say in creating the system so it's more likely to work for them. Find out what are the pain points in your way of organizing.
It might take them a lot of time to put back all the LEGO pieces by color.
It might be that the finished masterpieces are all around the house.
Kids can be easily discouraged if a simple action takes too much time. If they do not want to put back the manuals in the sheet protectors, use a box and store them all in there. Pinpoint what the problems are when the kids are playing. Try to find a solution that works for them.
After the kids have said how to de-clutter, make sure you have a place for everything. This way, you can teach your master builders the question: "Where does this go?". If you know the answer to that question, your children can tidy up quite fast.
Always bear in mind to make things easier for them. Here is an article of one mom's idea of How to help kids be more organized.
LEGO® is a trademark of the LEGO® group of companies that do not sponsor, authorize, or endorse this site.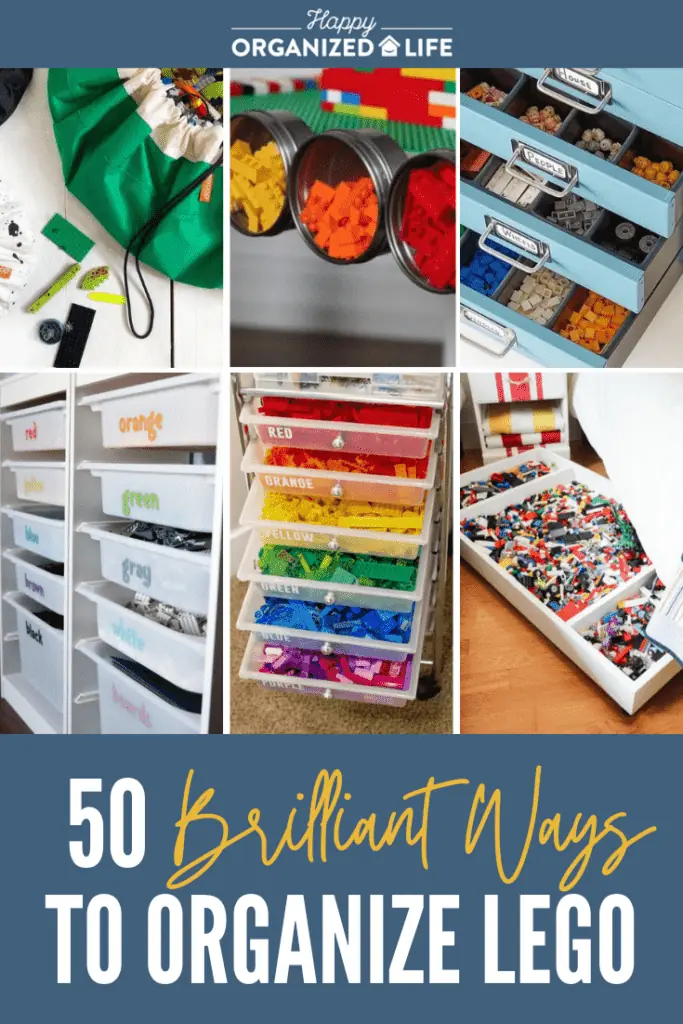 Did you like these awesome ideas on how to organize your LEGOs? Then you must check out these organizational ideas, too: