I am thrilled to be partnering with Raddish Kids for this post. All opinions are completely my own.
One of my favorite things about being a homeschooling family is our ability to learn in different ways.
I wasn't homeschooled, and when I was growing up I thought "learning" was that (usually boring) thing that pretty much only happened at school. I went to great schools and had very engaged and creative teachers, but by the time I was a senior in high school I was completely burned out; Now that I'm a mother, I want something different for my kids. I want my kids to learn information and skills in real life situations as often as possible, and I want them to see how subjects are interrelated, which is why I'm so excited about Raddish.
Raddish is a subscription box service that makes cooking as a family easy and fun. Now, I can't lie. When my sweet friend, Tami, suggested doing Raddish in our homeschooling group I said I wasn't interested. I thought, "Why would I pay for a few recipes every month when I already have a gazillion cookbooks?" Thankfully, Tami didn't give up! She asked for a couple more months (Poor Tami! What can I say? I'm stubborn), and she eventually brought over a few Raddish boxes for me to look at. Then I was hooked!
Each Raddish box comes with three recipes, each with step-by-step directions so even pre-readers can follow along and participate. The boxes also include a new skill card each month, a kitchen gadget or tool related to the new skill that's being learned, information on the recipes, creative projects and games, a shopping list, conversation cards, and a cute patch that can be ironed on their very own Raddish apron.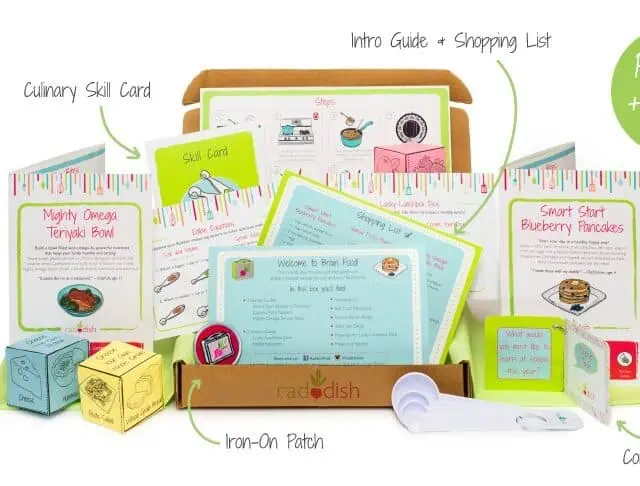 We also receive preview e-mails that give us a sneak peek at our next box and a recipe to try if we just can't wait, which is great because patience is not my strong suit! 🙂 And best of all, Raddish sends Homeschool lesson plans via e-mail!! They really make it so easy to have a fun, educational, and delicious learning experience at home.
Our homeschooling group (three moms and 12 kids!) gets together a couple times a month. We all buy our own boxes, and we work our way through the recipes as a group. This picture is from our Gourmet Grilled Cheese day, which I believe was from the December box.
We had three kinds of cheese: cojack, gouda, and jalapeno cheddar from Hickory Farms. If you like spicy foods, the jalapeno cheddar is amazing! We let the kids sample all three (though most avoided the jalapeno!), and then asked for their favorites. The kids then buttered their bread and built their sandwiches. Some went with cheese only, while others mixed cheeses and even threw in some lunch meat. Yum!
Then it was cookie time! We made the Raddish Oatmeal Raisin cookies, and my friend had the wonderful idea of throwing in some white chocolate chips. These cookies turned out huge and amazing! They were seriously delicious. We'll be making them again soon.
This is my youngest who was having a blast stirring the cookie batter. Please ignore the pj pants. Mama was choosing her battles that day! 😉
After I completely fell in love with Raddish, I knew I wanted to share it with all of you, and the wonderful people at Raddish also thought that was a great idea! They're offering a free 3 month subscription to one special winner so be sure to enter below!
If you're ready to order and don't want to wait, click here to visit the Raddish website and enter referral code: qsqfkv at checkout. I'm so excited for you to start enjoying this wonderful program. It's been such a fun, enriching experience, and we look forward to each and every box. Good luck! I'll keep my fingers crossed for you 😉