As a homeschooling family, it can be hard to get back into the swing of things after the holidays. We had a wonderful couple weeks off enjoying family, friends, and a break from our schedule, but it's time to get back on track with the second half of the school year so I started 2016 by tackling a project that's been on my to do list forever… creating a history timeline.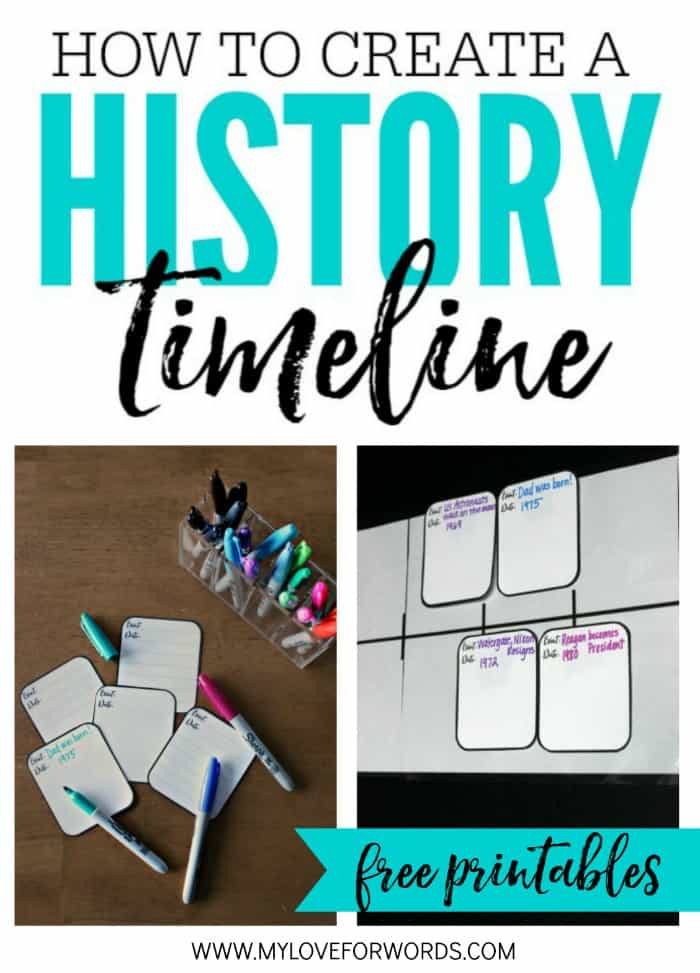 Thankfully, taking care of this project was actually a lot of fun thanks to my new, colorful Sharpies! If there's one thing this homeschooling mama needs to have a fresh start and renewed energy, it's new school supplies so when I spotted these vibrant beauties during a stroll through Staples I knew we were meant to be.
Creating a large history timeline for our basement wall has been on my to do list for months. I love The Well Trained Mind. It's my homeschooling guide, and in it Susan Wise Bauer recommends making a timeline for the time period you'll be studying.
I love this idea because it creates an easy to see and understand reference for when different things happen. Growing up, I learned about various historical events and figures, but I rarely ever realized that certain things had happened at the same time. Because they were taught separately, the subjects and events were disconnected in my mind. I'm hopeful that my kids will have a better understanding of when different things happened in relation to one another thanks to this project.
I knew I wanted to use this large hallway wall in our basement. Most of the wall is open to our classroom area and couldn't really be used for much else. I thought it would be fun to create a chalkboard wall so months ago I purchased some tintable chalkboard paint… but I didn't love the color. In another room it probably would've been great, but in this space it just didn't work.
So, we went the traditional route with black chalkboard paint.
I promise, it doesn't look nearly that dark in person! I'm planning on adding more things to the top of the wall while leaving most of the bottom open so my kiddos can draw on it so it will only get lighter from here.
After painting, I had to measure the space. The wall is approximately 177 inches long, and we're studying the Ancient era so I needed 54 timeline dashes. I divided 177 by 54, which told me each dash could be 3.27 inches apart.
I designed a basic timeline on my computer and printed out all the pages I knew I'd need. I then trimmed and laminated each page because… kids… and taped them on our wall.
Again, I promise it's not that dark in person. I should probably invest in some photography classes because I'm not doing this paint justice!
In more exciting news though, look at that HUGE timeline! I hung it rather high on the wall so my two-year-old won't be able to get it, but it's still at eye level for me and my son. Yes, he's my height now! It's kind of upsetting. Truth be told, I almost started crying in Target this past weekend when I realized he's outgrown the kids section and is now a small in men's. This all happened too fast! Maybe we'll add, "Mom had breakdown in Target" to our timeline too.
As much as I love the idea of writing directly on the timeline, I liked the idea of creating little cards even more. I created a lined and blank version of our timeline cards that have "Event" and "Date" on them. I love these because they give the kids space to write not only what happened and when, but also room to provide a little explanation of what happened or even draw a picture. (All of my timeline chart and card printables have been added to my library of free printables. Just subscribe in the box at the end of this post to get your own copies. Woohoo!)
As much as I love the printable event cards, my favorite part of this timeline has to be color coding everything with the Sharpies. We'll be using different colors for different types of events, which I think will help to show my kids even more how interrelated everything really is. History, science, math, language arts, art, and music, among other things, will have their own special colors.
We'll also be adding family birthdays to our chart (when we reach the modern era) so the kids can see exactly when, in the grand scheme of things, we were all born.
We've already covered some history this year, of course, but I'm really excited to dive back in now that we have our timeline up and ready to use. I think it'll be a great way to make these subjects really come alive for my kids so they have a richer understanding of what's happened in the past.
You can snag your own collection of Sharpies right now! For the week of January 24, 2016, regularly priced Sharpies are 35% off at Staples while supplies last.
Did subjects and events feel disconnected when you were in school? Have you ever made a history timeline?
This post is part of a social shopper marketing insight campaign with Pollinate Media Group® and Newell Rubbermaid , but all my opinions are my own. #pmedia #stockup4schools http://my-disclosur.es/OBsstV