I've lived in lots of different homes: an apartment, starter home, good-sized home, and our now probably-too-big home, and there's one thing they all have in common… clutter.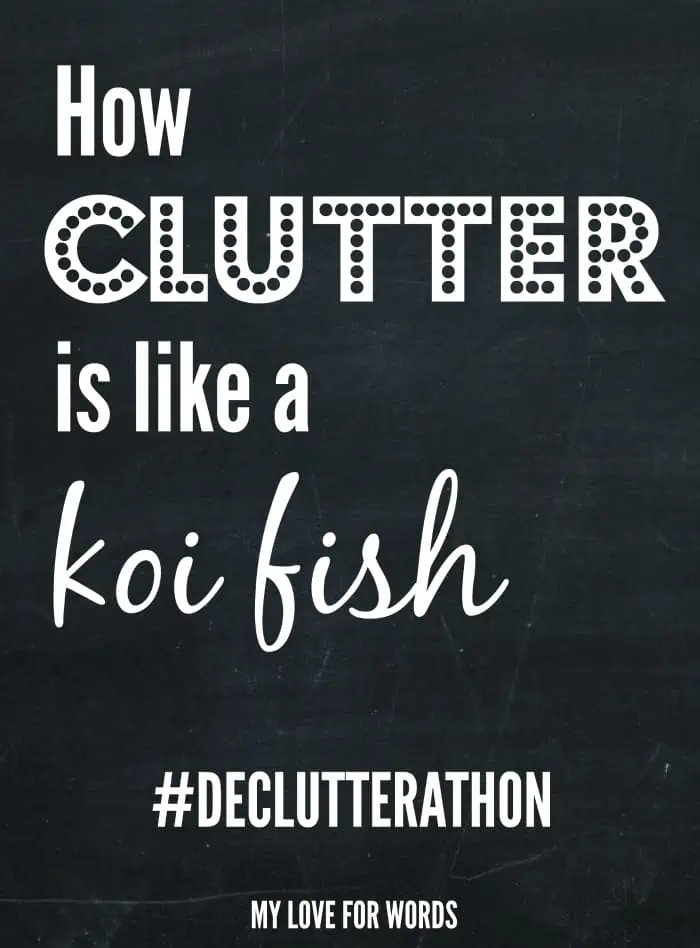 Every time I move, I'm certain that this is the time that my new home will be clutter free and rival the most beautiful home magazines. Then we move in, reality hits, our house is cluttered again, and I want to move… because the next house will be clutter free.
I finally realized that our clutter is like a koi fish. It will grow and grow and grow based on the size of its environment, and our current pond is overrun with possessions.
When we moved into our home two years ago, I was certain that this was going to be our last move. Everything would have a designated space because the size of our house was increasing by a lot… almost 60%. Organizing wouldn't be a problem at all, right? Afterall, I only have clutter because I don't have enough storage space <face palm!>
We moved in, life got in the way, and now we've been here almost four years, and some rooms could easily convince people that we've only recently moved in. That's depressing.
I've finally realized that it doesn't really matter how much space we have. This isn't a space issue; it's a stuff issue. If we don't have systems in place to take care of our possessions, clutter is inevitable… especially with four kids. However, I'm starting to realize that even the most elaborate systems can't corral everything when you have too much stuff.
While I'd love my first step in this journey to be a trip to Target or The Container Store for some adorable bins and baskets, I know that won't really help. My first step has to be purging. There are a lot of things in this house that I need to get rid of, and despite my recent weight loss success (woohoo), most of my pre-baby clothes from 6 years ago will be the first out the door.
If your home could also use a good decluttering, I share some great ways to purge your home quickly here.
I have a plan to finally get rid of clutter and create the home that my family and I want and deserve. No more panicked feelings when someone says they're stopping over for a surprise visit. No more not being able to find stuff when I need it. No more wasting money buying replacements for stuff I end up finding later. No more. We are dejunking, decluttering, and getting this house organized once and for all… or maybe we'll just move again. (If my husband's reading this, I'm totally joking about the moving thing! I think…)
Have you found that clutter follows you wherever you go despite the size of your surroundings? What are you doing to remove clutter from your life?
Want to join our next free decluttering challenge? Click here to sign up now.