It's already week 8 of the Declutterathon, and I hope you're starting to see some great changes taking place in your home and life.
This week was tentatively planned as office week, but after dealing with the laundry room last week I figured we should probably make a nice, organized space to put all of our newly cleaned clothes so we'll focus on our closets instead. Honestly, dealing with our closets first probably would've been preferable (mental note for next time).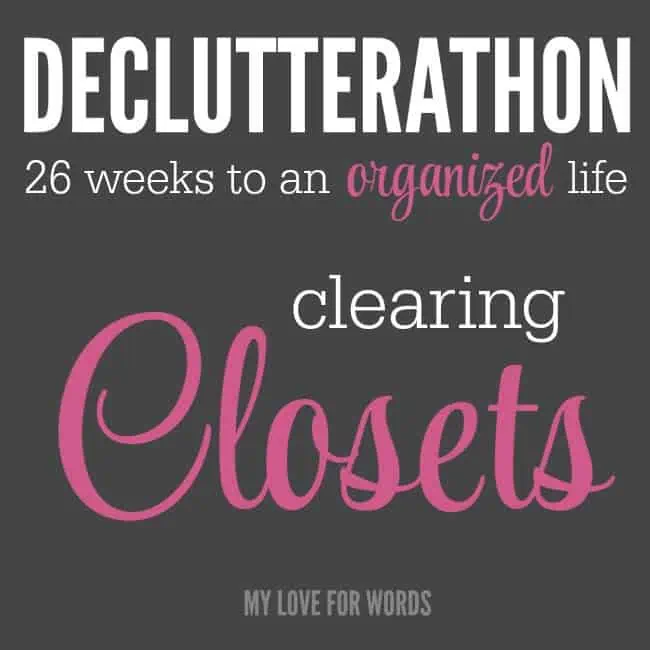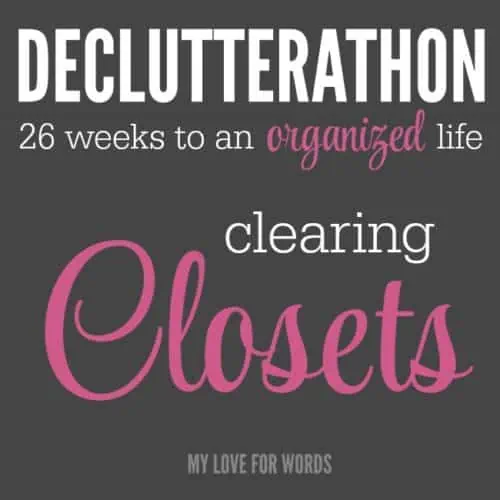 Now, before I start talking about closets, I want to be completely honest with you. I haven't even started to work in my laundry room. Yep, haven't done a thing. Well, no… I did put a load of laundry into the washing machine and then forgot to put it in the dryer so yeah, I need to rewash that, but as far as decluttering or cleaning the space goes nope, nada, zip.
I'm vascillating between beating myself up and trying to give myself grace. I'd love to say I have a lot of valid reasons for not doing anything (and I do have some valid reasons), but I also spent way too much time on facebook, writing this blog (because it's fun!!), and binge watching tv with my husband. I'm owning it. I did not make great use of my time, and that's okay. I'm going to just acknowledge it, move on, and try to do better this week.
So, if you're a little (or a lot) behind, that's okay. I am too, and I'm writing this series! The important thing for us to remember is that we're working for progress not perfection. I'm an all or nothing kind of person and tend to get impatient when I set out to make a change and everything isn't instantly the new way I want things to be. I need to keep reminding myself that nothing will be taken care of instantly. That's an unrealistic expectation, especially where big life changes are concerned like establishing new habits, organizing an entire house, or losing weight (my three current, seemingly neverending battles).
I'm going to try to enter this week with an enthusiastic attitude and commited to getting these spaces whipped into shape.
So let's begin!
The first step in taking care of our closets (after taking a before picture, of course) is going to be to completely empty the space.
If you're starting to panic, I understand. I wrote in my Messy Entryway Makeover post that I usually don't empty spaces when decluttering because, for most of the areas in my home, it would be too overwhelming. When you're able to though, I think it's extremely helpful.
Next, we'll sort. By now, we all know the drill. Make piles for items you'll keep, donate, trash, or move to another room (don't forget to use your laundry basket and these handy labels).
Next, we'll clean the space and decide how we want things to be organized. I'll share some for closet organization tomorrow so if you want some inspiration be sure to check those out.
Lastly, we'll put our keep items in their new homes and take a picture of all our hard work!
I hope you'll stop by the Declutterathon facebook page to share your before and after pictures. They're doing a great job of keeping everyone motivated and inspired.
I wear very little of what's in my closet so most of it will probably end up going. What will you get rid of this week?