The entryway from our garage was a disaster, to put it mildly.
It was constantly overflowing with shoes, jackets, various winter items, and a bunch of stuff that had no business being there. Sorting through everything to find what we needed was always a pain, and I was sick of it so it was time for an entryway makeover.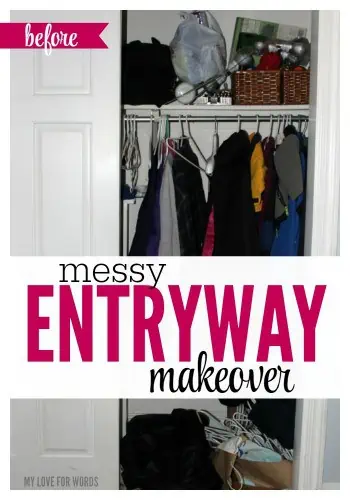 Here are some lovely (code for embarrassing) before pictures. Doesn't every closet have a million hangers and lightbulbs?
See that handy-dandy shoe organizer and all the shoes on the floor in front of it? Call me crazy, but I don't think that's how it's supposed to be used. There's my little one, fresh from a nap. His dad gives me that same, "Oh no, what's she up to now?" look.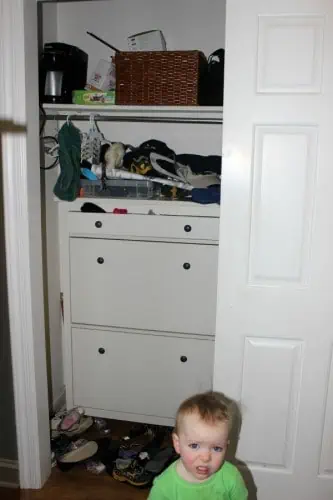 The only solution seemed to be to empty the whole space and put back only what we needed, which meant my poor husband came home to this
 I don't always empty a room or space for decluttering because, honestly, I think that's a tip for people who either 1) don't have a ton of clutter or 2) have a lot of help. It's definitely a great way to clear and reorganize a space, but for certain areas in my house that technique would leave me feeling completely overwhelmed.
Thankfully, my closet was a small enough space where clearing it worked well.
I sorted the items into piles: things to keep, things to donate, and things to trash. I then went through the keep pile and sorted it into piles based on where the items belonged.
Most of the shoes in our organizer (and on the floor in front of it) were either too small for my kids or for another season. No matter how much I wish we could, we cannot wear flip flops right now. Shoes that were off season or too small were put in a basket and taken to the basement for when they can next be worn. (The small items are being saved for little siblings.)
Next, I sorted through all of the jackets, hangers, and miscellaneous items that had found their way into the closet.
We had a ton of hangers in a bag on the floor of the closet, and a bunch of jackets that were no longer being worn. I returned only a few items per person to the closet and only as many hangers as needed. My hope is that by limiting the hangers, I'll also limit the temptation to refill the closet with stuff that shouldn't be in there.
Here's the closet now!
First, yes, the Keurig is there on purpose. My husband and I aren't coffee or tea drinkers so we rarely ever use it. We really just have it for guests, and this is the closest to the kitchen, yet most out of our way place to keep it.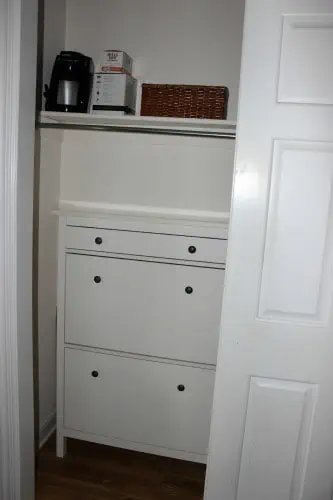 I wish I'd taken a before pic of the shoe organizer! This thing was filled, but now we have lots of room, and it's organized! I am having to remind my kids to actually put their shoes away, but I can't blame them for that. We all have bad habits to change, and I know that my husband and I have to set the example.
Just jackets and a flashlight for emergencies. Nothing on the floor or cluttering up the shelf.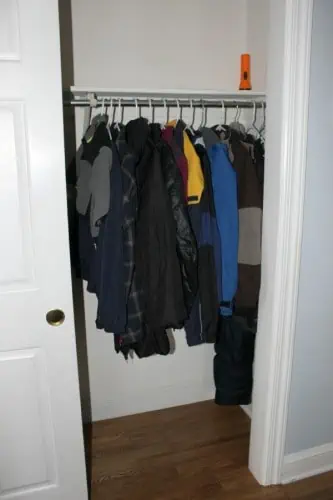 I haven't taken any steps to pretty up the space yet. I'd love to add some fun color to the back wall or something, but just having the space decluttered and organized is such a nice change. Now we just have to work on our new habits of putting things where they belong so we can maintain it.
Any suggestions on how to make this closet pretty? I shared these great ideas earlier, but I'd love to know, what are your favorite ways to organize your entryway?