Are you looking for simple pantry organization hacks for back to school snacks? Now that the school season is right around the corner, the kitchen pantry is certain to become a crazy chaotic mess full of crackers, fruit, nut bars, and more. If the thought of all that chaos literally makes you shudder, it's time to tackle the discomfort of clutter head-on.
These simple pantry organization tips will have you smiling from ear to ear because everything will have a place, and I think we can all agree that being organized is literally one of the best feelings, ever.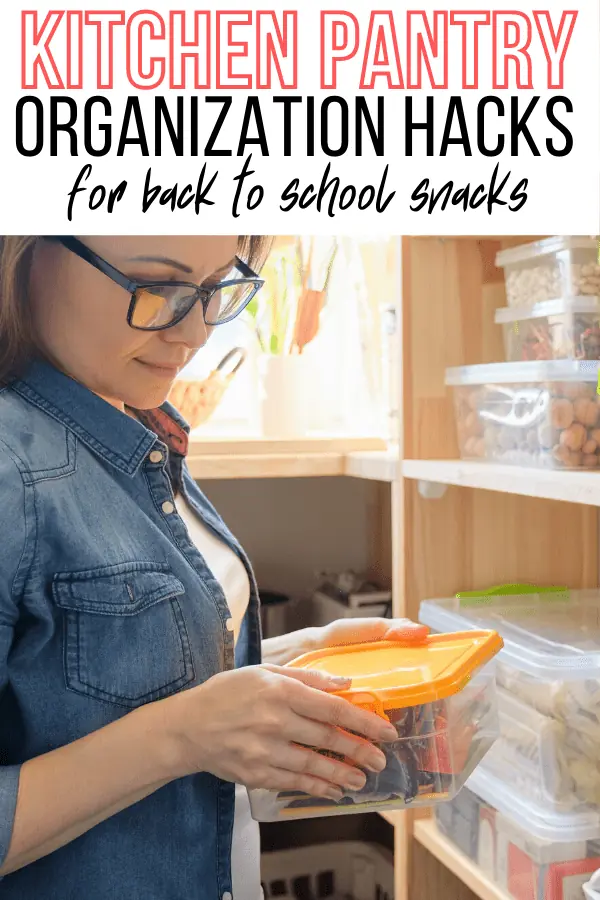 Simple Pantry Organization Hacks To Keep You Sane
When kids are hungry, they're easy to compare to a tornado. Running into the pantry, grabbing and throwing and pushing and sniffing any and all snacks that they can find to only settle on the one that is at the very bottom of the snack drawer, right?
But if you're ready for some simple hacks for organizing your pantry, there's a good chance that this school year will be different. (and from one mom to another, go ahead and make yourself your own little private stash of chocolate because you deserve to have that treat all to yourself!)
Here are some of my favorite pantry organizing tips and hacks that you can easily do!
Label the storage containers
One of the easiest ways to organize your kitchen pantry is to have fun with your label maker or printable labels and label anything and everything that you see. The purpose of this is so that the kids won't be taking the lids off everything and they'll know exactly what's inside.
Put labels on the top of the lids instead of the side
For certain snacks or items that are used all the time, put labels on the tops of the lids instead of the side. This is a perfect idea so that the kids aren't having to pick up everything on the bottom shelf to see what it is. All they have to do is look on the lid and they know instantly.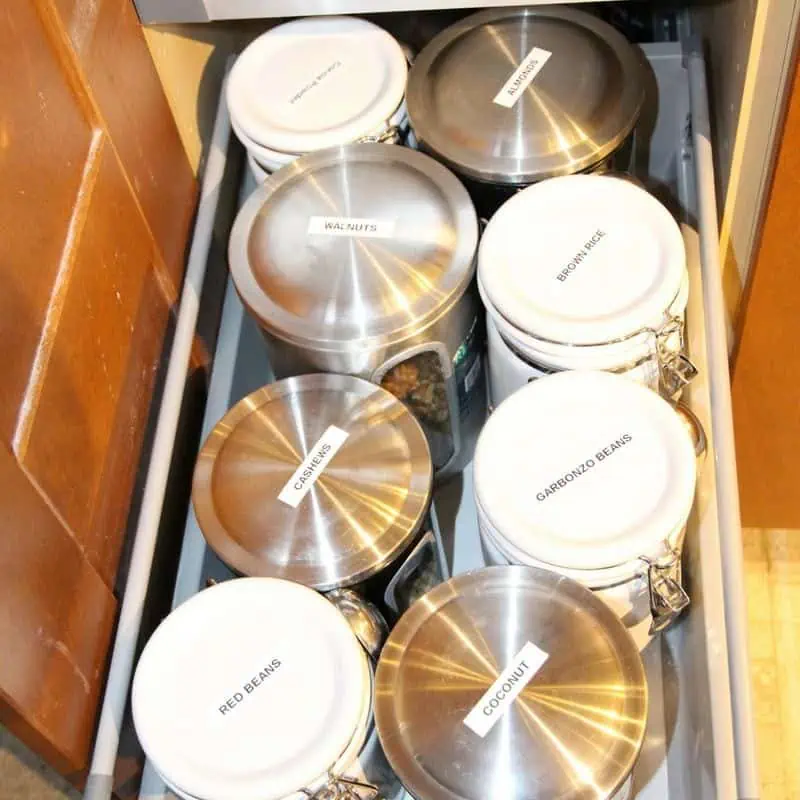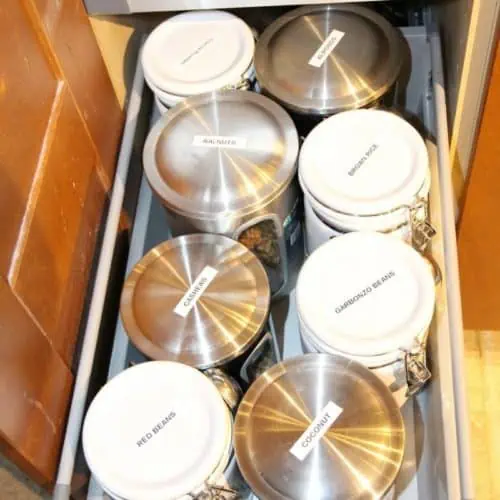 Be creative with your pantry space
More than likely, you've got a lot of space in your pantry that you're not even using. This means that you need to check all your shelves and figure out where you can be more efficient. Once you really take a look at what you're working with, there is a good chance that you can figure out an organization plan that will work well for the snacks.
Get crafty with your decluttering
I'm pretty much obsessed with all things crafting. So much so that if I can use a Cricut machine for labeling fun to make things pretty, I'm going to be all for making it happen.  For regular storage containers I don't worry about being as fancy but for others, I do!
Position School Snacks by Expiration Date
Can we all agree that sometimes, kids are just wasteful with food? It's more than likely not on purpose but it still tends to happen. One of the best pantry organization hacks for kids snacks is to position their snacks eye level for them to see and put them in order by expiration date. That way they're eating the ones that need to be eaten first asap and there is time that can wait to work through the rest. Less food waste, less clutter!
Repurpose Containers to Help Organize Your Pantry
Anytime that you can reuse something rather than toss it into the trash, it's always a good idea. One of the best organizational tips is to reuse containers and turn them into something useful. As you can see from the pic below, this was a simple mushroom container that was cleaned out and is now used to hold chip clips for when the next snack attack happens and the chip bag needs to be closed. How simple and easy is that?!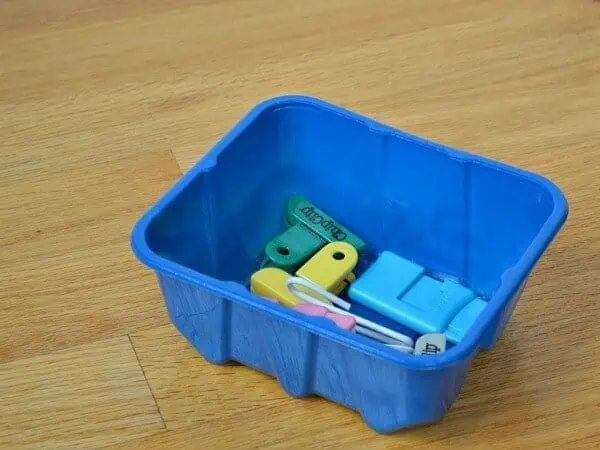 And while all of those tips are great steps to take for organizing your pantry so that your kids can find their after-school snacks in an easy and efficient manner, there are also a few more pantry organization hacks that I think are important for you to consider.
More Awesome Organization Tips for Your Small Kitchen Pantry
These are just some simple suggestions for ways to declutter and organize even more.
Use a shoe organizer to hang on the door and fill with snacks
Have a motion sensor light in the pantry to turn on when the door opens so your child can see what they want right away and it will limit them from grabbing and moving around a bunch of items
Don't forget about your fridge – organize space in the fridge for your child as well with cold snacks and drinks!
Use stackable bins for fresh fruit that is washed, prepared, and ready to grab and enjoy
See how simple it can be to organize your kitchen pantry for your child to grab their snacks and go? As long as you make it functional for you and your kids, that's the big thing that you need to keep in mind. And if your first organizational try doesn't work, you can always try, try again!
Do you have other pantry organization hacks for back to school snacks? Share them below!
Feeling like getting more organized? Here are some other great ideas on how to organize your home!
Pin this image for later!