If you've found yourself buried in staples, pens, and paperwork, this week's task is for you. We're tackling the office! <dun dun duuunnnn>
I feel like I say this every week, but I'm kind of dreading decluttering this room. My office was actually one of the first spaces I ever shared on this blog (here, here, here, and here). I did a stenciled feature wall and had the space all planned out, but things never really came to fruition, which is why you won't find an "after" post.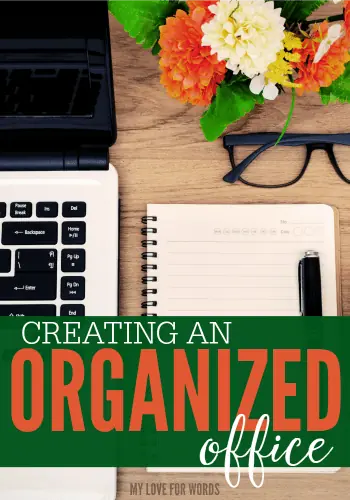 We tried to hang some floating shelves on the wall, and they turned out horribly. They weren't in the least bit straight, and having that unresolved project hang over my head really zapped my energy. I kind of hit a wall in that space and just felt paralyzed. My dream of having a beautiful office didn't pan out, and I didn't know how to move forward.
Since then (two years ago!), that space drains my energy every time I walk into the room. I'd walk in to either work or attempt to organize it, and I'd just basically spin in circles. There's so much in there that I don't know what to do with that I end up doing little to nothing, but that's going to change this week. My goal is to say goodbye the the chaos and create an organized office space.
Last week, I shared a trick for kicking your decluttering into high gear when all you really want to do is quit, and that deadline is moving closer every day. My husband and I have just today come to a decision that I'll share shortly that is taking everything to the next level. Defcon 1, you could say, except we aren't in the least bit ready. Scary! I'm already feeling stressed, but it will all be for the best.
Plan for the week:
Monday & Tuesday: Declutter! I have a lot of stuff in my office, mainly craft supplies. I'm going to go through it all and decide what I really need to keep and what would be best either thrown away or given to someone else.
Wednesday & Thursday: I'm going cry in the corner and give up. Just kidding. I may want to, but I'm going to clean instead. I'll dust, vacuum, wipe down the baseboards, switch plates, and windows. I may even paint, if I'm lucky. I think that room's going to need a serious transformation to no longer be the energy sucker it's been for years now. I need a big change to defunkify it (yes, I think I just made up a word. A new addition to Webster's 2016, no doubt.)
Friday: Finish painting, hang curtains, and add decorative touches.
I'm anxious to see this space transformed. I'm going to try to do a post later this week about dealing with paper clutter because it's running rampant in this house.
If you're new to the declutterathon, have fallen behind, or just aren't ready to deal with office clutter, that's perfectly okay. Please remember that 1) I'm running behind too and 2) This isn't about doing exactly what I'm doing or keeping up with the Decluttering Joneses. The declutterathon is simply about making progress and working towards a simple, less cluttered life.
To see more Declutterathon posts or start at the beginning, click here.
What's your biggest struggle with keeping your workspace clean and organized?