Hello, friends! It's already week three of the Holiday Decluttering Challenge, which means it's kitchen week! We'll be focusing on decluttering the kitchen so we're ready for Thanksgiving and all the holiday cooking and baking we have ahead.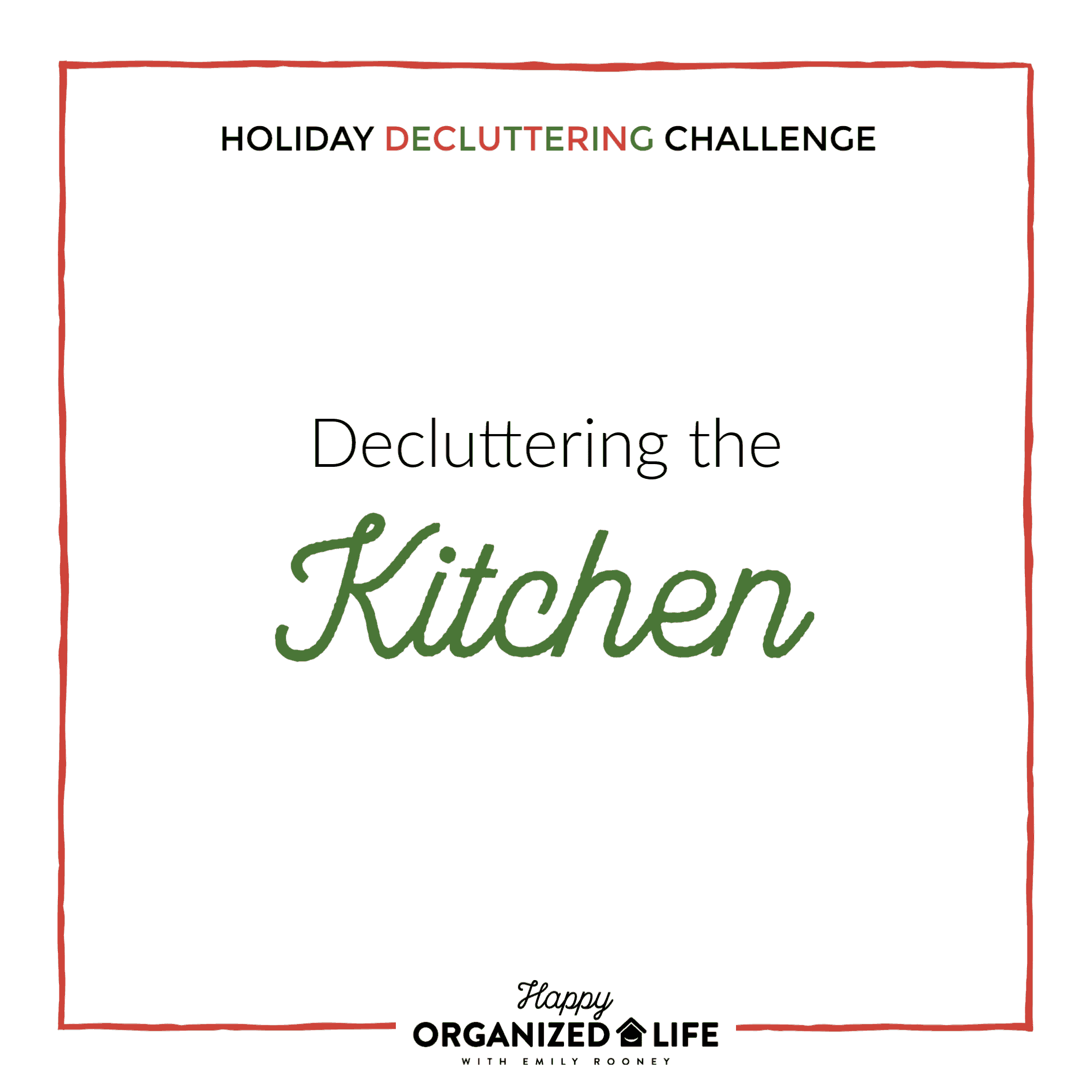 The first kitchen task we're going to focus on is decluttering the counters. If your counters are anything like mine, they're clutter magnets. Sometimes it seems no matter what I do, clutter reappears, and nothing makes cooking less enjoyable than not having any room to work.
By clearing our counters, the room will feel a lot better, and we'll have space to sort out other areas.
Questions to ask when clearing your counters
What typically accumulates on your counters?
Are these ingredients that don't get put away, appliances you use frequently, or mail that needs to be sorted?
Why are they accumulating on the counters?
Are you lacking a system or appropriate storage place for these things? Does putting them away feel like too much trouble? Are you always feeling rushed so putting things away is something you plan to do later?
Where else could these items go?
Do all of these items belong in the kitchen? Do you have enough room? What could you permanently remove from your home by either donating or discarding?
Try to figure out the most common clutter culprits and find new homes for these items. If these things have a designated spot to live, it will be easier to put them away, keep them organized, and your counters clean.
When you're thinking about where to store an item, as yourself how often you use it. If you're looking for a place for a holiday platter you love but only use once a year, that item may best be stored either in a high cabinet or in a different room entirely, maybe a dining room hutch or storage area. Keep items you use most frequently in the most convenient to reach locations to make day to day life easier.
If you're struggling with mail piling on every flat surface (here's looking at you, kitchen island!), create a sorting station with different sections for bills, things that need your immediate attention, things that need to be filed, shredded, and can wait until next week. Junk mail gets its own special filing cabinet… called your trash can. Creating a system for handling your paperwork means there will be no reason for things to gather on your counters because every single piece of paper has a home to return to.
Once your counters are clear and clean, it's time to focus on the refrigerator and freezer.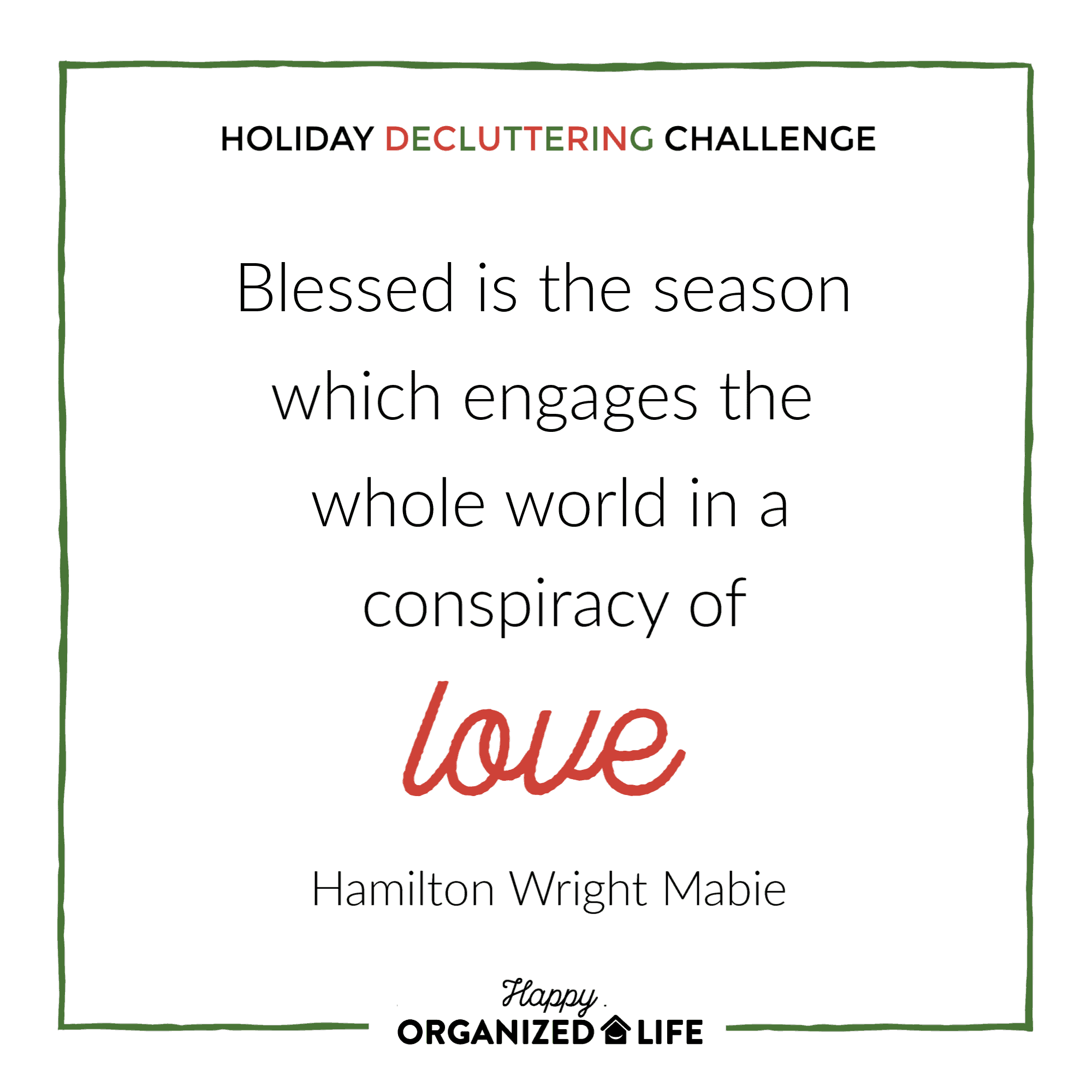 Organizing the Fridge & Freezer
This is a task that's best done on a regular basis since food is always coming and going and can quickly expire, but it's especially important to tackle before the holidays. With Thanksgiving only a week a way (say what?!), we're going to get our fridge in tip top shape so it's ready to be stuffed with leftovers and other holiday goodies.
The first step is clearing everything out of your refrigerator. Yep, everything! Get all the veggies, meats, condiments, drinks, and leftovers out of there, and give your fridge a good cleaning.
Once everything's clean, think about how the fridge has been functioning for you.
Is it easy to find what you're looking for?
Does everyone in your home know where to find things and, more importantly, where things go when they need to be put back?
Are you making the best use of your space or do you need to move some shelves around?
Identify any issues you've been running into and figure out ways to solve those problems.
Next, go through the contents of your fridge (this is why we did out counters first!) and get rid of anything that has expired or you know you'll never use. If you feel guilt creeping in because you hate to waste things, please know that the reason we're decluttering is to stop the waste cycle once and for all.
Waste is a horrible byproduct of clutter. When we live in cluttered environments, we end up wasting time looking for things, we waste money buying duplicates, and we waste the items themselves when we end up not using them. Letting these things sit it our closets or refrigerators unused because we "don't want to waste" does absolutely no good. It's actually harmful because it keeps us feeling guilty and the cycle of waste going. So I guess you could say the first thing you need to declutter is any guilt you're feeling. Remember, the first rule of this experience is only positive self talk! Everything you've done up to this point has brought you to this place of being ready to improve and change. Embrace it!
Next, create zones in your fridge for like items. One of my biggest pet peeves is opening the doors of our fridge only to find things scattered everywhere! Yogurts on every shelf, multiple containers of cottage cheese or almond milk scattered across various shelves… it just doesn't make sense!
Instead of creating your own cold, kitchen scavenger hunt, group like things together. This will not only make them easy to find and keep track of, but you'll be able to tell when you're running low on something so you don't find yourself out of it when you need it. I really love using Fridge Bins to keep our shelves organized and tidy too. They're also a great place to store chicken or any other food that may leak or spill because all that yuck is contained, which makes for a super easy clean up!
If you (or those you love) need help remembering where things go, label, label, label!
You can find a lot of great labels on Amazon, Etsy and other organizing websites, and you can even make them yourself with a Cricut or Silhouette machine. I've even used painter's tape in a pinch, and while it's not necessarily the prettiest option out there, it does the trick! It may even be the best way to start since it's inexpensive, temporary, and easy to change if your new system ends up not working well. Either way, labels can be a sanity saver for sure!
Once your fridge is restocked and your counters cleared, it's time to tackle the freezer.
Organizing the Freezer
You'll want to repeat the steps we just went through above. Clear, clean, declutter, sort and label, and restock, but with the freezer, I like to add one more step… inventory.
As a family of eight, things don't really live in our fridge for long. Little hands are always reaching in for snacks and, since we homeschool, we're in and out of it multiple times a day. The freezer, however, is another story. In our home, it sometimes seems that the freezer is where good food goes to die!
It's easy to lose track of everything that's in there so keeping an inventory is a great way of seeing what's frozen at a glance. This will help us plan meals, keep us from buying food we already have, and use things up before they expire. You can do this for your fridge too, of course, but in our own it's the freezer that really benefits.
Whew! This was quite the post, and I know for some this will be an overwhelming week. That's okay! As always, focus on progress, not perfection. If things get even just a little bit better, that's great! All of these little improvements will add up to a huge difference in a relatively short period of time, and implementing systems along the way is what's going to help us maintain those successes long term.
Now for the most exciting part… I promised giveaways. In the first week, I gave away my favorite book about organizing and decluttering, What your Clutter is Trying to Tell You. Last week, I gave away a $50 gift card to The Container Store, and this week it seemed only appropriate to giveaway my most favorite kitchen appliance… an Instant Pot!
I LOVE my Instant Pot because it can do it all! It can cook things extremely quickly (think rock hard frozen chicken to dinner on the table in 30 minutes or less!) and keep them warm for hours (perfect for stews, soups, chili, and other dishes perfect for winter). You can even do prep work like browning meat right in the cooking bowl.  It's the best thing ever!
How to Enter
There are four ways to enter! Find the Instant Pot Giveaway Image in one of the four places below or enter in all four places for four chances to win.
Leave a comment on this post about your biggest kitchen clutter issue.
Join the Declutterathon group on Facebook, find the Instant Pot Giveaway image in the post in the announcements, like the post, and leave a comment.
Like and comment on the pinned Instant Pot post on my facebook page, Happy Organized Life.
Like and comment on the Instant Pot Giveaway post on my Instagram feed @happy_organized_life
The winner will be announced next Tuesday, November 20, and have 24 hours to claim their prize. I can't wait to see who wins!!
Happy Decluttering, friends!
Other Posts in this Series:
Decluttering the Family Room
Decluttering the Guest Bathroom
Decluttering the Dining & Guest Rooms
Entryway Closet Organization
Holiday Decluttering Challenge Begins!
Holiday Decluttering Challenge 2018