Sweaters! Warm, cozy, wonderful sweaters! When it's cold outside, wrapping yourself up with your favorite oversized knitwear is one of the best feelings ever. There is one thing I truly used to struggle with when it came to sweaters though, and that was how to keep them organized so they're easy to see, and they don't take half my closet. It took me some time and effort, but I've gathered a list of fantastic sweater storage solutions to help you finally get your bulky winter knitwear under control.
This post contains affiliate links.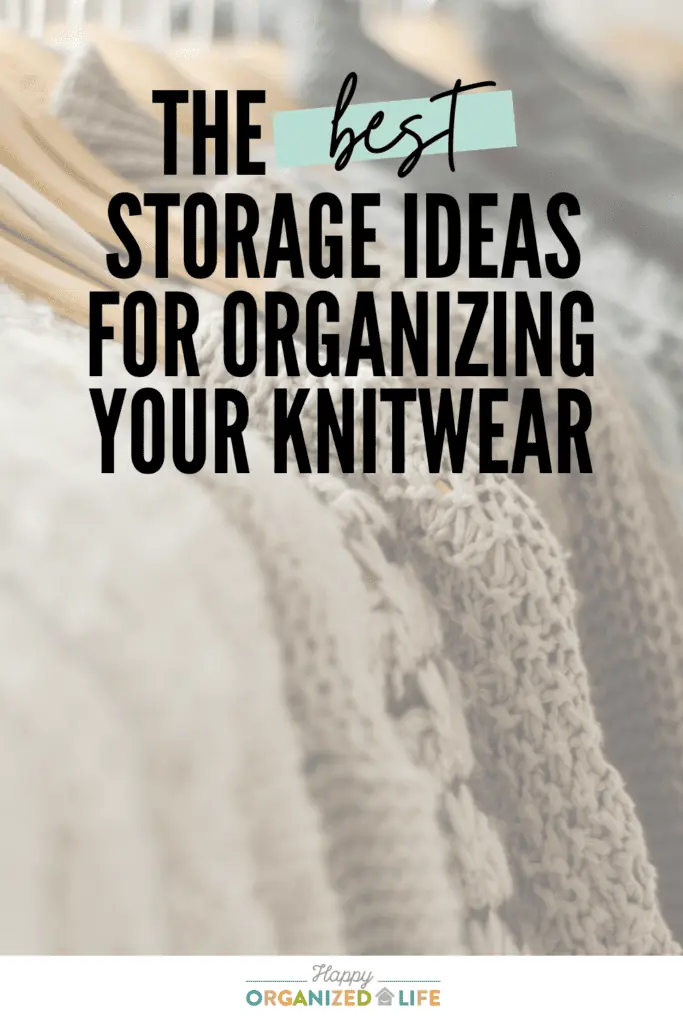 Tips for Organizing Sweaters
How often do you go through your closet looking for a specific sweater? If you don't have a good system for organizing them, your knitwear can easily get lost or forgotten. Statistics show that an average person owns around 200 items of clothing, but without a proper storing system, finding that perfect sweater you got on clearance last winter could take a while.
Keeping your closet organized is important because it helps you keep the clutter away and also helps you think twice and save money. After all, you know what you have and where it is, and you won't accidentally buy duplicate items.
However, with some items, like cashmere sweaters and knitwear, you must remember a few important things.
Below, you'll find recommendations for the best sweater storage options and a few nifty closet organization tricks.
Is it Better to Hang Sweaters or Fold Them?
Hang or fold? There is no right or wrong answer to this question.
What to fold and what to hang always depends on multiple things, like:
How much room do you have in your closets and dressers?
What kinds of sweaters do you own?
Your personal habits & preferences.
Hanging Your Sweaters
Hanging is not usually the most popular sweater storage idea since it can cause sweaters to be stretched out. But hanging your knitwear might work briefly, especially if you're tight on storage space.
If you plan to keep your sweaters on hangers, make sure you're hanging them correctly.
To avoid damaging your sweaters, keep in mind these tips:
Do not hang sweaters made of delicate fabric like wool, cashmere or angora if at all possible.
One way to hang a sweater so it doesn't stretch is to fold the arms and hang the sweater on the bottom wire like you would a pair of pants.
There are several sweater folding tutorials that explain how to hang a sweater using the arms as an anchor around the hanger's hook.

via LifeStorage.com
I must stress this again – please remember that you should not hang cashmere sweaters. Hanging cashmere can damage it irreversibly.
1. Sweater Storage Ideas That Work – Use Hangers
If you're unsure where to place your sweaters, consider using hangers. They are great because they allow you to see your blouses and cardigans. You can find hangers with different designs and sizes, so you can choose one that best fits you and your closet's needs. You might want to avoid wire hangers, though, as they can be hard on clothes.
Remember that sweaters should not be hung like any other blouse you own. To avoid stretching, try folding them over the hanger, as this tutorial shows. It's a total sweater-saver!
Or, if you're not a fan of the approach above, you can also try folding them as Hallie Abrams shows. It might easily turn out to be the winner among all the other sweater storage ideas I've prepared for you throughout this post.
2. Use a Sweater Hanging Rack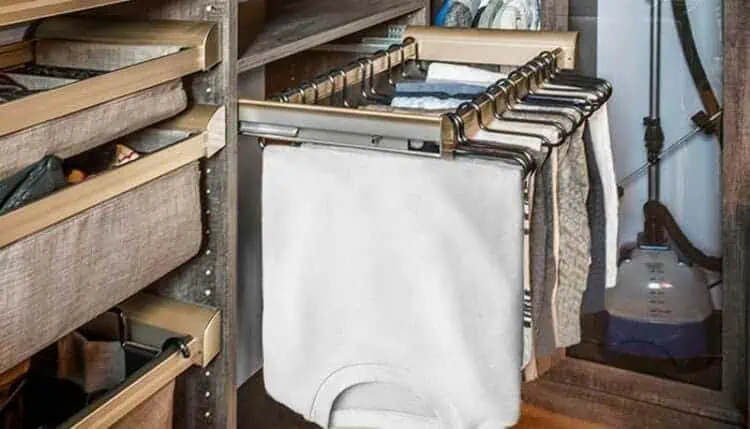 Pull-out pant racks are a fantastic solution for storing sweaters.
This rack allows you to display multiple sweaters at once. Some pull-out racks even come with hooks and pegs, making them easy to move around. They are a great addition to any small closet or storage space.
3. Sweater Storage Ideas – Storing Sweaters On Open Shelves
Open shelves are great for storing almost anything, including sweaters, but the issue with open closet shelves is that you're exposing your clothes to dust and other environmental factors. Dust and debris can easily collect on items on open shelves not kept in storage bags or boxes, making sweaters look dirty.
Another environmental factor people may not consider or want to think of is bugs. Hopefully, bugs aren't a common problem in your home, but even a stray moth or two can cause much damage to clothing stored on open shelves.
They can create holes in clothing by feeding on the fabrics and, in some cases, even lay eggs that grow into a bigger problem later. Which is totally gross to think about, I know!
To help deter moths, it's important not to pack your sweaters or other clothing too tightly into drawers or containers, and a little cedar stored with your clothing can act as a natural moth-repellent.
When it comes to stacks of sweaters, shelf dividers and drawer organizers can really come in handy. If you have shelf space and several sweaters, dividers can help keep your stacked sweaters organized and looking tidy on your shelves. Stacking more than a few thick sweaters on top of one another can cause them to fall and your shelves to look messy. Also, if the weight over the bottom sweater is too heavy, it might end up wrinkled.
How do you store sweaters on open shelves?
4. Store Sweaters by Season
This is probably the most commonly seen method of organization in every closet. When seasons change, you can rotate your wardrobe and more out-of-season items to an attic, basement, or under-bed storage compartment. Keeping the winter and summer clothing separate helps with clutter in a big way.
5. Store Sweaters by Color On Open Shelves
Color coding your sweaters is a simple, visually appealing way to organize them. You can create categories based on the season, occasion, or even the type of fiber they're made of. If you want to get really fancy, a little rainbow-colored organization can elevate the visual appeal of a space.
Seeing what you have makes it easier to put together outfits and remember what you already own when shopping for a new cardigan or sweater, saving you money and keeping you from purchasing duplicate items.
6. Use a Cardboard Box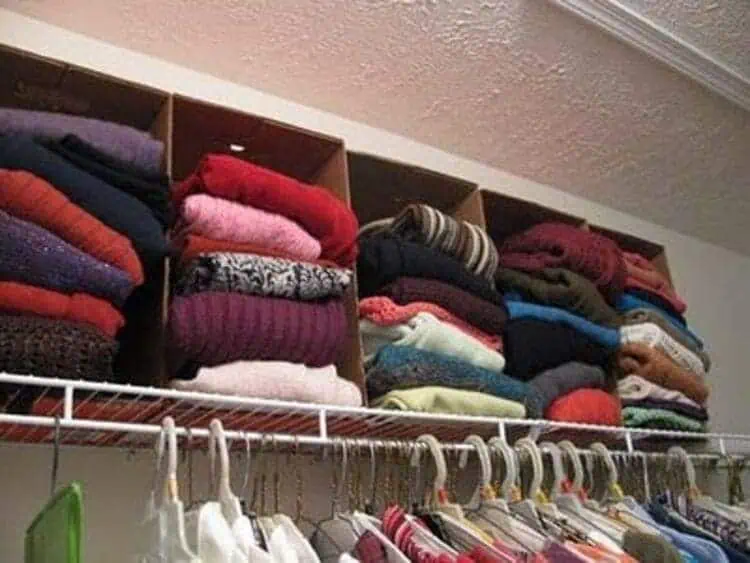 While not fancy, an old shoebox or copy paper box works great for storing sweaters on an open shelf! They work like shelf dividers, allowing you to keep your items visible and easy to reach.
7. Use Plastic Bins – One of My Favorite Sweater Storage Ideas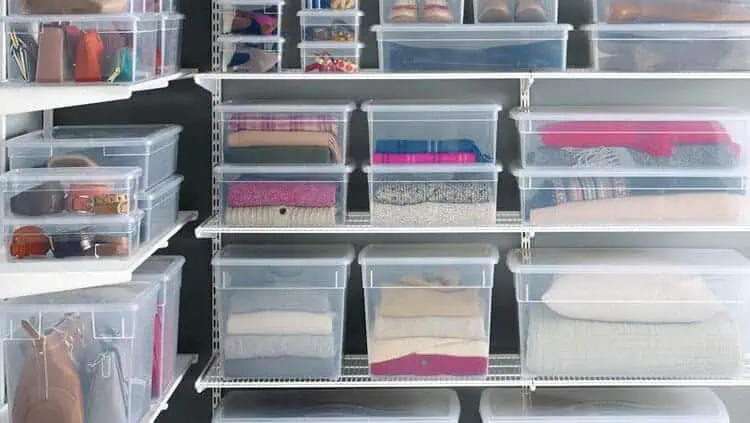 A plastic bin is ideal for storing sweaters on an open shelf. Especially when you're rotating winter and summer clothing. Here's how to do it:
Step 1: Make sure your knits are freshly laundered or dry-cleaned—that'll help prevent any permanent stain damage, plus keep any bugs from wanting to attack.

Step 2: Group your sweaters by material—cashmere should be stored with cashmere, wool with wool, and so forth.

Step 3: Choose your means for storage. According to Real Simple, knits are best kept when stowed in boxes made of breathable fabrics like muslin, but if you can't spare the space, you can also use vacuum sealed bags or air-tight boxes, just be careful not to trap in any air or moisture.

Step 4: For a final touch, throw a lavender sachet into your box or vacuum packed bag to keep knits smelling fresh, while also repelling any bugs.

via SheFinds.com
You can pick the size, color, and even get plastic bins on wheels. They are SO convenient! You can put tags on them, too. Here is a fun label template you can grab for your plastic bins.
8. Sweater Storage Ideas – Use Sweater Bags
Sweater bags serve as a brilliant sweater organizer! They are also convenient for keeping your sweaters between seasons. You can store them on open shelves, in drawers (if you have enough drawer space), in a closet, and even under the bed.
Keep in mind the following advice when you're using sweater bags for storing your clothing:
Always store only clean and fully-dried clothing in the bags, or you risk getting mildew on your clothes.
Don't overstuff the bags! Otherwise, your sweaters can end up wrinkled.
Remember to throw some cedar in the bag along with your clothing to keep moths and other pests away.
9. Brilliant Sweater Storage Ideas – Drop-Front Boxes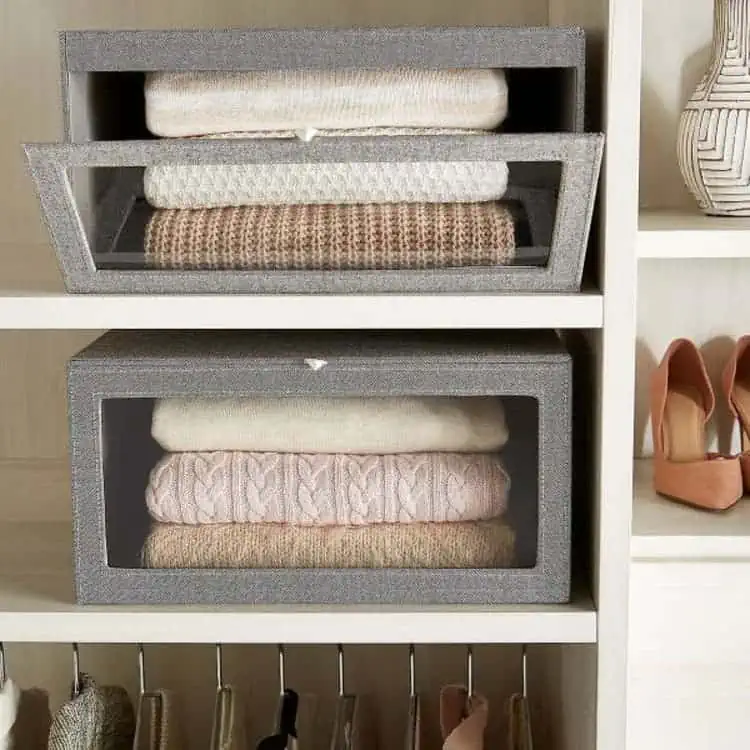 Can we agree that these drop-front boxes for storing sweaters are just so pretty? They keep your knitwear neatly stored away from dust and moths while adding a stylish and elegant touch to your closet or wardrobe. These alternatives I found on Amazon are similar and can hold a lot more.
Folding Sweaters in Drawers
Keeping your sweaters folded is probably the best way to keep them looking beautiful for a long time.
If you're looking for sweater folding techniques, Marie Kondo teaches the basics about how to fold sweaters and store them properly with her Triple fold method in this video:
How do you store sweaters in a drawer?
10. Sweater Storage Ideas for Cashmere – Keep Sweaters Flat
If you're keeping your sweaters in a dresser drawer, you can minimize wrinkling by laying them flat. Lay them out on a towel first, then lay the towel on top of the sweaters.
This is a way to keep your very delicate sweaters without wrinkles.
11. How Do You Roll Sweaters in a Drawer?
The clothes rolling method, also known as the Military or Ranger folding method, is another way to store your sweatshirts in a drawer. This method works best for thicker sweaters.
You can roll your sweaters up if you want to keep them neat and tidy. Just fold the sweatshirt over itself several times until it looks nice and tight. Then you can put it away inside a drawer. It's as simple as that!
Other Sweater Storage Ideas For Your House
12. Use a Basket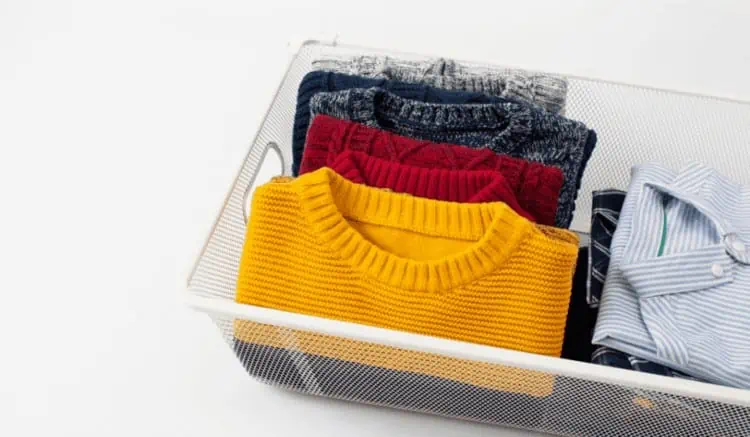 You can always get some baskets if you don't have enough space in your drawers. Storing sweaters in a basket can help you both with your décor and keep your clothes organized.
The trick here is to make sure you don't get too many layers. Too much weight can cause your sweaters to wrinkle.
13. Sweater Storage Ideas For Every Home – Use Plastic Storage Bins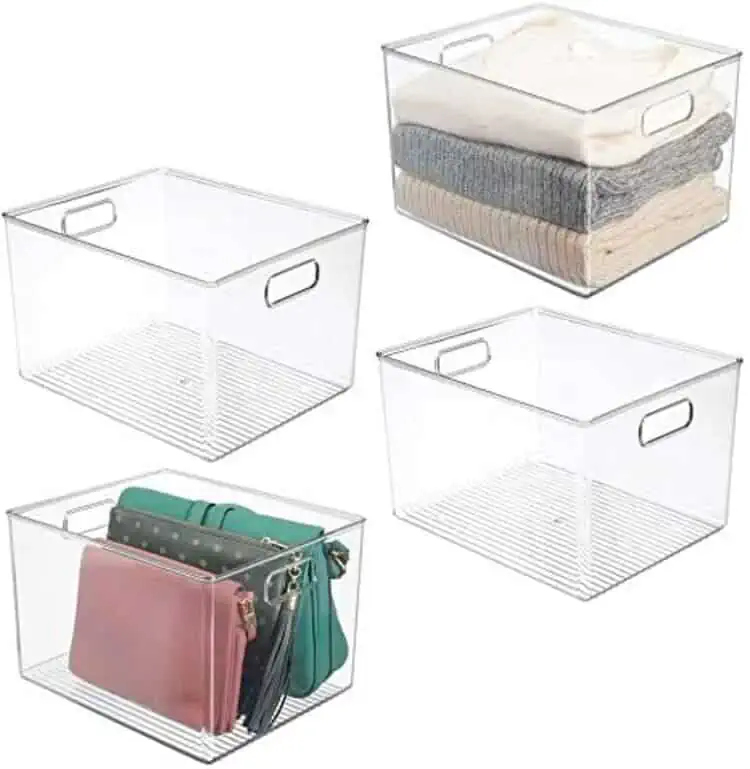 I can tell you, there's nothing not to love about these plastic storage bins!
They're:
transparent
durable
light-weight
a great size
You can also use these bins all over the house, not only for sweaters. They're great for corraling kids' stuff, accessories, purses, t-shirts, scarves, and much more!
14. Sweater Storage Ideas – Using Sweater Bins
If you've never seen these, you can thank me later. These sweater storage bins are designed to keep your sweatshirts organized and always visible to you. You can find a bunch of similar storage solutions here on Amazon.
15. Use Stack Drawers or Clear Storage Drawers On The Floor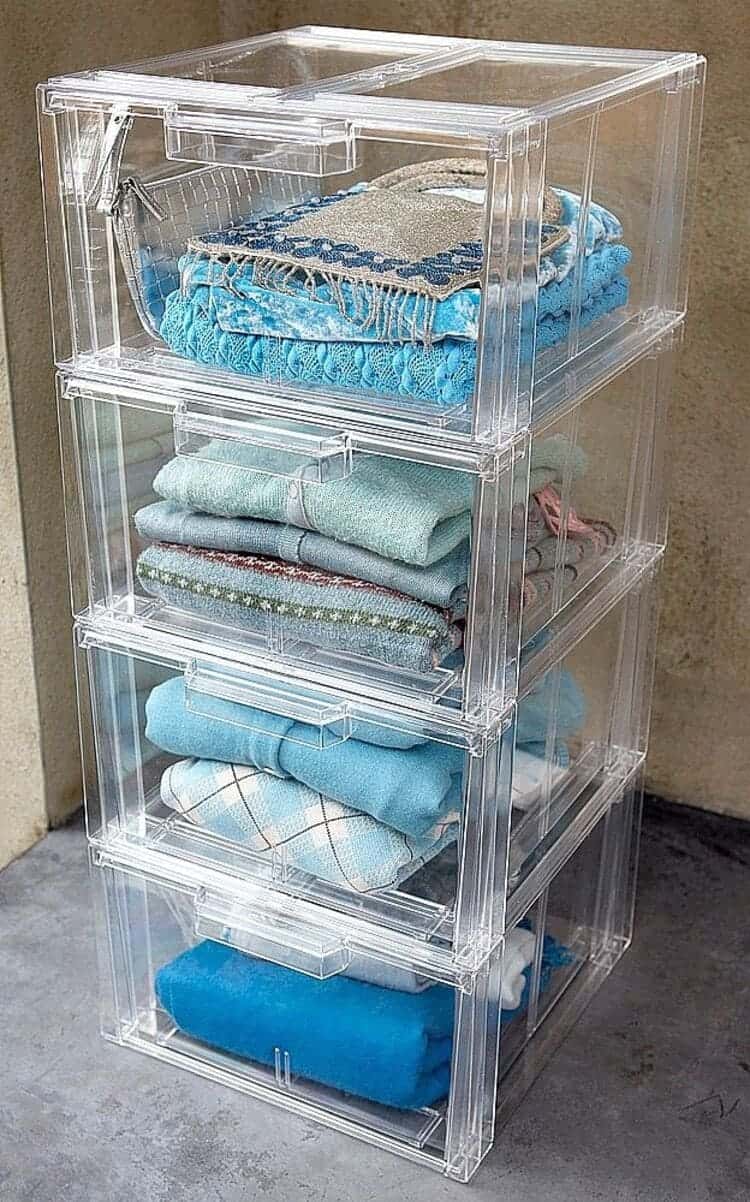 This is a stackable and durable solution for sweater storage! You can move it around and use it for multiple things (like in your kids' rooms…). It keeps your garments protected and visible at all times, which I just love it!
16. Vacuum Sealed Bags As Sweater Storage Ideas
When storing sweaters in bulk, especially off-season, consider using vacuum-sealed bags. They are a fantastic solution to keep thick and warm sweatshirts in small spaces.
How to use vacuum-sealed bags to store sweaters?
It's pretty simple.
Put your sweaters in a vacuum-sealed bag. Try not to stack too many in one bag.
Close the bag.
Vacuum the air out.
It works every time, and it saves tons of space. The only downside is that clothes tend to come out wrinkled, so this is a better solution for long-term storage, and I wouldn't recommend this method for delicate garments. They work great for bulky sweaters and thick sweatshirts, though.
How Do You Fold and Store Bulky Sweaters?
Bulky sweaters should be folded with care. Folding them properly will help prevent wrinkles.
There are multiple ways to store bulky sweaters:
Fold the sleeves together. Sleeves can often become tangled when stored. Folding them together will solve this issue.
Place the sweater on a hanger. If you choose to hang your sweaters, follow our directions above about folding and hanging them properly. Otherwise, you risk damaging them.
Store the sweaters in stacks in the closet.
How do you store sweaters in a bedroom?
Your bedroom is the place where you need to rest. So keeping anything in the bedroom means it must always be organized. Preferably – hidden.
So if you plan to store your sweaters in your bedroom, try being as organized as possible. You can either hang your sweaters on the wall or put them in a box. You can store them in drawers. Make sure you organize your sweaters correctly.
Remember that you don't have to buy expensive storage containers. A simple plastic container will do just fine. Make use of the space under your bed, and also remember to think vertically. Walls are your friends!
How do you organize a sweater in a closet?
Organize by color
Color is a good way to keep track of what you own. If you want to know what colors you own, you can always look through your closet.
Start by sorting the sweaters into groups based on their colors.
Then, sort the sweaters into categories: black, white, red, blue, etc.
Finally, group all your sweaters into bins based on color.
That way, you'll never forget what you own.
Pull-Out Sweater Shelves
Another method is to use a pull-out sweater shelf. These are a must if you have a lot of sweaters.
Pull-Out Sweater Shelves are designed to hold multiple sweaters simultaneously and work well for storage. They come in different sizes, but most people find they fit around five sweaters. You may need to purchase additional shelves if you want to keep more than five sweaters.
FAQs
What is the best way to store sweaters?
There is no "best way" to store your sweaters. The answer always depends on many different factors, like:
Available open storage space.
Available drawer space.
Boxes, Shelf dividers, etc.
What is the correct way to store sweaters?
There are many ways to store your sweaters beautifully and efficiently, the trick is finding what works for you. In the blog post, I've included 15+ different sweater storage ideas. I believe you will find a solution for every house and taste.
How do you store sweaters in a small space?
The fastest and easiest way to keep sweaters in a small space is to store them in vacuum-sealed bags. They decrease the amount of space sweaters take multiple times and can be stored pretty much everywhere.
How do I organize my clothes drawers?
Use clear storage containers in each drawer.
Put everything back in its right spot.
Label each drawer with the name of the item.
Make sure you follow the same folding patterns for all your clothes in this drawer.
Try not to overstuff the drawers.
How do you store clothes on open shelves?
Storing clothes on open shelves keeps them exposed to dust and other impurities. So it's best to consider using storage boxes, plastic bins, or baskets for the clothes. Using shelf dividers can also help you keep clutter under control on open shelves.
How do you store heavy sweaters?
Heavy sweaters can take up too much room. So it's best to store them vertically because you can simply stack them on top of each other if you have enough space.
Storing your sweaters properly is essential for keeping them looking good and easy to find. It can also help you avoid going to the dry cleaners more often than you have to do to dusty or dirty sweaters. There are so many different sweater storage ideas you can try putting into practice today!
The above tips can help you get those sweaters organized. Whether you start reorganizing them by color or labeling your drawers, there's an easy solution for you! Taking a little bit of time to organize your sweaters will help you finally get the mess in your wardrobe under control.
Did you like these sweater storage ideas? Then, you're going to love these other posts we have for you: