Tidy up with our 50 best toy organization ideas! Shelves, cabinets, collapsible boxes, and chests, there's a storage solution for every space.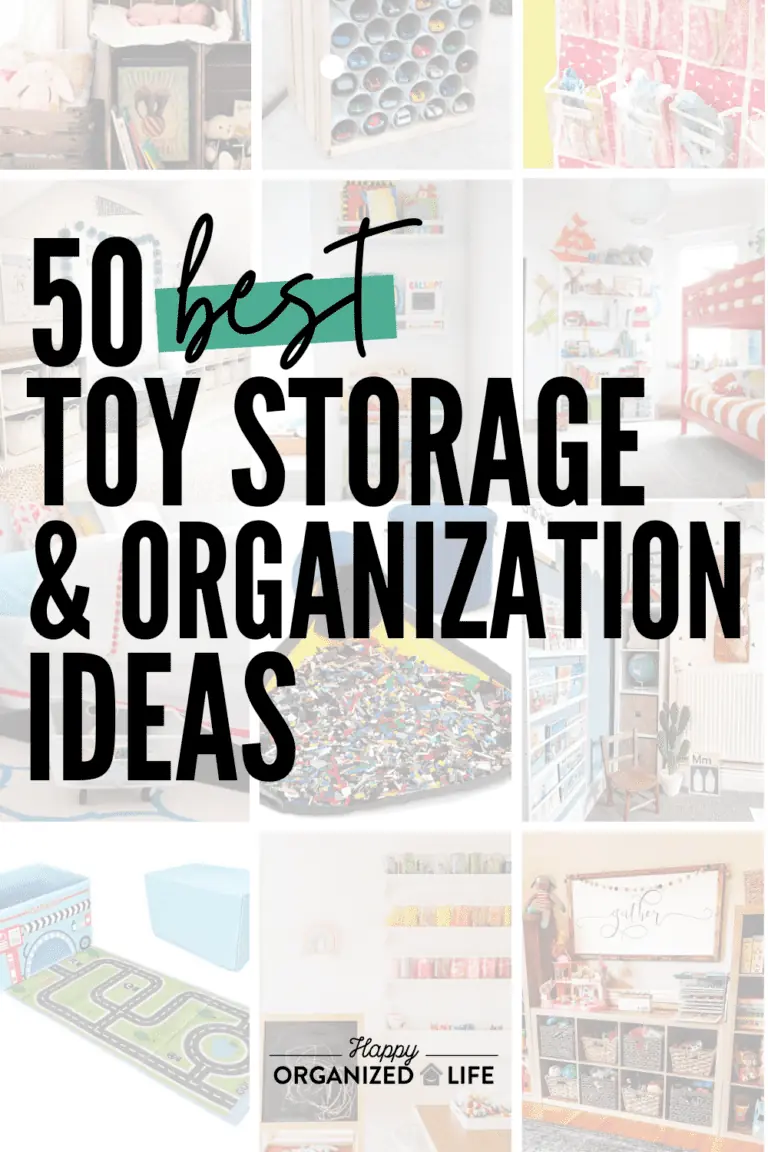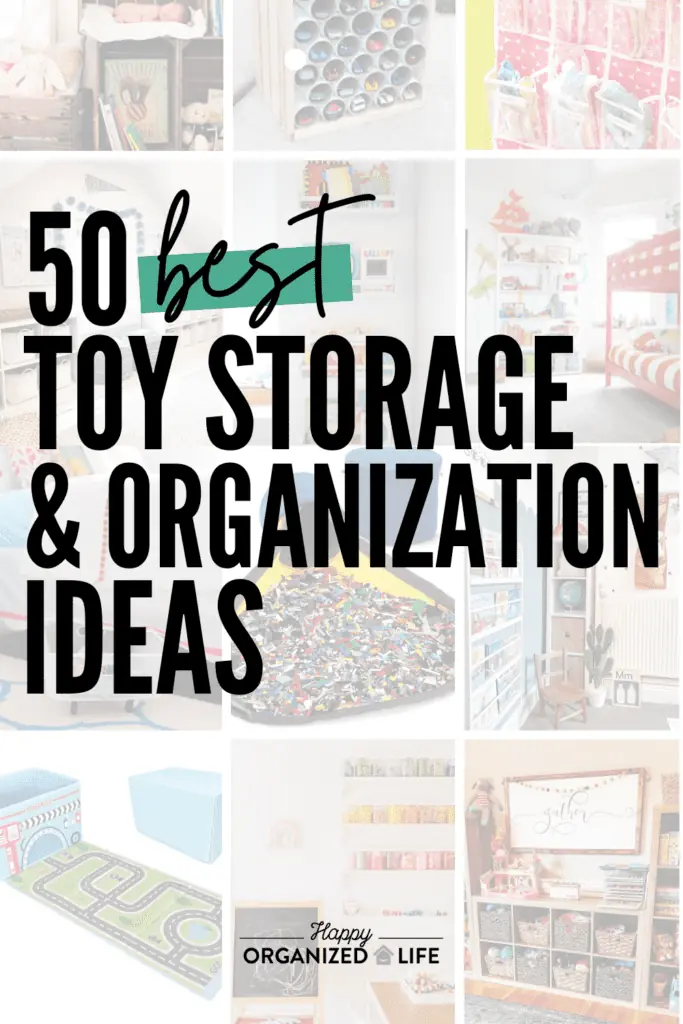 Toys everywhere, and no idea how to organize them? I hear you! To make tidying up a lot easier, I've rounded up 50 of the best toy organization and storage ideas for your home. This list of tips and tricks will help you get your house in order and provide a stress-free toy organization solution to make the most of your space. Whether you are searching for small-space toy storage solutions or something more spacious, I have the perfect toy organization ideas!
Read until the end to find out how to organize your kids' toys and make the most of your home with the best toy organization ideas on the internet.
The Best Places in Your Home to Store Toys
Finding ways to store their toys can become a never-ending task when you have children and young ones running around your house. Not only are they constantly outgrowing their favorite possessions, but they also make lots of messes every day.
So, if you're looking for ways to keep your home neat and organized while keeping your children happy and entertained, here are some of the best places within your home to store toys.
Toy Box
The first and perhaps the most obvious place to store toys is a toy box. Toy boxes come in various sizes and styles, so you can find one that will fit the décor of any room in your home. Not only are toy boxes an easy and affordable way to store toys, but they're also a great way to keep your children's playthings from getting lost or misplaced.
Toy Shelves
Another great place to store toys is on shelves. Shelves are a great way to keep toys off the floor and out of the way. Shelves come in different sizes and colors. They're ideal for storing smaller toys like action figures and dolls. 
You can also use shelves to organize larger items, such as:
Board games

Puzzles

Books
Don't be afraid to think outside the box, too. Repurposing different furniture pieces, like spice or shoe racks, could be what you need for your home!
Storage Bins
A third great option for storing toys is to use storage bins. Storage bins are great for storing larger toys like stuffed animals and toy cars and smaller items like blocks and Legos. Plus, toy bins can be easily labeled, which makes them a great way to keep toys organized and accessible.
Wall-Mounted Toy Storage Ideas
Finally, you can use wall-mounted systems to store your child's toys. 
A pegboard, for example, is great for keeping toys off the floor and out of the way. It's also great for organizing smaller items, like:
Dolls

Action figures

Art supplies

Nerf guns
Plus, pegboards are a great way to keep toys within reach so your children can easily find and put away their toys. They also make adding a new toy to your home and established organizing system really easy because they can be quickly adjusted.
Let's jump into the toy organization ideas you're looking for!
This post contains affiliate links.
How to Organize Small Toys
1. Make Smart Use Of The Space With Shelving and Baskets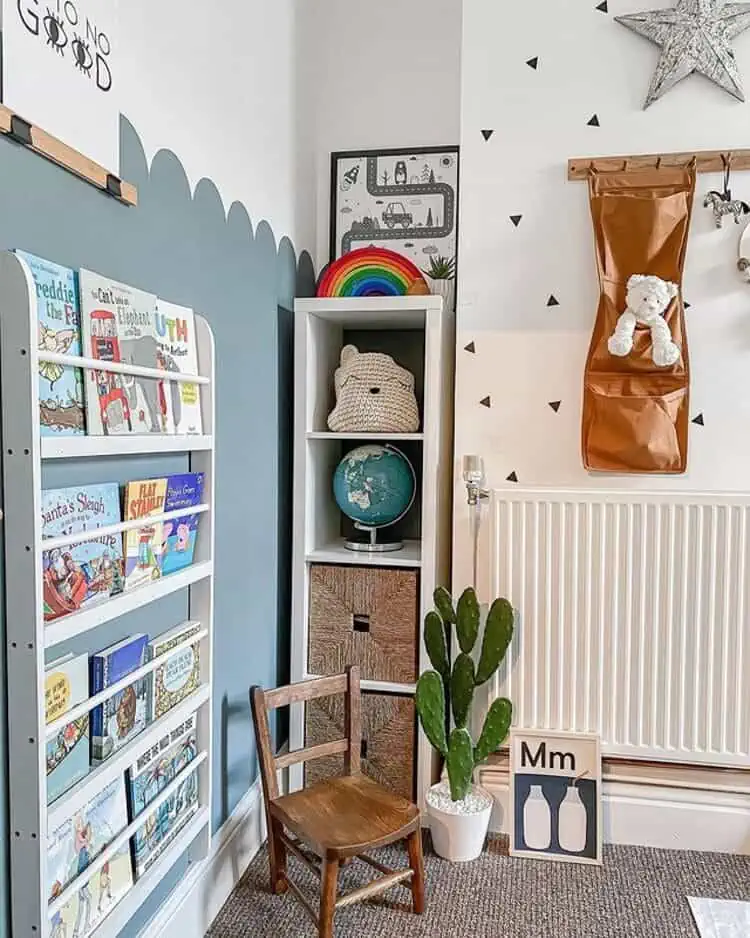 The best way to store smaller toys that can easily fit on a shelf, is to keep them on a shelf. It works for toys and books both, like in this beautiful playroom setup.
2. DIY Under Bed Storage for Toy Organization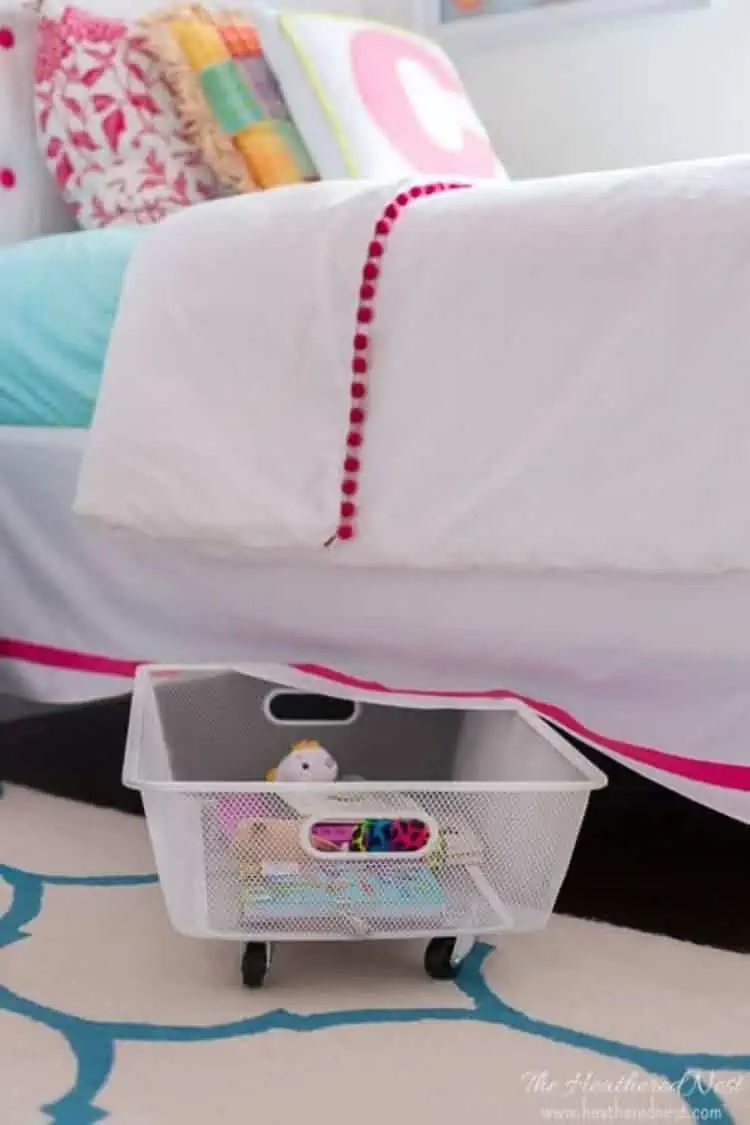 Depending on your home, you can store your smaller toys under the bed or the couch. It's an excellent solution for small living spaces, like this pink girls' bedroom.
3. Coastal Style Playroom Organization with Baskets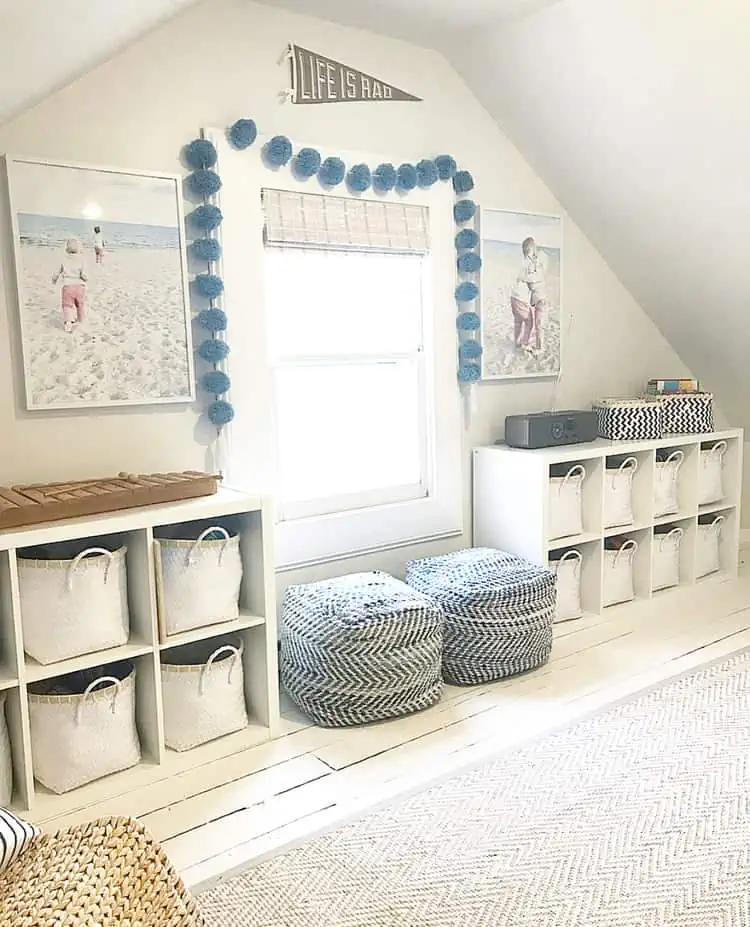 Baskets are one of my favorite ways to organize toys! They come in different colors, sizes, and styles, which makes them suitable for any interior. Just look at this coastal-style playroom and the beautiful white baskets they've used! The ottomans could be used for storing stuffed animals, too!
4. DIY Corner Rope Shelves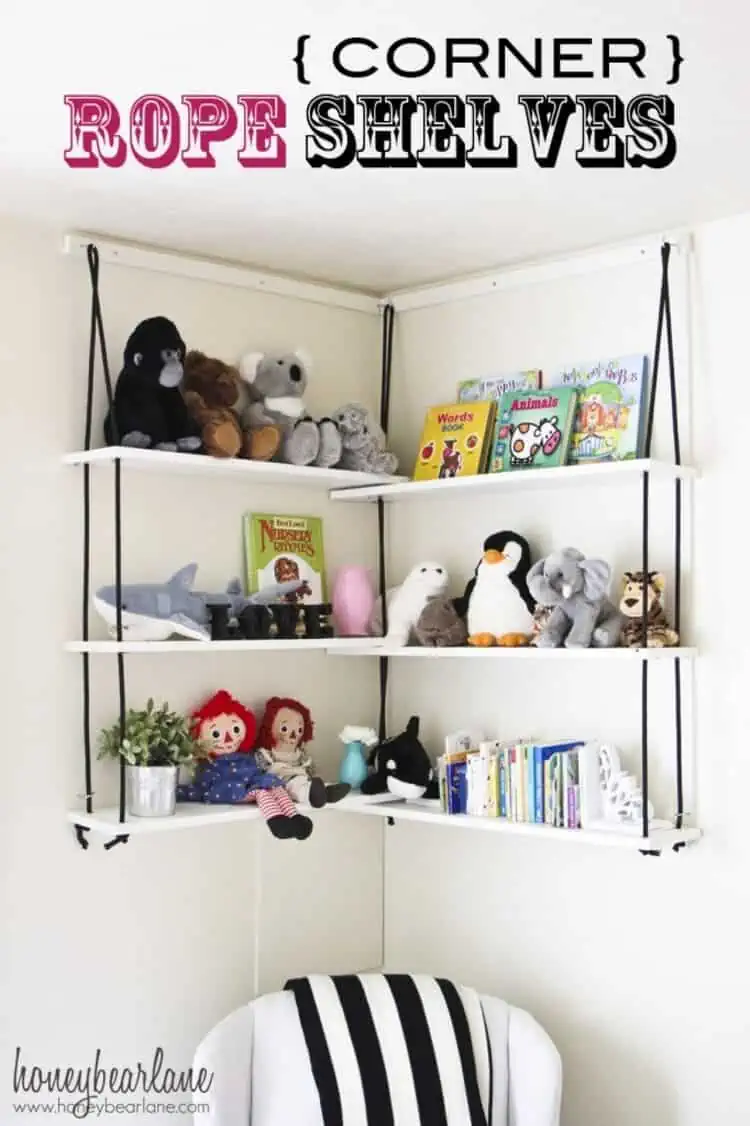 Making use of the corner space for toy organization is a must, especially if you're living in a small apartment. These DIY corner rope shelves are a great solution, if you're handy and feel like working on a project.
5. Storage Bin Organizer for Lego Blocks with Play Mat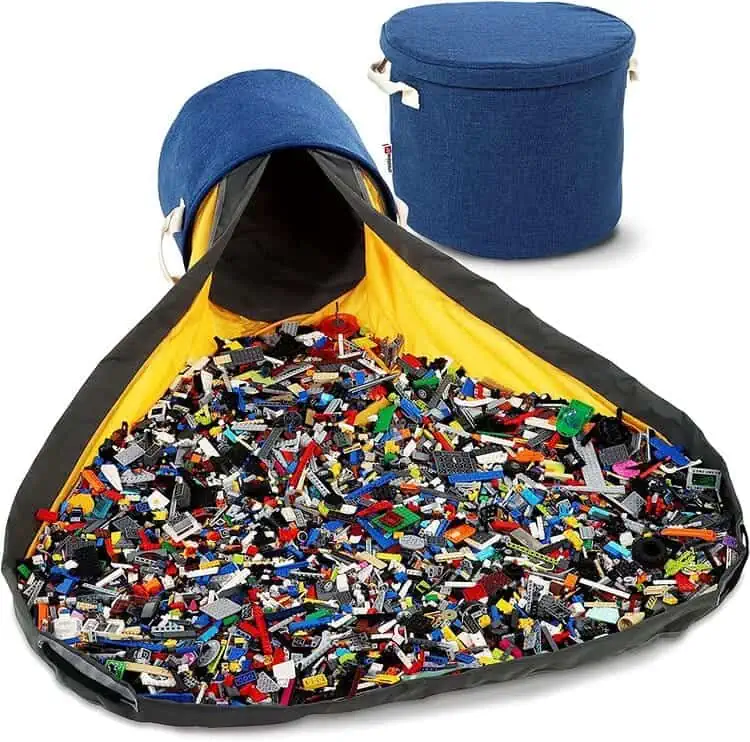 Moms everywhere can find convenience, functionality, and organization all in one with this creative storage basket on Amazon! This cleverly designed basket is perfect for storing Lego bricks, other blocks, and rails games. It's a great addition to any home and will help you and your kiddos stay organized.
My daughter even made this cute reel with ours a little while ago!
View this post on Instagram
6. 2 in 1 Collapsible Toy Car Storage With Car Rug Play Mat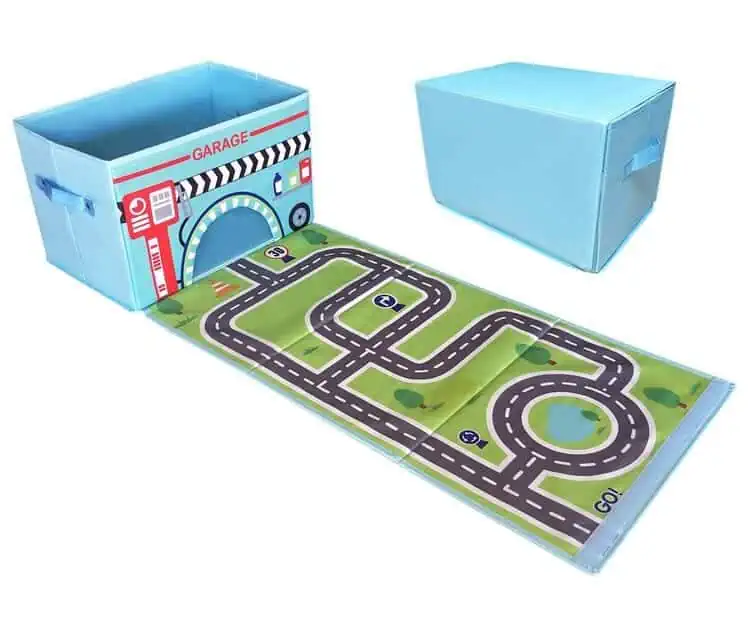 This 2-in-1 collapsible toy car storage on Amazon and play mat are perfect for little car enthusiasts! It features a spacious car rug to store and organize your child's toy cars, plus it can be easily folded up and stored away when not in use.
7. DIY Crate Storage for Tiny Toys and Books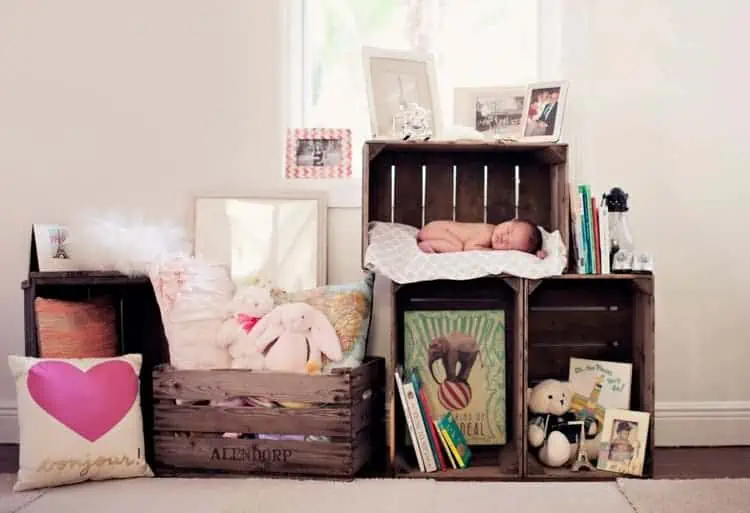 This fun and creative DIY crate storage keeps small toys and books neatly organized. With a vintage French flair and easy-to-follow instructions, this project will surely bring a unique and stylish touch to any nursery or playroom.
8. Over-the-Door Shoe Organizer for Dolls or Action Figures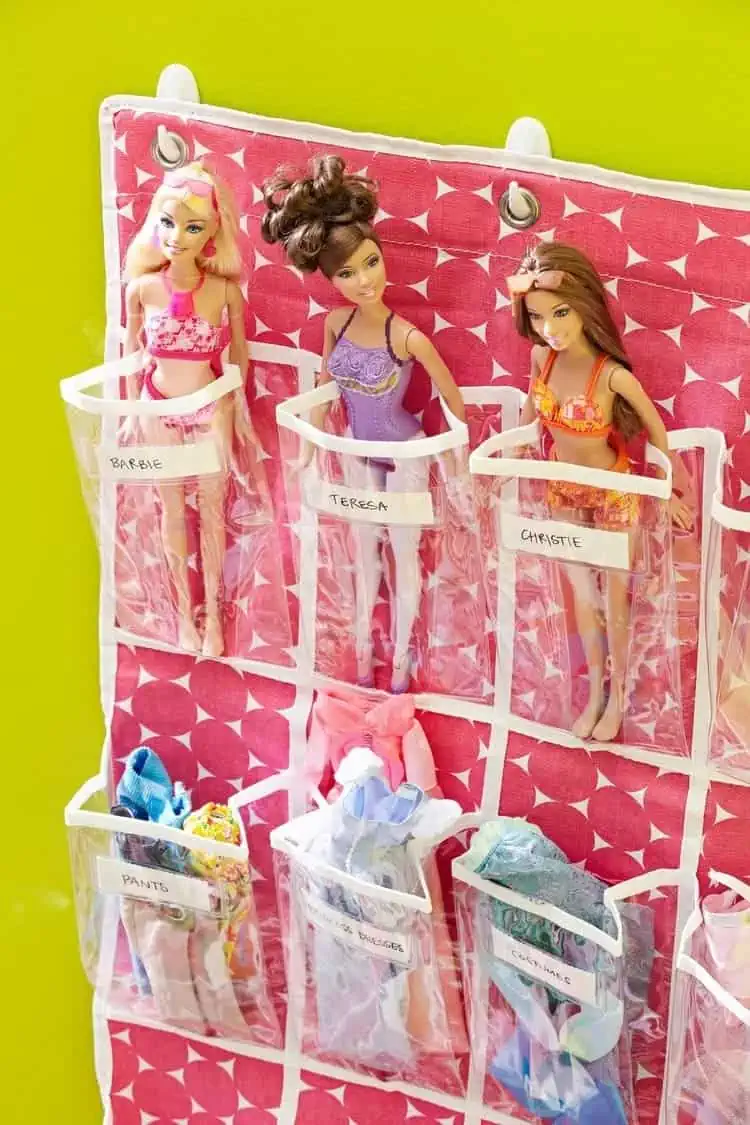 Over-the-door shoe organizers are an excellent way to keep your little one's Barbies and their dolls' accessories organized. This organizer is easy to install with its adjustable straps and has plenty of pockets, perfect for all dolls and accessories.
9. Organize Card Games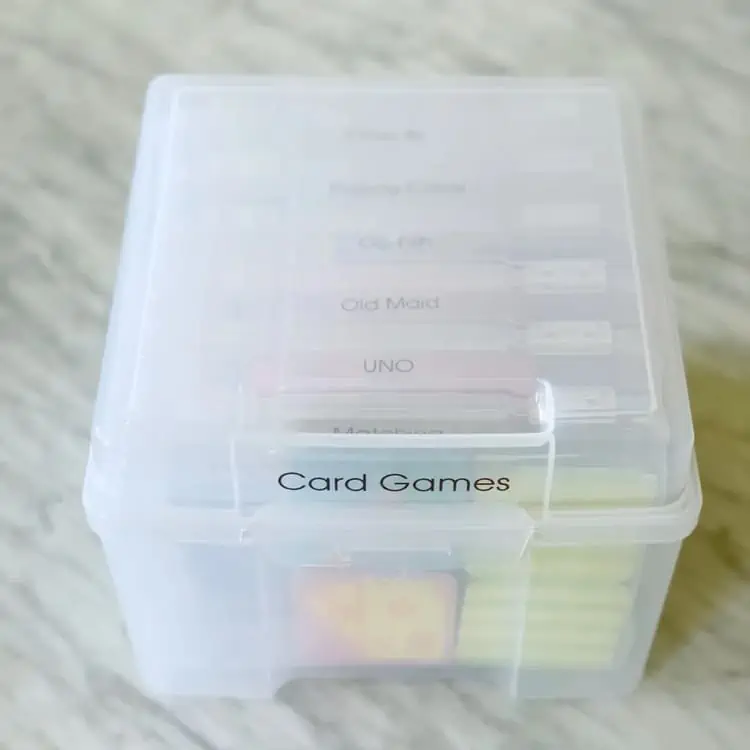 Save your sanity with this brilliant card game storage idea! Such an easy solution! Keep your card games neatly organized using photo storage boxes! So smart!
10. Mesh Bags for Bathroom Toys Organization (Set of 2)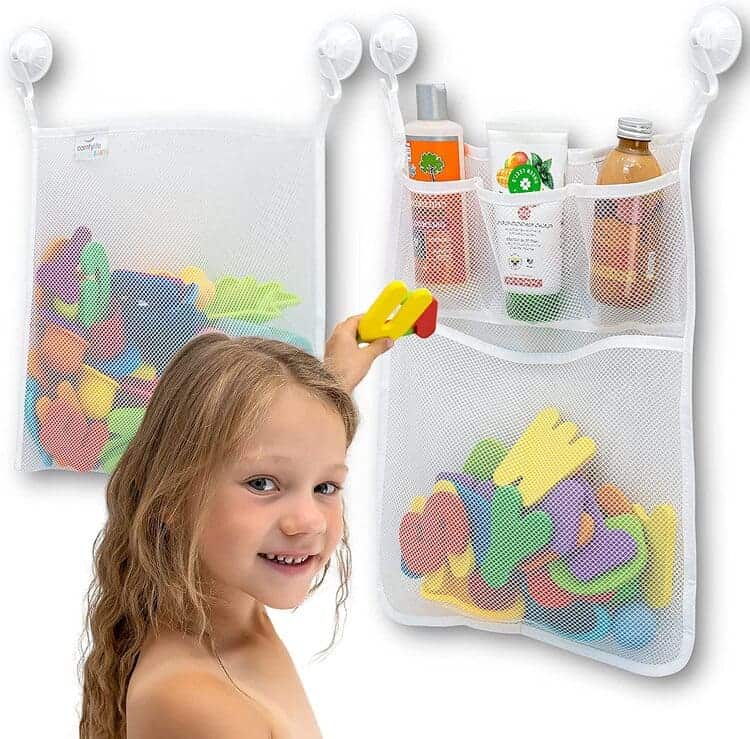 These mesh bags on Amazon are perfect for organizing toys in the bathroom! Made of high-quality, ultra-strong mesh, they have two heavy-duty hooks to hang them up and keep toys conveniently organized.
11. Toy Organization: DIY Wooden Crate Storage and Display for Hot Wheels Cars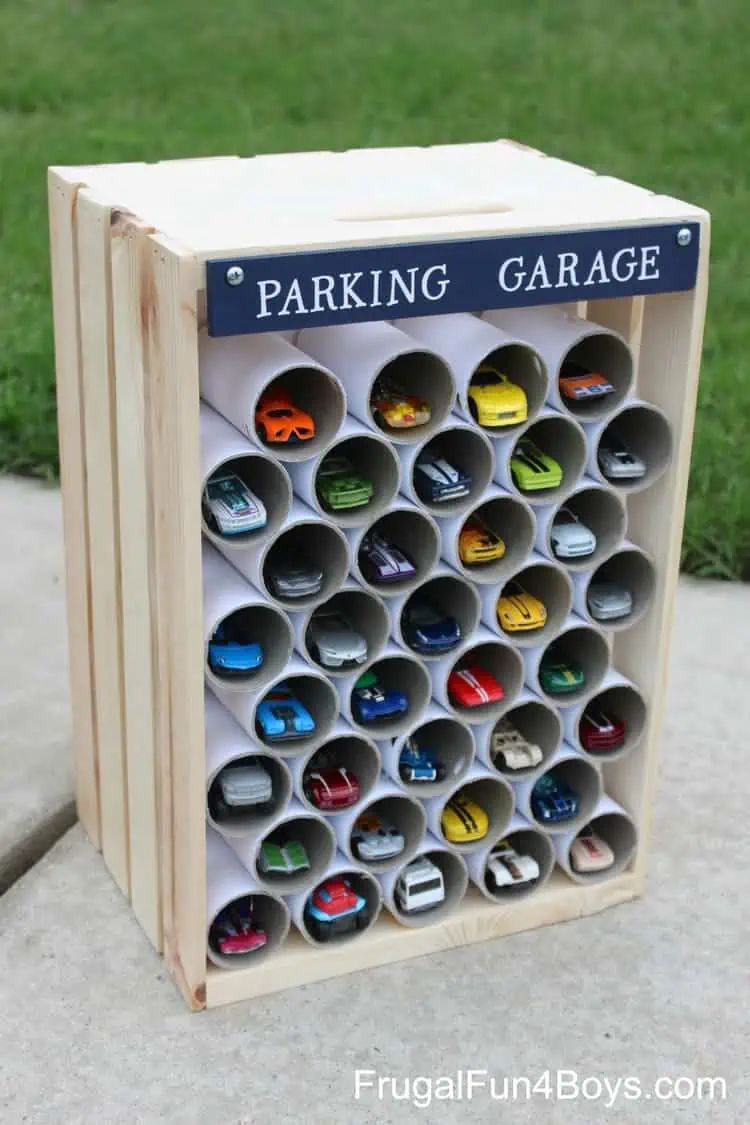 This DIY wooden crate parking is ideal for ending the Hot Wheels car clutter! All you need is an old wooden crate, paint, and simple supplies to create a great-looking display for your little one's car collection. Its rustic, homey look can be a great addition to any play space.
12. Magnetic Knife Bars to Organize Small Metal Cars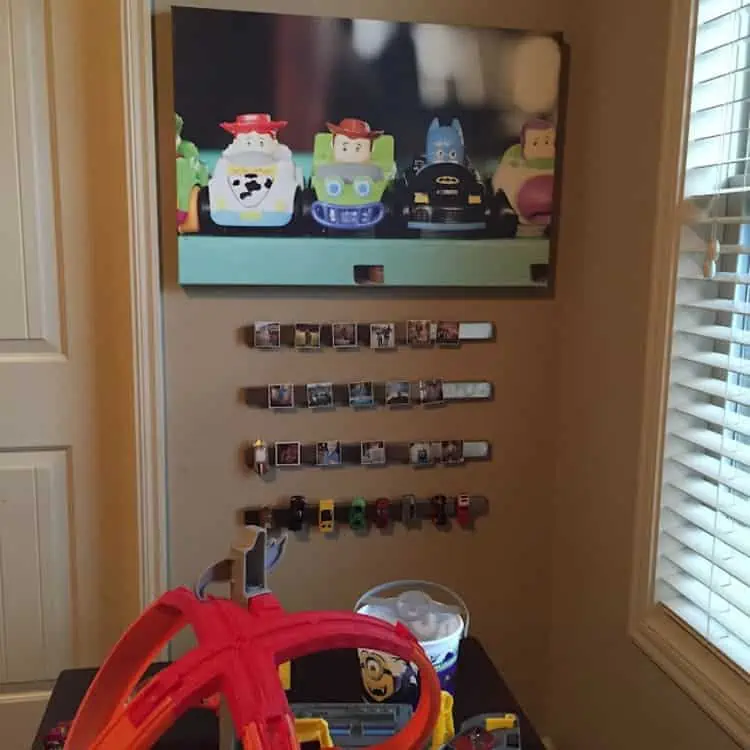 Who would have thought that magnetic knife bars could be a great way to organize and store small metal cars? They use powerful magnets to hold the automobiles in place, so you don't have to worry about them rolling around the floor. Plus, they're easy to access from the kiddos, too.
13. Organize Art and Craft Supplies in Jars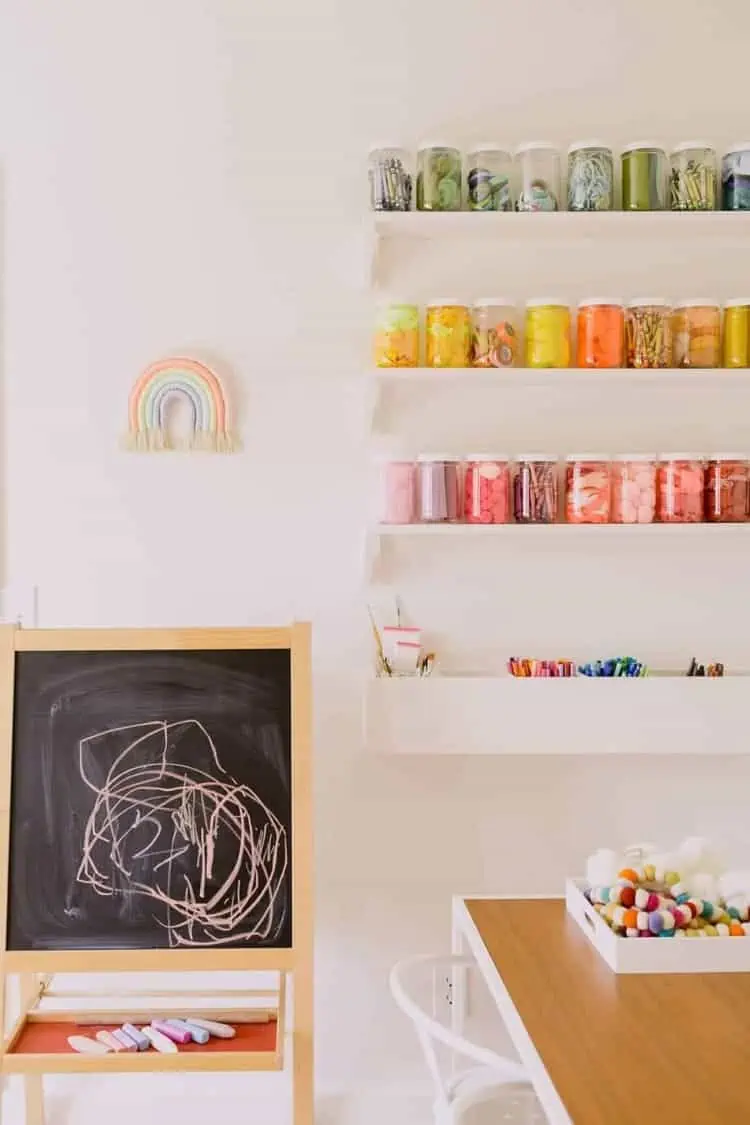 Small toy organization in jars is convenient and will help to keep your child's art and craft supplies, like beads and pom poms, in one place. If you're willing to take the time to store them by color, you can achieve the beautiful rainbow effect from the photo above! I love it!
14. Baskets and Glass Jars for Art Supplies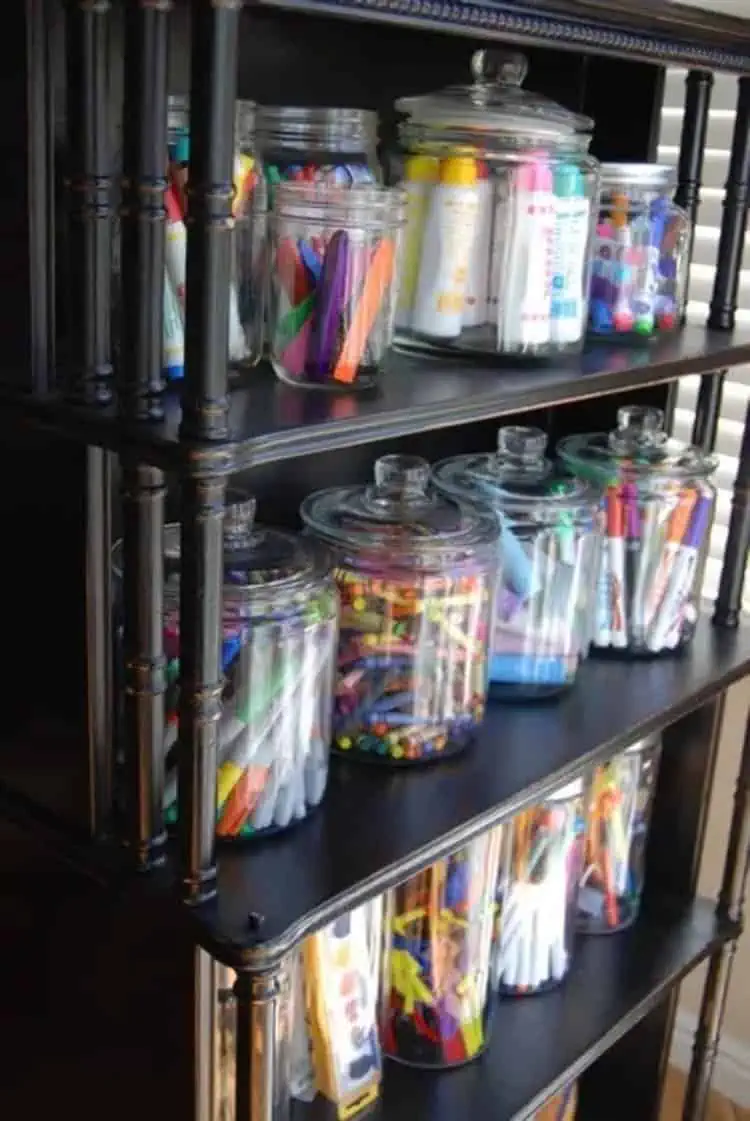 I love this mom's approach to reducing her kids' screen time by keeping their art supplies visible yet organized in baskets and clear jars. It's a great way to provoke your children's creativity and also engage their imagination.
15. Toy Organization: Get an Art Supplies Crate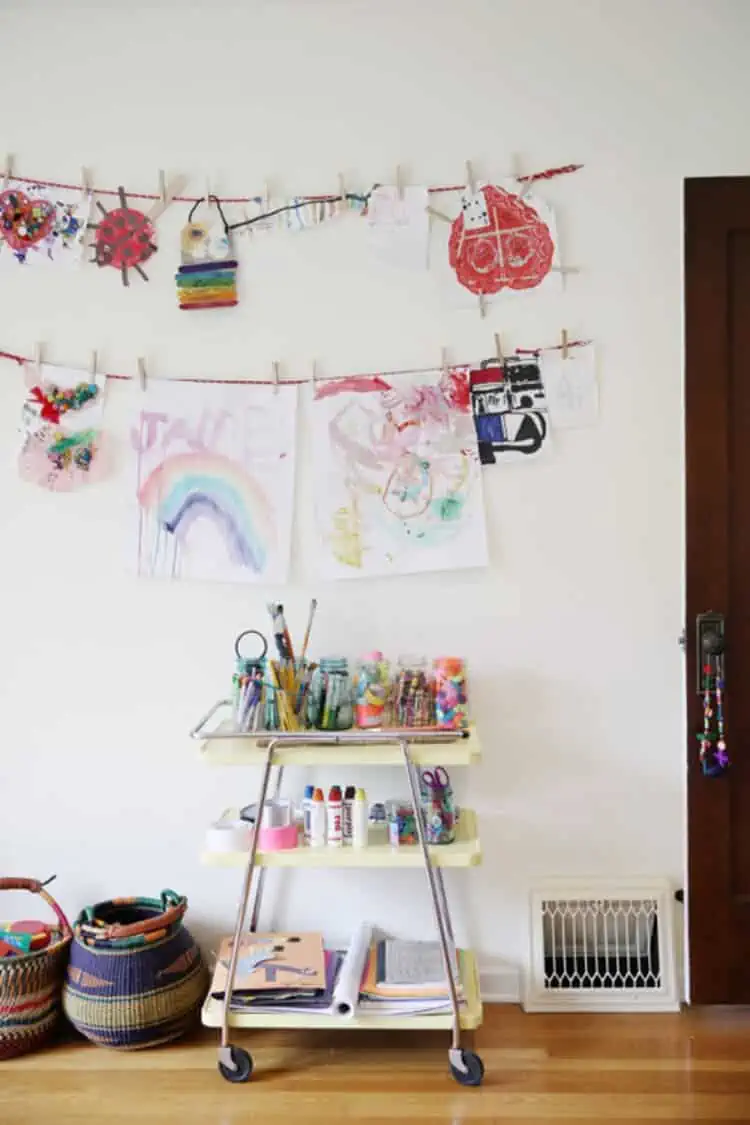 Set up a creative corner with an art station and artwork display wall, like in this living room setup. If your kids are artsy and love to display their creations, that's exactly what you need! They're going to love every minute they spend there drawing.
If you want ideas about toy organization for your living room, check out 50 Best Toy Storage Ideas in the Living Room. It's full of ideas that will save you time and your sanity.
16. DIY Frame to Display LEGO Figurines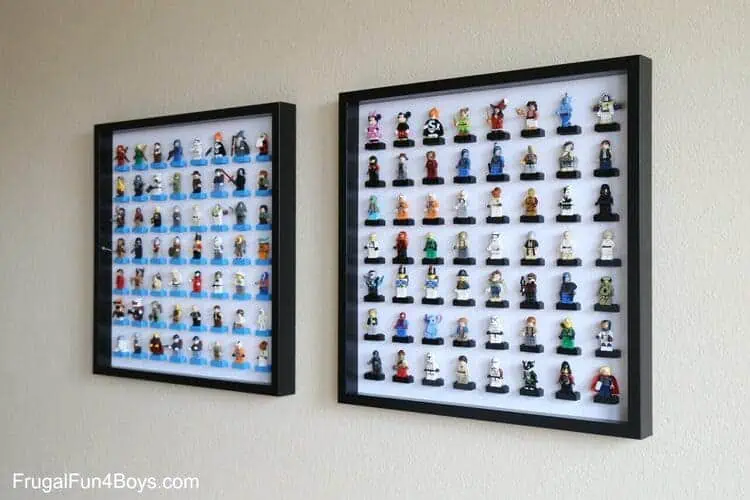 I love Lego art, especially when it's a DIY project, and this idea is awesome! It displays the small figurines so neatly! It's so easy to make, too!
17. Toy Storage Mat Bag for Lego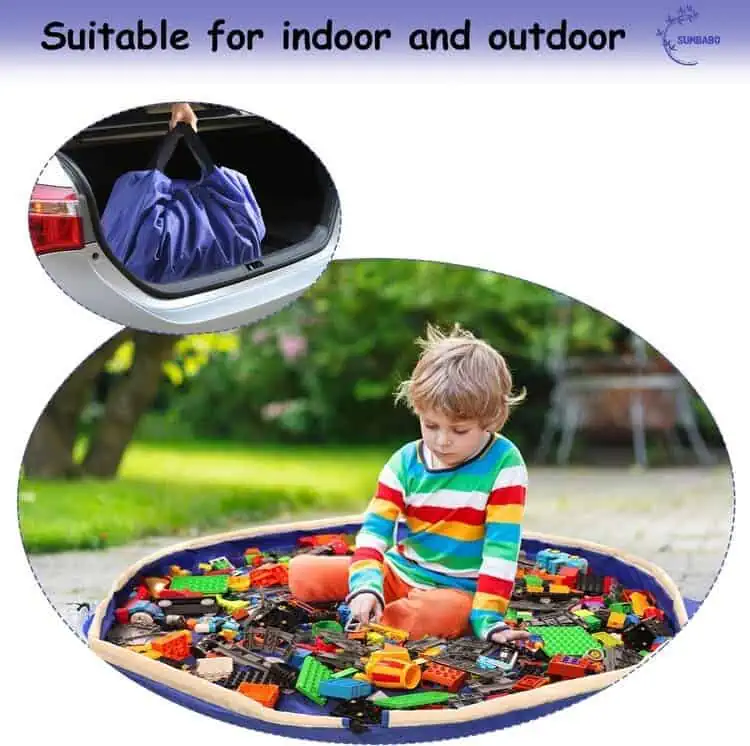 The toy storage mat bag on Amazon for Lego is the perfect way to store and organize all your Lego pieces! This bag measures 47″ and is made of durable nylon fabric. It features an easy closure and extra-large capacity to store all those small construction brick pieces.
By the way, if you're looking for more inspiration about how to keep your child's room floor free from Lego pieces, I have another post with 50 creative ideas on how to store Legos!
How to Organize Large Toys
18. Toy Closet Organization With Plastic Boxes and Wire Baskets With Chalkboard Labels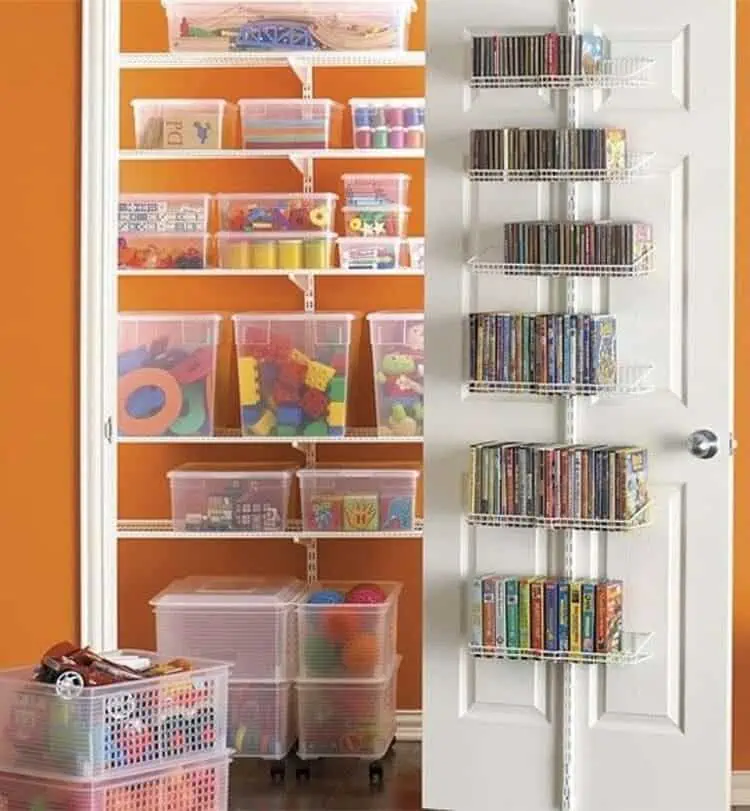 The toy closet organization with plastic boxes and wire baskets with chalkboard labels I stumbled upon on Pinterest is the perfect way to keep your kid's toys organized and easily accessible. They provide plenty of storage, while the chalkboard labels make it easy to find the right toy. Plus, the whole system looks great, too!
19. Play Kitchen and Books Toy Organization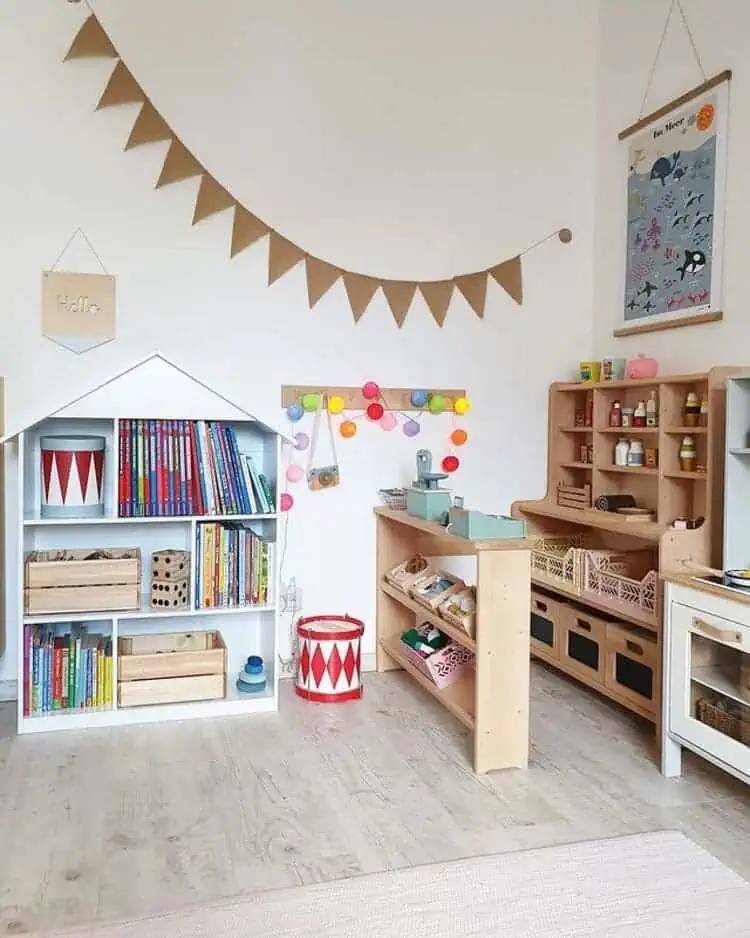 This play kitchen and book organization is a wonderful example of a playroom or kid's room. The play kitchen provides a fun way for kids to pretend play while the bookshelves keep plenty of books in sight. This setup is perfect for encouraging young minds to explore and learn.
20. Girls' Room Toy Organization With a Storage Bench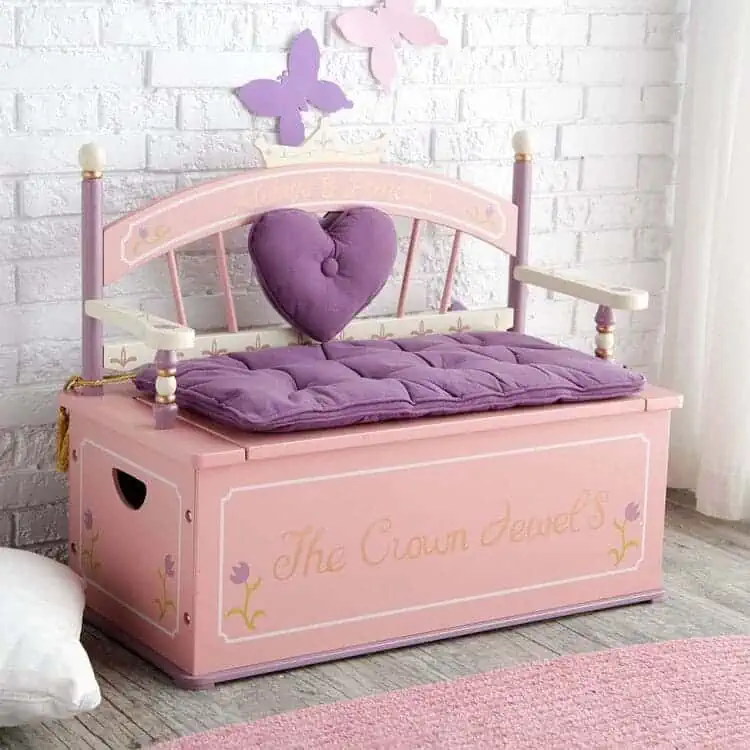 A storage bench provides you with additional storage for a girl's room. It also gives you more sitting space, and it'll look fantastic under a window, in a reading corner or in a nook.
21. Ikea Trofast Hack Custom Train and Train Table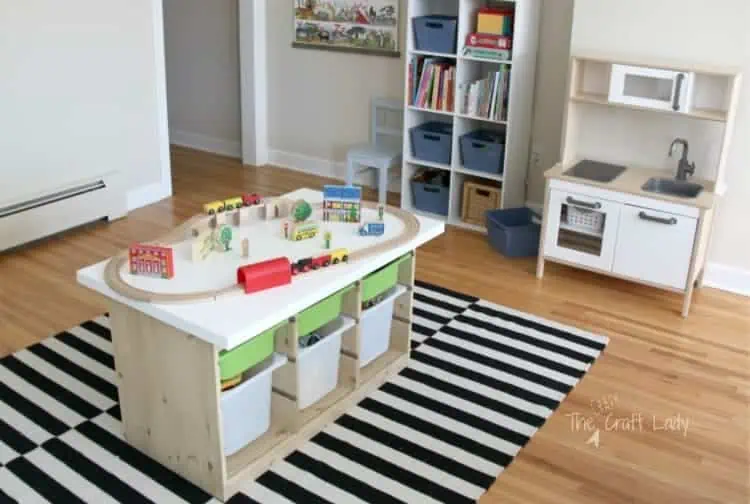 Feel like hacking some Ikea furniture to make it more suitable for your home? Well, this Trofast Ikea hack is exactly what you're searching for! Grab your paint and different size plastic tubs, and get ready to go to work! The result will be worth the effort.
22. Retro Storage Chest Box Toy Organizer with Safety Hinge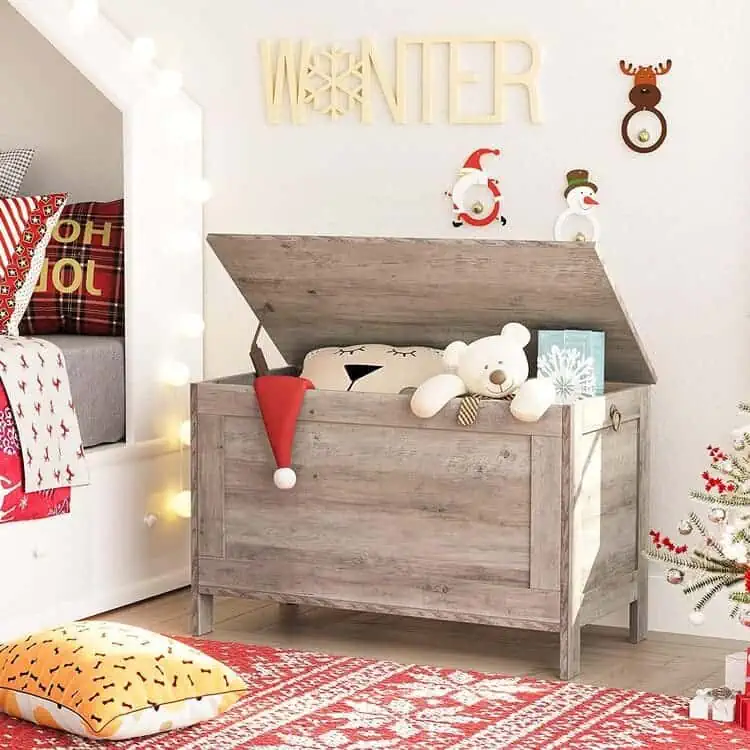 Mom, are you overwhelmed with toys? This retro storage chest box toy organizer on Amazon is here to help! With a safety hinge, this sturdy and stylish box perfectly organizes your child's toys and keeps them securely in place.
23. Stuffed Animal Zoo Storage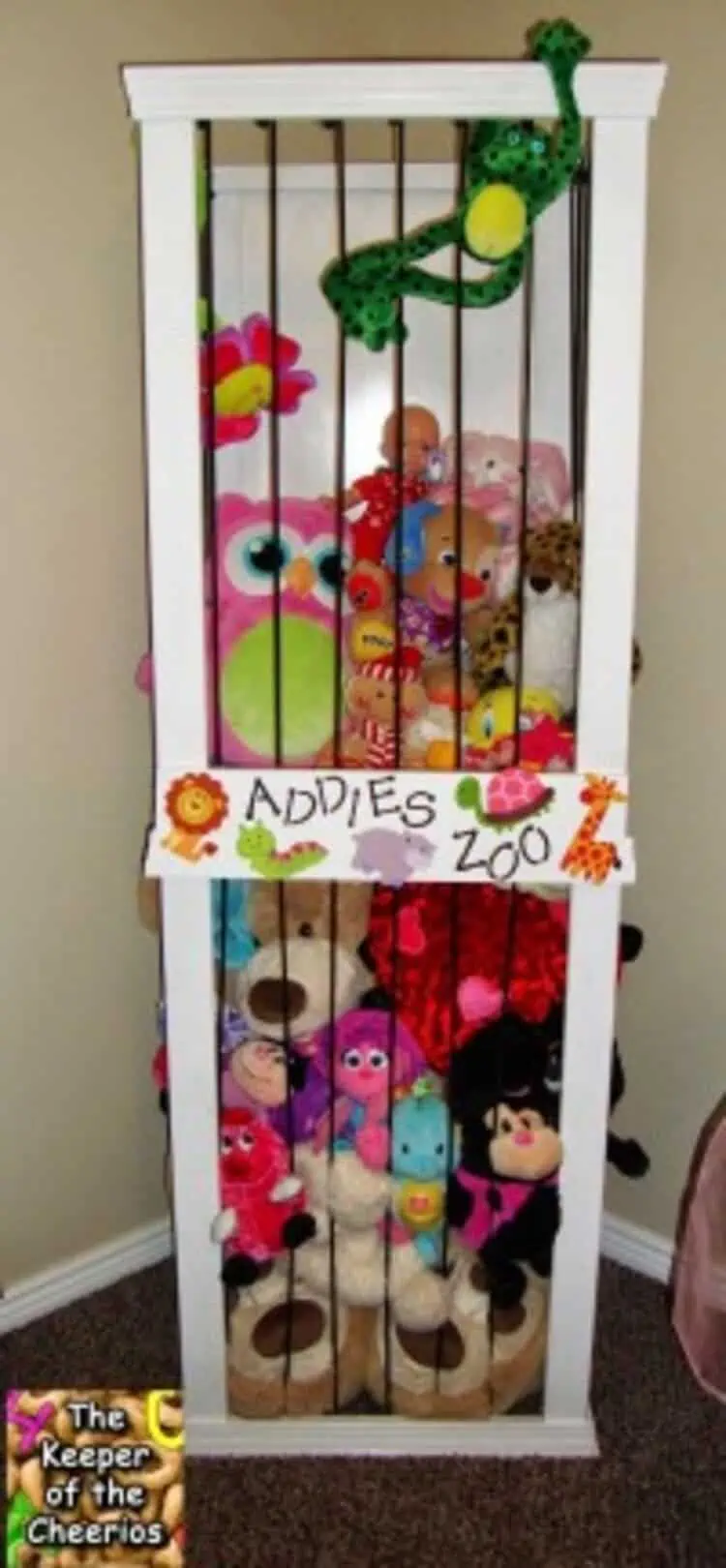 Do your kids have stuffed animals everywhere? The Stuffed Animals Zoo Storage from The Keeper of the Cheerios is a great way to organize and store your child's stuffed animals and keep them tidy. It's a unique and fun way to make tidying up more effortless.
24. Large Stuffed Animal Storage Hammock (2-Pack)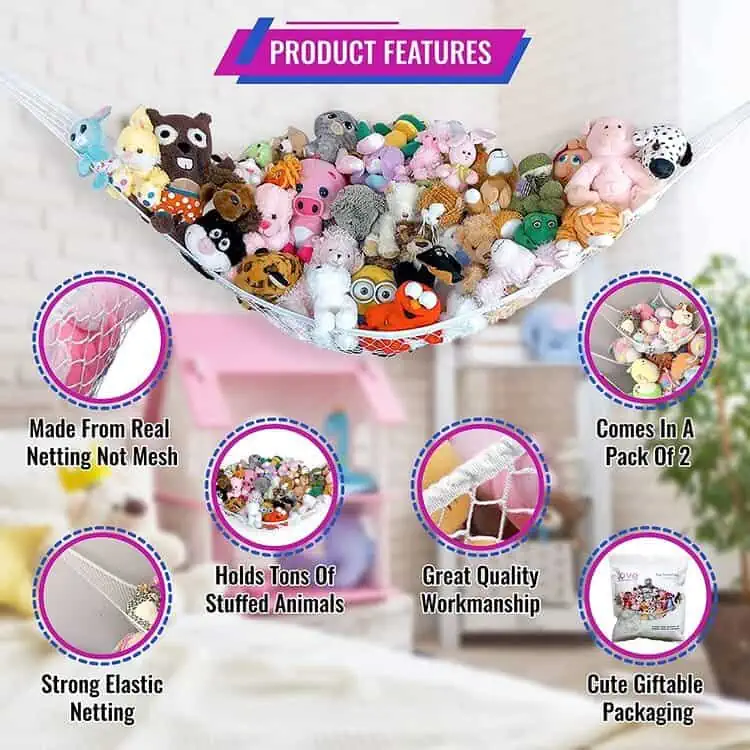 For moms who want to make the most of their space, a Large Stuffed Animal Storage Hammock on Amazon is the answer. These come 2 in a pack and securely hold your child's stuffed animals, keeping them off the floor and out of the way.
25. Stuffed Animal Toy Organization With a Bean Bag Chair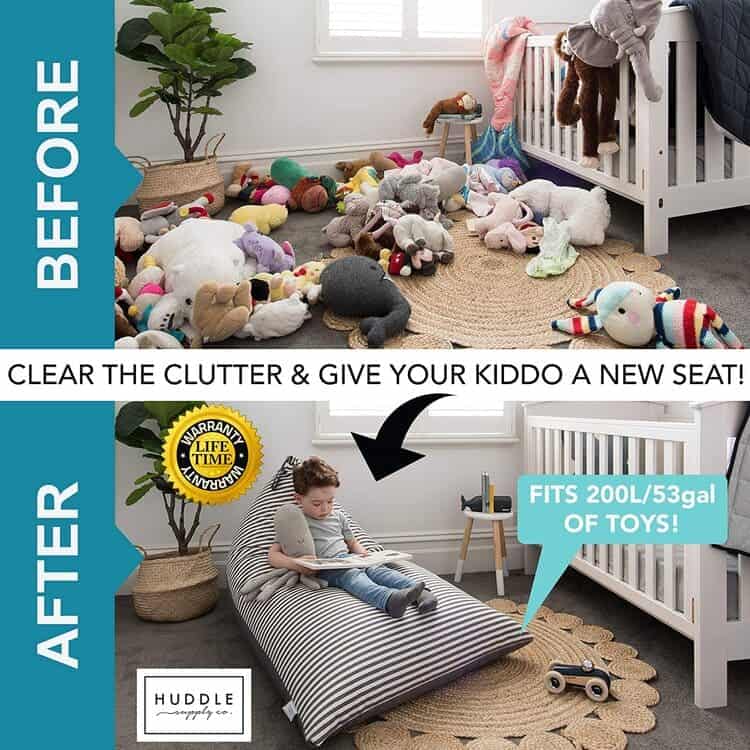 If you're looking for an even better way to store your child's stuffed animals, get a bean bag chair on Amazon! This clever design combines the comfort of a bean bag chair with convenient toy storage. And you can put them ALL in! So convenient!
26. Bean Bag Storage Cover for Stuffed Animals & Toys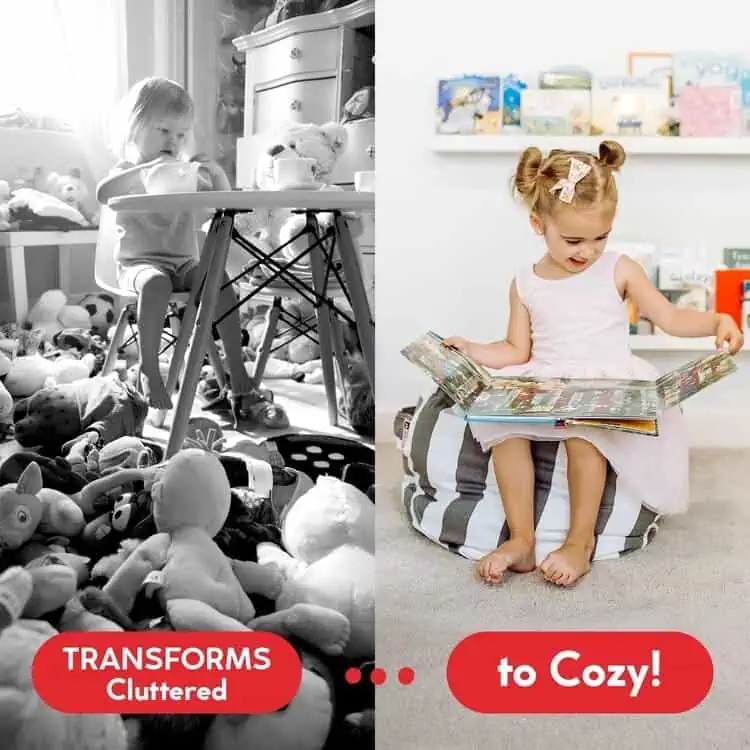 Check out this fantastic bean bag storage on Amazon for moms seeking a stylish way to store their child's stuffed animals and toys. This fashionable cover easily fits stuffed animals and toys.
27. 8-Cube Organizer and a Whiteboard for the Kids' Room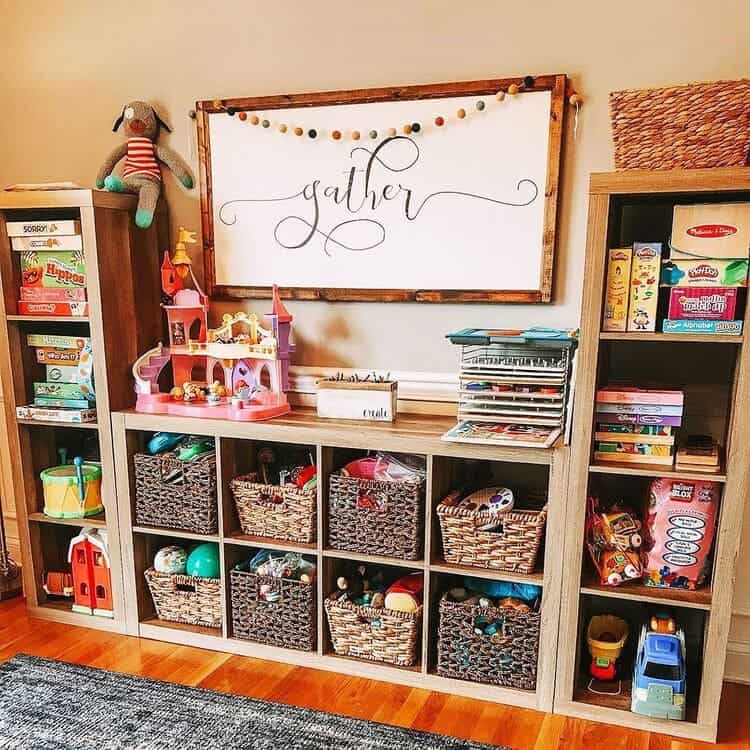 For overwhelmed moms looking for toy organization ideas, this 8-cube organizer and whiteboard provide a great combination of style and function to any living room. The cubical storage gives additional space for toys and other items, fitting a fabric bin or a plastic container in the cubes. At the same time, the whiteboard provides a creative canvas to explore their children's imaginations.
How to Organize and Store Awkwardly Shaped Toys
28. Best Toy Organization Solutions: Ball Storage With Bungee Cords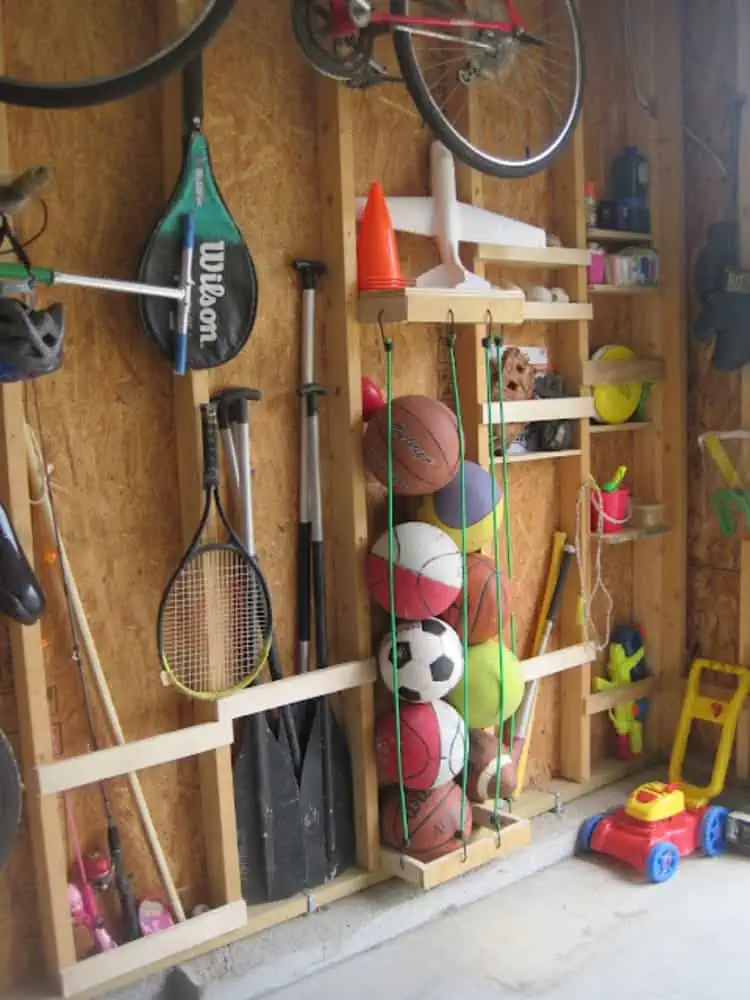 Check this ball storage with bungee cord choice for a more creative option to store your kids' balls. It allows children to store their favorite balls easily and keep them contained. No more balls all around the garage floor!
29. Wooden Children's Toy Box with a Lid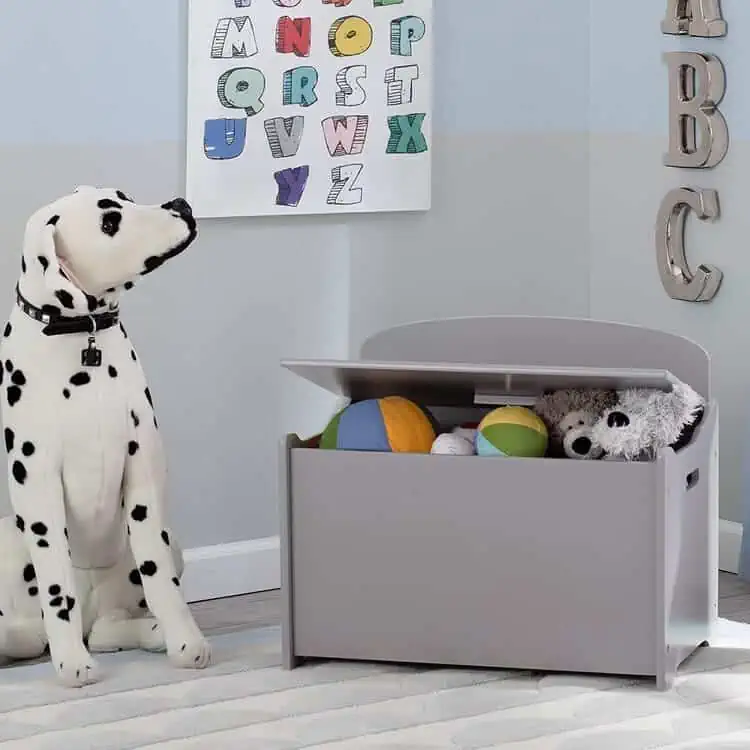 Make it easy to keep the kids' room neat and organized with a wooden children's toy box with a lid on Amazon. This toy box is perfect for storing:
Toys
Games
Books
And more
It is stylish and durable, and the lid contains all the mess.
30. Set of 3 Woven Storage Stacking Basket Bins with Lids & Locks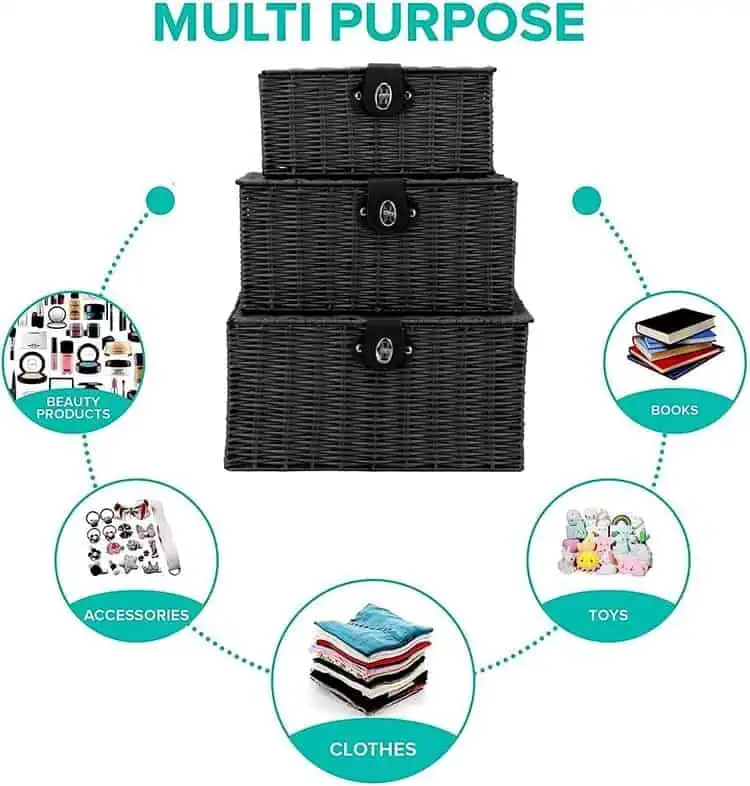 Keep toys stored away with the set of 3 woven storage stacking baskets bins with lids & locks from Amazon. This set includes three bins with lids and locks, and the neutral colors will fit into any home décor. Perfect for keeping diapers, toys, laundry, and whatever you think of organized.
31. Clear Storage Bags with Strings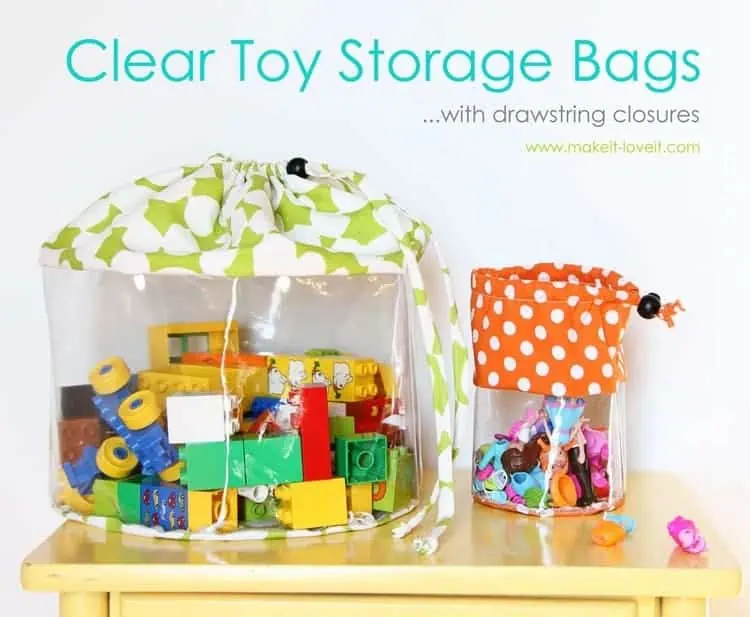 As a more lightweight solution, try clear storage bags with strings from Amazon. They work very well for storing tiny toys and items. The clear bags allow kids to easily see what is inside, and the strings keep everything contained and secure.
32. Toy Organization Solution: Large Collapsible Toy Box Chest with Lid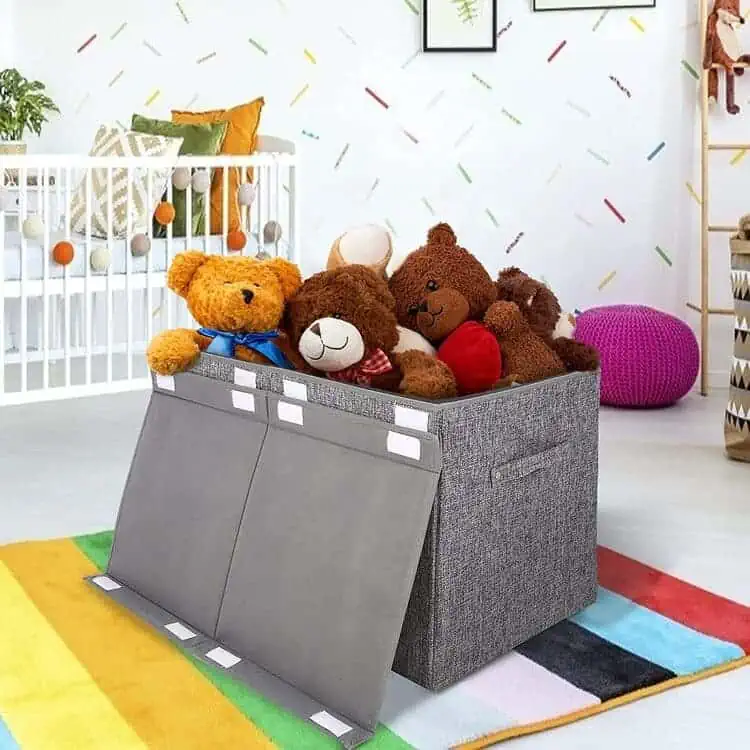 Keep your kid's playroom organized with this large collapsible toy box chest with a lid on Amazon. It's perfect for storing small and big toys and other items. They're easy to fold up and store when unused, which is another plus.
33. Washable Reusable Mesh Toy Storage & Organization Bags (Set of 12)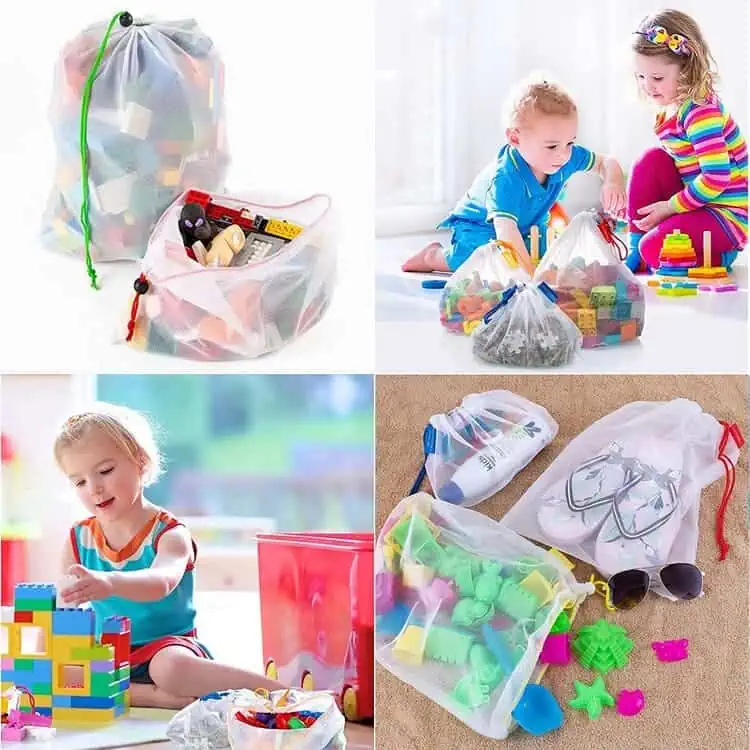 Get organized with a set of 12 reusable and washable mesh toy storage and organization bags from Amazon. These bags are lightweight and breathable, perfect for bathroom toys, and make toy organization in the bathroom easy!
34. Toy Organization: Use a Bucket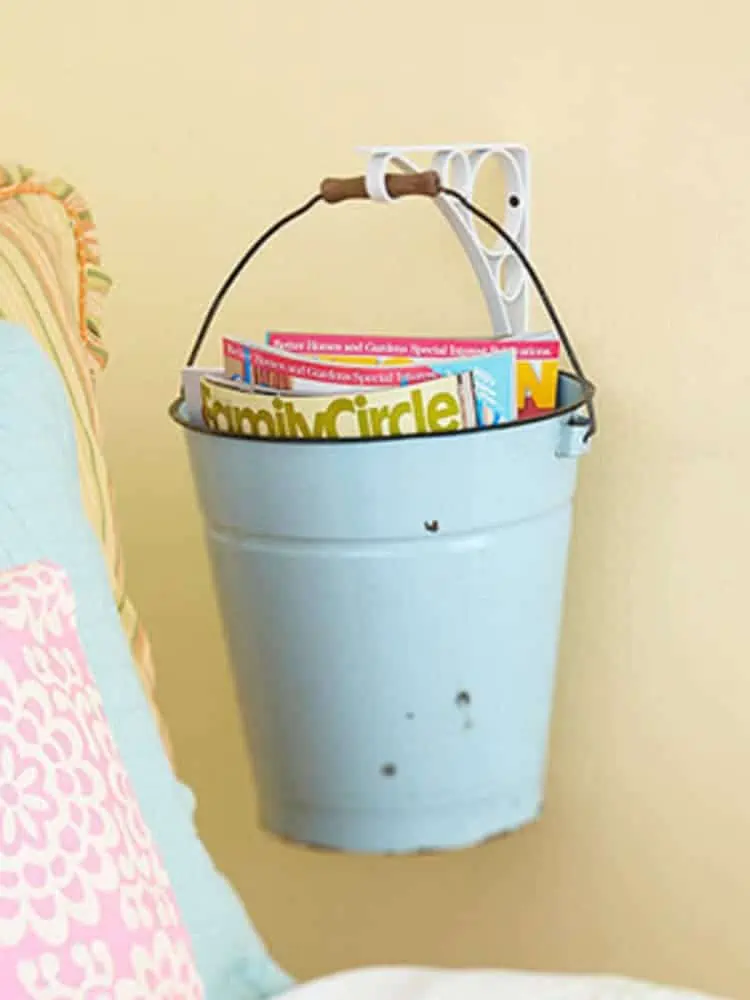 Use a bucket to organize your kid's toys! Perfect for any room, this simple and stylish solution will help keep items out of sight and save you time cleaning up.
35. Cargo Net to Tame The Stuffed Animals
This cargo net is another creative way to tame the chaos from stuffed animals and make them part of the interior. Easily hang it from the wall or the ceiling and store stuffed animals without taking up precious floor space.
36. NERF Gun Storage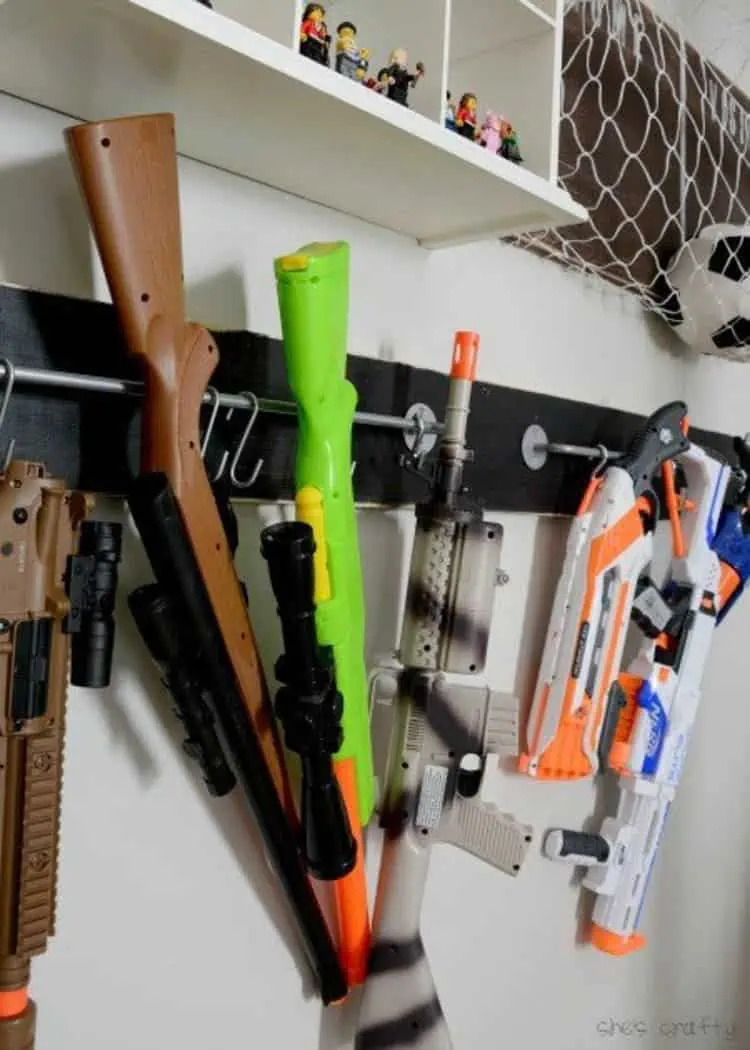 Keep your kid's NERF guns in check with this stylish storage solution. Not only will your kid love how it looks, but it's also a great way to keep the guns organized. All you need is a few rails and S-hooks!
37. NERF Gun Storage on a Pegboard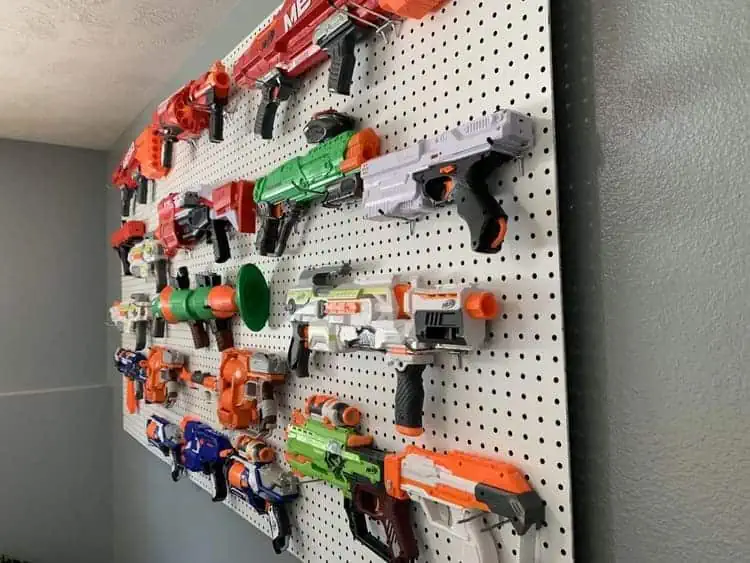 Get organized with this NERF gun storage on a pegboard. This storage solution is great for organizing and displaying your kid's NERF guns in an easy-to-access location. It's perfect if your boys have an extensive toy gun collection.
38. Toy Organization Ikea Hack: Dress-up Rack to Store Costumes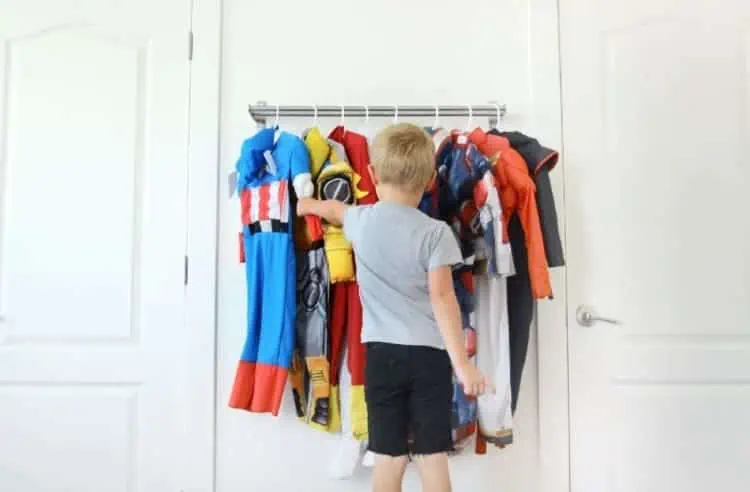 Make the most out of your kid's dress-up collection with this Ikea rack hack. It's ideal for storing costumes and can be easily adjusted to fit any size and shape of hangers.
How to Organize Toys for Multiple Children
39. Multicolor Kids Storage Cubes (Set of 4) for Toy Organization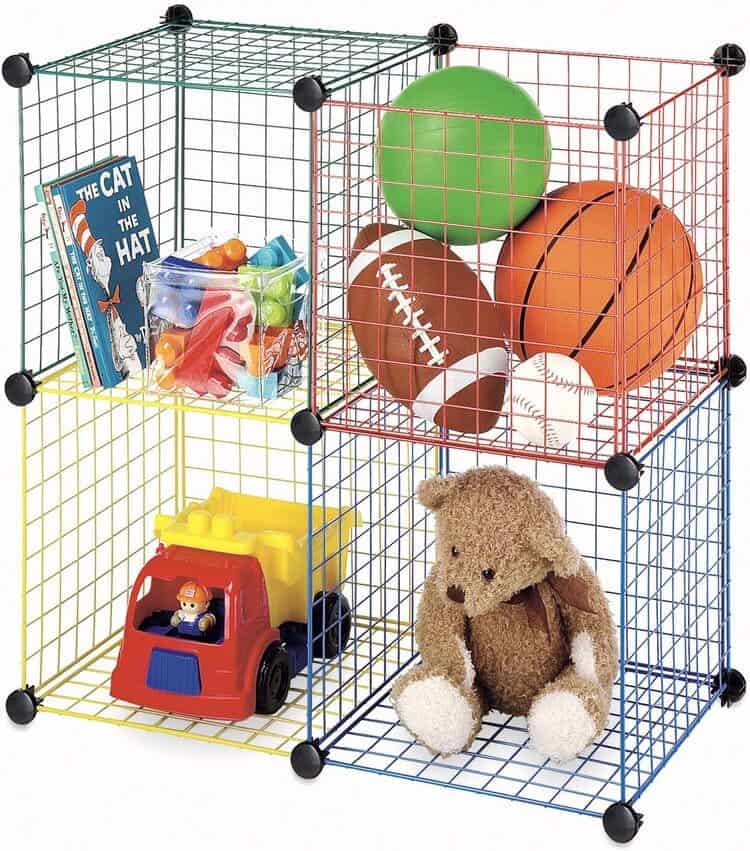 Keep your kid's play space organized with this set of 4 multicolor kids' storage cubes on Amazon. These cubes provide plenty of storage for toys and games, and the vibrant colors add a fun flair to any room.
40. 9-Bin Toy Storage Organizer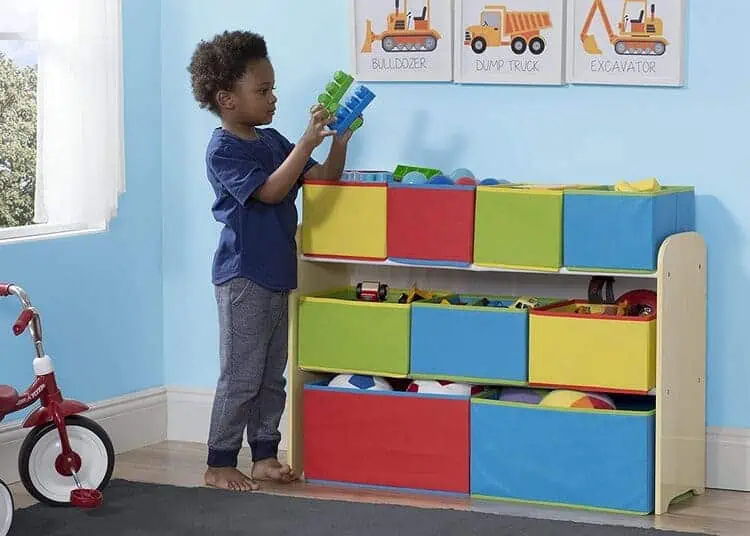 This 9-bin toy storage organizer from Amazon is a great way to organize and store toys, books, games, and more. Every caddy is perfect for keeping items neat and organized, making it easy to move around the room.
41. 16 Storage Bins Extra-Large Toy Organizer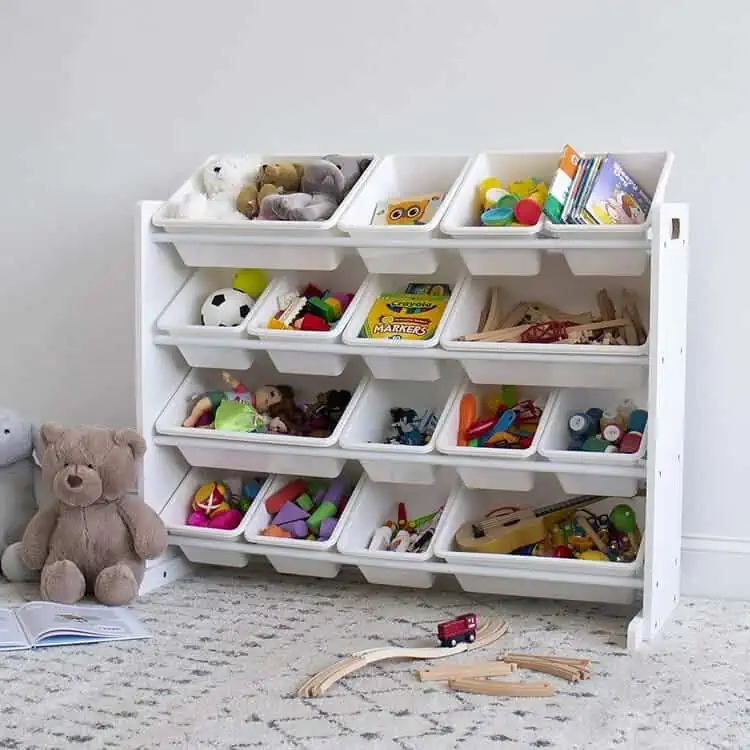 Keep your kid's toys and games organized with this 16 Storage Bins Extra-Large Toy Organizer from Amazon. This organizer has multiple cubbies and is suitable for storing smaller and bigger items. It also features an easy-to-reach height, so even the tiniest hands can grab what they need.
42. Storage Box with Black Handles and Latches – 4 Pack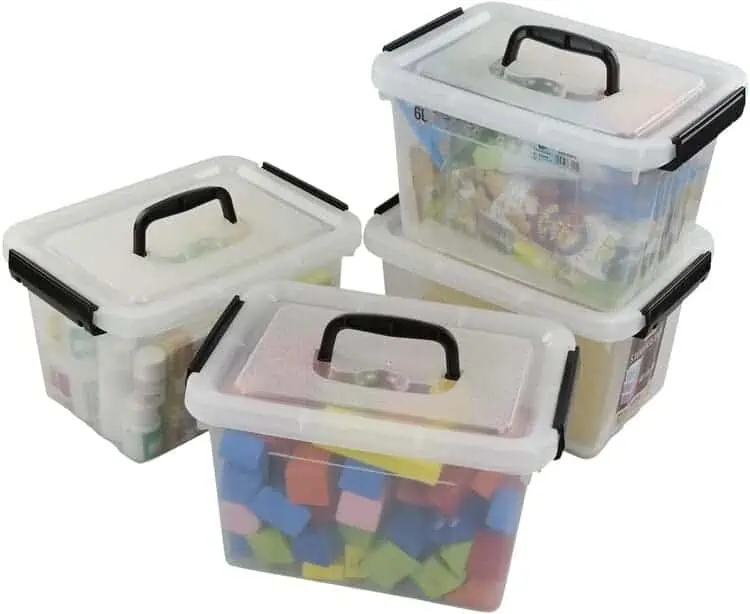 Keep your kid's toys and games organized with this four-pack of storage boxes with black handles and latches from Amazon. These sturdy boxes are perfect for storing items away, and the black handle and latches make them easy to grab and carry.
43. Collapsible Storage Bins with Lids and Doors for Toy Organization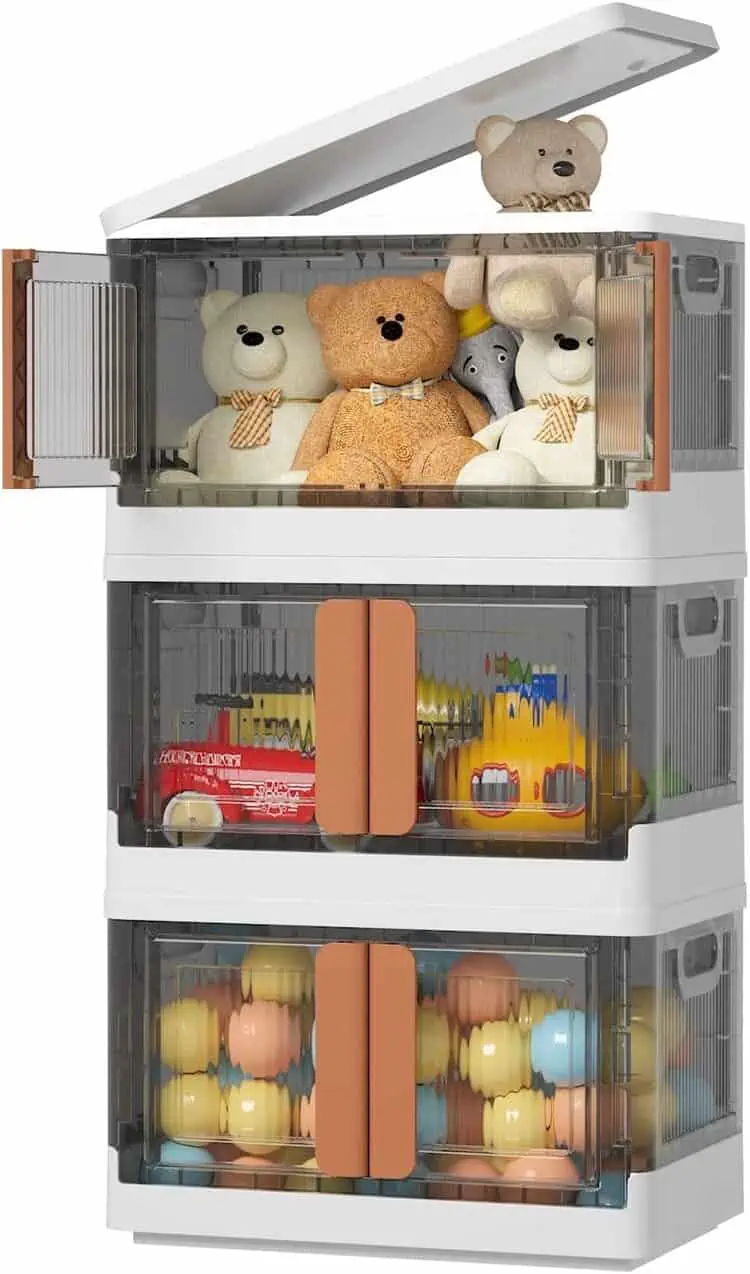 Keep a flawless toy organization with this set of collapsible storage bins with lids and doors from Amazon. Perfect for any room, these bins are ideal for storing toys, books, games, and whatever else you need to find a designated space for.
44. Playroom Toy Organization for Little Geniuses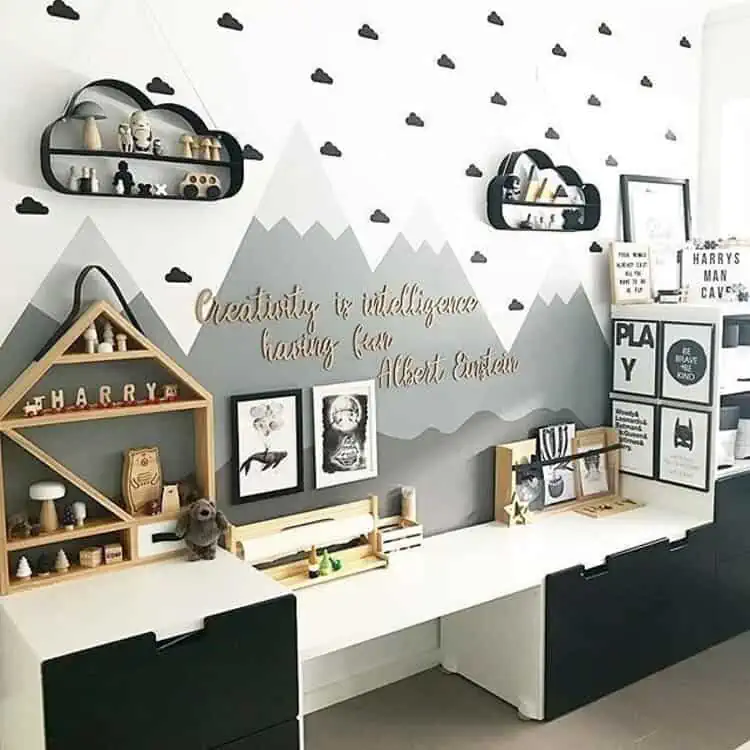 Transform your kid's playroom into a creative space with this playroom toy organization for little geniuses. This playroom is a fabulous example of a working storage solution for:
It would make playtime more organized and fun, for sure.
45. Collapsible Extra Large Dinosaur Toy Box Chest for Boy and Girl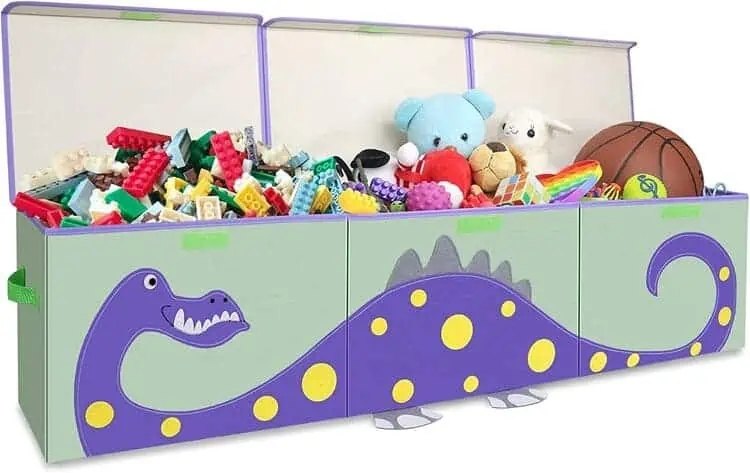 I have never met a kid who doesn't love dinosaurs. So, keep your kid's bedroom or playroom tidy and organized with this collapsible extra-large dinosaur toy box chest from Amazon. This chest keeps all your kid's toys and games inside, and it's easy to fold up and store when not in use.
46. Have a Designated Metal Cabinet for Toy Organization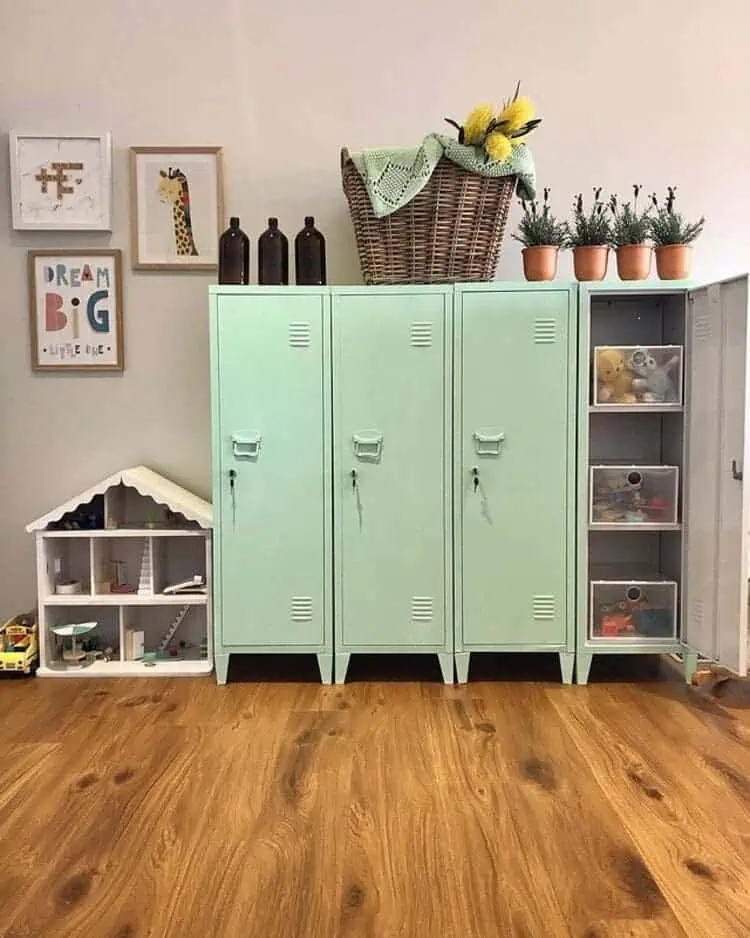 Keep your kids' toys stored and out of sight with a metal cabinet. This cabinet is perfect for separating your kids' books and games in a stylish way and will help you keep their room free of clutter.
47. Toy Organization with Ikea Spice Racks as Bookshelves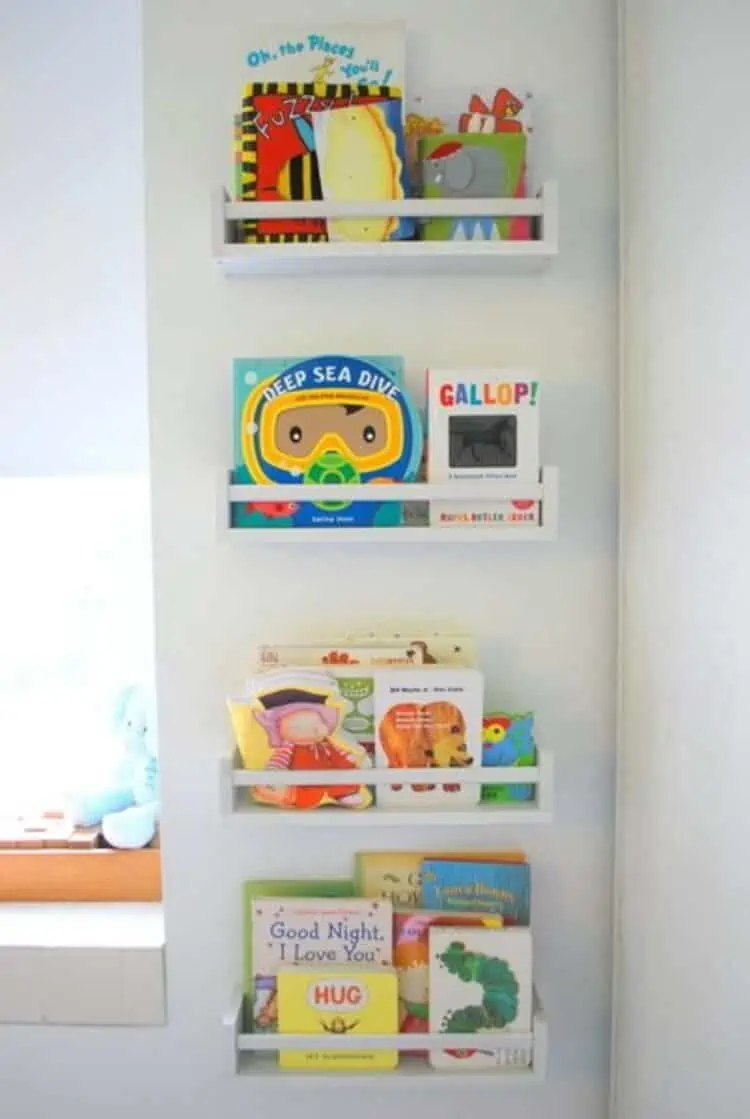 Make your kid's bookshelf stand out with Ikea spice racks – a brilliant bookshelves solution. This clever hack is perfect for displaying your kid's favorite books, and the shelves are excellent for books of any size.
48. Shelves and Containers to Organize Boys Rooms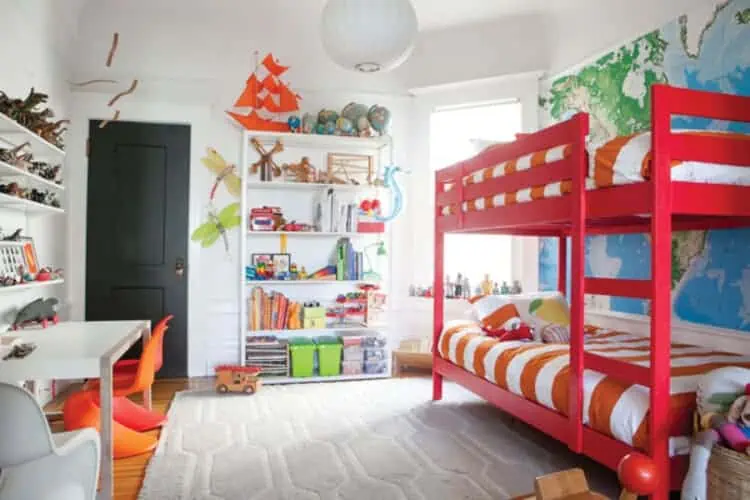 Your boy's bedroom can be neat and organized with shelves and containers! I love this setup. It allows kids to put away their toys easily and get everything they want because it's within a reachable distance.
49. Make a Reading Corner to End the Books Mess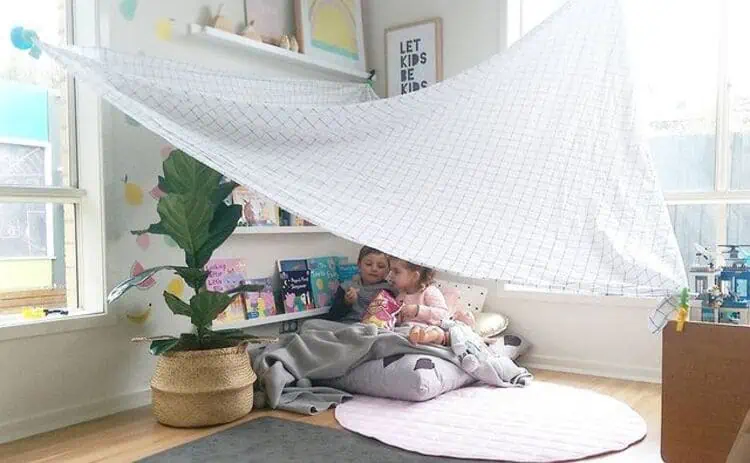 Create a cozy reading corner and a fort for your kids with this beautiful setup idea. This corner is perfect for keeping your kid's books organized, making it easy for them to find their favorite books when they want to read.
50. Toy Organization with Crap Buckets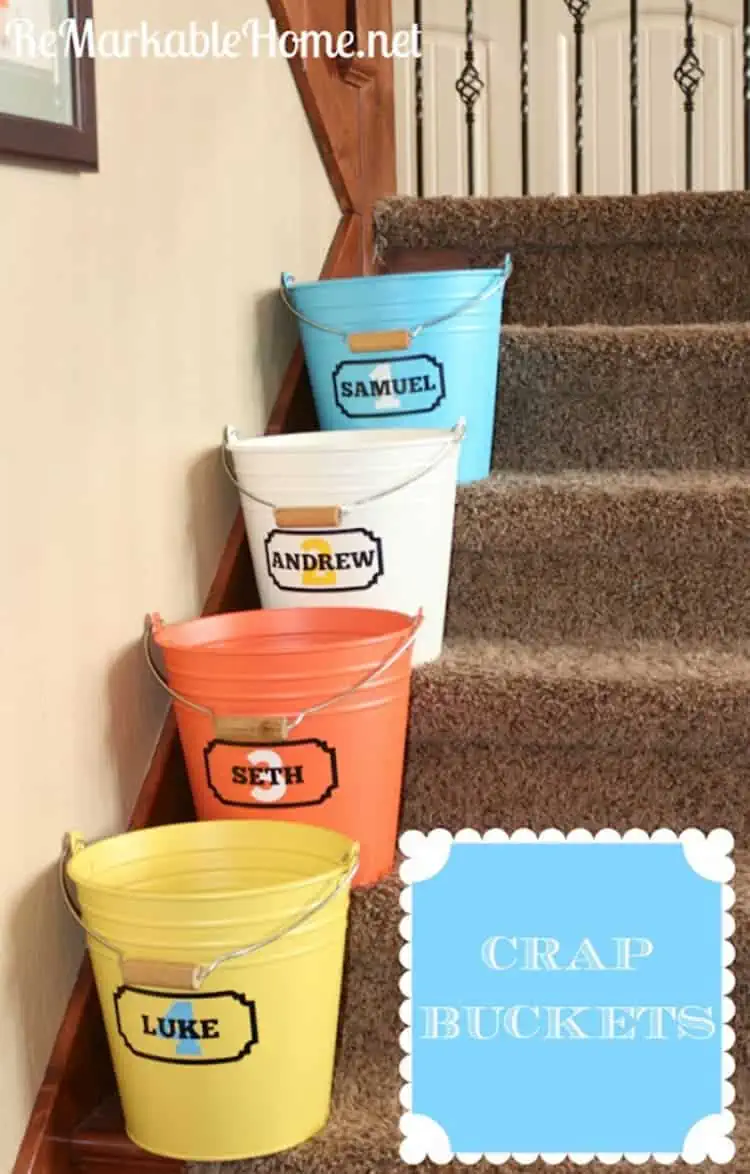 Keep your kids' playroom clutter-free with this brilliant toy organization idea – crap buckets. This storage solution is perfect for storing all of your kid's toys, and the buckets make it easy to grab and move them around various rooms in the house.
How to Involve Kids in Toy Organization
Organizing toys can be daunting, so involving your kids in the process is essential. This can help teach them important lessons about tidying up and make housework much more manageable.
Here are some tips for getting your kids involved in the organization process.
Set Up Specific Areas for Certain Toys
To make it easier to keep toys organized, designate a specific area for each type of toy. This will make it easier for your kids to know where to put things away and where to find them.
Make It Fun
Make organizing toys into a fun activity by creating a game out of it. Challenge your kids to work together to clean up and organize the toys, and reward them with a special treat when they've completed the task.
Have an Organization System in Place
Create a system for organizing toys, such as using labels for bins and baskets or sorting items by color. This will make it easier for your kids to understand and follow the system when organizing their toys.
Make It a Team Effort
Get the whole family involved in organizing toys. This is a great way to bond and get everyone on the same page about the importance of keeping the house clean and organized.
With these tips, you can easily involve your kids in the process while teaching them important lessons about tidying up. So, take the time to organize your home with your kids and make it a fun and rewarding experience.
How to Maintain Toy Organization
Maintaining toy organization can be daunting for parents, especially with multiple children and a house full of toys. With a few simple steps and some creative toy storage solutions, you can get your kids' toys and clutter under control.
1. Set Up a Toy Storage System
Designate a specific area for the toys and keep them tidy. Sort the toys into categories, such as action figures, stuffed animals, and puzzles, and store them in separate containers. Label baskets, boxes, and bins with words or pictures to help your children find what they want.
If you don't have enough storage, buy a storage unit like a toy box, shelves, or drawers. This will make toy rotation for you a breeze!
2. Keep Similar Toys Together
Mixing up toys is a recipe for disaster. Separate and store toys in the room where they are used most often, and make sure that similar toys are all kept in the same area. For example, put all the cars and trucks in a basket next to the play mat.
3. Limit the Amount of Toys
Having too many toys can be overwhelming, and it can be hard to keep them organized. Make a rule that your kids should donate or throw away certain toys if they get new ones. Regularly purge outgrown, broken, or forgotten toys and any toys, so they're not taking up extra storage space.
4. Create a Routine for Toy Organization
Make tidying up a part of your daily routine. Put away any toys used during the day and ensure everything is in place. Give your children designated spots to store their toys, and encourage them to pick up after themselves.
By implementing a few simple strategies, you can control your children's toys and clutter. A well-organized space looks better, reduces stress, and saves time. So get ready to organize your house and keep your kids' toys organized.
With these tips, you'll have no trouble finding the right places to store your child's toys. With a little bit of organization, you can create an environment that is both neat and child-friendly.
About Toy Organization
From classic toy boxes to modern furniture with built-in storage, plenty of fantastic toy organization and storage ideas will help you keep your home neat and tidy.
With some planning, you can find the perfect solution for your family and create a space that both kids and parents will love. All that's left to do is find the best option to meet your needs and start organizing!
Which is your favorite idea from the list? Which idea inspired you to change your toy organization at home? I can't wait to learn more in the comments below!
Did you like these toy organization ideas? You're going to love these blog posts, too: