Organizing under the kitchen sink can be tricky, but before you throw in the towel, check out these 25 genius ideas for making the space pretty and functional.
It's probably one of the most universally neglected and ignored areas in the home… under the kitchen sink.
For many people, it's an easy place to store cleaning supplies, and when the chores are over it's out of sight, out of mind. Under-sink storage spaces tend to be neglected because they aren't always visible or easily accessible.
If your under the sink cabinet could rival the scariest of movies, rest assured that you are not alone!
It doesn't matter if your under-sink storage space is small or has an awkward layout, this list of 25 storage solutions for organizing under the kitchen sink has so many great ideas that will work in any home… even yours! 
This post contains affiliate links.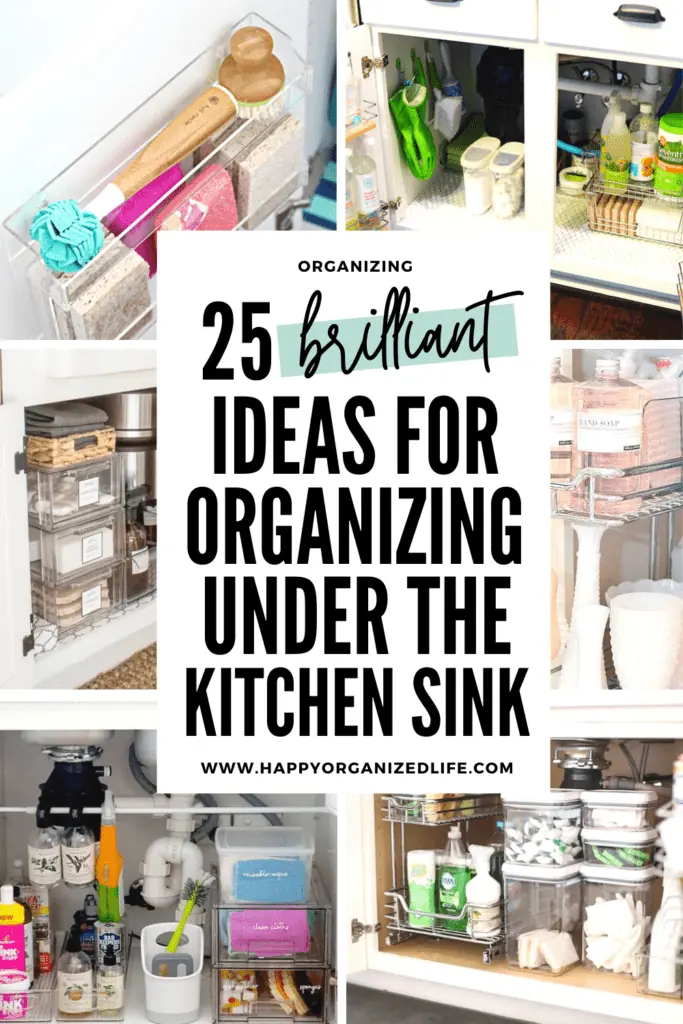 25 Ways to Organize Under a Kitchen Sink That Will Upgrade Your Decluttering Skills
1. Organizing Under the Kitchen Sink With Clear Containers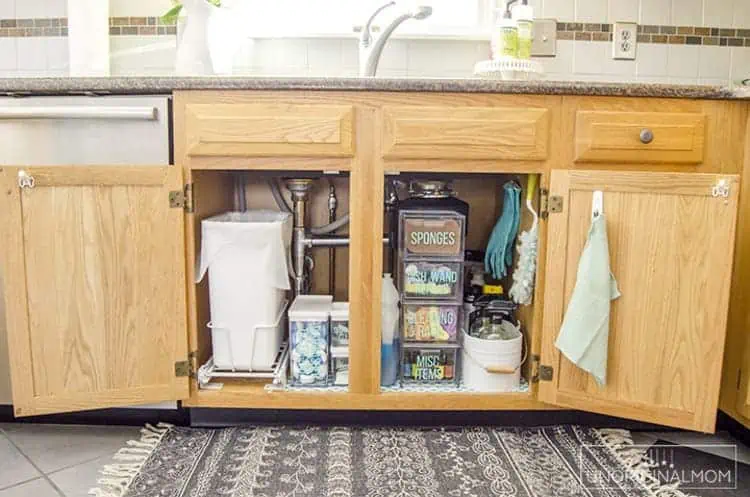 Organizing under the sink with clear containers is an easy way to declutter your kitchen and keep everything visible at the same time. These drawers would work well and are similar to those pictured here.
2. Make Use of the Space on the Counter's Door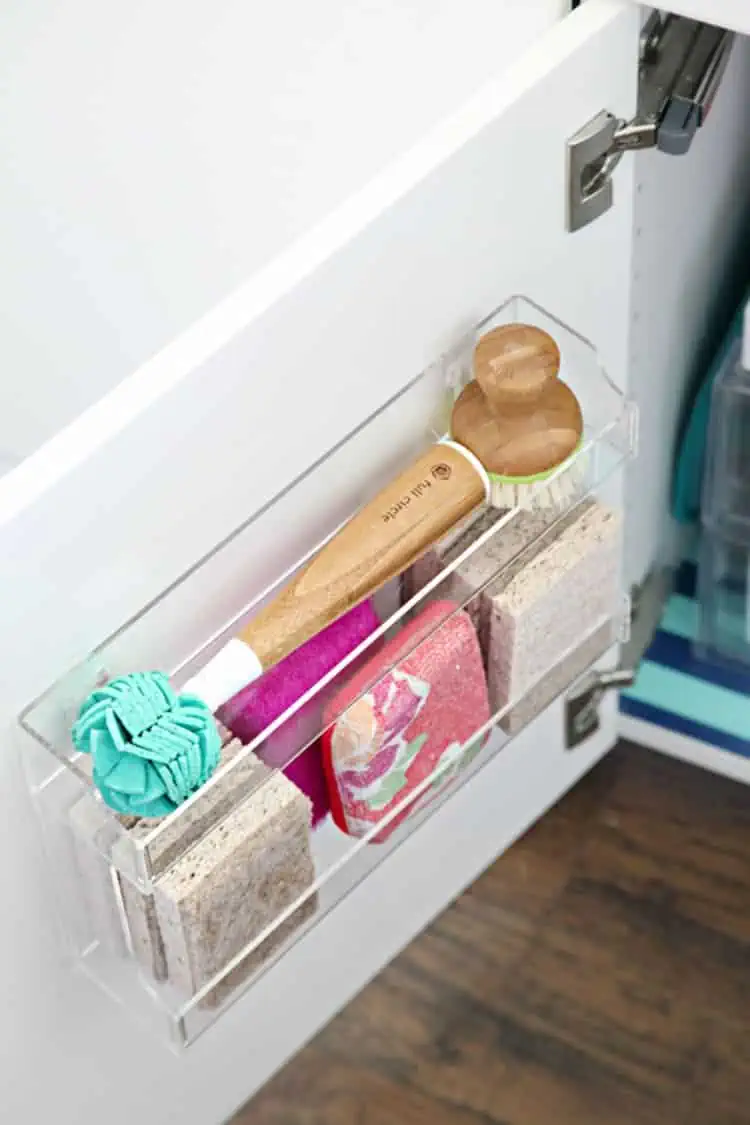 If you have vertical space, using cabinet doors to organize under the kitchen sink is a great way to make the most of this often neglected space. These great door organizers are actually acrylic spice racks! You can find them on Amazon here!
3. Keep a Cleaning Caddy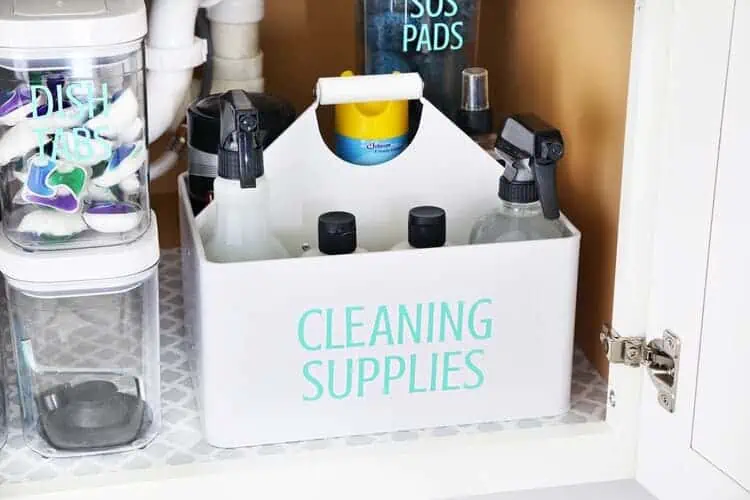 Keeping a durable cleaning caddy in the sink's cabinet is a great way to keep cleaning supplies handy without taking up a lot of space. If you have young kids or pets, a portable caddy can be a life save because of the constant messes you deal with. You'll have all of the cleaners, sponges, scrub brushes, and other essentials you use ready for action at all times. This is one of my favorite cleaning caddies.
4. Sliding Under the Kitchen Sink Organizers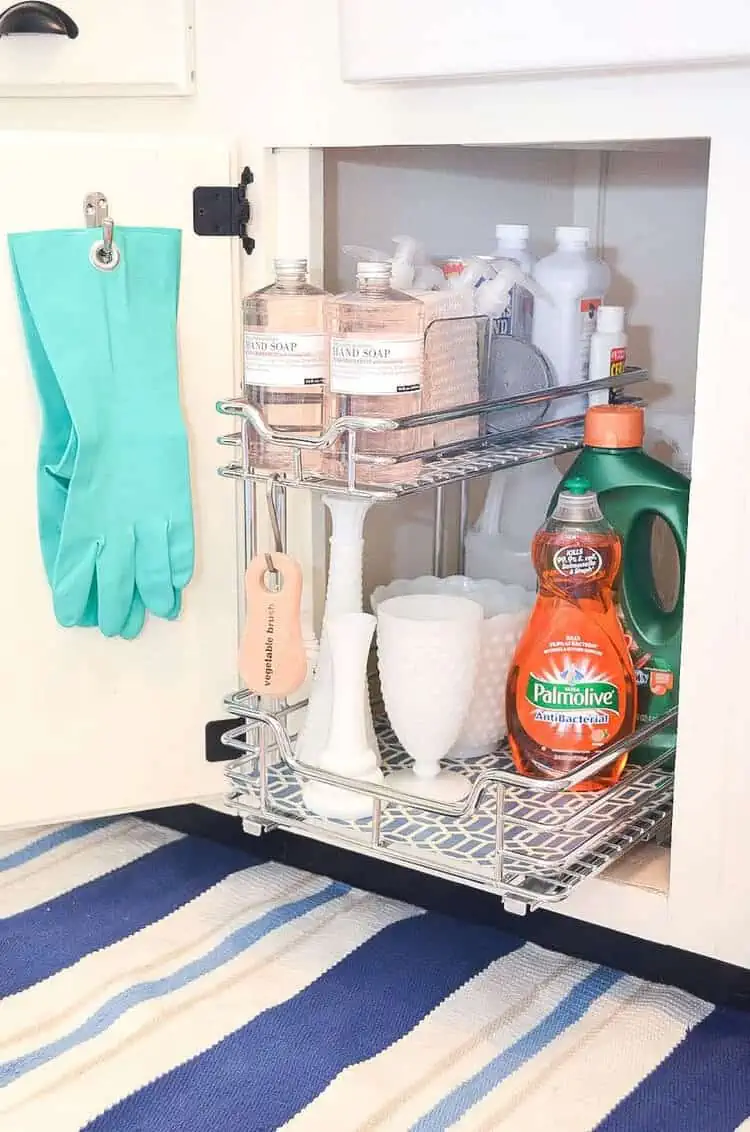 A sliding organizer for under the kitchen sink is a great way to keep the space organized. They make them for pots, pans, and lids too. They're great!
5. Plastic Bag Container and Dispenser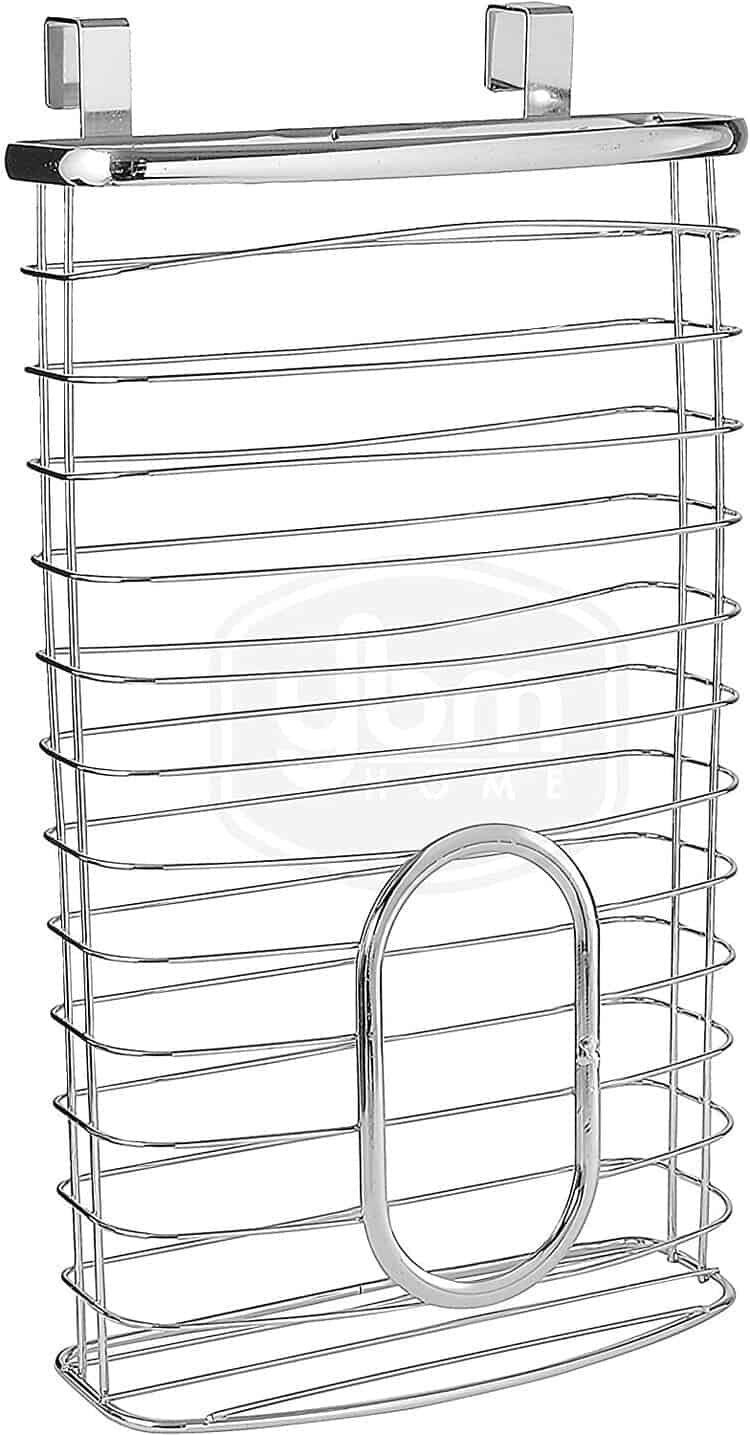 Organizing your plastic grocery bags under your sink is easy with the right dispenser. This one is great!
6. Install a Lazy Susan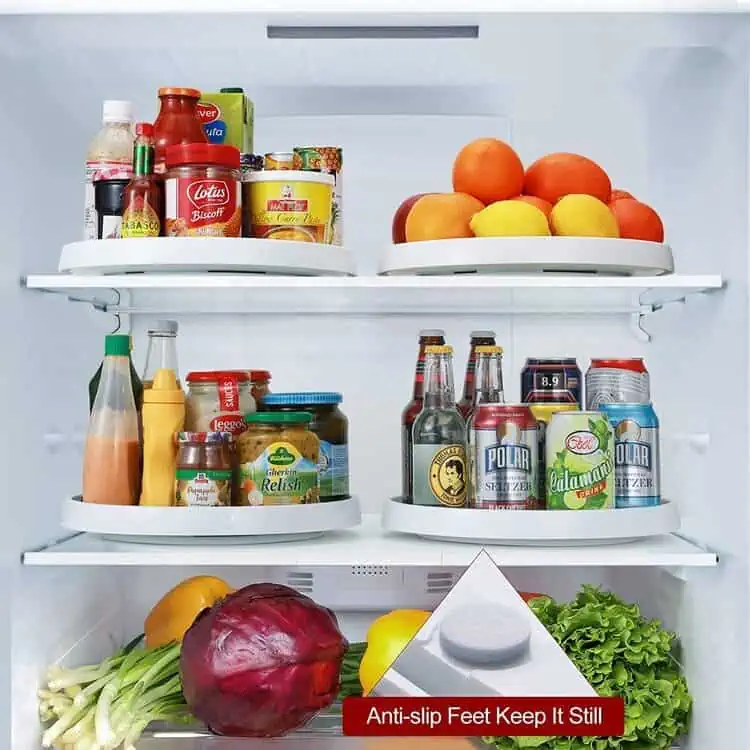 Many cleaning products come in big plastic jugs that are perfect for organizing under the sink with a Lazy Susan! This one can be used everywhere in the kitchen – from the fridge to under the sink! I love it!
7. Add a Movable Shelf and Drawers
This video perfectly shows how movable shelves and drawers can make organizing under the kitchen sink a breeze!
8. 2-Tiers Sliding Shelf Under Sink Storage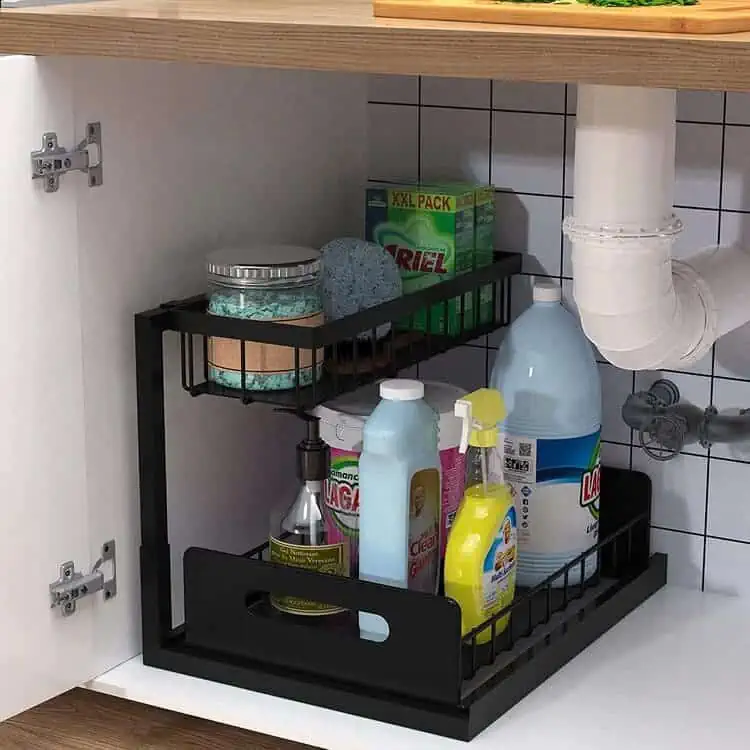 Using 2-tier sliding under sink storage is a great way to keep everything tidy and easily accessible at the same time, plus they take up very little space.
9. Clear Plastic Storage Bins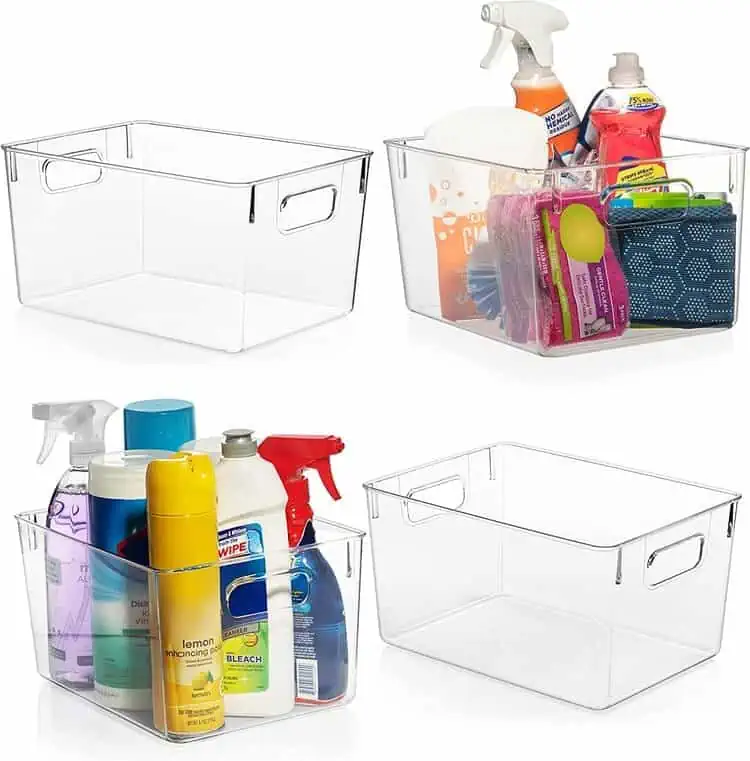 Storing items in clear containers will make it easier to find what you need and keep clutter out of sight. You can use them to store everything from cleaning items to hardware.
10. Organizing Under the Kitchen Sink: Think Functional, Not Just Pretty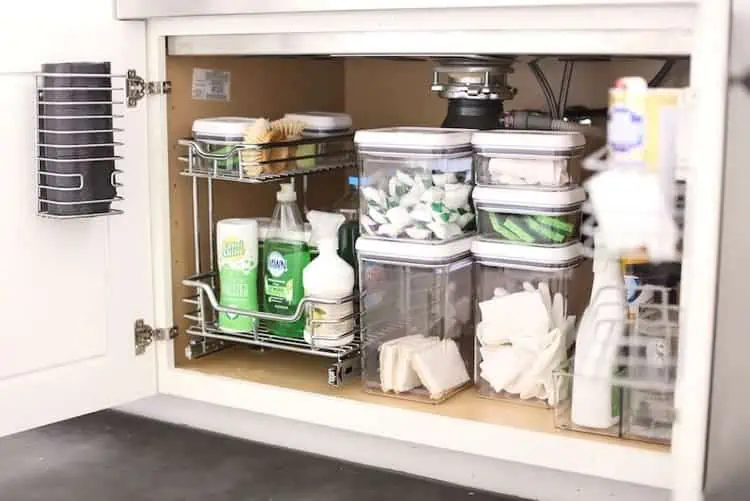 The door of the cabinet underneath the kitchen sink is a space that is often overlooked. Think of what you can do with it.
You probably have plenty of cleaning supplies and other items that are not used all the time too. Declutter everything old or unused you don't need.
Pop top containers like these OXOs are both functional and pretty and great for storing cleaning supplies.
11. 2-Tier Expandable Heavy Duty Metal Shelf Organizer Rack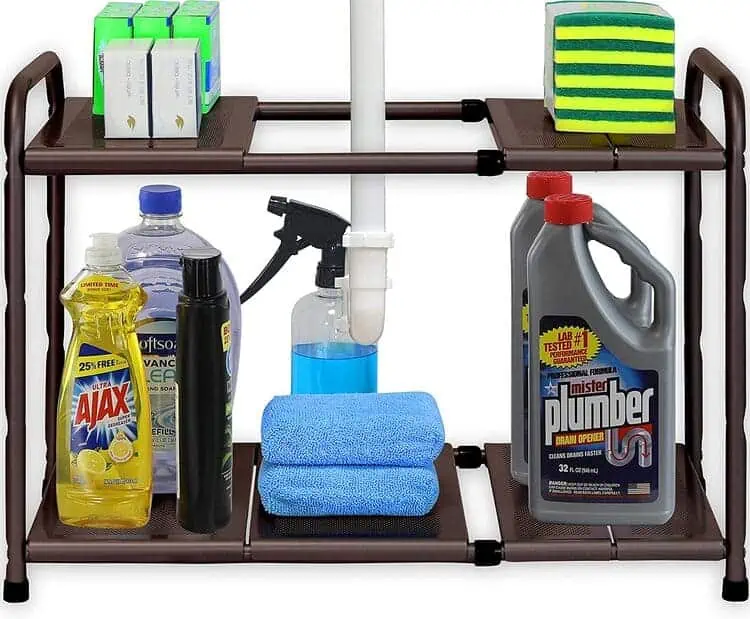 Adding an additional shelf can literally double your under-the-sink storage capacity. What I love about this particular heavy-duty metal shelf is that it's: 
Adjustable

Fits under pretty much every sink
Grab yours here.
12. Add a Tension Rod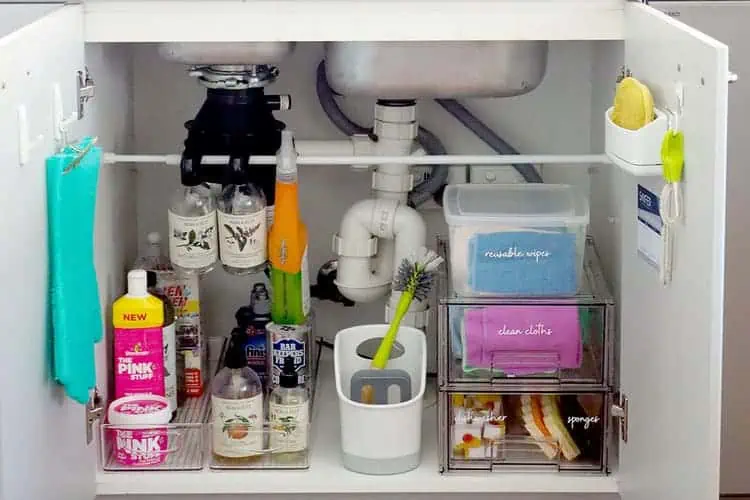 Got no space under the sink because it's full of different cleaners? Well, you should try adding a tension rod! This way, you'll keep all the sprayers off the cabinet's bottom. This makes it so much easier to clean, too! A tension rod like this would work great.
13. 2-Tiers Clear Slide-Out Organizer With Dividers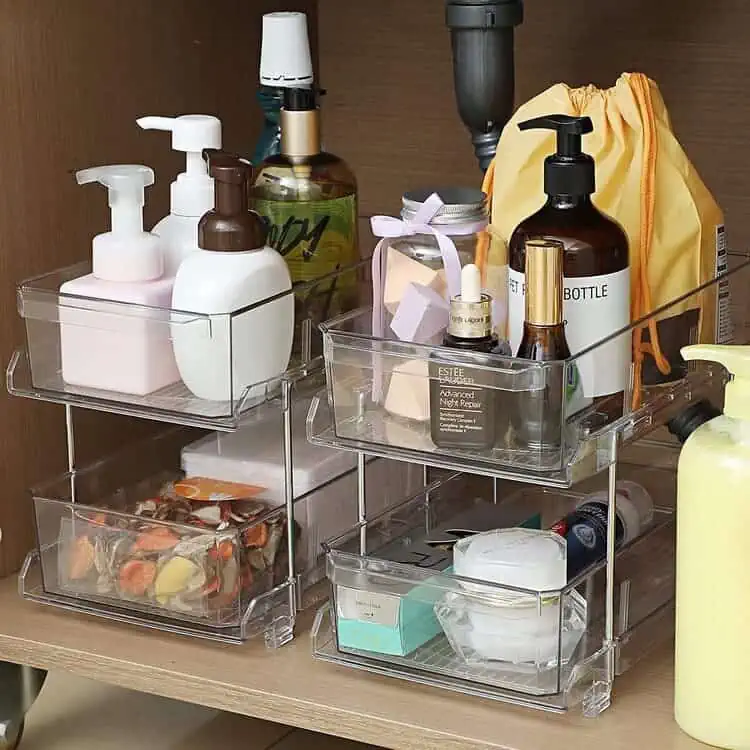 And while we're on the 2-tier options, this one is fantastic too! It keeps everything neatly organized.
14. Make Sure Everything Has Its Own Place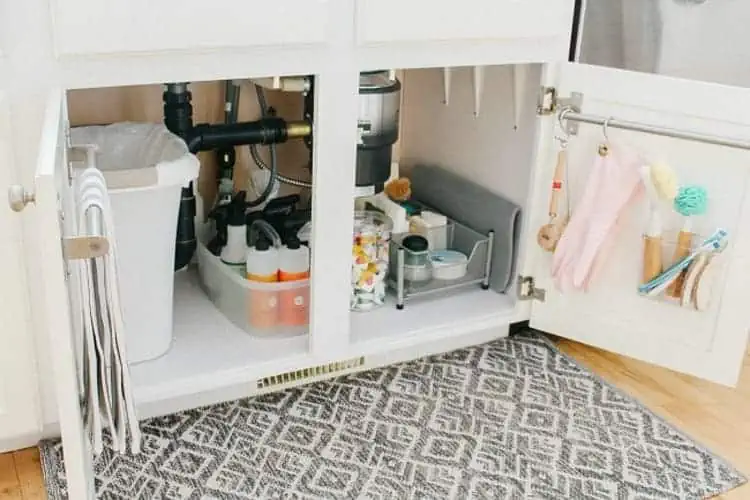 One of the easiest ways to declutter your kitchen and make everything easier to find is when everything has its own place.
15. Inspiration for Organization Under the Kitchen Sink
While you may not use everything under the sink every day, it's still important to keep things tidy and organized.
16. Organize Your Trash Bags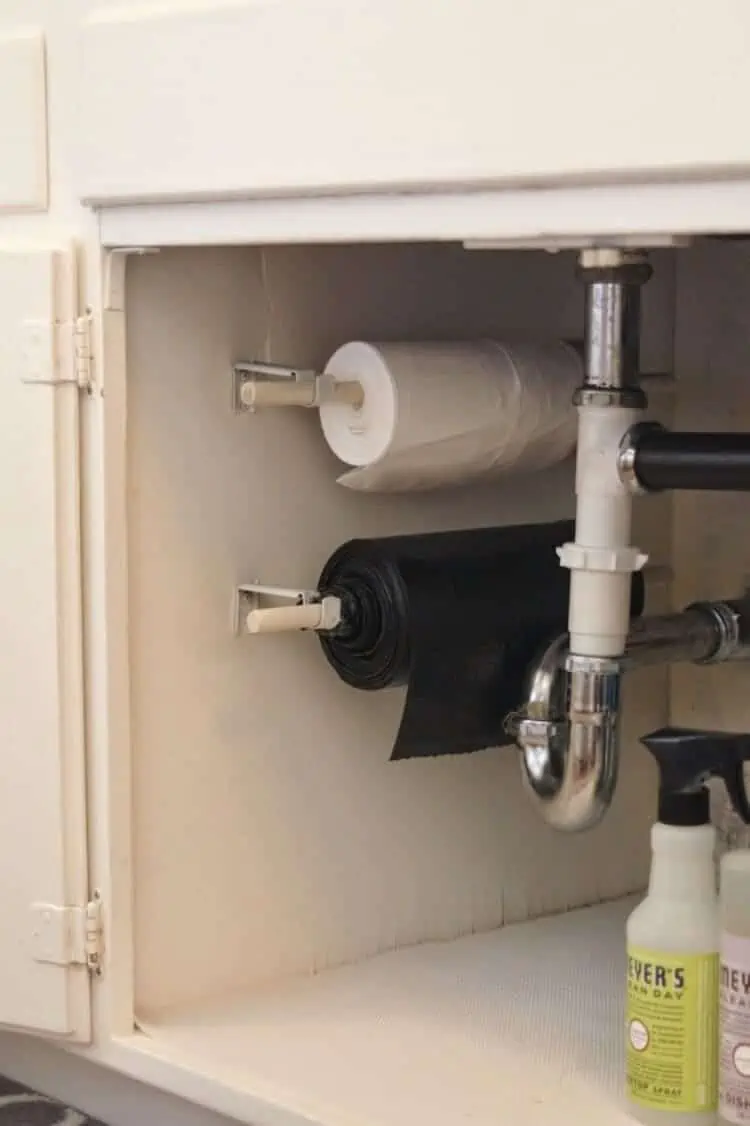 What a simple yet brilliant idea to store your trash bags under the sink. You could try doing something similar with large adhesive hooks!
17. Wire Racks for Under the Sink Storage Organization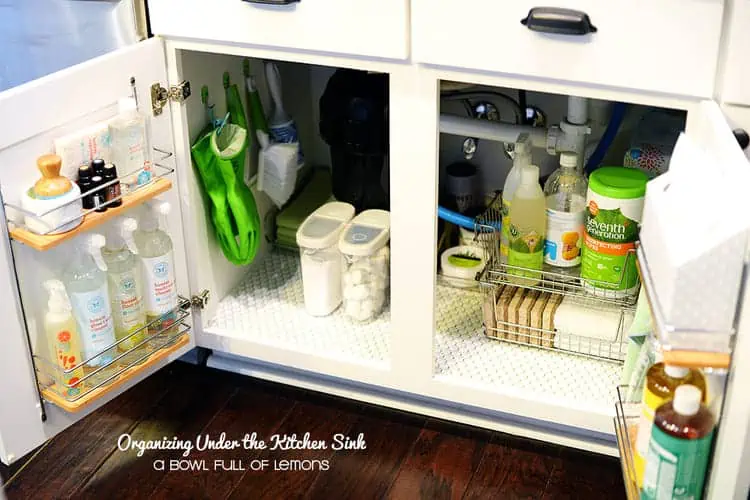 Wire racks for organizing under the kitchen sink are not just an efficient way to keep your cleaning supplies tidy and visible, but they're also an easy way to keep track of what needs to be restocked. They allow you to see when supplies are running low, so you don't have to worry about running out of cleaners or paper towels when you need them most. These stackable wire baskets are some of my favorites.
18. How to Organize Under the Kitchen Sink Video
There are some fabulous ideas in this video you can use for inspiration! Which one is your favorite?
19. Use an Over-The-Door Towel Holder to Store Supplies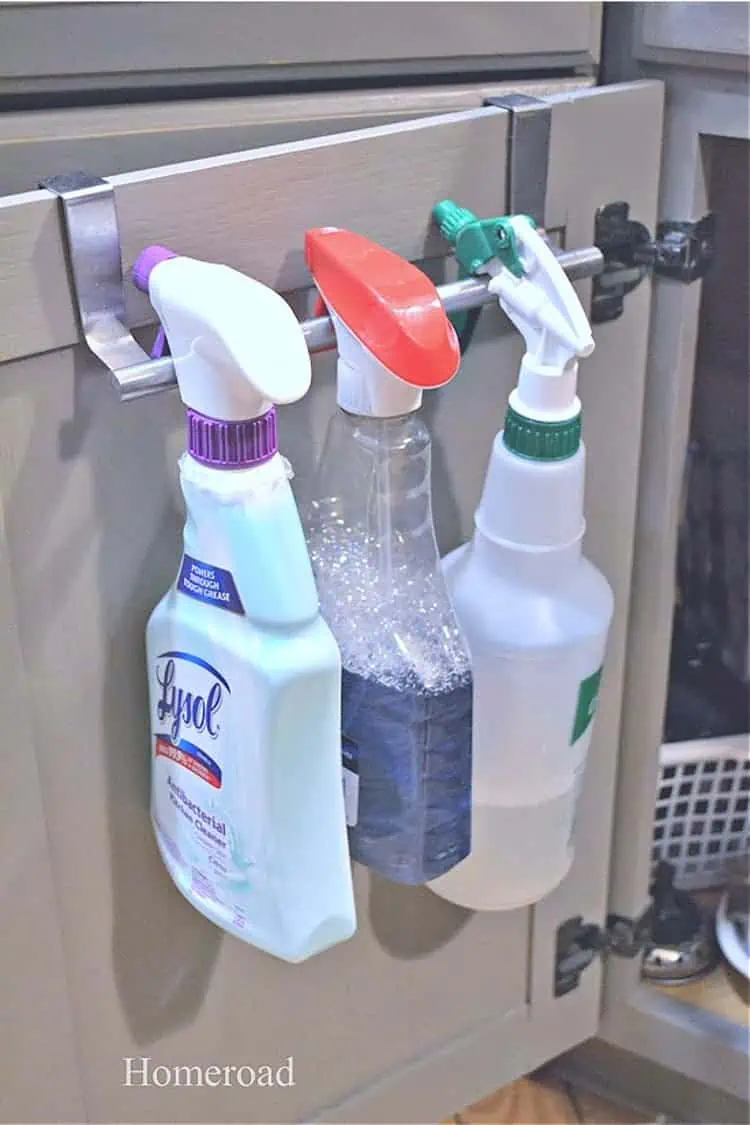 You can also use a hanging rod to organize spray cleaners or other cleaning supplies on the inside of the cabinet door underneath the sink. You can also put things like cleaning supplies and other items that you use often but don't necessarily need to be on display on the door of the sink. This over-the-door towel organizer would work great for cleaning supplies!
Decluttering your kitchen doesn't have to be a huge project. Start with a few small items and work your way up to more challenging tasks. You can do it!
20. Tiered Spice Rack for Organizing Under the Kitchen Sink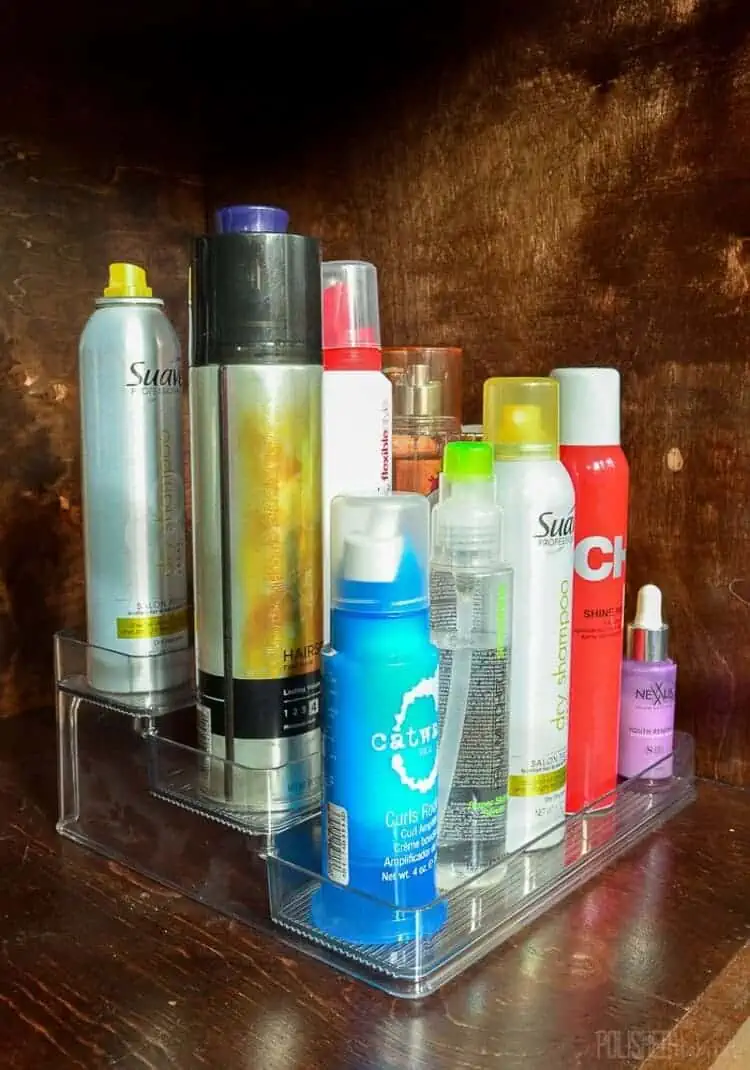 Using a tiered spice rack to organize under the kitchen sink is a great way to make the most of your space. Grab one from Amazon here and finally put your under-the-sink in order!
21. Labels on Stackable Plastic Containers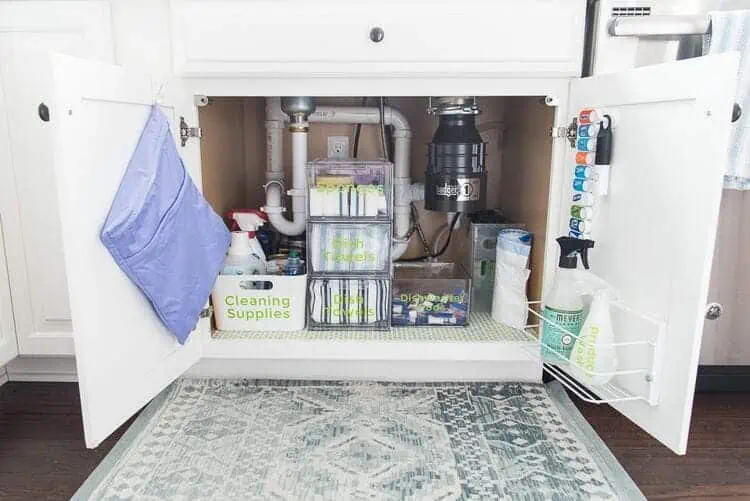 Many people keep their appliances in the kitchen, but they often get lost under the sink, where they are hard to see and reach. Clear containers are the best way to make sure that everything is always visible. You can add labels to the bins to make things even more organized.
What you'll need:
A few glass or plastic containers with lids
Sticky notes
Pen or highlighter
Where to put it?
Under your kitchen sink.
What you'll do?
To get started, take everything out from under your sink.

Next, you'll want to put each cleaning supply in the container that best fits it. It's likely you'll find that some cleaning supplies belong together.

After you have everything sorted, you can write the name of the cleaner on a sticky note and place it on the outside of the container.
22. Come Up With an Organizational System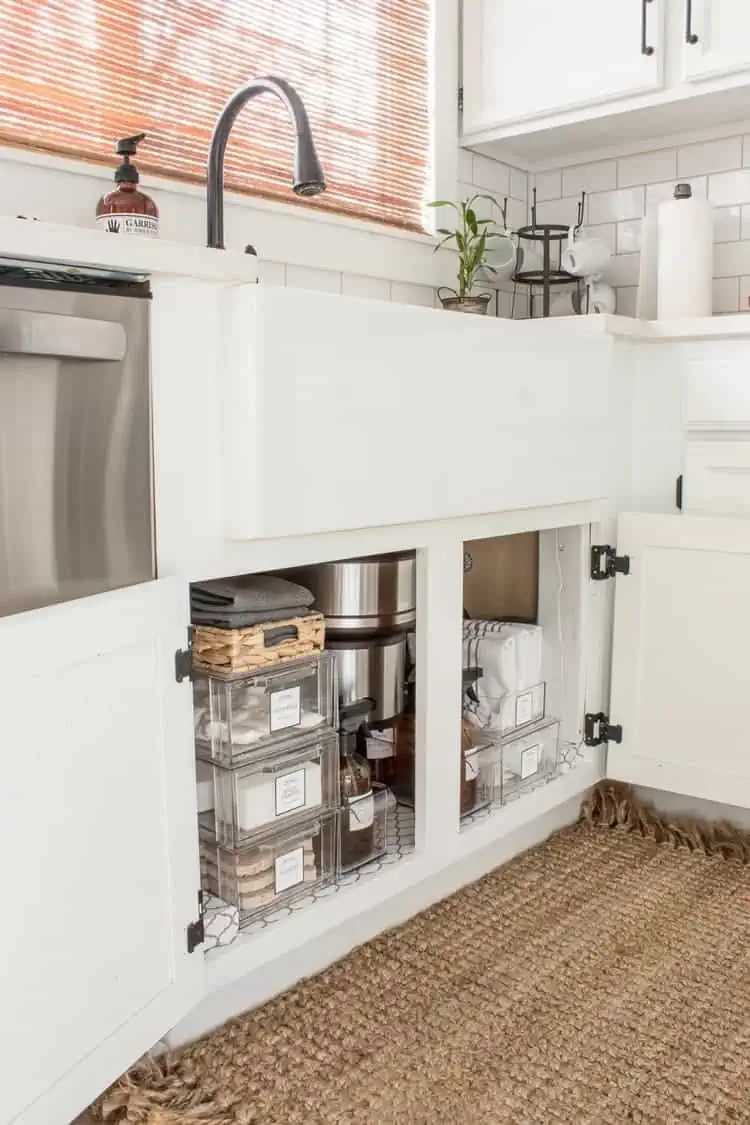 I absolutely love this under-the-sink organization idea! So organized and so pretty, isn't it?
23. Containers From the Dollar Store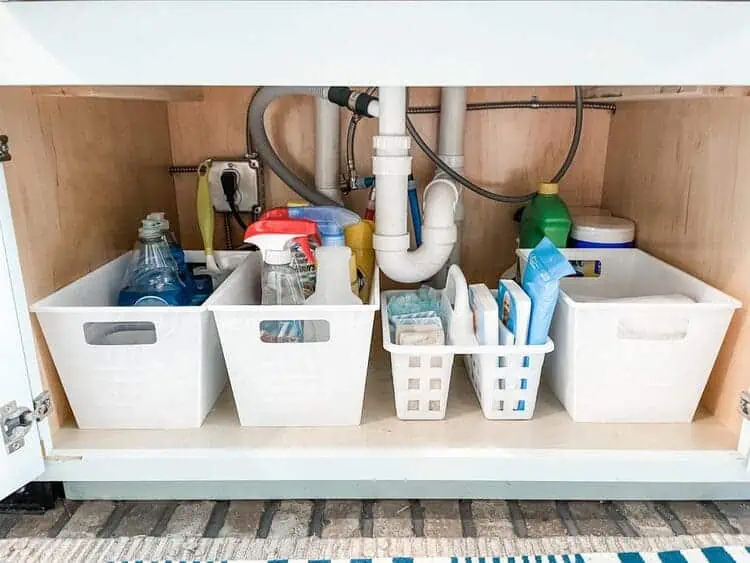 This tip is especially helpful for those who want to get organized without spending a fortune.
24. How to Organize Under the Sink With Baskets the Right Way
Another great way to use this space is to hang a basket or attach plastic bins beneath the door and use it to store items like sponges, scrubbers, and cleaning cloths. This video is full of nifty ideas!
25. Organizing Under The Kitchen Sink With… Your Cricut!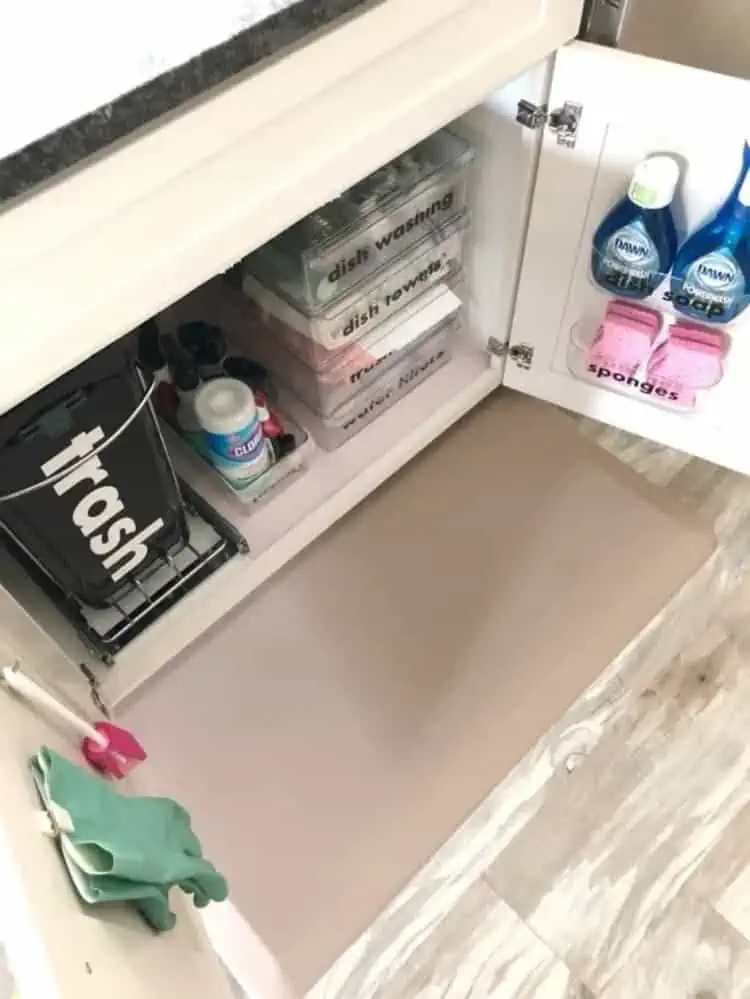 If you have a Cricut, you're going to love these beautiful labels. This is one of my favorite kitchen sink organization ideas!
Easy Step-by-Step Instructions for Organizing Under The Kitchen Sink
Step 1: Empty the Space
The first step to organizing any space is to empty it out. When you are organizing under the kitchen sink, this means getting the cleaning supplies, tools, and other items out of the cabinet and off the floor. If you have a ton of stuff under there, it can take several trips to take everything out.
Step 2: Sort Items and Declutter
Once you have the space emptied out, it's time to get rid of the old and unwanted stuff and sort the remaining items. For the old and unwanted stuff, take a look at our list of things to throw out from under the kitchen sink.
Put like items together and see exactly how much you have. Do you have duplicates that you could get rid of? More supplies than you could use in a lifetime? After taking stock of your stock, you may find you have even more to declutter!
Step 3: Measure the Cabinet Space
After you've decluttered the space, and measured the cabinet space and think about what you really want to put in the under-sink cabinet.
If you have a small cabinet, you might want to consider what will fit best. This can mean getting rid of some items under the sink or getting smaller organizers.

If you have a large cabinet, you could think about a better organization system for the items that you already have.
Step 4: Take Note of and Plan Around Any Pipes and Obstructions
If there are any pipes or obstructions, make a note of them now so you don't accidentally buy something that's too big to fit or damage anything when you start organizing. This will help keep you from getting surprised by something you forgot about.
If there is something under the sink that you want to keep, make sure you plan around it so you can fit the items you want to store in the cabinet. You can do this by:
Using smaller containers that will fit better 

Getting adjustable containers or baskets
Think about what will allow you to fit more in the cabinet while still fitting around the obstruction.
Now is also the best time to make any repairs or replacements to the cabinet or pipes since the cabinet is currently empty.
Step 5: Organize Based on How the Space is Used
Now is the time to get a plastic container or two and start organizing so you can easily put things back in the right place when you're done. If you have children or pets, you may want to put a lid on the container. This will help keep the items inside the container until you are ready to use them.
Keep Items You Need and Use Frequently Easy to Access
It's best to organize the items under the sink based on how often you use them. This will make it much easier to access a particular cleaner or item when it's needed.
If you have bins, baskets, or other containers, label them so you know what each container holds.

If you have a small cabinet, stackable drawer organizers are a great way to use vertical space while keeping things easily accessible.
Put Things You Don't Need Often in Out of the Way Spaces
When you're choosing where to put things, think about how often you actually use them. Keep the items you use on a daily or weekly basis in the front of the cabinet so they're easy to find and get to when you need them.
Extra supplies, refills of hand soap or lotion, and multiple rolls of trash bags can be kept in the back of the cabinet when having easy access to them isn't as important.
Pull-Out Shelves and Drawers
Take advantage of every square inch of your small under-sink cabinet with a budget-friendly under-sink sliding pull-out drawers and shelves storage solution. This hack is brilliant for organizing small under-the-sink storages!
There are different sizes available on Amazon, too! (insert Amazon affiliate links)
Lazy Susan/Turn tables
If you have enough space, consider putting a Lazy Susan or a turn table under the sink. You can put cleaning supplies, rags, and anything else in the drawers and have them easily accessible.
Remove Unnecessary Packaging
If you buy cleaning supplies in bulk or on sale, they usually put them together with additional plastic, strings, elastics, and more!
If you have any supplies with unnecessary packaging, use scissors or a box cutter to open up the package and remove it. Put the items in a drawer or on a shelf. If you are reusing the containers for storing something else, great! If not, get rid of them, so you don't make additional clutter.
I fought this step for a long time thinking, "It's already contained. Why would I get rid of the box it came in just to move it to another container?"
I was shocked when I finally gave it a try and realized just how much space I was actually gaining. All that packaging actually takes up a ton of space!
Step 6: Don't Forget the Cabinet Doors
When organizing the items under the kitchen sink, don't forget to take the cabinet doors into consideration.
This is a great place to store items like:
Cleaning supplies
Spray Bottles
Cleaning rags
Dishwashing sponges
Even tools
Over-the-Door Baskets/Organizers
If you are short on space under your sink, this is a great way to store items you use frequently. This cabinet door storage hack is easy and inexpensive to do!
Step 7: Make it Pretty and Safe
On top of functioning well and being pretty, you want to make the area under the sink is safe, especially if you ever have little ones in your home. This means keeping all chemicals and poisons out of the reach of children and pets.
Here are more ideas you can think about implementing:
Add Labels
Go through your cleaning supplies and check if the labels on the containers are legible and correct. If they aren't, correct them and stick them to the container. Organizing under the kitchen sink is pointless if you can't find what you are looking for when you need it.
Use Puck Lights
Putting puck lights under the sink is a brilliant idea! This will make the space more usable and make cleaning supplies easier to see and clean.
Cabinet Liners
You may also want to put protective mats or rugs under the containers so they don't scratch the cabinet flooring. And you may want to get a sealer for the flooring to protect it from water and chemicals.
Create a Cleaning Caddy
Put together a cleaning caddy using various-sized containers and keep it under the sink. A cleaning caddy will help you stay organized and make cleaning supplies more accessible.
Use Trays
If you don't have a tray under the sink, put one there! Use the tray to store your supplies or access easy-to-reach places.
Clear Jars
Organizing with clear jars is one of my favorite ways to put stuff in order at home! Here's how you do it:
Start with a clear vessel, like a jar or a mug.
Sort your under-sink items into like groups.
Choose storage containers that suit your items and the style of your kitchen.
Label the front of containers using a marker and adhesive labels.
Arrange containers neatly on a tray or a Lazy Suzan.
Hooks
Hooks can be a great way to keep things organized and easy to access. You can put command hooks inside the under-sink cabinet door and hang rags or other lighter items on them.
Clear, Stackable Drawers
For difficult-to-organize items, clear, stackable drawers can be the best solution! They can make a huge difference in how useful your under-sink area is.
Childproof Detergent Containers and Child Locks
If you have small children, childproofing detergent containers and child locks are a must! This will help keep your children safe and make it more difficult for them to get into the cleaning supplies.
What Is the Best Way to Organize Under a Kitchen Sink?
The best way to organize under a kitchen sink is to start with a plan. You don't want to just throw things under the sink; you want them to be useful and accessible.
The best way to start organizing under your sink is to ask yourself a few questions:
What items do you need to store?
How often do you use them?
How much room do you have to store them nicely?
Once you've answered these questions, you can start looking for what would work best for you. You want to be able to easily reach what you need and have room for anything else you may want to fit in there in the future.
What Should I Put Under My Kitchen Sink?
To make the most of your under-sink storage space, keep these guidelines in mind when deciding what goes in there:
Get Wide Drawers
If you can, get wide drawers instead of skinny drawers under the sink. This will allow you to fit more in each drawer and will make things much easier when it's time to clean.
Securely Attach Items
If you're using baskets, bins, or other containers, make sure they are securely attached to the wall so they don't fall down when opened. This will also help prevent the items from falling out.
Be Flexible
No matter what system you put under the sink, things change. You're bound to get new cleaning supplies and tools, have a new baby or toddler, or have a different person living with you. Be flexible with your organization so you can easily make changes when necessary.
What Can You Organize Under The Kitchen Sink?
Cleaning supplies
Gloves
Table broom
Dish soap
All-purpose cleaner
Glass cleaner
Dishwasher pods or tablets
Oven cleaner
Bathroom cleaner
Toilet cleaner
Sponges
Scrubber
Pet food (both dry and canned)
Plastic grocery bags
Wipes for disinfection

Paper towels

Dish towels
Air deodorizer
Laundry care products
Garbage bags
Garbage disposal
Wastebasket
How Do You Maximize Under Sink Storage?
1. Clear Out the Clutter
Go through everything under your sink and get rid of anything you don't need or use. If you haven't used it in a year, chances are you don't need it.
2. Donate or Sell What You Can
If you have items in good condition that you don't need, see if someone else could use them. Donate them to a thrift store or sell them online.
3. Invest in Some Storage Solutions
Once you've decluttered, you can better assess what storage solutions you need. This may include baskets, bins, hooks, or even just a simple shelf.
4. Be Mindful of What You Put Under There
As you use your under-sink storage, be mindful of what you're putting under there. Only put things under there that you use regularly.
What Should Not Be Put Under Kitchen Sink?
Chemicals, cleaning products, and anything else that might cause a health hazard should probably be kept elsewhere. If you have any of these things, try putting them in a safe storage space outside the kitchen.
Now that you know how to organize under your kitchen sink, get to work! Organizing under the kitchen sink may seem like an impossible task, but with a little bit of creativity and these 25 brilliant ideas, you can make the space functional and pretty!
Start small by organizing one area of your under-sink cabinet. Pick a spot that is easy to access and arrange it with one or more of the ideas listed in this post. Once you get the hang of it, move on from organizing under the kitchen sink cabinet to organizing your kitchen and your whole house.
Decluttering is a marathon, not a sprint. And I am here to help you in the process!
Which is your favorite idea from the list? Which one totally blew your mind? I can't wait to read more about it in the comments below!
Did these ideas for organizing under the kitchen sink get you decluttering? Then, check out these posts from our blog, too: