Does your home ever look like a toy store exploded? Give these 50 storage ideas for toys in living room and family spaces a try!
I think most parents would agree that trying to keep toys tidy can be a nightmare… especially when there's no storage space available in your kid's room or play area. It's even harder when you don't have a designated space for toys at all. But don't panic! With just a little imagination and clever thinking, you can use almost anything to create the perfect storage for your child's toy collection.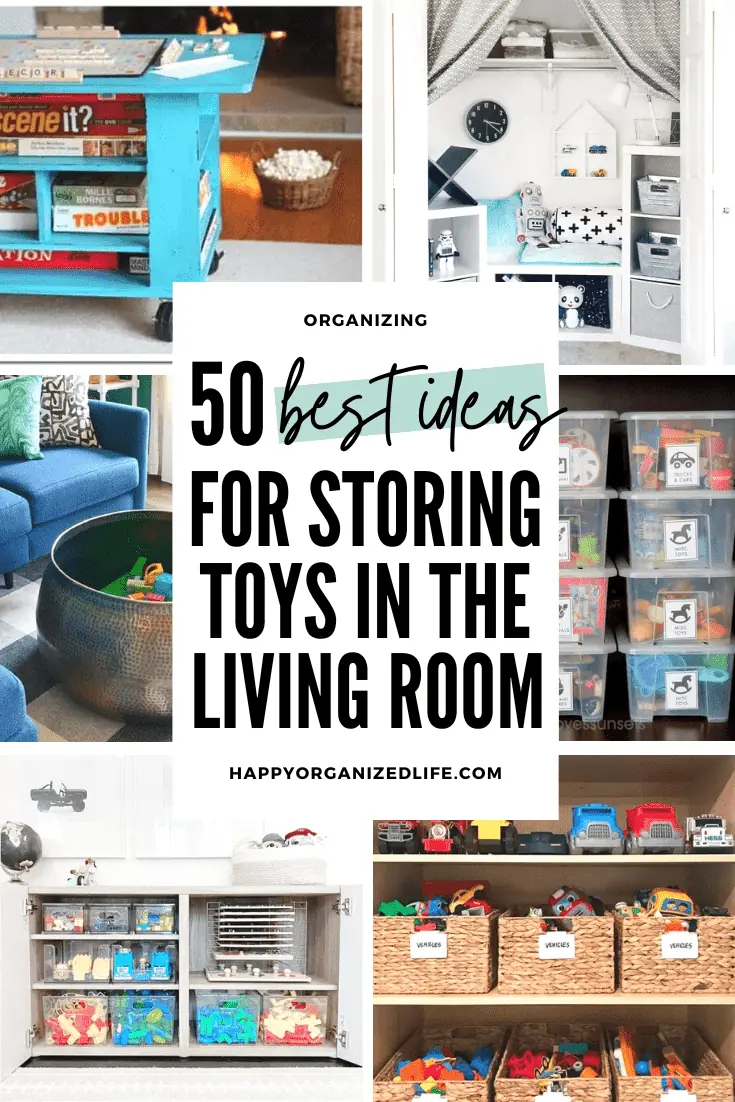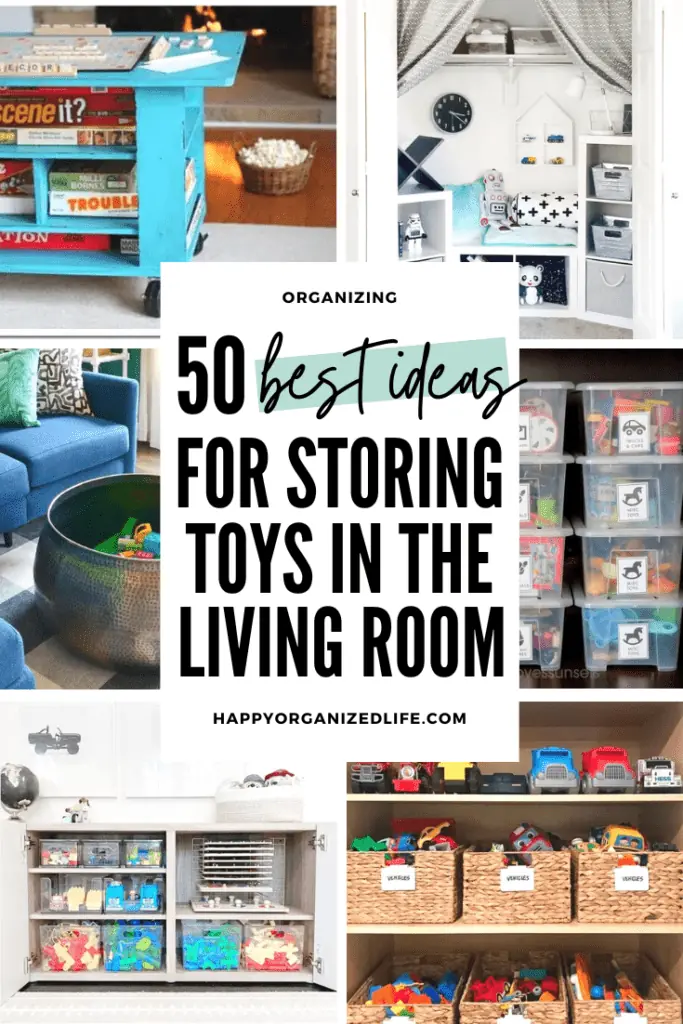 Finding suitable solutions for housing those much-loved jigsaw puzzles, blocks, and other playthings is not as difficult as it might seem at first glance. These 50 storage ideas for toys in the living room will help to make sure your kid's favorite bits of wooden, plastic, or electronic entertainment have a happy home while the living room feels like a place for adults, too!
50 Best Toy Storage Ideas for Living Rooms
Need some living room toy storage ideas? These creative examples of toy storage are guaranteed to help you keep toys tidy while remaining easily accessible to your little ones. You might be surprised just how easy it is to make use of all of the available space in the living room and transform ordinary household items into clever toy organizers.
Let's dive into our top 50 storage ideas for toys in living room and make sure your kid's favorite toys have their designated space so you don't have to feel like you're living in a toy store.
Hide Toys in a Storage Ottoman
1. Ottoman Turned Toy Box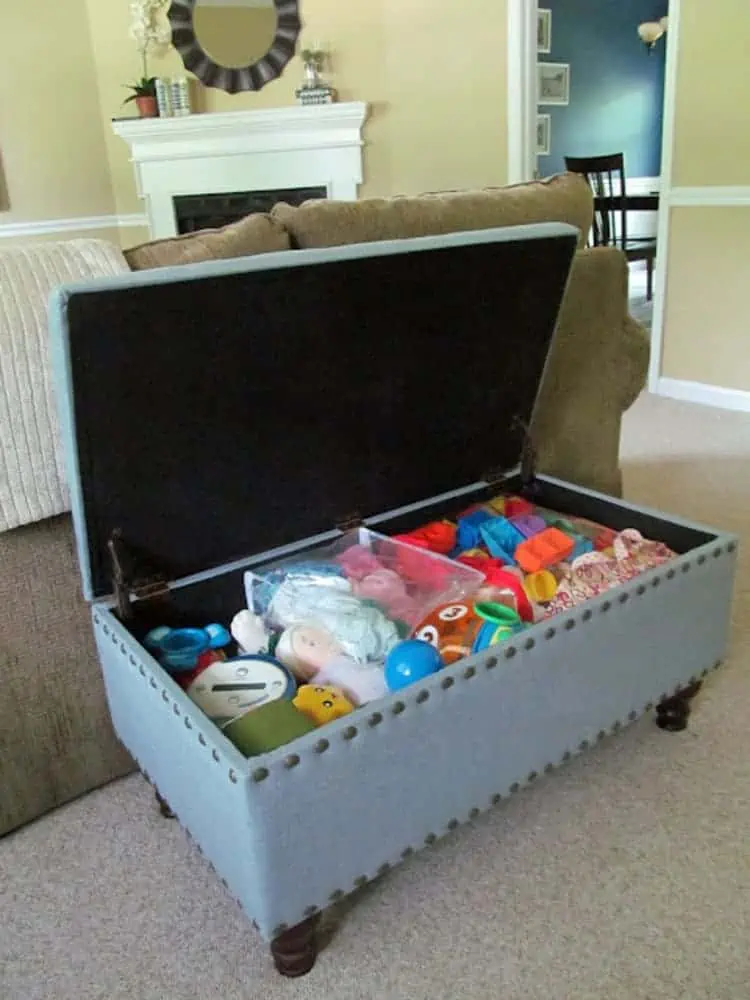 This fantastic ottoman used as a toy box is a terrific solution for any living room. Not only that it stores the mess out of sight, but it could also be used as additional seating space. I love it!
2. Stuffable Zipper Beanbag for Organizing Children Plush Toys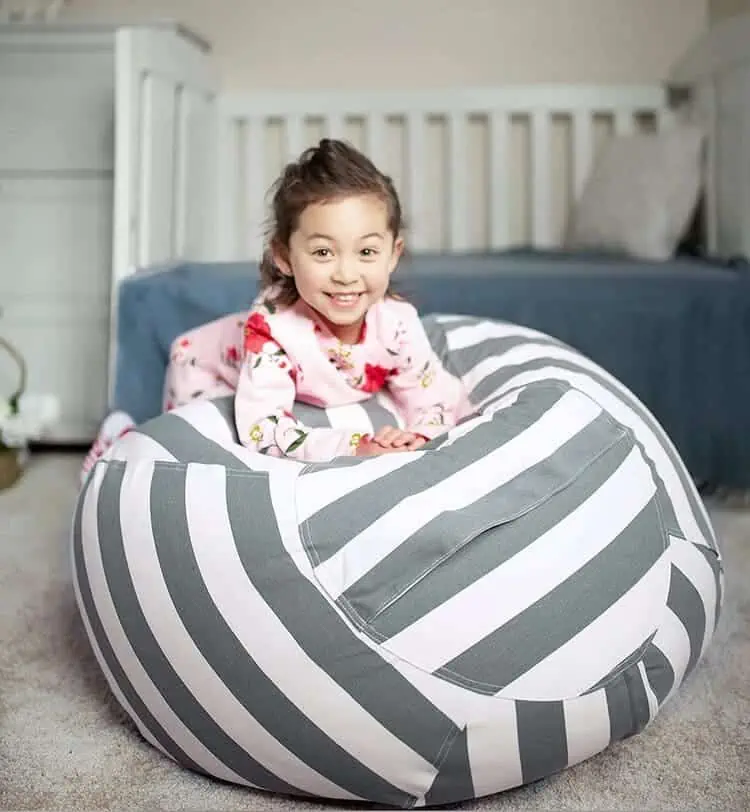 These beanbags are just brilliant! They're perfect for stuffing toys and keeping them organized. I love how the zipper allows you to remove the stuffing so you can wash it regularly.
Special Price for 2 pcs (Smaller Size)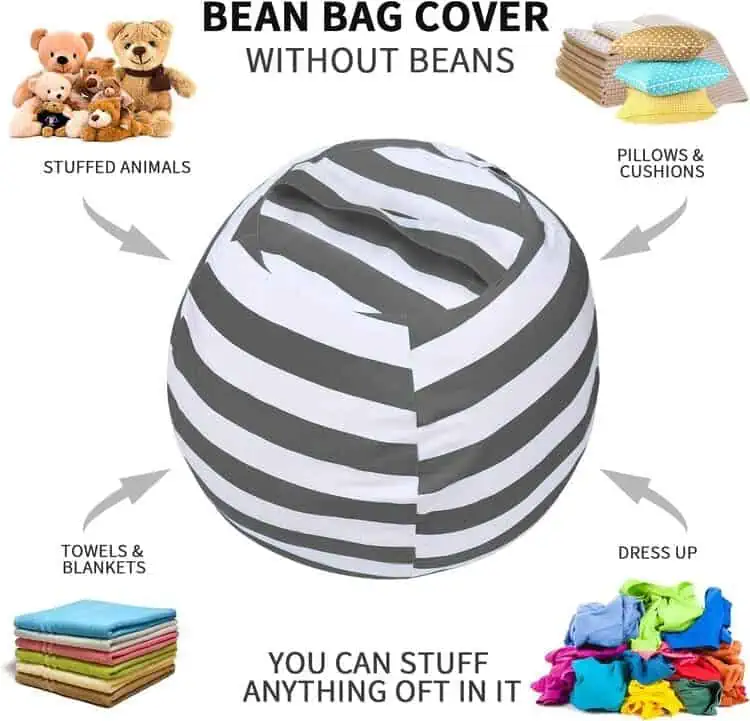 You can grab 2 smaller bean bags for a great price on Amazon! They come in different colors, too!
3. Soft & Comfortable Plush Toys Holder and Organizer for Boys and Girls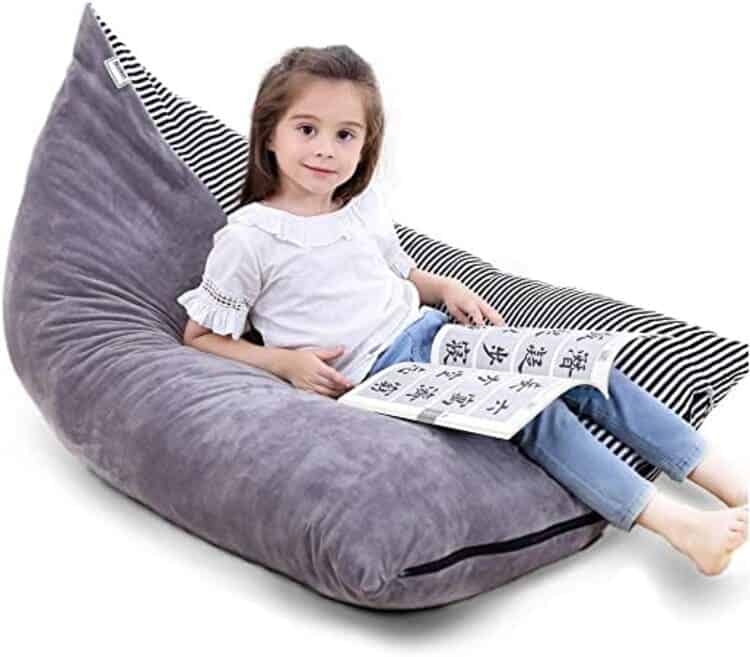 This bean bag chair is also a great way to store your little ones' toys and add more seating space to your living room. And it's so lovely and soft!
4. XL Jumbo Ottoman for Soft Toys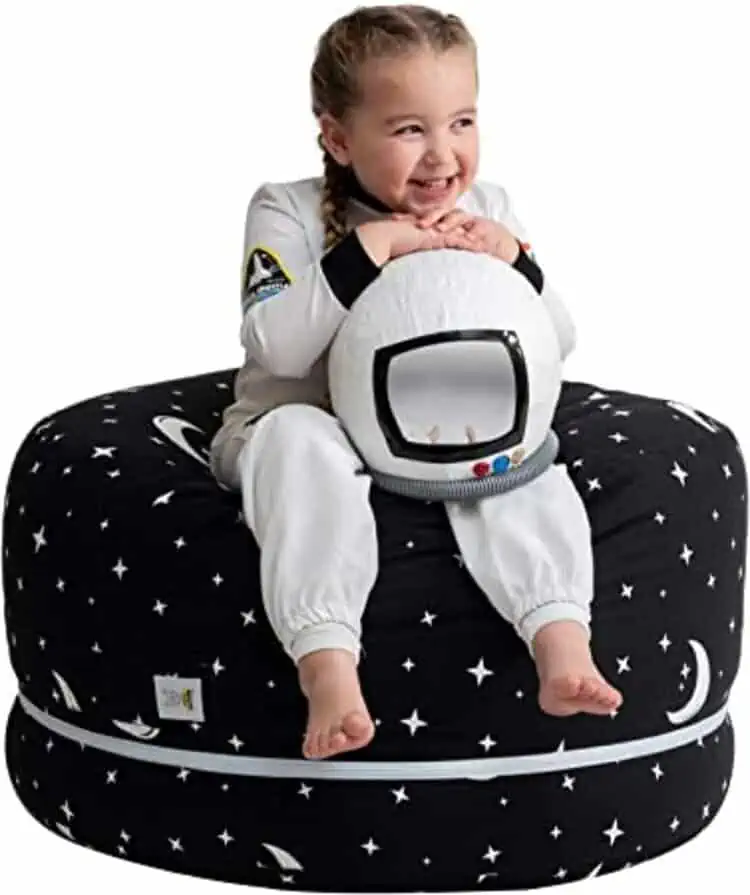 Do you have bulkier toys around your living room you're desperate to find a designated place for? Search no more because this XL Jumbo ottoman is exactly what you need!
Baskets for Toys in Living Room
5. Nerf Toy Guns Display with Baskets and Hooks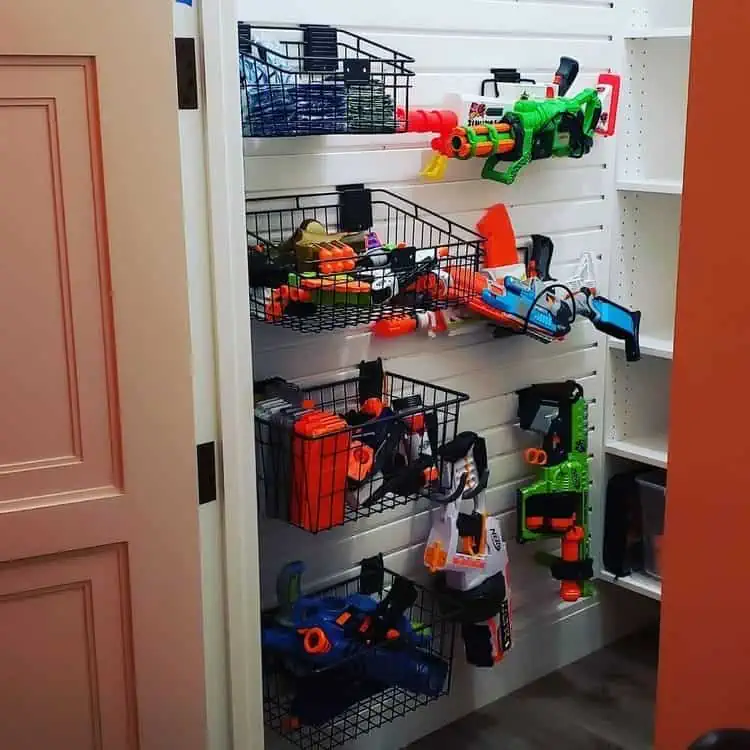 Storing nerf guns can be a challenge because of their large, awkward shapes, but here the problem's solved in a brilliant and simple way with baskets and hooks!
6. An Easy Way to Organize Toys in Baskets and Zip Bags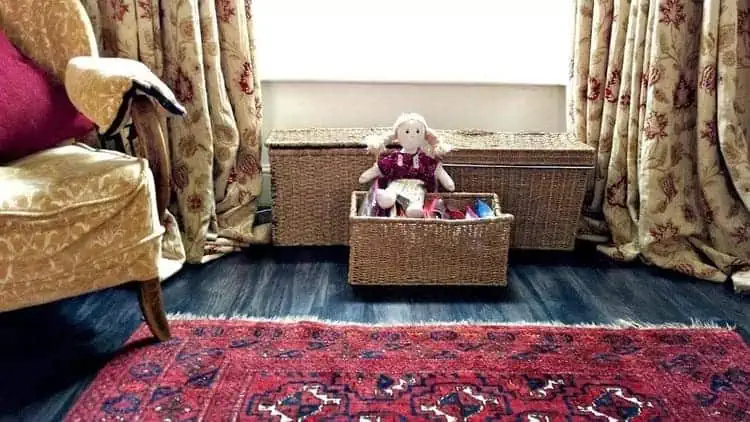 Baskets are so versatile you can literally use them everywhere to store everything! For example, look at everything the ones in the picture are holding:
Who'd guess that hiding in these 3 little old baskets in the sitting room we have a massive train set, mecano, marble run, Kerplunk, a doctors kit, a hairdressers kit, a cash till, scales, an iron, toy food and other assorted imaginative toys plus 12 board games & jigsaws!!
Amazing!
7. Plastic Baskets and Fabric Bins with Picture Labels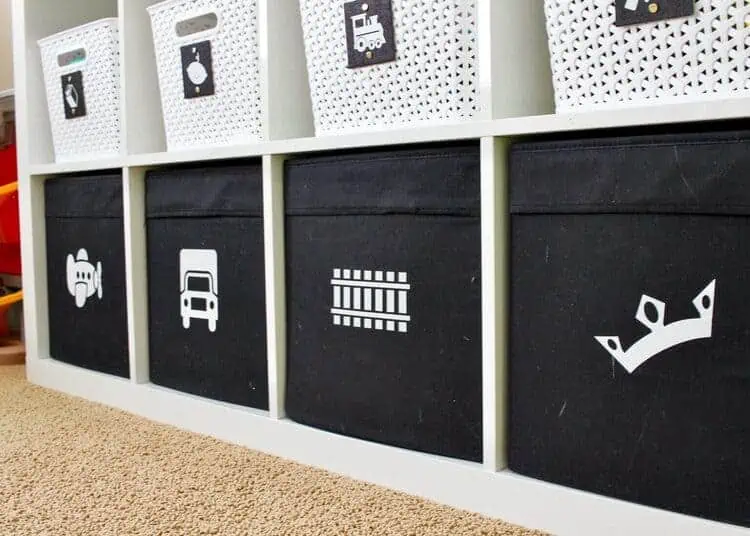 Do you want to teach your little ones where their toys are and where they should put them away when they're done playing? Then, these plastic baskets and fabrics bins organization idea could be the one you've been looking for!
8. DIY Storage Basket Using Rope and a Cardboard Box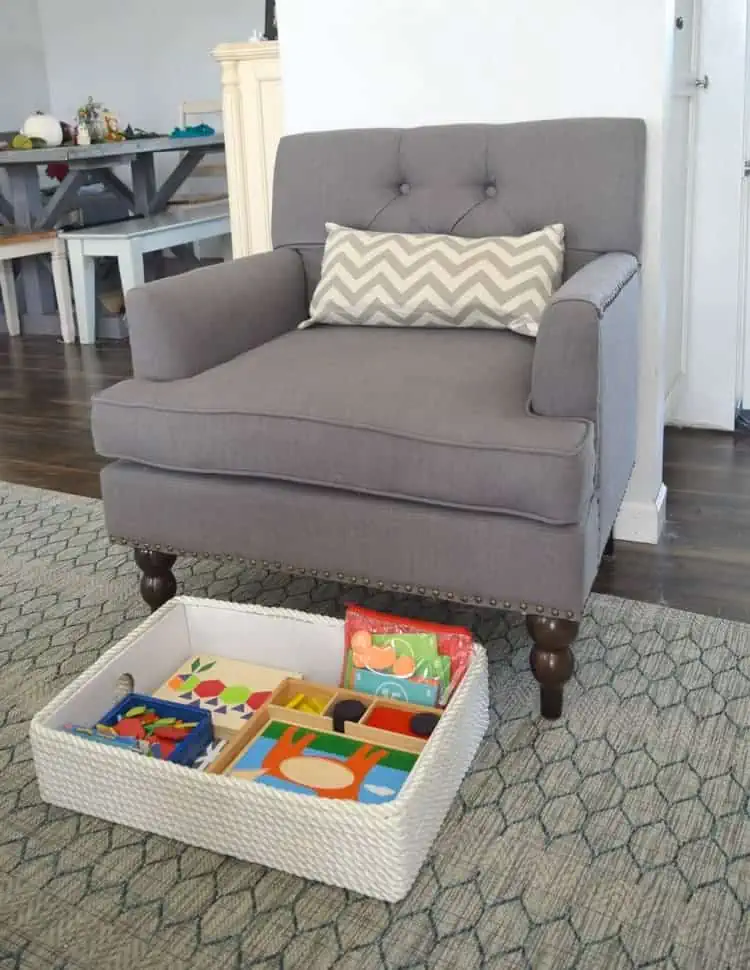 If you are not afraid of projects and you have some spare boxes and rope around your house, check out this easy DIY storage basket tutorial. It turns out really nice, and it's a great way to repurpose all the Amazon boxes that come to my home! The rope will help to make them a little more durable and pleasing to look at too.
9. Labeled Baskets Toy Car Parking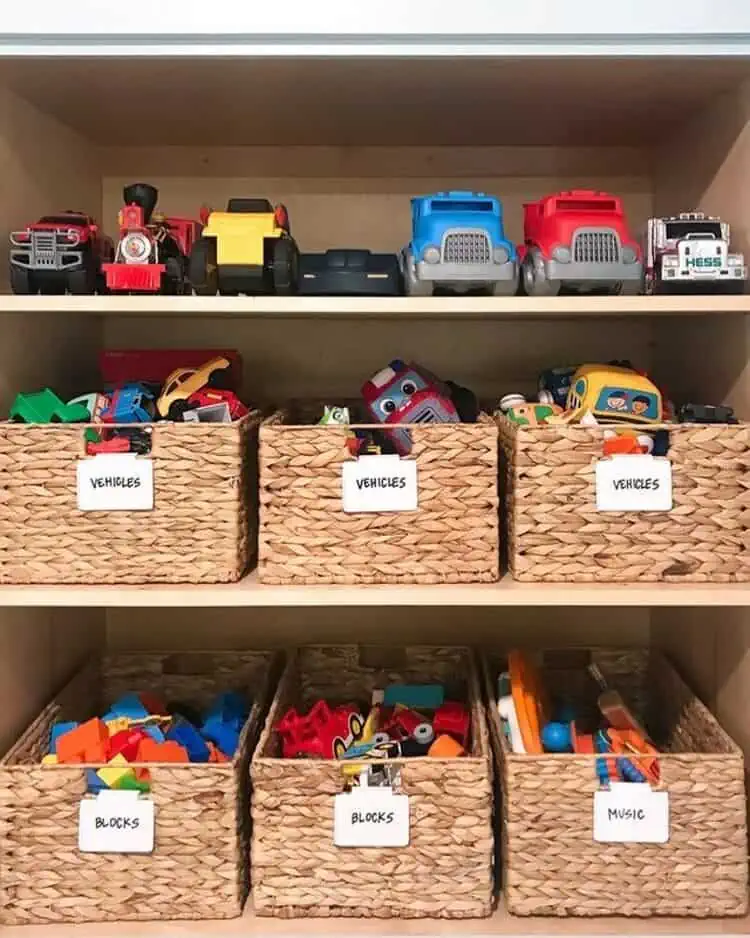 Got some space in the closet or a spare shelf? Then, you should definitely check out this cute toy car parking idea. Open baskets are a great way to store accessories and craft supplies while maintaining a tidy play space too.
10. Colorful Toy Storage With Fabric Storage Boxes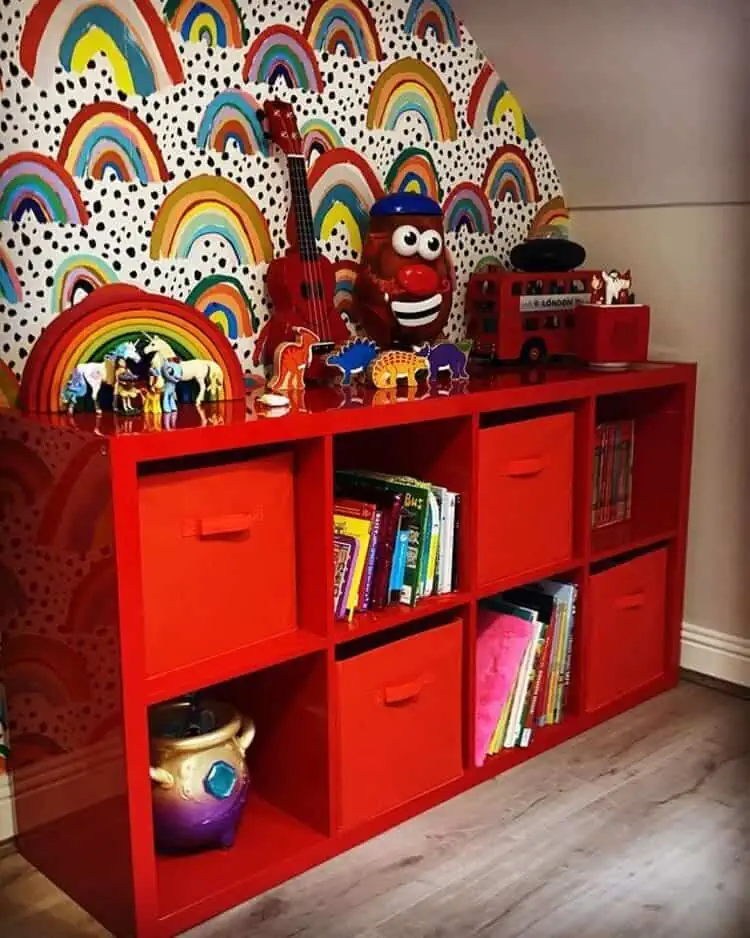 Thinking of something a little more colorful? This toy organizer is great for kids and can easily be used to store stuffed animals, dolls, and more. I love how they added it to what may have been an awkward corner to maximize storage space in the room. It just shows that even the nooks and crannies of a space can be beautiful and used well.
11. Grey Canvas Toy Storage Boxes With Labels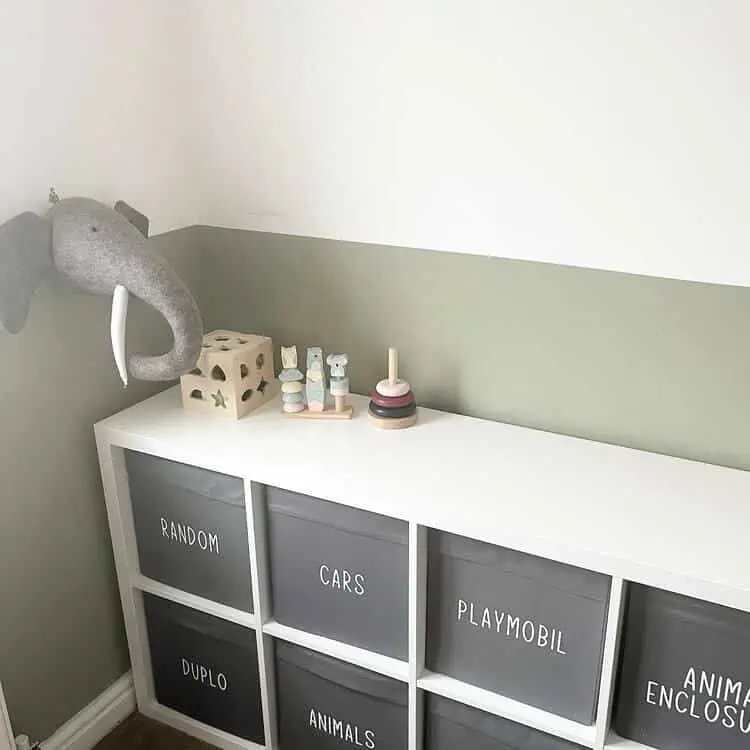 Want to blend your kids' toy storage with the living room's interior? Then, this canvas toy storage box solution might inspire you to solve your clutter problem for good!
Attractive Toy Storage for Living Room
12. Best Toy Storage for Living Room: Upgrade an Ikea Trofast 
We all know that Ikea has some great, budget-friendly furniture solutions, but did you also know that a little creativity can really work miracles with them? This project proves it!
13. Secondary Toy Storage Area with Stackable Plastic Bins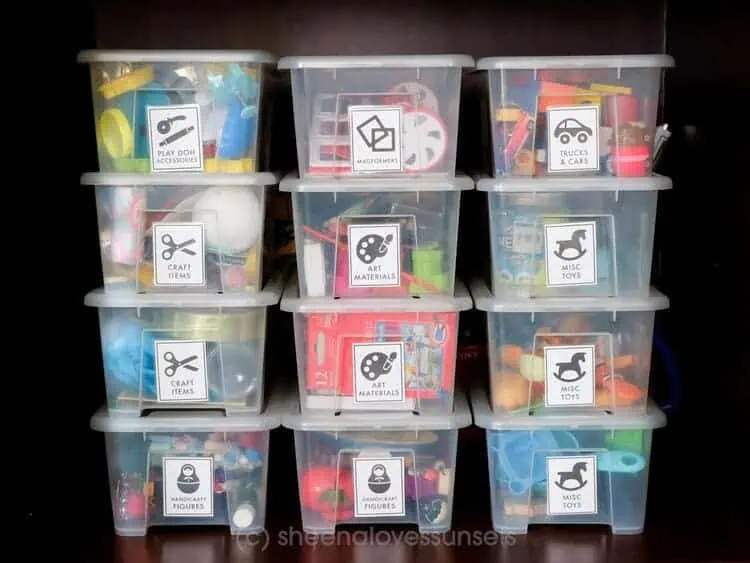 Our kids have way too many toys, and they get easily bored with them, but stackable plastic bins help to make toy rotation and storage effortless all while keeping clutter at bay. You can find similar stacking bins here.
14. DIY Wooden Crate Storage and Display for Hot Wheels Cars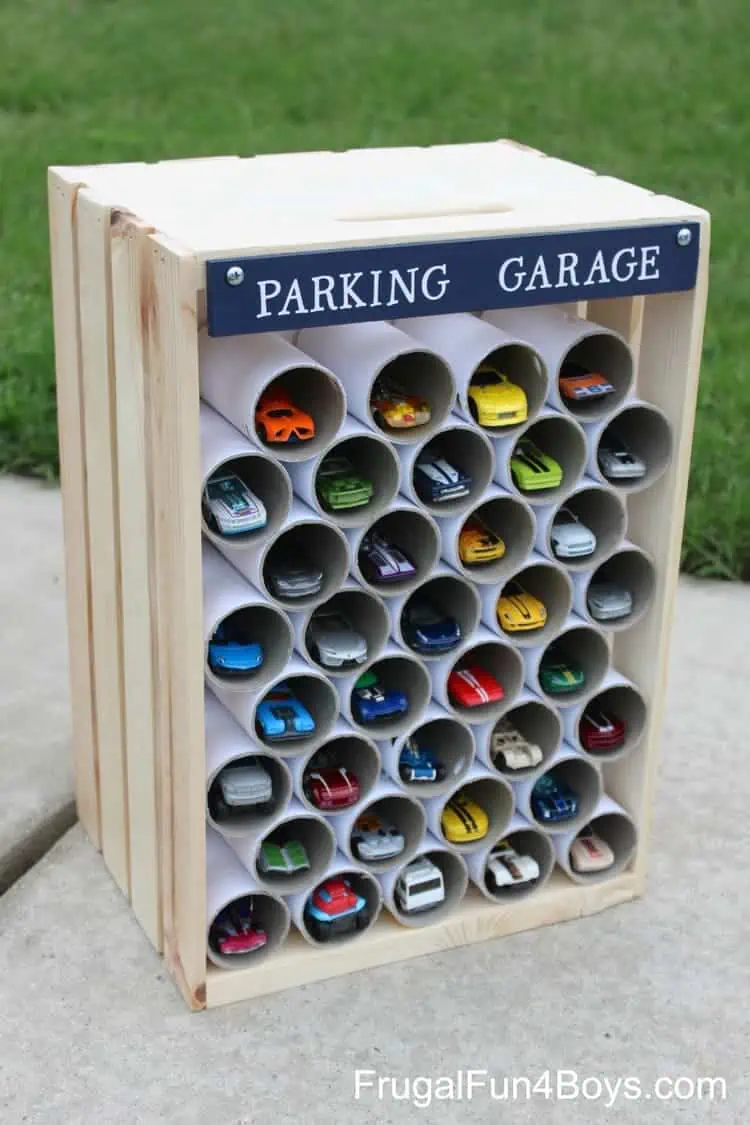 Looking for a fun way to store and display Hot Wheels or Matchbox cars? Here's one of my favorites! And the best part – it's mobile, it can be moved around from room to room. You could even add some casters so the kids can roll it around themselves. One of the perfect toy storage solutions for living room!
15. Kids' Toy Car Parking Storage from an Old Wardrobe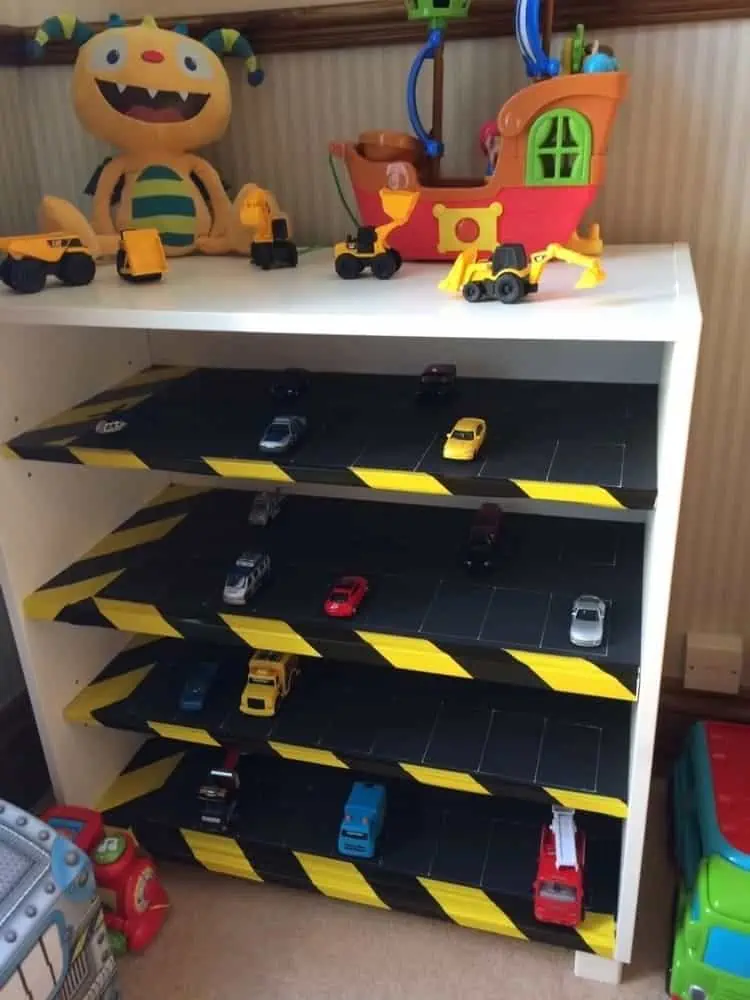 Got an old wardrobe you don't need? Why don't you paint it and turn it into a car parking storage, like in this tutorial? What kid wouldn't love this?!
16. How to Turn a Coffee Table into a Rolling Game Table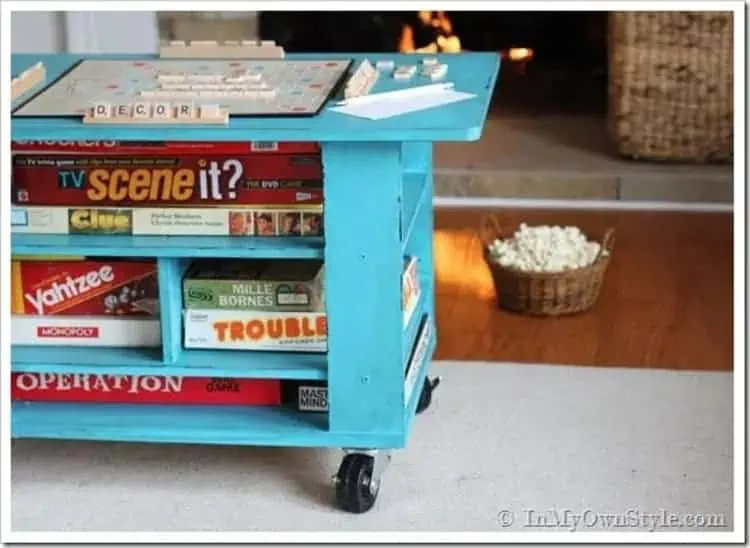 Learn how to transform a coffee table into a rolling game table. It's easier than it sounds, and the final result is so lovely!
17. Console Behind the Couch to Store Your Kids' Toys in the Living Room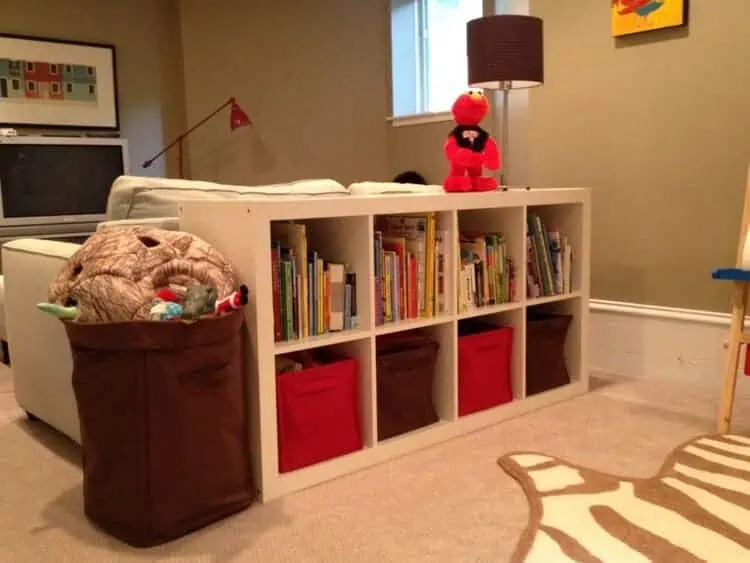 Here's an idea of how to turn Ikea's Expedit system into toy storage for the living room or a playroom! So easy and so pretty!
18. Storage Ideas for Toys in Living Room: DIY Retro Suitcase Toy Box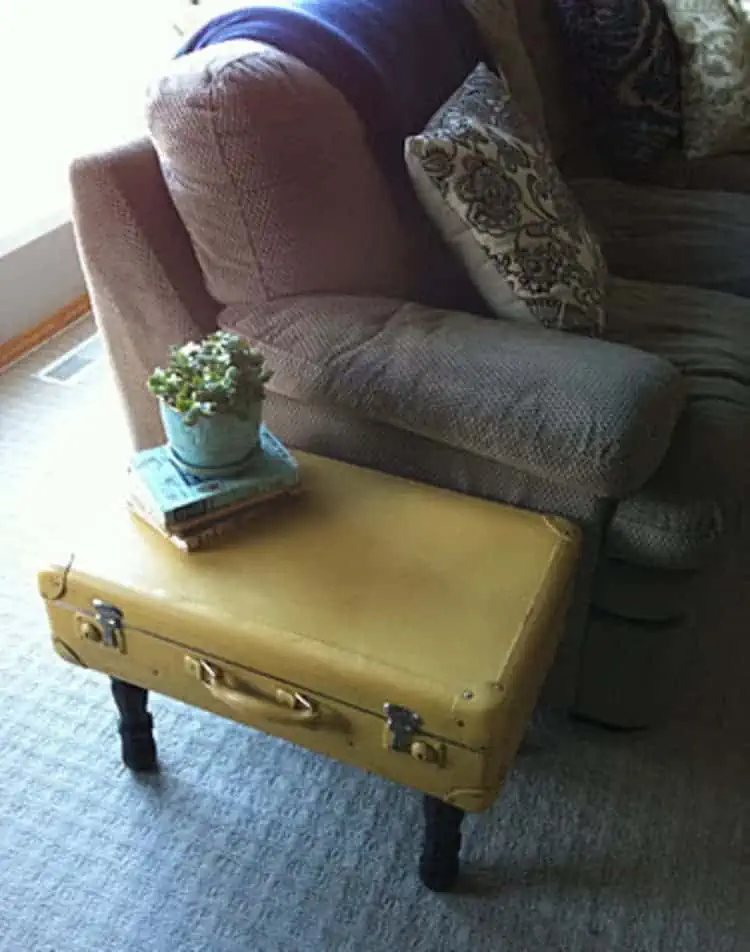 Have you inherited an old suitcase or two from your favorite grandparents? Well, here's a thought! Why not turn them into a retro suitcase toy box? It's a perfect addition to any living room, and you still get to keep the adult feel around the place.
19. Coffee Table Hidden Toy Storage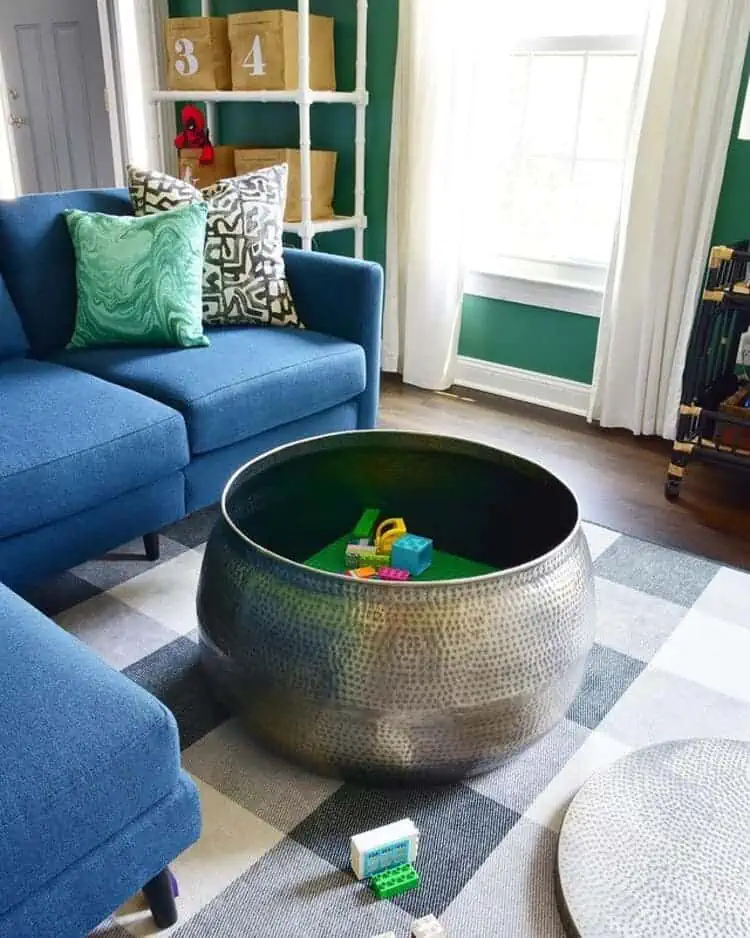 Functional decor is another great way to hide toys while leaving them accessible to little ones. The lid of the box hides everything stored inside and can be used as a tabletop for drinks or decor. Pretty and functional – a hidden storage solution perfect for any small living space!
20. Built-in Bookshelves for Toy Storage in the Living Room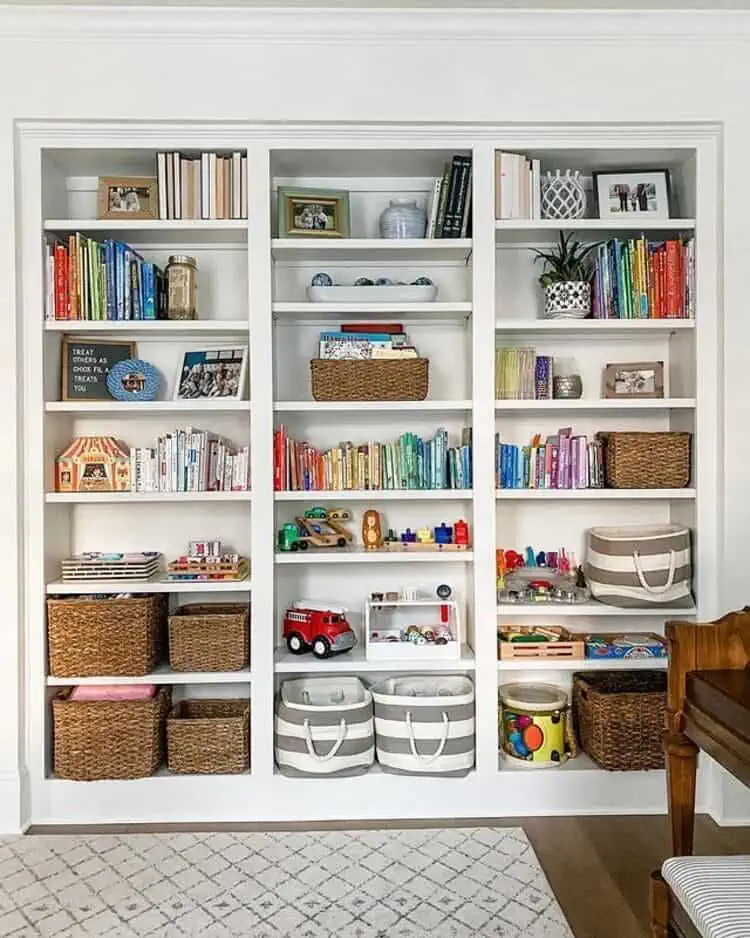 If I could plan our living room space in advance, built-in bookshelves would definitely be my go-to for toy storage in the living room. They're:
Open
Easily accessible by the kiddos
Customizable since the height and length can vary
Easy to clean
If you have a bigger room and a spare wall, I'd recommend you look into built-in shelving for sure. If you're intimidated by open shelves, don't be. You can mix vintage or pretty toys in among decor for a fun, playful yet still adult vibe.
Toy Organization Ideas for Living Room
21. How to Best "Hide" Toys in Your Living Room?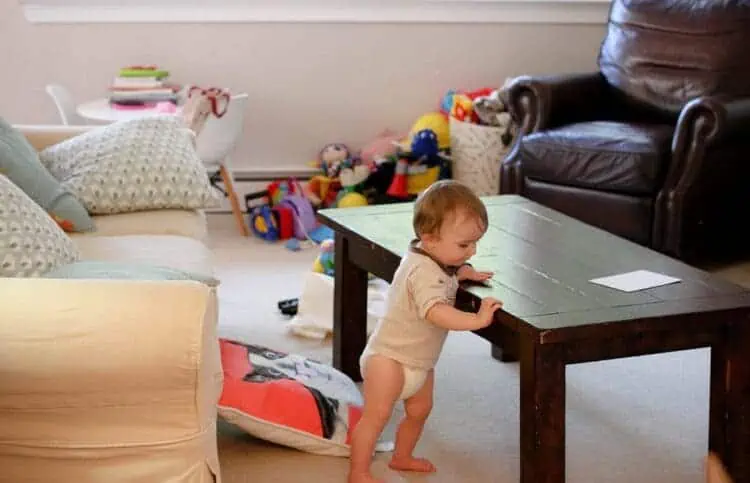 When you get really overwhelmed with toy clutter, it's time to act. I really love the storage box they use here. The other tips in the article are very helpful, too.
22. Toy Storage in an IKEA Expedit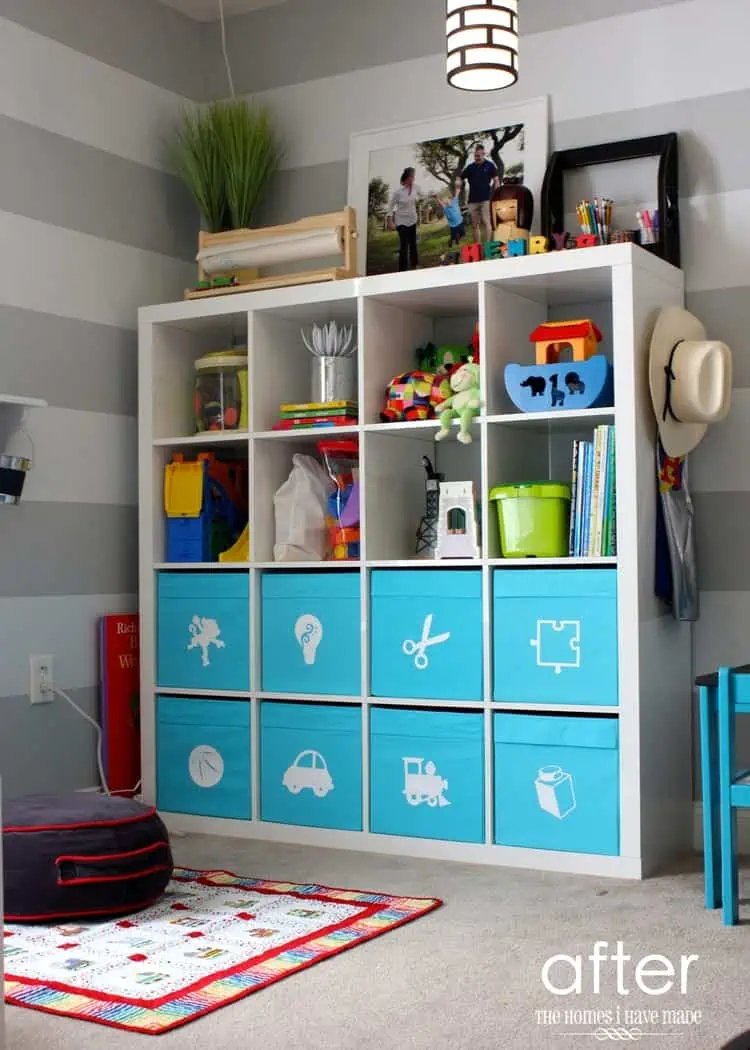 OK, we already agreed that Ikea Expedit has a simple, clean, and sleek look, which makes it perfect for living rooms. Add some canvas bins, and voila! You've just got yourself some additional storage to store all of your kids' belongings!
23. DIY Under-the-Couch Rolling Toy Storage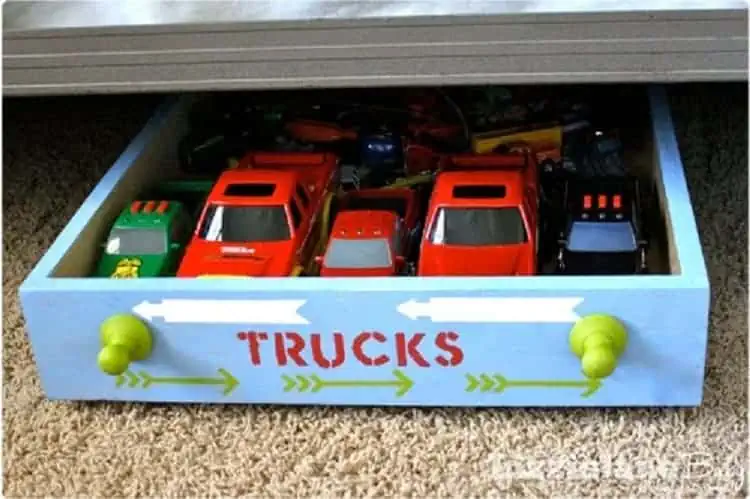 I absolutely love how this DIY rolling toy storage solves the clutter problem for this room! It all started with an old drawer and some creativity. It's the perfect storage solution for hiding toys under a sofa, couch, armchair, or coffee table.
24. Small Wall Shelves for Small Toys Storage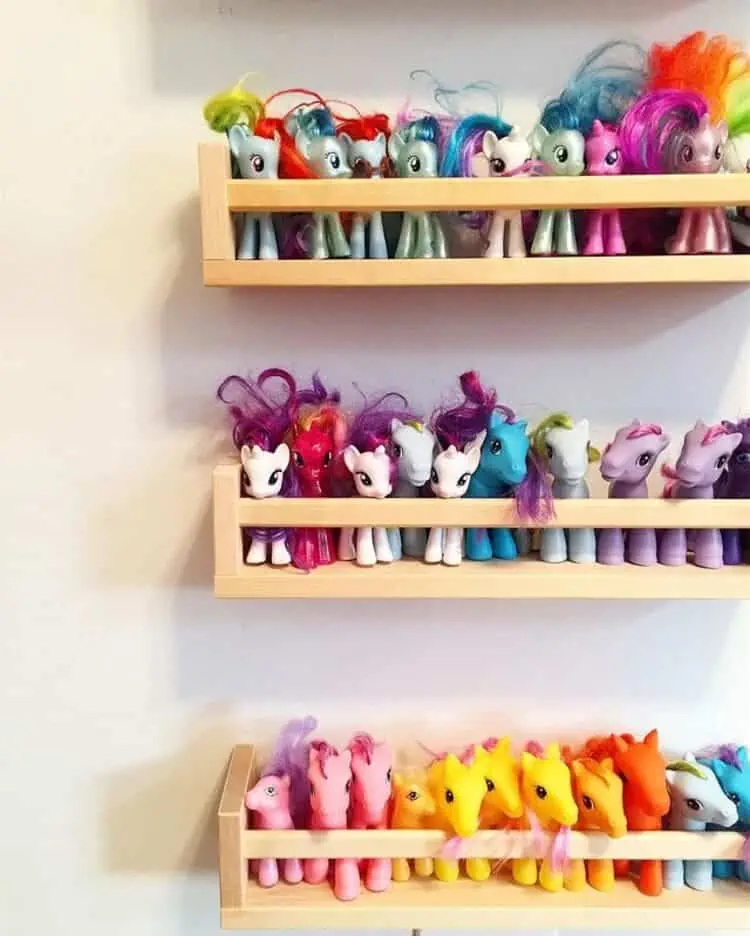 These small shelves are perfect if you need to store smaller toys like rainbow-colored ponies. They're great for any room and can be installed on walls if you like open shelving and easy access to toys or install it inside cabinets if you'd rather hide everything away.
25. DIY Pegboard Storage for Toys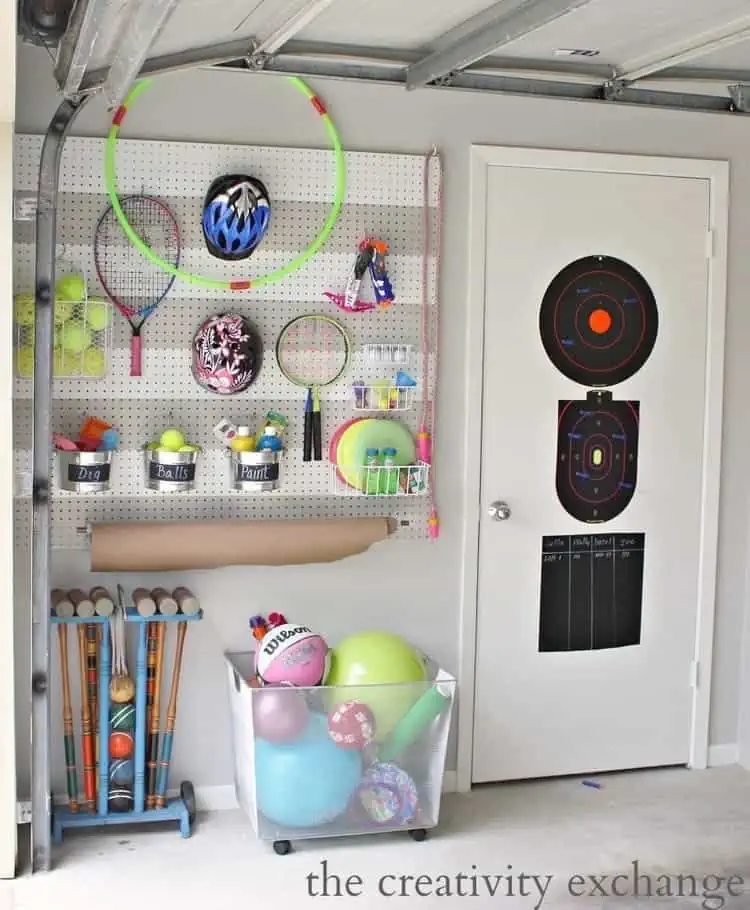 This is a photo from a garage pegboard toy storage, but you can easily build one of these on the back of your living room door. You can store different types of toys on pegboard toy organizers including larger toys such as stuffed animals, toys for younger children, and safety equipment like helmets.
Pegboard toy organizers are incredibly useful, especially if you don't have a ton of floor space in your living room.
26. Tame Your Kids' Toys With Shelves in the Closet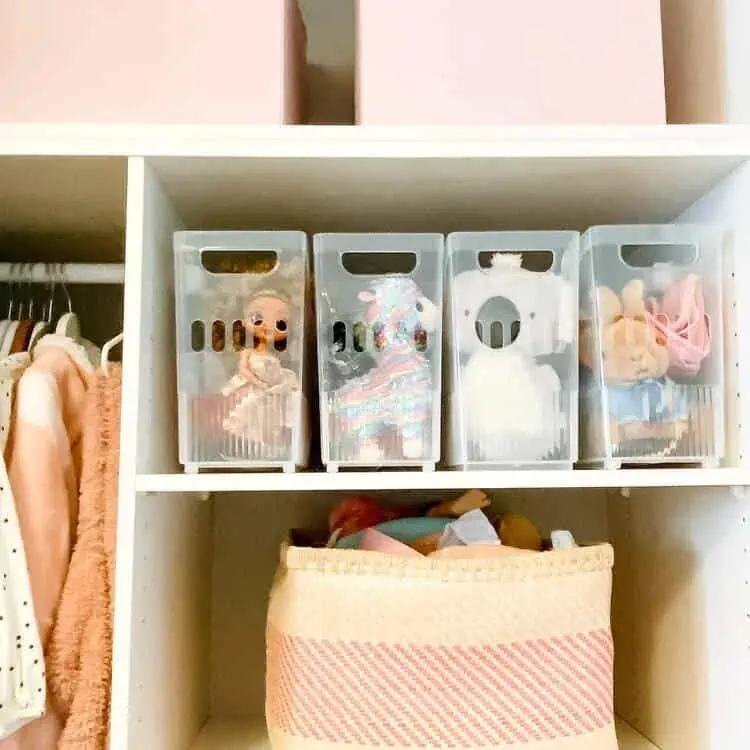 Adding a few additional shelves is always a good idea, especially when you need to find a place for all those toys. I love this shelving and bins closet storage idea for toys. It makes keeping the clutter away effortless.
27. Storage Ideas for Toys in Living Room: Plastic Bins Under the TV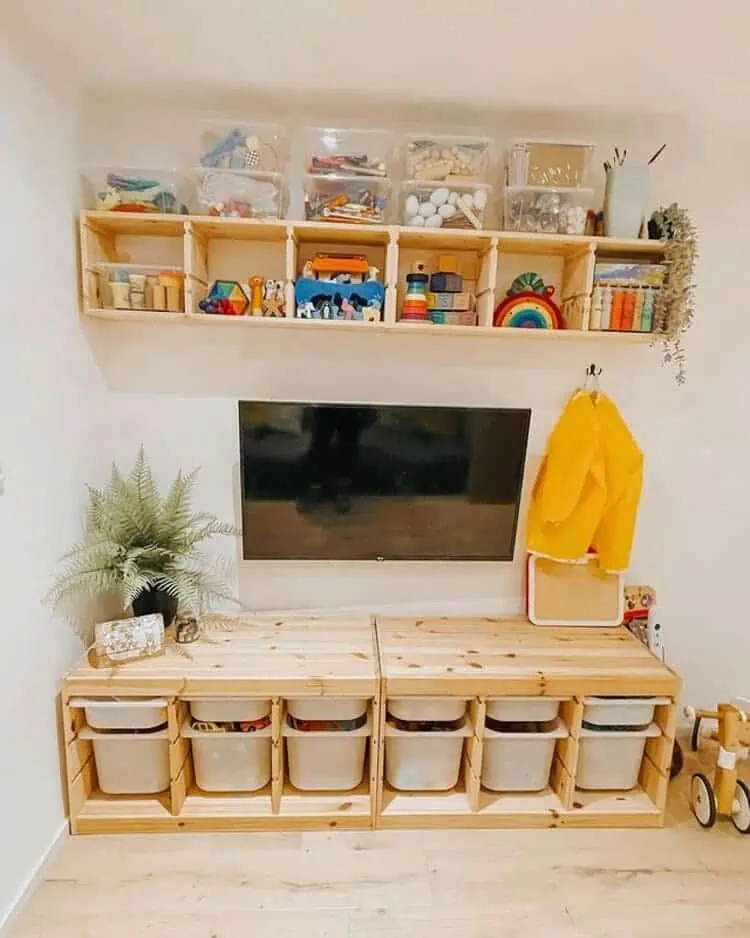 Got some space under the TV? Why not add some storage bins and use them to store your kids' toys? Check out this beautiful playroom photo for inspiration on how to take your living room back!
28. Shelves Around Your TV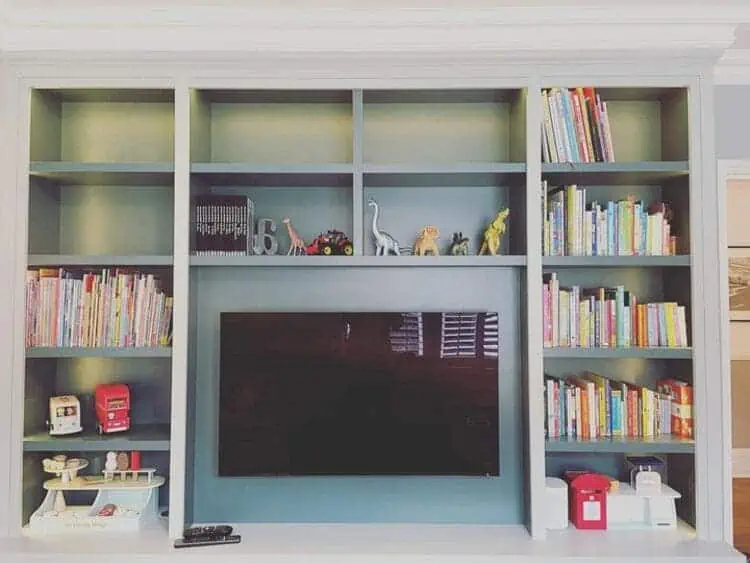 If you don't have space under your TV, how about you use the area around it? Check out these pretty and functional built-in cupboards! They do a great job keeping all your children's toys and books away while keeping them accessible and visible at all times. Great solution when you have younger kids.
How to Hide Toys in a Living Room?
29. IKEA Bench Seat as Toy Storage for Your Living Room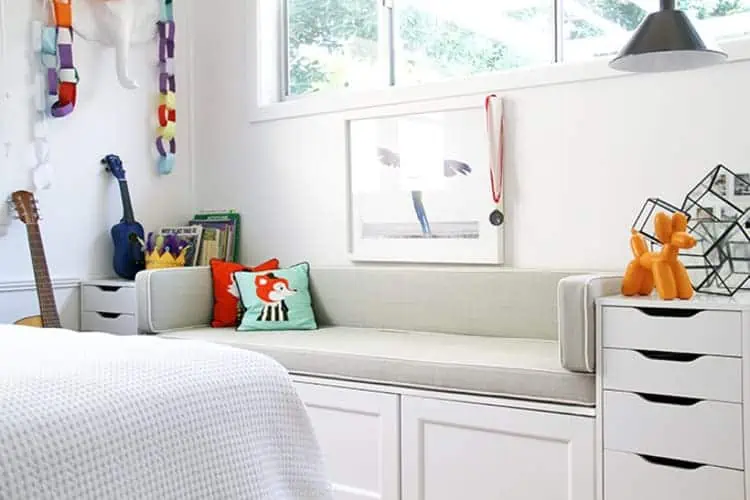 This bench seat is another fabulous option for keeping toys out of sight and adding a little extra seating. It's a good-looking piece of furniture that can be used as additional seating when needed! 
Here's a similar one you can order today if you'd rather not build your own.
30. Storage Ideas for Toys in Living Room: Sweet Seating DIY Tutorial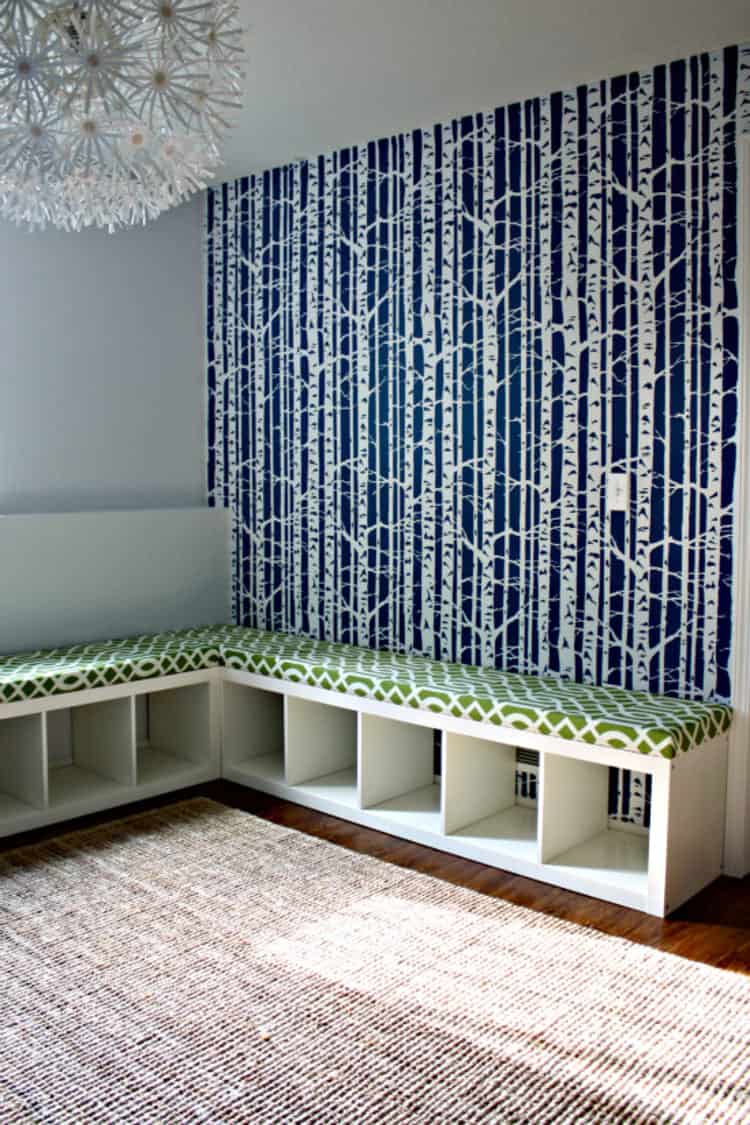 Need some inspiration for DIY seating and storage bench? You're at the right place! This detailed tutorial will teach you how to make your own sweet seating for your living room and store all of your children's toys! Awesome!
31. Built-In Drawers Under The Window For Toy Storage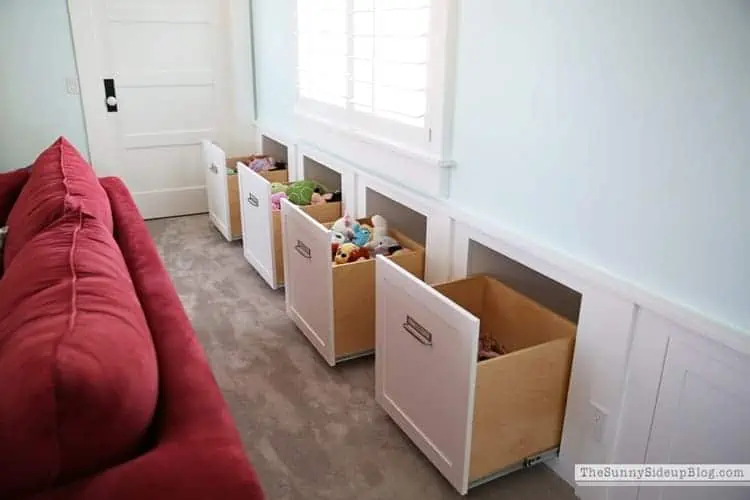 Got some extra space under your windows? Why not use it for built-in drawers for toy storage? Here's a great idea of what to do with that space and never see all of your kids' toys around your living room floor again.
32. DIY Faux Built-in Storage – Idea from a Playroom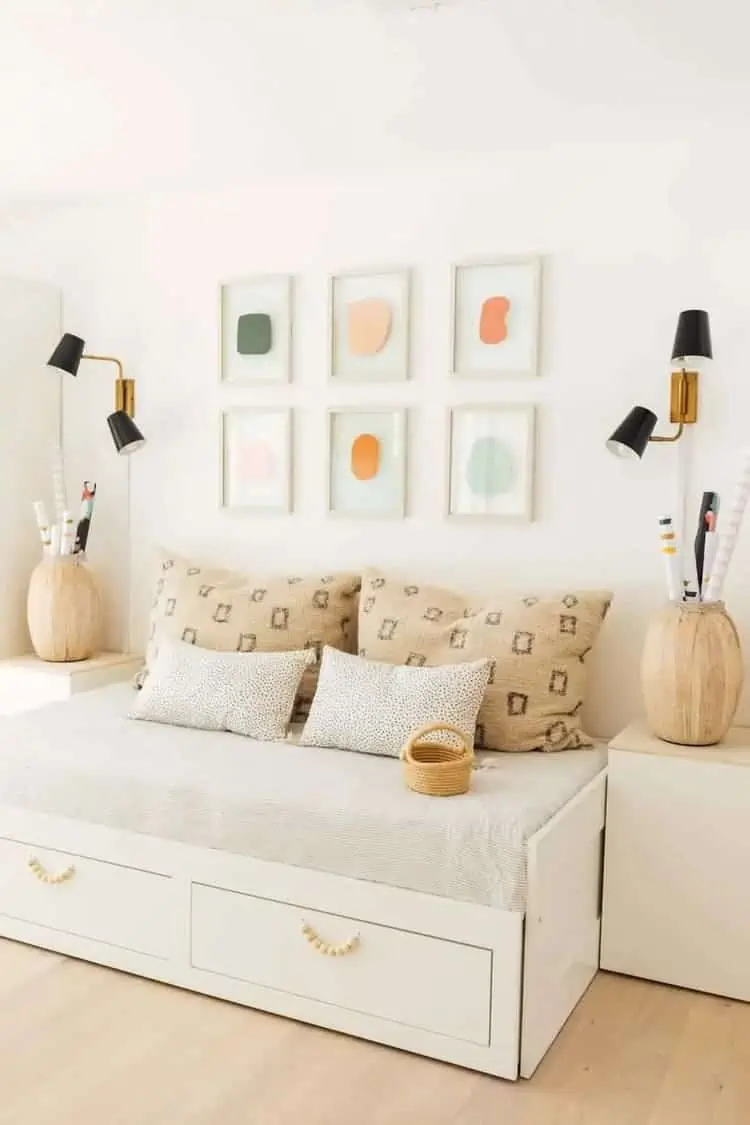 Are you into easy DIY projects? Then you'll probably be very interested in this DIY faux built-in toy storage idea for living rooms.
33. Clear Bins in the Drawers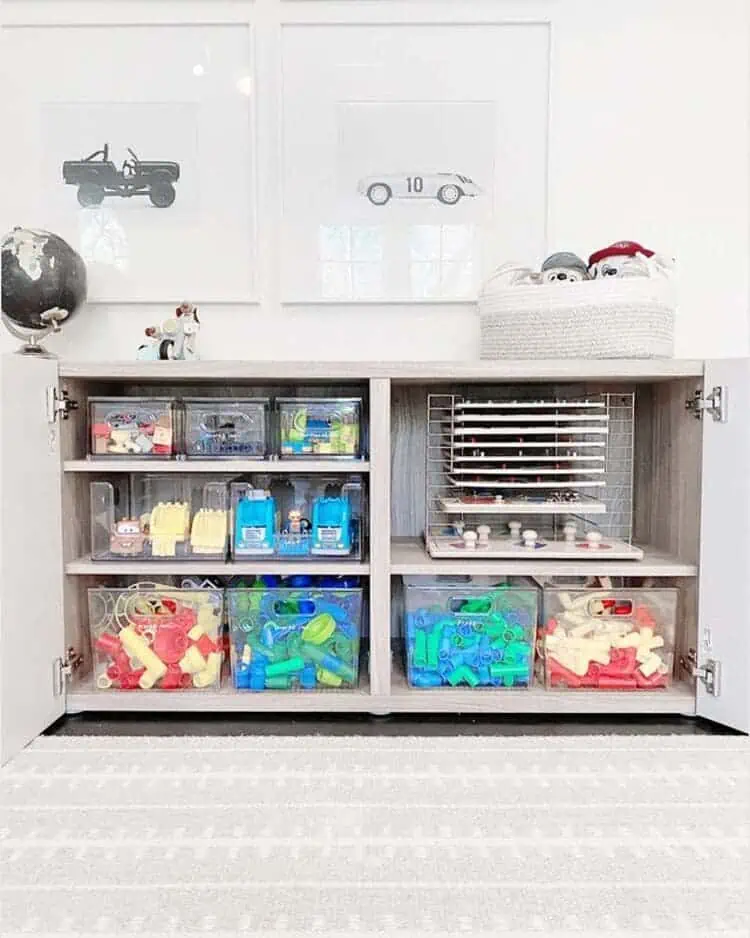 When it comes to storing kids' toys, clear bins are my go-to. It's easier for the little ones to see what's inside and get the toys they want without making a mess. Love it!
Montessori Toy Organization
34. Clear Drawers and White Canvas Bins for the Ultimate Living Room Toy Storage & Organization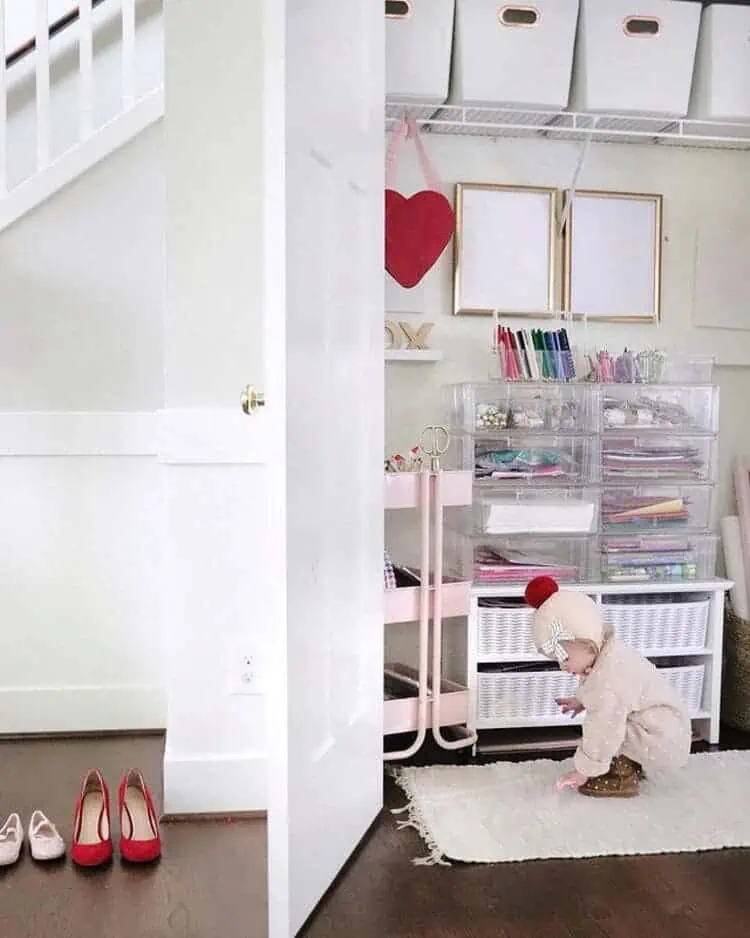 Here's a beautiful toys and crafts closet you can use as inspiration to create the perfect storage for your kids' toys in the living room. Rolling carts, like that pink one peeking out behind the door of this photo, are great for storing art supplies! I love keeping ours in a closet because we just roll it out when we want to use everything and then roll it back out of sight when we're done.
35. Storage Ideas for Toys in Living Room: Have a Mobile Toy Hotel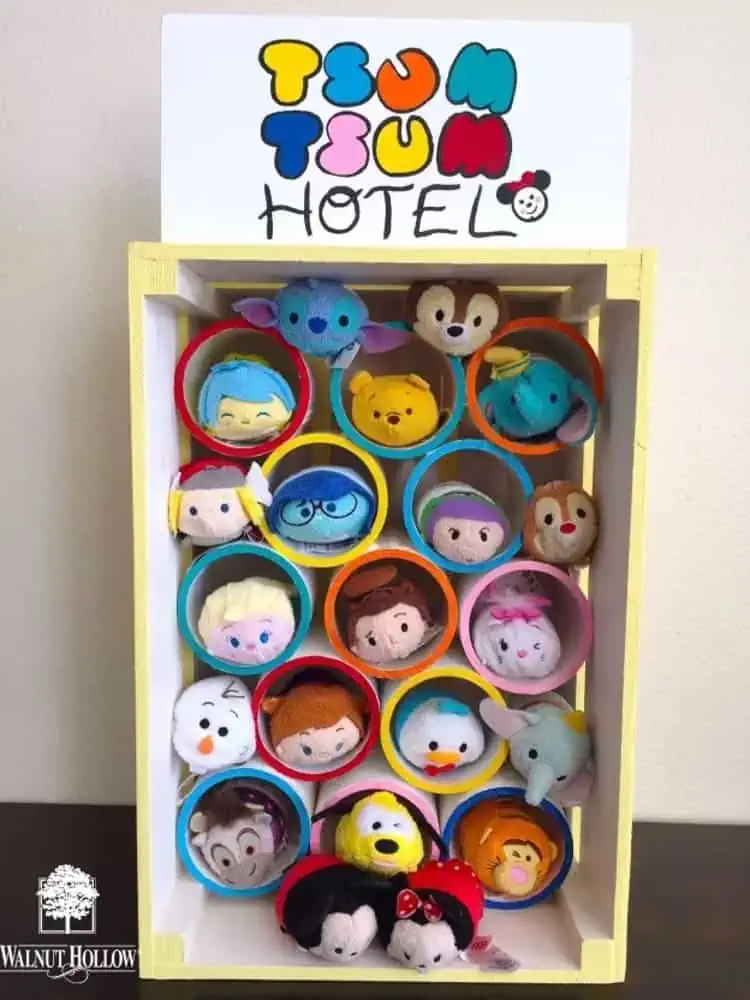 This toy organizer in a crate is an excellent way to keep toys tidy in the living room. The box makes it easy to move it from one room to another! It's like a little stuffed animal hotel!
36. Play Nook to Inspire Your Living Room Kids' Corner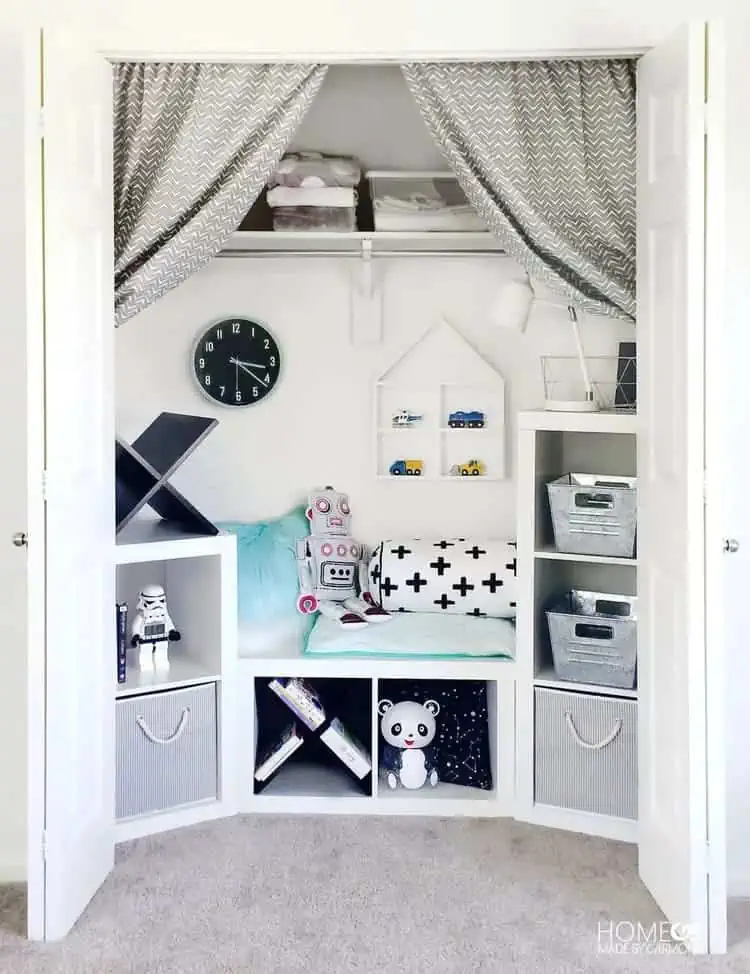 This beautiful closet turned into a play nook looks so beautiful! I love the colors, as they don't look too childish and could even make a great living room corner, too!
37. Remake an Old Bookcase Into a Toy Storage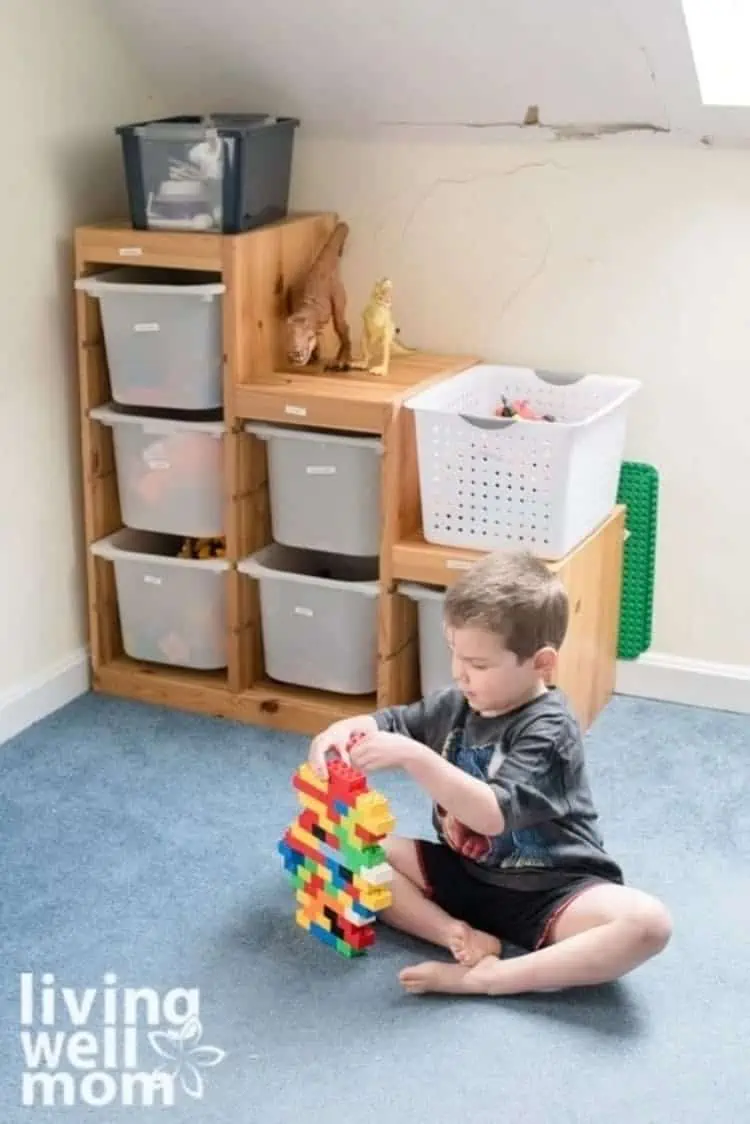 If you have an old dresser lying around that you don't use anymore, why not turn it into a toy organizer? It will certainly be more useful than leaving this piece of furniture in storage! Here's a great idea to get inspiration from. Sideboards would work well for this too!
38. Plastic Containers Sorted Small Toys/Items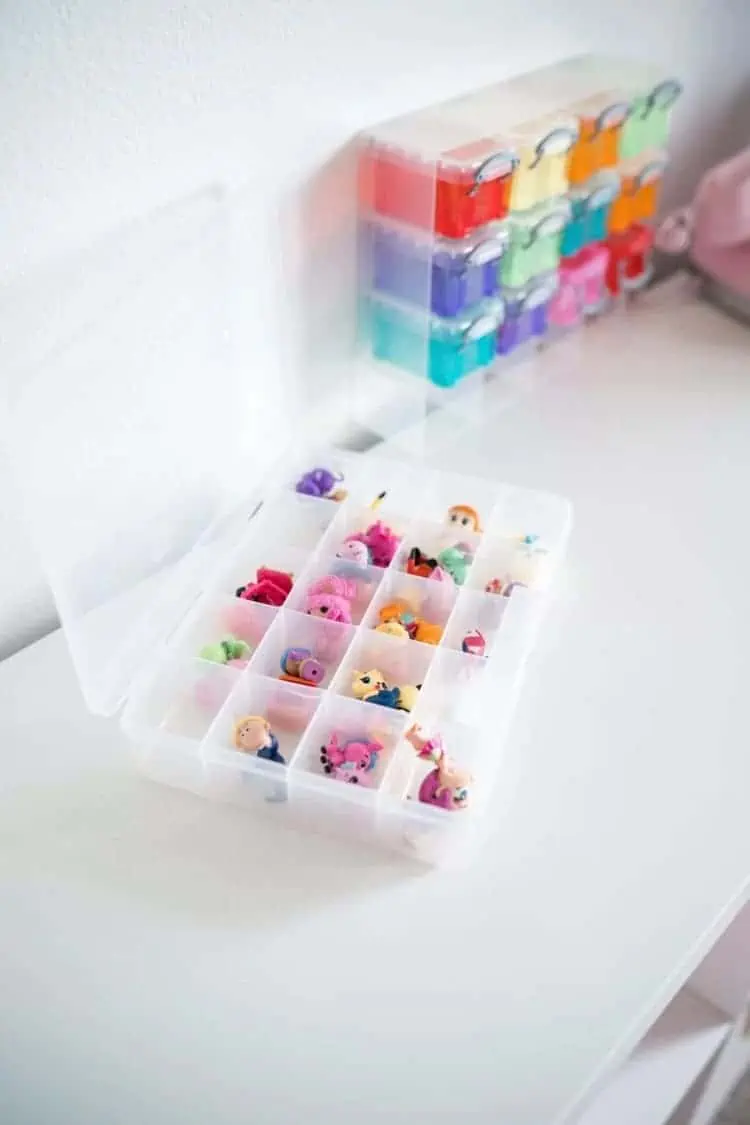 I love this toy organizer box because it looks just like an ordinary storage box, but it has the added bonus of separating toys into different compartments depending on their size or shape!
Best Way to Store Stuffed Animals
There is not just one best way to store stuffed animals because every living room is different. I have included a few ideas for how to keep stuffed animals, but if you're looking for working solutions, you should check my other blog post with 35 ideas on how to store stuffed animals. You're going to love it, I promise!
39. Wooden Crate Toy Storage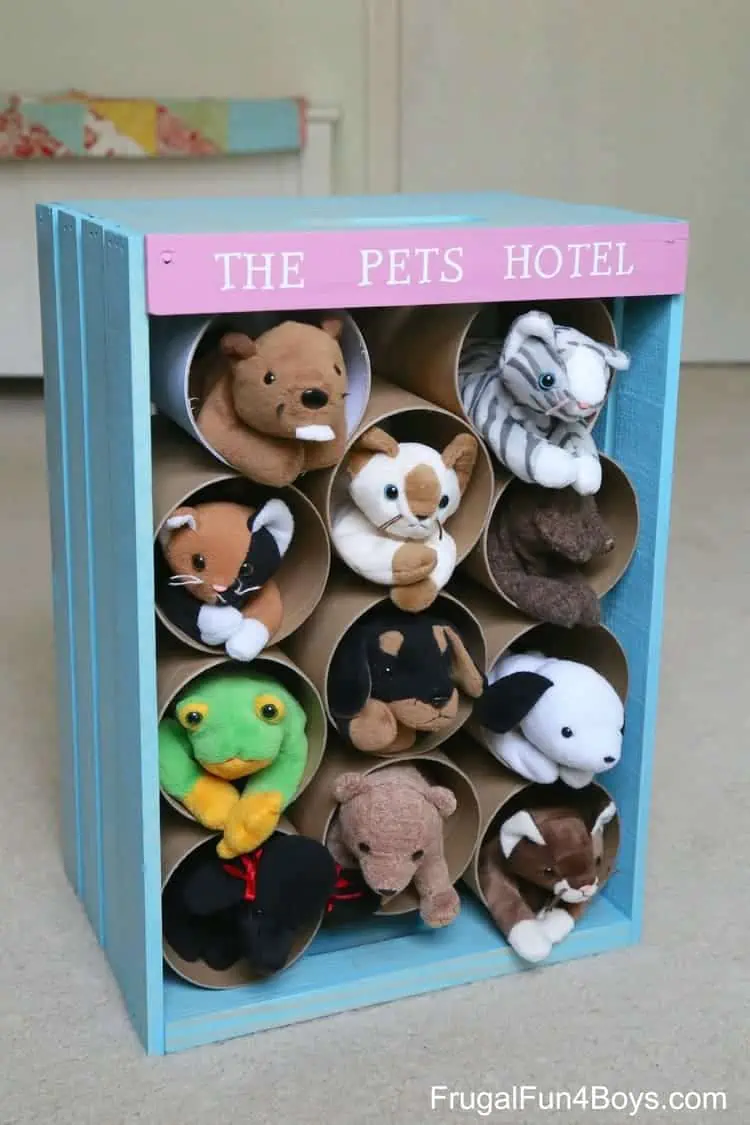 Got a spare milk crate you're wondering what to do with? Why not make toy storage? Simple and easy!
40. Storage Ideas for Toys in Living Room: Stuffed Animals Zoo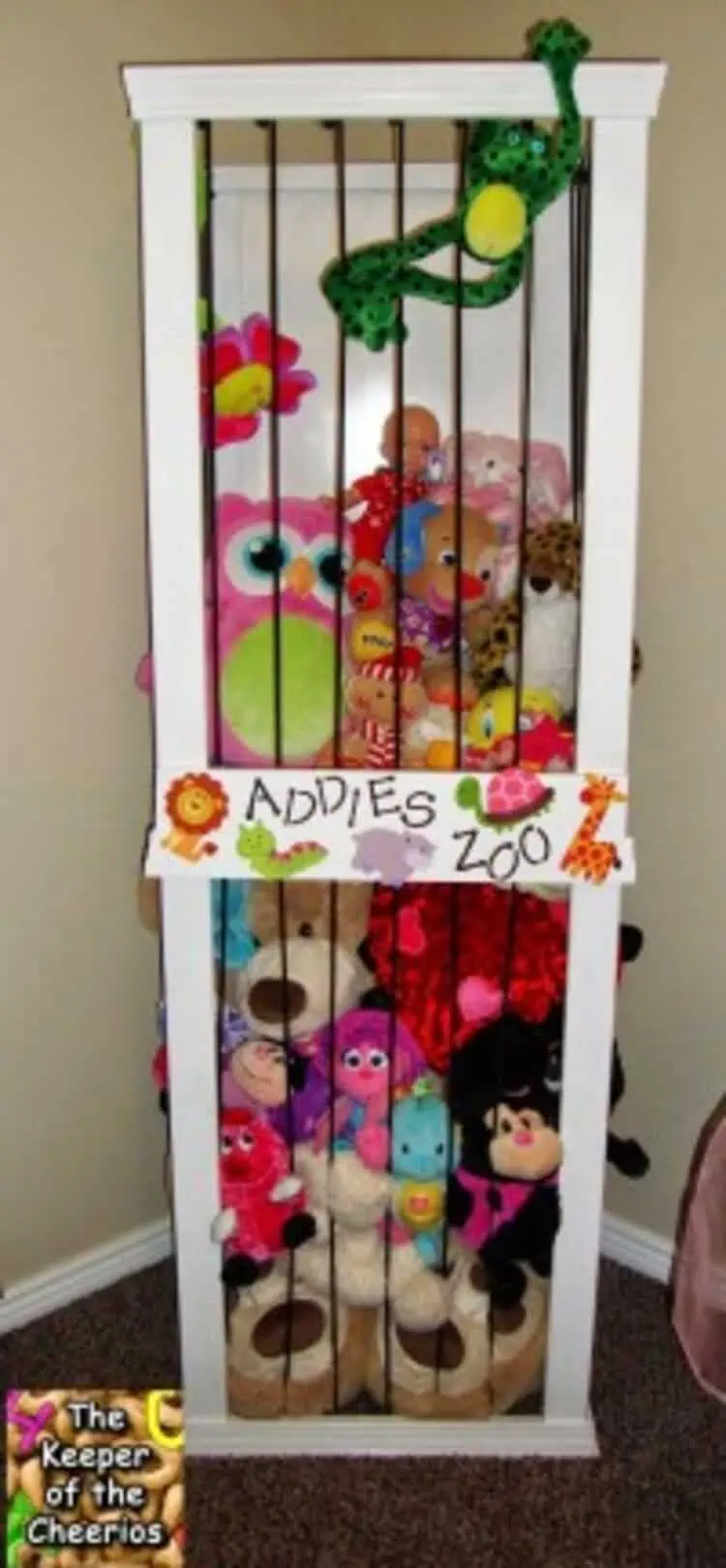 This stuffed animals' zoo storage idea is so cute and so fun! It's not hard to make, and it keeps all of your kiddos' plush toys in one place.
41. Stuffed Animals Net Tutorial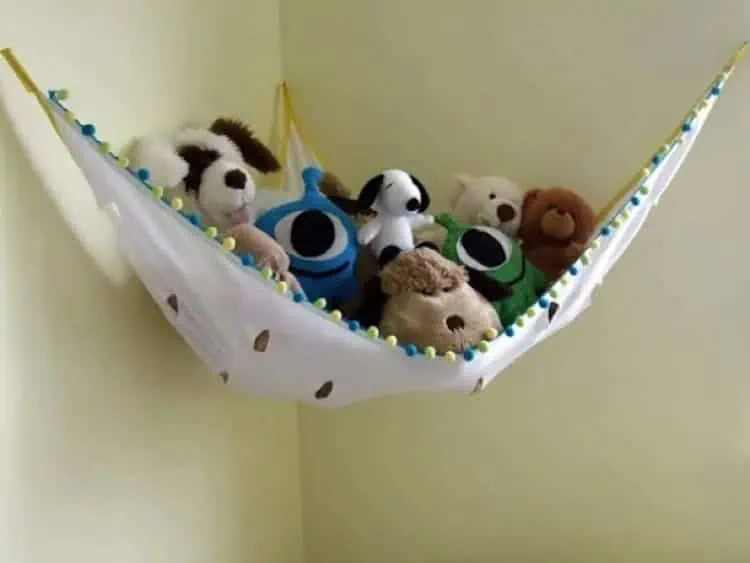 To tame your little ones' stuffed animals in a net is easier than it sounds! This simple tutorial proves it.
Storage for Soft Toys
42. 5-Tier Mesh Soft Toy Organizer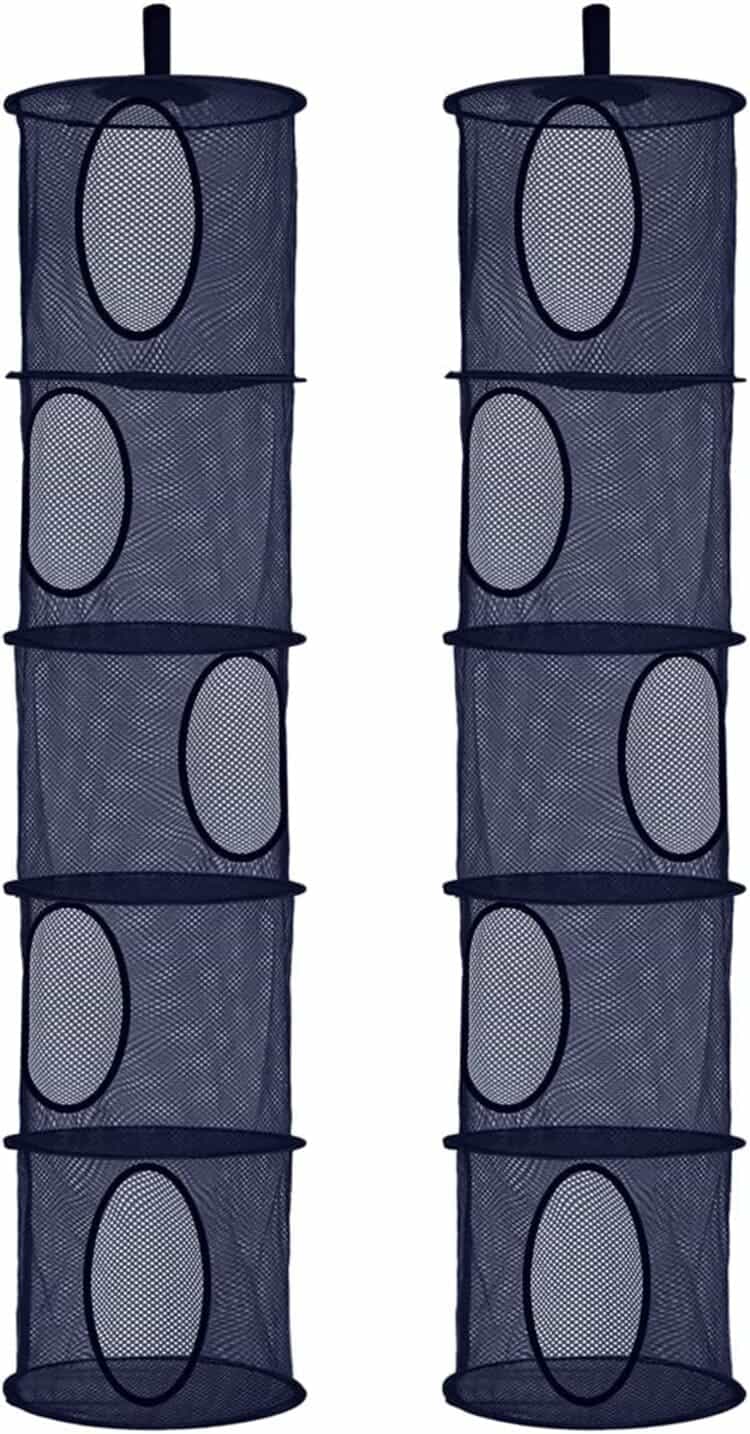 These hanging mesh organizers do a great job of organizing all of your kids' toys in one place. They come in a wide variety of colors and in sets of two. Perfect for any occasion!
43. DIY Soft Toy Storage Bean Bag with a Free Sewing Pattern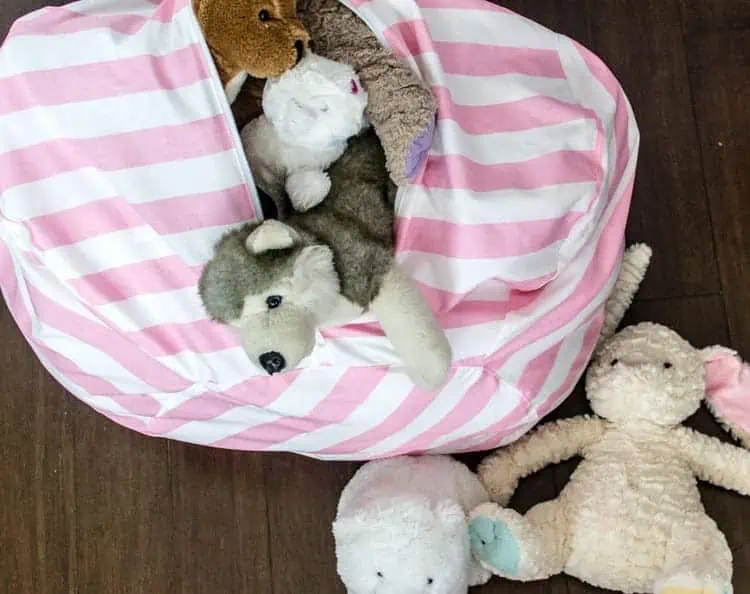 If you're handy and you're into sewing, grab this free sewing pattern for a DIY soft toy storage bean bag and put away all of your kids' plushies, while adding some additional seating to your living room. Great, isn't it?
Best Way to Organize Legos
If your kids are anything like mine, you own a lot of Lego sets. A LOT of Lego sets. To avoid stepping on them and causing yourself unbearable pain, you need to find a working storage solution. However, doing this in the living room is not an easy task.
I've included some of my favorite storage options in this list, but if you are looking for the best way to keep Lego block sets, I'd recommend you check my other post – 50 brilliant and creative Lego storage ideas. Some of the solutions are mind-blowing!
44. Lego Corner Building Hub With Under the Table Storage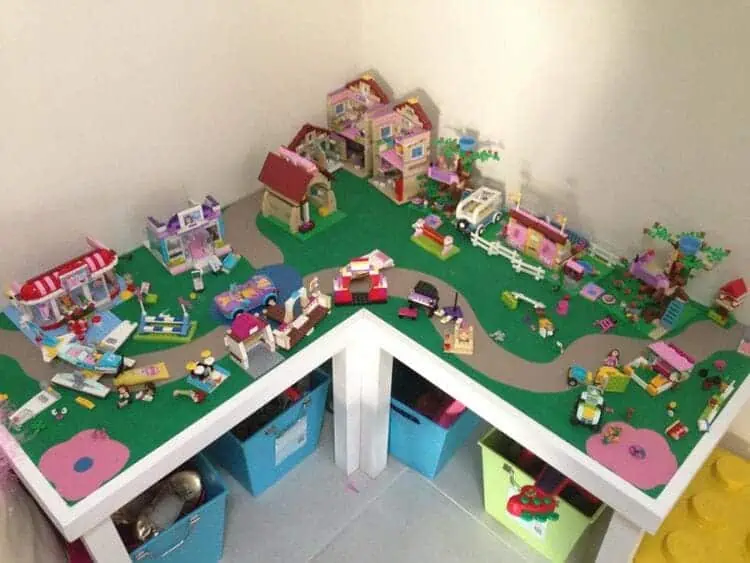 Beautiful and brilliant, with this Lego corner table building hub, you'd be able to store all of your kids' building blocks and other toys in one designated space.
45. Easy DIY Lego Table with Storage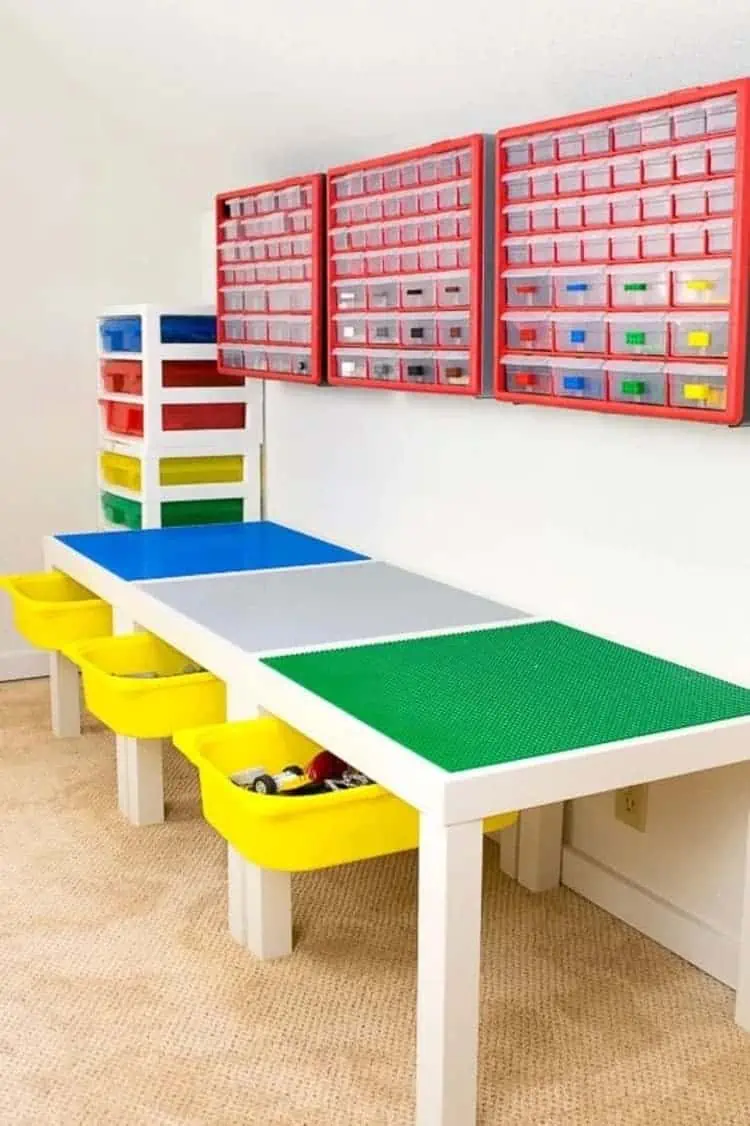 This is one of my favorite DIY Lego tables with storage projects! Just look at how much storage space it has!
46. Folder Containers for Lego Parts Color Sorting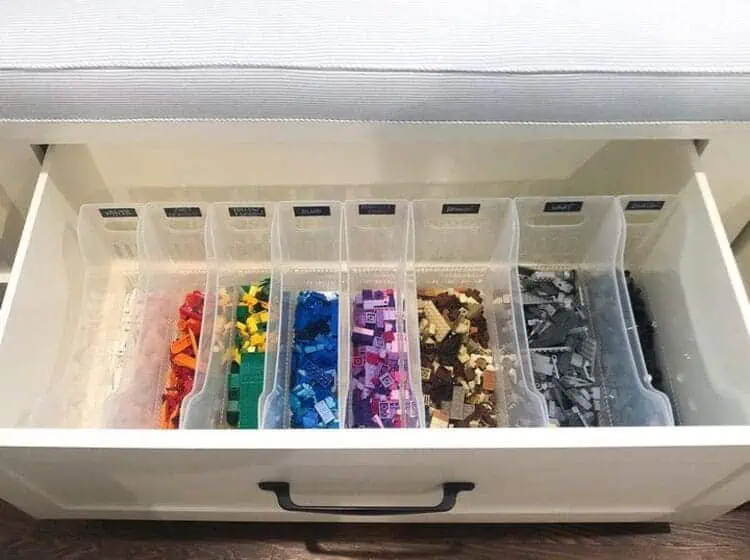 If your kid loves sorting Lego blocks, you should definitely check out this folder container Lego storage idea. It would work great for any living room!
How to Organize Your Kids' Toys
47. Teddy Cubby and Reading Corner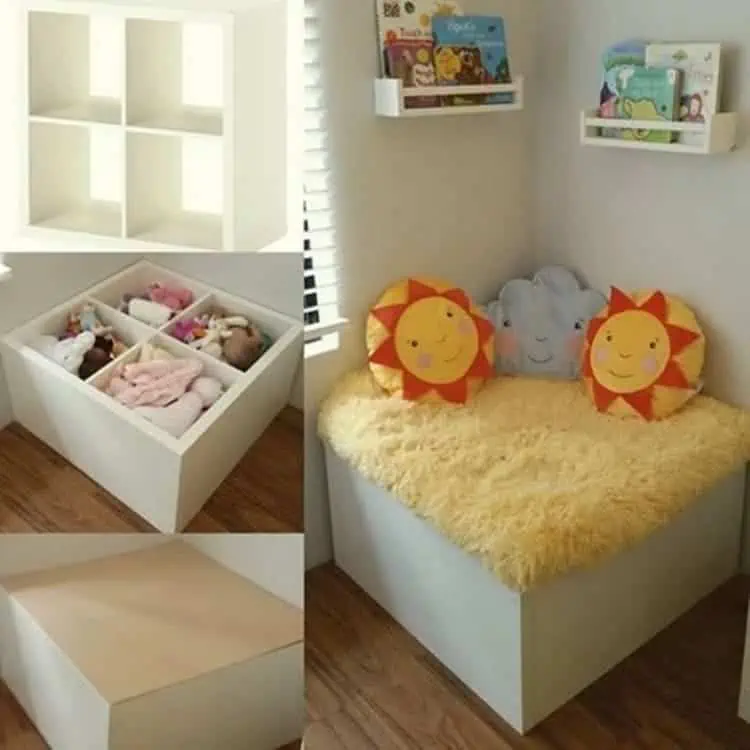 If you want to build-in a reading corner into your living room's décor, this project is exactly what you're looking for! It's easily made, and you can store everything in it!
48. Unusual Storage Ideas for Toys in Living Room: Use Shoe Organizers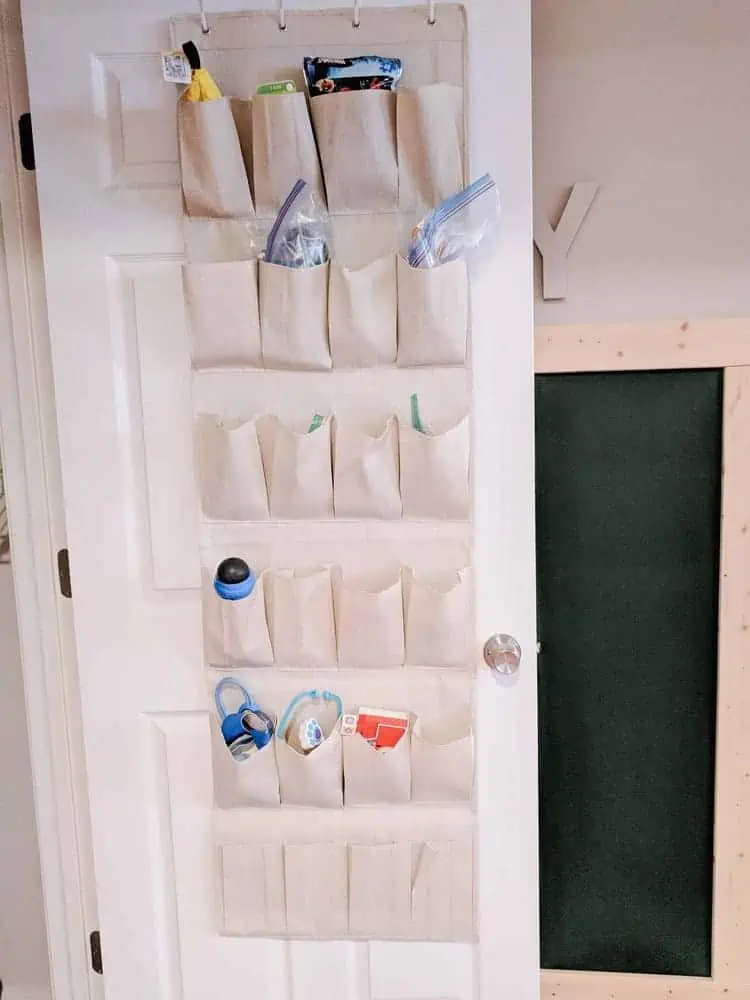 When you're trying to put your living room in order, you never know what could inspire you to find the solution. For example, it could be shoe closet organizers for smaller toys or items, like in this post. There are tons of other options available online too.
49. Behind the Door Barbie Organizational Idea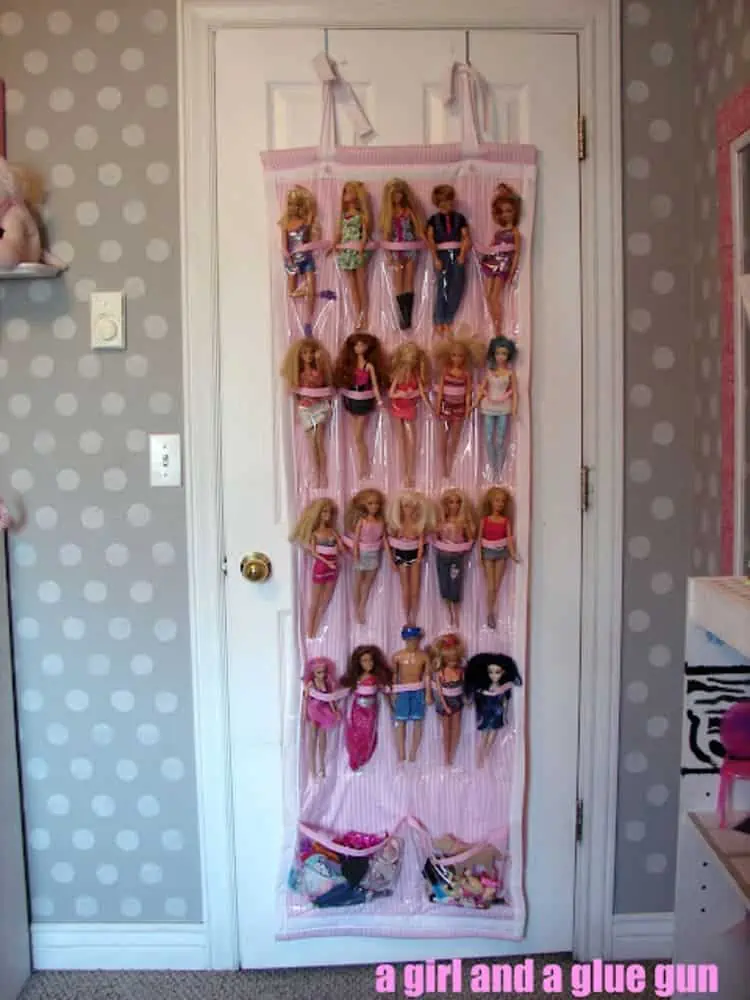 If your daughter is into barbies, you probably have lots of dolls around your house. Blondes, brunettes, mermaids, a few Kens… they need their place, too, and you know what? The back of the door might be just perfect!
50. Closet Pegboard Toy Gun Organizer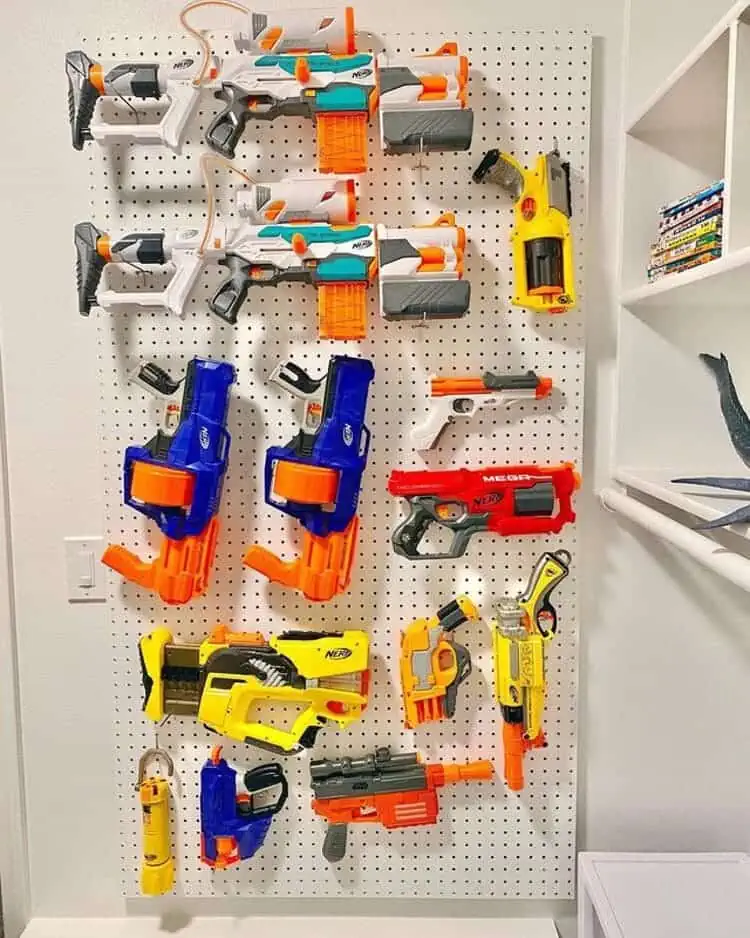 The back of the door or the inside of the closet door might be the perfect place for you to organize your kids' toy gun arsenal, just like they did here.
Possible Storage Solution Ideas for Living Rooms: 
I absolutely love storing toys in baskets! They are very useful, especially if you have a lot of toys. You can keep them everywhere:
Floors
Shelves
Tables
Dressers
The best part is that there are gazillion varieties of baskets you can choose from and really incorporate your kids' toys in your living room interior. Such an easy and pretty solution!
There are many storage ideas for toys in living room, but one of the simplest and most versatile is the humble toy bin.
Available in different shapes and sizes, toy bins come in a variety of materials, too, so you can choose something that will match your existing décor. You can store toys of all kinds in toy bins, and use them to tidy up almost any room in your home.
Labeling always helps when you're organizing and storing clutter. Arranging everything in boxes or bins makes the room look neat, clean, and organized. Labels with pictures also make it a lot easier for kids to maintain organization, which makes this is an ideal way to store toys in a living room if you have enough space.
4. Behind the Sofa or Couch
Couches and sofas are not just for sitting; they can also be used for storing toys! If your kids have a habit of dumping their toys on the living room floor next to the couch, consider putting baskets or bins on the floor underneath the cushions. The toys will stay hidden, and you won't have to worry about stepping on Legos in the middle of the night!
Another option is to hang baskets from the backs of the couches. These baskets can be used for storing:
Books
Toys
Other knick-knacks
5. Cabinets 
If you have a lot of cabinets in your living room, you can use the underneath part for your kids' toys. This is a great way to hide their stuff and keep their room tidy.
You can put their books, toys, and other items in baskets or bins in the cabinets. This is especially helpful for keeping smaller toys like:
Cars
Trains
Figurines
Books
Dolls and accessories
6. Window Seats
Do you have a bit of extra space in front of the windows in your living room? Turn it into additional sitting and storage space! It can be used as a dumping ground for toys and items you don't know what to do with at the moment or if you're rotating your kiddos' treasures.
Besides, window seats make the most magical place to read stories together or just watch the clouds.
Kids love to build forts out of sheets and blankets, and a window seat is a great place to store them. It keeps them out of the way too.
If you don't have a window seat, you can easily create one by adding curtains to a bench or chair. You can also hang up a blanket to make it a private space.
7. Underneath the Couch
This is a very clever idea to hide away all toys that seem to clutter up your living room floor. The space under your sofa may not be that big, but it's certainly enough for some storage boxes or baskets!
8. Under Coffee Table
The coffee table might be an ideal toy storage solution for your living room! It works both for large and bulky toys, and smaller-fidgety types of tools. Here are just a few ideas about what you can do with it:
Try storing the toys under it and putting a tablecloth on the table whenever you aren't using it. You'll hide the clutter, and your child will effortlessly reach all the toys she wants.

A coffee table-sized tray can be put on top of the table so your kid can play in it. After they're done, you just put it away.
Wall-mounted storage cubes are among my favorite storage ideas for toys in the living room! You can store pretty much everything in them, including smaller toys like building blocks, crayons, toy cars, and accessories.
Wall-mounted toy organizers are useful, especially if you don't have a lot of free floor space in your living room, which is usually a major concern for families living in bigger cities or small spaces.
10. Toy Box
Another great way to store toys in your living room is by using a toy box. You can keep a wide variety of toys in a toy box, from larger building blocks to small things, like crayons and small toys.
A toy box can be used almost anywhere in your home, including your living room. You can also choose a toy box that matches your living room surroundings and make it a part of the interior. Some are so cute you'd never even know they had toys inside them!
I love using toy boxes on wheels! You can use them to store toys of all kinds in your living room, including large toys such as stuffed animals and smaller toys for younger children. The toy boxes on wheels can be stored just about anywhere in your home, living room included.
11. Repurposed Dresser
Kids' toys can be a mess sometimes, but that doesn't mean your home has to be. Try repurposing a dresser for toy storage for an easy and stylish way to keep toys out of sight. You can also use an old cabinet or bookshelves.
Sand it, paint it, decorate it as you wish! You'll have a unique piece of furniture for your living room, and you'll be able to keep your kids' toys under control.
12. Working Toys into Décor
Kids will love finding their favorite toys in the living room, but what if you can transform your little one's stuffed animals, action figures, and other favorite toys into a part of your living room's décor? Yes, it's possible, mama, and it can add a whimsical touch to a space.
13. Storage Bags for Games and Puzzles to Take up Less Space
Puzzles and games are great ways to spend time with your child, but they can take up a lot of space if they are not stored properly. These activities can be stored in a box, basket, or bag, so that your living room does not look cluttered.
Puzzles and game bags are great storage alternatives to usual boxes. Not only will this help keep things tidy, but they tend to take up a lot less space, and your child will have an easier time finding what they want to play with and putting things away as well.
14. Bean Bag Chairs for Stuffed Animals
You can store your kids' stuffed in bean bag chairs to take up less space and create more seating. We all have those toys that are only played with a few times a year. You can put those toys in the bean bags so they don't end up gathering dust, and it'll also work as a place to rest for your kiddos. Double win!
15. Toy Shelves
Another way to store toys in your living room is by using toy shelves. You can buy many types of toy shelves, from large and small to wall-mounted.
If you have a giant collection of toys, you may want to use more than one type of toy shelf. You can store toys of all kinds on toy shelves, including bigger toys such as stuffed animals and toys for younger children.
FAQs About  Storage Ideas for Toys in Living Room
How do you store toys in a small room?
When it comes to storing toys, any room can be made to accommodate them.
If you have a small child, you may need to apply a more creative approach to effectively store toys in a small living room. While you want to encourage your child to play with their toys, it's important for both your family's safety and sanity to keep them contained. A good rule of thumb is to make sure there is enough room for two people to walk in the room at the same time while the toys are out.
One of the best approaches is to set aside a specific area in your home just for toys. You can use a loft bed and store toys underneath it or put them in a special closet. You can also use a toy box or a shelving unit with baskets like one of the great ideas above.
How do you organize a room with too many toys?
Do you have too many toys in your home, which you're struggling to organize in a way your little one can easily find what they're looking for? I hear you, momma!
Start by sorting through your toys and getting rid of any that your child has outgrown or isn't interested in. I highly recommend donating the toys that are in good condition so they can be used by someone else.
Once you've cleared out the room, decide where you'd like to store the remaining toys. If you are dealing with an enormous number of toys, you may consider purchasing a toy chest or a toy storage bench. You can also go with large fabric laundry bags or stacking plastic baskets to store toys.
If you have a lot of toys that need to be kept on the floor, you can purchase a play mat or play rug to easily fold and keep everything organized.
Ultimately, the best solution will be to reduce the number of toys you have until it doesn't feel like too many. Having too many options will overwhelm both your home and your child.
How do you store big toys in living room?
Everyone has their favorite childhood toys that are too big to put away. That's not a problem, though, because there are plenty of storage solutions for large toys in the living room. Peg boards, open shelving, cabinets and closets with doors are some of my favorite places to store large, awkwardly shaped items.
How can I hide toys in my living room?
No mom wants the toys in her living room to be the main focus of attention. So, here are a few solutions to consider:
Bookshelves or a Bookshelf Wall
Large baskets
Decorative boxes
Arrange them behind curtains
Use the top of the cabinets.
One of my friends even hid her kids toys in baskets by placing decorative pillows and blankets over the opening. They looked like cozy baskets of blankets and were hiding large blocks and others things her young kids liked to play with. So smart!
How do I reduce the number of toys in our home?
If your child owns too many toys, decluttering may be the only solution.
The more you can include kids in this process, the better.
Start by getting rid of any broken toys and things that are no longer played with.
If you're not sure which toys are played with the most, you can try a toy rotation.
Rotate toys by storing some of them in a box in an out-of-the-way place. If your child asks for something, you'll know it's probably something they'll want to keep. Other things may go unnoticed and forgotten, which will be a good sign that it can be given away.
How do you organize too many toys?
Any time there's "too many" of something, the answer is probably to declutter.
Once you've narrowed your items down to a manageable amount, it'll be a lot easier to organize everything.
You can organize things by size, type, and how often it's played with. Try to keep favorite, often played with toys in places your child can easily access them. Other toys, like antiques, fragile pieces, or things that are rarely or seasonally used can be kept in harder to reach, out of the way spots so they can only be retrieved with permission.
Keeping a bunch of toys tidy can be a challenge, especially when you have limited space. With a little creativity, you can easily create storage solutions for your living room that are accessible and out of sight. By integrating clever solutions and making use of the free space, both horizontal and vertical, in your living room, you can keep things organized without sacrificing style or comfort.
Which of the 50 ideas we listed did you like the most? Which would you like to use in your home? I can't wait to read about it in the comment section below!
Did you like these 50 mind-blowing storage ideas for toys in living room? Then, you need to check out these other posts, too: