Let's face it, most of us lead busy, stressful lives. Our days are often jam-packed with tasks and responsibilities, leaving little time for contemplation or relaxation.
This can be especially challenging during the holidays when we have so many things demanding our attention at once, but I've found that sometimes just reading a few simple life quotes can inspire, motivate, and help me through daily challenges.
We all need a little help simplifying our lives, decluttering our homes, and rediscovering what's most important to us as individuals from time to time so I wanted to put together a big list of inspiration for easy reference on hard days. I hope these quotes help you too!
This post contains affiliate links.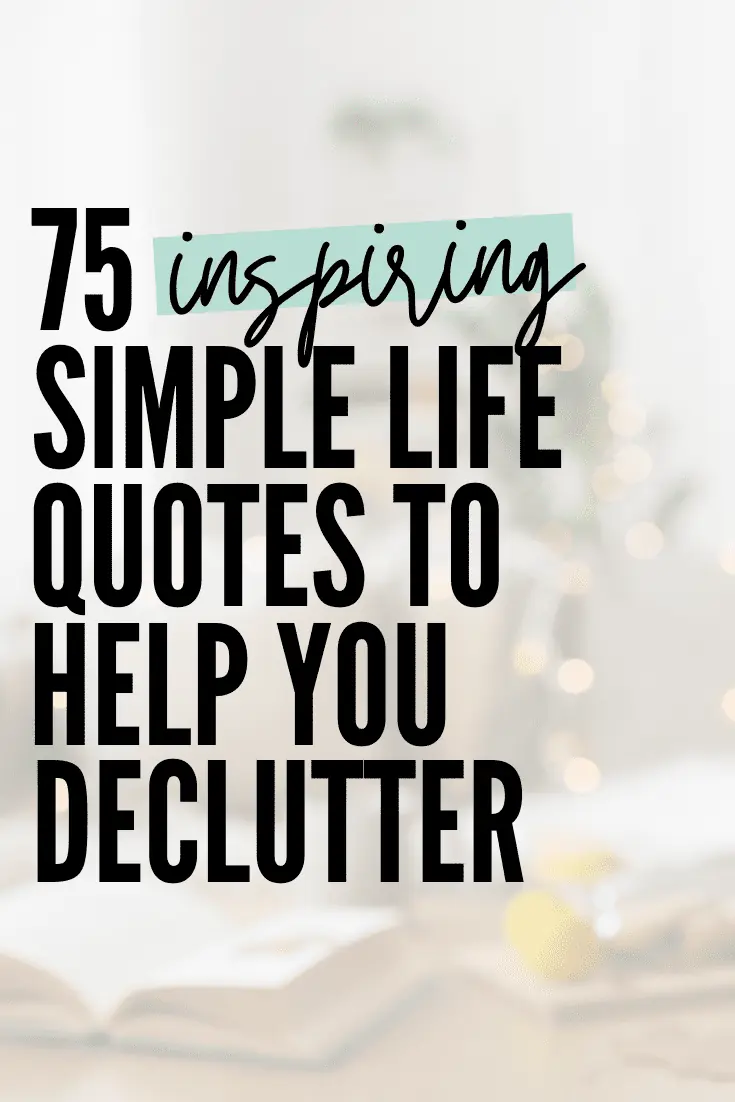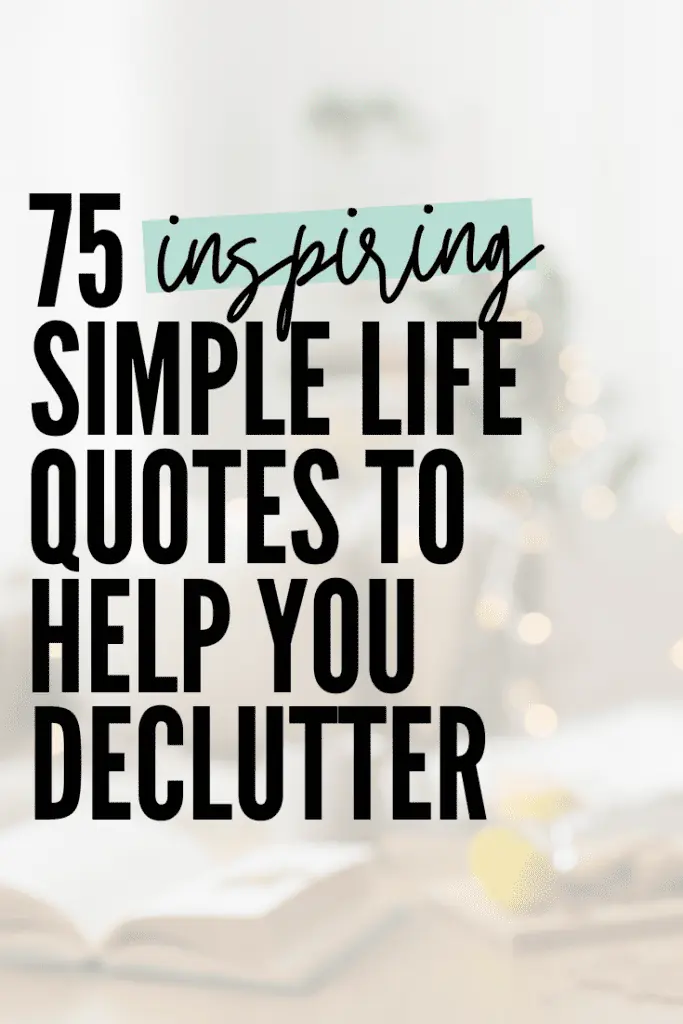 There are many ways we can simplify our lives, even if it feels like we have no extra time or energy to do so.
One effective way is to start by simplifying your mind by incorporating simple life quotes into your daily routine. These sayings can remind you of what's most important in your journey at any given moment.
Here are 75 inspiring simple life quotes to declutter your mind and soul.
Simple Living Quotes To Inspire You Daily
1. "I am beginning to learn that it is the sweet, simple things of life which are the real ones after all." – Laura Ingalls Wilder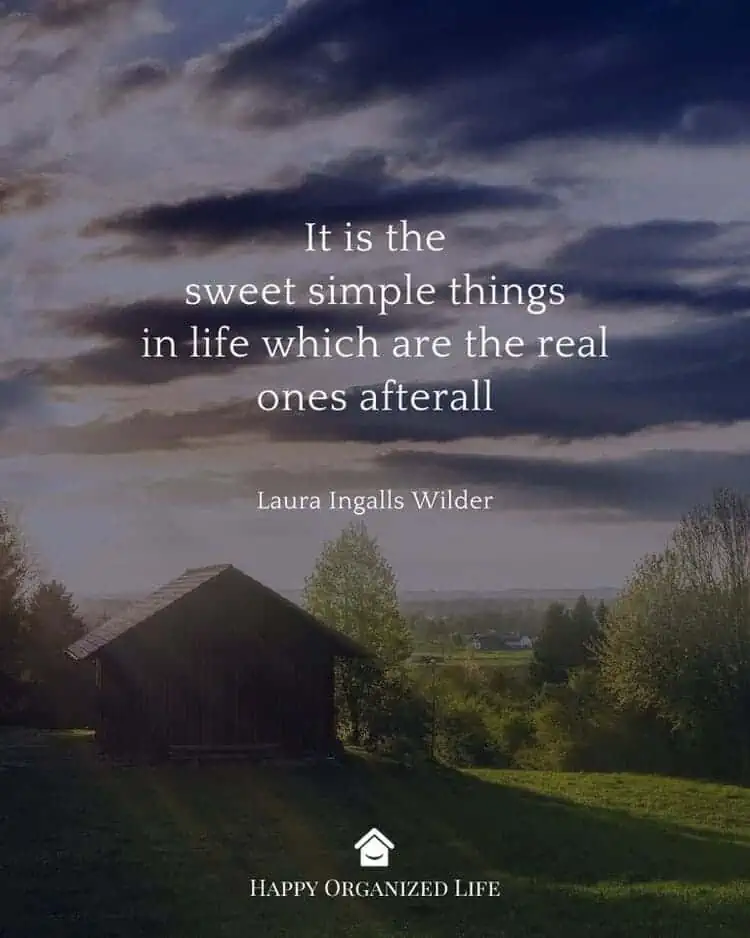 Keeping it simple is critical in every aspect of our lives. Simplicity in our lives brings ease and comfort, allowing us to focus on what's really important.
2. "Some cause happiness wherever they go; others whenever they go." – Oscar Wilde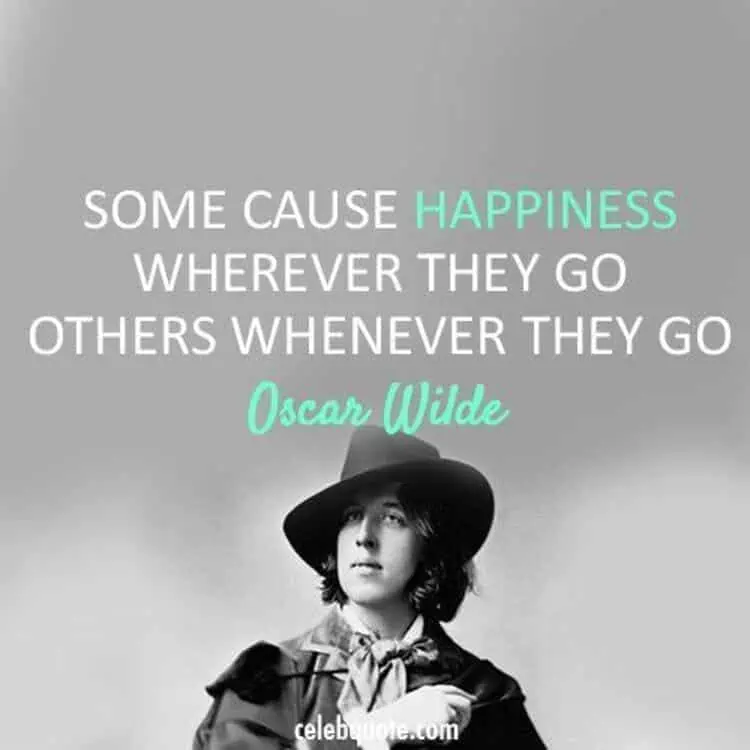 It's the same with clutter. If you're constantly surrounded by mess and clutter, it's going to negatively impact your life. On the other hand, a clean home can make you feel more relaxed and happy. I love this Oscar Wilde quote!
3. "I'm just delighted to be living, to be able to have a simple conversation, to feel a ray of sunlight on my skin and listen to the breeze move through the leaves of a tree." – Ryuichi Sakamoto
Simplicity is an essential part of life because it helps us appreciate what is important and meaningful to us. By removing unnecessary stress from our lives, we leave space in our minds to focus on what truly matters.
4. "We practice letting go. And in the process, we find peace." – Leo Babauta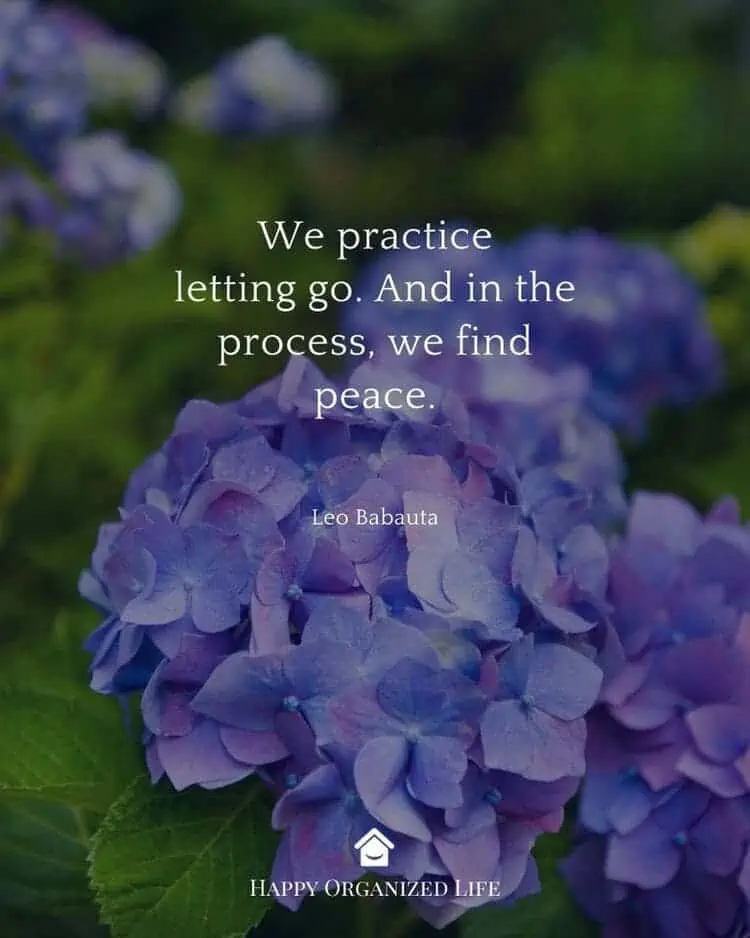 The best way to declutter your home and reduce stress is to build a habit of regularly tossing things you don't need. It might seem difficult at first, but collecting things you don't need into one pile will make things easier. You might even be surprised at how much stuff you've collected over the years that you no longer need.
5. "Never discourage anyone… who continually makes progress, no matter how slow." – Plato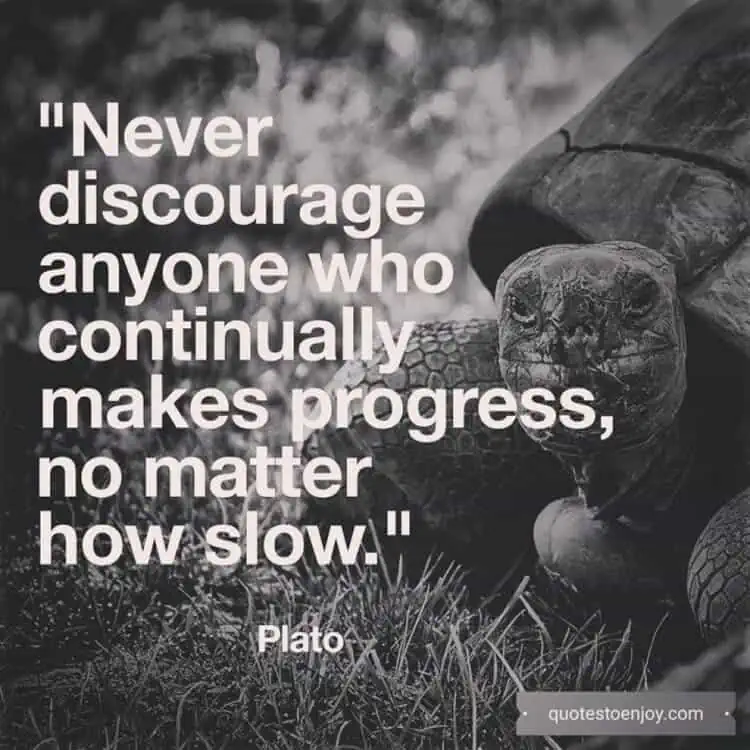 This life quote should be placed somewhere everyone could read every day! If we're more compassionate and understanding towards others, we could build a whole new and better world.
6. Simple Life Quotes: "Make room for things that matter by removing everything that doesn't." – Brian Gardner
There are endless benefits to simplifying your life: from more positive relationships to a more productive work day.
By identifying the things that add value to your day and eliminating the things that don't, you can make more time for the things that matter most.
7. "Simplicity is the ultimate sophistication." – Leonardo da Vinci
8. "Simplicity is complex. It's never simple to keep things simple. Simple solutions require the most advanced thinking." – Richie Norton
9. "Simplicity is the soul of efficiency." – Austin Freeman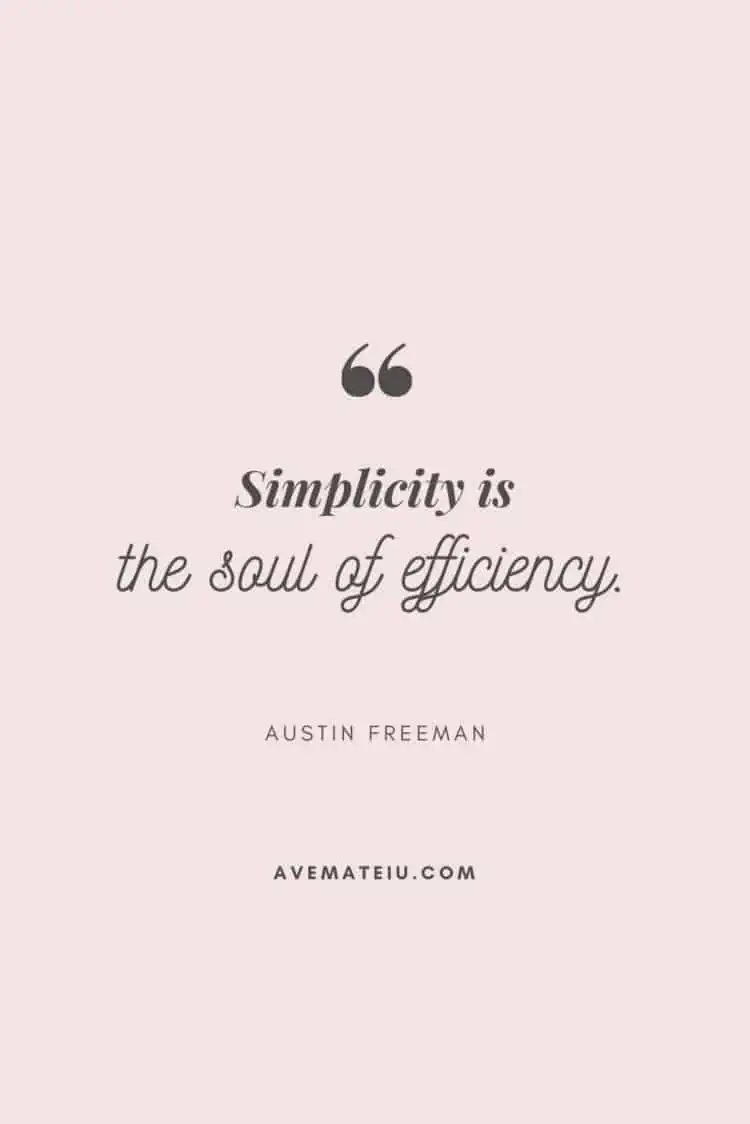 10. "A simple life is not seeing how little we can get by with – that's poverty – but how efficiently we can put first things first…
When you're clear about your purpose and your priorities, you can painlessly discard whatever does not support these, whether it's clutter in your cabinets or commitments on your calendar." – Victoria Moran
Words from simple life quotes like this one from Victoria Moran are worth learning by heart, aren't they?
Being intentional about your daily actions is the key to a simple life. When you're not confident about your priorities and values, it's easy to fall into patterns that may not be helpful to you in the long run, and clutter is a reflection of this lack of intentionality.
11. "Simplicity is not about deprivation. Simplicity is about a greater appreciation for things that really matter." – Anonymous
We need to remember that simplicity enables us to:
Focus on what's important
Promotes efficiency, and
Helps us to spend less time on activities that don't bring us value.
No one can prioritize what they don't acknowledge.
And when it comes to keeping it simple, it goes further than ditching all of your unnecessary stuff. To simplify your life doesn't mean you have to give up the things you love; it just means finding a more uncomplicated way to do them.
12. "Simplicity reveals the pure beauty of life." – Debasish Mridha
13. "Minimalism is about creating space to live simply and meaningfully; it's about living intentionally." – Laurie Buchanan, PhD
Being intentional about your daily activities will help you live a simpler life. Intentional living is about being mindful of:
What are you doing?
Why are you doing it?
What items do you own?
What do you actually need?
It's about:
Being present in the moment
Letting go of unneeded things and distractions
Prioritizing your values
Living accordingly
14. "A minimalist by intent, I live a beautiful life with fewer things—simple, yet full." – Laurie Buchanan, PhD
When your space is clean and organized, you'll more likely have a clean and organized mind. If you want to feel calmer and more joyful, try cleaning up your environment.
15. "The simple life is an authentic life." – Kilroy J. Oldster
16. Simple Life Quotes: "Eliminate the needless wants of life, and the labors of life reduce themselves." – Edwin Way Teale
One of the most important secrets of simplicity is that it enables focus and productivity, allowing us to achieve more with less effort.
From decluttering our homes to eliminating unnecessary stress, simple living can improve our overall well-being.
17. "Our life is frittered away by detail. Simplify, simplify." – Henry David Thoreau
This quote from Walden and Other Writings is right on point, isn't it?
18. "Simplicity is the highest goal, achievable when you have overcome all difficulties." – Frederic Chopin
Keeping life simple helps us to focus on what's important and avoid being overly complicated. It allows us to eliminate stress and unnecessary complications from our lives.
This doesn't mean you can't have goals or work toward being more successful. It just means that you must balance that with simplicity.
19. "The last thing is simplicity. After having gone through all the difficulties, having played an endless number of notes, it is simplicity that matters, with all its charm. It is the final seal on Art. Anyone who strives for this to begin with will be disappointed. You cannot begin at the end." – Frederic Chopin
Here Chopin gives more insight and explains more about the simplification process. It takes time, but it's always worth it. Such inspiring simple life quotes can truly make a difference in our busy days.
Boost Your Decluttering Results with Simple Life Quotes
20. "Simplicity is the final achievement. After one has played a vast quantity of notes and more notes, it is simplicity that emerges as the crowning reward of art." – Frederic Chopin
21. "The less I needed, the better I felt." – Charles Bukowski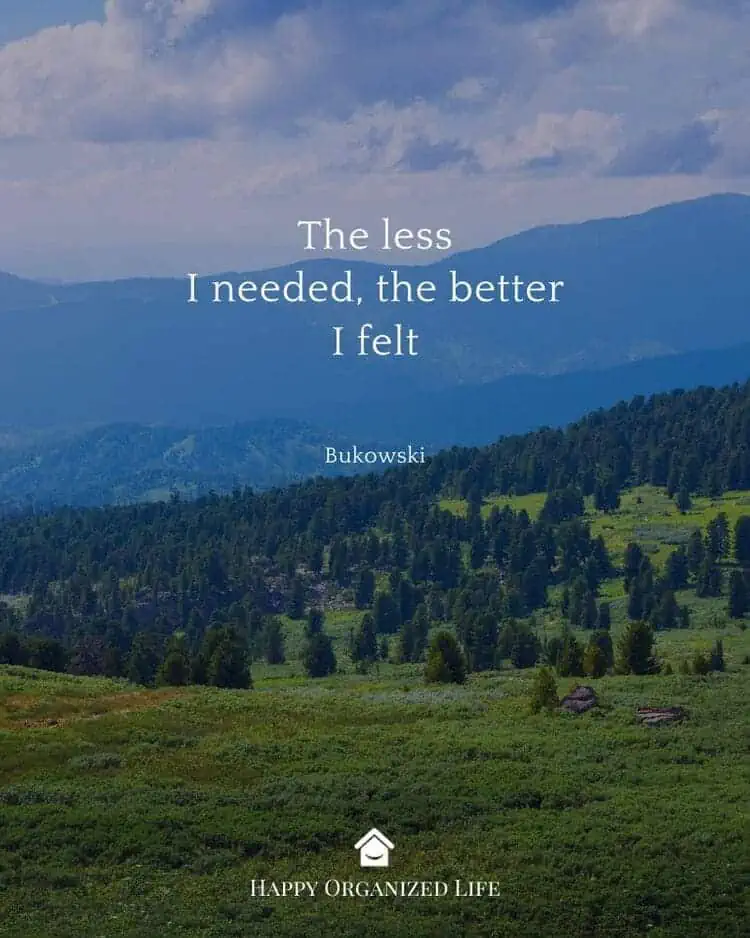 22. "There is no greatness where there is not simplicity, goodness, and truth." – Leo Tolstoy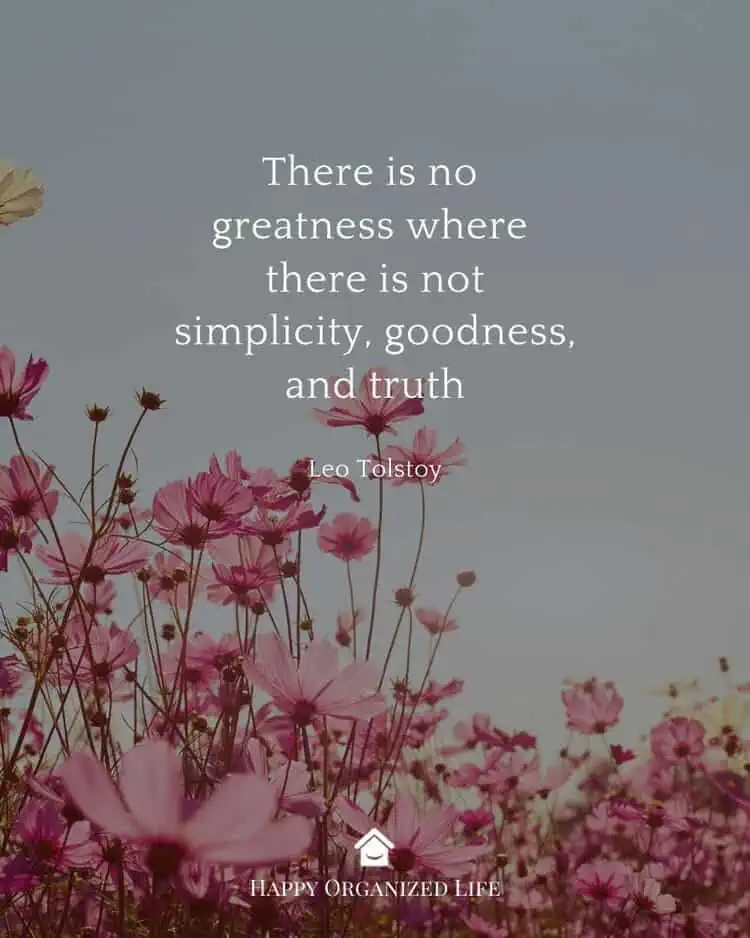 23. Simple Life Quotes: "It is vain to do with more what can be done with less." – William Of Occam
24. "Getting rid of everything that doesn't matter allows you to remember who you are. Simplicity doesn't change who you are, it brings you back to who you are." – Courtney Carver
25. "If buying stuff hasn't made you happy, maybe getting rid of it will." – Joshua Becker
Decluttering helps us:
Stay focused
Reduces stress, and
Helps us appreciate the important things
These habits can help you simplify your life and make you a happier, healthier person.
26. "Eliminate physical clutter. More importantly, eliminate spiritual clutter." – D.H. Mondfleur
27. "Simplicity is making the journey of this life with just baggage enough." — Charles Dudley Warner
Decluttering your living space is one of the best ways to reduce stress and improve your mental health. When you declutter your home, you eliminate excess stressors like organizing and cleaning.
Decluttering also helps you focus on what's important to you by removing physical distractions. The less stuff you have in your home, the less stress it will cause you.
28. "As you simplify your life, the laws of the universe will be simpler; solitude will not be solitude, poverty will not be poverty, nor weakness weakness." — Henry David Thoreau
29. "That's been one of my mantras – focus and simplicity. Simple can be harder than complex. You have to work hard to get your thinking clean to make it simple. But it's worth it in the end because once you get there, you can move mountains." — Steve Jobs
30. "To find the universal elements enough; to find the air and the water exhilarating; to be refreshed by a morning walk or an evening saunter… to be thrilled by the stars at night; to be elated over a bird's nest or a wildflower in spring — these are some of the rewards of the simple life." — John Burroughs
Our lives are so busy we're always in a rush, chasing one more thing. Simple life quotes like this one from John Burroughs, help us remember that we should slow down, smell the roses, and make the most of today.
31. "A simple life gives birth to more clarity, inner peace and meaningful relationships." ― Margo Vader
Take A Little Soul Time is the book where Margo Vager shares this simple life quote.
Simplicity is the key to a happy life. It is not the goals or achievements that matter, but the journey towards them.
Simplicity is a state of mind and a lifestyle that embraces moderation and rejects excess. It has different meanings to different people, but it all boils down to one thought: living a less materialistic and more meaningful life.
32. Simple Life Quotes: "Life is not complex. We are complex. Life is simple, and the simple thing is the right thing." – Oscar Wilde
33. Simple Life Quotes: "The real things haven't changed. It is still best to be honest and truthful; to make the most of what we have; to be happy with simple pleasures; and have courage when things go wrong." ― Laura Ingalls Wilder
If you have piles of boxes in your house and office, it will cause stress and anxiety every time you walk past them.
However, if you decide to try minimalistic living, you'll only keep the things that spark joy in you. This means you'll be happier every time you walk past those items, and wouldn't that be a wonderful way to experience out belongings?
34. "He who is contented is rich." – Lao Tzu
35. "Saying no is more important than saying yes." – Shane Parrish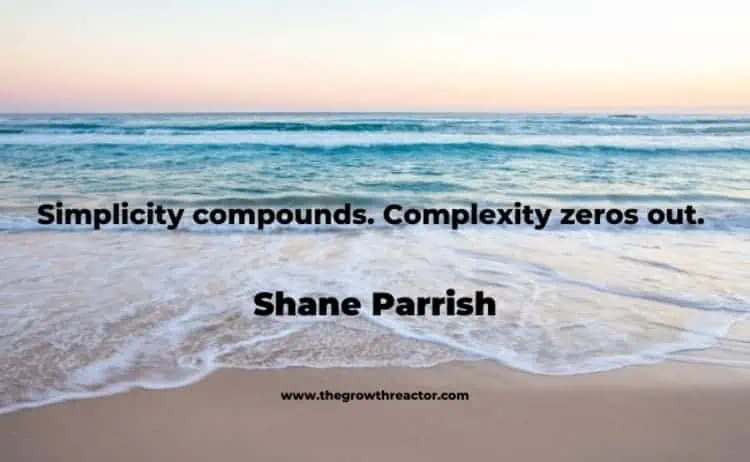 36. "In everything, love simplicity." — Saint Francis De Sales
37. "The simple pleasures of life give us lasting satisfaction." — Avijeet Das
Simplicity is an art that is not easy to master, but it is something that can be cultivated. It might be a bit confusing at first, but we promise you it's worth it.
Simplicity is not about having fewer things in your life, it's about:
Deciding what things are important
What things are unnecessary
Being intentional with your time and energy, instead of letting those things slip through your fingers every day
Simplicity is about cultivating mindfulness in your life. And it's possible for you, too!
38. "Receive without conceit, release without struggle." – Marcus Aurelius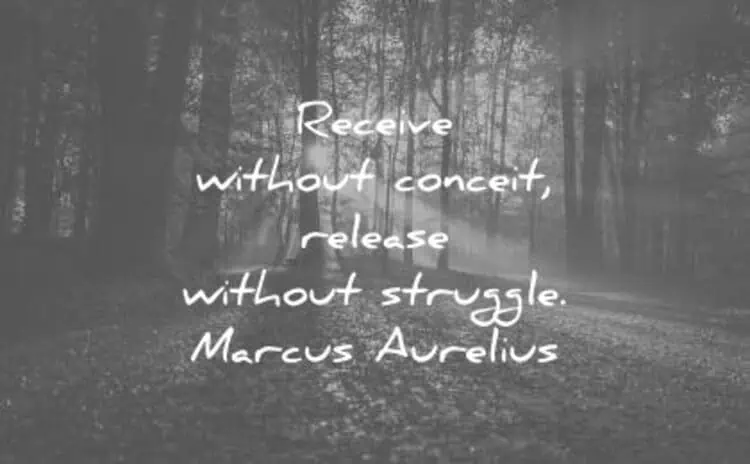 39. "Escape from complicated life! Take refuge in simple life! You will find three treasures there: Healthy body, a peaceful mind and a life away from ambitious fools!" — Mehmet Murat ildan
Simplicity is best practiced when you are intentional about it. Simplifying your life doesn't happen automatically, it takes effort and focus. The more you practice, the easier it becomes. Simplicity is about cutting away the unnecessary so you can focus on what's important. It's about cultivating an intentional and mindful lifestyle.
40. Simple Life Quotes: "Make everything as simple as possible, but not simpler." – Albert Einstein
Simplicity does not mean giving up everything in life, but rather a conscious decision to reduce the things we have in our lives that don't really matter. It can be a way of taking control and reducing stress. Simplicity is about living with intention, which helps you focus on what's most important to you.
Best Simple Life Quotes For Decluttering Inspiration and Motivation
41. "One of the biggest accelerators to change is simplicity." — Dr. Henry Cloud
The reason why people don't make changes in their lives is that they are afraid of change. They are comfortable with the way things are and don't want to risk anything.
Change means facing our fears and dealing with uncertainty. It's much easier to keep doing what we're doing, even if it's not working for us.
42. Favorite Simple Life Quotes: "It is important that we forgive ourselves for making mistakes. We need to learn from our errors and move on."
― Steve Maraboli
Read more in his book – Life, the Truth, and Being Free.
43. "Letting go means to come to the realization that some people are a part of your history, but not a part of your destiny." ― Steve Maraboli
44. "The greatest step towards a life of simplicity is to learn to let go." — Steve Maraboli
When we're talking about decluttering, it's important to remember that less really is more. The less clutter we have in our homes, the more room we have for meaningful items and experiences.
45. Simple Life Quotes: "Life made easier for others is a life so worthwhile living" ― Margo Vader
46. "Simplicity is extremely important for happiness. Having few desires, feeling satisfied with what you have, is very vital: satisfaction with just enough food, clothing, and shelter to protect yourself from the elements." – Dalai Lama
Some people are just naturally organized, but for most of us, it's a skill that needs to be learned and practiced. Even if you're not naturally tidy, you can still cultivate the habit of keeping your stuff in order.
As with anything, it all starts with your mindset. If you're convinced that you can't be tidy, you won't be. But if you believe that tidying is a skill you can learn, you're much more likely to be successful.
There are lots of ways to learn this skill. Start with a simple goal – tidy up one thing every day – and work your way up from there. You can also try visualizing your tidy space, imagining the things you want to keep in order swirling around you and then drawing them towards you.
47. Simple Life Quotes: "The greatest wealth is a poverty of desires." – Seneca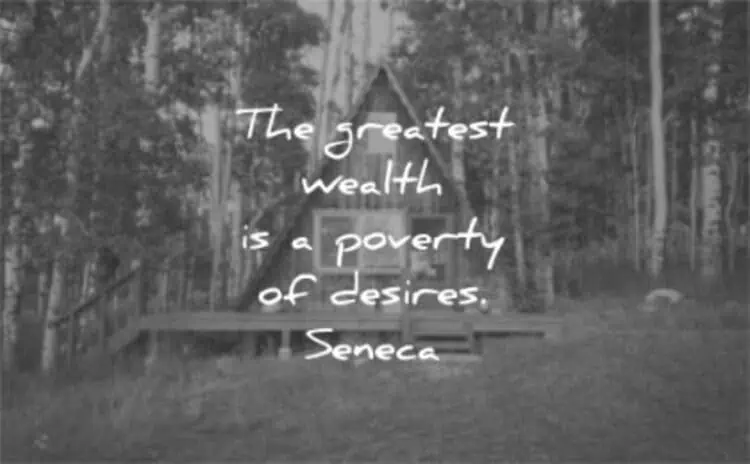 48. "Life is pretty simple: You do some stuff. Most fails. Some works. You do more of what works." – Leonardo da Vinci
49. "The truth is, unless you let go, unless you forgive yourself, unless you forgive the situation, unless you realize that the situation is over, you cannot move forward." ― Steve Maraboli
This quote from Unapologetically You: Reflections on Life and the Human Experience is an excellent way to state that the key to simplifying your life is discarding the things that are holding you back from your goals.
You may have things in your life that you think is important to you, but sometimes, they could be the exact things cluttering your schedule and preventing you from reaching your goals. Simplifying is about deciding what is important to you and getting rid of everything else.
50. "The secret of happiness is something to do." ― John Burroughs
51. "A man is rich in proportion to the number of things he can afford to let alone." – Henry David Thoreau
Hoarding stuff doesn't just make your home look messy; it can also make you feel stressed and anxious. The more clutter you have, the harder it is to feel calm and relaxed. When your home is filled with clutter, it's much harder to focus on the things that matter most to you.
52. Simple Life Quotes: "Stay low, stay quiet, keep it simple, don't expect too much, enjoy what you have." — Dean Koontz
53. "Simplicity is the keynote of all true elegance." — Coco Chanel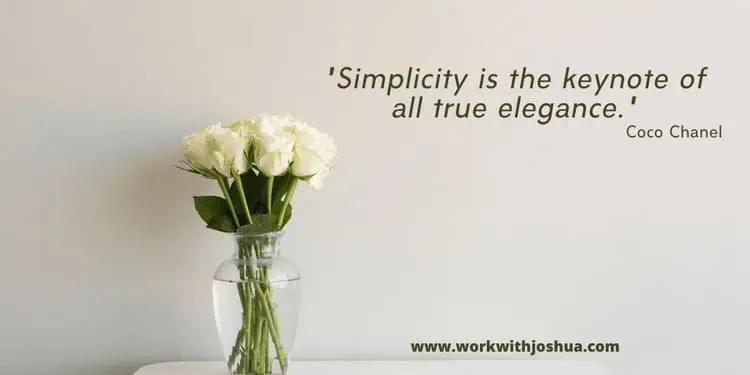 54. "When you find joy in doing all tasks including those which are mundane, your life becomes more beautiful." ― Margo Vader
In Margo Vader's book Take A Little Soul Time, we get to remember that our daily lives are a blessing. Many of us are unaware of this, but many things in our lives are only temporary and are not going to make us truly happy. 
So, we should try to spend our time wisely instead and enjoy the simple pleasures of life.
55. "Simple pleasures are the last healthy refuge in a complex world." — Oscar Wilde
56. "It is our fall from a simplicity and fullness of life directly experienced, from the sensuous moment of knowing, which leaves a gap that the symbolic can never bridge." – John Zerzan
57. "The 6 elements of life are to laugh, give, share, enjoy, care, and live a strong and full life." – Indrani 
Simplicity assists us in releasing unnecessary stress and worries and focusing on what we value most. In our often overcomplicated and chaotic lives, it's easy to lose sight of what matters most. Keeping things simple is key to living a meaningful and fulfilling life.
58. Simple Life Quotes: "Gratitude turns what we have into enough." – Anonymous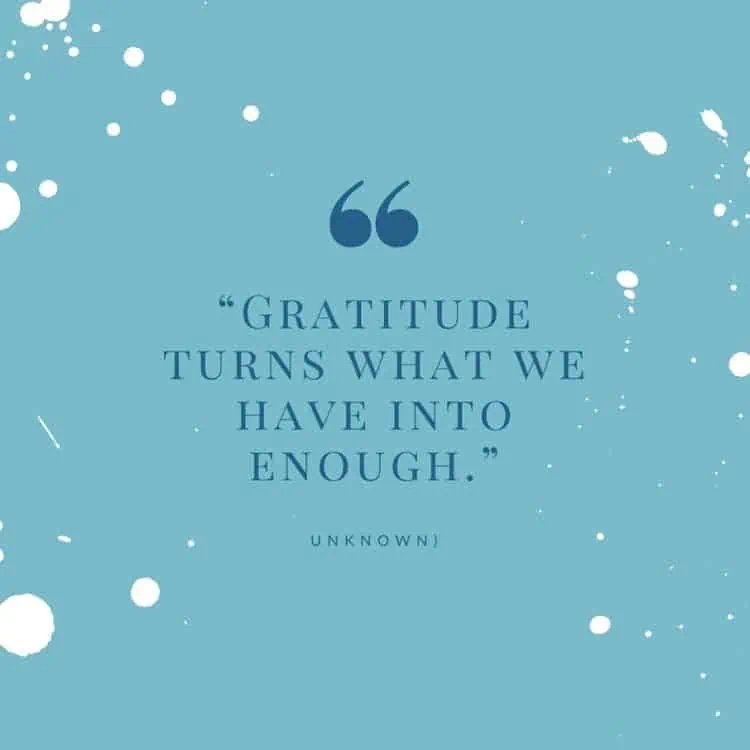 59. "The most important things in life aren't things." – Kenneth Clarke
60. "Sometimes the questions are complicated and the answers are simple." – Dr. Seuss
61. "Live a simple life; you will own the most beautiful treasures of the world!" — Mehmet Murat ildan
62. "Incredible change happens in your life when you decide to take control of what you do have power over instead of craving control over what you don't." ― Steve Maraboli
Such an inspiring life quote from Life, the Truth, and Being Free!
Sorting through and discarding things that no longer serve you feels really good. It can be a very positive experience and truly help your mental state, as well, and would you believe decluttering can actually be fun?! Decluttering your home can help you declutter your mind and your life too.
63. "The best things in life are free. The second best things are very, very expensive."– Coco Chanel
64. Simple Life Quotes: "Less stuff equals more freedom." – Maxime Lagacé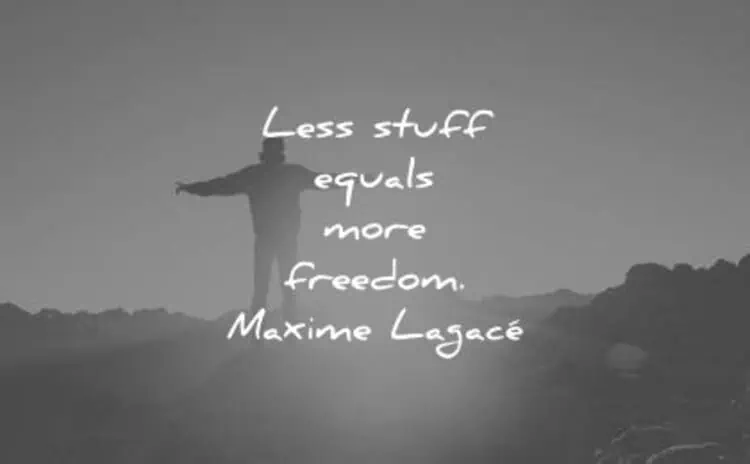 65. "To be richer, happier, and freer, all you need to do is want less." – Francine Jay
We all have a limited amount of time on this Earth, so we need to make the most out of our lives by focusing on what makes us happy and being content with it. Decide what truly matters and start from there.
66. "My choice of a lighter lifestyle has brought me a greater sense of well-being. In a world that often seems stressful and chaotic, that's a feeling I cherish." — Lisa J. Shultz
It's easier said than done, but decluttering your home can help reduce stress, improve focus, and make more space for activities that matter most to you.
Decluttering doesn't have to be a huge task, either. It can be as easy as picking one room or area of your house and doing one thing daily to make it a little bit better. With time, your efforts compound, and you'll have a much cleaner and less stressful environment.
67. "The more you have, the more you are occupied. The less you have, the more you are free." – Mother Teresa
This is an important concept you should keep in mind when decluttering your home or deciding what to keep.
When it comes to deciding what to keep, ask yourself how the item makes you feel.
If you feel good, consider keeping it.
If, however, you feel guilty or required to keep it out of obligation, that's a good sign it's time to let it go.
While that may seem overly simplistic, it's a helpful way to view your belongings. At the end of the day, the only things that truly matter are those that bring you happiness and joy. So when deciding what to keep, considering how the item makes you feel is very important.
68. "Sometimes what you're most afraid of doing is the very thing that will set you free." – Robert Tew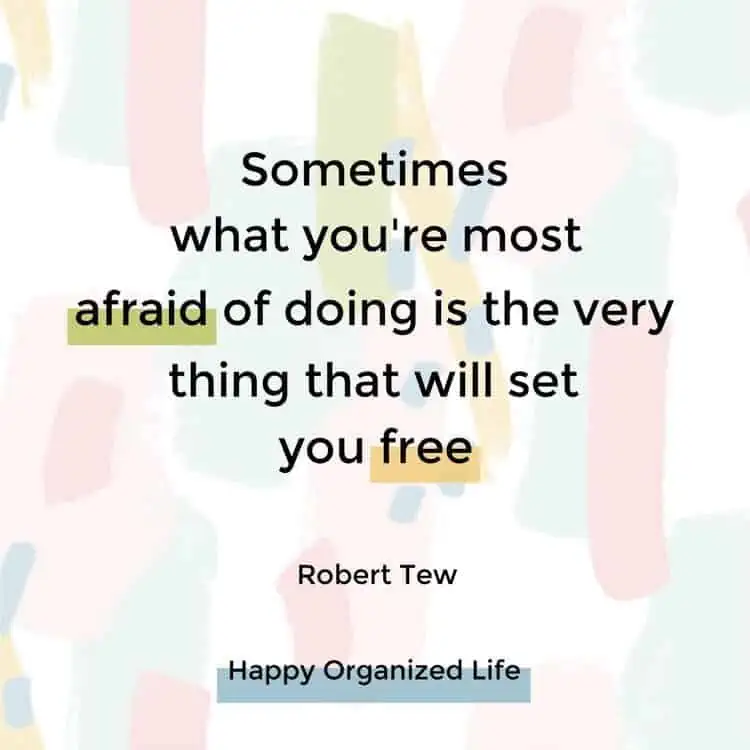 69. "The simplest things are often the truest." – Richard Bach
70. "The greatest wealth is to live content with little." – Plato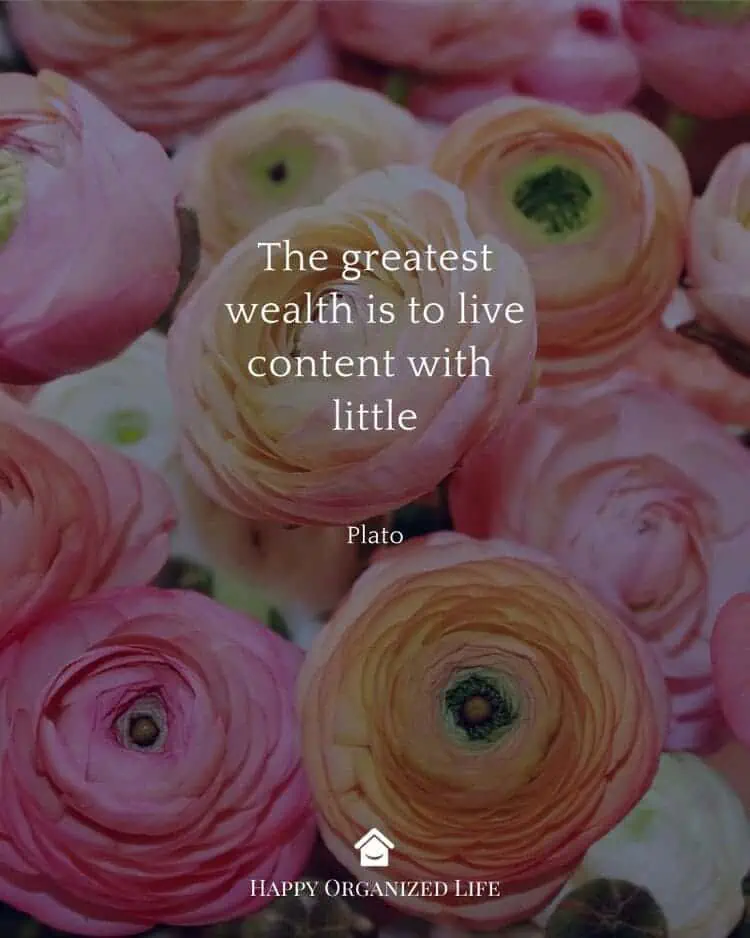 71. "Simplicity and harmony are the ultimate conditions to be attained in all things." – Horace Fletcher
72. Simple Life Quotes: "Owning less is great. Wanting less is better." – Joshua Becker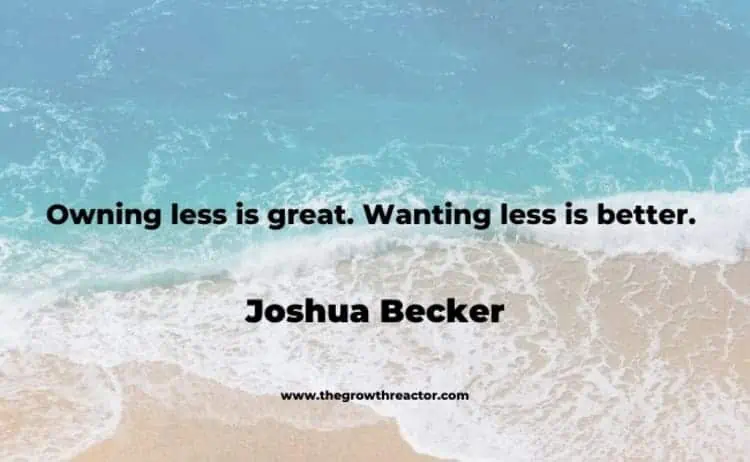 73. "You don't need more space, you need less stuff." – Joshua Becker
It's easier to declutter your home when you have a firm plan. You might start with something small, like getting rid of a few pieces of clothing that have been sitting in your closet for months or years or creating a capsule wardrobe.
Another approach would be to get rid of one possession every day for a week or every day for a month.
No matter what method you choose, if you follow it with the right mindset, you will be more likely to succeed.
74. "Simplicity compounds. Complexity zeros out." – Shane Parrish
75. "Simplicity is the essence of happiness." – Cedric Bledsoe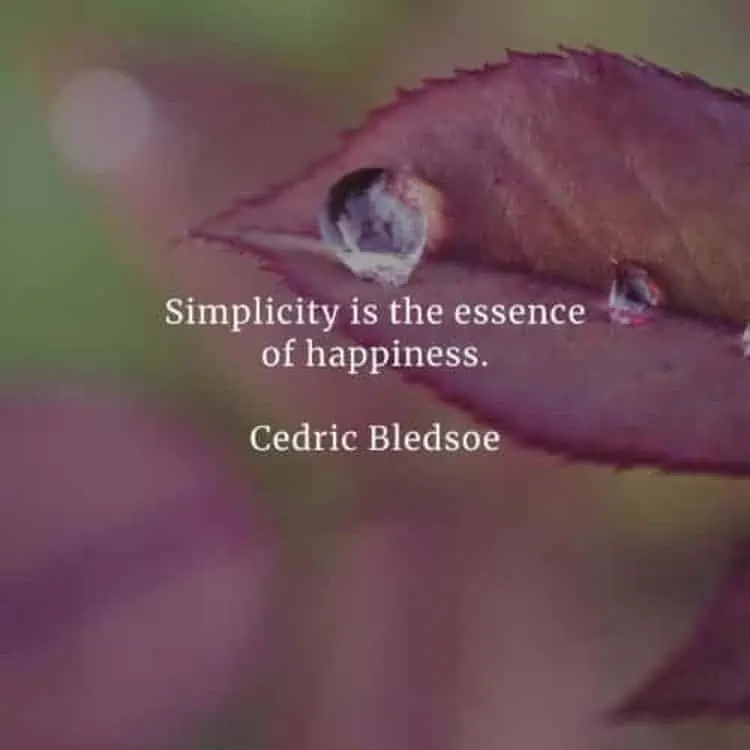 Sometimes we forget that happiness comes from within ourselves, so we try to find it in things or other people. Remember, the simpler you keep it, the easier it will be!
Simplicity is a virtue that helps us to understand ourselves better, as well as others. It's important to remember that a simple life isn't about depriving yourself of the things you love. Instead, it's about making better choices and eliminating clutter, so you can enjoy the things you love more fully.
When it comes to keeping it simple, it goes further than ditching all of your unnecessary stuff. Simplifying your lifestyle doesn't mean you have to get rid of the things you love; it just means finding an easier way to do them.
Once you start decluttering, you'll discover how many things you never needed in the first place, and you'll also notice how much happier life can be.
That said, I hope these simple life quotes inspire you and help you deal with clutter once and for all!
Did you enjoy this list of simple life quotes? Then, you should definitely check out these other posts, too: