Last week I asked for your feedback about what room you wanted to work on next, and the crowd has spoken. We will be tackling our laundry rooms!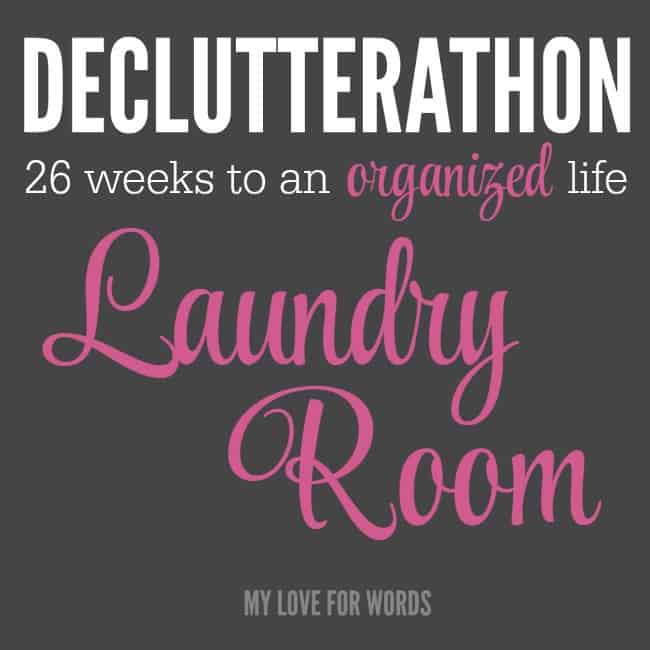 My laundry room is in a constant state of disarray, which has led me to one conclusion: We have too many clothes! Honestly, I'm not sure why we even have closets in our home because the laundry just seems to stay in the laundry room or on the floors of our bedrooms. We've established some very bad habits, but that's what this entire process is about, breaking those bad habits, retraining ourselves, and making progress.
My goals for my laundry room are:
Monday & Tuesday: wash, dry, fold, and put away all laundry that's currently dirty or sitting in baskets in the laundry room
Wednesday & Thursday: Empty, sort through, and clean cabinets cabinets
We store our cleaning supplies in our laundry room so we'll be talking about those this week too as well as various storage ideas. I'll be back tomorrow with some inspiring laundry rooms to get our creative storage juices flowing. We'll also be talking about adding pretty touches so we're more inclined to keep our spaces clean and organized.
As for my entryway closets, pictures will be coming soon (you can see some of the work in progress pics, including what my poor husband came home to one day, here).
We're in this together, and if you feel like quitting please remember…
Do you use your laundry room for anything besides washing clothing, such as storing cleaning supplies? What are your favorite tips and tricks for creating and maintaining an organized laundry room?