As the first space people see, an entryway sets the stage for the rest of the home. It should be welcoming and inviting, and mine was anything but.
Upon opening the doors to my home, people were usually greeted with blank walls and a bunch of empty boxes. "Welcome! Now help us move in" wasn't exactly the message I wanted to send… especially since we've lived here almost three years now.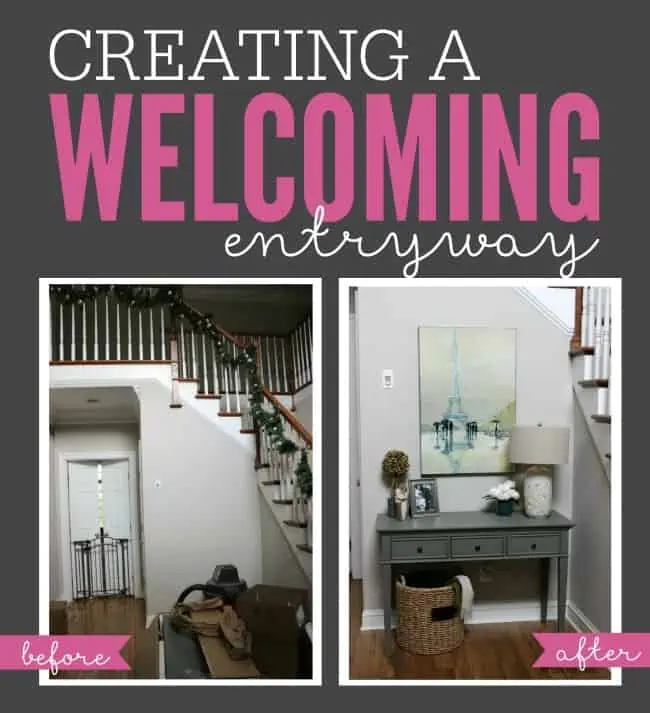 These are our front doors, and the view of our entryway from our family room as of yesterday morning.
What? Doesn't everyone have a wet dry vac in their entryway?
And now the view from the front door…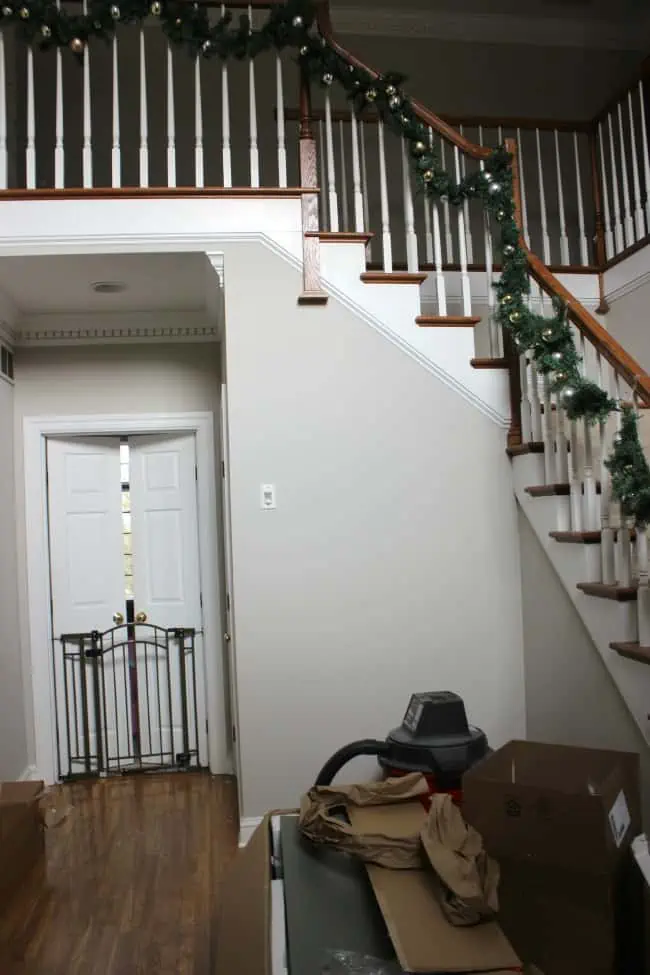 In all fairness to us, these boxes haven't been in the entryway for too long, and the wet dry vac is there because of the board and batten we're applying to the walls in the dining room, but still, not exactly the welcome look we're going for.
I'll admit that I was kind of dreading working on this space because, well, I can think of a million things I'd rather be doing, but once I got started it went really quickly. In only a little over an hour I: cleared the boxes, vacuumed, removed the Christmas garland (because it's February!! The kids weren't thrilled to see the last of the decorations go, but only 10 months until they'll be up again!), assembled our new table, hung a picture, and staged our brand new space. It's situations like this that make me think, "What took me so long?"
Here's our new view from the family room.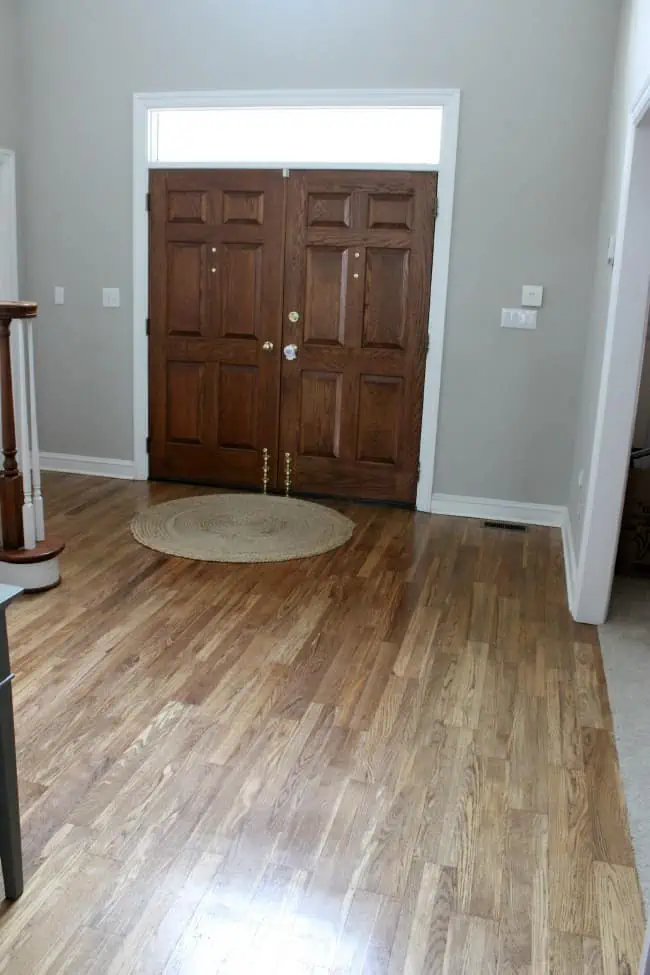 And from the front door…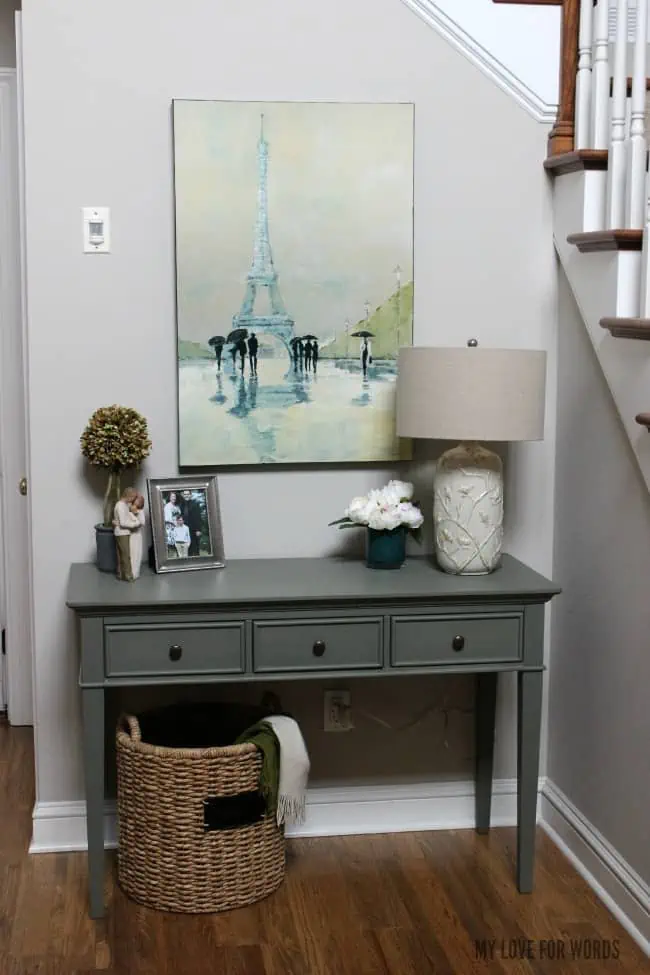 I love it! This space makes me so happy now. The staging and tchotchkes may change, but I love that it actually looks like a finished space now. We have so few in our house.
Now, in an effort to keep things real, I do have to admit that this is what my dining room now looks like:
You may be thinking, "You didn't declutter! You just moved everything." haha… That's partially true. A lot of those boxes just need to be moved to our garage, and I'm going to let my husband take the wet vac back downstairs so there was some actual decluttering and clearing that took place.
A few of the boxes in our entryway were full of our wedding china so I didn't unpack those yet. I want to wait until our dining room's finished so I have a place to put it all. I'm kind of dreading the dealing with the dining room, which is why it's taking me forrreeevveeerrrr (who loves The Sandlot? You can see previous dining room posts here and here), but you're getting a sneak peek at the board and batten, what's most likely going to be the paint color, and our new chandelier and wall sconces.
Here's another shot of the pretty entryway, and its ugly stepsister, the dining room.
Basically, these are a great reminder to take blog photos with a grain of salt. You never know what's just outside of the frame. 😉
Overall, I'm really happy to be finished with the space and not feel full of dread at the idea of someone unexpectedly stopping by… as long as I'm not in pjs, and they don't look in the dining room or office. Okay, so I kind of still dread unexpected visitors, but oh well… I'll get there.
Did you declutter your entryway this week? I'd love to see your before and after photos! Be sure to stop by the Declutterathon facebook page to share them.
I also just posted a poll on the facebook page asking which space you all would like to declutter next. The choices are: laundry room, office, kitchen, master bathroom/linen closet, or clothing closets. Please let me know either by voting on the Declutterathon page or by leaving a comment below. I love that we're doing this together!

Update! See those ugly wires hanging down below my entryway table? I found a super simple and inexpensive way to hide those wires you'll definitely want to check out.