Looking for inspiration for mom and baby Halloween costumes? Are you in search of a fresh idea that will make your baby's first Halloween really fun? Check out these fun and creative ideas for mom and baby Halloween costumes!
There are so many possibilities when it comes to mom and baby costumes!
Dressing up with a baby is a great opportunity to get the creative juices flowing and really embrace a theme before your little one starts to have their own costume ideas so if you're ready to step outside the box and stand out from the crowd this year, keep reading below for my top 50 ideas for mom and baby outfits.
This post contains affiliate links.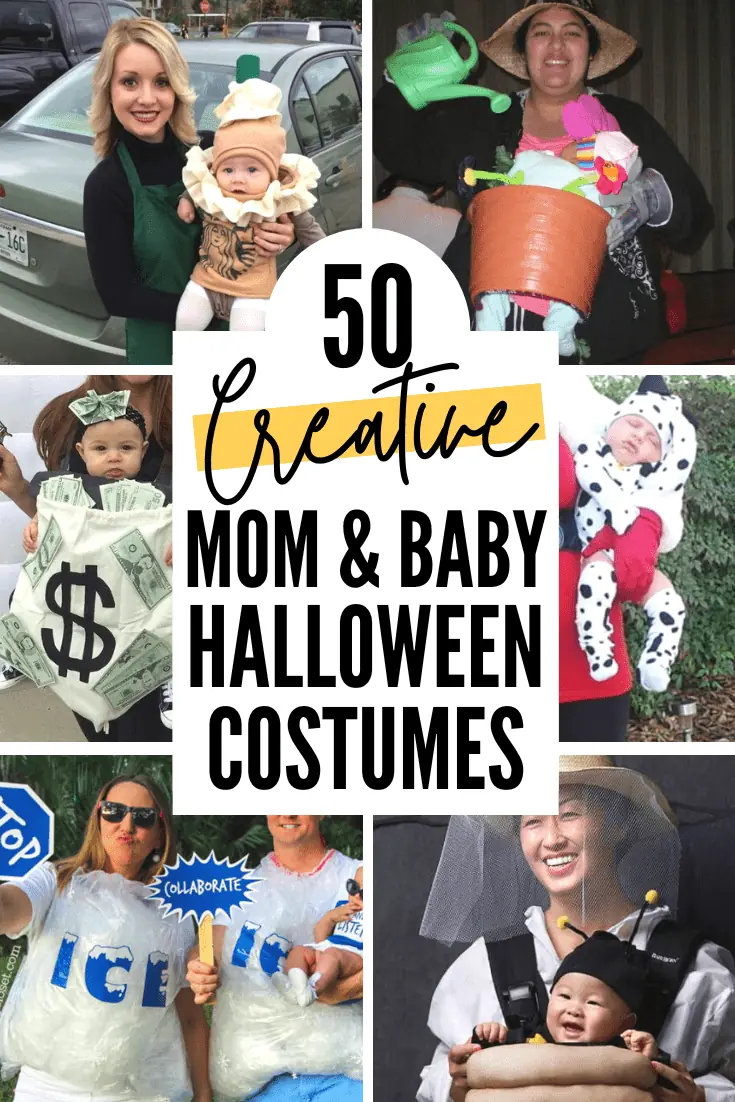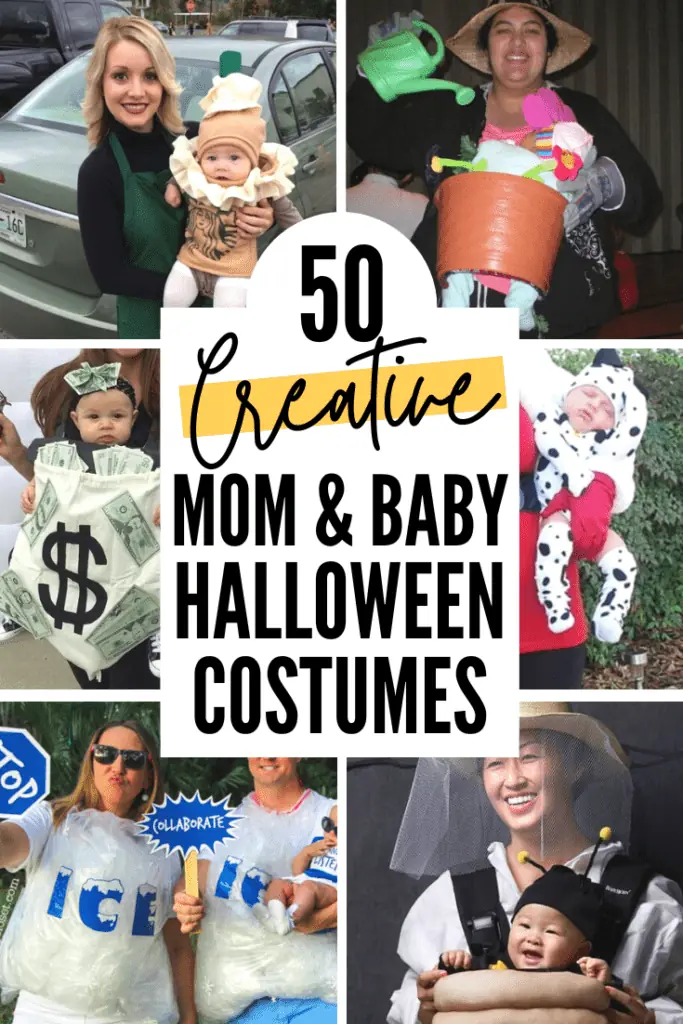 DIY Mom and Baby Halloween Costumes
If you want to keep your costs down, coming up with a homemade costume idea is a great option. There are so many different things that you can make into a costume! If you can think of it, there is likely a way for you to make it a costume so go crazy, be creative, and have fun with it!
Your baby might not remember celebrating or trick-or-treating on their first Halloween, but you will, and they'll love looking back on the amazing photos one day.
1. Birds of a Feather – Mom and Baby Flock Together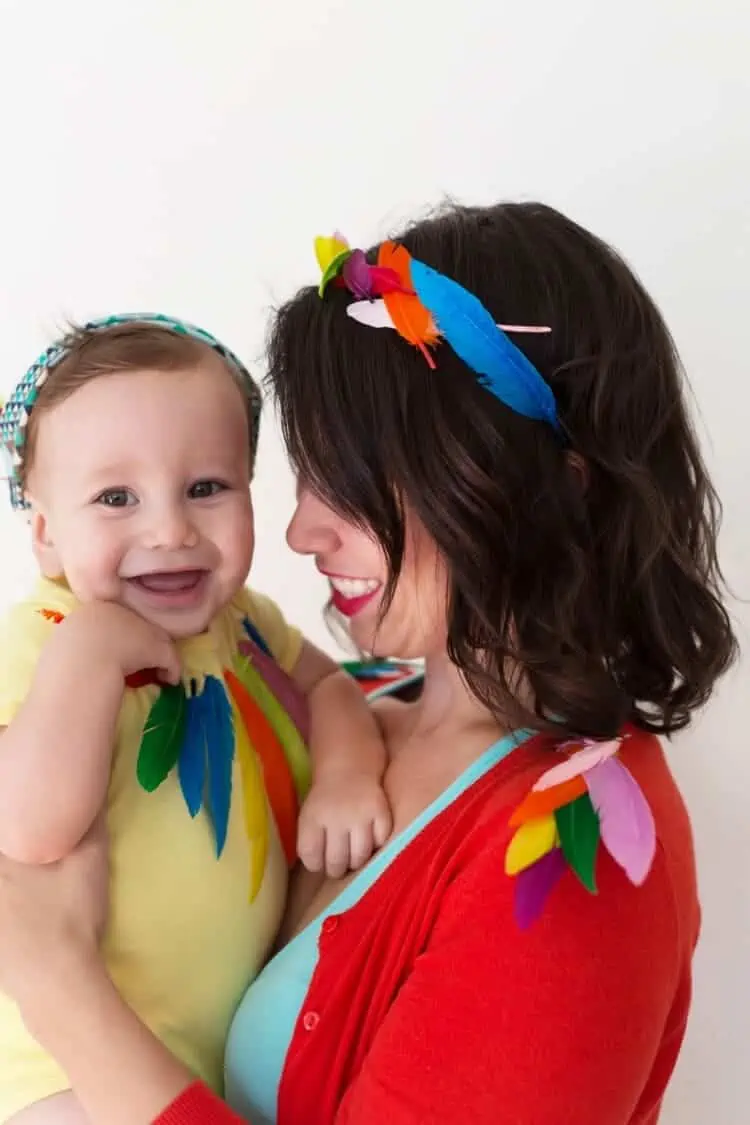 This is such a cute and colorful idea! Birds of a feather is a mommy and baby costume with a simple and quick tutorial. Ideal for mom and baby or the entire family!
2. Mushroom and Gnome Mom and Baby Halloween Costumes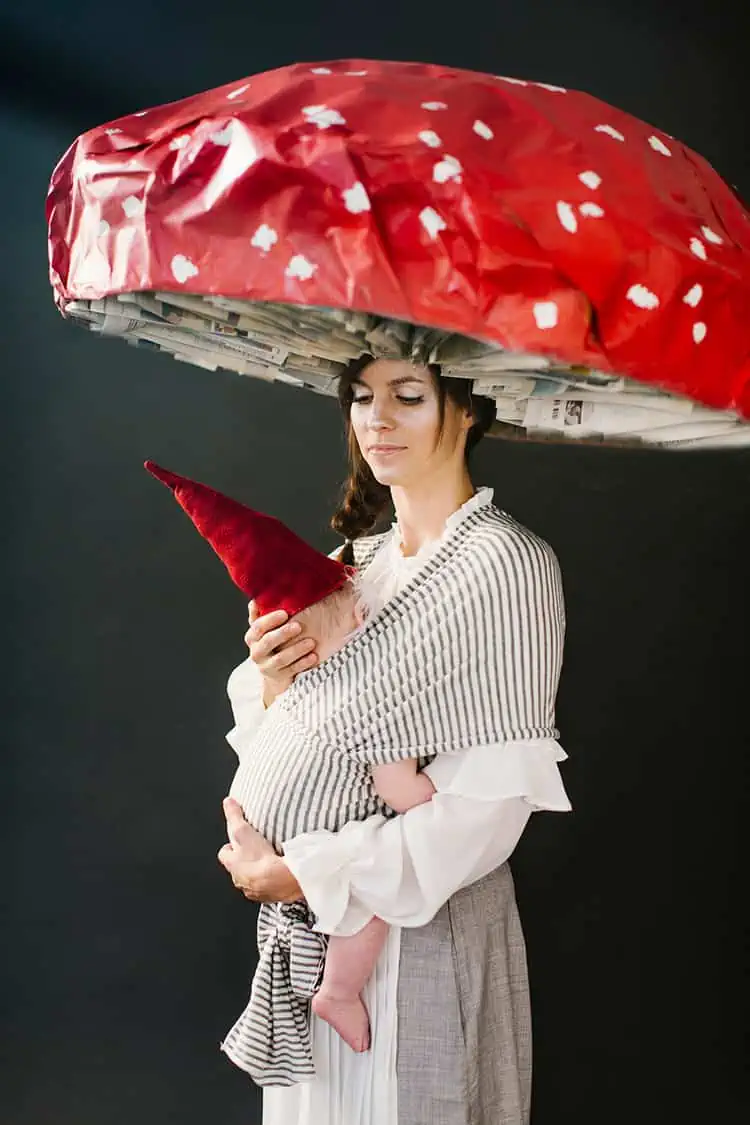 This is such a cute idea for a mom-and-baby costume! I was very impressed by these mushroom and gnome costumes. And the tutorial is thorough, and you'll be sure to get get plenty of "awwws" on Halloween if you decide to go with it.
3. Chiquita Banana Lady and Banana Mom and Baby Costume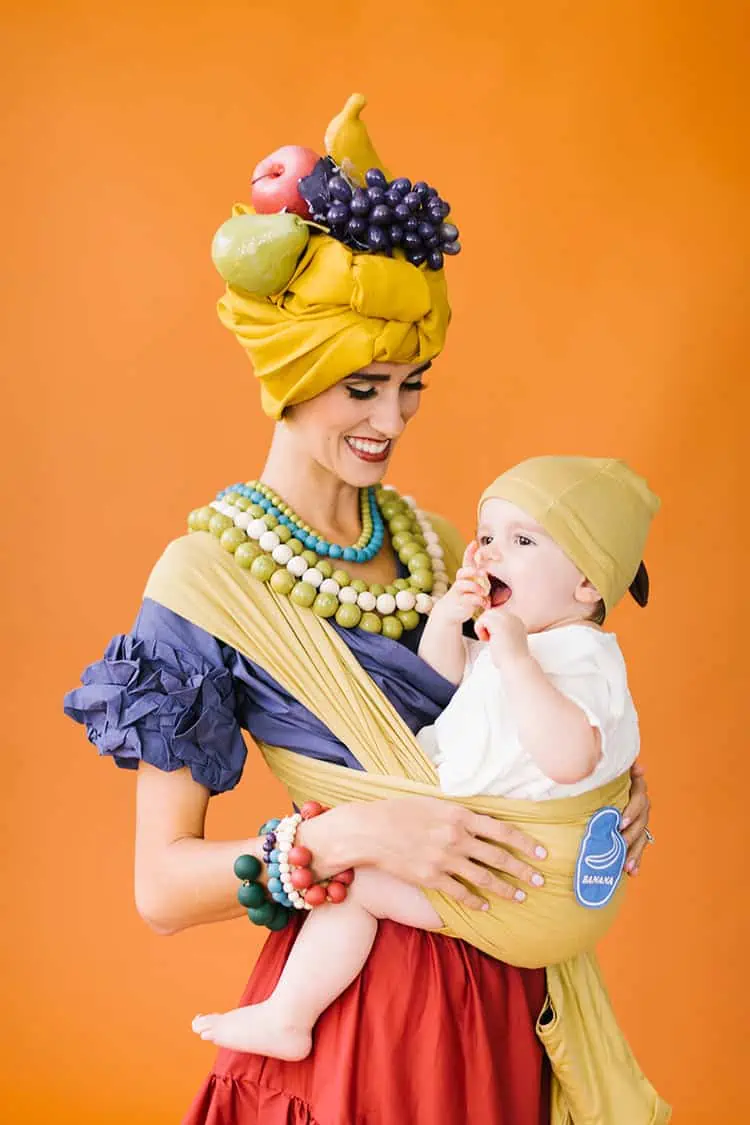 Easy, minimal cost, and super cute, this Chiquita banana lady and the baby banana costume is super easy to make! I think it's a great idea for a mom-and-baby duo. 
4. DIY Mother and Daughter Mermaid Costumes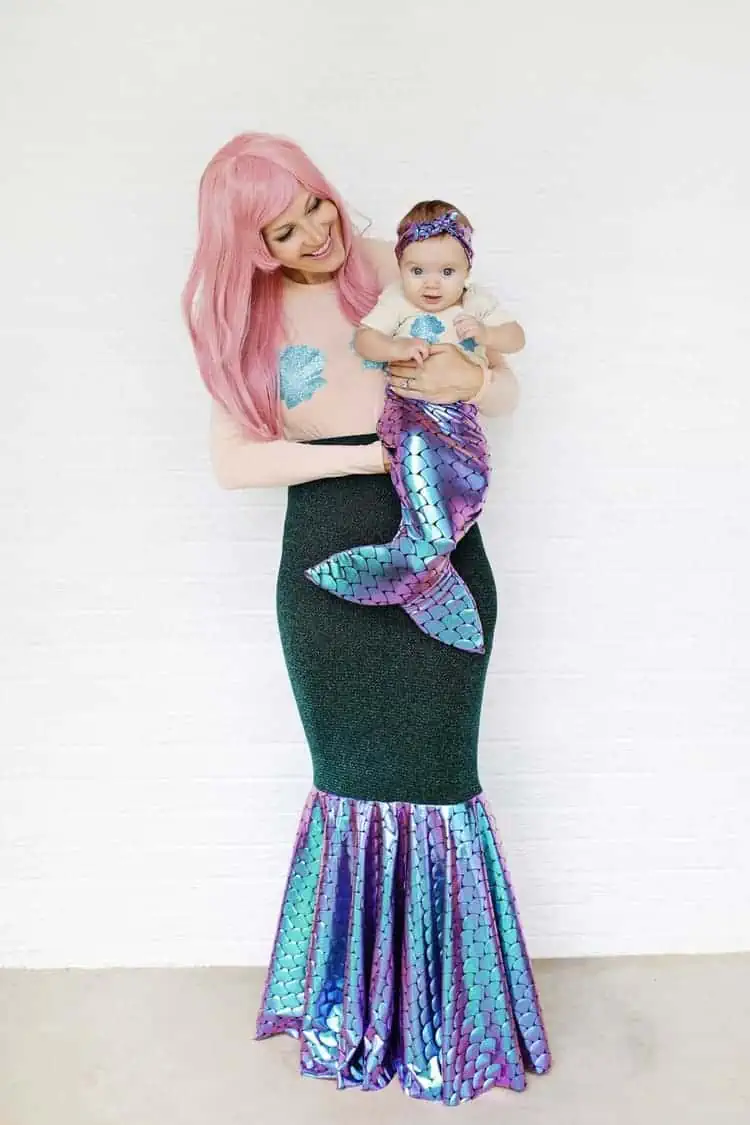 This great DIY mother and daughter mermaid costume idea will make you look like a princess! You can use accessories like seashells, starfish, or even sand to create the needed effect. This is another one of those easy and cheap costumes that looks great. Ah, just look at that adorable headband! 
5. Mom and Baby Ghost Face T-Shirt Costumes

This is an easy (and cheap!) mom-and-baby ghost face t-shirt costume!
You'll need:
An adorable solution for a last-minute Halloween outfit!
Easy Mom and Me Halloween Costumes
If you're looking for something simple and quick, you'll love these ideas.
The great thing about going for a couples costume (because mom and baby costumes are couples costumes) is that you can usually incorporate your little one into the costume. This means you don't have to find a costume for them, too, which is a win already.
6. DIY Rocket and Astronaut Costumes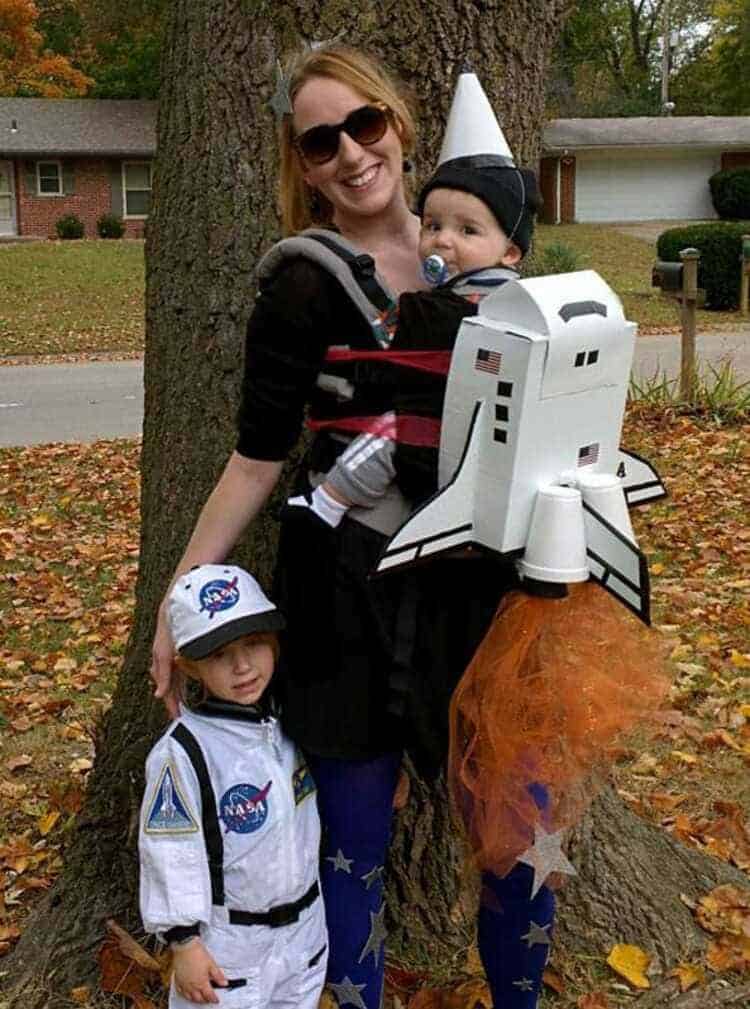 This one is so fun! If your family loves space (or you're just looking for something as cute as a button), then these rocket and astronaut Halloween costumes could be the ones for you! 
Here's how to make it from scratch:
I made it primarily out of a shoebox box and other cardboard. It was painted white with spray paint. The engines are made from plastic cups. The fire is glittery ribbon and the black outline, windows are duck tape.

For the top, I painted a party hat. I hot glued red ribbon in four places on shuttle to tie around the TULA. American flag and USA letter stickers completed the authentic look.

via CarryMeAway.com
7. Koala and Tree Mom and Baby Halloween Costumes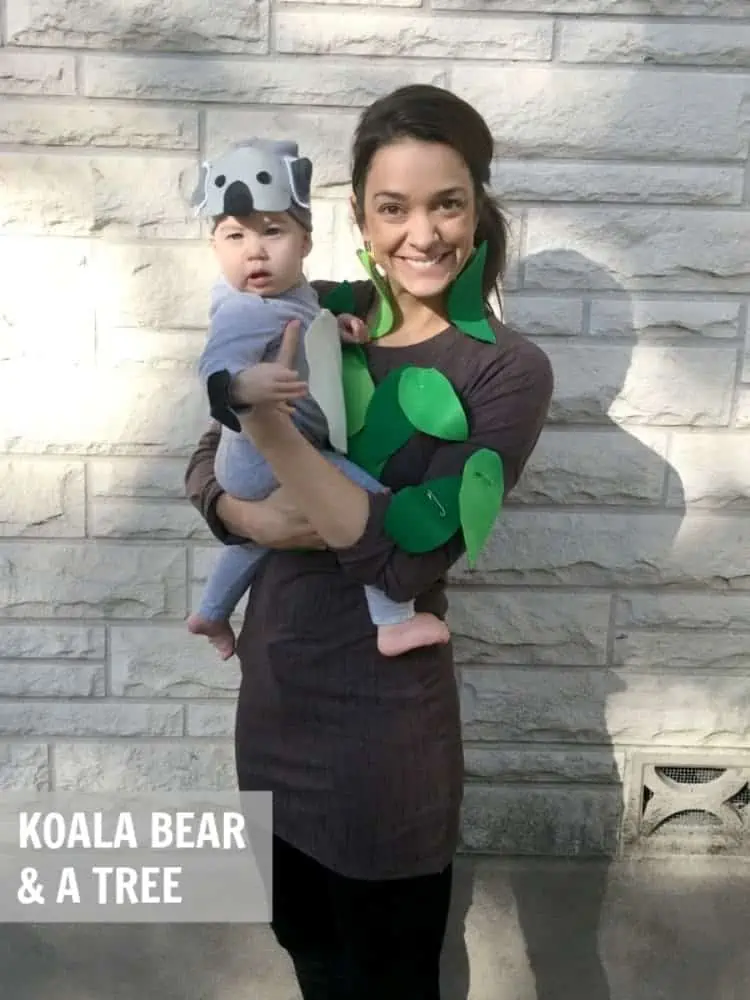 What a cute idea! A mommy and me costume idea with koalas couldn't be anything but adorable! This is probably one of the sweetest mommy-and-baby costumes you'll see this Halloween. And it's incredibly uncomplicated to come up with your own version, too.
8. Milk and Cookie Costumes for Mommy and Baby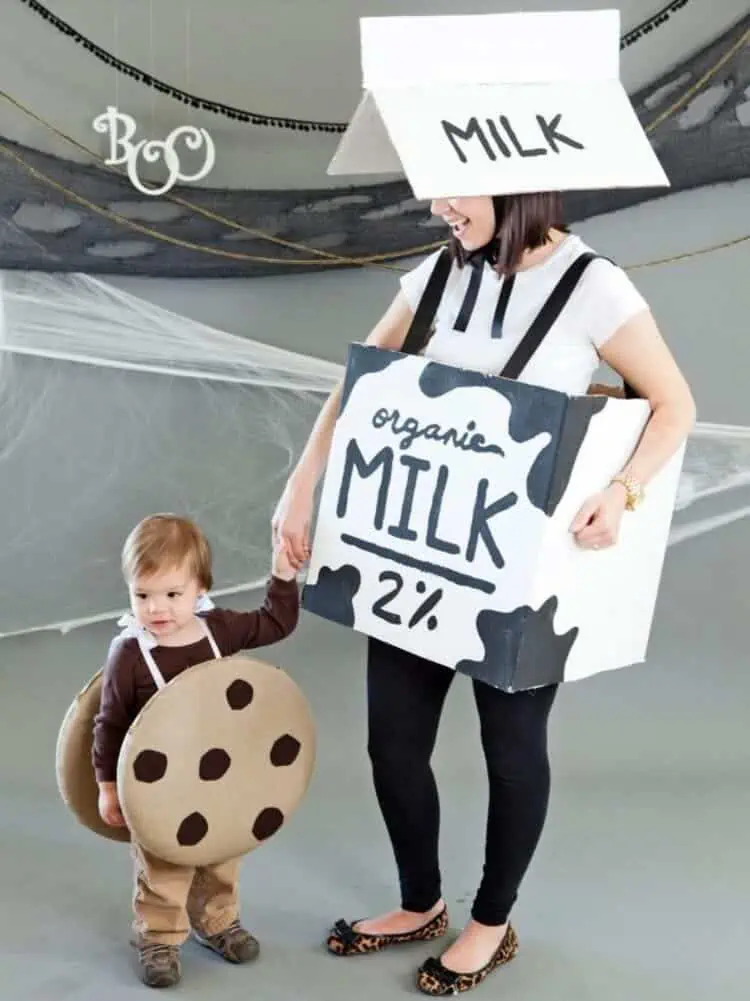 This step-by-step tutorial will help you create an adorable pair of costumes for you and your little one to wear this Halloween! The classic milk and cookies combo is a great way to have a unique and fun Halloween this year!
9. Movie Theater Usher and Popcorn Mom and Baby Halloween Costumes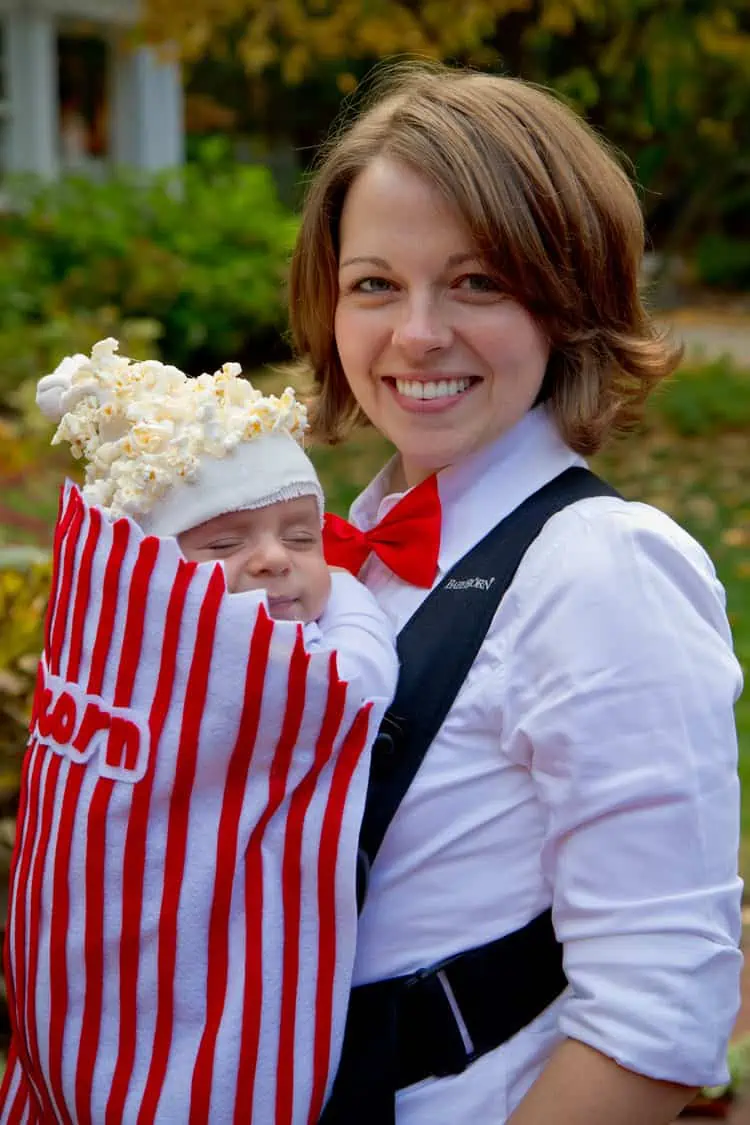 One of my favorite costumes on this list, this adorable DIY costume duo is super cute! After all, it's not a movie night without popcorn, right?
10. Bee Hive and Bees – Mommy and Baby Costumes for October 31st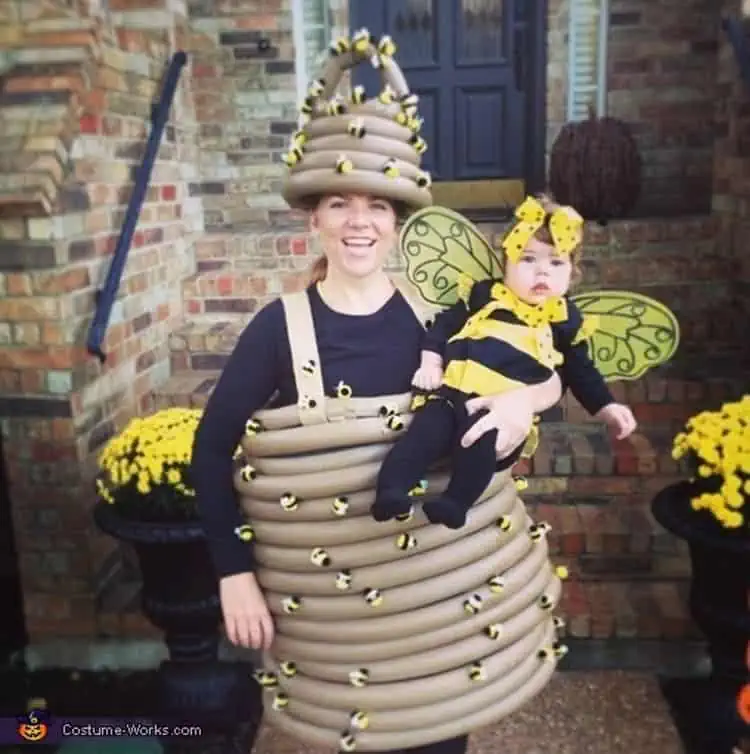 This is a fantastic DIY costume for crafty moms! The beehive is made out of insulation for copper pipe and then spray-painted tan. The bees are made out of pom poms and pipe cleaners.
Unique Mom and Baby Costumes
If you're looking for something a bit more unique, here are a few ideas to get inspiration.
11. Artist and Palette Baby and Mom Halloween Costume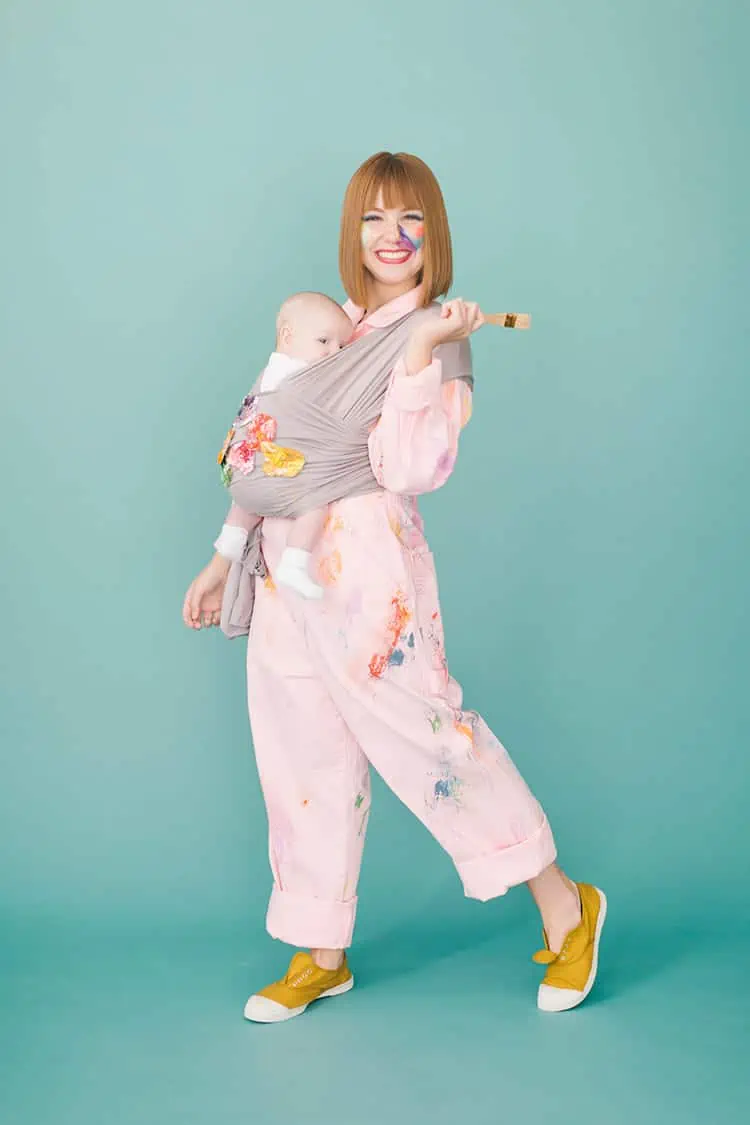 An easy and colorful idea for celebrating Halloween this year, especially if you're an artistic type, is this artist and palette baby and mom Halloween costume. There are instructions included, too. A perfect option if you have a newborn.
12. Zombie Mommy and Baby Family Halloween Costumes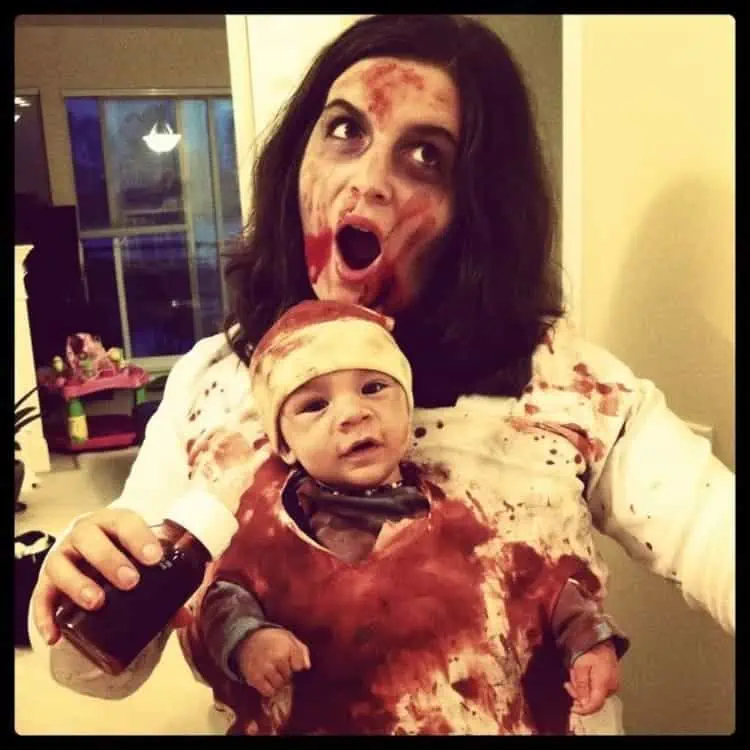 These mommy-and-baby zombie costumes are super cute! They're fairly easy to make and don't require special crafting skills, but I am pretty sure you'd look fantastic if you decide to go with this option!
13. DIY Baby Shark Song Costume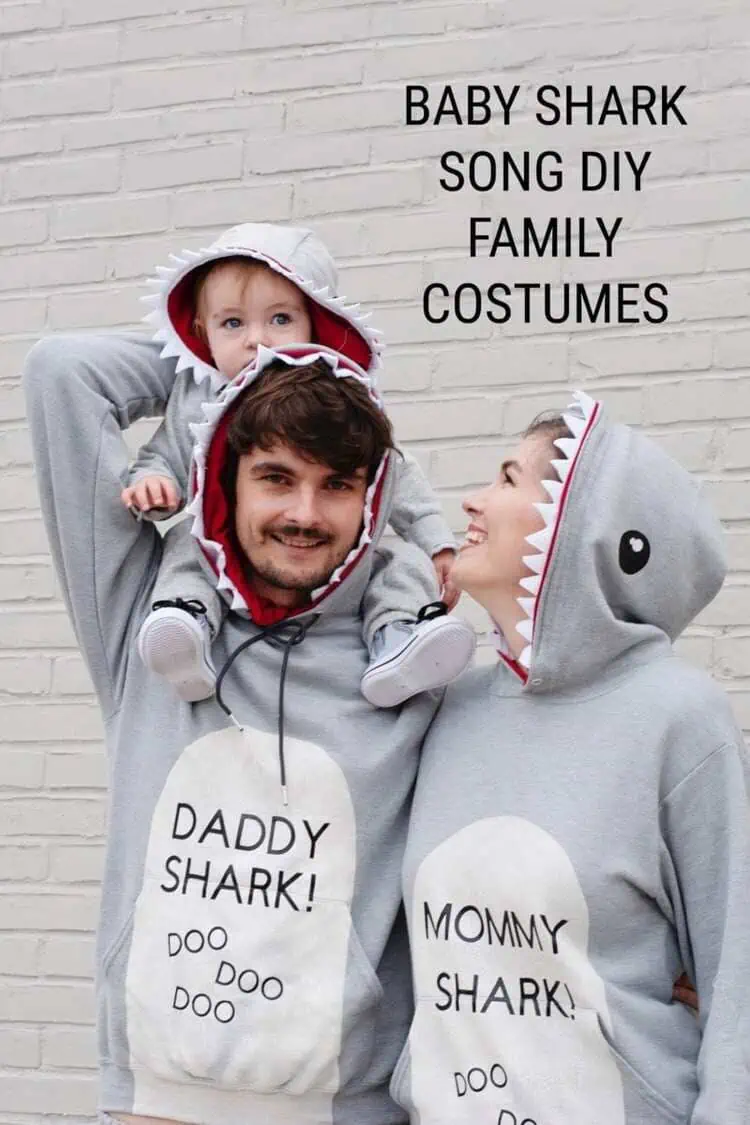 These adorable DIY costumes are inspired by the Baby Shark song! Doo-doo-doo! And they're pretty quick to make, too. There's a tutorial in the blog post explaining the process.
However, if you don't feel like creating your Baby Shark family costumes, you can get them done for you on Etsy or Amazon:
This is the costume I got for my little one a few years ago, and it was adorable! We used it well beyond Halloween.
14. Little Bo Peep and Her Lamb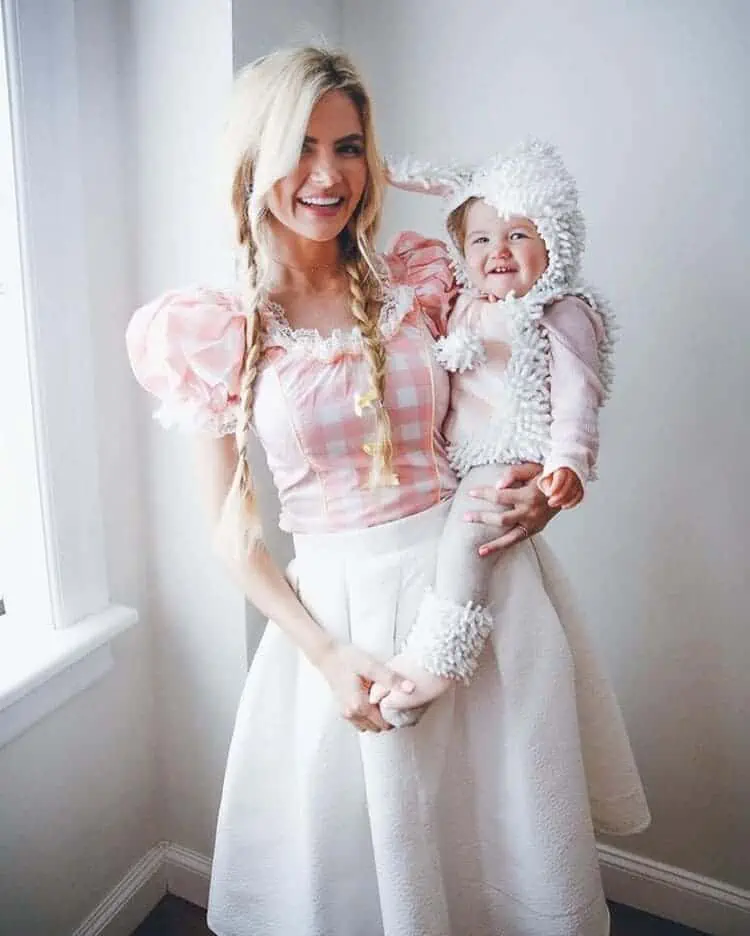 Does your kiddo love the "Mary's got a little lamb" song? Because this might be the best costume to go with!
This adorable lamb onesie is available at Amazon, too
Sibling Halloween costumes
If you have more than one child, you should definitely do sibling costumes for Halloween. There are so many possibilities here! And the best thing is that you can modify EVERY idea depending on your kids' current interests.
Here are some of my favorite options:
15. Pac-Man and Ghosts Halloween Costumes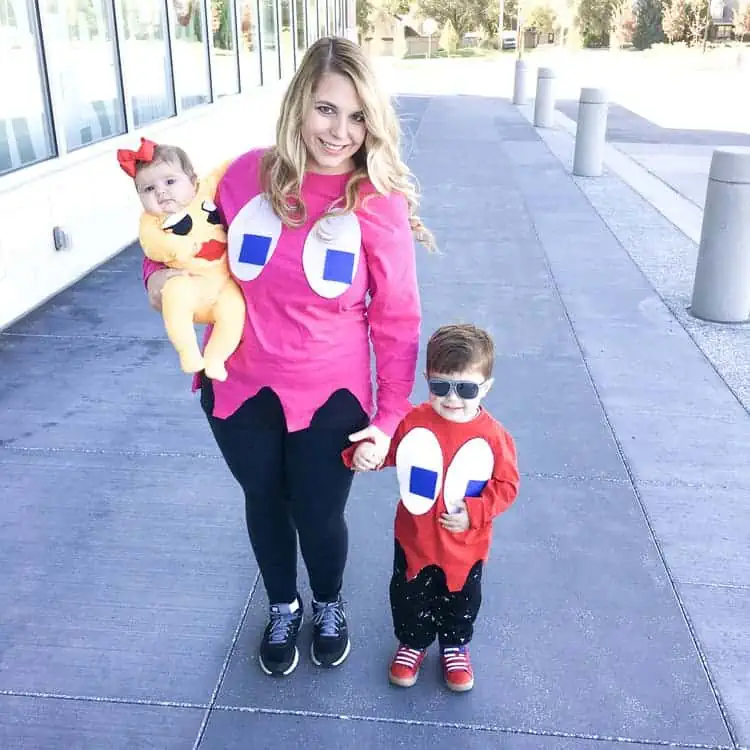 Are you a mom of many? Yeah, I know how it feels! Time is always too limited, you need to do just this one more thing… and you're definitely not spending hours making Halloween costumes for the kiddos. That's why I know you can never go wrong with these super simple Pac man and Ghosts Halloween costumes!
16. DIY Frankenstein Monster Family Costumes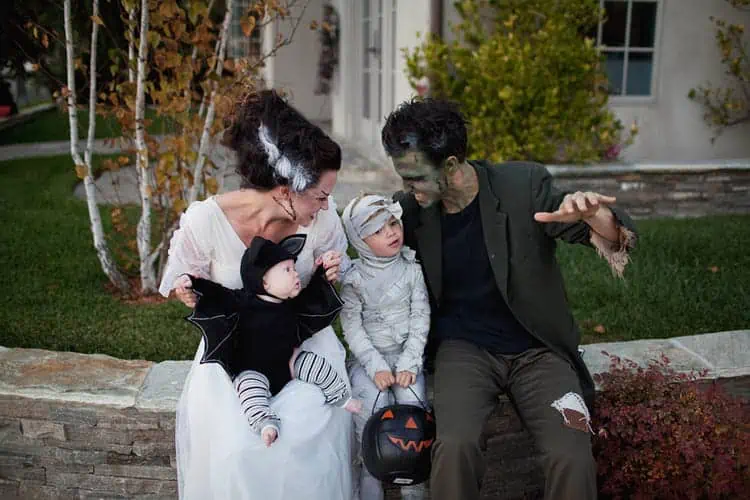 The Frankenstein monster family is a classic, easy, cute, and creative idea that anyone can pull off. The tutorial is super simple and easy to follow, so you can accomplish this look without a problem. Can't wait to see the photos you'll take if you go with this look!
17. The Incredibles Family Costumes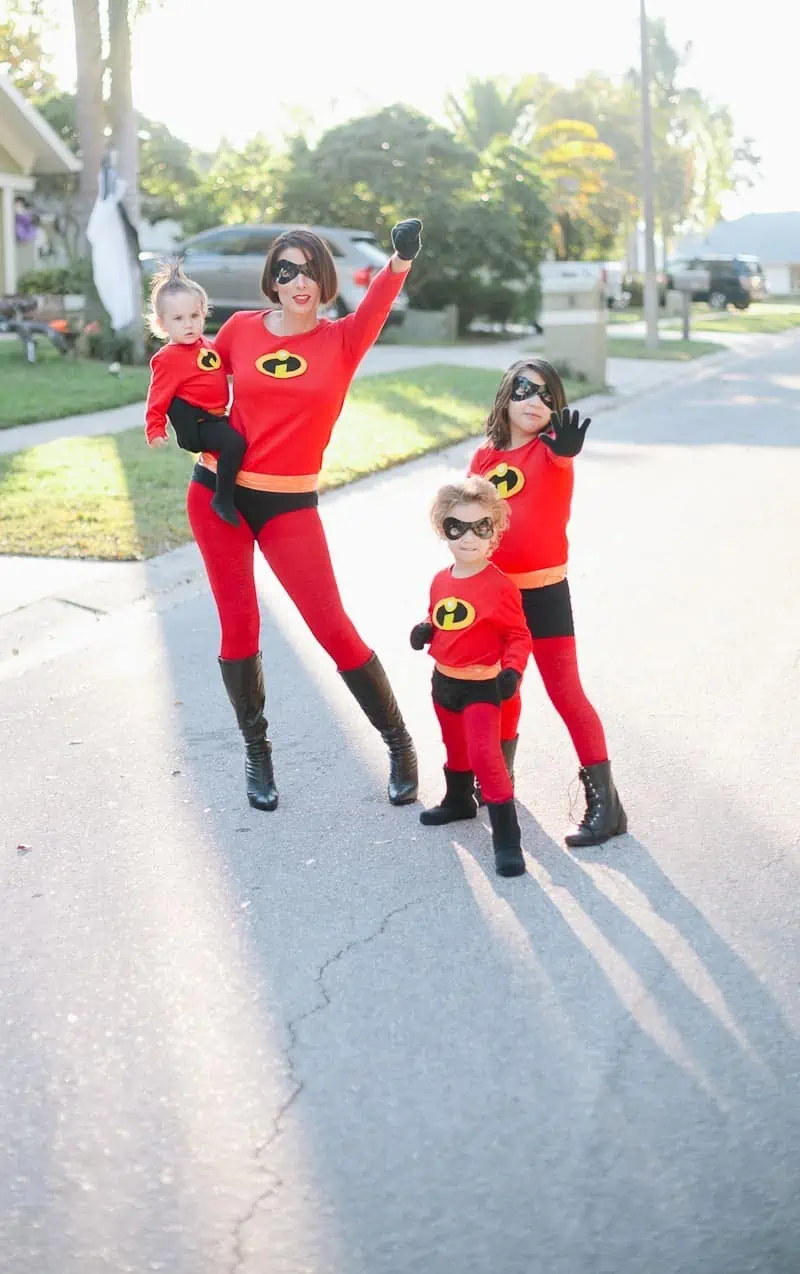 I love this Incredibles family Halloween costumes idea! If your kids love the movie as much as mine do, it's a no-brainer. Besides, you get to dress up like a superhero, and you don't look silly. I love it! You can find costumes for mom, dad, kids, and babies here.
18. Peanut Butter and Jelly Sandwich Costumes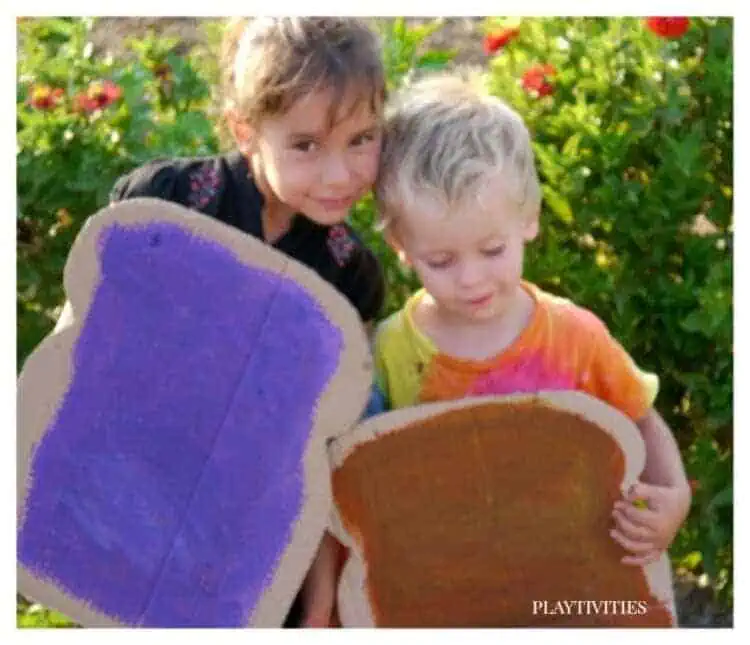 Another great example of the creativity a mom's brain is capable of (especially when you're out of time and mood to spend countless hours crafting Halloween costumes)! These peanut butter and jelly sandwich costumes are genius. And the best part is that it literally costs you nothing! It works for all ages, too!
More Mommy and Baby Halloween Costume Ideas
If you're still not finding the Halloween costume that truly excites you, I hear you. Sometimes, inspiration needs a kick in the pants (who doesn't?). So, here are some more fun ideas for mom and baby Halloween costumes you'd love:
19. Sesame Street Oscar Mom and Baby Costumes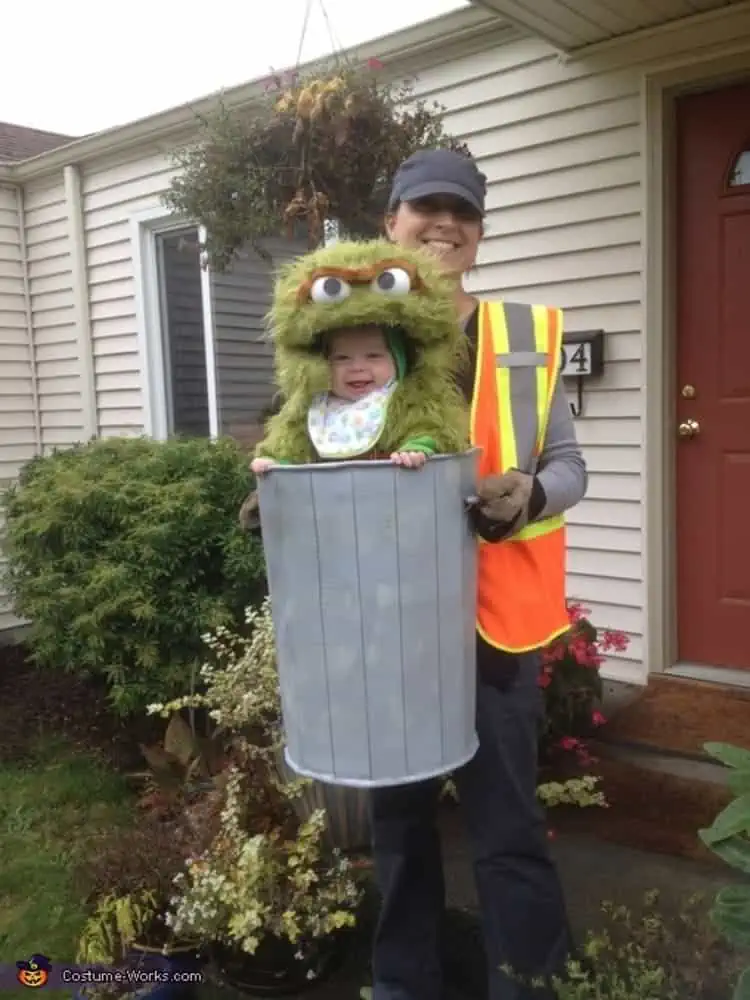 Is your little one a fan of Sesame street? I'm sorry, that's a silly question. Of course, they are! That's why going with this adorable DIY Oscar and his trash can costume is so much fun!
20. Starbucks Barista and Frappuccino Costumes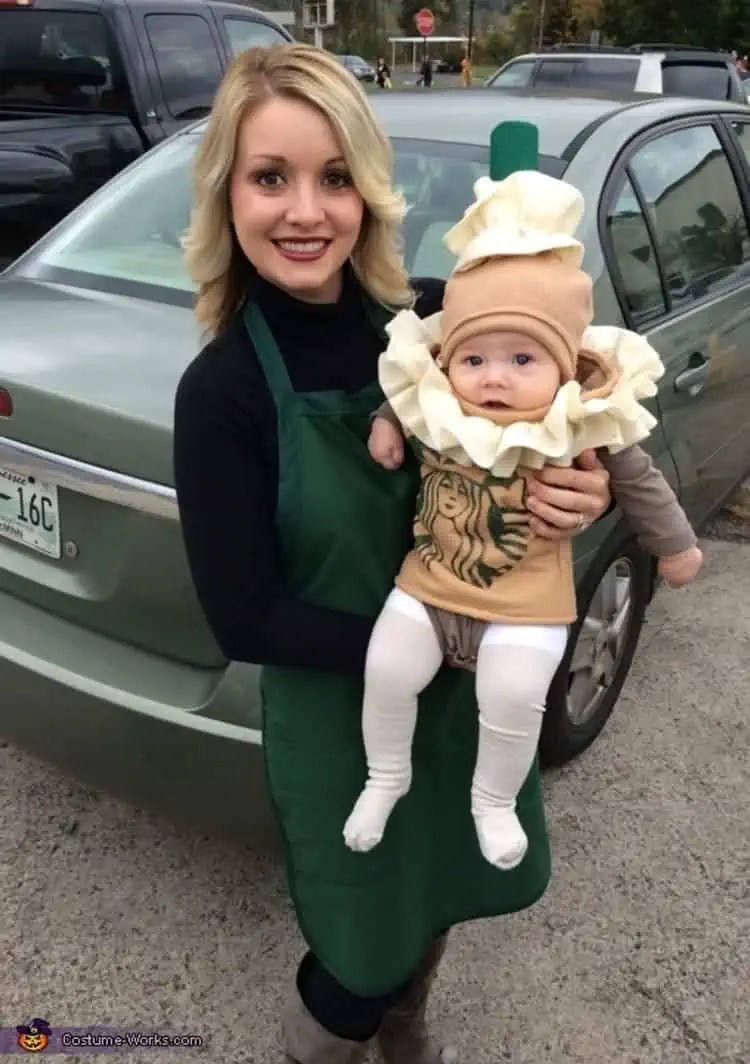 Another great example of how a mother and her baby can be dressed up as something together, especially knowing how important coffee is for every mom in the early years of her kiddos. If you love your daily dose of Starbucks Frappuccino, why not dress as one?
21. Queen Bee and Princess Bee Mom and Baby Halloween costumes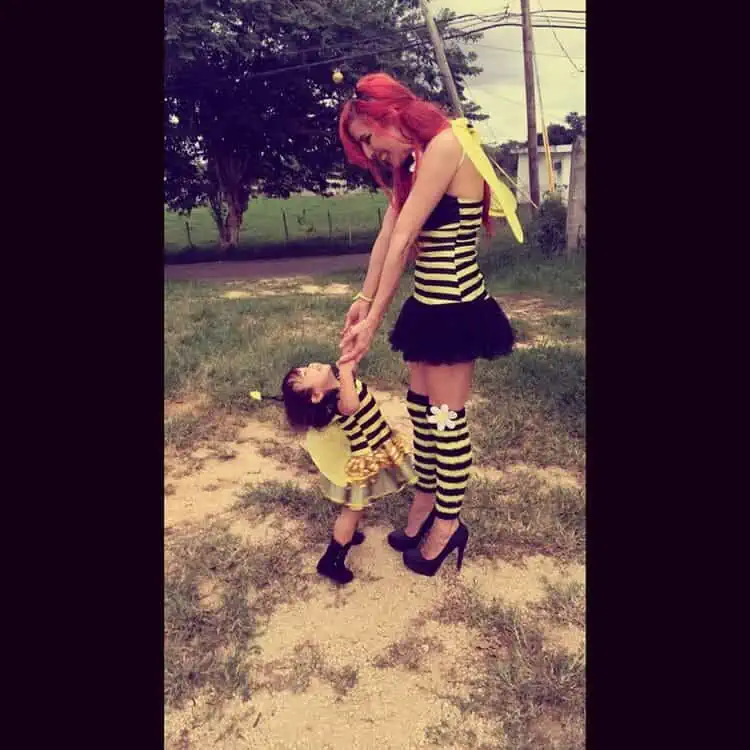 This cute bee duo costume is truly adorable. A queen and princess bee is officially my favorite Halloween costume idea for mommy and baby! It also allows a ton of variations, which makes it perfect for a DIY project!
If you'd rather not DIY this, there are a bunch of adorable pre-made options here.
22. Gardener and Flower Pot Costume Duo for Mom and Baby
This gardener and flower pot mommy-and-baby costume looks super easy to make, but it also looks super cute! The best part is that you can easily wrap your new baby up and have tons of fun on their first Halloween!
23. Mom and Baby Costumes Idea: Owl in a Tree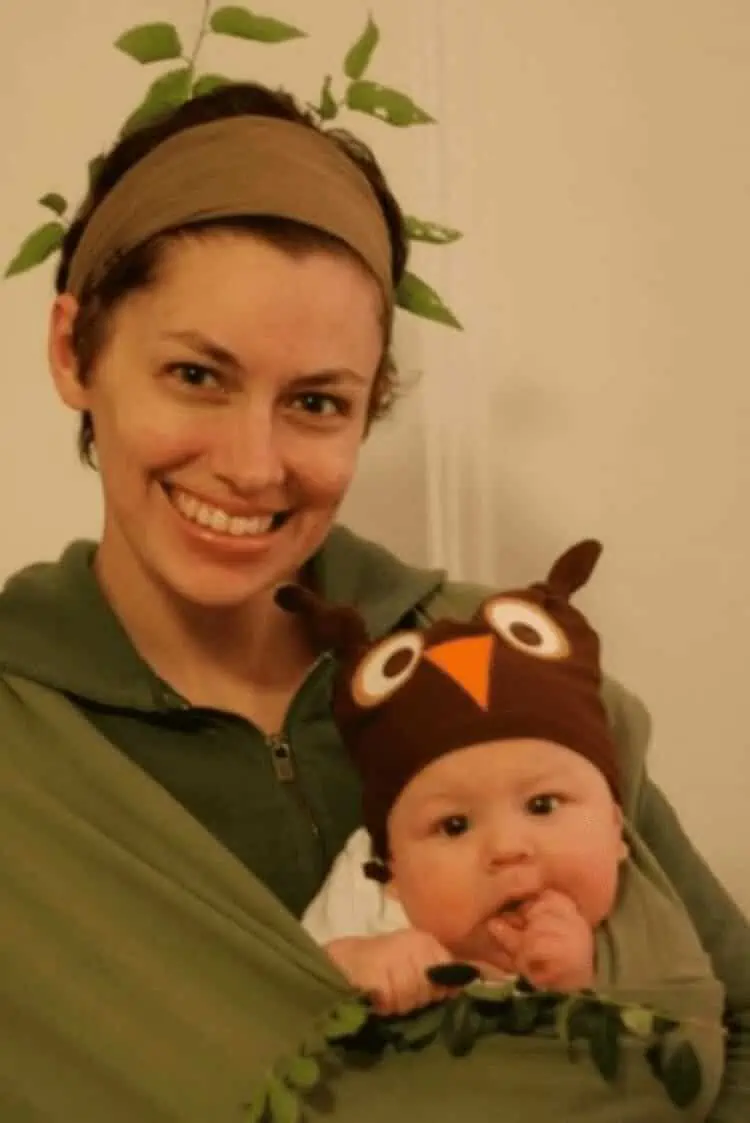 If you're like me and you love simple tutorials for amazing results, I'd like to introduce you to the easiest and most adorable DIY costume idea any one can make for Halloween this year: the owl in a tree. It's fantastic!
24. A Friendly Ghost – Mom and Baby Halloween Costumes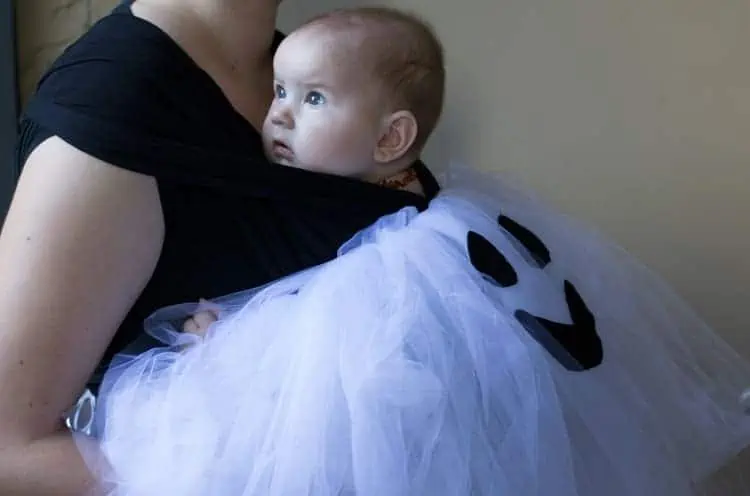 When you have a baby at home, going somewhere on time becomes one big challenge. If you add a couple of tots or preteens in the mix, it becomes even harder. That's why I absolutely adore this quick and friendly ghost baby-wearing costume for mom and baby!
25. Mouse and Cheese Adorable Babywearing Halloween Costume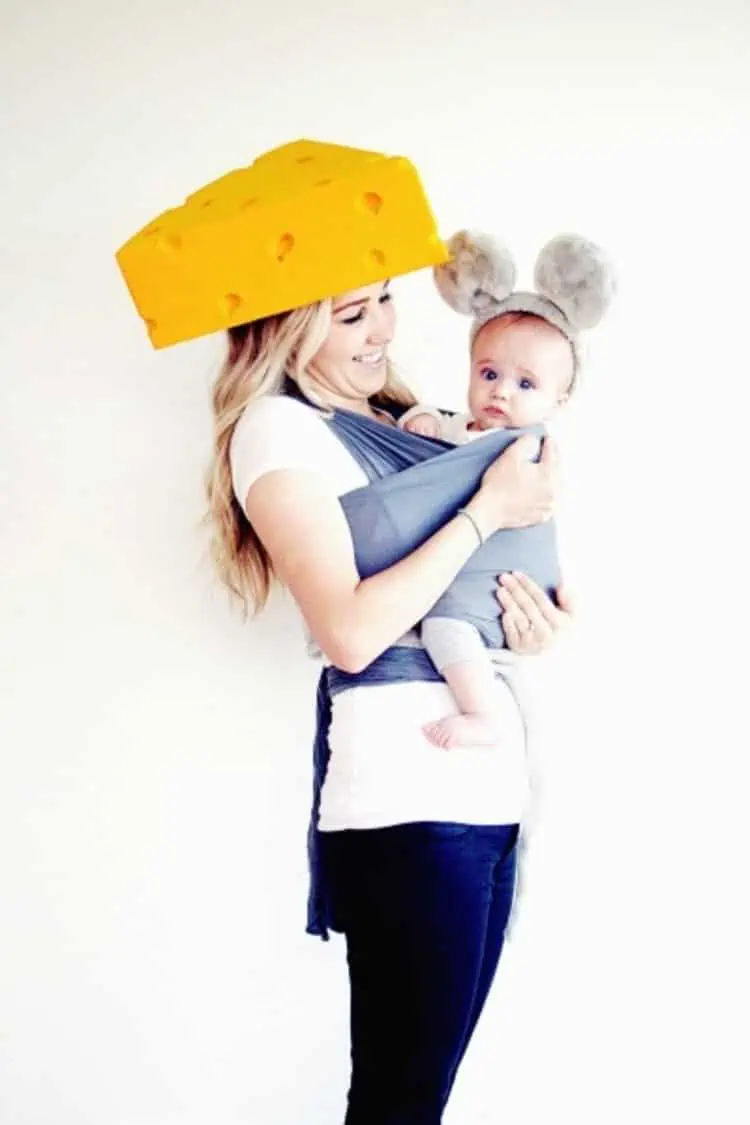 This is such a great idea for Halloween, but also for other events like birthdays or just dress up for playtime with your baby – mouse and cheese costume! Super easy to make and looks so cute!
26. DIY Baby Bumble Bee Costume
Very simple, easy to make, with hands-on materials, this DIY baby bumble bee costume is perfect if you're baby-wearing your little one and you're out of time to make complicated outfits.
27. Bank Robber and a Bag of Cash Mom and Baby Halloween Costumes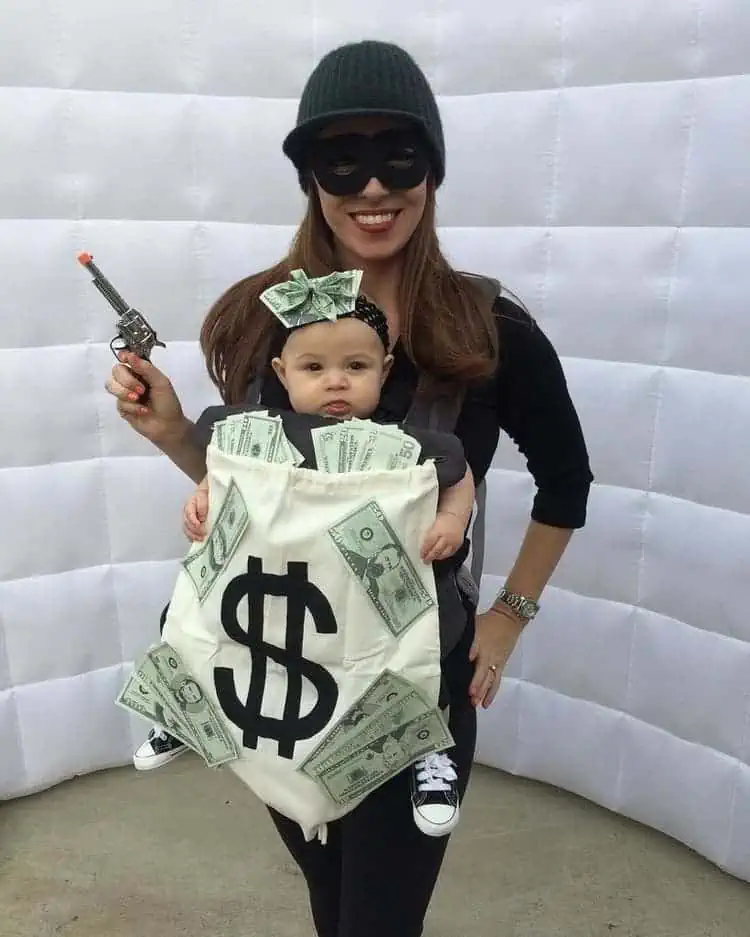 OK, this bank robber and a bag of money costume duo are brilliant and hilarious! The photo makes it clear that it's not hard to set it up, and the final results look like so much fun! I'm sure you won't go wrong if you decide to go on with this one. What a wonderful way to put these baby carriers into action!
28. Mom and Baby Halloween Costumes: Beekeeper in a Baby Carrier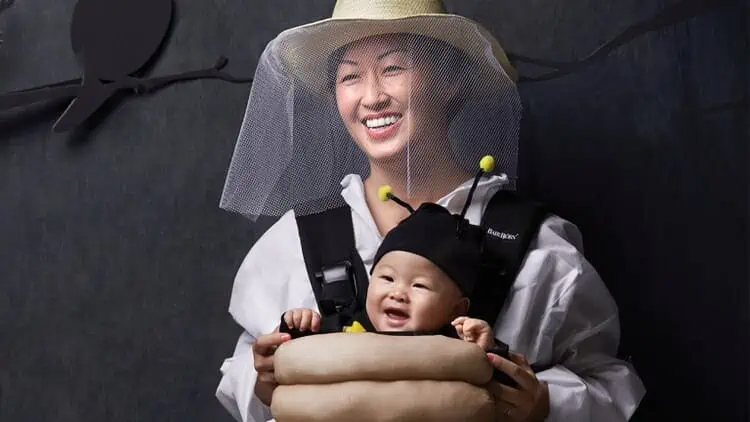 Get ready to have some fun making this adorable beekeeper Halloween costume for you and your baby (or older kiddos, as it works for them, too). Spoiler alert: you'll be using a lot of stockings! 😀
29. Back to the Future Costumes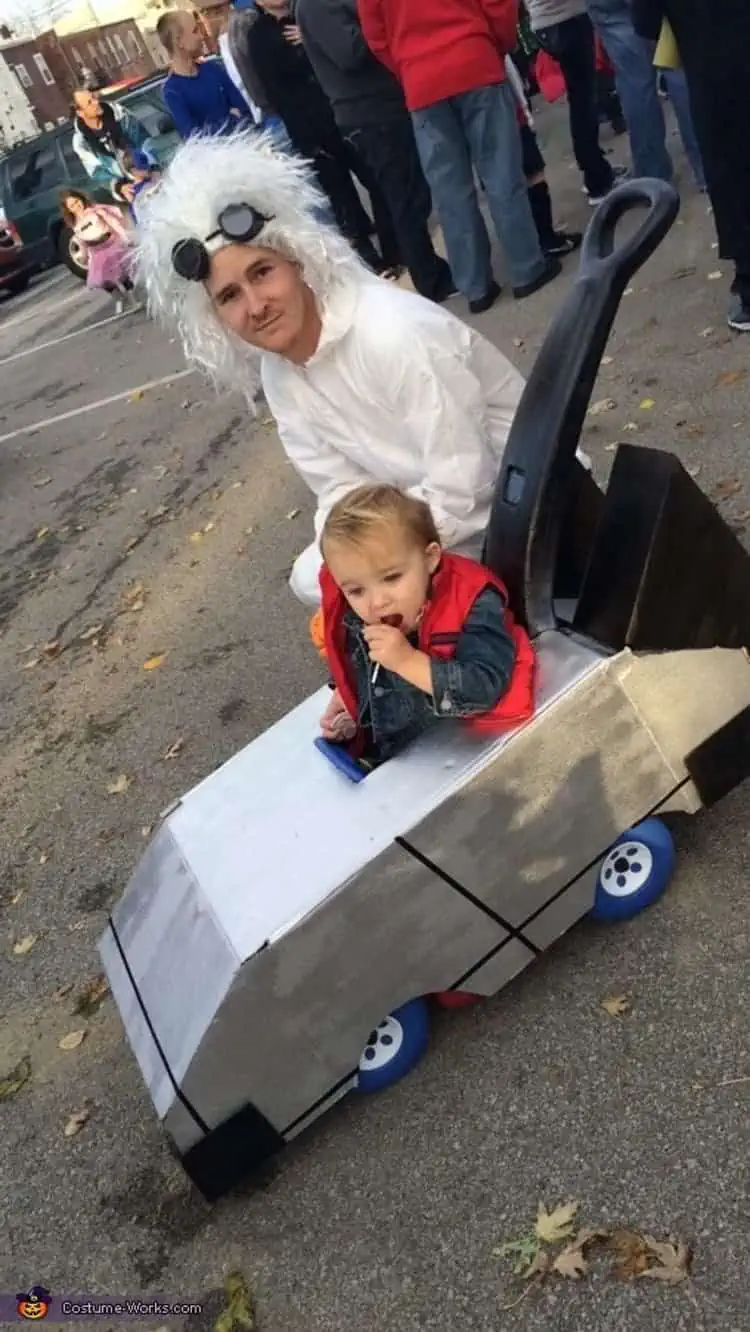 I know there's a dad in the photo, but this fantastic Back to the Future costume duo would work for mommy and baby, too!
What do you need:
The result? Amazing photoshoot and fun memories for the family!
Super Hero Costumes
If you're a fan of superheroes, then you could go as a superhero duo this Halloween. The costumes can be pretty simple too. Just find a onesie for your cutie, add some little accessories, and voila! You'll have a superhero team no one will want to mess with. Let me show you some fantastic ideas.
30. Princess Peach and Toadstool from Super Mario Mom and Baby Halloween Costumes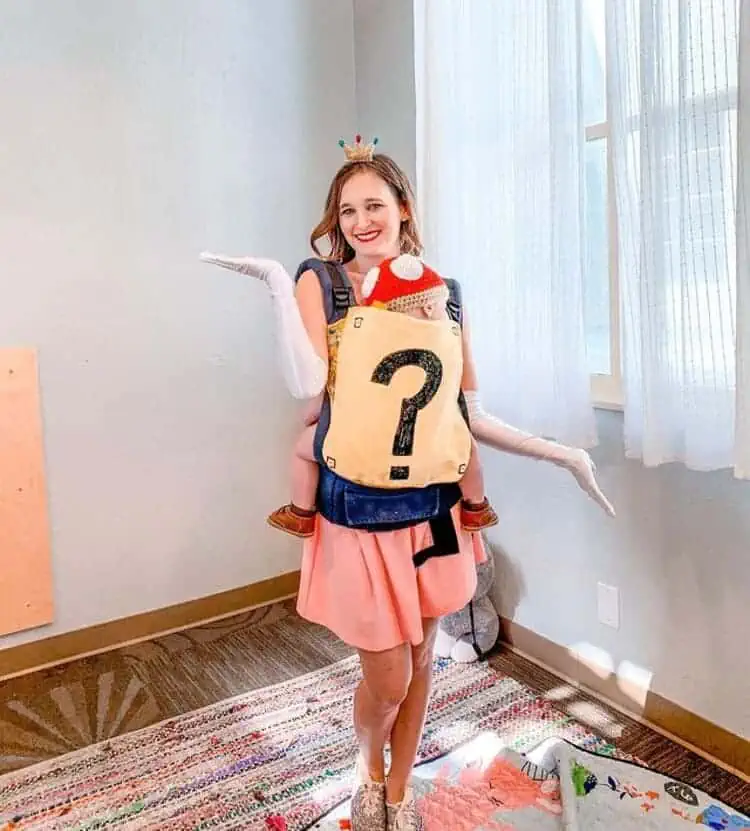 This is one of the most creative and well-thought-out Halloween costumes I've seen in years! If you're looking for an inventive costume, this is the one for you – dress up like Princess Peaches and Toadstool from Super Mario!
31. Superman, Batman, and Wonderwoman Superhero Costumes for Babies (and Moms)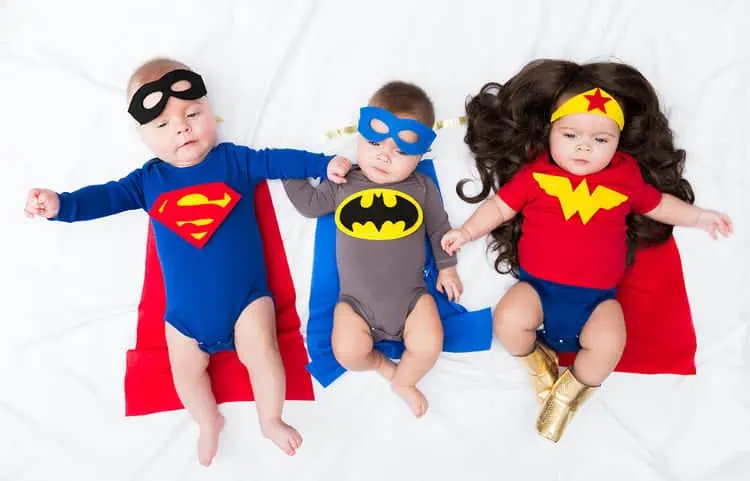 If you're a fan of DC comics, then you'll find the perfect superhero costume for your baby here.
It's also a great way to get your baby to wear a mask (if you've ever tried putting a costume on a baby that doesn't want anything to do with it, you know what I mean). There are detailed instructions on how to turn a onesie into a superhero outfit included, too. So much fun!
32. Super Girl and Super Mom Halloween Costume Duo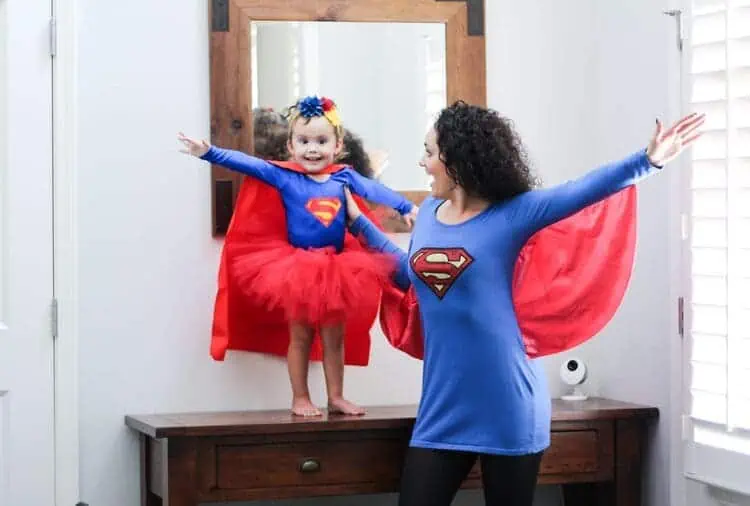 DC comics and superheroes are always a good idea for dress-ups, especially on October 31st. 😉
And what could possibly be better than a matching mommy and baby shirt? Dress up like Super Mom, and your baby will be dressed as Super Girl. You'll both look adorable! Here's how to achieve the superhero looks.
Cartoon Character Costumes
Every mom knows cartoons play a huge part in our kids' lives. Have you thought about which one you're into? You can rock this October with the cutest mom and baby Halloween costumes. You can start here:
33. Jack Skellington and Sally Costume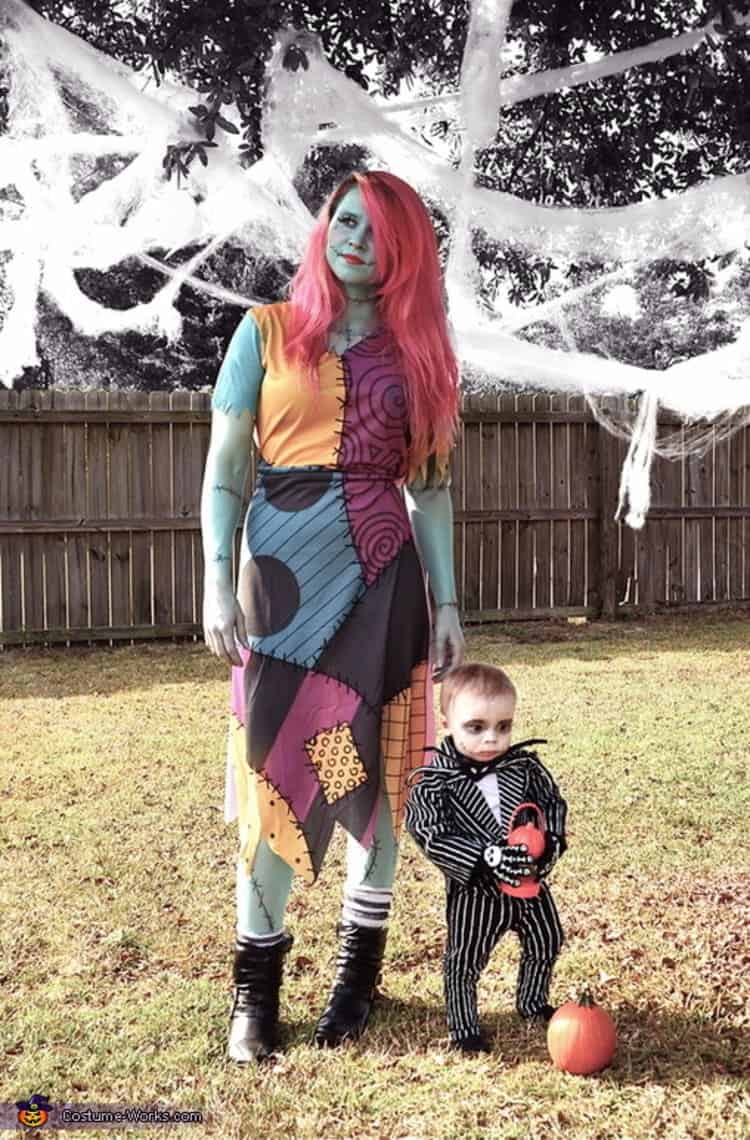 I can't really miss the classic Jack Skellington and Sally costumes, too! I love how these turned out! There are instructions on how to make the costumes under the photos, too!
34. Mrs. Potato Head Baby Wrap Costume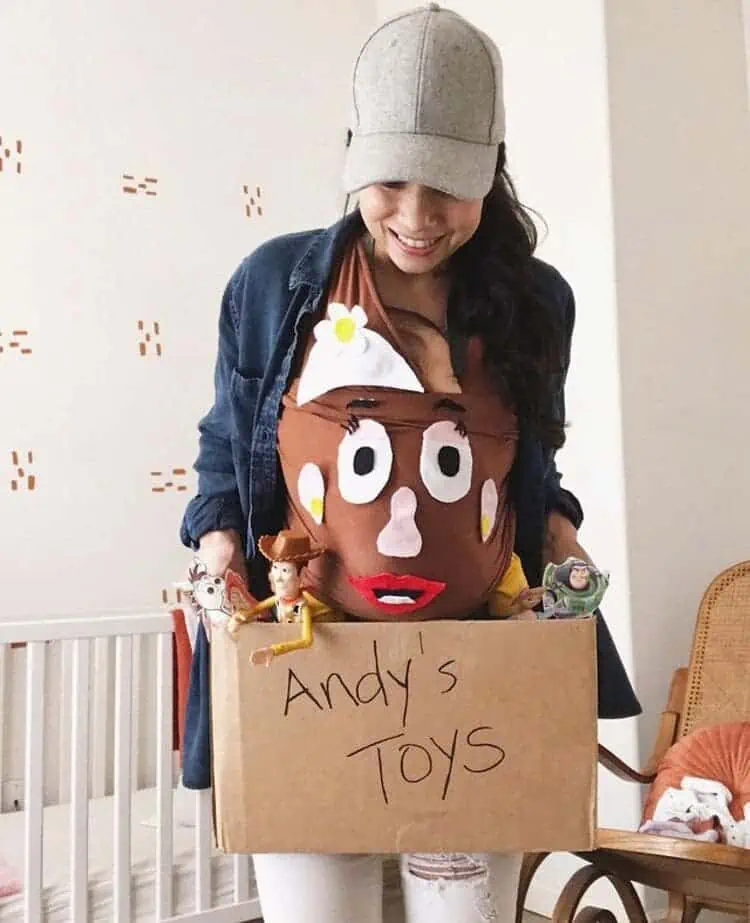 This baby wrap Halloween costume is simply amazing! Check out how easy it is to turn your little one into Mrs. Potato Head!
35. Star Wars Crew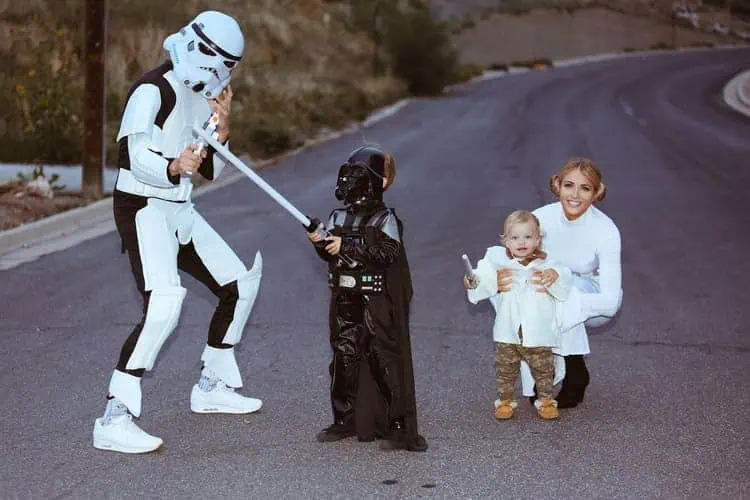 If your family are fans of the Star Wars movies, then they'll love dressing up like the whole Star Wars crew! Princess Leia, Darth Vader, Jedi, Luke Skywalker, Stormtroopers – the choice is yours. You'll all be from a galaxy far, far away, and you'll have some out-of-this-planet fun on Halloween! See more Star Wars Costumes here.
36. A Mother of Dragons with Triplets Halloween Costumes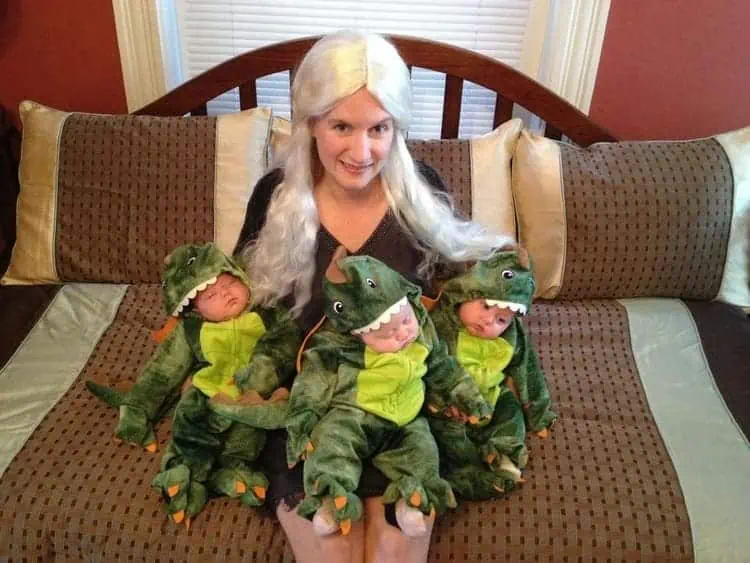 I stumbled upon this brilliant idea and couldn't miss sharing it with you! Moms of triplets, you can easily dress yourself up as the Mother of Dragons and have your three little bundles into dragon onesies! So cute!
Don't have triplets? Add a baby doll or two to your own baby to achieve cuteness overload!
Get the costumes on Amazon:
37. Dorothy and Glinda the Good Witch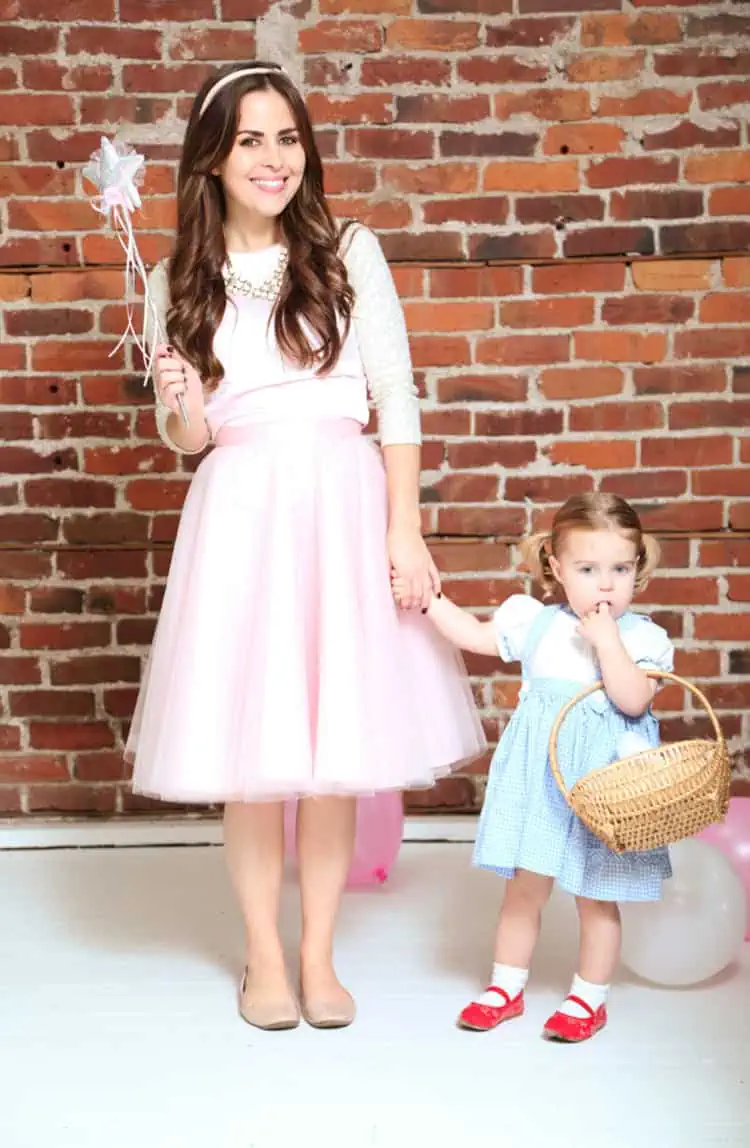 An easy way to look gorgeous – two beautiful ladies from Emerald city: Dorothy and Glinda the Good witch. You can achieve the look easily with a cute skirt and shirt you already have on hand (or even from Goodwill!)! All you need is to get a bit crafty and make yourself a magic stick. Love it!
Disney Costumes
OK, so I think you'd agree that Disney needs to have its own category. Don't blame me, I love cartoons. And I am a huge fan of the Disney classics. But who isn't?
Check out these lovely Disney mamas and baby Halloween costumes:
38. The Lady and The Tramp, and The Famous Spaghetti Bowl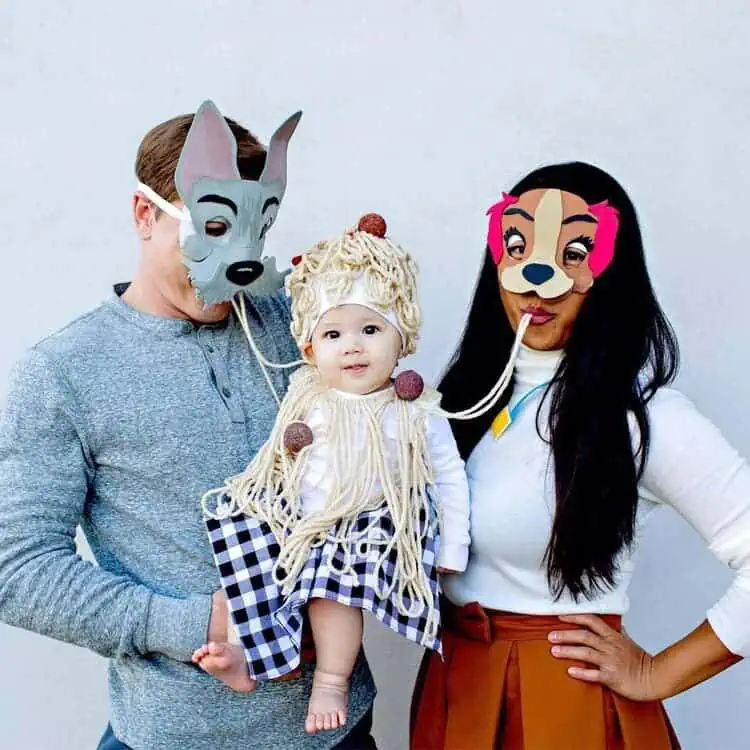 If you are a family of Disney lovers, you can't miss these costumes! It recreates one of the most popular scenes in the Disney classic The Lady and the Tramp, and it will definitely make you stand out in a crowd! Check out how to do it yourself!
39. Dalmatian Puppy & Cruella de Vil DIY Costumes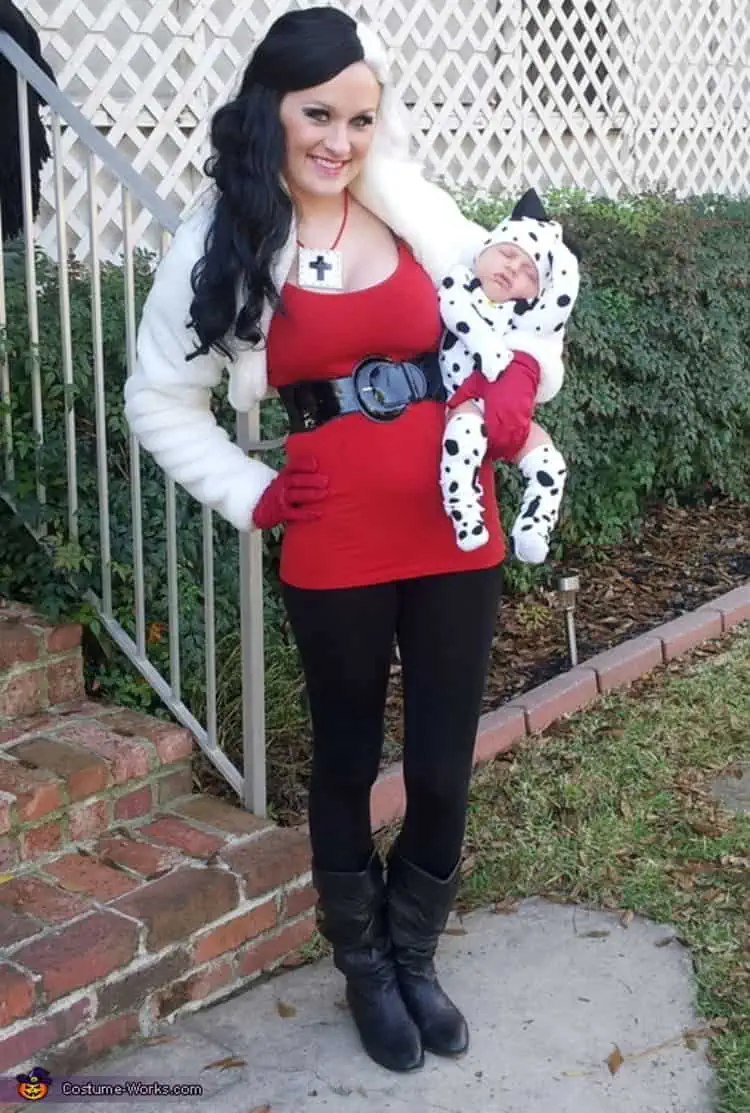 If you are a fan of 101 Dalmatians, get ready for a super easy and fun DIY costume! Just recreate the look from the photo with what you already have in your closet and this cute black and white wig.
You can complete the look with Cruella de Vile's famous fur coat and her signature hat!
For the puppy, you can use an old white onesie and a white hat, and add some black spots using fabric paint.
40. Winnie The Pooh and Friends – Mom and Baby Halloween Costumes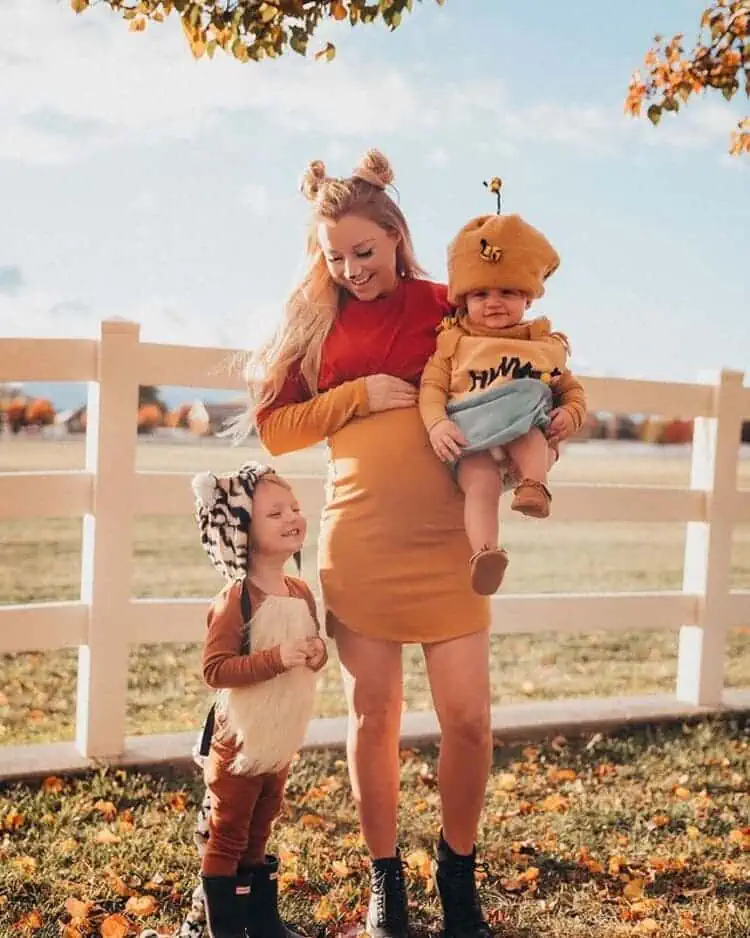 If you're a Winnie the Pooh fan, or if your little ones are obsessed with the adorable silly bear, these costumes are perfect for you! You'll be Winnie the Pooh, your baby is your favorite honey pot, and your other kiddo could be Tiger, Piglet, or Roo!
41. Ariel and Sebastian Mom and Baby Halloween Costumes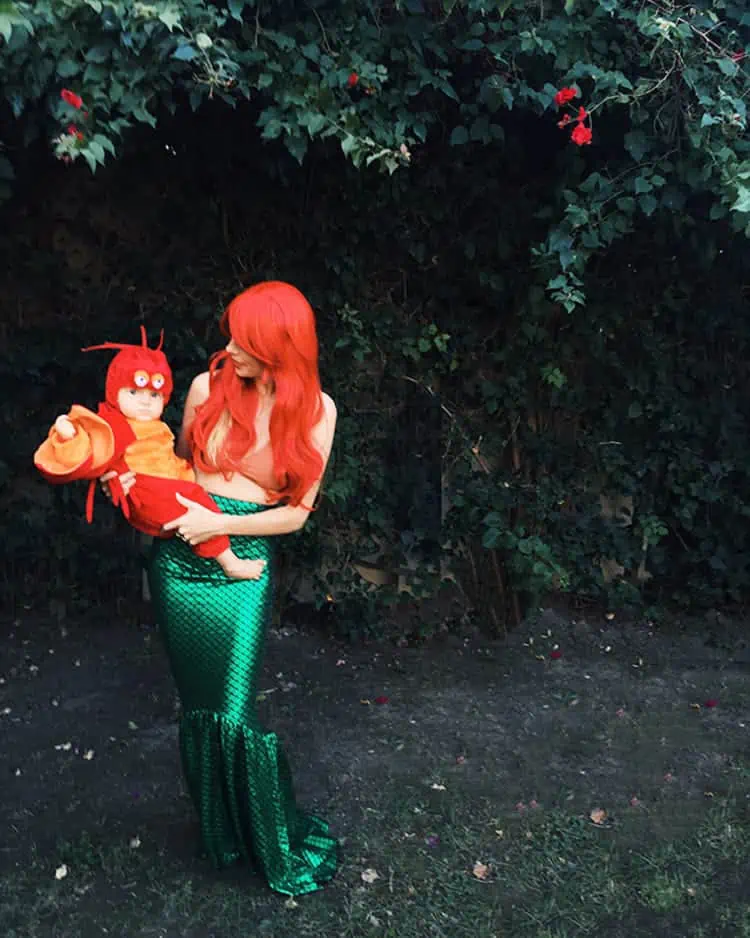 If your little princess is into The Little Mermaid movies or has lately become obsessed with Ariel (like mine), then this costume will be perfect for her! Dress up as Ariel from The Little Mermaid and make sure she gets swept away by your love. Be sure to add a bright red wig so people know you aren't just any mermaid.
42. The Beauty and the Beast Halloween Costumes for the Family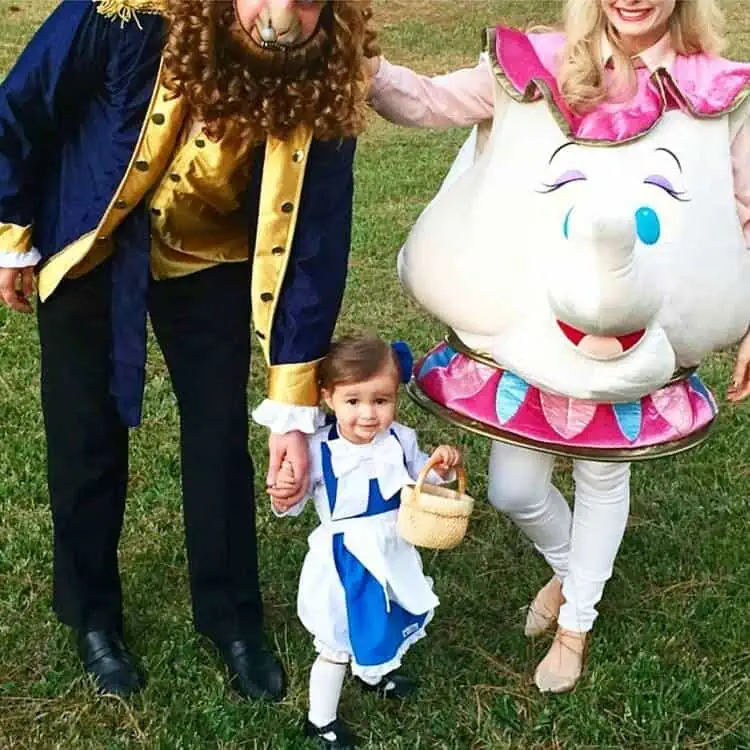 The Beauty and the Beast – this Disney classic is one of the best movies ever! If you have a little girl who loves Belle, this is the perfect Halloween costume for her. She can be Belle, and you can be Mrs. Pots, and daddy could be the Beast.
43. Halloween Family Costume: Disneyland Tourists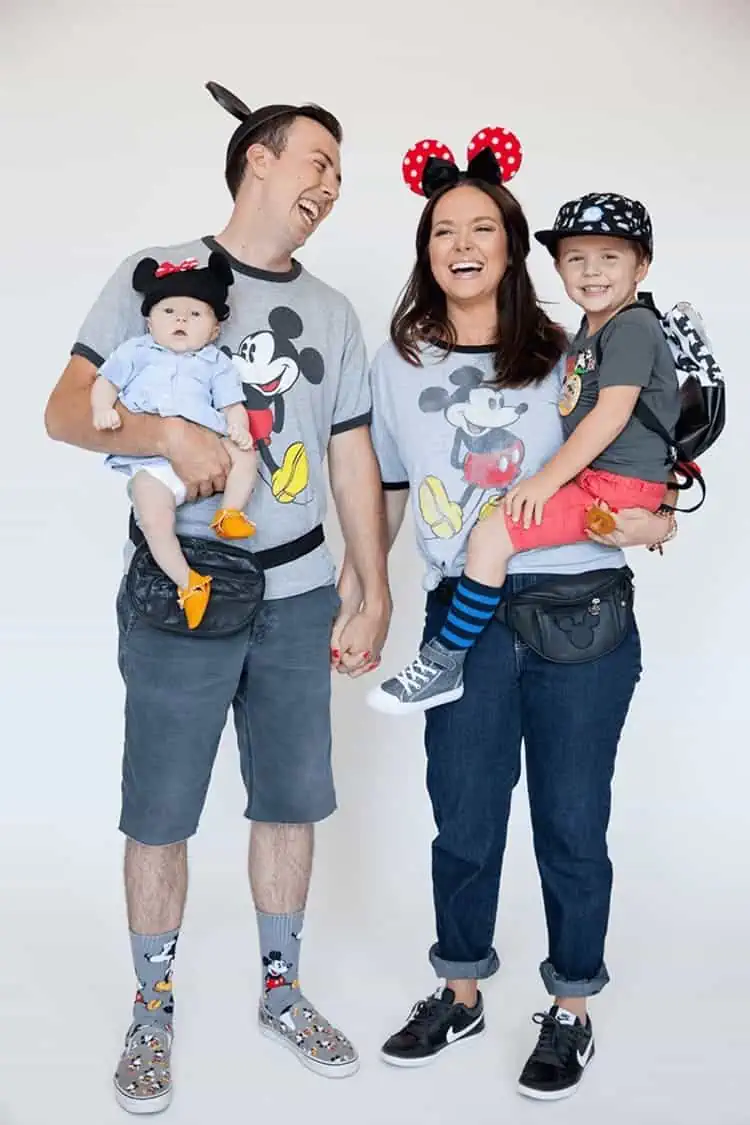 This one is hilarious, and I thought you'd appreciate it too! Mouse ears, branded t-shirts, excited looks – dress up like Disneyland tourists! The main pros:
Easy to set up
Certainly makes a ton of fun photos and unforgettable memories.
Maternity Costumes
Having a baby bump doesn't mean you can't have fun this Halloween! There are so many ways to incorporate your growing belly into a fun Halloween costume.
For starters, check out these creative ideas:
44. On the Pumpkin Patch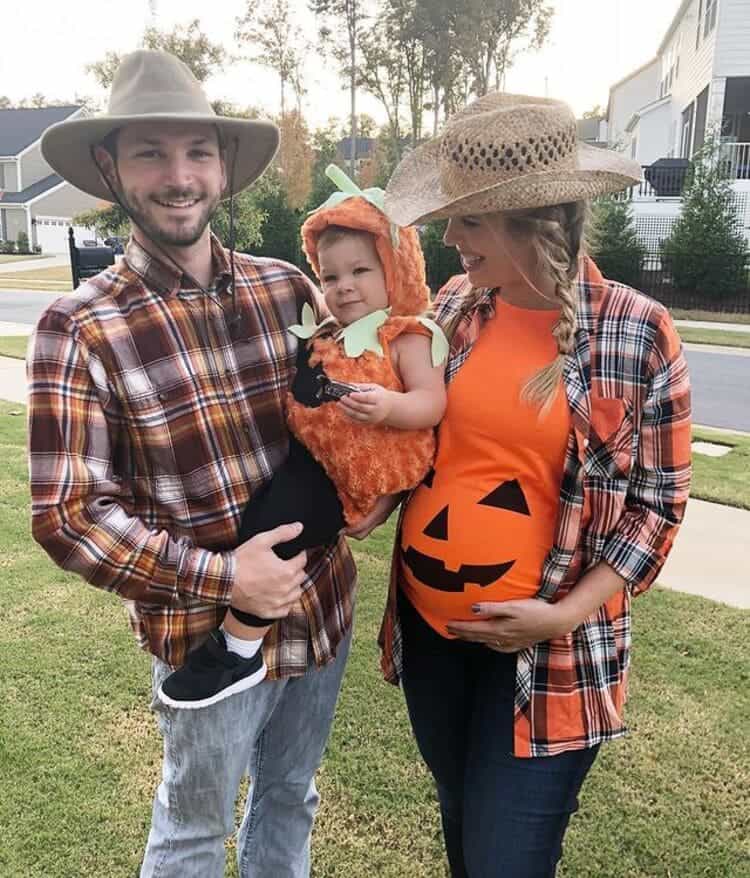 Autumn is pumpkin time, so why not dress as pumpkins as well? You and your baby bump make a great mama pumpkin, while your younger kids are perfect little pumpkins. And dad's the farmer, of course.
45. Ultimate Pregnant Mom Costume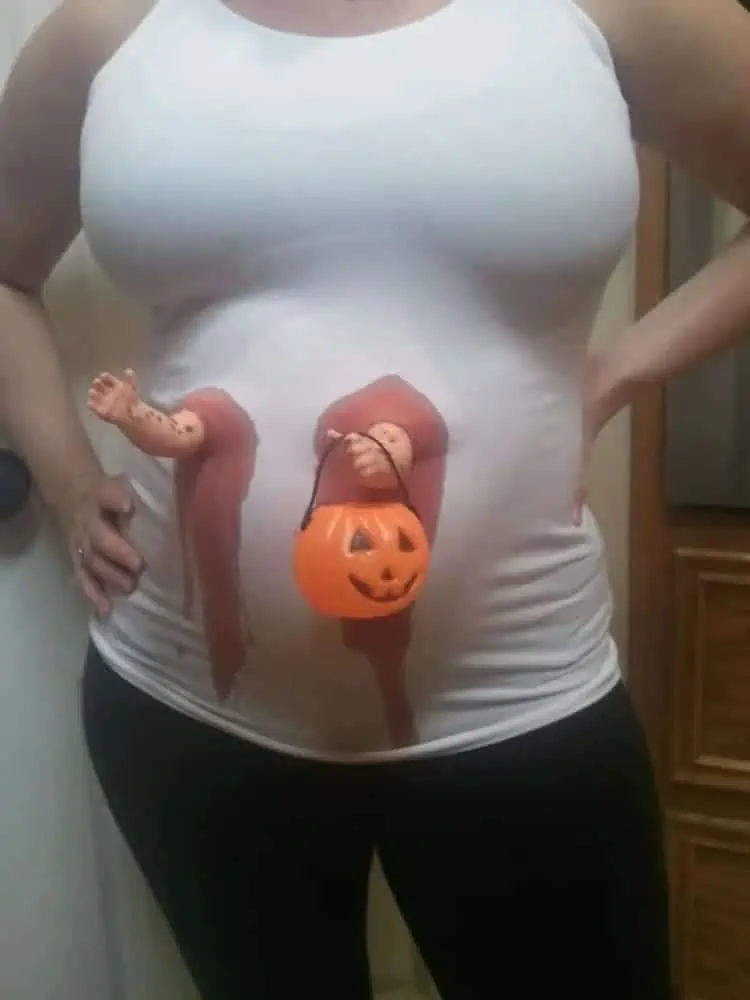 This is for moms-to-be with a darker sense of humor. You can hand out candy with your growing tummy this year! Such an out-of-the-box costume!
What Are Some Fun Group Halloween Costumes for Mom, Dad, and Baby?
Planning a family trick-or-treating? Then, you should definitely go with family-theme costumes! Here are some ideas:
46. The Flintstones Halloween Costumes for the Whole Family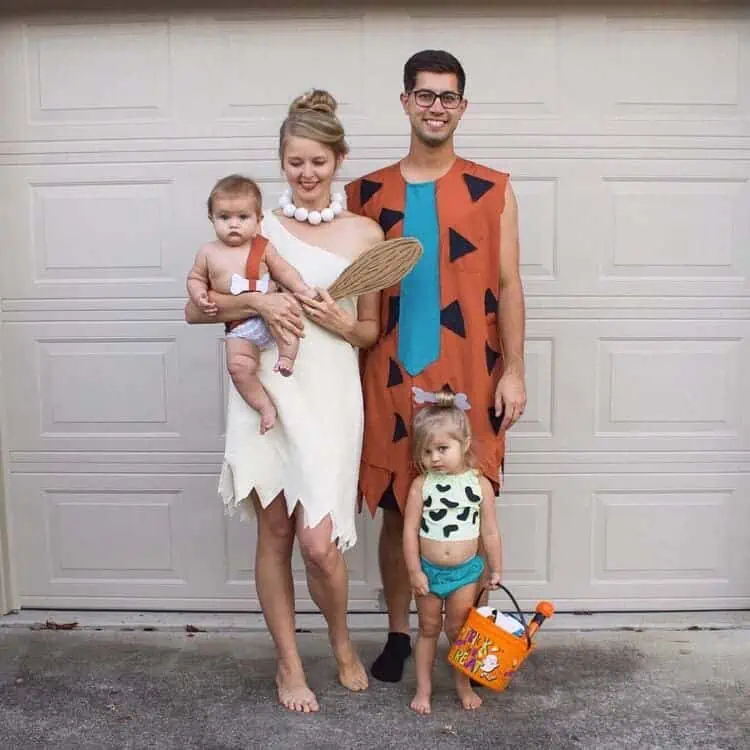 You can never go wrong with dressing up like an all-time favorite family like the Flintstones. You and your husband can dress up as Fred and Wilma Flintstone, while your babies could be Pebbles or Bam-Bam.
47. The Berenstain Bears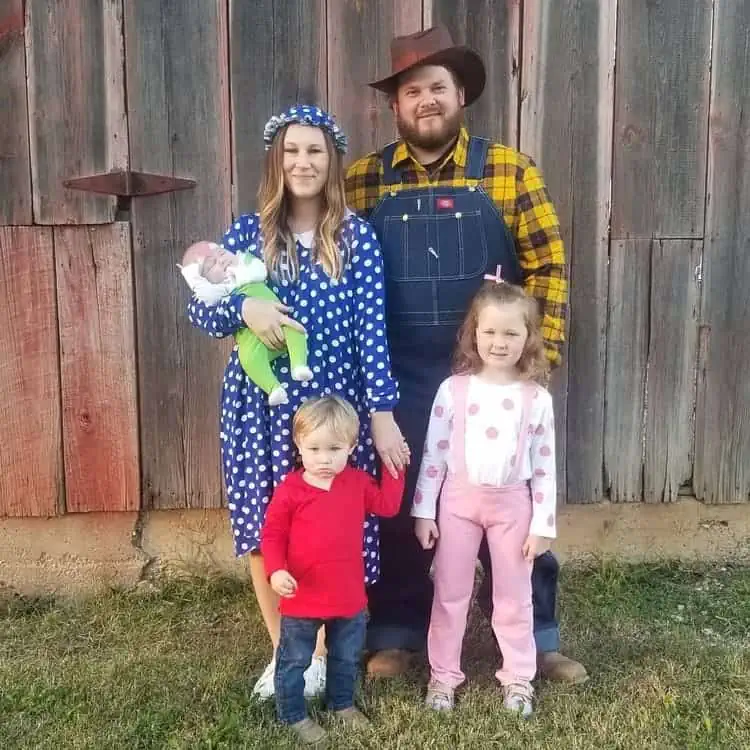 This family of bears is one of the most popular cartoon families out there, so dressing up as them will definitely be a hit! The mom bear can be Mama Bear, while the dad can be Papa Bear. Baby Bear has to be the cutest little cub bear in the neighborhood!
48. Ice Ice Baby Family Costume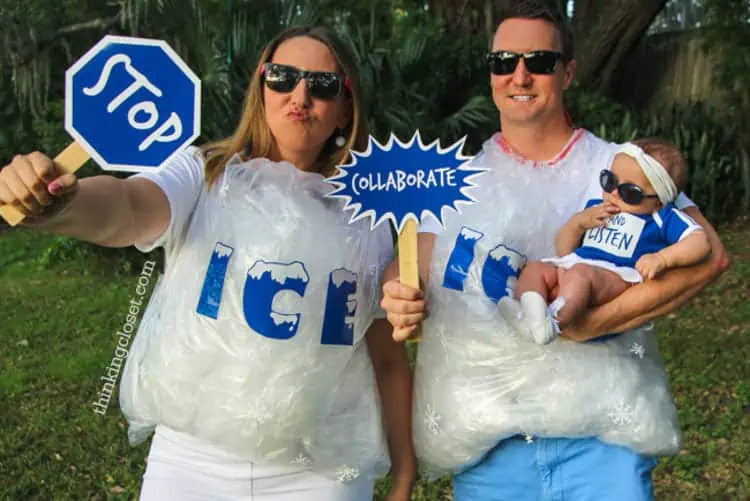 This is my top punny Halloween costume idea – dressing up as the "Ice Ice Baby" song. I love those young parents' creativity, and the costumes are absolutely fun!
49. The Three Pigs and The Big Bad Wolf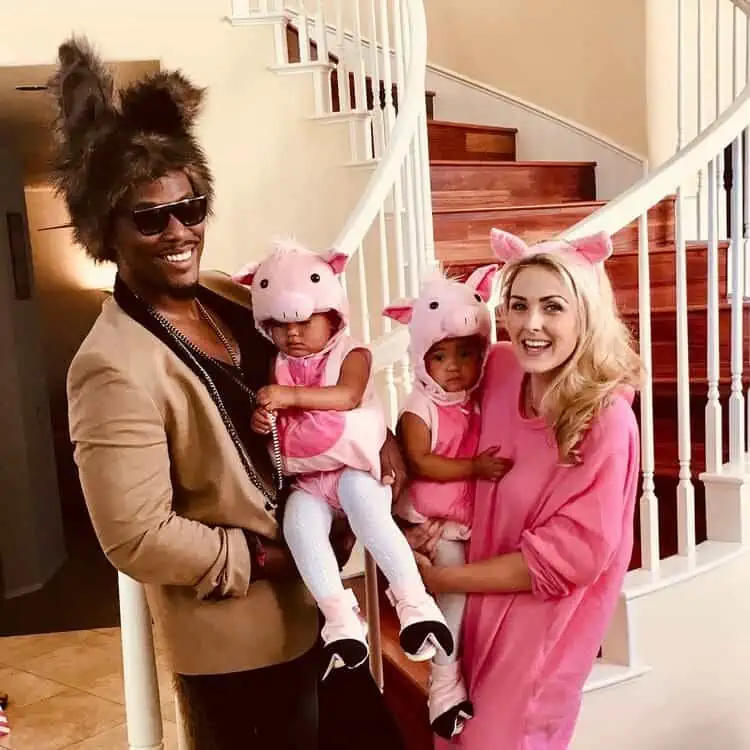 Bring a classic fairytale to life – recreate the Three little pigs and the Big bad wolf story! So fun and so cute! I bet this costume option is going to bring you tons of candy!
50. Football with a Fan and Player Costumes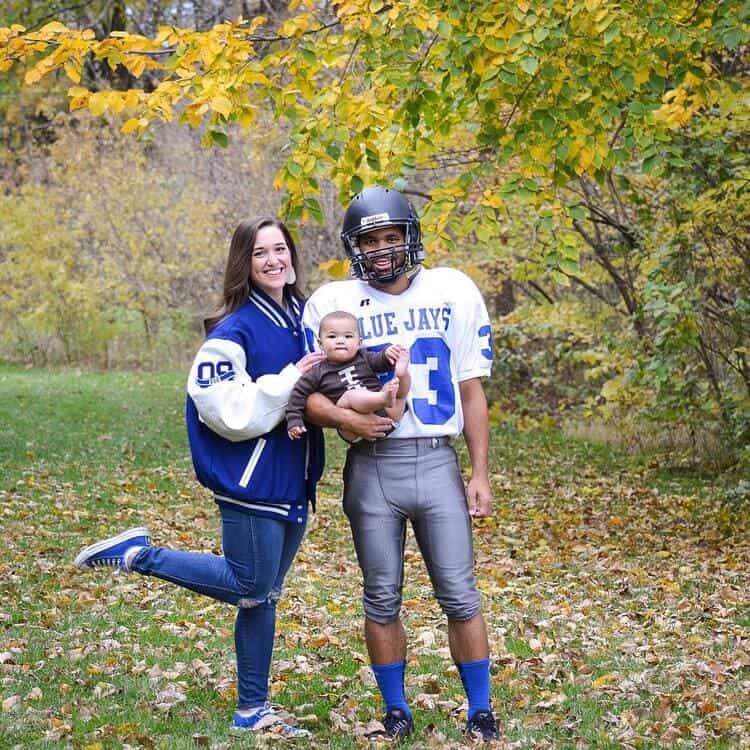 Are you a sports family? Are you into football? Then, you're going to love these football baby costume ideas with his dad – a football player and mommy – his girl. Such a fun and cute idea!
Halloween costumes are a fantastic way to enjoy a night out with the family. It is also a perfect opportunity to get creative and come up with some great ideas for both mom and baby. And if you have young toddlers, why not have them dress up as their favorite superhero? You can make it a bonding experience for them, as well as for you.
I hope you found these top 50 ideas for mom-and-baby Halloween costumes helpful. Whether you are looking for a simple DIY or something more elaborate, probably at least one of these ideas will inspire you to create a memorable costume for the two of you.
In addition, you can use these ideas as a jumping-off point for your own creative designs. Once you've decided on the perfect mom and baby Halloween costumes, nothing would be able to stop you from having a spectacular holiday! And don't forget to take photos, a lot of photos!
Which one is your favorite idea? Did this list help you choose the best mom and baby Halloween costumes? I'd love to know in the comments below!
Did you like these 50 Fun Mom and Baby Halloween Costumes? Then, you need to check out these other posts too: