This past spring I made an easy, fun project called Easy Easter Bunny Art. It's a fast, fun project that even little ones can do because it's so simple. While making it I thought of a bunch of variations, and I'm bringing the first to you today with Easy Halloween Art! I know what you're thinking, "How does she come up with these amazing titles?!" It's a gift people, a gift. 🙂
If you've peeked at the Easy Easter Bunny Art you know it involved cutting a frame and strips of paper and gluing everything together. That was already easy, but I've made this one even easier. This time around all I used were paper, tape, and a cutting tool.
First, I chose my frame. I used an 8×10, which helped me appropriately size my pumpkin (approximately 6.5×7.5 inches). I also chose to make my surrounding paper orange to pump up the Halloween spirit a bit.
I then broke into my stash of underutilized scrapbooking paper and pulled out some fun Halloween patterns. Unlike the Easter project, where I carefully cut all the strips of paper, this time I decided to tear them to give them a fun, rough effect. Plus, it was faster!
I actually used my Silhouette to cut out the pumpkin and the exacto knife to clean up some edges , but that is not necessary so if you don't have a Silhouette or another version of a cutting machine don't feel like you can't make this. It's ridiculously simple. Look, I even accidentally ripped the paper too. Oops. I'm not going to lie; that caused a momentary internal freak out and I thought I was going to have to start over until I realized I'd just tape my pieces right over it and no one would ever know (until I posted it on my blog, I guess). So if you decide to do this project on your own or with your kiddos and something like this happens, the project can still be salvaged and turn out great.
Just decide which side you want to be the front of your pumpkin (the side everyone will see), and tape your paper pieces to the opposite side.
And because everything looks better in a frame, here's the finished product again.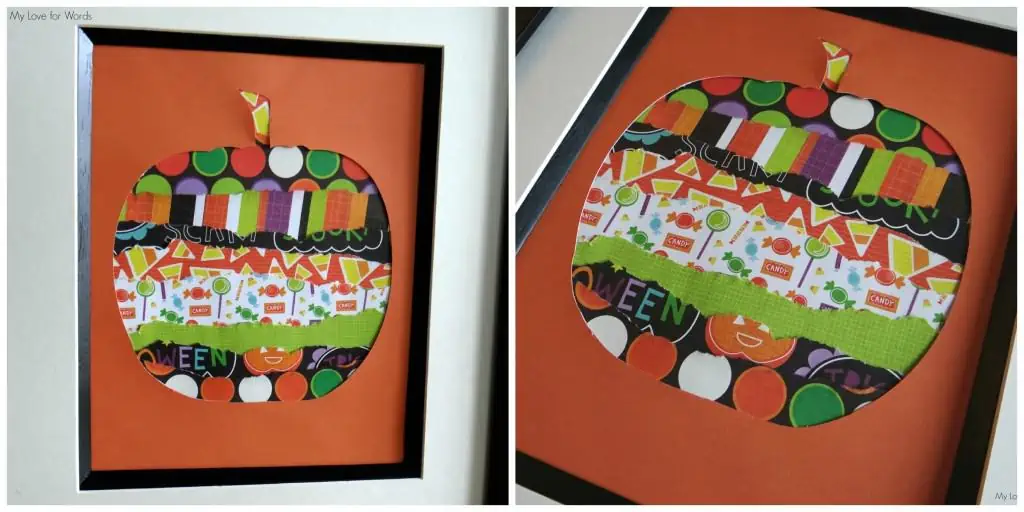 So easy! I'm curious, is the Halloween spirit already in your house? My kids have already been asking me for weeks about when we can buy their costumes. I hope I can make it another almost two months!
Love Halloween? Be sure to check out these great posts for more creative ideas!