I love all things pumpkin and peppermint at this time of year, but this Vanilla Pumpkin Sugar Scrub is my most favorite way to say goodbye to summer and welcome the cooler temps.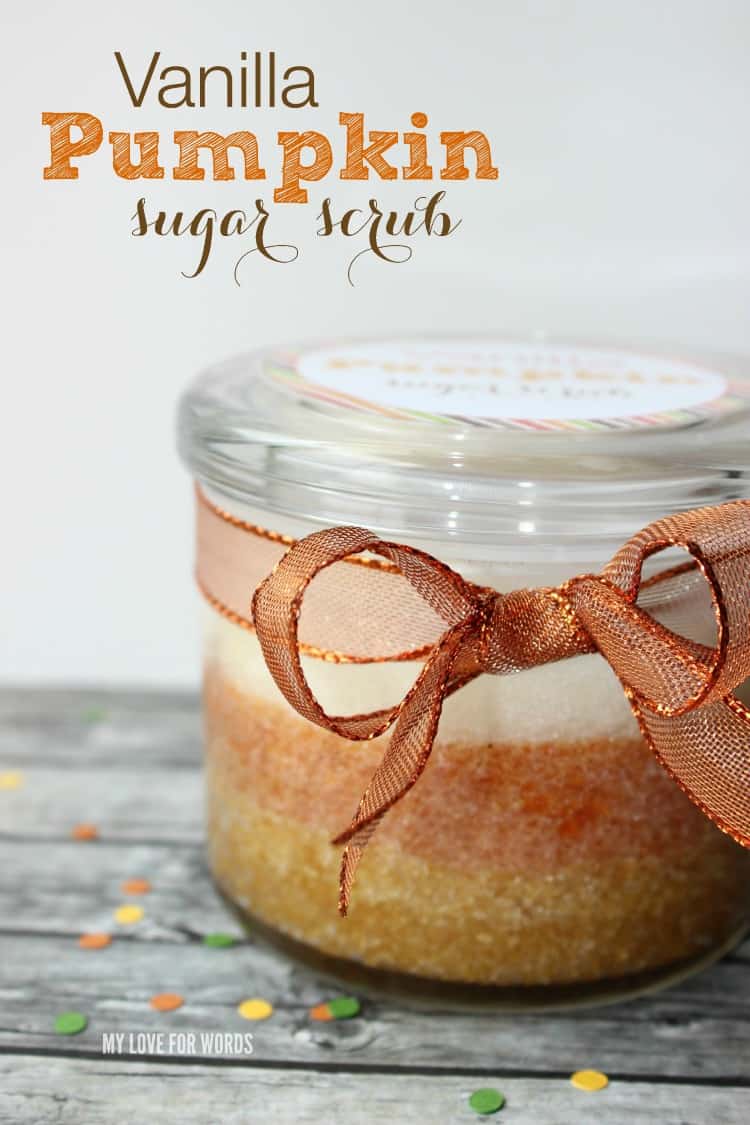 I love a lot of things about fall even thought it usually doesn't last very long. Here in the Midwest, fall usually feels like this…
https://www.facebook.com/JohnsonFiles/videos/1367402746751821/
I seriously have not been able to stop watching and cracking up at that video since I first saw it because it's sooo accurate!
Fall is such a tease, but while she's here, I love opening the windows to fill the house will cool, fresh air, getting my diffusers going with some fall scents, and cuddling up under blankets and sweaters. Best. Season. Ever!
Unfortunately for me, cooler weather usually also means dryer skin so a couple years ago I made my first sugar scrub recipe for Christmas, and I couldn't believe how much better my skin felt after using it.
It didn't take long before I ran out so I decided to play around a little, and this yummy new recipe was born.
Other sugar scrub recipes by Happy Organized Life:
I made this recipe in two batches so I could color the layers and make it look like candy corn so the white layer is only scented with vanilla.
The Vanilla Pumpkin batch comes out a sandy brown color so if you decide to make both batches and want a pure white layer, it's a great idea to make the vanilla first so you can reuse the same pot without having to clean in between.
This makes a really great and easy to make gift (like maybe for a fall birthday or Thanksgiving hostess), and because a cute package isn't complete without a cute label, I made a free printable to go along with it.
It's available in two different sizes (approximately 1.5 and 3 inches), both of which can be downloaded here.
Ingredients you'll need
Vanilla Sugar Scrub
1 cup sugar

1/4 cup coconut oil

1/2 teaspoon vanilla extract
Vanilla Pumpkin Sugar Scrub
2 cups sugar

1/2 cup coconut oil

1 teaspoon pumpkin pie spice

1/2 teaspoon vanilla extract

1/4 teaspoon cinnamon

1/8 teaspoon ground clove

optional: red and yellow liquid food coloring
Directions
Vanilla Sugar Scrub
Heat the coconut oil on the stove until melted.

Add vanilla extract and stir until fully combined.

Add vanilla and coconut mixture to the sugar and stir.
Vanilla Pumpkin Sugar Scrub
Heat the coconut oil on the stove until melted.

2. Add spices and vanilla, and stir until fully combined.

3. Add liquid to sugar, and stir.

At this point, the mixture will be a light brown color. It can be used now, if you'd like, or you can divide it into two bowls for coloring

To create the yellow layer, add

4 drops of yellow food coloring

To create the orange layer, add

4 drops of yellow and 3 drops of red*
This small amount of food coloring in the scrub will not stain your skin. 
*Since this post was originally published in 2014, I've personally become more careful about what we put in and on our bodies so if that is also a concern of yours, you can look into natural food dyes as an alternative to food coloring.
 Happy Pumpkin season!