Winter can be brutal on our skin, especially if you've also been cursed with sensitive skin like I am. What better way to take care of your skin than with a little pampering in the shower with an easy to make sugar scrub?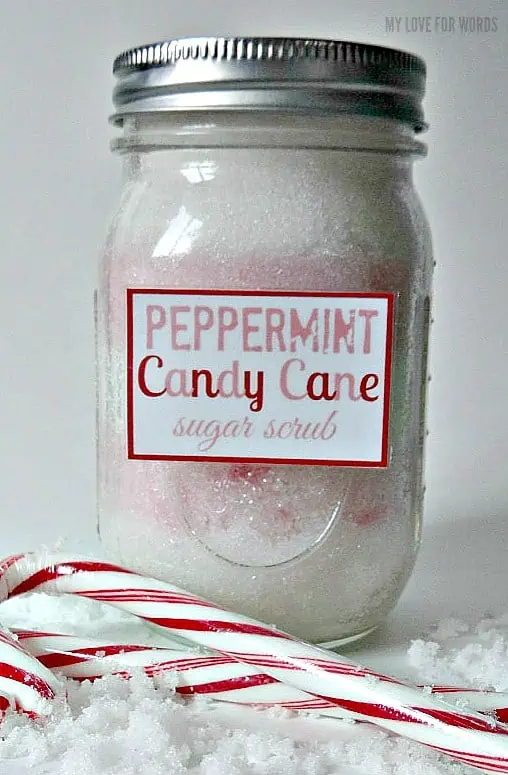 A few months ago I saw an episode of The Doctors in which one doctor recommended using a sugar scrub so I thought I'd give making some a try. I initially tried the scrub they recommended, sugar and olive oil, but, despite my love for Italian food, I don't like to walk around smelling like an Italian dinner. I needed a different oil that would moisturize but without leaving an odor. Coconut oil is a great alternative.
In the spirit of the holidays (and my love for peppermint hot chocolate), I added a bit of peppermint essential oil too. I'd much rather smell of peppermint than a spaghetti dinner.
Here's what you'll need to make your own Peppermint Candy Cane Sugar Scrub:
Containers (mine are 12 oz Mason jars)
Sugar (LOTS of sugar! A single recipe takes 2 whole cups)
Peppermint Essential Oil (not Peppermint Extract for cooking and baking)
Coconut Oil
Coloring (I used frozen raspberry juice, but you could also use food coloring or the juice of a different berry for a different color)
!. Warm 1/3 of a cup of Coconut Oil on the stove until liquefied. (More coconut oil can be added, but too much will make the scrub hard since coconut oil is solid at room temperature. This can easily be remedied in a warm shower by running the jar under warm water and scooping out the desired amount of scrub.)
2. Put 2 cups of sugar into large bowl, liquefied coconut oil, and peppermint oil, and stir.
3. Put half of the sugar and oil mixture into another bowl, add color, and stir. (More or less peppermint oil can be used based on how strong of a scent you're working to achieve.)
4. Layer the scrub in your container and enjoy! (Compacting the layers a bit will help to keep the colors differentiated.)
This is an extremely easy gift to make, and to make it a little easier I've made FIVE different printable label options. Five is a little excessive, but I was on a roll love having options.
You can access this and all of my other free printables by signing up for my newsletter. Just enter your e-mail address in the sidebar right over there —–> After you confirm your subscription, a welcome message will be automatically e-mailed to you soon afterwards with a link to all of my available printables.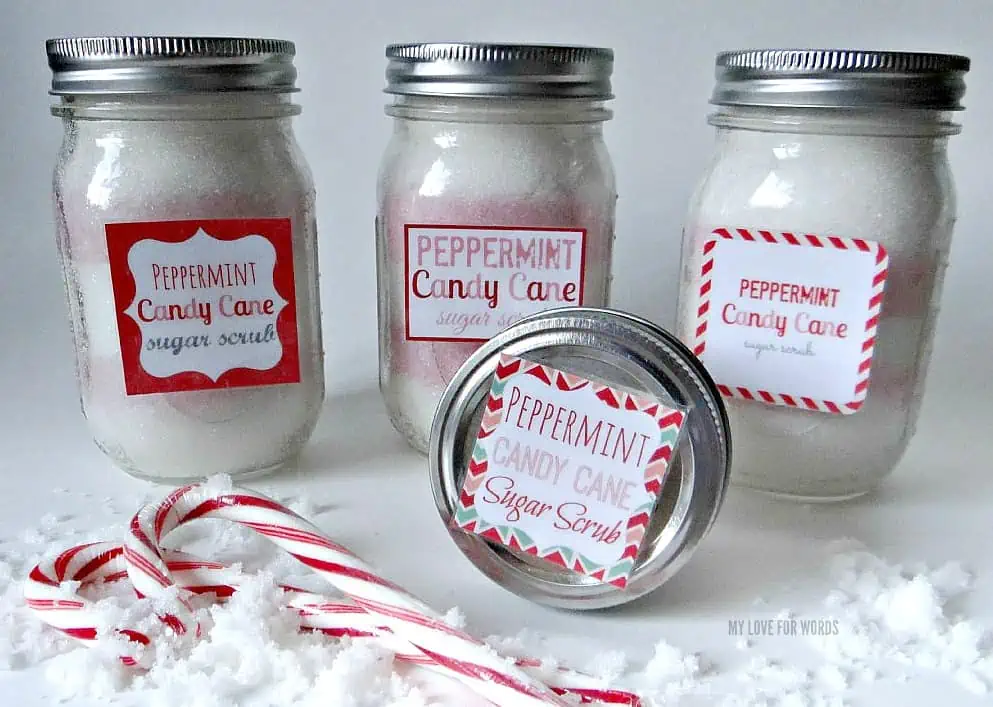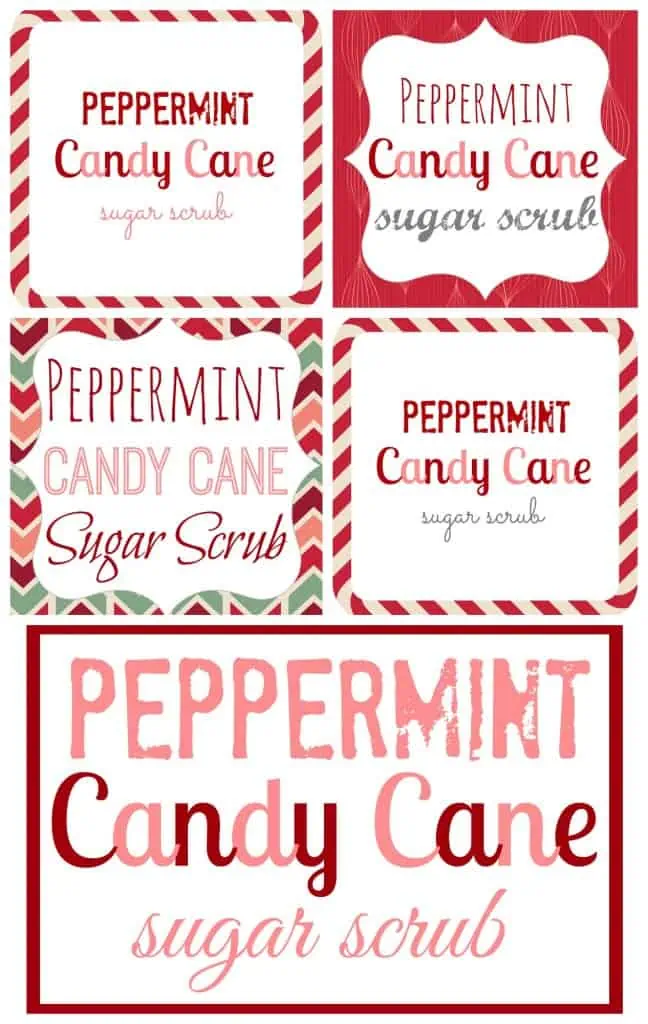 I also have to say that I love the mini jar as a stocking stuffer. So cute, but rest assured that no candy canes were injured in the writing of this post.
If you like this, you'll love my Vanilla Pumpkin Sugar Scrub. It smells amazing!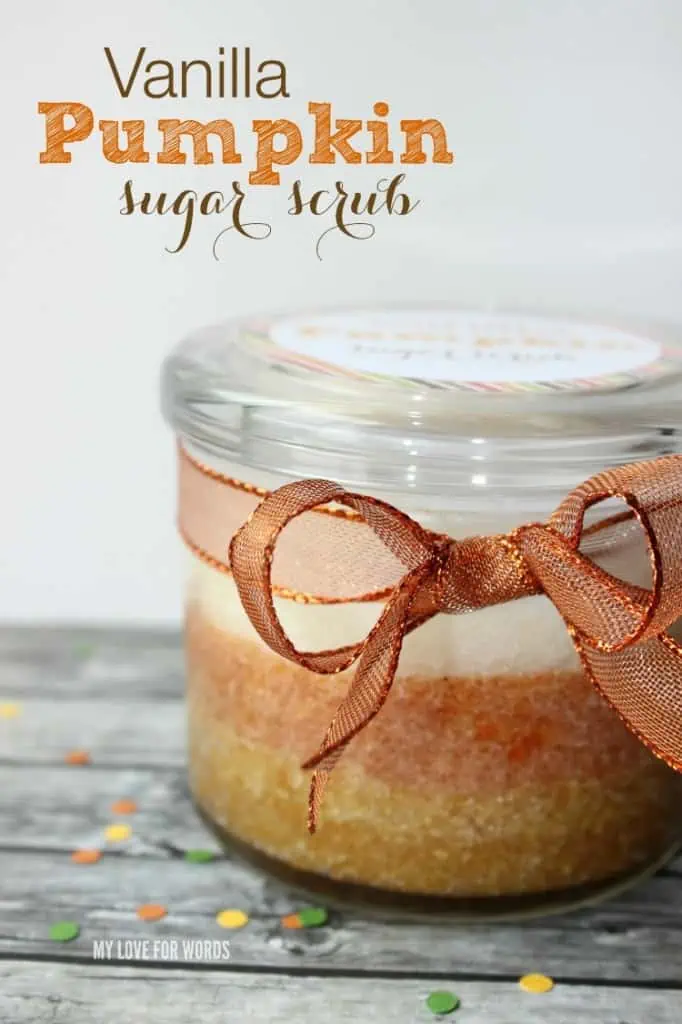 Are you making any of the gifts this year?