The thankful decluttering challenge is a fast, five day challenge to help you get big decluttering results in your home in less than a week.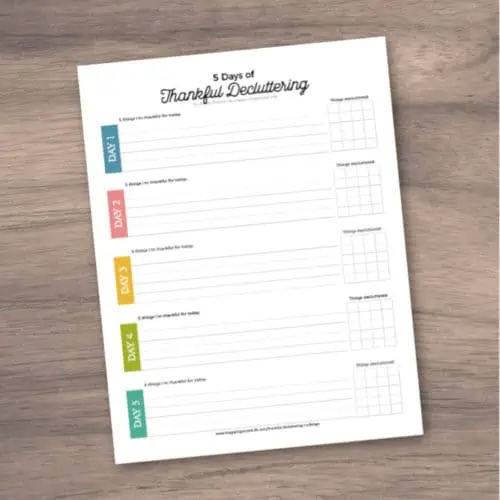 I've been itching to declutter lately.
I don't know if it's the inevitable chaos of the holidays or I've just finally cured my own clutter blindness, but I'm finally realizing how much clutter affects me, and I want it all gone.
I wanted to come up with a fun way to get big results quickly so, in the spirit of Thanksgiving, I created the Thankful Decluttering Challenge!
I shared all the details in this live video on Instagram yesterday.
The challenge is really simple. Basically, for the next five days, I'm going to write down five things every day that I'm thankful for and declutter 20 things from my home.
By the end of the challenge, I'll have gotten rid of 100 things! That's pretty good for just five days, I think!
I've created a free printable to help us track our progress that you can find here: get the free Thankful Decluttering Challenge tracker.
Giveaway for Participating
I'm a big believer in the importance of rewarding ourselves when we accomplish something so I've decided to do a little giveaway too.
Everyone who completes the challenge by decluttering 100 things from their home over the next week will be entered to win a $50 gift card to Amazon!
Thankful Decluttering Challenge Rules
I am not a stickler for arbitrary rules so while the challenge is set up for us to declutter 20 things from our home every day for five days, you don't have to follow that exactly.
I know every schedule is different so I'll be keeping the challenge open for a week, from November 20, 2019 through November 27, 2019. Hopefully, this will allow you to fit your decluttering into your schedule.
If you want to get rid of 100 things in one day, do it! If you want to space it out over all seven days, go for it!
The only three things that matter are:
100 things leave your home by November 27th
Write down at leave five things you're thankful for on five different days
Take pictures of the things you're decluttering so I know you've completed the challenge
That's it!
I'll be sharing exactly how to submit your progress and be entered for the giveaway later this week, and I'll be sharing my daily progress on Instagram with the hashtag and Facebook, and I'd love to see what you're up to too!
Let's Declutter Together!
Everything's more fun with friends so if you're on Instagram, just use the hashtag #thankfuldecluttering so I can find you easily, and if you're on Facebook, we'd love to have you join us in the Declutterathon group! It's a private group of more than 33,000 members who are all working on decluttering and organizing their homes. It's an extremely supportive community, and we'd love to encourage and support you on your decluttering journey.
I can't wait to see all the progress we make around our homes and to have 100 fewer things to take care of! Let's do this!