It's the first day of the declutterathon!
My goal for the next 26 weeks is to make slow and steady progress decluttering our homes and lives in the hopes that it will create long-lasting change. If you've arrived at your computer with lots of energy, enthusiasm, and a box full of black trash bags you may be a little surprised by this first week.
While other plans jump right into creating zones and immediately decluttering certain areas, I know that, for some of us, our initial enthusiasm can burn out pretty quickly. We end up feeling overwhelmed and sometimes worse off than when we started. My hope is that by taking small, purposeful steps, we'll be able to tackle our clutter once and for all.
This is going to be a personal journey we'll take together. The facebook group is already over 600 2,000 people strong so there's no shortage of people ready to empathize with and support you in this process. There's also a newsletter that will be going out with reminders and tips to help keep you on track. However, since this is a personal journey, I want you to adapt it as you see fit. If something I write or recommend doesn't resonate with you, ignore it. If the pace is a little too fast or slow, move at the speed that's best for you, but don't stop challenging yourself.
If you want to jump right in and start clearing spaces, please do so. Just try not to do so much that you become overwhelmed. Don't set the bar so high that your goals seem unattainable. We have 26 weeks to work through our homes, and we're going do our best to use that time wisely while not burning ourselves out.
This first week is going to be spent looking at what clutter is, the different types of clutter, and how it affects our lives. Doing our best to answer these questions is, I think, the only way to succeed in the long run.
To some of you, this may seem silly or be uncomfortable. You may want to just skip this stuff and run to the nearest junk drawer, but I genuinely believe that taking care of clutter isn't about buying the right bins or having the right labels (even though I do love a nice printable). Clearing clutter once and for all can only really be done if we figure out why we have it in the first place.
I have tried, time and time again, to get my house organized. I've bought a Container Store's worth of bins and spent entire days making rooms look perfect only to have them eventually end up cluttered again. I thought, "If only we had more space, we'd have no problem remaining organized." We then moved into a much larger home, and the new house ended up cluttered too. That's when I had my epiphany that clutter's like a koi fish, and my cluttered home was about more than just having too much stuff.
A cluttered home is like your house having a fever; It's a symptom of a larger problem. We can lower temperatures and sort piles until we're blue in the face, but those are nothing more than temporary fixes. If we don't address the root causes of our clutter, it's bound to eventually return.
Just because we won't be filling garbage bags right away doesn't mean we won't be decluttering or doing work. Honestly, this first week may be the hardest week of all because we're going to have to be brutally honest with ourselves, and the first area I want us to think about is our time.
Today's tasks:
Over the next four days, we're going to track how we're spending our time. Try to be as honest as possible and go about your day as you usually would. Don't change what you'd normally do just so it looks good on paper. I made two versions, one with times and one without in case these don't work for you. Later this week, we'll evaluate how we're spending our time and come up with a plan for week two.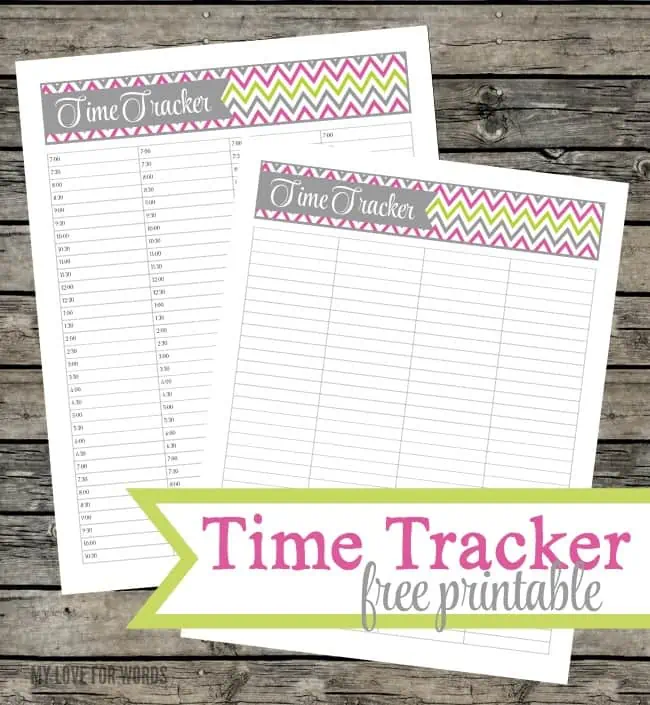 Click HERE to get your copy.
The second task for the week is to choose one job to start doing every day. Ideally, this will be one small task that will take less than five minutes to complete. This way we're seeing some progress being made in our environments since I'm sure we're all anxious to get started.
I'm going to start making my bed every day, but you could also work on keeping your kitchen sink empty, putting your shoes away, keeping clothes off the floor, or keeping a kitchen or bathroom counter clean (even if every other flat space is buried in piles). These small steps will help us slowly establish new habits and create our new environments.
Tomorrow, we'll talk more about different types of clutter and why we have it, but for now I'd love to know, what small task are you going to take on for the week?