This tends to be my internal monologue while decluttering, "Oh wow, look, it's that thing that is broken and that I had completely forgotten about, but now that I have it in my hot little hands I can't imagine parting with it again. I'm sure I'm going to need this one day, and I'd hate to have to rebuy it. That would be such a waste. I'm so glad I found it, even though I completely forgot it existed, because it's sooo cute! I have no idea where I'll put it, so I think I'll just throw it back in this box until I find a place for it later."
The item is then promptly forgotten about until a few months (or years?!) later when I'm decluttering all over again. As much as I loved the movie Groundhog's Day, I don't want to reenact it every time I walk around my house. If you're ready to clear the clutter for good, these are the five questions to ask while decluttering.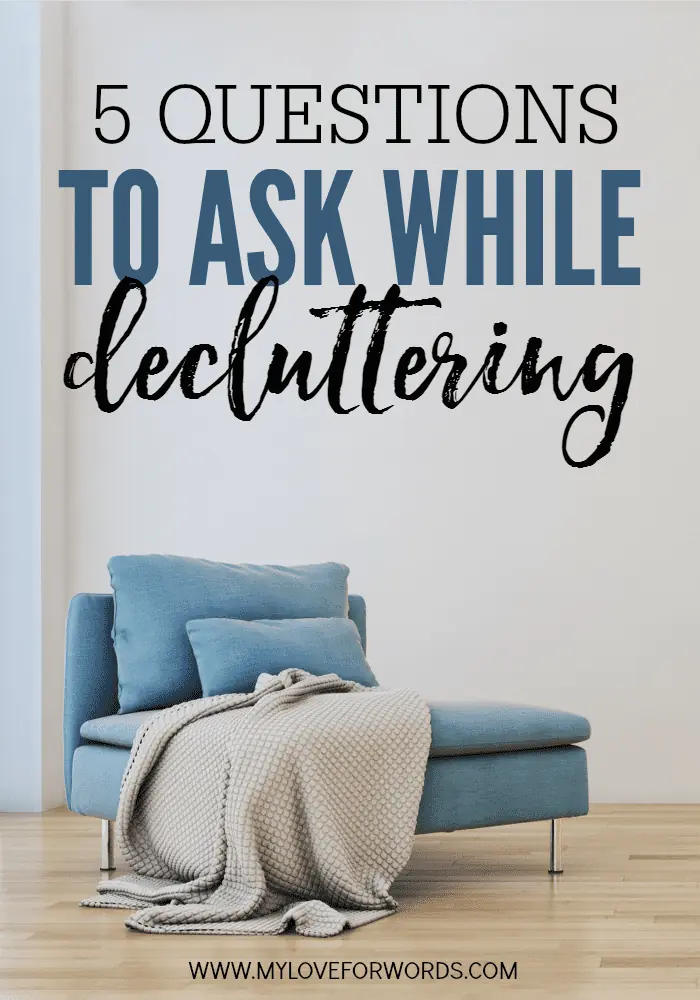 Most of my clutter can easily be classified as out of sight, out of mind. My storage rooms, in particular, house things I didn't even remember I had until I saw them, and other things I didn't even recognize.
Sadly, those aren't even the worst things lurking in my basement. The worst is that I have found bags of papers that need to be shredded (aka garbage, just not the dirty, stinky kind) from a decade ago. 10 years! Over the last 10 years, I have moved four times, which means I have paid to haul and store trash four times over. Ugh, that's an embarrassing admission.
Here's the paradox of clutter: I keep things because I think I might one day need them only to, in most cases, rebuy the same objects because I can't find what I've saved. When nothing has a home or is easy to find, I might as well not have the stuff at all. It does me no good to hold on to too much. It does me no good to hoard because that's basically what I've been doing… saving stuff just in case.
Times are a changin' though. I'm determined to simplify and get organized once and for all. These are the questions to ask while decluttering to determine what to keep and what to get rid of:
1. Have I used the item in the last 12 months?
Let's be honest, 12 months is a generous amount of time. If I can go 12 months without using something, there's a pretty good chance that I'm not going to need it tomorrow… or ever again. Unless it's especially sentimental or rare, I'm going to toss it.
2. Is it in good condition?
If something's broken or needs time and attention in order to be usable, I need to throw it out. At this point in my life, I really don't have time to devote to fixing inconsequential items so I can keep them just in case I need them again. If there is something that I want to fix, I need to give myself a deadline in the not-too-distant future by which it must be taken care of. If it's still not fixed when the deadline comes, out it goes.
3. Do I love this? If I saw this in a store today would I buy it again?
I can talk myself into a lot of things, especially when they're "free." (Already purchased is "free" in my book.) I hate the idea of wasting stuff. If I've already spent money on it, it feels wasteful to get rid of it. I feel like I need to put it to some good use before I can let it go. However, while money is valuable, it's not our most precious resource. What I really need to prioritize is my time. We can always make more money; our time is the only thing that is truly limited, and unlike the money on a balance sheet, we don't know when our time's going to run out.
I truly believe that when we keep things that we do not love, we are wasting our time and energy. Those things that we don't love aren't self sufficient. They need to be dusted, rearranged, packed, and unpacked, maintained, and, to some degree, cared for. That's a lot of effort and time to put into to something that we don't really care about. As hard as it can be to let go of the clothes that still have tags on them (tell me I'm not the only one who has had to do this!) or the body products that have been living in our bathrooms for years, it's even harder for me to think about wasting so much time on stuff that I care so little about.
4. Do I already have one of these?
How many can openers does one family really need? Or hair dryers? Or kitchen sheers? These are all kind of serious questions because I have multiples of all of them.
It seems like getting rid of duplicates would be easy. After all, I'm not going to be "without," I'll just have a little less. Then that evil hoarding angel on my shoulder starts whispering, "But what about when that one breaks? What if it's dirty or lost? What will you do then?" and I want to shove everything back in the drawer and maybe go buy a few extras just to be safe.
What I need to start saying back is, "I'll be taking better care of my stuff so dirty things will be cleaned asap, and stuff won't get lost any more because everything will have a place, thankyouverymuch! And, if something happens to break, I'll just go buy another one." (Beyond the clutter, maybe I should be worried about this whole "hearing voices" thing.) 😉
5. Does this fit into the vision I have for my life?
Personally, I think this might be the most important question to consider. Like I said, I can talk myself into a lot of things if I really want to. I guess I find myself very persuasive. I can kind of weasel my way around the above questions if I really want to:
"Well, I haven't used this in years, but now that I've found it I'm going to use it a lot."
"That's a tiny tear. It'll be easy to fix." or "All this needs is a little glue, and it will be as good as new."
"I don't really love this, but I think I can make this work… or I can use it in a room we don't go it much. It would be such a waste to get rid of it."
"But what if the others break? Why rebuy this in the future when I already have three others right now? I'm saving us money in the long run, right?"
Crickets…
Maybe I haven't tried hard enough yet, but I can't really fudge the vision I have for our home and family because the vision includes zero clutter. Nothing I can think of or say can justify keeping junk when I look at it through the "does this align with my family vision" lens. If it's an unnecessary duplicate, unusable, broken, I don't like it anymore, or I haven't used it in years, this questions stops me dead in my excuse-making tracks.
I want to turn this house into our home. I want people (those who live here and guests) to feel comfortable and at ease within these walls. I want our focus to not be on stuff but rather on one another and the things that really matter. I want us to be happy, healthy, and safe, and not controlled by stuff, and that means there's no room for clutter.
I'd love to know what helps you get rid of something when you're decluttering? What questions do you ask yourself?
For other Decluttering posts, check out: