Despite knowing that I have a ton of junk laying around this house that someone could easily remove and I'd never be the wiser, the idea of getting rid of 40 bags worth of stuff in 40 days is kind of overwhelming.
As I said in my first Declutterathon post, if I try to focus on the entire house all at once I'll get nothing done so instead I've broken my house down into zones.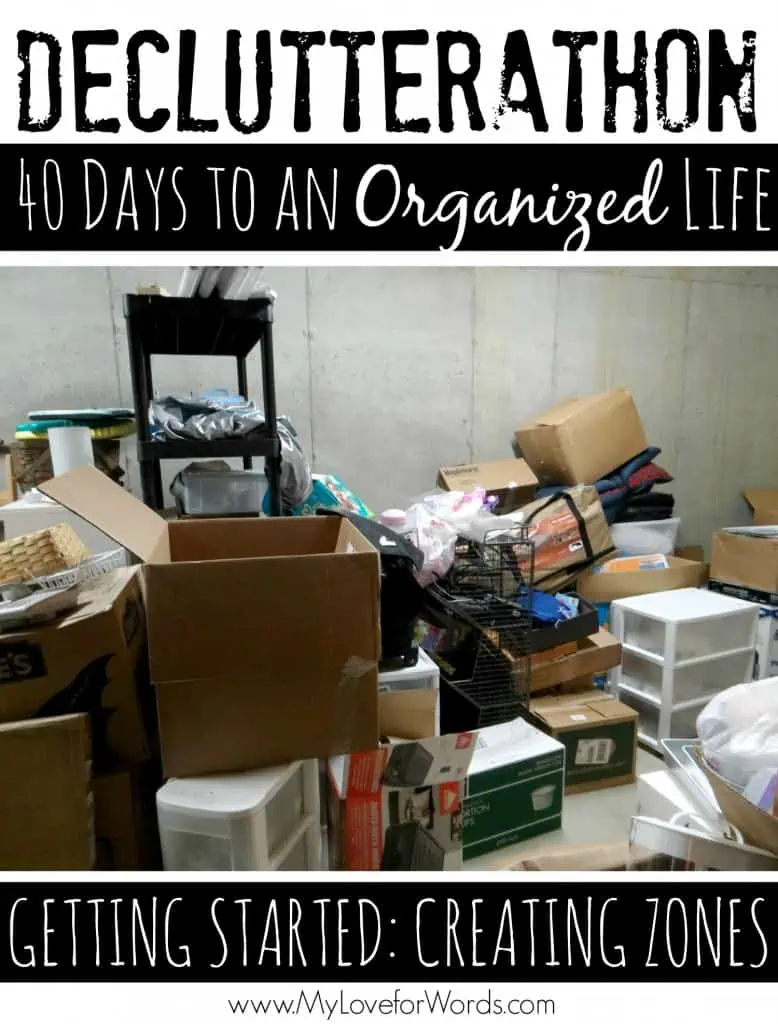 Some zones are going to produce more bags than others. My basement storage areas, for example, may give me 40 bags all on their own (it's scary down there), whereas my kitchen junk drawer will probably produce a sandwich sized bag of junk if I'm lucky. I don't necessarily expect each area to produce one bag's worth of stuff, but focusing on different areas will help keep this mission manageable and a little less overwhelming.
This is my current list of zones:
Storage room 1
Storage room 2
Master bedroom
Master closet
Master bathroom
My nightstand
My dresser
Son 1's closet
Daughter's closet
Son 2's closet
Kids' dresser
Baby's dresser
Garage
Entry closet by front door
Closet 1 by garage
Closet 2 by garage
Laundry room
Kitchen cabinets
Kitchen drawers
Pantry
Refrigerator/Freezer
Basement refrigerator/freezer
Office
Craft supplies
Books
Master linen closet
Upstairs linen closet
Cars
Wet bar cabinets
Cedar closet
Sunroom
Playroom
Papers to shred/organize and file
E-mail
Guest bedroom
Guest bedroom closet
Purse and diaper bag
I'm not going to assign areas to specific days at this point because life always gets in the way of my best laid plans, and if I feel like I'm veering off track I may quit altogether. Instead, I'm going to tackle what I can when I can. The whole point of this is to make progress and work towards a more simple, balanced, and organized life so I'm not going to be so regimented that I lose track of the ultimate goal.
To be honest. some of these rooms scare me. Our storage rooms have a ton of stuff in them, and just thinking about all of that sorting and cleaning makes me want to take a nap. I'll probably work up to those areas. I'm also going to try to remember that certain rooms will take a lot more time than others. I could spend a week or two just in the storage rooms, and that's okay as long as I'm purging in the process.
So, tomorrow's the big day, the beginning! I'll be back to share some questions I'm going to ask myself when I'm struggling with whether or not I should keep or get rid of something.
Until then, I'm curious to know, what are your zones? Is there an area in your home that you're dreading?