Today, I'm restarting the 40 Bags in 40 Days challenge, and I hope you'll join me!
If you've never heard of 40 bags in 40 days, it's a challenge to get rid of 40 bags worth of stuff in 40-ish days. I believe it started in Catholic circles as a lenten challenge so it typically begins on Ash Wednesday (today!) and ends the day before Easter, which is March 26 this year.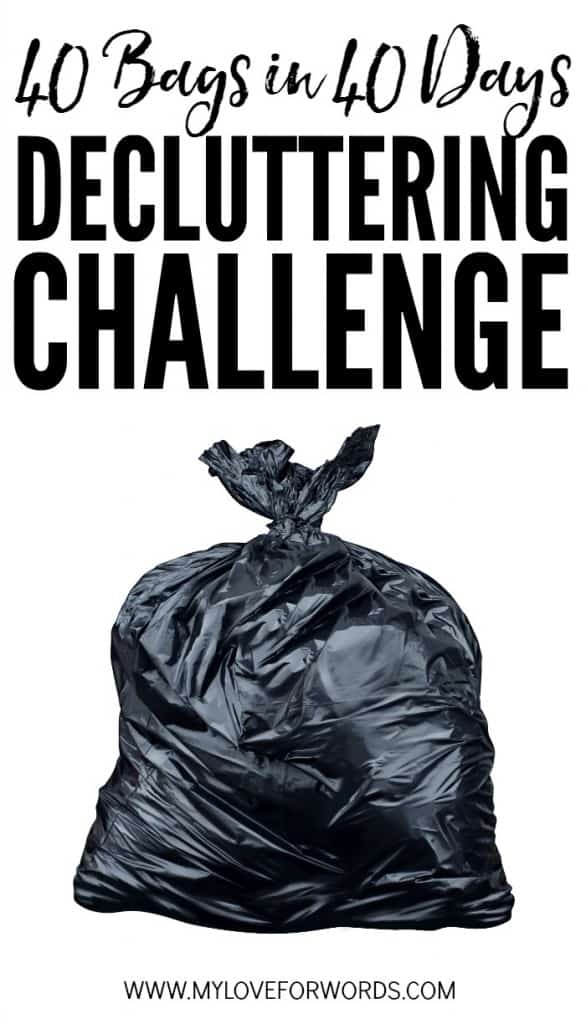 If you're thinking, "That's more than 40 days," you're correct! I only recently found this out, but lenten resolutions evidently don't have to be kept on Sundays (I wish I'd known that as a kid!) so each week we'll get one day off. Of course, if you'd like to declutter on a Sunday, please do so. I love having the buffer of one free day a week. It helps me plan around our busy schedules so I can get as much decluttering done as possible.
If the idea of removing 40 BAGS worth of stuff from your home feels daunting, that's okay. Just focus on one bag at a time. Maybe you don't need to remove 40 bags worth of stuff… maybe you need to remove more! (I fall into the latter category, unfortunately.)
I've done this challenge a couple times before. Actually, some of my very first posts on this blog (my apologies for how horrible they are!) were on this very challenge. In 2013 and 2014 I removed 7 and 8 bags respectively. I could've done more… a lot more, but I know I never would've made that amount of progress without setting a big goal. This year, however, I'm doing 40 bags for sure. I may even do more, but 40 is my minimum this year.
Over the years I've made a couple different printables for this challenge. I have one version that's blue and green and another with little trash bags on it. Both can be found in my collection of free printables that's available to subscribers. (For access, just subscribe in the box at the end of this post!) 🙂
I'm going to do my best to keep you updated on my progress each week here on the blog, but for behind the scenes/more regular updates, be sure to follow me on instagram. Use the #declutterathon so I can find and follow you too. Let's make this the best 40 Bags in 40 Days ever!
For ideas on areas to declutter and to see past challenge posts, be sure to check out the links below. Alright, time to get started! I'll be starting in my linen closet because it's full of junk, and I'm hoping to share some beautifully uncluttered after pictures in an upcoming post. Wish me luck! Where will you be starting?
Looking for a decluttering community? Join my Declutterathon facebook group! No judgment, just support: Click here to join!
More of my 40 Bags in 40 Days and Decluttering posts:
40 Bags in 40 Days
40 Bags in 40 Days: Creating Zones to Declutter
40 Bags in 40 Days 2014: Master Bath & Office Update
31 Days of Decluttering
5 Questions to Ask While Decluttering
How to Declutter your Life in 40 Days