Tired of living with clutter? Join the 40 Bags in 40 Days decluttering challenge!  A more organized, tidy, and uncluttered home is only 40 days away. 
If your home has you feeling overwhelmed, the 40 Bags in 40 Days challenge can help!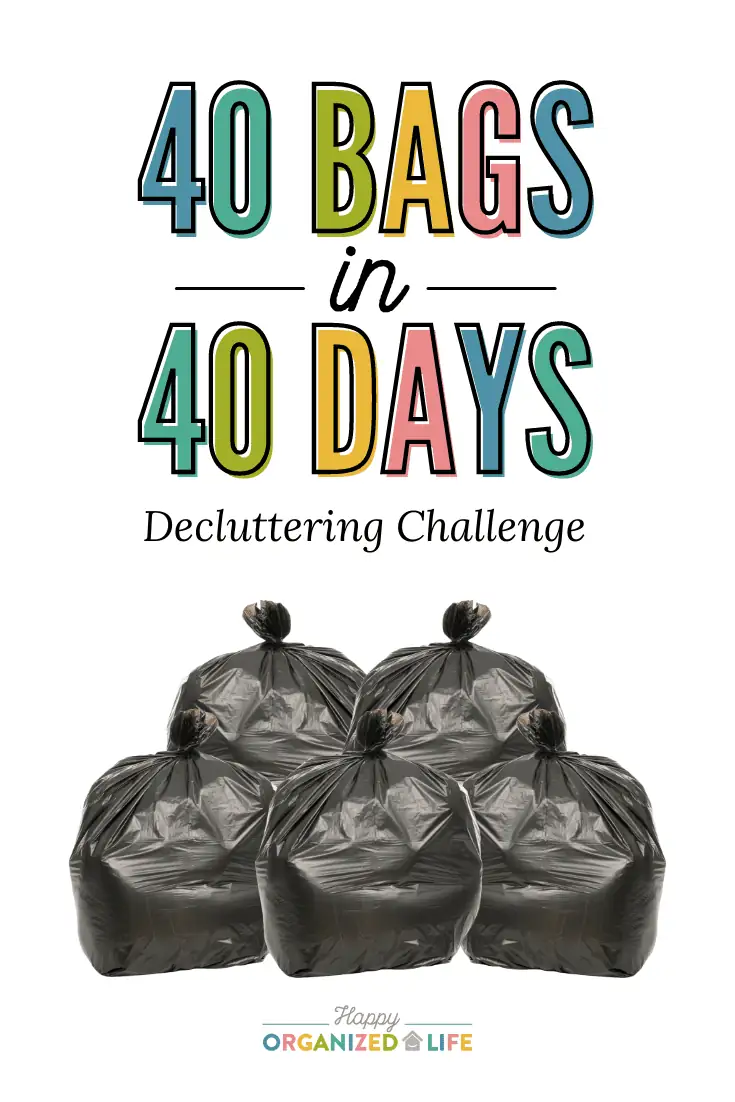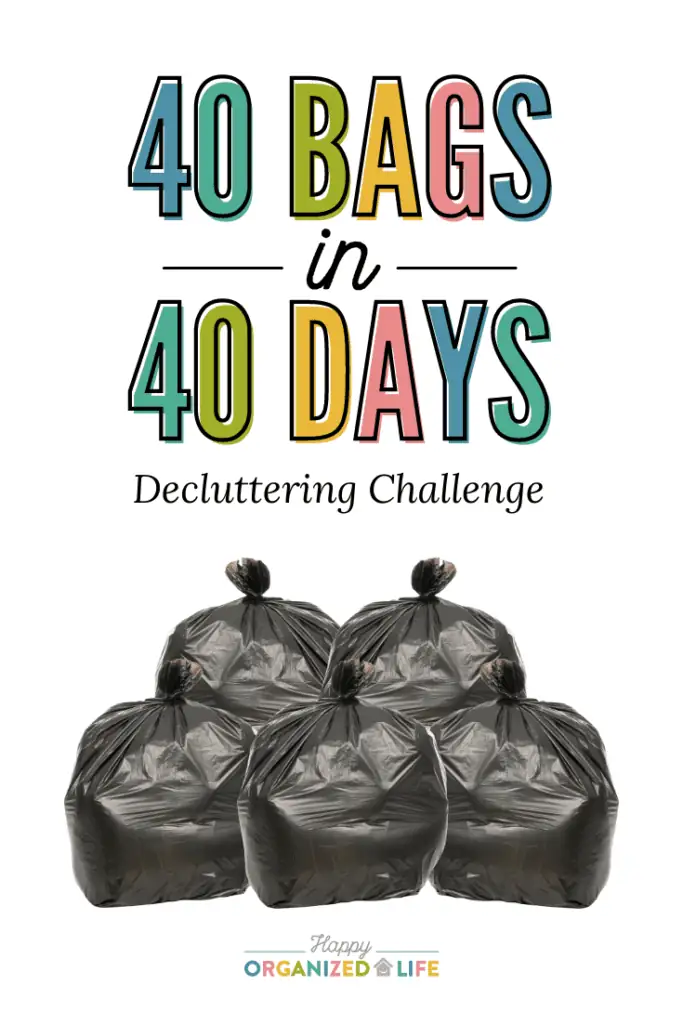 What is the 40 Bags in 40 Days decluttering challenge?
The 40 bags in 40 days challenge is a decluttering challenge to get rid of 40 bags worth of stuff in a 40 day period.
It started in Catholic circles as a challenge for the lenten season to create more manageable homes. The challenge runs over the 40 days of lent that begin on Ash Wednesday and ends the day before Easter.
When does the 40 Bags in 40 Days Challenge start?
The exact starting date varies from year to year, but in 2023 the 40 Bags in 40 Days Decluttering Challenge starts Wednesday, February 22nd and ends on Holy Thursday, April 6th.
Is the challenge longer than 40 days?
If you're thinking, "That's more than 40 days," you're correct!
I recently found out that lenten resolutions don't have to be kept on Sundays, which means we actually have 46 days to complete the challenge.
Of course, if you'd like to declutter on a Sunday, you are more than welcome to do so.
I personally love having the buffer of six extra days when decluttering doesn't have to take place. It helps me plan around our busy schedules so I can get as much decluttering done as possible.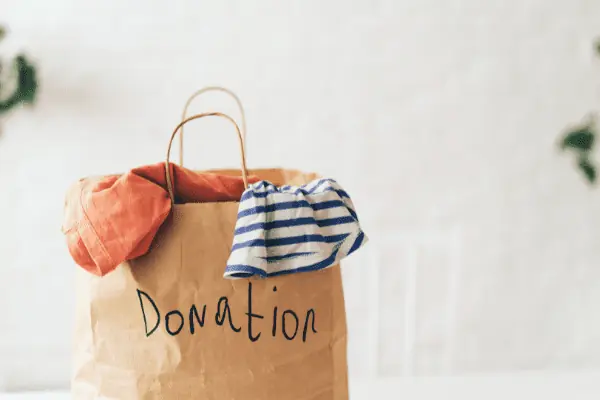 What counts as a "bag?"
Personally, I count containers of all sizes.
Sandwich bag, bin, baskets, a small grocery bag, or large trash bag… it doesn't matter. Ultimately, any size container or bag of clutter that's leaving your home is a good thing.
I'm not sure I can get rid of 40 bags worth of stuff in 40 days. Can I still participate?
Of course, you can still participate!
I only got rid of 7 bags the first year I did this challenge and 8 bags the second time.
You may not have 40 bags worth of stuff to declutter, which is wonderful! That's the goal many of us are ultimately working towards!
On the other hand, maybe you need to declutter far more than 40 bags, and that's okay too. If you'd like, you can set a big goal and fill extra bags!
Our goal is progress not perfection so if you can declutter 40 trash bags worth of stuff in 40 days, go for it! Your home will feel so much better when you're done.
If the idea of removing 40 BAGS worth of stuff from your home feels daunting, just focus on one bag of stuff or a single thing at a time.
Please choose whatever will work for your life without causing you to feel stressed.
Do I have to donate bags in order for them to count?
Nope! Anything that you choose to get rid of during this time period counts… even garbage!
Emptying trash is actually my favorite place to start decluttering because it's usually a pretty easy place to start, it isn't sentimental at all, and it can make a big difference in really a short period of time.
You'll probably run across a lot of items that can't be donated for one reason or another and maybe even some things you'd like to sell!
By the end of the challenge, you'll probably also have some lovely piles of donations that will help to bless other families.
How can I track how many bags I've filled?
I love tracking my progress so I've created a few of different free printables over the years specifically for the 40 Bags in 40 Days decluttering challenge. They're a great way to know exactly how many bags you've filled and how many you still have to go.
I have one version that's blue and green and another with little trash bags on it, boxes to color in. Just click on the image below to download your copy.
Is this a group challenge? I'd love to do this with other people.
We'd love to have you join us in the Declutterathon group on Facebook! It's a wonderful, judgment-free community full of support and encouragement, and we'd love to help you on your decluttering journey.
Tips for Finding Things to Declutter
I know the idea of decluttering 40 bags worth of stuff can sound like a lot, but we can tackle our clutter the same way we'd eat an elephant… one space at a time.
The easiest way I've found to tackle 40 Bags in 40 Days is to break my home into 40 different areas. This way, I don't end up trying to declutter my entire house at once or run all over the place with nothing to show for it at the end of the day.
Different Ways to Approach the Challenge
You can approach this challenge by decluttering rooms, categories, or a mix of both.
Since most of us probably don't have 40 separate rooms in our homes, a combination of rooms and categories is a great way to go.
I like to start in one space and work until my bag is full.
Once it's full, I stop, give myself a pat on the back (and maybe a little reward), and I pick up where I left off the next day.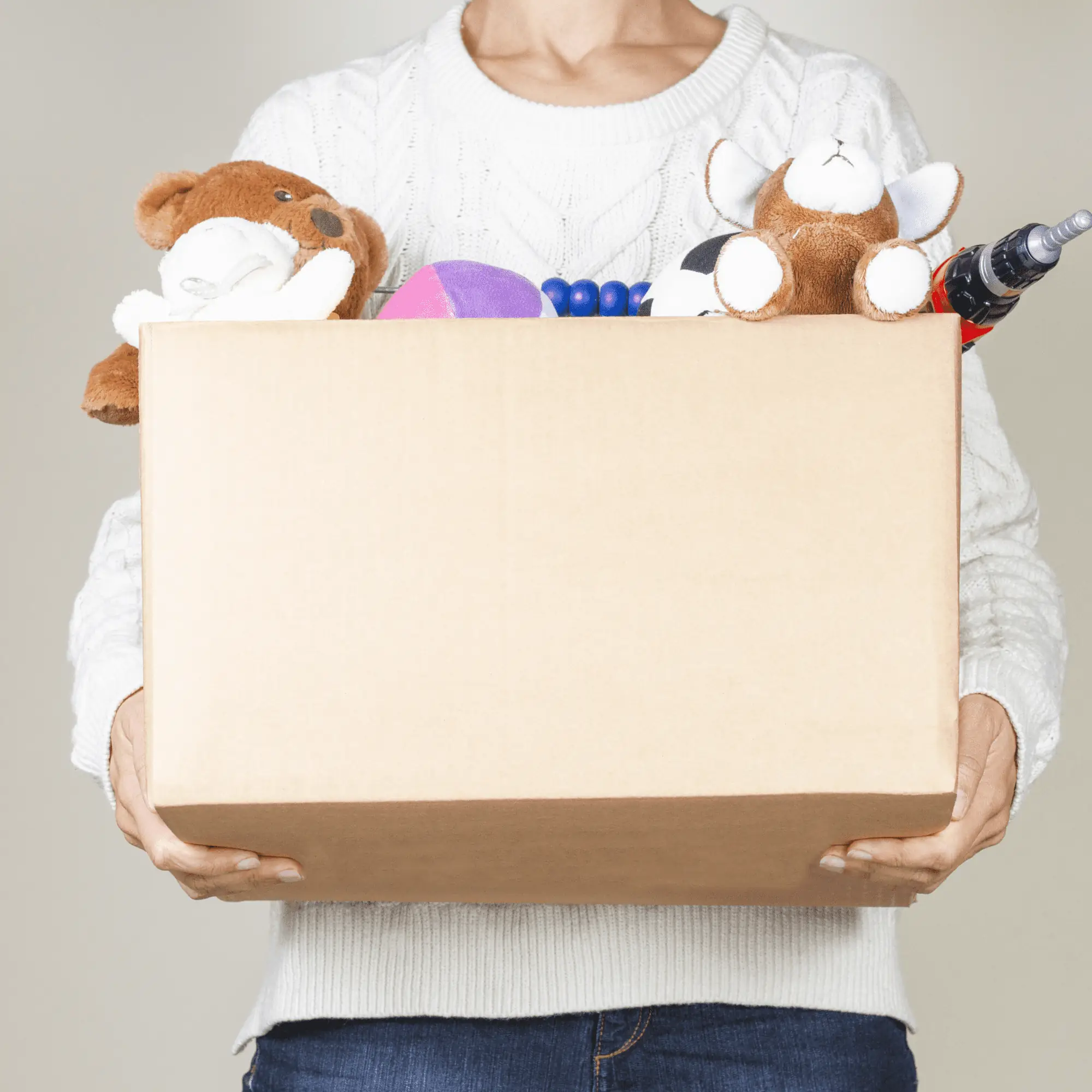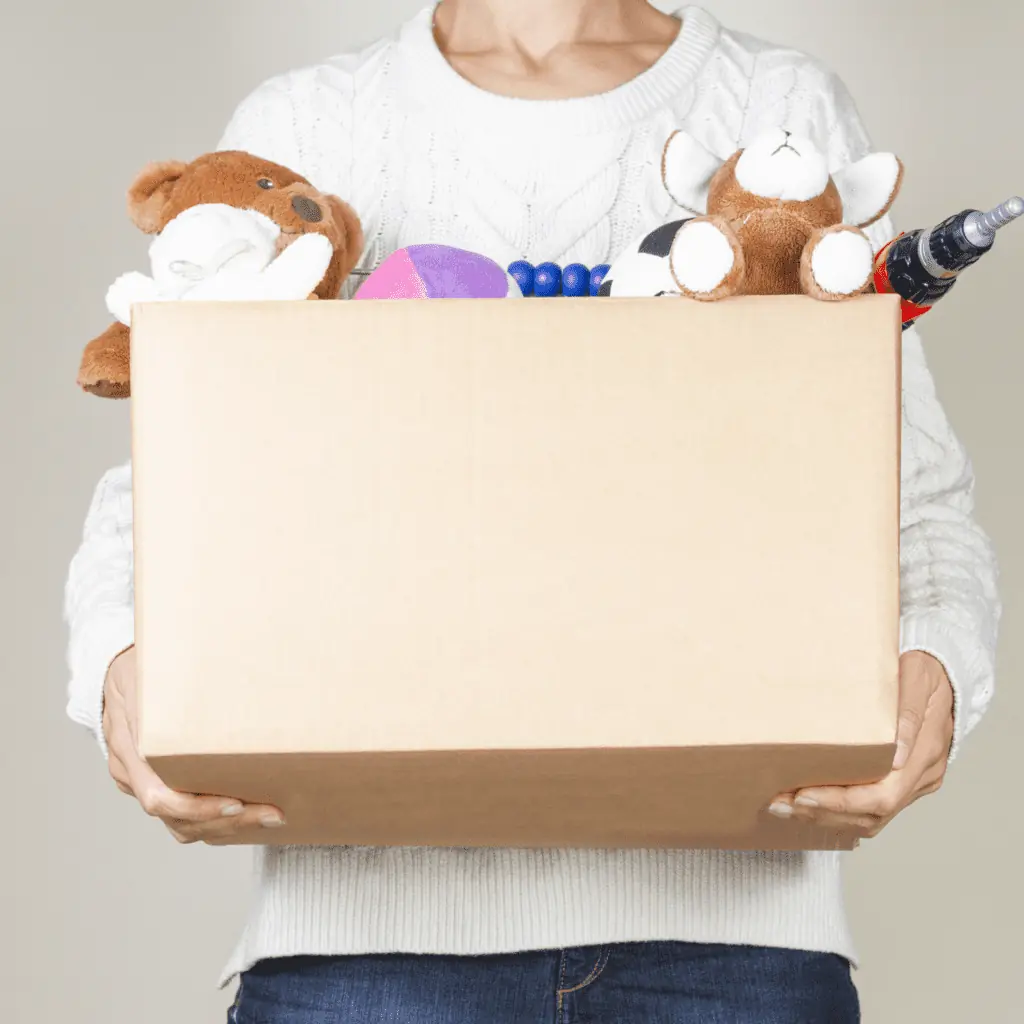 Areas and Categories to Declutter
If you could use a little guidance on where to focus, don't worry! I've got you covered.
You can work on these rooms and categories in whatever order works best for your schedule, but here are some ideas to get you started:
1. Your Bedroom
Is there anything on the floor, thrown over a chair, or draped over a piece of exercise equipment that you can part with?
2. Nightstands
What do you really need to have on or in your nightstand? Are there any unread books, old journals, or empty lip balm containers you can declutter?
3. Closet
It's time to say goodbye to the clothes you've been avoiding. Think about getting rid of anything that's outdated, the wrong size, damaged, or you just no longer like. You deserve to love how you look, and those clothes just aren't serving you anymore. Pass them on to someone who will enjoy them.
4. Dresser drawers
This is a great chance to sort through your socks, bras, underwear, t-shirts, shorts, and anything else you tend to keep in your dresser.
5. Kids Closets
Do anyone else's kids grow faster than you can keep up with? There's a really good chance there you'll be able to find kids clothing your children can no longer fit into.
6. Toys & Games
Consider decluttering anything that's damaged, missing pieces, doesn't get used, or you just plain don't like anymore. I'm a big believer in getting kids involved in the decluttering process so you don't accidentally get rid of something that's important to them.
Related: How to declutter with kids
7. Junk Drawer
I think almost every house has one, right? Give it a quick clean out and see what you can find.
8. Linen Closet
Is your linen closet bursting at the seams? This is a great opportunity to evaluate how many sheet sets, towels, and overstock of toiletries and beauty products we really need. I like to have two sheet sets and towels for every member of our family, but even that's starting to feel like a lot as our family has grown, which is a good reminder that decluttering isn't a "one and done" event. It's something we have to continually maintain.
9. Garage
Do you have any old sports equipment, gardening tools, or large plastic kids toys that you no longer need? Even if they won't fit in a bag, they still count!
10. Mail & Paperwork
Just like kids' toys, paperwork seems to multiply when my back is turned. Do you have any junk mail sitting around, piles at the end of your kitchen counter, or maybe an overflowing filing system you've been meaning to sort through? Maybe you have a few boxes of papers you've been meaning to shred? Give yourself the gift of getting these off of your to-do list and take them to a safe shredding location or recycle them.
11. Pantry shelves
Discard any food that's gone bad and consider donating anything that's still good but you know you won't eat to a local food pantry.
12. Kitchen counters
Nothing makes a room feel cluttered faster than when all the flat surfaces are covered. Take a few minutes to put things back where they belong, and if you can't find a home for something it might be time to let it go.
13. Kitchen cabinets
Do you have any old spices? Pots and pans you never use? Do you really need multiple cutting boards and cupcake tins? (No judgment here. I'm talking to myself!) Take stock of what you use on a regular basis and consider donating the rest. If you have a few items you only occasionally use, like for the holidays, and don't want to get rid of them, consider freeing up your valuable kitchen space and storing them somewhere else.
14. Kitchen drawers
Do you have any cooking gadgets you never use or multiples you don't really like? Is your utensil drawer feeling a little out of control? Let them go.
15. Medicine cabinet
Are your medications still good? Be sure to check the expiration dates and discard anything that can no longer be used responsibly. If you're not sure how to dispose of something, be sure to do some research online or call your local agencies for directions.
16. Purses
What do you need in your purse and how many purses do you need? If you haven't used a purse or wallet in a year or more, consider donating or selling it if it's still in good shape.
17. Fridge
Even if your fridge gets cleaned out regularly, this is still a good opportunity to check expiration dates on condiments, salad dressings, and other things that you may overlook on a regular basis. Try removing everything and giving it at least a wipe down the night before your trash is picked up so you don't have any smelly garbage sitting around for long.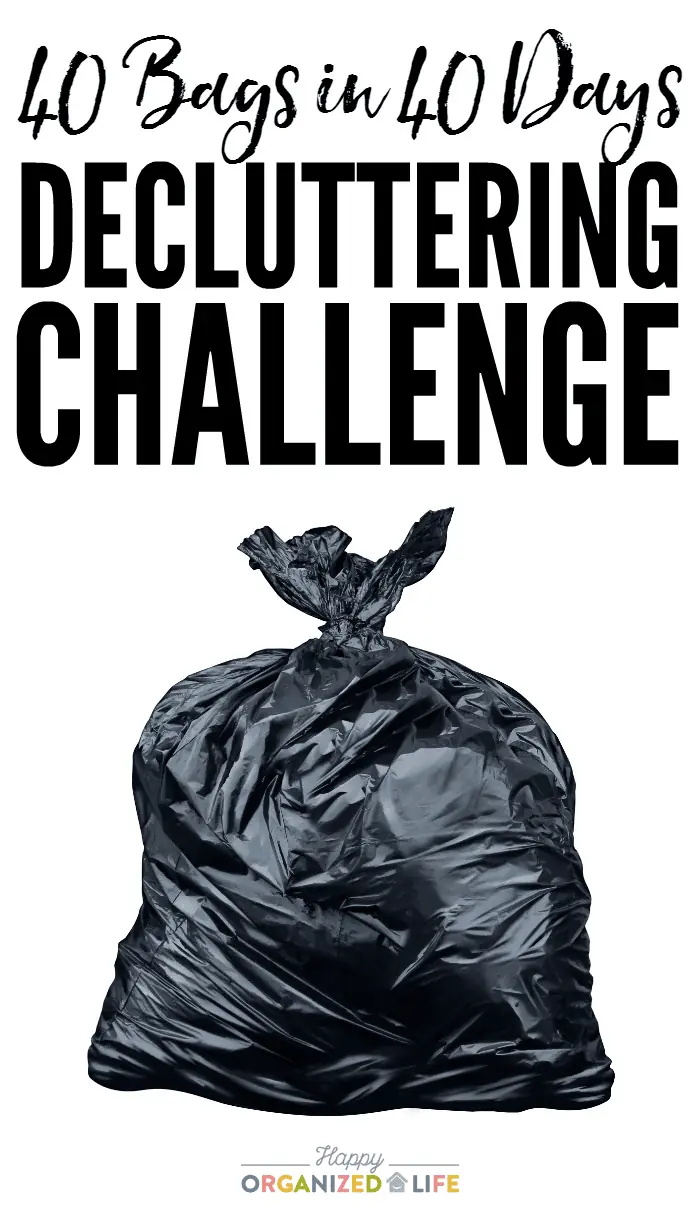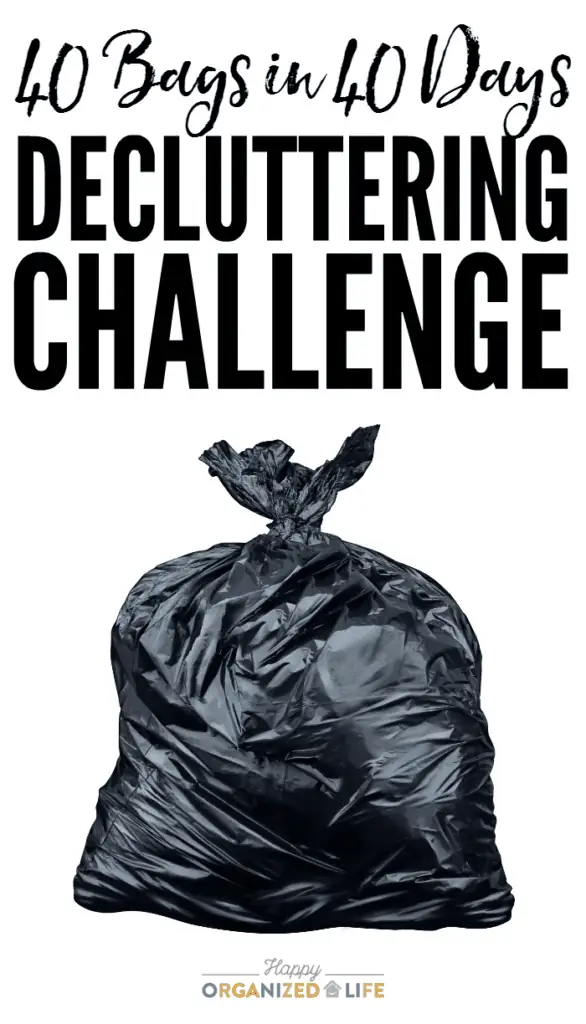 18. Freezer
Where good food goes to be forgotten, am I right? I love our freezer, but sometimes stuff gets overlooked for a little longer than it should. Toss anything that's freezer burned and no longer good, and if you come across something you don't want to eat, consider sharing your frozen goodies with a friend.
19. Front entry
What kind of impression do you want your home to make when you open the front door? Remove anything that doesn't fit in your vision.
20. Bathroom drawers
Do you have any expired toiletries, empty containers, or packaging? Do you still love and use everything you're keeping? If not, look through your things again and get rid of the stuff that doesn't spark joy as Marie Kondo would say.
21. Kids' rooms
Since we've already touched upon clothing and toys, take a minute to look at the furniture in your child's room. Is it still in good shape? Is it safe and size appropriate? Do they have any decor they've outgrown and no longer like?
22. Small appliances
Do you have any appliances you thought you'd use but never actually do? Maybe an Instant Pot, Air Fryer, or bread machine that's just gathering dust? Let it find a new home somewhere else so you can find some newly cleared space!
23. Under the Kitchen Sink
Do you have any old sponges, empty bottles of dish soap, or unused containers you can part with?
24. Under the Bathroom Sink
What do you need to keep here? Are your hair tools, brushes, dryers, and curling irons still working and giving you results you like?
25. Front Entryway Closet
Do you have room to properly store a guest's coat or would you be embarrassed to open the closet door?
26. Main storage closet
How many coats, jackets, umbrellas, ponchos, earmuffs, hats, gloves, etc do you need where you live? Are there any you can donate so you have more room in your closet?
27. Basement
How would you like to use your basement? Is it currently fulfilling that purpose? Does anything appear out of place or like an eyesore?
28. Attic
Here's a little rule of thumb for storage spaces… if you haven't used it in 12+ months, seriously consider getting rid of it. If you haven't used it in 3+ years, and it's not a sentimental or irreplaceable item, definitely get rid of it! Sometimes we hold on to things because we feel like they're little treasures, but open space is truly priceless.
29. Office desk
Is your current desk helping or hindering your work? Do you feel inspired and motivated to work at your desk or do you feel overwhelmed? Remove anything that makes you feel overwhelmed or distracted.
30. Car
Is there anything shoved under a seat, trunk, or glove compartment box? Take a few minutes to go through the nooks and crannies of your car, and you just might be able to fill an entire bag!
31. Dining Room
Tell the truth… is your dining room used more for dining or storage? If it's the latter, try filling a bag with the stuff you no longer need, like, or want.
32. Storage shed
Do you have any outside tools you no longer need? Maybe something that's rusted and no longer works? Toss or donate it.
33. Family Room
Do you have any pillows or blankets you no longer want? Decor you no longer like? Maybe it feels like kids toys have taken over? Try removing everything from your family room that doesn't align with the purpose of the space.
34. Craft and Art Supplies
You know that saying that buying craft supplies and actually crafting are two different hobbies? I can relate! If you've amassed a collection of craft supplies you probably won't ever use, try donating them to a local school, daycare, or even a local family.
35. Holiday Decorations
If you decorate for the holidays, how many things do you really need? Decorating can be a lot of fun but remember… every item kept is something else you're going to have to take care of.
36. Cleaning Supplies
Do you still like everything you own? Are you comfortable with the ingredients? Are your vacuum, mop, cloths, and other cleaning supplies still in good shape? If they aren't, try getting rid of them.
37. Books and Magazines
Sometimes our best intentions just end up sitting on a bookshelf. If your shelves are jam-packed with books you've never read (or never will read again), consider donating them to your local goodwill or donation center, library, or friends who would enjoy them.
38. Memorabilia
Pictures, videos, and any sentimental can be tricky. One thing I've found to be pretty easy to declutter is duplicates and images that are blurry. Remember, you don't have to get rid of anything you don't want to so if this category makes you feel a little too anxious or overwhelmed, it might be best to move on to something easier.
39. CDs, DVDs, and Electronics
I hate to admit this, but we should probably also add VHS tapes to this list because I have some in my basement! I don't think we even have a VHS player anymore so if you don't even have the technology required to view or use something, and can't even remember the last time you used it, let it go!
40. Home Decor
Taste and styles change over the years so if you've outgrown decor you used to love, that's okay. Let it go so someone else can enjoy it, and you'll free up space for new things you actually like now.
What should I do with everything I declutter?
Best case scenario, when the 40 Bags in 40 Days challenge is over you'll have lots of donations to take to your local Goodwill, Salvation Army, or donation center of choice.
You may even be able to sell some of it by placing ads on Craigslist, Facebook Marketplace, or simply putting it on your porch for free pick up.
Religious preference aside, I hope that what started as a Lenten challenge proves to be a great opportunity for reflection and brings a lot of clarity and newly opened, free, and uncluttered spaces to your home.
Will you be participating in the 40 Bags in 40 Days Decluttering Challenge this year?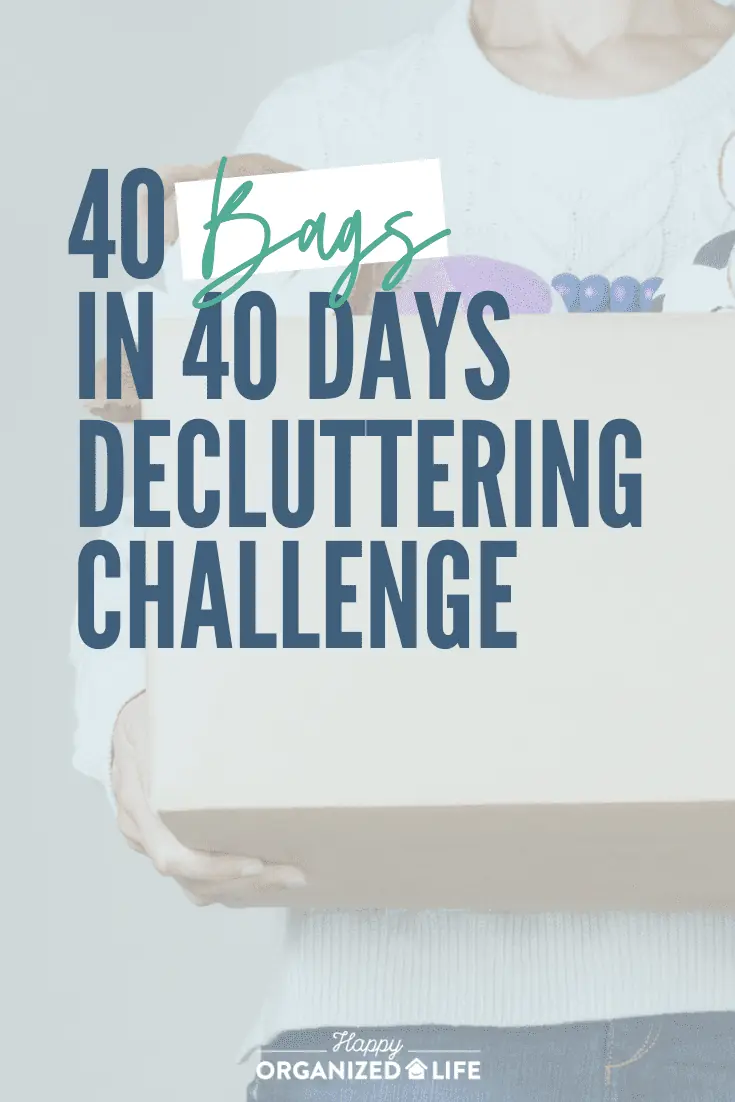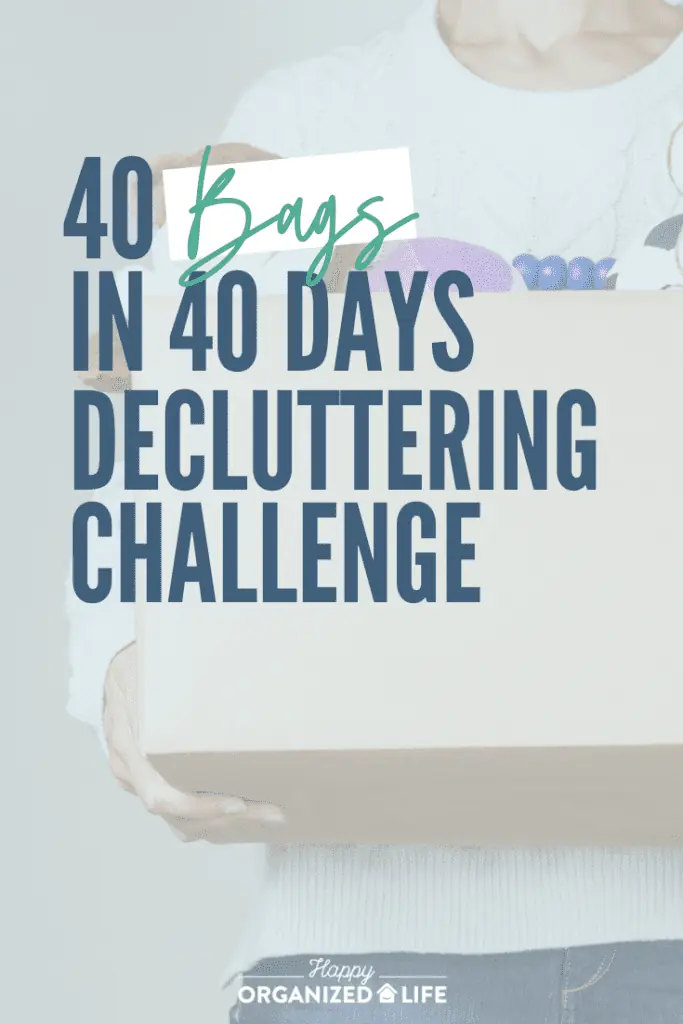 If you're looking for decluttering help, be sure to check out these decluttering posts: