My 40 Bags in 40 Days challenge is going okay. I only have about 10 bags at this point so I'm a little behind where I wanted to be, but progress is being made so I'm choosing to be happy about that. At least I'm ahead of last year's record.
I wanted a little more motivation and a more visual representation of my progress so I made a new printable, of course. The ideal way to achieve those results probably would've been to fill up another bag, but I'm a master of procrastination.
I wanted a printable that actually showed all of the bags I'd be filling so I made these.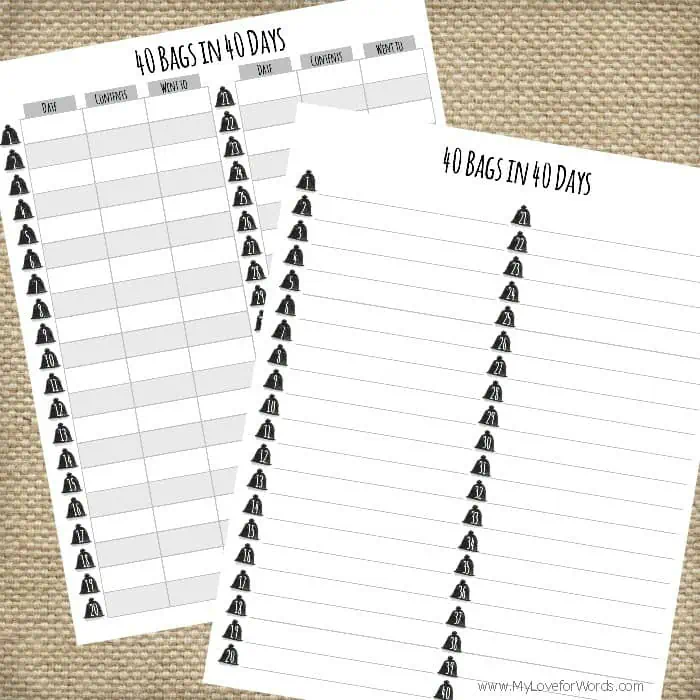 At this point, I almost have more printables for this than I do bags. I guess it's obvious I enjoy printable making more than decluttering.
You can access this and all of my other free printables by signing up for my newsletter. Just enter your e-mail address in the sidebar right over there —–> A welcome message will be automatically e-mailed to you soon afterwards with a link to all of my available printables.
I thought the best way to show some of my actual progress would be to share some pictures. I kind of bounced from space to space, which is probably why I didn't get much done. My goal for this week: focus!
 Here's a glimpse of some of my bathroom drawers. They were a mess of cosmetics, bobby pins, hair ties, and brushes, and I was having to constantly shuffle through drawers full of stuff to find what I wanted.
The finished result is working out much better. I used acrylic organizers that I already had and also added this adorable Self Adhesive Chevron Shelf Liner
 (affiliate link. Read more here). I hate pretty much every cosmetic aspect of my bathroom decor. I refer to it as Montezuma's Revenge because it has brown walls and green counters and floor tiles… not my style. I'm hoping that adding a little of my taste to the space will hold me over until we're able to remodel.
This is what happened while I worked in my office.
I guess my 2 year old was trying to put his little brother away? I think he actually thought his little brother would enjoy a game of peek-a-boo, but as you can see in the second pic up top, the baby wasn't as amused. I love his sweet little, "Why, mom?" face. As for big brother, this was after lunch (hence the dirty shirt), and he'd had his face painted the previous day. Fun times around our house, I'll tell ya!
It became impossible to sort anything with all of the toys on the floor so I eventually put them all in a basket for the kids to take care of. (Yes, these were just the toys in my office!) Of course, the second I turned my back my son dumped them all on the floor again. What a helper.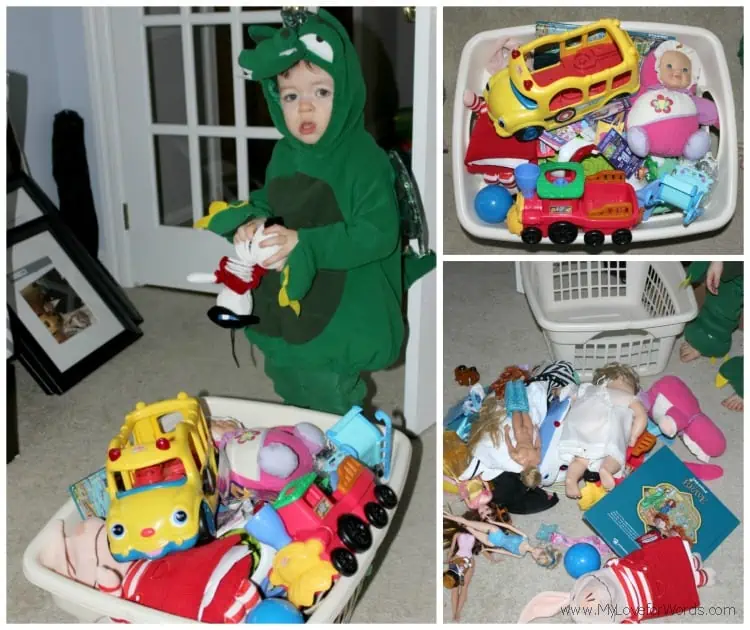 My journey's slow, but we're moving in the right direction. I'd say my office is the hardest place for me to organize because I get sucked into working (aka would rather work than declutter). How has 40 Bags in 40 Days been going for you? What's your hardest place to declutter?
For more posts on decluttering, check out these posts:
{I may be linking up at these great parties.}