Not sure how to write smart goals you can actually accomplish? This free smart goal setting worksheet collection takes all the guesswork out of creating goals so you can stop dreaming and start achieving!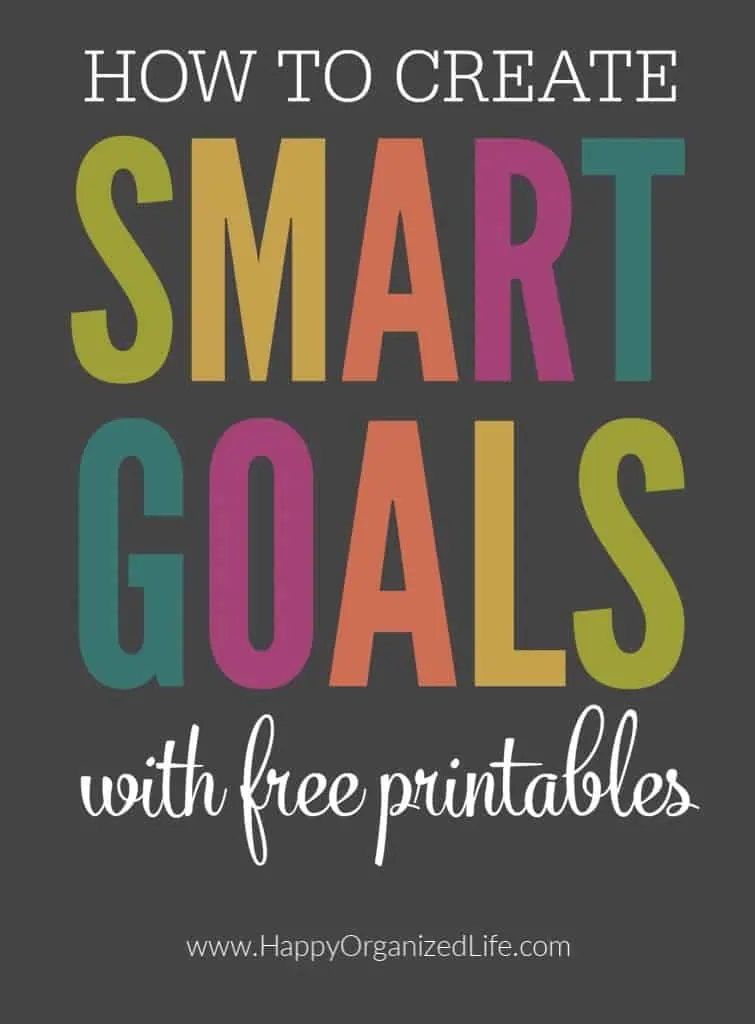 I can feel my heart beat a little faster with every number I yell.
"FIVE!" This year will be different.
"FOUR!" This time I'm prepared.
"THREE!" I know I can do this.
"TWO!" It's almost here!
"ONE!" I don't want to fail again.
"HAPPY NEW YEAR!!" I hope this goal makes it to February.
Setting goals is not for the faint of heart. It's really the ultimate act of optimism, the belief that things can be different and better, but having a goal is just the beginning.
The truth is most goals don't live to see February because most people aren't setting goals the right way.
Too often, people confuse their dreams with goals. They think saying something like, "I want to lose weight" or "I want to make more money" is the first step on the path to changing their lives, but a true goal, something that can actually be achieved, needs to be smart first.
What is a SMART goal?
A SMART goal is a goal that's crafted with special attention paid to make sure it satisfies five distinct criteria. It must be: Specific, Measureable, Achievable, Relevant, and Time-bound.
A general statement like, "I want a clean and organized home" is a great thing to work towards, but it  leaves too many variables open to interpretation. For example:
Just what do "clean" and "organized" mean here?
Are we talking only about the public areas of the home or every single space down to the closet under the basement stairs?
Can this really be done? What steps would need to be taken to complete this job?
A smart goal, on the other hand, provides us with a plan of action and clear guidelines so little is left up to interpretation or chance. If you want to learn how to write smart goals, it's really pretty easy!
How to Write Smart Goals
Imagine jumping in your car with your favorite road trip snacks on the passenger seat and a playlist that'll keep you awake and entertained for hours. Your music's already got you dancing in your seat, and you throw on your favorite pair of sunglasses, ready to drive into the beautiful blue sky day.
You pull out of your driveway, make a few turns, start to feel lost, confused, and ultimately end up right back where you started. You're frustrated and don't understand why you aren't getting anywhere, but you never had a specific destination in mind in the first place.
If you don't know where you want to go, you'll never get there.
This is how we usually treat our goals. We want to achieve something, make progress, evolve, but we don't focus on enough specifics to really make any progress.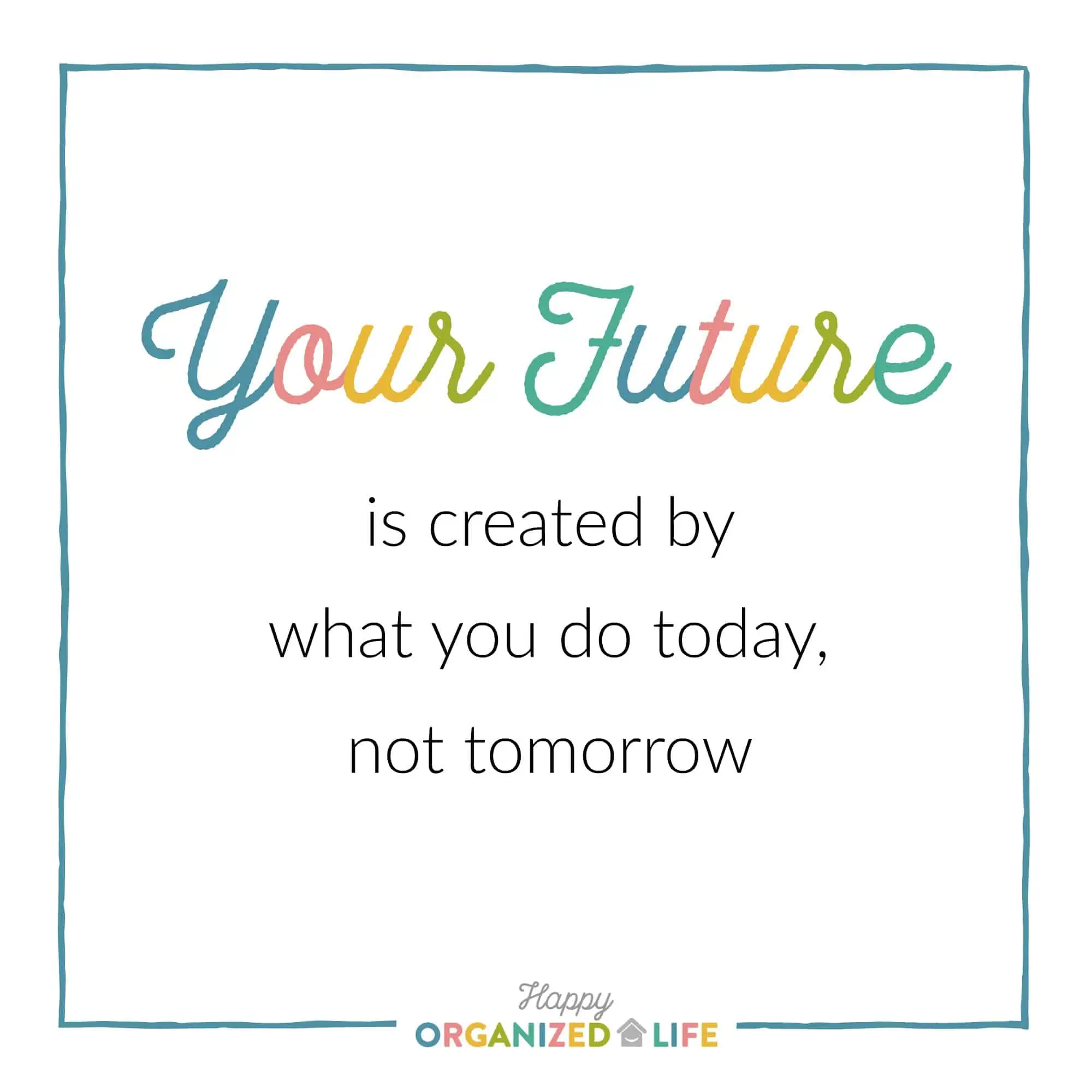 Imagine how different the road trip experience would be with some specifics and planning.
"Okay, we're heading to grandma's house in the morning. She lives four and a half hours away so we'll be leaving at 10am. We'll drive South on I75 for two and a half hours, have a nice lunch in that little restaurant in Cincinnati, and be back on the road by 2 at the latest and grandma's by 4."
That is a plan of action! Now we know where we're going and how we're going to get there.
Ultimately, the foundation of any goal is knowing where you want to go and what you're working towards. To figure out the specifics of your goal, try asking yourself questions like who, what, where, when, and why.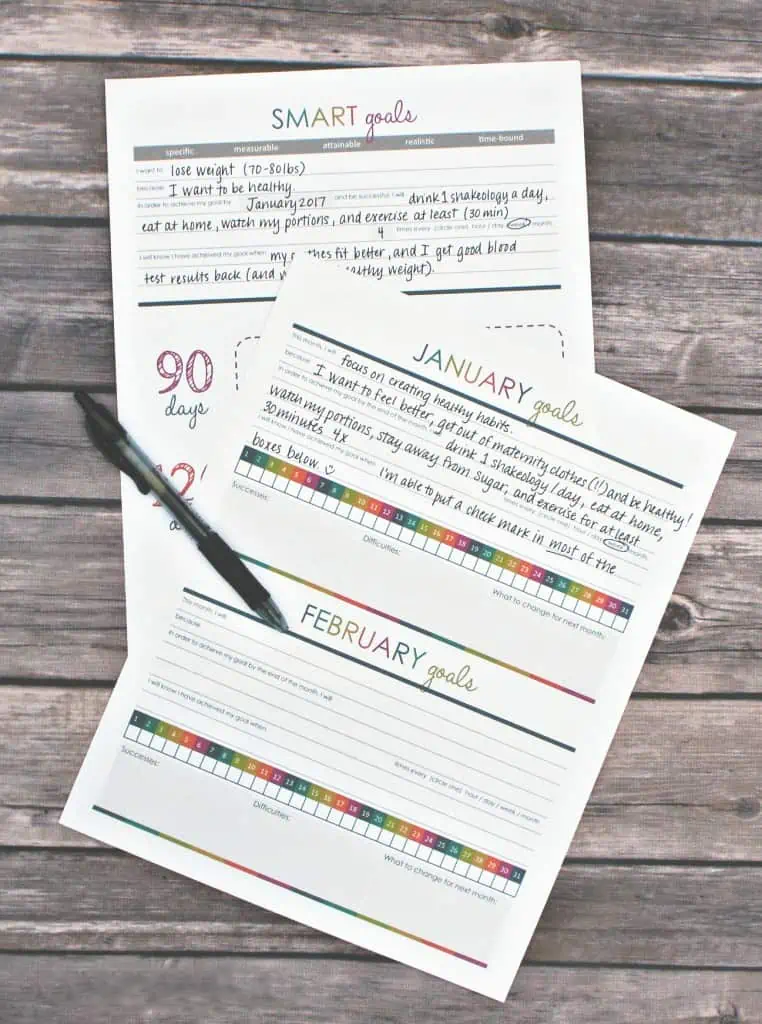 Making Goals Measureable
The next step to creating a smart goal is knowing how to recognize your destination. How will you know when your goal is accomplished?
Depending on how you phrase things, some goals could go on forever. Cleaning and organizing, for example, are on-going tasks that are never really finished… especially if you have children. Furthermore, one person's definition of a clean home may vary wildly from another's so how can well tell when this goal is achieved?
Instead, saying something like, "I will only keep four plates, cups, and bowls in my kitchen cabinet" is specific and measurable enough that anyone can see if this goal is achieved.
Determining Achievable Action Steps
Working towards a big goal is great… until it feels unachievable. Nothing kills motivation and progress more than feeling like no matter how hard you work, you'll never reach what you're working for.
The key to successfully achieving your goals is to break those big, overwhelming dreams into achievable, bite-sized pieces.
How do you eat an elephant?
One bite at a time.
Breaking your big goals into small, doable steps helps us maintain momentum because we're constantly experiencing little wins on our way to the big prize.
I like to think about goal setting like running a marathon. Racers don't just magically or instantly appear at the finish line. They're only able to complete their 26.2 mile journey by putting one foot in front of the other and taking one step at a time. We'll accomplish our goals the same way.
Is your goal realistic?
Some of the best goals may seem completely unrealistic.
"I want to make a million dollars!" may feel like a huge, ridiculously unachievable goal to someone who can't even cover their monthly bills, but when that goal is broken down into small, realistic steps, suddenly the impossible becomes possible.
When the action steps we are grounded in reality, goals that initially sound outlandish can be achieved.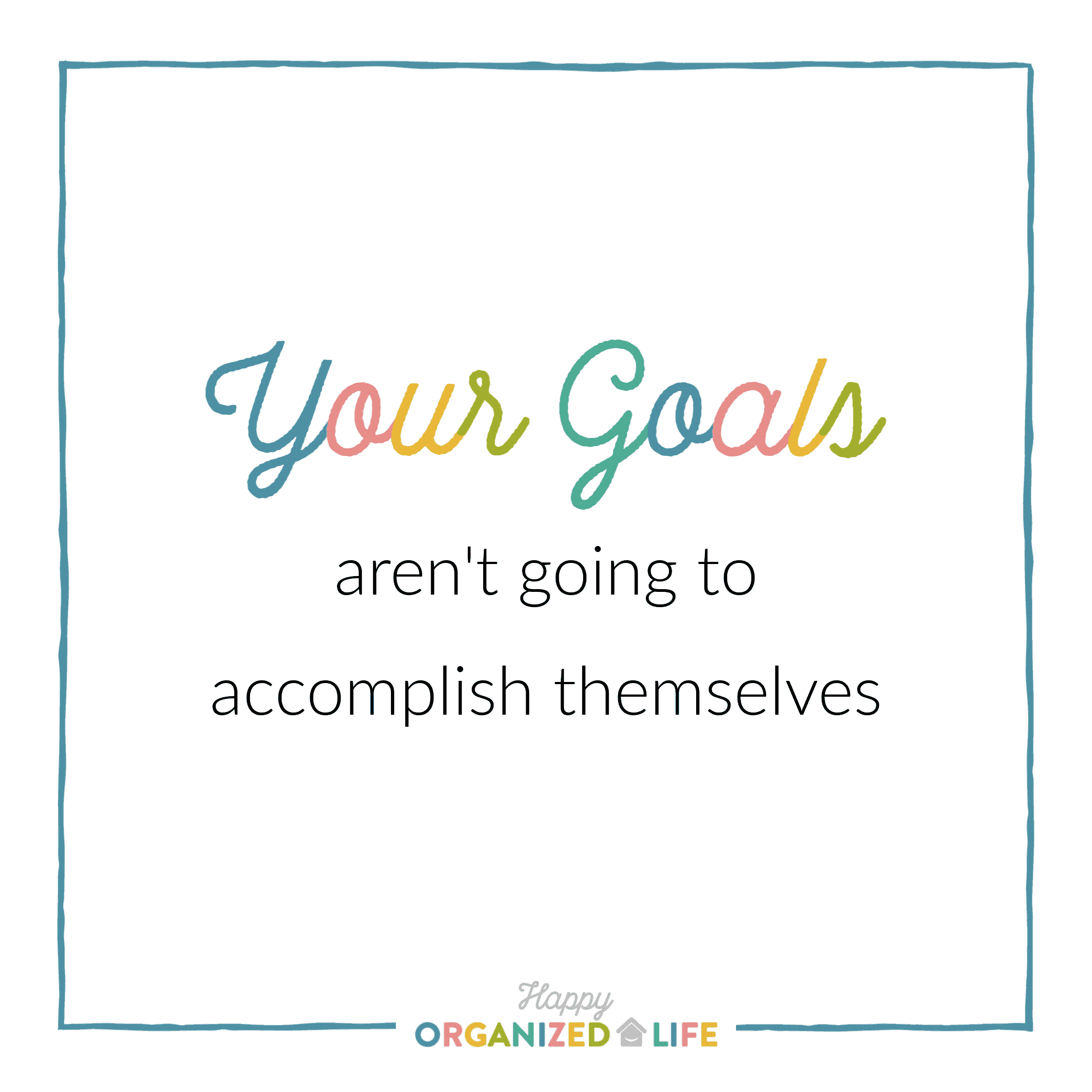 For example, someone who wants to have a million dollars may:
Find a way to reduce their monthly expenses and stop spending money on frivolous things
Brainstorm ways to make more money: sell things, take on extra jobs, start their own business, etc.
Learn how to invest for growth
Once the figure out where they want to go, they can determine the steps to get there.
It's important to note that we may not always know the exact steps to get to where we want to go, but we don't have to know the entire plan from the get-go. What we can usually figure out, however, is the next step. Focusing on one step at a time is all we have to do to create our path.
Give Your Goal a Deadline
Have you ever had a chore you just kept putting off? Maybe it's a pile of laundry on the couch you just don't feel like folding or a pile of clutter sitting by your front door you've been meaning to take to a donation center.
It sits there for days… or weeks… until your partner come home and says, "I invited friends over to play games tonight!" Suddenly, you start running around the house frantically taking care of everything because you had an urgent reason to do so.
This is the power of a deadline.
I am a world-class procrastinator. It's not my best quality, but sometimes I need an urgent deadline to push me into action.
When I was in my early twenties, I went to graduate school at George Washington University in Washington DC. I loved living on my own in the city and spent more time socializing thank studying. (And I won't lie… I don't regret a second of it!)
However, I got myself in a bit of a bind when I decided to put off writing two research papers that were due at the end of my first semester. I had to research, write, and turn in two different 25 page papers in the span of 48 hours.
I remember my eyes burning from exhaustion and my heart racing as I drove to campus with only minutes to spare as I rushed to turn in my first paper. I was so relieved to hand it in to my professor and then devastated when I realized on the drive home that I had no time to relax because I had to do it all over again for paper number two. It was a rough 48 hours to say the least.
I never would've worked that hard in that short amount of time without a serious, looming deadline, and the same is true of how we treat our goals.
Without a deadline, we'll never really be pushed to accomplish anything. We need to give ourselves an end date so we're motivated to take action, and an end date with consequences is even better because it makes us accountable to someone or something more than ourselves.
Bonus Goal Setting Tip: How to Create an even Smarter Goal!
When setting goals, we want to focus on actions more than results.
For example, we can't necessarily control exactly when we lose weight. We can't just say, "I want to lose weight" and immediately have pounds fall off (unfortunately!), but we can choose to eat good food, exercise, drink lots of water, and get adequate sleep knowing that those actions are the steps we need to take to reach our ultimate goal.
Obsessing over the result can also make us feel powerless. Choosing to focus on the actions we need to take to reach that result puts the power back in our hands.
When we focus on our actions, the results we want follow.
Tools to Help: How to Write Smart Goals
I've created a couple different resources to help us achieve our goals.
The first are a couple of free smart goal setting worksheet printables that coordinate with the This Organized Life planner (which has even more goal planning printables!) to help us set and achieve our smart goals.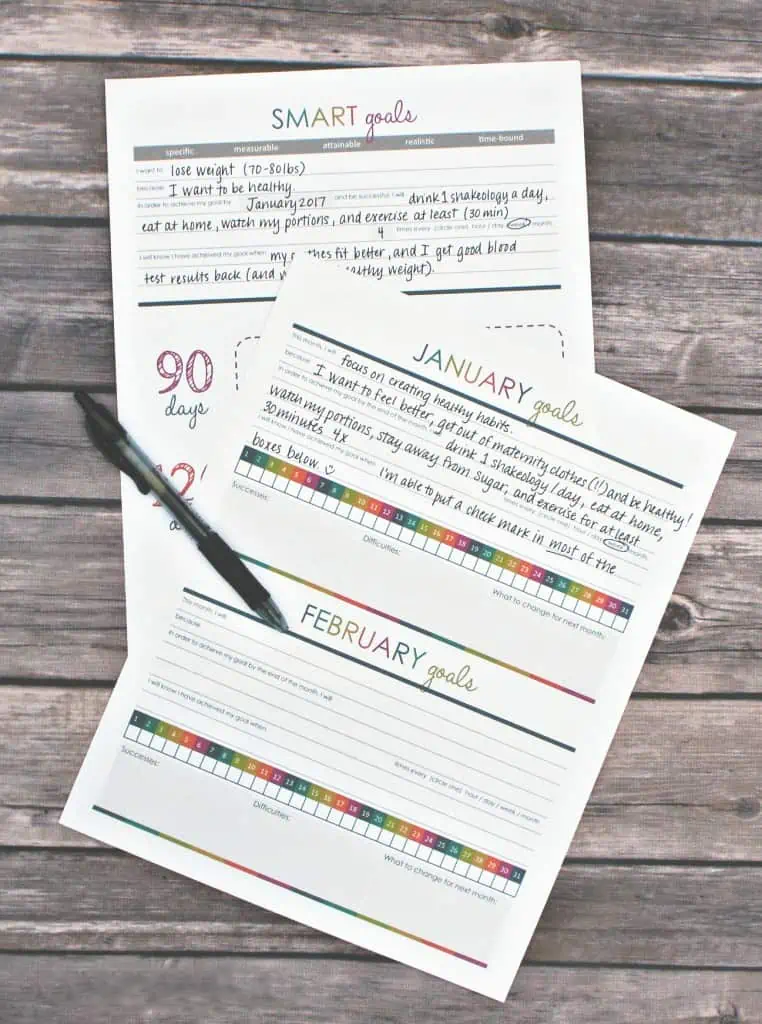 The printables can be used to track overall progress as well as smaller action steps you'll be taking in each specific month.
To get your copy of the Smart Goals Printable, click here.
Related: This Organized Life binder tour
Just fyi: each month has 31 days to check off for ease of design and so I didn't have to recreate February for leap and non-leap years. Just cross out any days that don't apply to that month in particular or give yourself bonus check marks!