Welcome to the first day of the decluttering workshop!
I'm so excited you're here, and I'm looking forward to spending the next week with you decluttering our homes and creating more peaceful, organized spaces to live in.
If this is your first time here, welcome!
I'm Emily, and I share my own decluttering journey here on my blog, Happy Organized Life, and on my new YouTube channel of the same name.
I wish I was one of those born organized people, but the truth is I've always kind of lived in clutter.
I grew up in a somewhat messy home, and I saw the same in the homes of relatives and friends too. I thought houses were supposed to be "cluttery." That's normal, right?
The clutter followed me from my childhood into college dorm rooms, my first apartment, and eventually my first home. Now I'm well into adulthood, a wife, mom of six, and I'm still battling clutter! Ahh!
The good news is over the last couple of years, I've had a lot of insights and breakthroughs that have helped me overcome a lot of my clutter issues.
It's like a switch has somehow been flipped in my brain and I've transformed from wanting to keep everything into a ruthless decluttering machine!
My sweet husband and I have been married for eleven years now, and he has always been more than happy to get rid of things. It's actually given me anxiety before because, for him, few things are sacred. He'll toss just about anything so I never imagined the day would come when he'd be saying to me, "Are you sure we should get rid of that?" and "Are we getting rid of too much?!"
Haha! What has happened around here?! It's like the decluttering version of Freaky Friday. I'm trying to get rid of all the things, and he's trying to sneak things out of my path.
Why participate in a decluttering workshop?
My hope for this decluttering workshop is to share some of the insights I've had over the last few years so you can break through your own decluttering barriers see the same results in your home.
My home is far from decluttered, but at this point it's really just a matter of time and energy. The mental and emotional blocks that used to make me want to keep everything have almost completely disappeared.
The good news about my house still having clutter is we're able to be on this journey together! We'll declutter together, deal with whatever comes up during the process, and make progress together.
I know how lonely we can feel when we have clutter. It can come with a lot of shame, judgment, and embarrassment, but none of that is allowed here.
One of my favorite quotes is, "You did what you knew how to do, and when you knew better, you did better." That's how we're going to face our decluttering. We did what we knew how to do. That may have meant:
Buying or keeping more than we needed
Stacking things here and there because we'd "get to it later"
Keeping things we didn't want or need out of guilt or obligation
I'm sure the list could go on and on, but we know better now, or at least we're working on knowing better, so now we can do better too. Knowing is the first step to long-lasting progress.
How to Prep for the Decluttering Workshop
I know you're probably eager to jump right in, and I completely understand, but have you heard that saying, "If you fail to plan, you plan to fail?" Yeah, I don't want that to happen here sooo…
We're going to spend the first two days preparing for the week. This will help us start our decluttering on a firm foundation so we can be as successful as possible.
To get ready, you'll want to gather your supplies because even though we're ultimately trying to get rid of stuff, successful decluttering will require a few things.
Bins and Trash Bags
We'll be sorting our belongings into five categories: trash, recycle, donate, keep, and other room.
In this case, "keep" means the items that are staying in the space you're working in. It's the stuff that actually belongs there.
"Other room" means stuff you want to keep but that doesn't belong in that exact space. It will be taken to another room at another time.
I like to gather all of these things in one place (a laundry basket, box, or just an out of the way pile) while I'm sorting. This way, I can gather and handle everything all at once instead of constantly leaving the room to take things to other areas of my home. Walking all over the house not only makes the decluttering process take longer, but it also increases the chance that I'll get distracted, and the more I can reduce distractions, the better.
I also like to use different colored trash bags for sorting. I use white for trash and black for donations, and yes, the color matters.
Have you ever made a donation box or bag out of something you could see into? Being able to see what you're getting rid of, especially if it's something you struggled to put in the donation bag in the first place, is only asking for trouble. The easier we can make it on ourselves by eliminating any future temptation to keep things we don't need, the smoother the entire decluttering process can go.
A black trash bag is a HUGE help because you can't see the things you're donating. Once you've decided something needs to go, and it enters the bag, consider it gone.
I put our trash in white bags because I've never had trouble parting with trash. I know that even if I see something through the bag, I'm not going to be tempted to dive in, rescue it, and keep it forever.
Using different colored bags also helps me keep things separated so I don't accidentally throw out a bunch of good stuff someone else could've used and donate a heaping bag of useless garbage to my local charity or donation center.
Signs
Another helpful tool for decluttering, especially if you're working with someone else, is signage. Having signs that clearly label trash, donations, items you're keeping, and items that are leaving the room help to keep everyone on the same page. The less confusion, the better!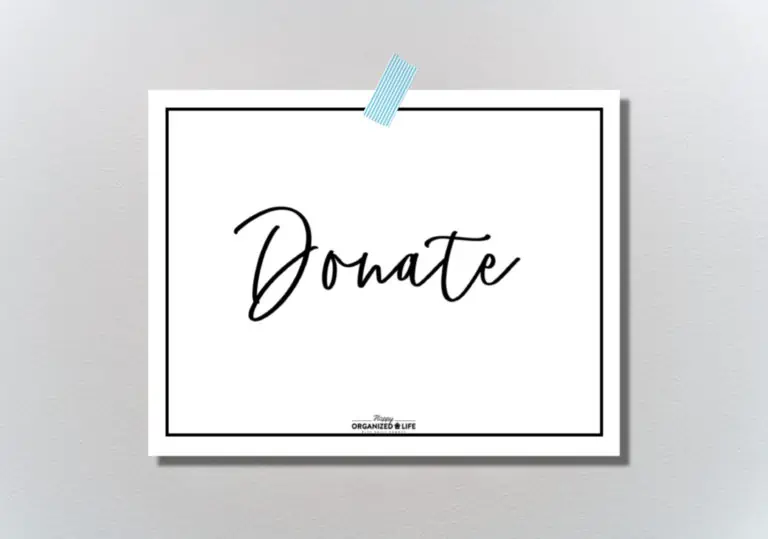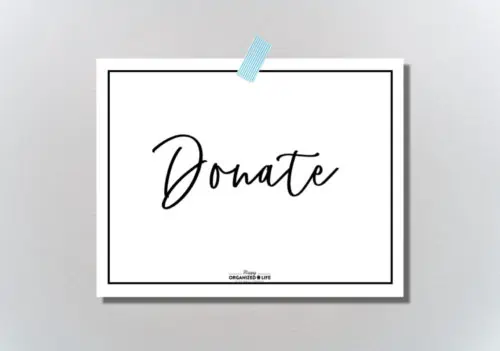 Click here to get your free printable decluttering signs.
Schedule
I can have the best, more genuine intentions to do things, but if I don't schedule them they usually don't happen.
Let's not do that this week!
Think about the week ahead and all of the things you'll have going on. Between work, family, and social obligations, when will you declutter? Figure this out now because if we wait until we feel like it, the chances of it happening greatly decrease.
Plan ahead for Roadblocks
As much as we want to make progress around our homes, we don't want that progress to completely derail other areas of our lives.
One area that usually falls by the wayside when I'm spending a lot of time and energy focusing on something is cooking.
I'm usually more than willing to abandon any healthy eating plan we may have had for convenience food. Honestly, that's pretty much how I've spent the last week while trying to prepare for this workshop. Ahh!! No more!
Instead, I'm going to not only plan our meals this week, but I'm going to prep as much as possible beforehand. This means I'll be spending more time in the kitchen on Sunday and Monday than usual, but it's going to free up a lot of time during the week. Click here to get a copy of the free meal planning printable pictured below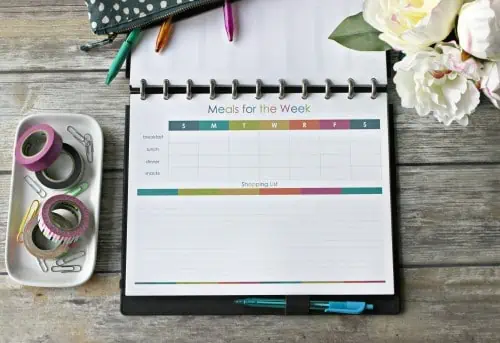 Making things as simple and easy as possible will be a huge help, especially on the days when I'm really tired and don't feel like doing anything.
Prepping and planning really is a must! Food may not be a weak spot for you, but take some time to think about what may be first to fall off your to do list this week if you're tired. Does it really matter? If not, don't worry about it! But if it's something that's going to make you feel worse and fall off track with another goal, it's worth trying to figure out a way to work around it.
Whew! Okay, this post is now almost 1700 words long so we're going to call it quits for day 1 before I completely overwhelm you. It is a holiday weekend here in the US so tomorrow (Monday) is going to be another prep day, and then we'll be off and decluttering on Tuesday!
I'd love to know what you're doing to prepare for the decluttering workshop. Will you try using black garbage bags? What possible roadblocks are you going to plan around? I'd love to hear all about it either here in the comments or in the Declutterathon group on Facebook.Please remember, you don't have to be on this journey alone. See ya tomorrow!