Earlier this year I shared that my goals for 2014 are to live a more balanced and organized life. In this house, with 4 kids and 2 tired adults, that's no small feat. It seems every time I turn around there's another pile of dirty dishes to wash, another spill to soak up, and toys multiplying like rabbits. Seriously, where do all these toys come from?
I recently had the epiphany that Clutter is like a Koi Fish, and I now know what I need to do. I need to simplify. The only way I'm going to be able to achieve balance and organization that lasts longer than a few fleeting moments is to purge our house of the unnecessary. I'm on a mission to get this house and my life organized over the coming weeks by completing the 40 Bags in 40 Days challenge or what I'm affectionately calling my declutterathon.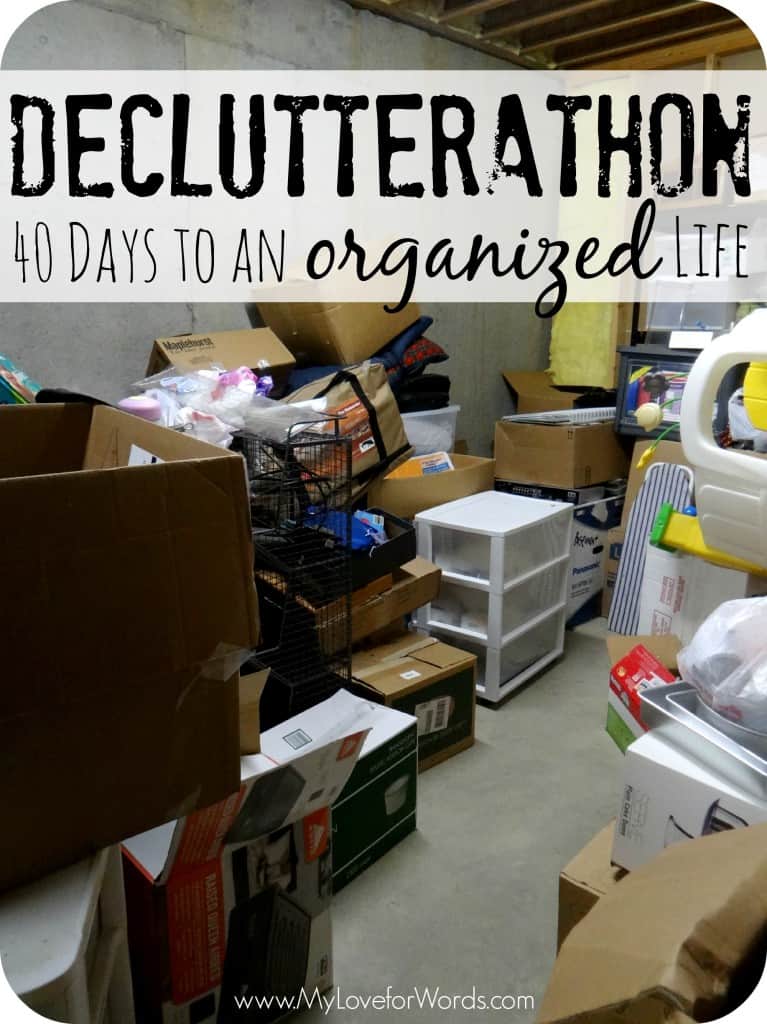 Yes, that's a picture of my actual basement storage area… and there's a lot more where that came from, unfortunately.
Anyone who has struggled with clutter knows that tackling a houseful is not a sprint; it's a marathon, and that's exactly how I'm going to treat this. Instead of mile-by-mile and step-by-step, I'm going to take this room-by-room and item-by-item. That's the only way I'll be successful. If I look at my entire house and feel like I have to organize the whole thing right now I'll be so overwhelmed that I never start. Bite sized goals definitely work best for me.
I first read about 40 Bags in 40 Days on Clover Lane. It's a challenge to get rid of 40 bags of stuff over 40 days (coinciding with the 40 days of Lent). I attempted the challenge in 2013, but I only got rid of 7 bags of stuff. The good news is that's 7 bags more than I would've gotten rid of, but I fell way short of my 40 bag goal.
This year, I'm going to reach at least 40 bags, and I'm going to be more organized and methodical in my efforts to make sure I'm successful. I'm going to focus on one space at a time and work my way through this house once and for all. I'll also have lots of pictures to share over the next few weeks so I beg you, no judgy. It's about to get messy up in here.
I'm also going to reuse the free printable I created last year to help me stay on track.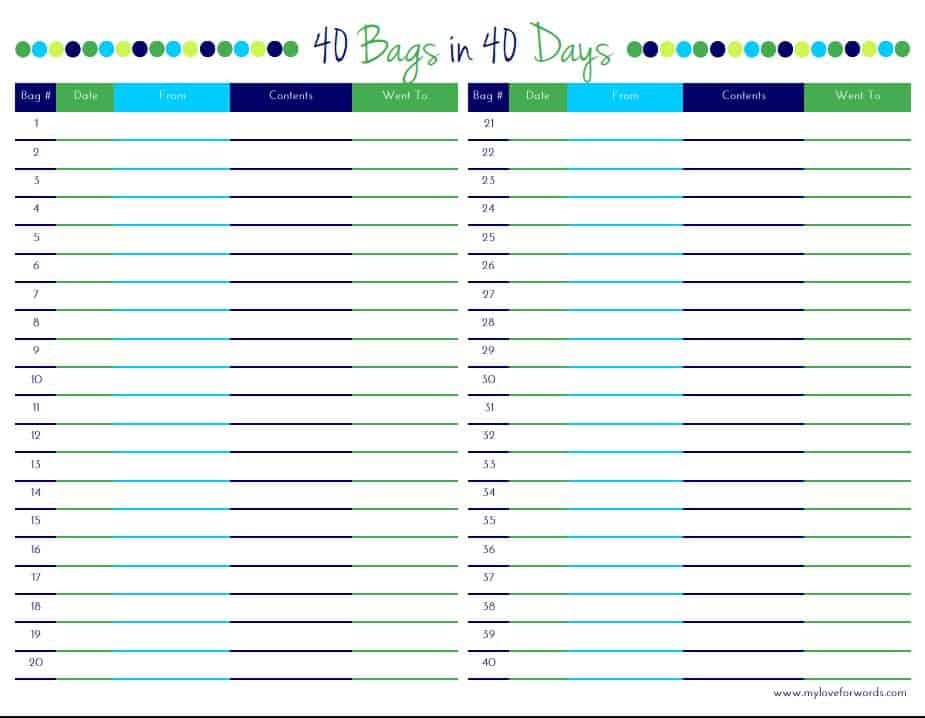 The challenge runs from this Wednesday, March 5 through Saturday, April 19th. (We get Sundays off. Woohoo!)
Tomorrow, I'll be breaking my house down into zones and 5 Questions that will Help you Declutter over the next 40 days. Every family is different, of course, but hopefully these ideas will help you think of areas in your life and house that you can focus on too.
So, who's in? Who wants to join me? Marathons are easier with others to encourage us (or so I've heard. The only place I run is after the ice cream truck). I know I'm going to need company and motivation so let's tackle this declutterathon together!
Are you in?