Looking for an October Calendar? Download our 45 Free Printable Templates and Designs and make the most of the 10th month of the year!
Are you tired of juggling endless responsibilities while struggling to find time for the things that truly light up your soul? Well, fear not! October is your month to shine, and we've curated something extraordinary just for you. Get ready to be dazzled by our exclusive selection of 45 free printable October calendars for 2023!
From simplifying your household chores to streamlining your cooking and cleaning routines, these calendar templates are your secret weapon to making the necessary parts of life a breeze. Picture yourself effortlessly managing your daily tasks, freeing up precious hours to immerse yourself in the things that truly matter like quality time with family and pursuing your passions.
Grab your favorite pumpkin-spiced beverage and make sure you read until the end while we explore the world of October calendars together!
This post contains affiliate links.
This post contains affiliate links.
October Calendar Template Free Printables for 2023
With our calendars, you can easily keep track of important dates and plan your activities accordingly. To download your free October calendar printables, just click on the image you like (or text below) and start planning a month won't forget!
Blank October 2023 Calendar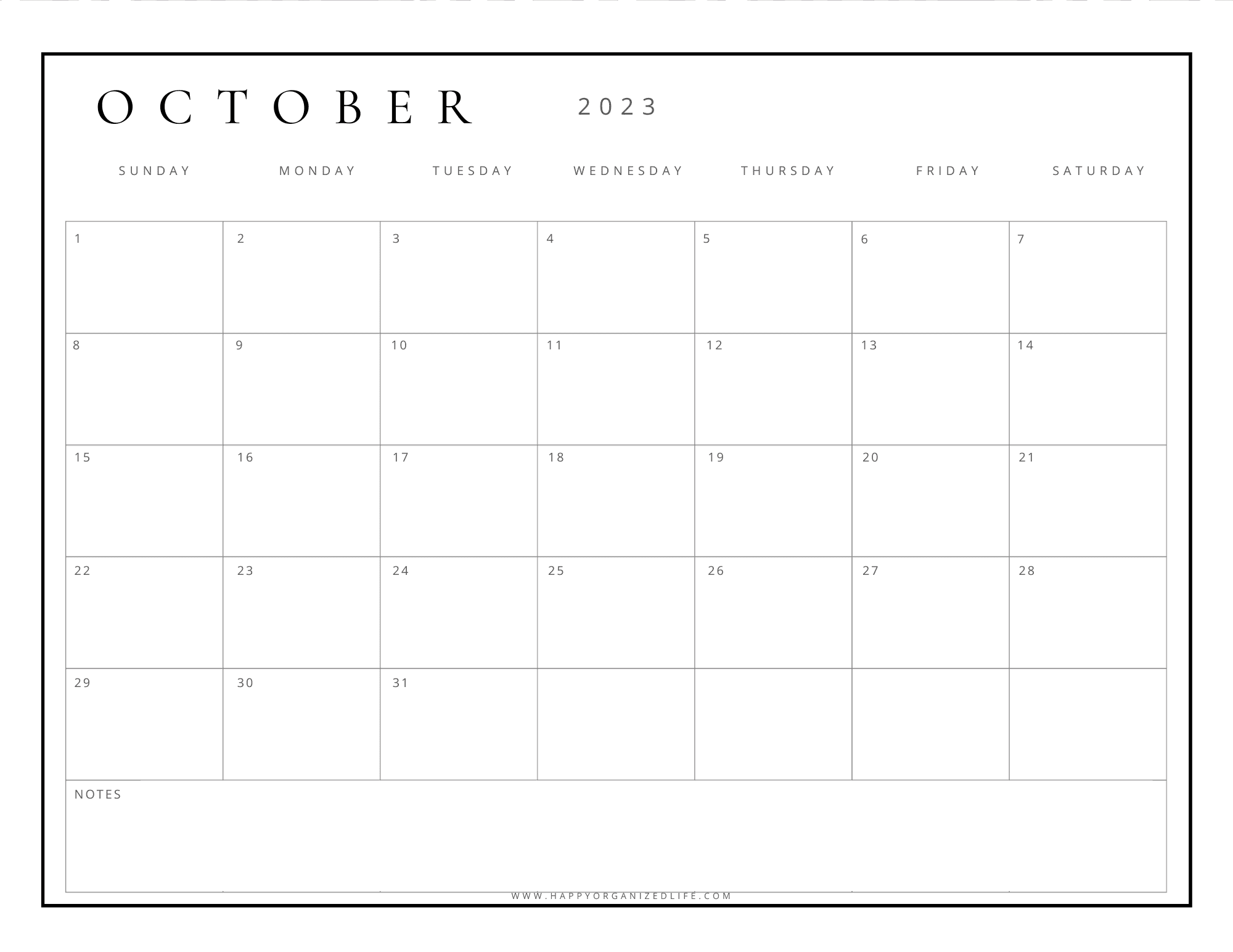 October 2023 Calendar – Blank Calendar Design
Minimalist Designs – Simple October Calendars for 2023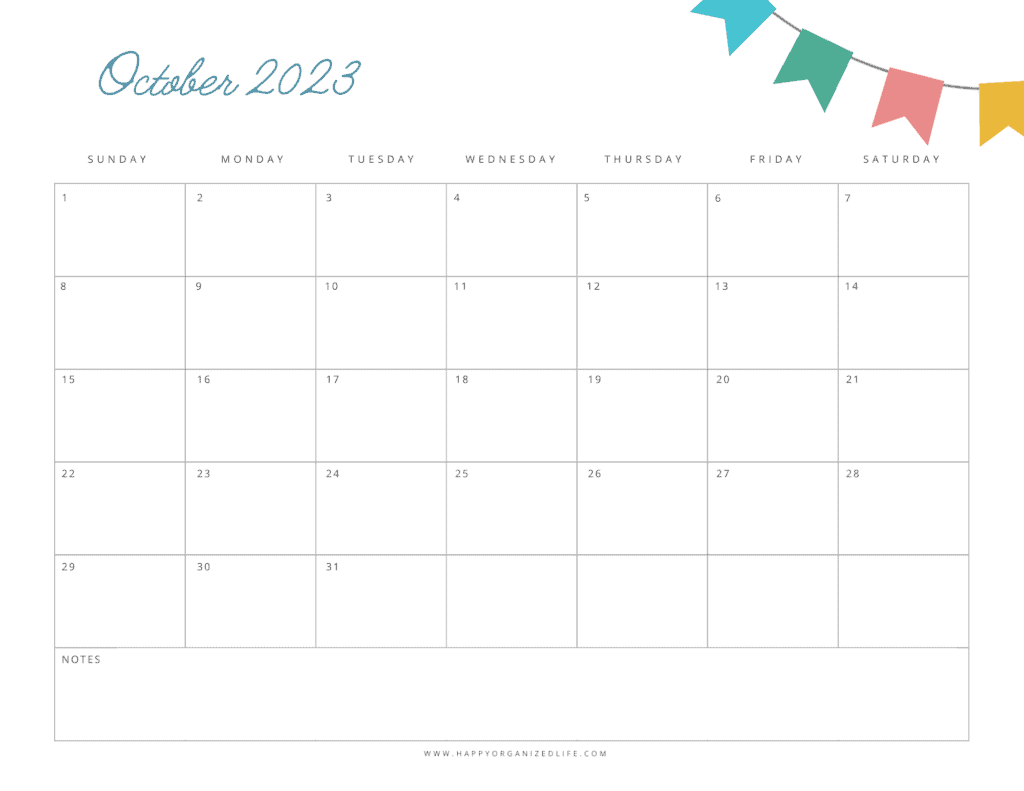 2023 October Calendar – Banners
Printable October Calendar – Corporate Calendar in Vertical Orientation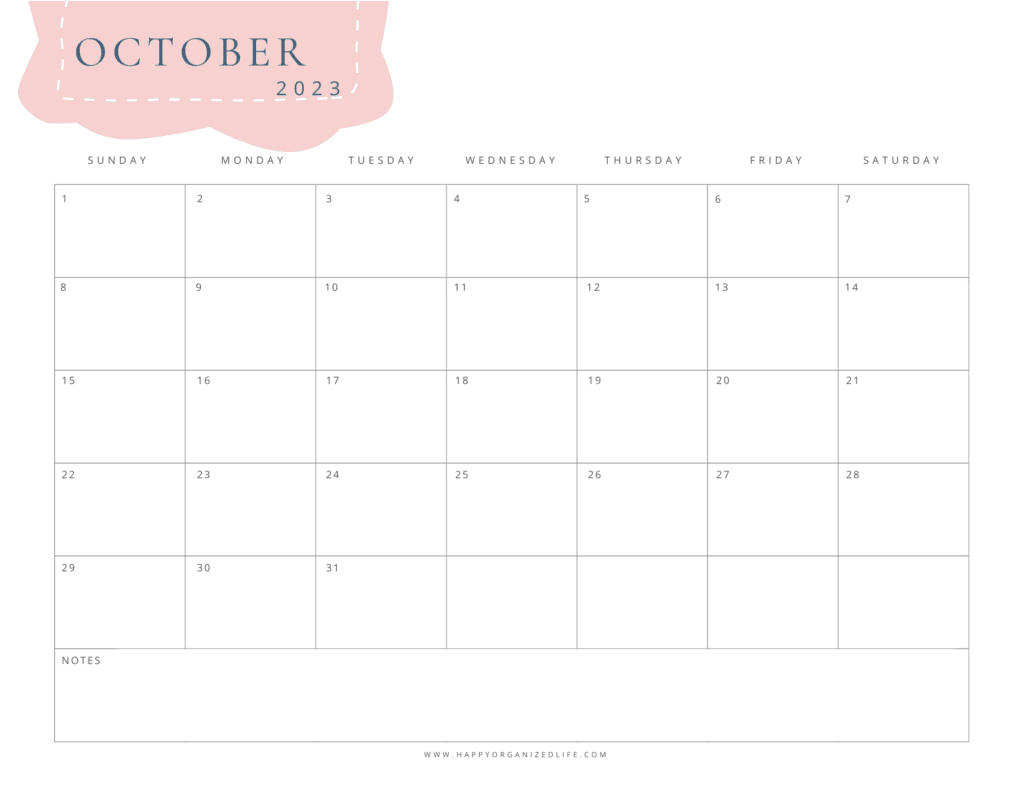 2023 October Printable Calendar – Pink with White Stitches
October Calendar 2023 – Blue with White Stitches
Printable October 2023 Calendar – Floral Designs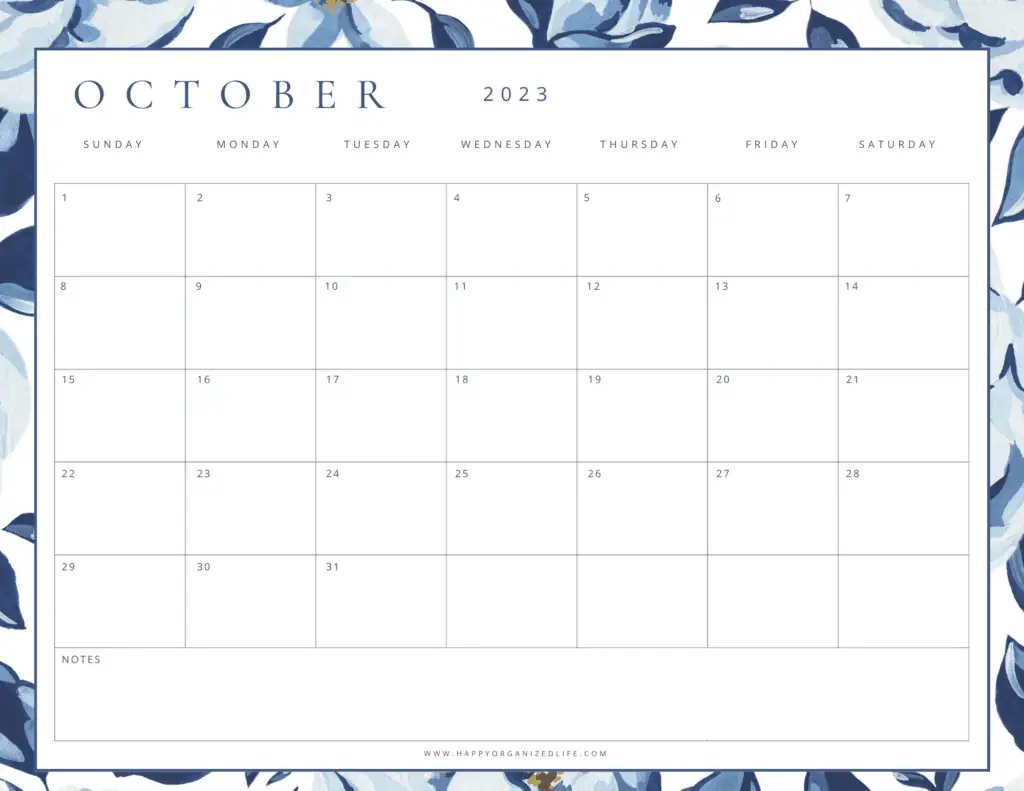 October Calendar 2023 – Blue Floral
2023 Calendar for October – Black and White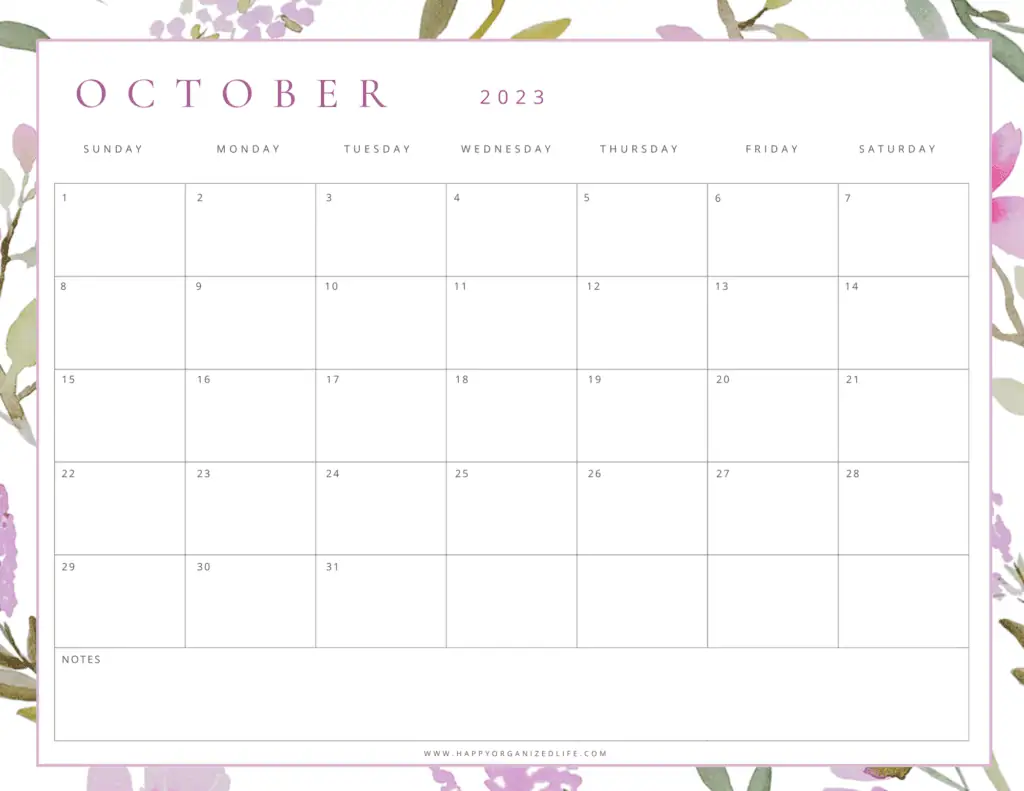 October Calendar – Purple Floral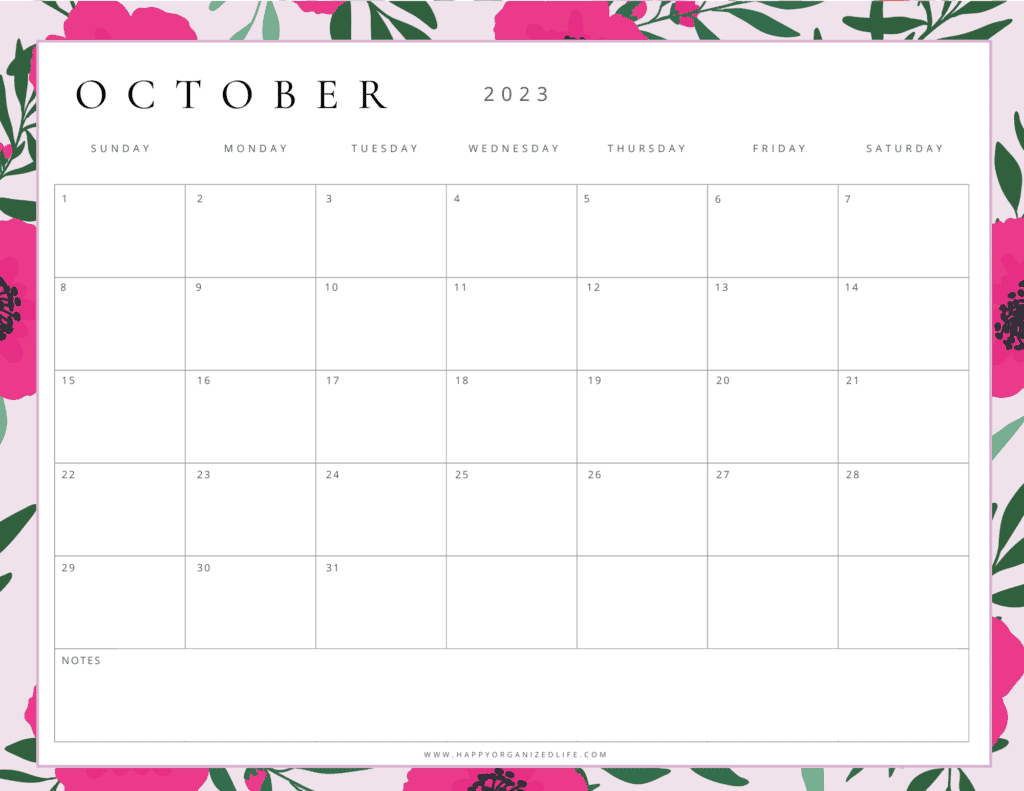 Free Printable Calendar for October 2023 – Electric Pink & Green
2023 October Calendar – Purple & Green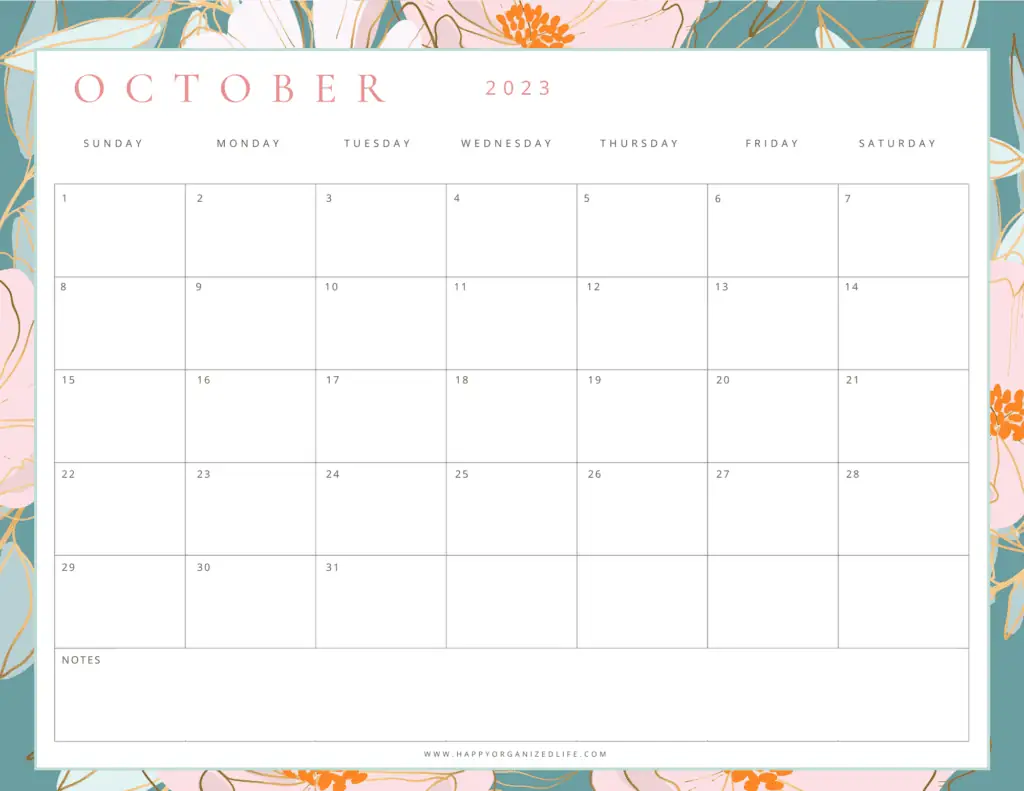 October 2023 Calendar – Blush & Sage

2023 Free Printable Calendar – Orange Floral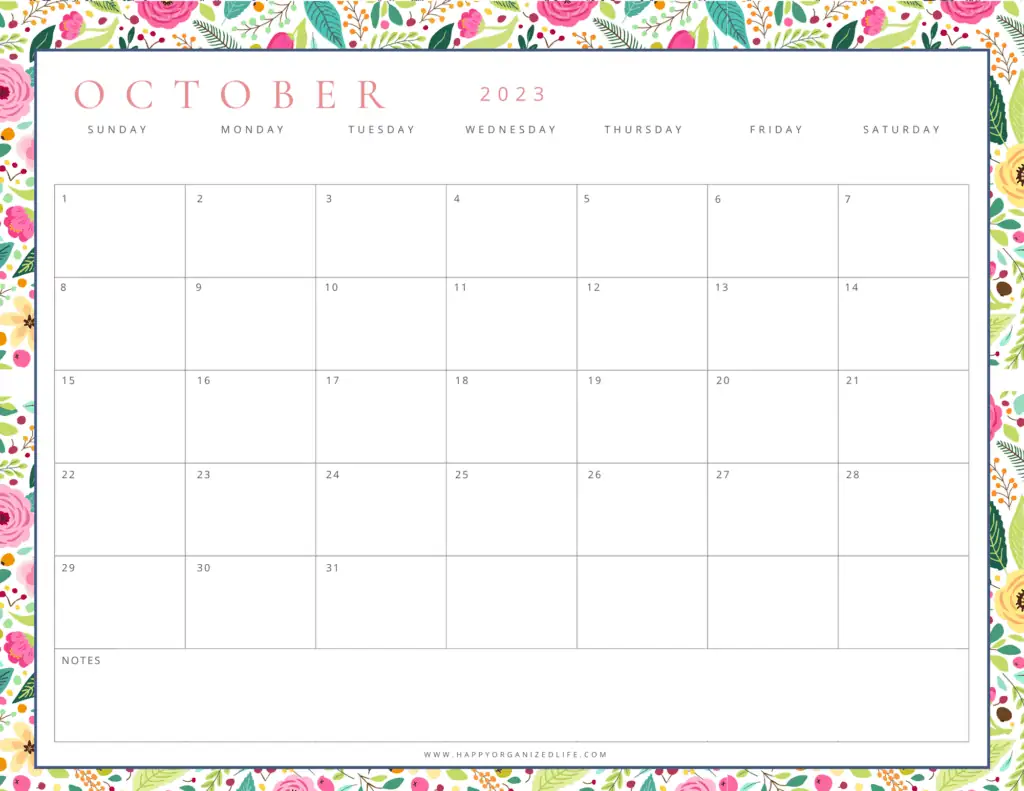 October 2023 – Small Colorful Flowers
October 2023 Free Printable – Black & White Floral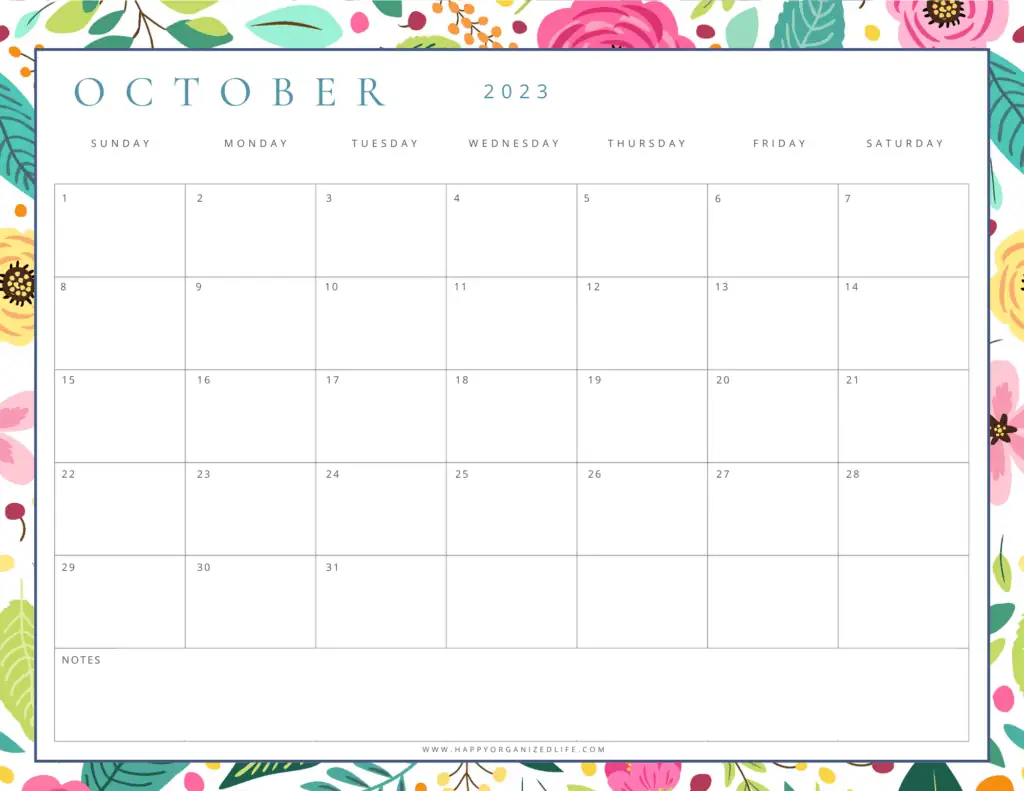 Printable October Calendar – Large Colorful Flowers
October Calendar for 2023 – Pink & Navy
Blue & Green Border
Colorful October Calendars for 2023
Free Printable October Calendar – Polka Dots
October 2023 Calendar – Squiggly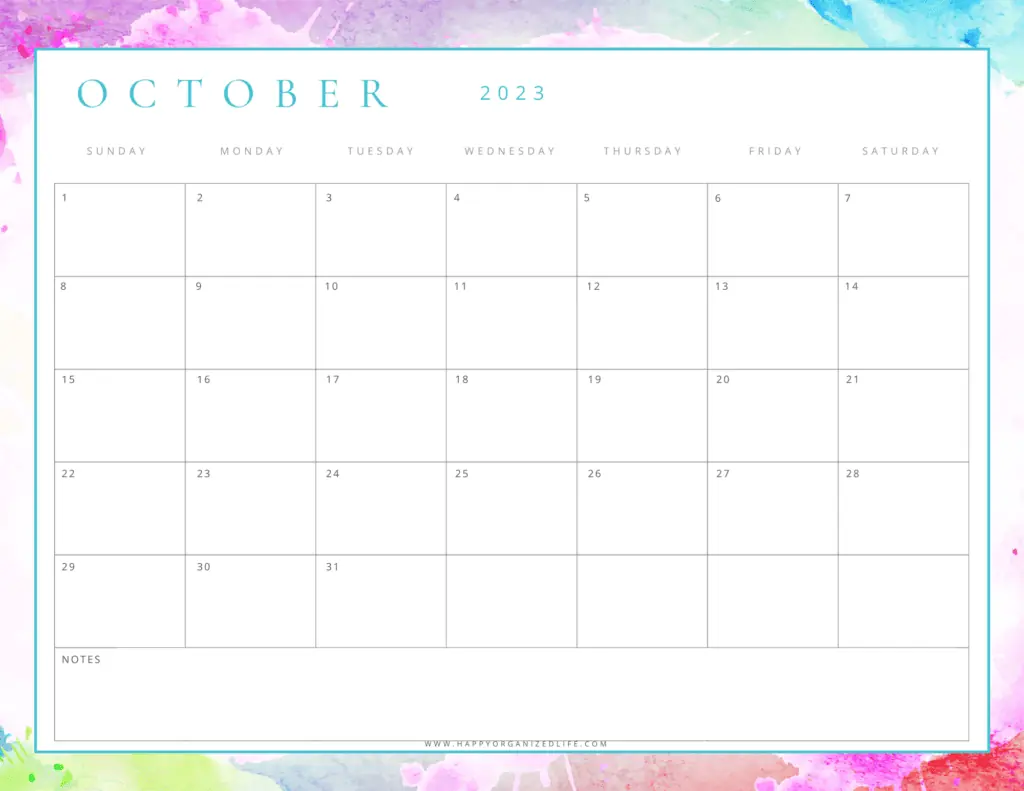 Calendar Printable for 2023 – Paint Splotches
October Calendar 2023 – Fall Themes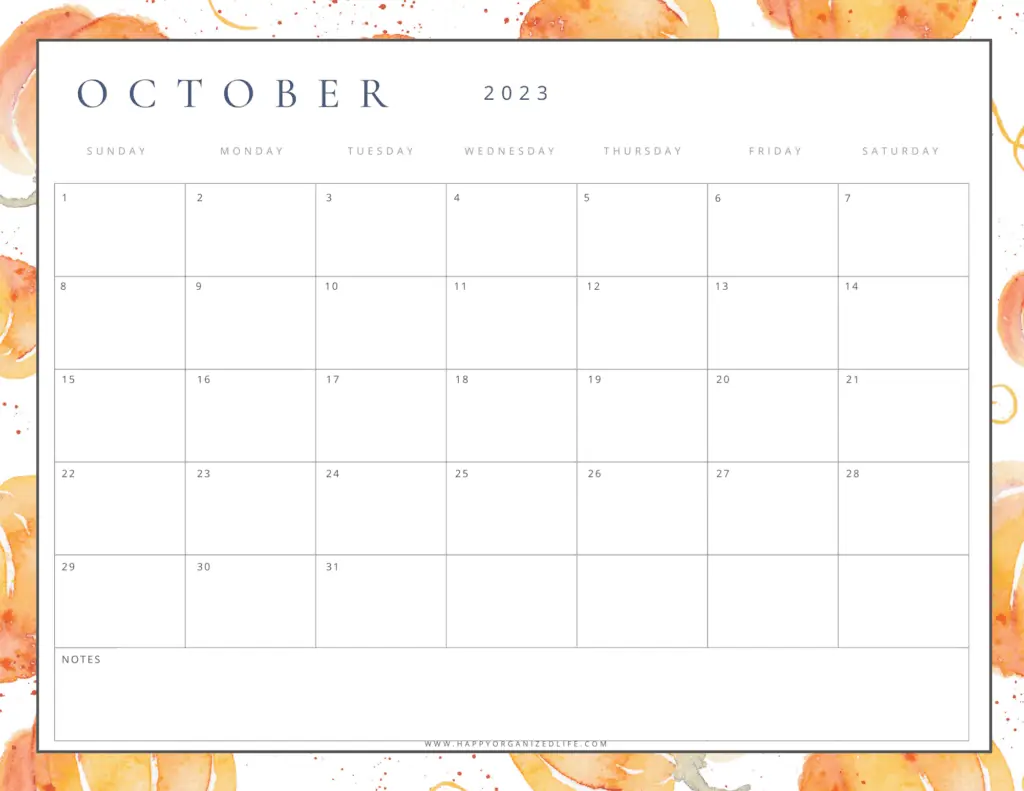 Calendar Printable for 2023 – Orange Pumpkins
October 2023 Calendar – Fall Leaves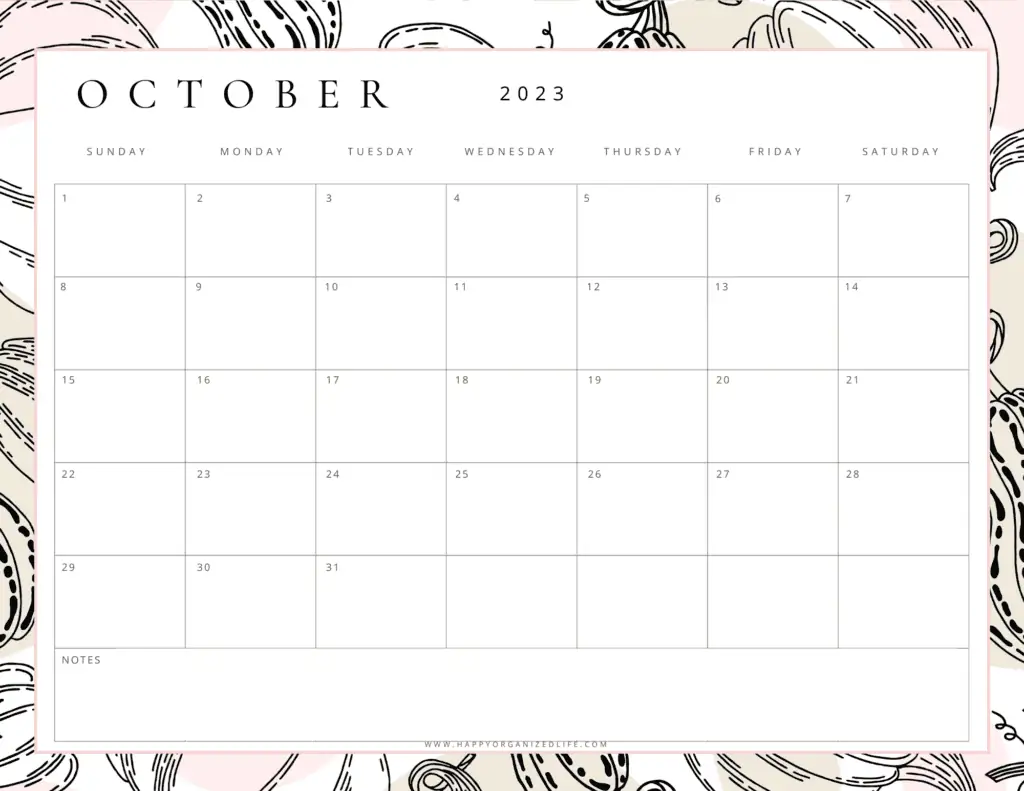 Fall 2023 Calendar – Pumpkins
October 2023 Calendar – Neutral Leaves
Geometric Calendars for October
October 2023 Calendar Template – Black and White Polka Dots
Calendar Templates for October – Blue Geometric
Printable October Calendar – Warm Geometric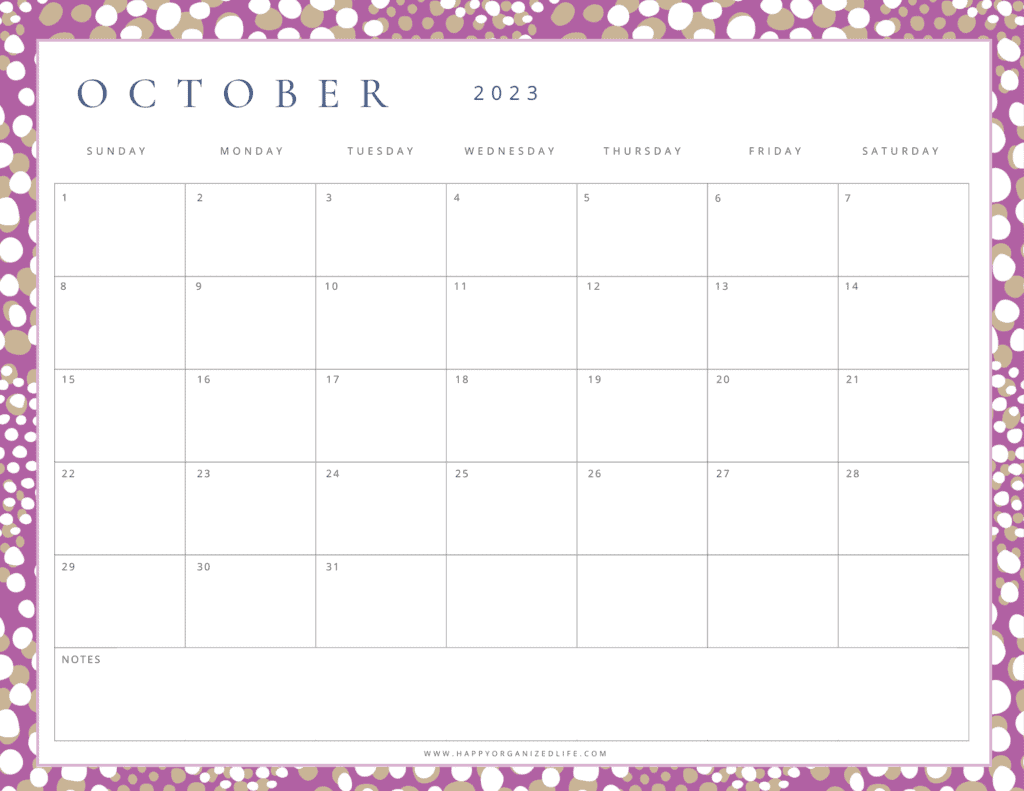 October Calendar Template – Purple with Polka Dots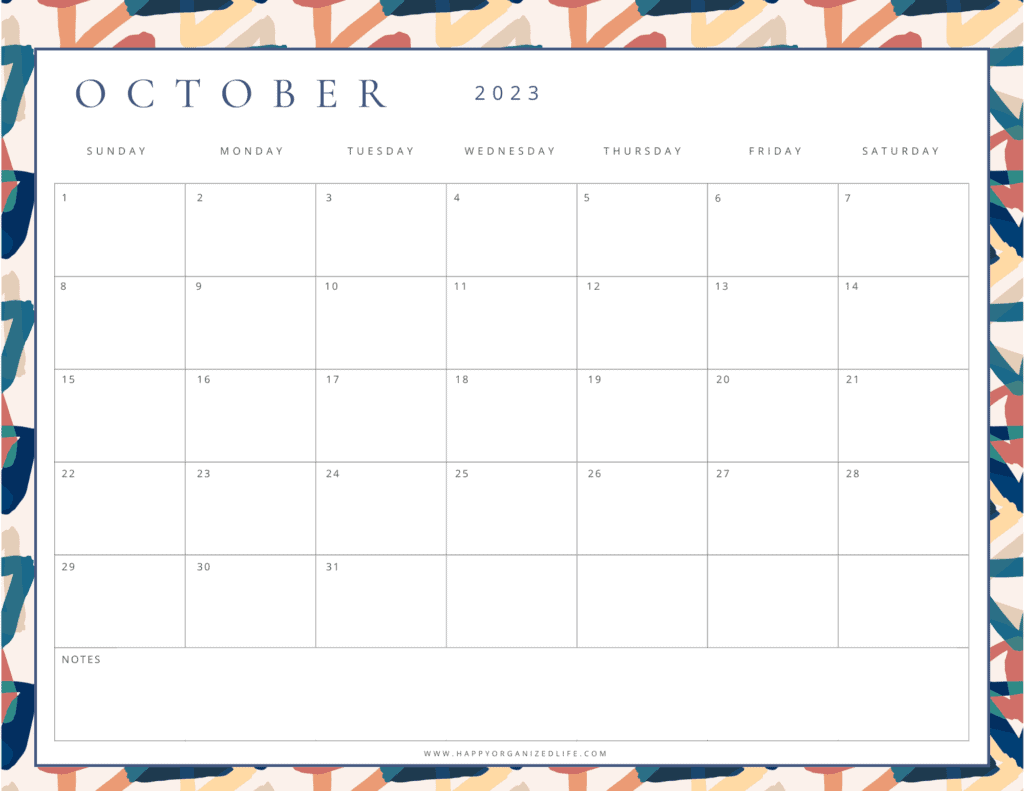 2023 October Printable Calendar – Masculine Geometric
October 2023 Calendar Printable – Warm Spiral
Printable October Calendar – Coll Geometric
October Calendar 2023 – Swatches
Calendar Template for October 2023 – Coral and Blue
Vertical Calendars for October 2023
October 2023 Calendar – Vertical Orientation Bold
Minimalist Calendar Template – Portrait Orientation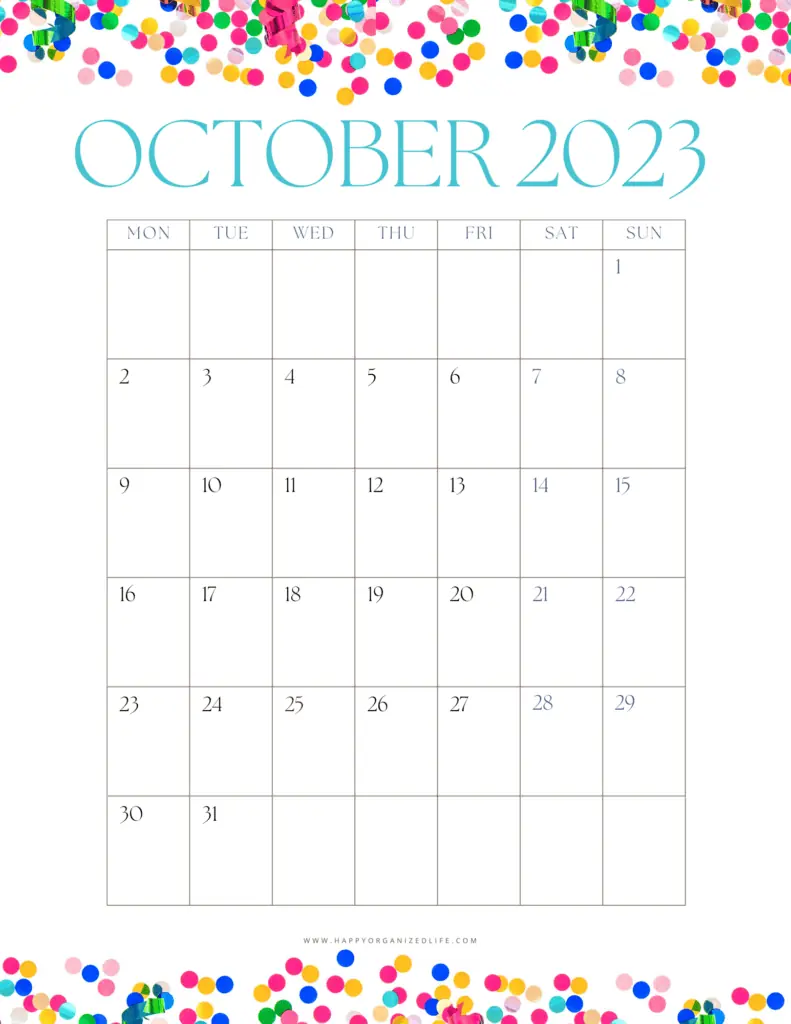 Vertical 2023 October Calendar – Confetti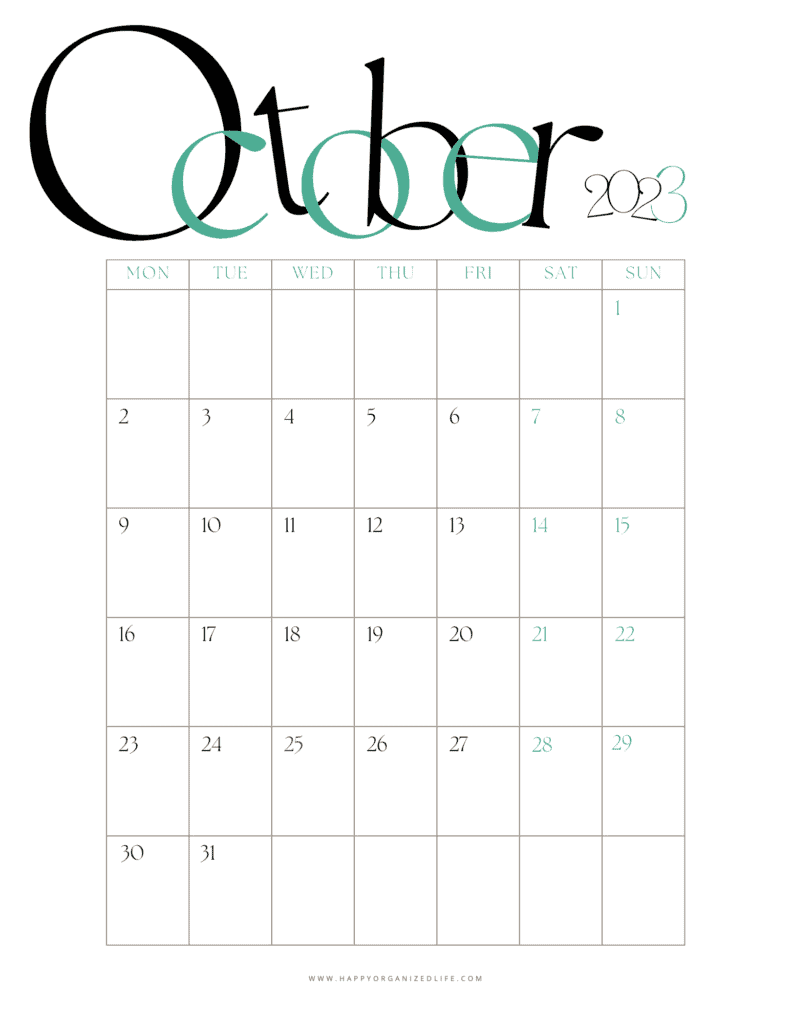 2023 Calendar Vertical Style – Tipsy
October 2023 Vertical Calendar – Bouquet
Click October Calendar 2023 Vertical – Modern Bloom
October 2023 Calendars with a Monday Start
Free Printable October 2023 – Monday Start Calendars with Minimalist Script
October Calendar Template – Green Palms
2023 October Calendar Template – Sunshine
DOWNLOAD & PRINT
October 2023 Horizontal Orientation – Intricate Blue
Calendar Template October 2023 – Basic Blue
October isn't just about falling leaves and crisp autumn air; it's a month filled with a tapestry of exciting holidays and observances too. From spirited Autumn festivities to honoring historical milestones, this month offers a variety of celebrations. Join us on a journey through October's vibrant holidays and observances as we uncover the fascinating stories, customs, and traditions that make this month truly special.
Columbus Day
One important date that stands out in October is Columbus Day: a holiday that commemorates the historical voyage of Christopher Columbus. Columbus Day, observed on the second Monday of October, holds great historical significance and invites us to explore the enduring legacy of Christopher Columbus. This day doesn't just honor the Explorer's journey but also recognizes the Italian-Americans' cultural heritage and contributions.
Indigenous People's Day
Indigenous People's Day has emerged as a transformative holiday, celebrating the rich native cultures and fostering appreciation for their contributions. It was introduced in the 1970s, challenges the traditional narrative surrounding Columbus Day, and provides an opportunity to acknowledge and honor the historical and ongoing resilience of the Indigenous communities.
Communities mark it with a range of:
Cultural events
Traditional ceremonies
Art showcases
Educational initiatives to raise awareness about indigenous histories and contemporary issues
Indigenous People's Day serves as a powerful platform to amplify Indigenous voices, foster cross-cultural understanding, and work toward reconciliation and justice.
Canadian Thanksgiving
October beckons the arrival of Canadian Thanksgiving, a heartfelt celebration steeped in tradition and values. This special holiday, honored on the second Monday of October, centers around gratitude and the gathering of loved ones. Its roots back to the 16th-century European traditions and native harvest festivals and is a symbol of celebration of the abundant blessings bestowed upon the Great White North.
Families come together, embracing the spirit of the harvest season, and participate in festive meals that feature an array of delectable dishes. It's a time to appreciate the abundance of nature's blessings and the connections that bind us. Whether it's sharing stories, exchanging heartfelt sentiments, or lending a helping hand to those in need, Canadian Thanksgiving is a reminder to cherish the moments of togetherness and express gratitude for the joys in our lives.
Halloween
As the nights grow longer and a touch of eerie magic fills the air, it can only mean one thing: Halloween is creeping closer! October's most iconic holiday offers a delightful blend of creepy thrills, fantastical costumes, and sweet candy.
Rooted in ancient Celtic traditions and intertwined with the Roman calendar, Halloween has become a beloved celebration worldwide. On October 31st, children and adults alike wear scary costumes and transform into ghosts, witches with black cats, vampires, skeletons, and other spooky or favorite characters.
It's a time when the boundaries between the living and the supernatural blur, and the air is filled with childish pranks, laughter, excitement, and a touch of fright. Let your inner child run wild and prepare for a frightfully delightful journey into Halloween's captivating magic!
I prepared 50 Fun And Creative Mom And Baby Halloween Costumes and 23 Easy Halloween Treats for School Lunches & Parties just for you. They are going to make your holiday this year unforgettable!
As you prepare to embark on your Halloween adventures, make use of our free printable October calendar templates. These high-quality designs offer a blend of functionality, providing a handy tool to plan your:
Trick-or-treating schedules
Costume creations
Festive gatherings
Let the spirit of the holiday ignite your creativity, light a few jack-o-lanterns with the kiddos, and immerse yourself in the magic of this thrilling holiday!
Other Days in October to Know Аbout
From commemorating historical events to celebrating special causes, there are numerous other noteworthy days in October that deserve our attention. Join us as we uncover the lesser-known but equally intriguing days that make October a month to remember.
International Coffee Day
Raise your mug in celebration of the beloved beverage that fuels our mornings and connects us globally. Toast to the farmers, roasters, and baristas who bring us the perfect cup of joe! Every year on October 1st, coffee lovers around the world unite to honor the magical elixir that fuels our mornings and brings people together.
International Coffee Day is an opportunity to appreciate the efforts of coffee farmers who toil tirelessly to cultivate the perfect beans. Their expertise, care, and sustainable practices contribute to the exceptional quality and unique characteristics of coffee varieties from different regions across the globe.
Teacher's Day 
Teacher's Day is a day to honor the extraordinary individuals who transform lives through education. They ignite flames of curiosity, foster creativity, and unlock the limitless potential within each student. With unwavering passion and dedication, these exceptional teachers become beacons of inspiration, guiding us toward greatness.
Let's unite in appreciation for their tireless efforts as they continue to mold the leaders, innovators, and change-makers of tomorrow. Happy Teacher's Day to these phenomenal mentors who leave an indelible mark on our hearts and minds!
Boss's Day
On Boss's Day, observed on October 16th, we express appreciation for the visionary leaders who inspire, guide and empower us in our professional journeys. This special day recognizes the invaluable role of bosses and managers in shaping our careers, fostering growth, and providing mentorship.
Sweetest Day
Sweetest Day, observed on the third Saturday of October, is a fantastic occasion to:
Appreciate the sweetness of the romantic Autumn season
Value the real relationships in our days
Express appreciation for the people who bring joy to our lives
This special day originated in the Midwest United States as an opportunity to show kindness and affection to loved ones, friends, and acquaintances.
On Sweetest Day we make gestures of love and thoughtfulness. Whether it's:
Surprising someone with a heartfelt gift
Performing acts of service, or
Simply spending quality time together
The focus is on strengthening connections and making others feel special. As a result, you'll feel better, too!
History of October
How October Got Its Name. Why Is It Called October?
October, the month of falling leaves and autumnal beauty, holds a captivating secret in its name. The origins of its name lie in the ancient Roman calendar and the Latin word "octo," which means "eight."
Curiously, October retained its name despite now being the tenth month in our modern calendar. In the early Roman calendar, the year began in March, making October the eighth month. However, with the addition of January and February to the Julian calendar, the positioning shifted, but the name persisted.
Today, October carries the legacy of its historical name while capturing the essence of the autumn season. It's a month of transition, as nature changes in vibrant colors and the weather shifts, marking the arrival of cooler temperatures in the Northern Hemisphere.
How Many Days Are in October?
October has 31 days.
Zodiac Signs of October and a Little About Their Personality Traits
Libra (Sep 23 – Oct 22)
Are you a Libra, or know someone who is? As the first sign of autumn, Libra represents balance, harmony, and beauty. Those born between September 23 and October 22 are:
Gracious
Cooperative
Diplomatic
Charming and social nature
Excellent mediators
Natural talent for bringing people together
In relationships, Libras are known for their romantic and affectionate nature. Libras may struggle to make decisions or take action without weighing all the options first.
Scorpio (Oct 23 – Nov 21)
October-born Scorpios bring an intense and passionate energy to the zodiac. As a water sign, represented by the scorpion, they're known for their:
Depth
Intuition
Perceptive nature
A magnetic charm that draws others to them
Mysterious and intriguing aura
With their unwavering determination, Scorpios can overcome any challenge they face. In relationships, they're known for their intense connections and their ability to form strong bonds. While they may be guarded at times, once a Scorpio opens up, they are fiercely loyal and dedicated. 
What Is the Birthstone for October?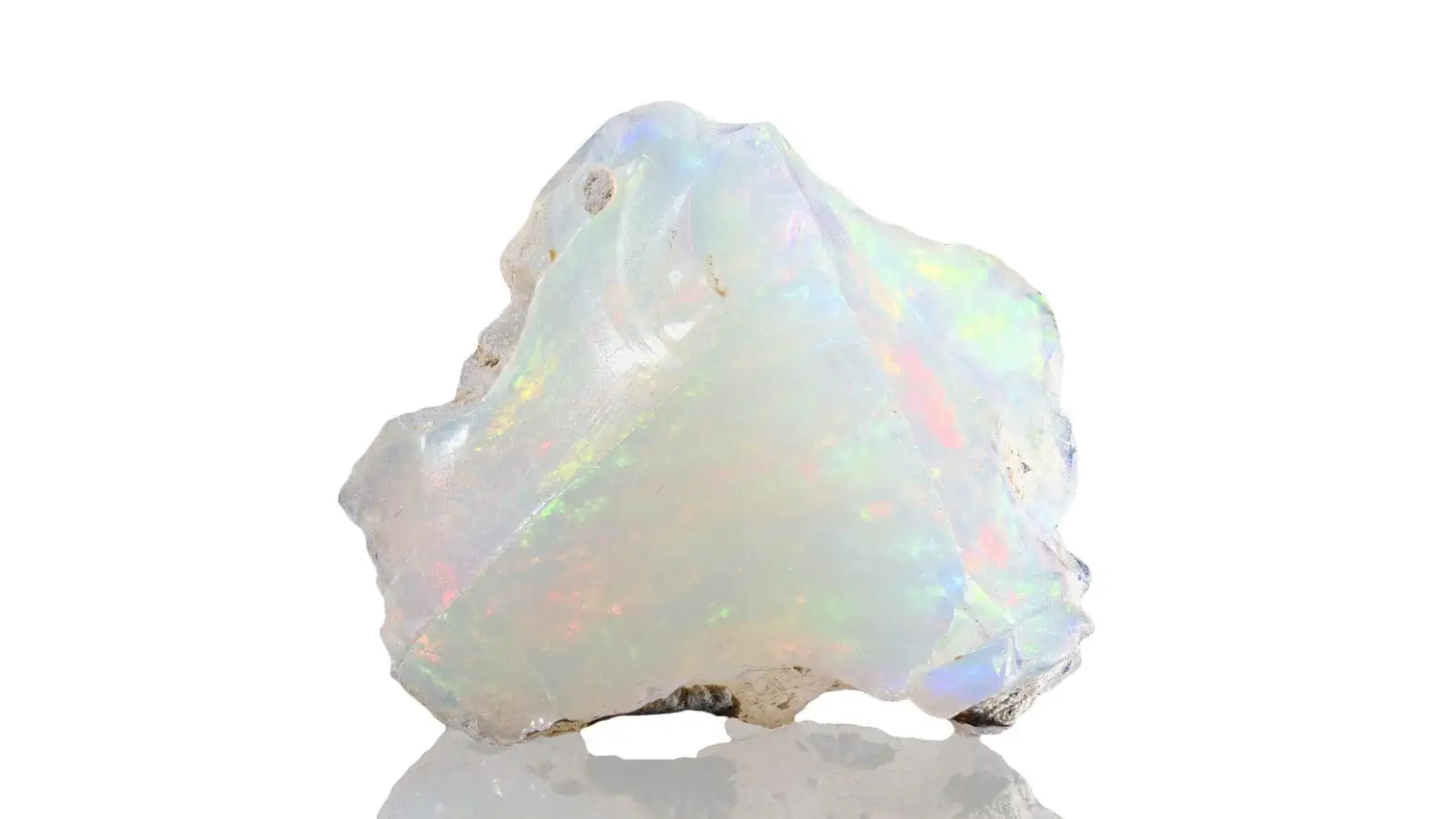 If you were born in October, you are fortunate to have not one but two stunning birthstones: opal and pink tourmaline.
Opal
Opal is a stone that leaves everyone in awe and wonder! Each opal is a unique masterpiece, displaying a mesmerizing dance of hues and colors. It is a symbol of:
Inspiration and creativity
Stimulating the imagination
Encouraging artistic expression
Opal is believed to bring good fortune and happiness to those who wear it, making it a cherished gemstone for October-born individuals.
Pink Tourmaline
Pink tourmaline, with its delicate shades of pink, exudes a gentle and nurturing energy. It is a stone of love, compassion, and emotional healing. Pink tourmaline promotes:
Self-love
Harmony
Empathy
Helping individuals find inner peace
Balance in your life
Its soothing vibrations envelop the wearer in a warm embrace of positivity and serenity.
Whether you choose opal or pink tourmaline as your October birthstone, wear them as a reminder of your unique qualities and embrace the positive energies they bring into your life.
Important Events in History That Occurred in October
Learn more about what historical events happened in October:
1 – 7 October:
October 1, 1908 – Henry Ford's Model T, a "universal car" designed for the masses, went on sale.
October 1, 1949 – Mao Zedong became Chairman as the People's Republic of China was founded.
October 1, 1979 – The Panama Canal Zone was formally handed over to Panama, ending 70 years of American control.
October 2, 1935 – Mussolini's Italian troops invaded Abyssinia, occupying it until 1941.
October 3, 1863 – President Abraham Lincoln proclaimed Thanksgiving Day to be observed on the last Thursday in November.
October 3, 1974 – The Cleveland Indians hired Frank Robinson as baseball's first African American major league manager.
October 3, 1990 – East and West Germany reunited as the Federal Republic after 45 years of Cold War division.
October 4, 1582 – Pope Gregory XIII issued a decree implementing the Gregorian Calendar, correcting a 10-day error in the Julian Calendar. This change took effect in Catholic countries, making October 15, 1582, follow directly after October 4, 1582. Britain and the American colonies adopted the Gregorian Calendar in 1752.
October 4, 1943 – Free French troops liberated the city of Bastia, marking the first European territory in France freed from Nazi control.
October 4, 1957 – The Russians launched the first satellite, Sputnik I, marking the beginning of the Space Age.
October 4, 1993 – Russian tank soldiers loyal to President Boris Yeltsin crushed a hard-line Communist rebellion by shelling the Russian White House. Yeltsin dismissed Vice-president Alexander Rutskoi and detained other opposition leaders.
October 5, 1910 – Portugal transitioned to a republic following a successful revolt against King Manuel II.
October 6, 1973 – The Yom Kippur War started with Egypt and Syria launching attacks on Israeli positions.
8 – 14 October:
October 8, 1996 – Palestinian President Yasser Arafat visited Israel for talks with Israeli President Ezer Weizman at his private residence.
October 11, 1939 – Albert Einstein personally warned President Franklin D. Roosevelt that his theories could lead to Nazi Germany developing an atomic bomb. Einstein suggested the U.S. develop its own bomb, leading to the top-secret "Manhattan Project."
October 13, 1775 – The Second Continental Congress authorized the acquisition of a fleet of ships, giving birth to the United States Navy.
October 13, 1990 – St. Basil's Cathedral, next to the Kremlin in Red Square, Moscow, hosted the first Russian Orthodox service in over 70 years.
October 14, 1933 – Nazi Germany announced its withdrawal from the League of Nations and declared its refusal to participate further in the Geneva Disarmament Conference.
15 – 19 October:
October 15, 1917 – French firing squad executed World War I spy Mata Hari at Vincennes Barracks, outside Paris.
October 15, 1946 – Nazi leader Hermann Goering committed suicide by swallowing poison in his Nuremberg prison cell, hours before his scheduled hanging for war crimes.
October 16, 1701 – Yale University is founded in Killingworth, Connecticut.
October 16, 1793 – The reign of Terror during the French Revolution led to the beheading of Queen Marie Antoinette.
October 16, 1916 – Nurse Margaret Sanger opened America's first birth control clinic in Brooklyn, New York.
October 17, 1777 – American General Horatio Gates achieved a significant victory in the Battle of Saratoga as British General John Burgoyne and his entire army of 5,700 men surrendered.
October 19, 1781 – British General Lord Cornwallis surrendered to General George Washington at Yorktown, effectively ending the war between Britain and its American colonies.
October 19, 1987 – Wall Street experienced "Black Monday" with a record 508-point or 22.6% plunge in stock prices, marking the largest one-day drop in stock market history.
October 20, 1818 – The U.S. and Britain established the U.S.-Canadian border at the 49th parallel.
October 20, 1968 – Jacqueline Kennedy married Greek businessman Aristotle Onassis, ending nearly five years of widowhood following the assassination of her first husband, President John F. Kennedy.
21 – 23 October:
October 21, 1805 – The British Royal Navy battled the combined French and Spanish fleets in the Battle of Trafalgar, thwarting Napoleon's invasion plans. Admiral Horatio Nelson, a British naval hero, sustained mortal wounds aboard his ship Victory.
October 21, 1879 – Thomas Edison successfully tested an electric incandescent lamp with a carbonized filament, keeping it lit for over 13 hours at his Menlo Park laboratory in New Jersey.
October 21, 1915 – The American Telephone and Telegraph Company made the first transatlantic radio voice message from Virginia to Paris.
October 21, 1967 – Anti-war protesters rallied against the Vietnam War in Washington, D.C., storming the Pentagon. While approximately 250 people were arrested, no shots were fired, although demonstrators were struck with nightsticks and rifle butts.
October 22, 1962 – President John F. Kennedy addressed the nation on television, revealing the presence of Russian missiles in Cuba and demanding their removal. He announced a naval "quarantine" of Cuba, and six days later, the Russians agreed to remove the weapons, with the U.S. later removing missiles from Turkey.
October 23, 1983 – Terrorists detonated a truck loaded with TNT at the U.S. and French headquarters in Beirut, Lebanon, killing 241 U.S. Marines and 58 French paratroopers.
October 23, 1989 – Hungary declared itself a republic, marking 33 years since Soviet Russian troops suppressed a popular revolt against Communist rule.
24 – 27 October:
October 24, 1861 – The Chief Justice of California sent the first transcontinental telegram in America from San Francisco to Washington, addressing President Abraham Lincoln.
October 24, 1929 – The New York Stock Exchange witnessed "Black Thursday" with nearly 13 million shares sold in panic selling. Five days later, "Black Tuesday" followed with 16 million shares sold.
October 24, 1931 – Federal income tax evasion led to Chicago gangster "Scarface" Al Capone being sentenced to 11 years in jail. In 1934, he was transferred to Alcatraz prison and was later paroled in 1939, passing away in 1947.
October 24, 1945 – The United Nations was founded.
October 25, 1955 – Austria regained its sovereignty as the last Allied forces departed. The country had been under Nazi occupation from 1938 to 1945.
October 25-30, 1983 – The U.S. launched an invasion of the Caribbean island of Grenada, aiming to restore "order and democracy." More than 2,000 Marines and Army Rangers seized control following a political coup that had turned the island into a "Soviet-Cuban colony," according to President Ronald Reagan.
October 26, 1825 – The Erie Canal opened, connecting Lake Erie with the Hudson River and bypassing the British-controlled lower St. Lawrence. The canal cost over $7 million and took eight years to complete.
October 26, 1951 – Winston Churchill, following his Conservative Party's narrow victory in general elections, became Britain's prime minister for a second time. In his first term from 1940-45, he guided Britain through its struggle against German Nazis.
October 27, 1787 – Alexander Hamilton, James Madison, and John Jay published the first of 85 Federalist Papers in a New York City newspaper, arguing for the adoption of the new U.S. Constitution.
28 – 31 October:
October 28, 1636 – Harvard University, America's oldest institution of higher learning, was founded in Cambridge, Massachusetts.
October 28, 1886 – The Statue of Liberty, a gift from the people of France commemorating the French-American alliance during the American Revolutionary War, was dedicated on Bedloe's Island in New York Harbor. Designed by Frederic Auguste Bartholdi, the statue stands 300 feet (92.9 meters) tall, with the pedestal bearing the inscription: "Give me your tired, your poor, your huddled masses yearning to breathe free, the wretched refuse of your teeming shore. Send these, the homeless, tempest-tost to me, I lift my lamp beside the golden door!"
October 29, 1929 – The stock market crashed, with over 16 million shares dumped amid tumbling prices, marking the beginning of the Great Depression in America, which lasted until the outbreak of World War II.
October 30, 1990 – Great Britain and the European continent were connected for the first time since the Ice Age, thanks to a new rail tunnel under the English Channel.
October 31, 1941 – Mount Rushmore National Memorial was completed after 14 years of work. The memorial features 60-foot-tall sculptures of the heads of Presidents George Washington, Thomas Jefferson, Abraham Lincoln, and Theodore Roosevelt. They represent America's founding, political philosophy, preservation, expansion, and conservation.
October 31, 1950 – Earl Lloyd became the first African American to play in an NBA game when he took the floor for the Washington Capitols in Rochester, New York.
October 31, 1952 – The U.S. conducted its first hydrogen bomb test at the Elugelab Atoll in the Eniwetok Proving Grounds in the Pacific Marshall Islands.
October 31, 1968 – President Lyndon Johnson ordered a halt to the American bombing of North Vietnam during the Vietnam War.
Celebrities Who Were Born in October (Both Modern and Historical)
1 – 19 October:
October 3, 1981 – Zlatan Ibrahimović, One of the greatest football strikers of all time
October 5, 1975 – Kate Winslet, an English actress
October 7, 1952 – Vladimir Putin, President of Russia (2000 – 2008, Incumbent Since 2012)
October 8, 1985 – Bruno Mars, the first artist to receive five diamond-certified songs in the U.S.
October 9, 1940 – John Lennon, founder, co-songwriter, co-lead vocalist & rhythm guitarist of 'The Beatles'
October 12, 1968 – Hugh Jackman, an Australian actor
October 17, 1972 – Eminem, an influential white rapper
October 18, 1987 – Zac Efron, an actor
20 – 31 October:
October 20, 1971 – Snoop Dogg, a rapper
October 21, 1980 – Kim Kardashian, a socialite and model
October 23, 1940 – Pele, one of the greatest Football players of all time
October 23, 1976 – Ryan Reynolds, one of the highest-grossing actors of all time
October 23, 1986 – Emilia Clarke, actress
October 24, 1986 – Drake, a Best-selling music artist
October 25, 1984 – Katy Perry, an American singer
October 27, 1858 – Theodore Roosevelt, 26th President of the United States (1901-1909)
October 28, 1955 – Bill Gates, co-founder of Microsoft
October 28, 1967 – Julia Roberts, an actress
October 29, 1942 – Bob Ross, a painter
October 29, 1971 – Winona Ryder, an actress
October 30, 1960 – Diego Maradona, One of the greatest Football players
October 31, 1451 – Christopher Columbus, an explorer
History of Columbus Day
Christopher Columbus' arrival in the Americas in 1492 is marked by the holiday Columbus Day, celebrated in the United States since 1937. However, the holiday has been criticized for glorifying Columbus and ignoring the harm inflicted upon Indigenous peoples. Some cities and states have since renamed the holiday Indigenous Peoples Day as a way to acknowledge the hurt done and celebrate Native American cultures and contributions.
The transition from Columbus Day to Indigenous Peoples Day reflects a growing commitment to truth and reconciliation. It recognizes the need to confront the darker aspects of history and celebrates the resilience and richness of indigenous communities. This shift aims to foster a more inclusive understanding of the Americas' diverse heritage.
History of Indigenous People's Day
Some cities and states have opted to rename Columbus Day as Indigenous Peoples Day to shift the focus from Columbus to honoring and recognizing the rich cultures, contributions, and resilience of Native American communities.
Indigenous People's Day has gained momentum as a movement to reclaim and reframe the narrative surrounding the history of the Americas. It acknowledges the deep-rooted heritage and wisdom of indigenous peoples, recognizing their enduring contributions to society.
History of Halloween
Step into the realm of ancient traditions and supernatural beliefs as we dive into the fascinating history of Halloween. Originating from ancient Celtic festivals, particularly Samhain, it carries echoes of spiritual rituals and seasonal transitions.
This mystical holiday with roots in the harvest season marked a time when communities would gather to fend off evil spirits and honor departed ancestors. The practices of wearing costumes, lighting bonfires, and offering treats served as protective measures against supernatural entities. Over the centuries, Halloween evolved, assimilating various cultural influences and transforming into a celebration cherished around the world.
Quotes about October
As always, I never miss a chance to inspire a few quote pages for October in your planner or bullet journal:
I wish that every day was Saturday and every month was October.

― Charmaine J. Forde
Nothing on earth is so beautiful as the final haul on Halloween night.

– Steve Almond
There is a child in every one of us who is still a trick-or-treater looking for a brightly lit front porch.

– Robert Brault
Listen! The wind is rising, and the air is wild with leaves, We have had our summer evenings, now for October eves!

― Humbert Wolfe
I'm so glad I live in a world where there are Octobers.

― L. M. Montgomery, from the book Anne of Green Gables
If you're struggling to stay organized or you're looking for ways to shake up your bullet journal, check out my post with 65 Minimalist Bullet Journal Ideas to Keep You Organized. It's full of amazing minimalist calendar design ideas you're going to love!
Supplies to Print Your Free October Calendar Printables
These are some of my favorite printing and planning supplies:
Printers
Paper
Pens & Highlighers
Frixion erasable pens are amazing! They come in black, blue, and a mix of bright colors, and they aren't like the erasable pens I grew up with that made a mess of paper and didn't really erase. They erase easily, look great, and are my most favorite pens to plan with because I can color-code events, and I can easily erase them when things change.
If you want a pen that doesn't erase, the BIC Gel-Ocity pens are my favorite. They write so smoothly and area. pleasure to use. According to my Amazon history, I've purchased the 12 pack linked below 14 times so my love for them is pretty serious!
Highlighters
These Frixion Highlighters are just as great as the pens! They erase beautifully, don't damage paper, and make my color-coding dreams come true!
If you like a more subtle highlighter, these Mildliner Highlighters are gorgeous. I like to use these when I want a softer look, and I'm certain I won't need to change or erase anything. They also have ink on both ends so you can easily make different sized lines.
Post-it Notes
I love post-it notes. They're great for reminders, organizing ideas, quick decluttering labels, and even bookmarks! I like to use post-its in various colors, sizes, and sometimes different shapes too. The heart notes are a great way to leave little love notes for your partner or kiddo. These are my favorites:
Free Printable Calendars for October 2023
As we bid farewell to September and welcome the arrival of October, it's time to refresh our calendars and embrace the autumnal vibes. With our 45 free printable monthly calendars, October has never looked so good! From minimalist to beautiful floral designs, there's a template to suit every taste. So, go ahead and download your favorite designs to stay organized and inspired throughout October. Make this month a memorable one with the help of these beautiful printable calendars.
Did you enjoy this post with October calendar printables? You're going to love these articles, too: