If you're looking for spooky, scary, Halloween treats, we have you covered! These easy Halloween treats for school, home, and everywhere in between take just a few minutes to put together, but can help make that long wait until trick or treating starts a little more tolerable with some Halloween fun.
Decorations are a great way to prepare for a holiday, but my favorite way to celebrate has to be with festive food.
These easy halloween treats are a fun way to spice up normal lunch box snacks and get everyone in the Halloween spirit.
Easy Halloween Treats That Kids Will Love!
Whether you're preparing for a classroom party or just want to surprise your kiddo with a festive and delicious treat for her lunchbox, these fun snacks are sure to be a big hit.
Best of all, most of them are easy to make even with little kids, which is all part of the fun.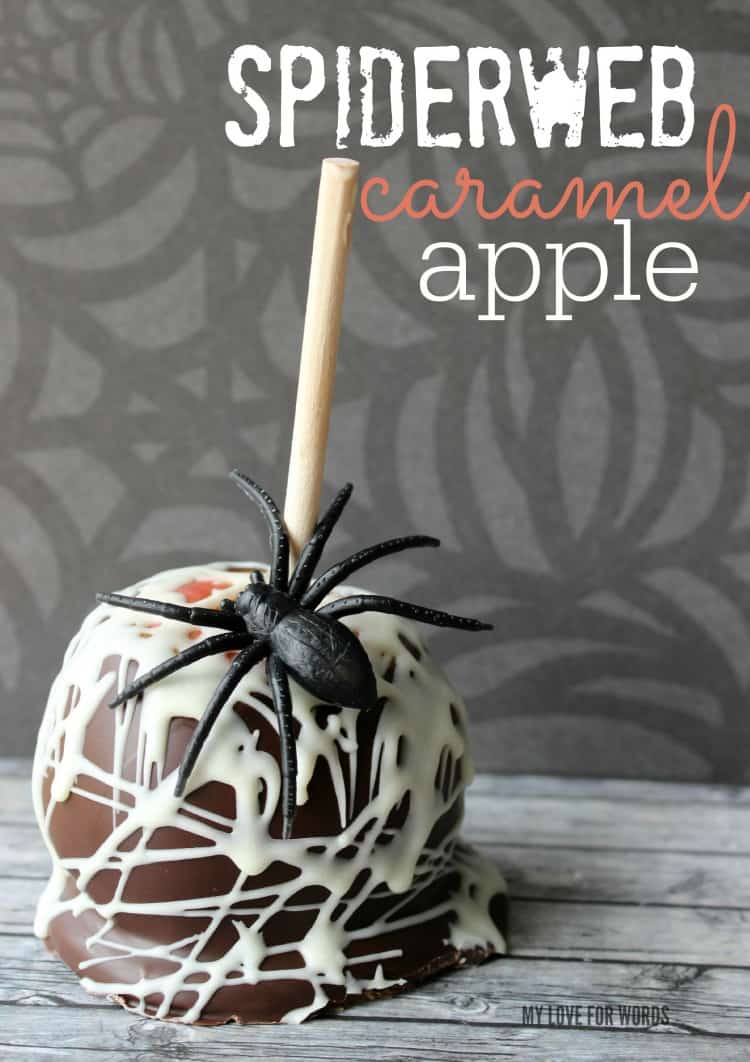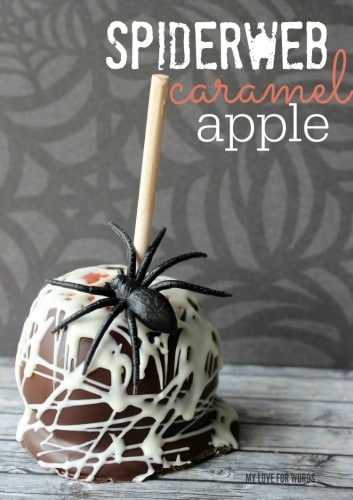 Caramel Apples are one of my favorite fall treats, and just about the only thing that could get me close to a spider this size… even if it is fake!
These little Pretzel and Cheese Broomsticks are the perfect way to add a healthy snack to the fun treats and candies kids usually stock up on.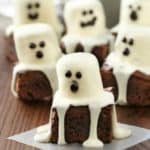 The cute little ghost faces make these, and they'd be really easy to assemble too. You just need a small brownie, marshmallow, and some white chocolate to use as glue. Some mini chocolate chips would double as they eyes and mouth too. So fun!
This Candy Corn Drink is a fun halloween twist on a party drink.
Candy bark doesn't have to be limited to peppermint and Christmas time anymore. This recipe is a little more sophisticated twist on the regular candy halloween treats.
If you prefer spooky halloween treats, these Chocolate Peanut Butter Spider cookies are the perfect thing to have crawling across your plate. I'm not even sure I could stomach them if it weren't for those cute little candy eyes.
Looking for a different spider treat? Give little donuts, pretzels, and chocolate covered candies a try with Mini Donut Spiders.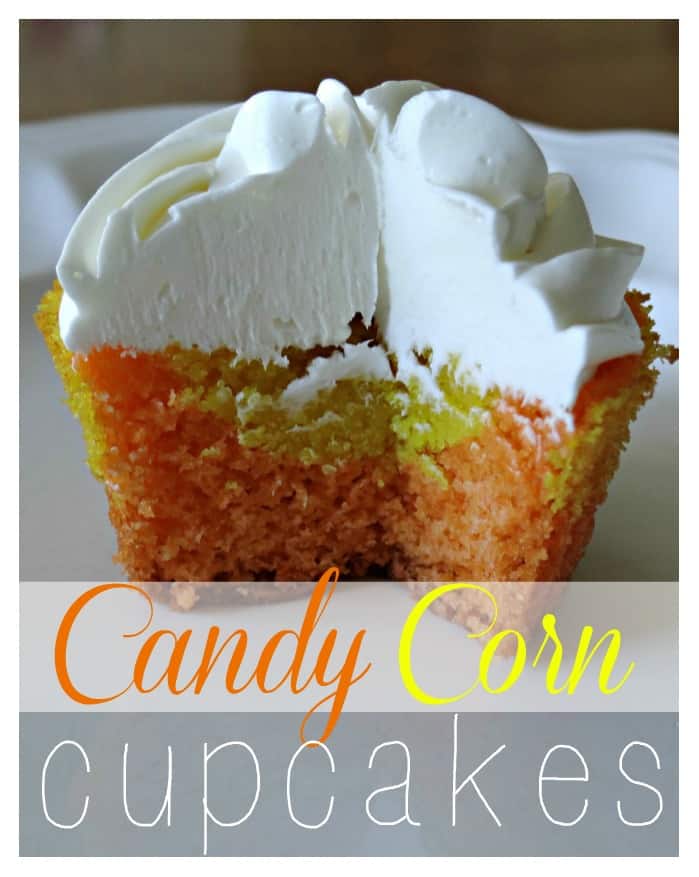 When you're looking for delicious Halloween treats that are constant crowd pleasers, you can't go wrong with Halloween cupcakes like these Candy Corn Cupcakes.
Another spooky treat ideas kids are sure to love are Dracula's Dentures. I can see these being a huge hit at class parties with all the kids pretending these are their vampire teeth.
Transform boring old pretzel sticks into an extra sweet treat with just a drizzle of white chocolate, and you'll have Mummies!
Halloween just isn't Halloween without a monster face here or there. Putting these Frankenstein Rice Krispie Treats on sticks also gives kiddos a chance to pretend to be the big creepy man themselves.
If you're looking for a super cute homemade treat that's really easy too? Give these Graveyard Pudding Cups a try. You just need a pudding cup, little ghost marshmallow, pumpkin candy, and some crushed oreo cookies for dirt. Done!
Speaking of Oreos… put one on a stick, dip it into some melted white chocolate, and you've got Mummy Oreo Pops!
Of all the easy recipes I'm sharing today, this one has to take the grand prize for easiest Halloween treat ever. One wrapped piece of string cheese and a black sharpie, and you can call it a day!
These vampires donuts come with an extra dose of fun… souvenir vampire teeth!
These cute little Frankenstein heads might require a little more work and attention to detail, but they're worth every second.
When I was little, one of my favorite things to do at Halloween parties was watch scary cartoons and movies. I can't quite stomach them like I used to, but I could definitely stomach this festive Monster Munch. It's a perfect sweet and savory snack in one.
My mom makes these adorable Mummy Hotdogs for my kids every Halloween, and they love them! Truth be told, I do too. They're really good, especially topped with a little mustard (or ketchup if that's your thing).
Finally, a bat I wouldn't mind seeing on Halloween! These Oreo Bat Truffles are a little more complex to put together, but so worth the effort.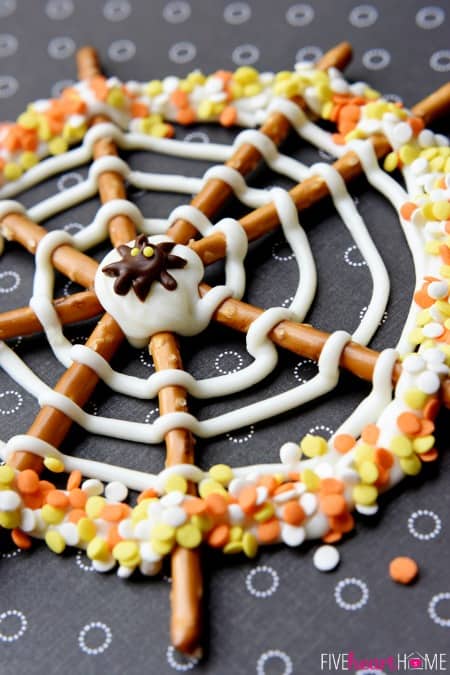 We usually work pretty hard to remove spiderwebs from our homes, but if they were all this colorful and delicious I might not try so hard. These would look so cute on a platter for a Halloween party or be a fun surprise in a lunch box.
Every Halloween celebration needs at least one pumpkin, and these Popcorn Pumpkin Balls would be perfect for a quick treat.
Who says Frankenstein has to be scary? I don't know about you, but I kind of just want to cuddle this little guy! Best of all, he's mostly made of kiwi so I don't have to feel quite as guilty when the kids are chowing down on candy because I'll know they've had a couple healthy treats along the way.
Worried about sugar overload and looking for more healthy Halloween snacks? Give a banana mummy a try! A squiggly of chocolate, some popsicle sticks, and googly eyes, and you have yourself one frightfully delicious and healthy treat.
I double dog dare you to not be in the Halloween spirit after looking at all of those adorable Halloween snack recipes and ideas!
Which (or should I say "Witch?" Haha!) was your favorite? Will you be making anything for Halloween this year?
More Halloween Fun From Happy Organized Life: