Whether you're hosting your first Thanksgiving or your 50th, having a Thanksgiving planner can be a huge help! Click the link below to download your free printables for Thanksgiving Day.
Fall is my favorite season.
The air is cooler, the leaves are changing, and it means the holidays are right around the corner.
November, in particular, holds a special place in my heart because Thanksgiving dinner is, by far, my most favorite meal of the year.
My first time hosting Thanksgiving, on the other hand, almost caused my first nervous breakdown!
If trying to do all the necessary prep, making a shopping list, guest list, gathering ingredients, visiting all the grocery stores, and more has you on the verge of pulling your hair out, don't worry!
I've created a free printable Thanksgiving planner to make the process a million times easier.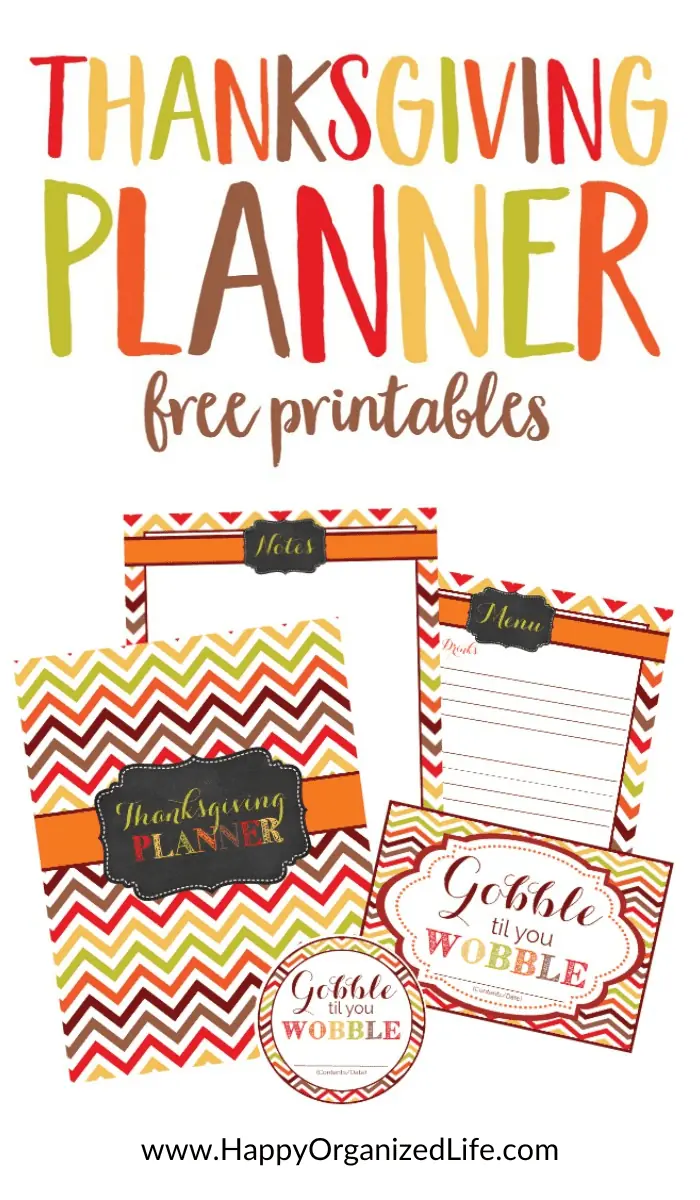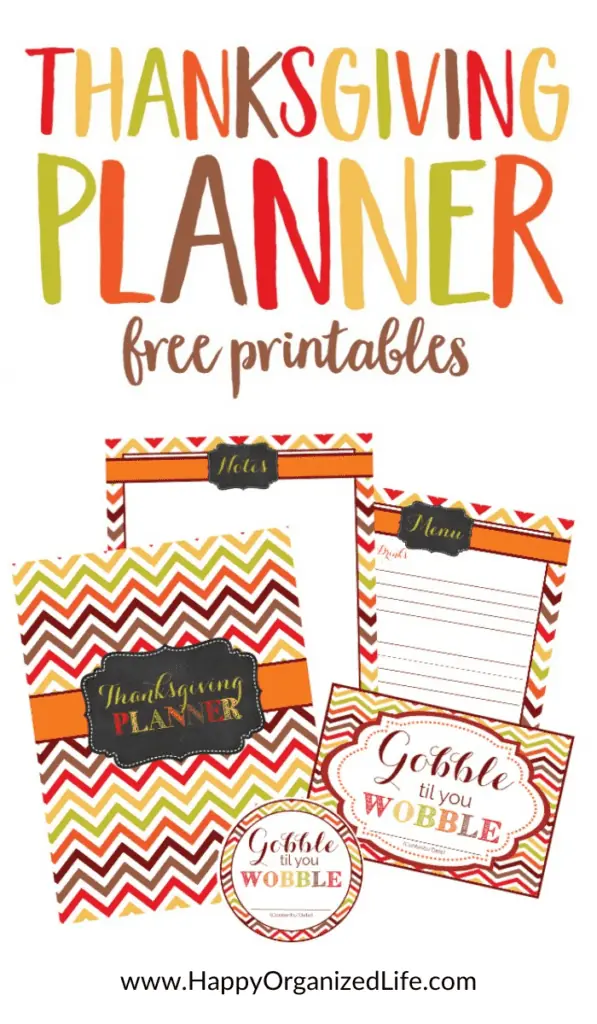 Hosting Our First Thanksgiving Dinner
I have a confession to make… I can be a bit of a procrastinator.
I enthusiastically start something with the best of intentions only to get derailed or distracted, and I end up forgetting about the task until time's almost run out.
I've been able to get by okay in most areas of life with this less-than-amazing strategy, but this pattern can be particularly disastrous when you're cooking an entire Thanksgiving meal. Ask me how I know!
I hosted my first Thanksgiving a year and a half after my husband and I got married and while existing in the fog of new motherhood.
My mom and my husband's parents came to stay at our home, which was great because it meant our mothers were ready bright and early to help me start cooking Thanksgiving morning.
This is my husband and I with our first little turkey. She's a teenager now!
I can vividly remember going to the kitchen around 8 am and feeling completely overwhelmed.
One little thing went wrong (I don't even remember what it was), and I immediately said, "We should just forget it and order dinner instead!"
My and my husband's moms looked at me like I had five heads.
I'm sure they were thinking, "What is she freaking out about?!"
They'd already cooked a Thanksgiving meal many times before in their lives, and they were both very kind and patient with me throughout the day. They reassured me that everything would be fine, and we got to work.
Hours later, we had a beautiful Thanksgiving meal… and I had very sore feet.
Thankfully, everything turned out perfectly, and I fell in love with my first turkey! I was seriously so proud of this thing. I followed Martha Stewart's directions for the perfect roasted turkey (minus the brining), and it was seriously the best turkey I'd ever had (and I'm completely unbiased!). 😉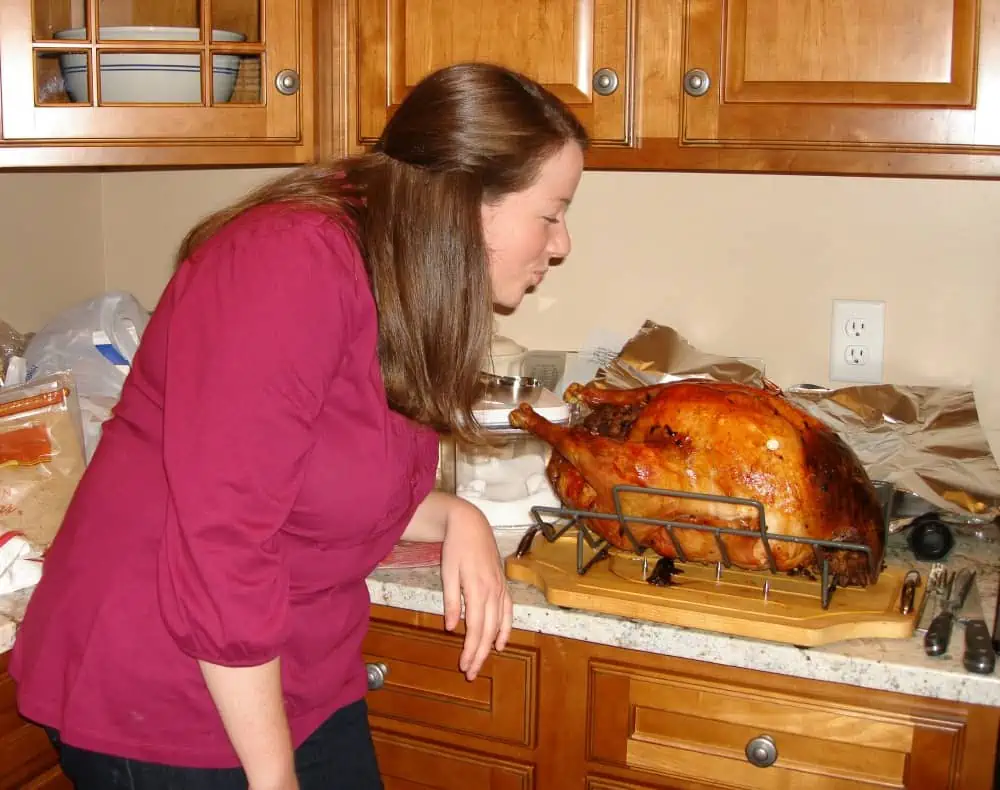 You always remember your first (turkey) love. 
Two Important Lessons I Learned Hosting
As overwhelming as that first Thanksgiving felt, I learned two important lessons that day.
The first was to stay calm under pressure. My mother and mother-in-law were the pictures of grace under fire. Their experience and comfort in the kitchen definitely shined through (as did my inexperience!).
The second lesson I learned was the importance of planning ahead. I have no doubt that my first year hosting Thanksgiving would've gone a lot smoother if I'd used a Thanksgiving planner.
I was so naive to everything involved with cooking and hosting such a big meal that I didn't even know I needed a Thanksgiving meal planner.
They say, "Necessity's the mother of invention," and that's definitely true of these printables!
Thanksgiving Printables Are Born
A few years later I was completely on my own to prepare the entire meal.
After the initial panic wore off, I started to make a list of everything I knew we'd want to have: turkey, stuffing, sweet potato casserole, mashed potatoes, strawberry & cranberry sauce, dinner rolls, green bean casserole, broccoli salad, gravy, pumpkin pie, and spiced apple and pear pie.
As I looked at the checklist of food we'd need, I started to feel overwhelmed, but I couldn't cut anything out. Remember, this is my favorite meal of the year!
Instead of cutting a side dish or dessert (heaven forbid!), I started to make a plan.
Questions I Ask Myself to Prepare for Thanksgiving
I asked myself, " What do I need to buy, and what can I make ahead of time?"
As I looked over the menu ideas, I realized a lot of the recipes could be prepared, or at least started, a day or two beforehand so that's what I did.
I broke the tasks down over two or three days, and I'm happy to say that despite not having any help in the kitchen (aside from the eating part, of course), it was one of our best and easiest Thanksgivings ever!
Now, I always plan and make food ahead of time. Thanksgiving doesn't feel nearly as stressful as it used to, and it's nice to be able to enjoy it again.
Just in case you can relate to feeling overwhelmed by the holidays, I wanted to share this collection of free Thanksgiving planner printables.
I hope they help you have the happiest, easiest, least stressful Thanksgiving ever, and that your holidays go off without a hitch.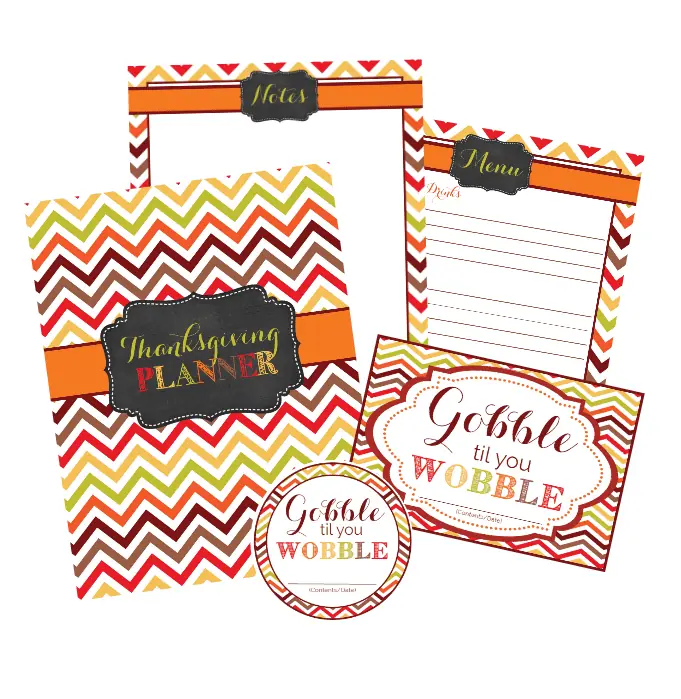 Free Printable Thanksgiving Planner
The Thanksgiving Planner Collection includes a cute cover page as well as pages for:
meal planner
organizing your cooking schedule
two notes pages that can be used for creating a grocery list, planning checklist, guest list, shopping list, or even a Thanksgiving countdown in anticipation of the big day!
and three styles of food labels for leftovers you send home with family or guests
To get your own copy of this Thanksgiving printable bundle, just click here!
Click Here to Download Your Free Printable Thanksgiving Planner
Frequently Asked Questions About Thanksgiving
How Do You Make a Schedule for Thanksgiving and Use a Thanksgiving Planner?
The most important part of any planner, in my opinion, is making it work for your life so the first thing you'd want to do is figure out what you'll be doing on the big day.
What Do You Want Your Holiday to Look Like?
Will you be hosting the Thanksgiving meal or going to a family member's house?
Maybe you're going to a friend's house for Friendsgiving or spending the day getting in some much needed rest and relaxation at home.
Think about what your holiday's going to look like and when everything's going to take place.
Determine What You're Responsible For
Next, you'll want to figure out what you're responsible for and how long each task might take.
Don't forget to include important tasks like getting ready and cleaning your home if you'll be hosting.
Laying out as much as you can think of ahead of time will help to prevent any last minute or forgotten tasks from popping up.
Start Planning
Once I've brainstormed an entire list of activities I know I need to take care of, I like to plan backwards from the event.
I usually start by determining what time we want to eat on Thanksgiving day. Some families like to eat a big Thanksgiving meal early in the day and then graze on snacks and leftovers throughout the evening.
Others like to have their Thanksgiving meal at a normal dinner time.
Figure out what time you'll be eating and work backward from that time to determine when the other tasks need to happen.
For example, if your turkey needs to cook for four hours, and you want to eat at 2 pm, you'll want to be sure to have it in the oven with enough time to cook and rest before carving at 2 pm.
What's a Good Thanksgiving Schedule to Follow
Things to Do One Month Before Thanksgiving
A month before Thanksgiving, you want to decide on your plans.
Will you be staying at home, going to a friend or relatives, going on vacation or eating out?
If you'll be staying at home, will you be hosting anyone? Start making your guest list and reaching out to invite people over. You may even want to have a potluck and ask your guests to bring different items to take some work off your plate.
Things to Do Two Weeks Before Thanksgiving
Two weeks before Thanksgiving is a good time to finalize your menu and decide on your decor.
Check your pantry and freezer to see what you already have on hand. You can start stocking up on non-perishable items in the weeks leading up to Thanksgiving if you'd like or go on one big shopping trip closer to Thanksgiving day to get everything at once.
This is also a great time to do a little decluttering. Clear any items that have accumulated over the last few weeks (or months) and give yourself a clean slate for the holidays.
Things to Do One Week Before Thanksgiving
There's nothing worse than waking up Thanksgiving morning only to realize your turkey is still frozen!
That's why one of the most important things you need to do a week before Thanksgiving is to determine how much time your turkey needs to defrost.
Here's a handy guide from Delish that makes is really easy to know when to put your turkey in the fridge to thaw. Allowing one day for every four pounds usually does the trick!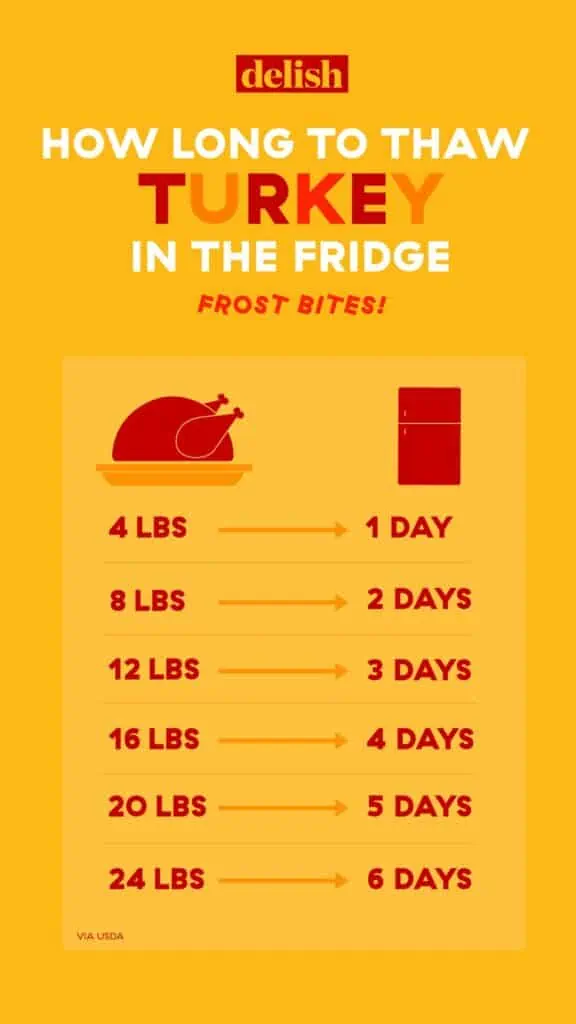 The week before Thanksgiving is also when I like to start giving my home a good cleaning. It will still need regular daily maintenance and a little extra attention like vacuuming or dusting before the big day, but getting a deep clean in the week before takes a lot of work off of the week of Thanksgiving itself.
I like to clean out my fridge and pantry so they're blank slates for all the yummy Thanksgiving foods we'll soon be storing.
I also use my Thanksgiving menu planner to finalize my grocery list during this week and go grocery shopping for any items I still need.
Things to Do 3 or More Days Before Thanksgiving
It's Monday, which means Thanksgiving's just around the corner now!
At this point, I like to touch base with guests to make sure they're still coming and any dishes they're bringing or dietary needs are taken care of.
I also like to come up with my cooking game plan. This is why I decide when I'll start warming the over, prepping the turkey, and cooking all of the side dishes. Cooking a Thanksgiving feast can either be a graceful ballet or a mosh pit, and having a plan like this in place makes a huge difference!
Things to Do the Day Before Thanksgiving
The day before Thanksgiving is when I do most of my prep work.
Some foods I love to make and tasks I find helpful to complete the day before Thanksgiving include:
making dough
pie filling
chop veggies
assemble relish tray
make salad dressings
I also do those last-minute cleaning jobs like vacuuming, dusting, scrubbing toilets, clearing the table, and cleaning the kitchen.
It's also a good idea to make sure your guest bathroom is stocked with toilet paper, has enough hand soap, a clean hand towel, and a plunger available so a guest doesn't have to embarrass him or herself should an unmentionable situation occur.
If you haven't already done so, and your children or pets won't ruin them before mealtime, put out any holiday decor you got for the special day.
Things to Do Thanksgiving Day
The big day has arrived! The great news is all the work you've done over the last couple of weeks is going to pay off in a big way!
My Thanksgiving always starts with turning the oven on and prepping the turkey.
Then I make or put together any dishes that are still unfinished, and get ready for our guests to arrive.
Finally, I set the table, warm the last dishes, and it's time to celebrate!
Can You Make Thanksgiving Sides the Night Before?
Yes! I highly recommend making as much as you can the night before, side dishes included.
This is truly the only way I can handle making an entire Thanksgiving meal on my own, and the good news is some dishes actually taste better when the flavors have had time to mingle.
What Thanksgiving Foods Can Be Prepared Ahead of Time?
There are a lot of things that can be made ahead of time!
This Strawberry Jello Cranberry Sauce is a favorite Thanksgiving recipe in our home, and it needs to sit overnight to set up.
Some other side dishes I make the night before include:
Green Bean Casserole – I make this one by Paula Deen every year. It's so good!
Potato Casserole
Sweet Potato Casserole (We have three potato dishes for Thanksgiving. I'm Irish. I can't help it; it's in my blood!)
Pie
I like to assemble as much as possible the day before Thanksgiving, and then cook everything on Thanksgiving day. It all still tastes fresh and delicious, it's less time on my feet. It also gives me time to actually spent with my family on the holidays versus being stuck actively cooking the entire time.
What is a Typical Thanksgiving Menu?
What is considered a typical Thanksgiving menu can actually vary based on where you're located in the country.
Turkey is a Thanksgiving menu staple, but some areas get pretty creative with their side dishes.
For example, in New England you might find oyster stuffing, muscles, and corn on the cob at a Thanksgiving feast while in parts of New Jersey you might find Italian favorites like manicotti, lasagna or based ziti.
The most important part of any holiday, especially if you're establishing your own family Thanksgiving traditions, is that you like what's on the menu.
In my family, we incorporate a lot of the dishes I grew up with along with some new ones that we've liked over the years. I'm curious to see which dishes my children choose to continue with when they have their own families.
What Should I Plan for the Thanksgiving Holiday?
If you're hosting Thanksgiving, it's important to remember not just the food but all the extras that go along with entertaining.
Napkins, table decor, tablecloths and linens are all things you'll want to consider organizing before your guests arrive.
I've also found it extremely help to keep lists of the foods I need broken down into categories. For example, a list of vegetables, non-perishables, appetizers, and drinks like wine or sparkling cider is extremely helpful when it comes time to shop.
Having your list arranged by category will help you be more efficient in the grocery store and not waste time.
You may also want some extra decorative items like candles, gourds, pumpkins, cornucopia to set the festive Thanksgiving mood.
If you like printables, be sure to check out these posts: