My favorite time of year is finally in full swing! The air is cooler, leaves are changing, and the holidays are right around the corner. I thought what better way to prepare than with a free printable Thanksgiving planner?
But first, I have a confession to make. I can be a bit of a procrastinator. I'll enthusiastically start something with the best of intentions only to get derailed and then nothing ends up happening. Unfortunately, this seems to happen more often than not, but this pattern can be particularly disastrous when you're cooking an entire Thanksgiving meal. Ask me how I know!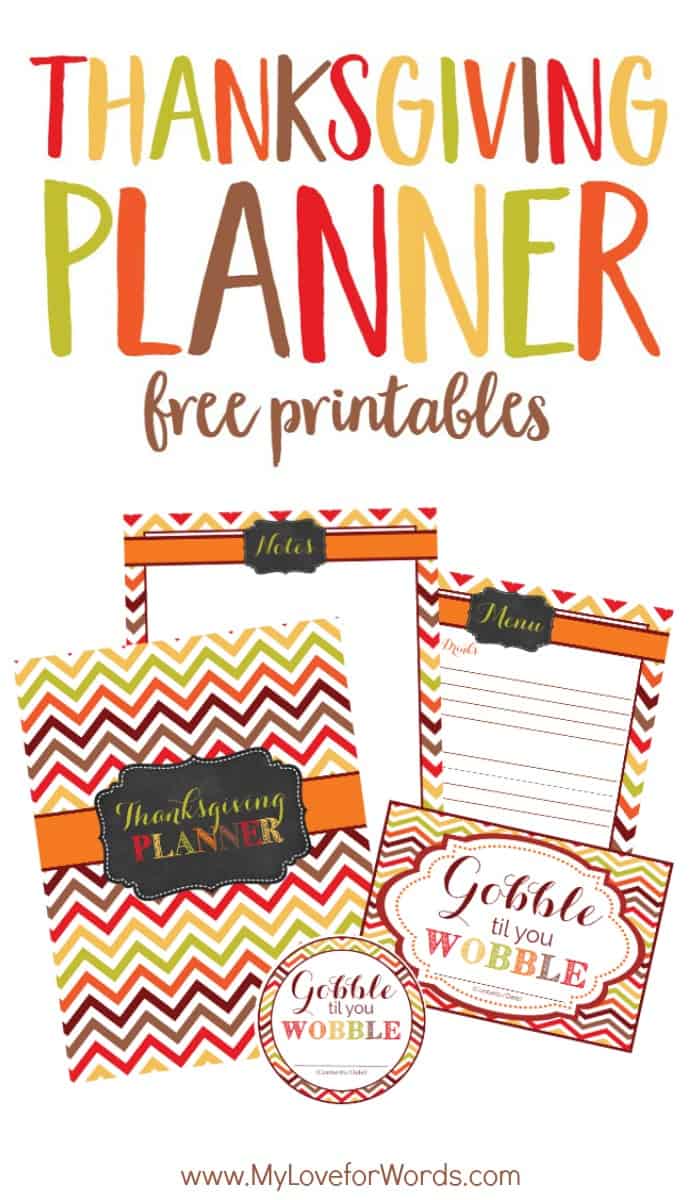 I hosted my first Thanksgiving a year and a half after my husband and I were married and while recovering from the fog of new motherhood. Both my mom and his parents came to town and spent the night, which was great because it meant our mothers were already at our home bright and early ready to help.
I can vividly remember feeling completely overwhelmed that morning because some little thing (I don't even remember what) went wrong and saying, "We should just forget it and order dinner instead!" Both of our moms looked at me like I had five heads. I'm sure they were thinking, "What is she freaking out about?!" but they were kind enough not to say that. They just reassured me that everything would be fine, and we got to work. Hours later, we had a beautiful Thanksgiving meal… and very sore feet.
Thankfully, everything turned out perfectly, and I fell in love with my first turkey! I was seriously so proud of this thing. I followed Martha Stewart's directions for the perfect roasted turkey (minus the brining), and it was seriously the best turkey I'd ever had (and I'm completely unbiased!). 😉
You always remember your first (turkey) love. This was in our old house, and I'll admit I miss these cabinets. As pretty as white cabinets are, they show everything!
This is my husband and I with our first little turkey. She's 7 1/2 now and about to get a beautiful new bedroom!
I learned two important lessons that day. The first was to stay calm under pressure. My mother and mother-in-law were the picture of grace under fire. Their experience and comfort in the kitchen definitely shined through (as did my inexperience!).
The second was the importance of planning ahead. I have no doubt that my first year hosting would've gone a lot smoother if I'd used a Thanksgiving planner, but I didn't have one at the time. I was so naive to everything involved with cooking and hosting that I didn't even know I needed one. They say, "Necessity's the mother of invention," and that's definitely true of these printables!
My mom helped me host for a couple more years and then she told me she'd be spending Thanksgiving with her new boyfriend's family. Ahh! I was going to be completely on my own to prepare the entire meal?!
After the initial panic wore off, I started to make a list of everything I knew we'd want to have: turkey, stuffing, sweet potato casserole, mashed potatoes, strawberry & cranberry sauce, dinner rolls, green bean casserole, broccoli salad, gravy, pumpkin and spiced apple and pear pie. I started to feel overwhelmed because that's a lot to prepare in one day.
As I looked over the list, I realized a lot of the recipes could be prepared, or at least started, a day or two beforehand so that's what I did. I'm happy to say that despite not having any help in the kitchen, it ended up being one of our best and easiest Thanksgivings ever!
Now, I always plan and make food ahead of time, and the holiday doesn't feel nearly as stressful as it used to. It's nice to actually enjoy Thanksgiving again.
Just in case you can relate to feeling overwhelmed by the holidays, I wanted to share this collection of free Thanksgiving planner printables. I hope they help you have the happiest, least stressful Thanksgiving ever, and that your holidays go off without a hitch. The collection includes a cute cover page as well as pages for: meal planning, organizing your cooking schedule, two notes pages, and three styles of food labels for leftovers for your family or that you send home with guests.
To get your copy, just subscribe in the box below, and they'll be delivered directly to your inbox!
I'd love to know what are your best tips for a less stressful holiday?